Not everything is black and white; the furniture trends for 2023 reveal that colors will be all around, shining up interiors worldwide.
We can say that every year is like a blank book, waiting to be written and to receive meaningful stories! We are in the first pages of 2023, but we already have some clues about the narratives that this year will write – and we can tell you – this, for sure, is going to be a colorful book full of bold and irreverent interiors. The furniture trends reveal that colors will get new meanings in the interiors and help to create incredible tales.
Following the narratives for this year and inspired by all the news in the interior design industry, HOMMÉS Studio created an incredible collection of furniture trends that promises to invade interiors with a rainbow of feelings and colors. Read on because you are about to enter the Color Gambling world and discover the future of trends.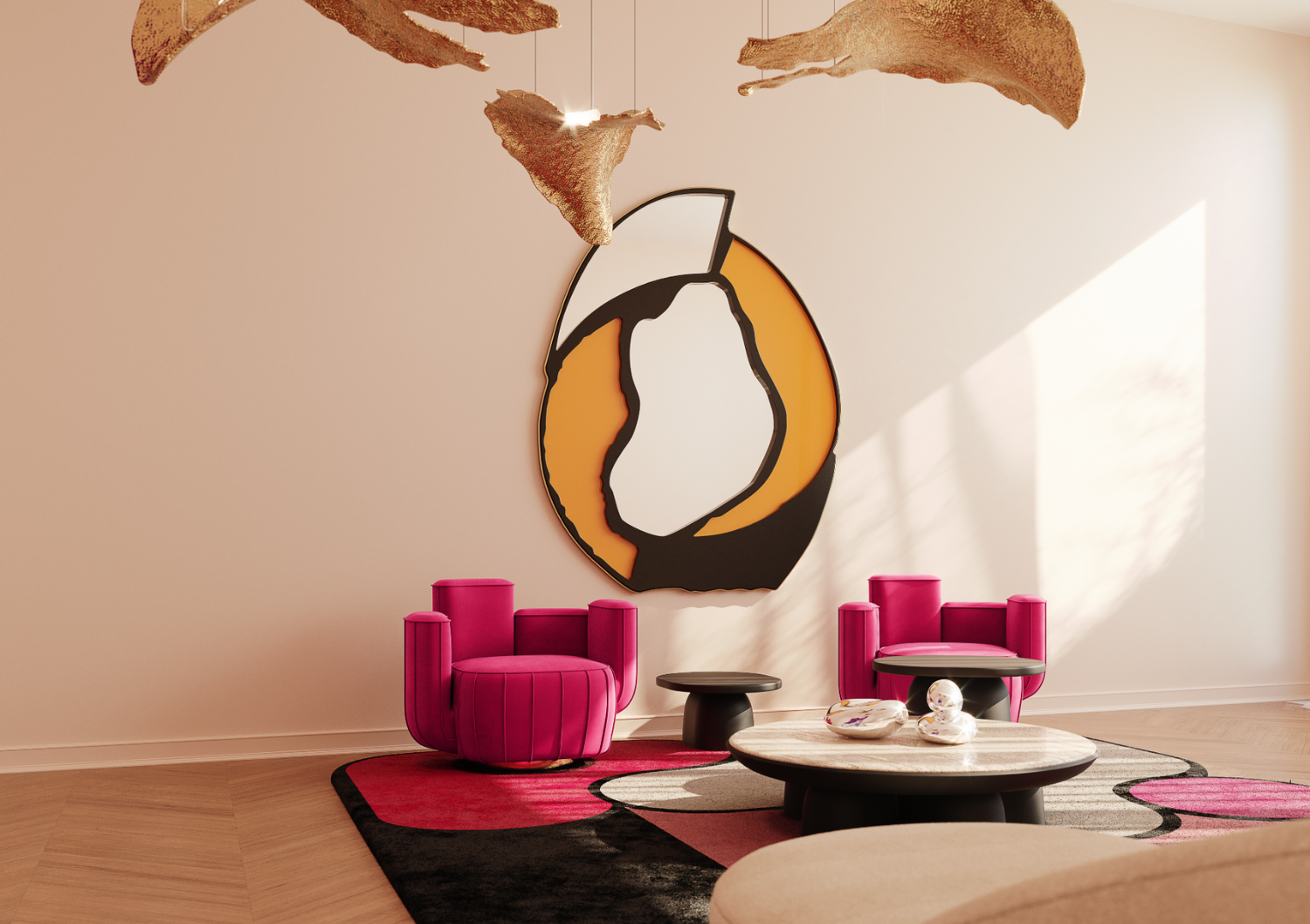 More colors and more boldness!
2023 will be colorful and promises to paint all its pages with a rainbow of hues that gain a new meaning in each object, texture, and material. In a colorful world such as ours, the colors shape how we look at the world and hugely impact our interior. So, for 2023, forget the black and white and embrace the beautiful meaning behind each hue.
As an important element in all life aspects, colors help to connect our perceptions, feelings, and sentiments. They are an effective tool for enhancing any layout while providing an extra layer of boldness. In this kaleidoscope world, each color has a meaning and can help to create the ideal mood for an interior design project, from a cheerful to a peaceful one.
Colors are more than a bold touch for an interior; they actually have the power to bring feelings and emotions. To understand it better, Color Psychology, which is the study between color and human behavior, can help by perceiving color as a trigger of human perception, feelings, and emotions. With the help of color psychology, we can understand the meaning behind each shade, and we will highlight two groups: the warm and the cool colors.
The category of warm and cool colors is divided by the color temperature and helps to realize some main feelings that these classifications can emanate. While the warm hues are associated with strong emotions, passion, and joy, the cool colors help to activate peaceful and refreshment feelings.
In the furniture trends for 2023, the power of color will be evoked to bring all the feelings needed to create the best narratives to the interiors. The Color Gambling, by HOMMÉS Studio, is the disruption of the black and white for the interiors in 2023. Keep scrolling to discover furniture trends that transmit the best feelings to your interior design project.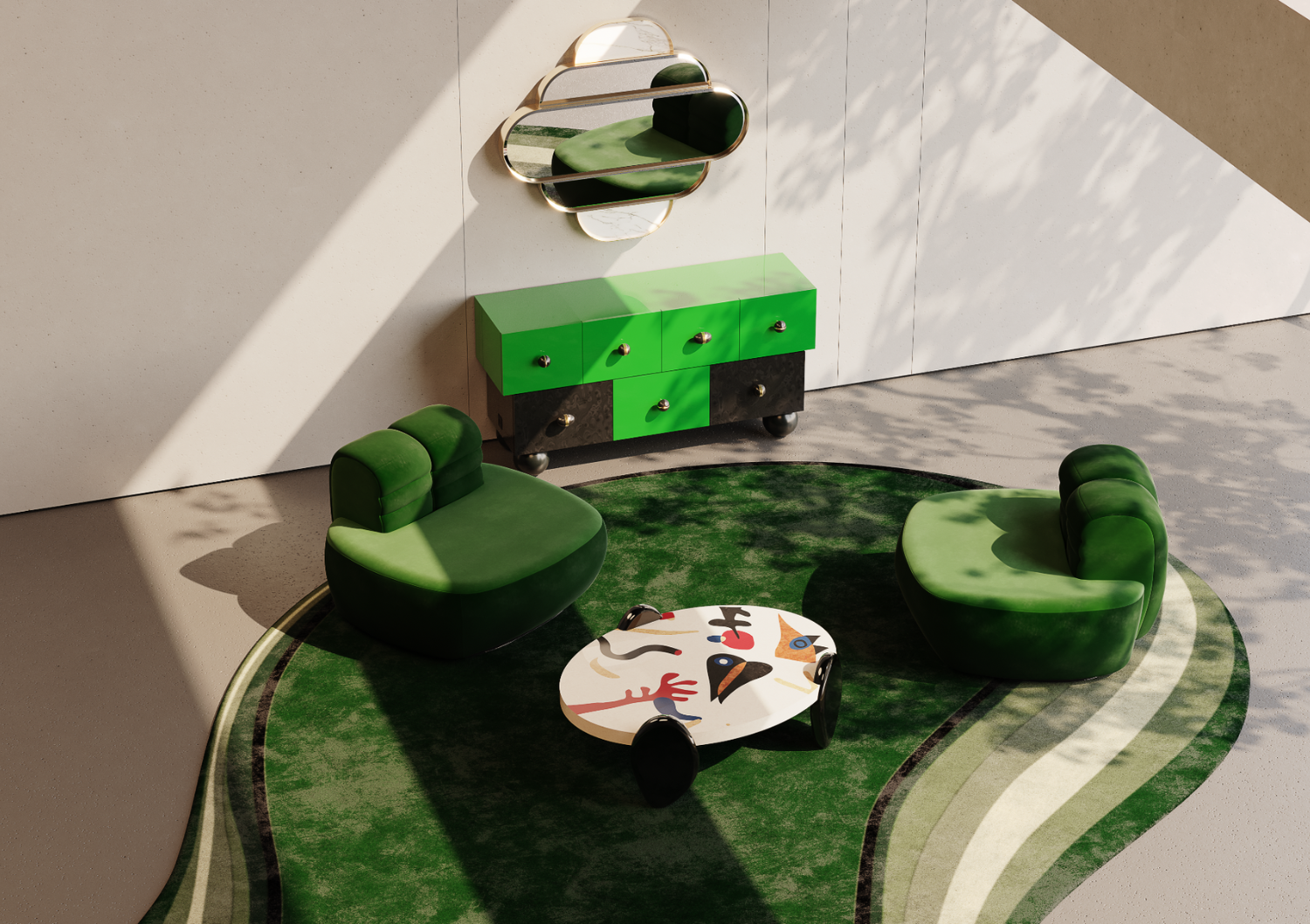 Furniture Trends: Color Glambing by HOMMÉS Studio
From the kaleidoscope world we live in, we get the inspiration to create a stunning collection of trend furniture that will add an extra layer of personality, boldness, and beauty to any interior design project. For this color gambling, we selected three hues from our Warm and Cool furniture collection; check out the color combination!
We will start the reveal of the furniture trends with a beautiful cold color based on nature, which lies between blue and yellow and is ideal for energizing and encouraging a healthy state of mind. Our furniture highlighting the green shade includes the Matrioska sideboard, the Cinco chair, and the Zadine Mirror; in common, they all share a beautiful green hue and boldness. These pieces of furniture will give a fresh look to any interior – but they are just a few examples of exquisite furniture with this shade; we have more incredible pieces too.
From a cool color to a warm shade that shares a bright energy! Yellow is a self-assured and entertaining color that blends the vigor of red and the joy of yellow. The color encourages mental activity and creativity and will fulfill your interior with bright and vivid feelings. Some of our pieces with an orange hue that can be perfect to follow the furniture trends for this year are the Zadine Mirror, Fifih Bench, and Miyake Floor lamp! Each one can give a little sunny vibe to your interior design project.
Zadine Mirror Orange

Mirror

$

6.999

Fifih Bench Orange

Bench

$

4.348

Miyake Floor Lamp Orange

Floor Lamp

$

6.257
Completing our color gambling suggestion, we have pink! A color that is relaxing and related to femininity, love, and kindness. It's a charming hue that can evoke romance and tranquil vibes. Some pieces following the furniture trends from our collection highlighting this shade are the Roy Sideboard, the Gyvaté sofa, and the Ibiza Mirror – that will complete any project with a lovely and captivating vibe.
The furniture trends reveal the need to embrace different feelings in the interiors. Our suggestion of color gambling is nothing more than playing with meaningful pieces of furniture to evoke the power of color while also increasing boldness and beauty.
From the warm to the cool colors, many combinations can be created following the furniture trends for this year – free your creativity and play with them to develop remarkable color gambling combinations and stunning scenarios for the best stories. Remember, the future of trends is colorful!
And we may not already have the complete book of 2023, but we do have the Color Gambling – The Future of Trends Lookbook; enjoy downloading it and getting inspired with a palette of nine finely selected shades that gain new meaning on each object, shape, and material.