Transform your living space with the five empowering secrets to arranging your living room furniture. Elevate your home aesthetics and comfort as you unlock the key to perfect placement.
The living room is one of the most essential rooms in your home. It is where you relax, entertain, and spend quality time with your family and friends. But how do you arrange your living room furniture to make it comfortable, functional, and stylish? There are many factors to consider, such as the size, shape, and purpose of your space, the style and color of your furniture, and your personal preference and taste. This article will show five captivating ways to arrange your living room furniture to suit any space and style.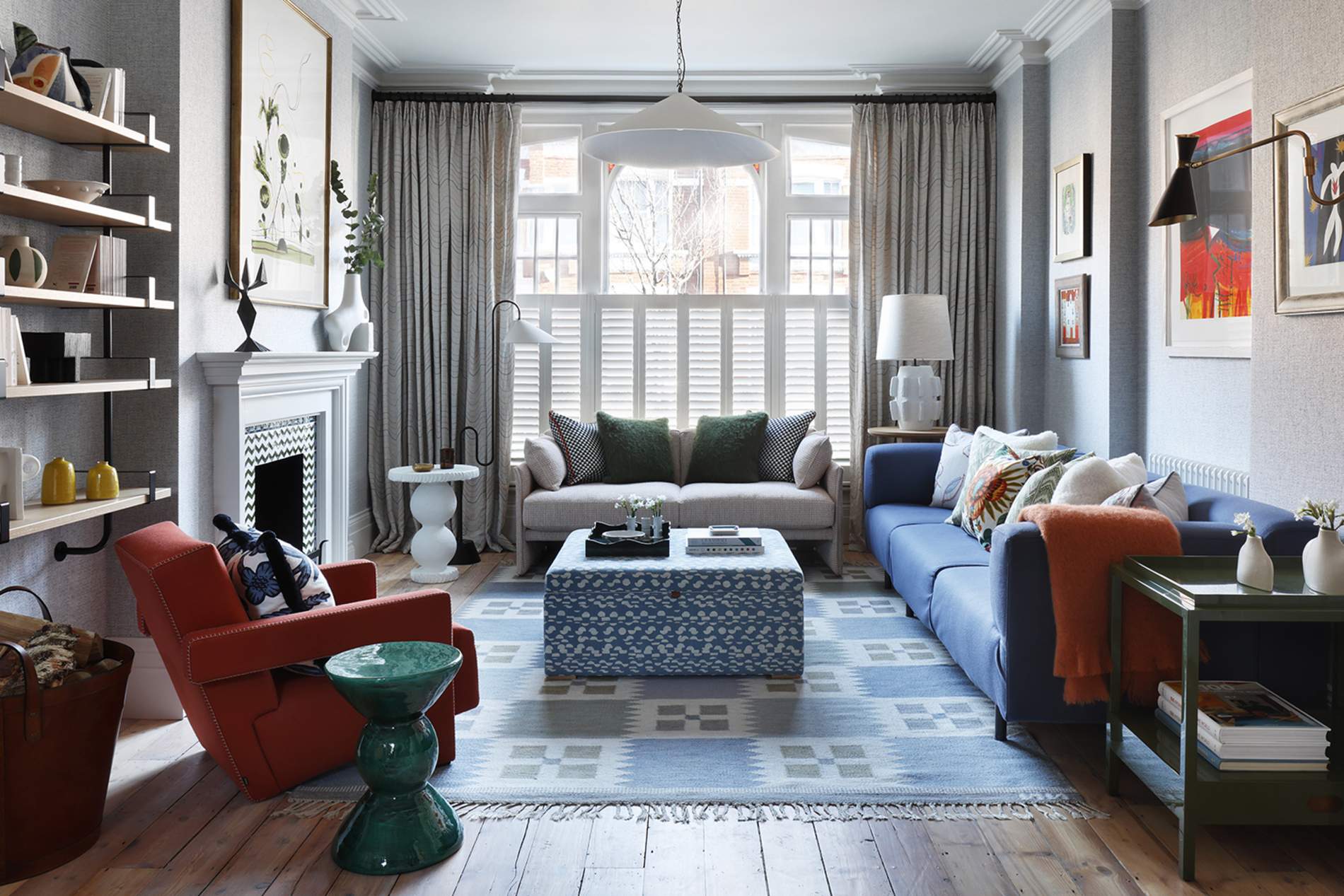 Whether you want to create a cozy conversation circle, a dynamic mix of curves and angles, a symmetrical and harmonious look, a layered and textured space, or a versatile L-shaped layout, we have the tips for you. Let's unlock the potential of your space and make a lasting impression with every arrangement. Your path to infinite style starts now.
1. Mixing curves and angles
Mixing angles and curves in furniture placement and design can give your living area a dynamic and visually appealing dimension. A harmonious and well-balanced space combines structure with softness by opposite these two components.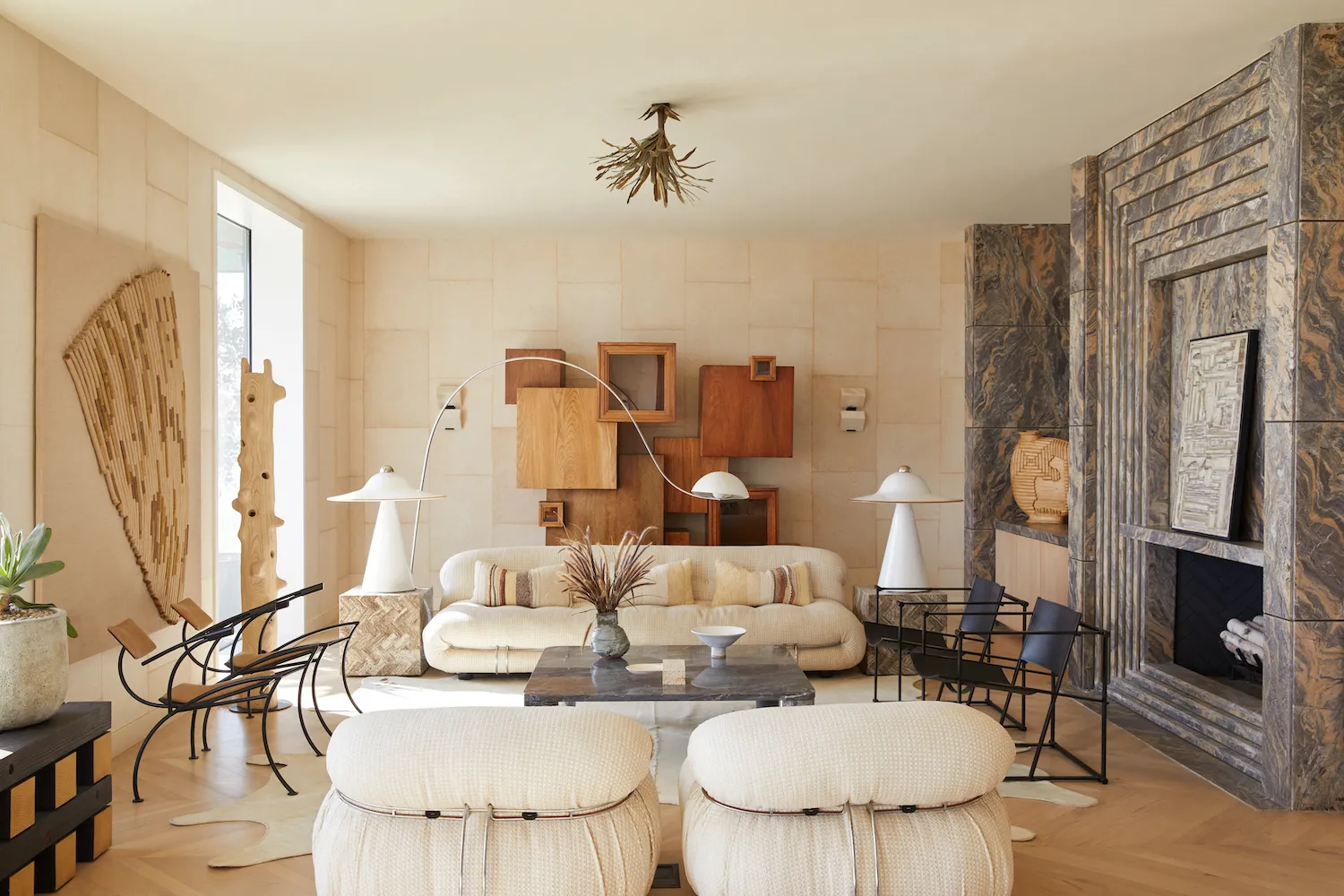 Curves add a feeling of fluidity and ease; they are frequently seen in furniture with rounded edges or circular forms. They can soften a room's appearance and create a cozier, more welcoming atmosphere. Conversely, angles give anything a feeling of definition and structure. Geometric shapes and straight lines, including curved furniture combined with a rectangular center table, a curved sectional sofa, or armchairs with rounded backs.
This is a creative way to arrange furniture in a living room with a dynamic and eclectic vibe. Mixing living room furniture with different shapes creates a contrast that adds interest and movement to achieve a well-rounded and visually appealing result.
2. Layering with textures and patterns
This is a stylish way to arrange furniture in a living room that has a rich and sophisticated look. By layering different textures and patterns on the furniture pieces, such as velvet, leather, fur, or floral, you can create a depth and dimension that adds warmth and character to the room. You can also use various colors, such as neutrals, pastels, or jewel tones, to create a harmony or a contrast that suits your mood and preference.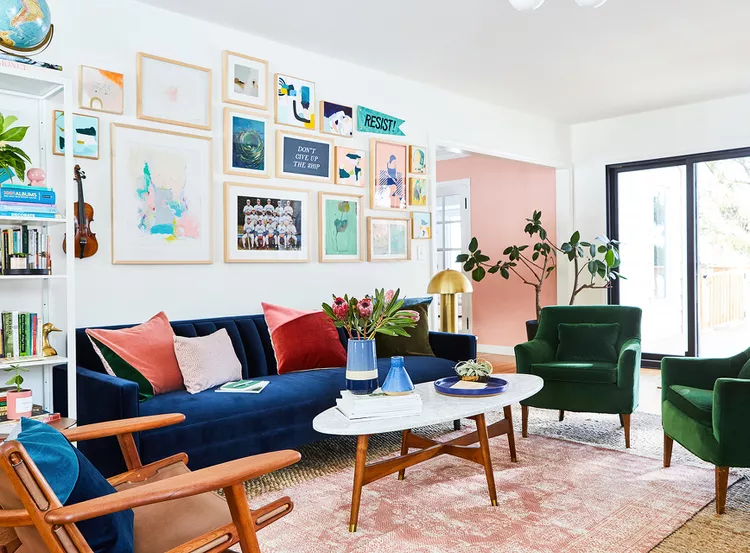 By combining natural materials like wood and stone with a range of fabrics like leather and dane, you can add depth and warmth to your room. Consider experimenting with various textured rugs and reflective metal surfaces to provide more visual appeal. Choosing an accent wall or a sofa with a striking pattern as your focus point when it comes to patterns, then experiment with scales to create a pleasing balance.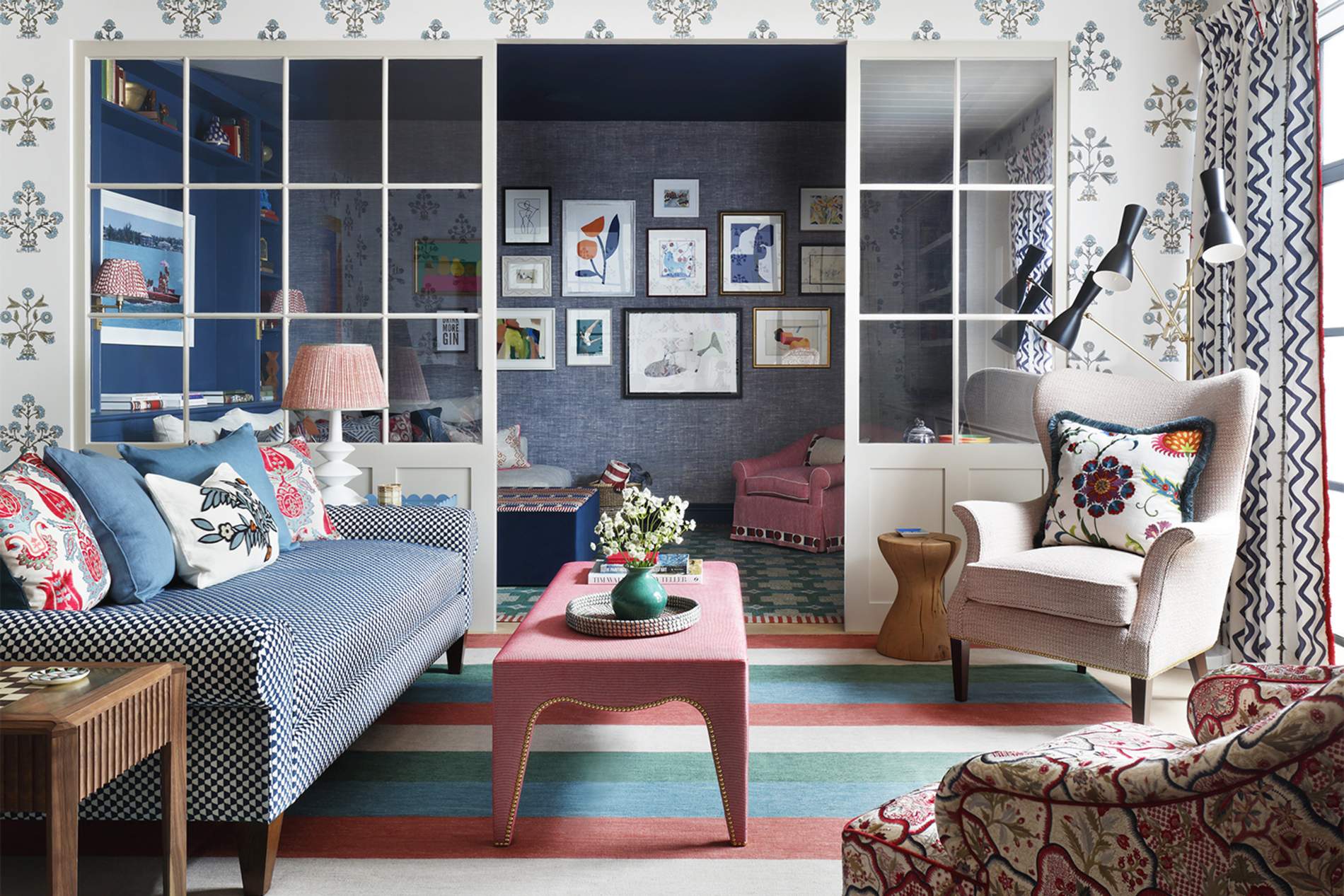 To create a lively and welcoming ambiance representing your style, layer soft furnishings with various textures and patterns and coordinate colors across varied patterns to preserve uniformity of the space with the living room furniture.
3. Creating a conversation circle
This is a pleasant way to arrange furniture in a living room that has a cozy and inviting atmosphere. You can create a conversation circle that encourages interaction and engagement by placing the furniture pieces in a circular or semi-circular layout around a central point, such as a fireplace or a center table.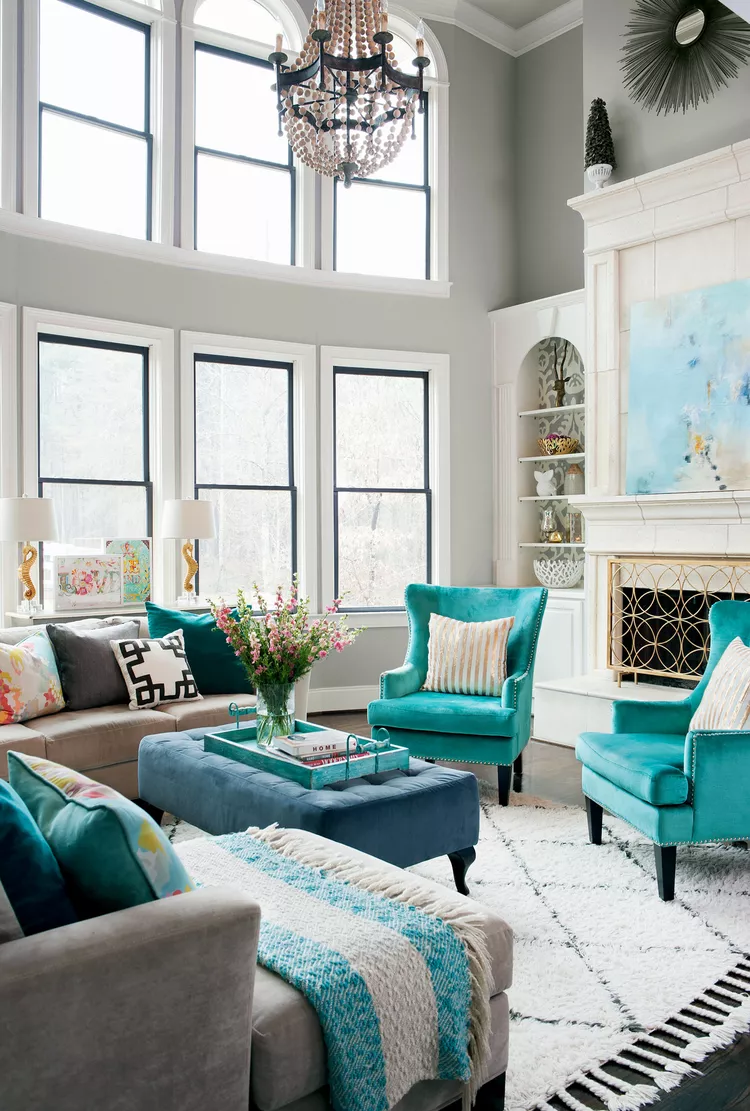 You can transform your living room into a warm and welcoming gathering place for friends and family by creating a talking circle. Start by setting out the seats and sofas in a circle to face one another. This arrangement naturally promotes intimacy and face-to-face interaction among those staying. To anchor the circle and establish a meeting area, put the pieces around a focal point, such as a coffee table, a fireplace, or an artwork.
You can also introduce adjustable seating alternatives for different group sizes, such as poufs or armchairs, for an inviting ambiance.
4. Adding Some Uplifts
Improve the atmosphere of your living area by deliberately adding cheerful accents that give the space vitality and good vibes. Accessories like a rug or colored cushions are a great way to brighten the mood of a room.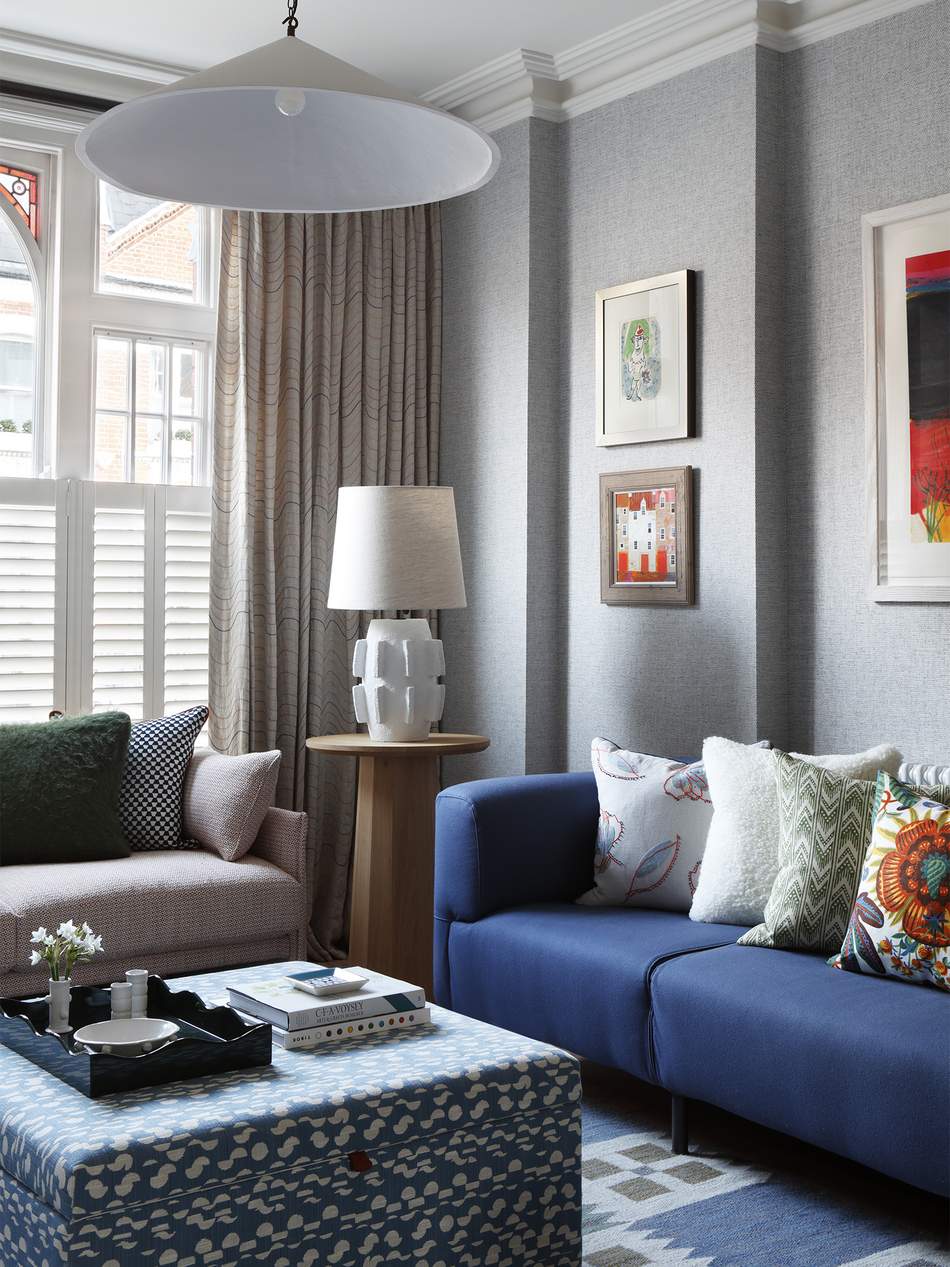 You can add vases and flowers to your space to bring in some natural elements and foster well-being and freshness. Consider decorative objects, inspiring artwork, or colorful accent items with character and color to create happy focal points. Try different lighting fixtures to change the room's atmosphere by adding warmth and brightness.
Adding cheerful pieces to your living room furniture with purposeful placement improves its visual appeal. It creates a more upbeat and revitalizing mood, making it a cozy retreat for unwinding and good vibes.
5. Forming an L-shape
This versatile way to arrange living room furniture accommodates different seating options. By placing a sofa, chair, or loveseat at a right angle, you can form an L-shaped layout suitable for small and large spaces.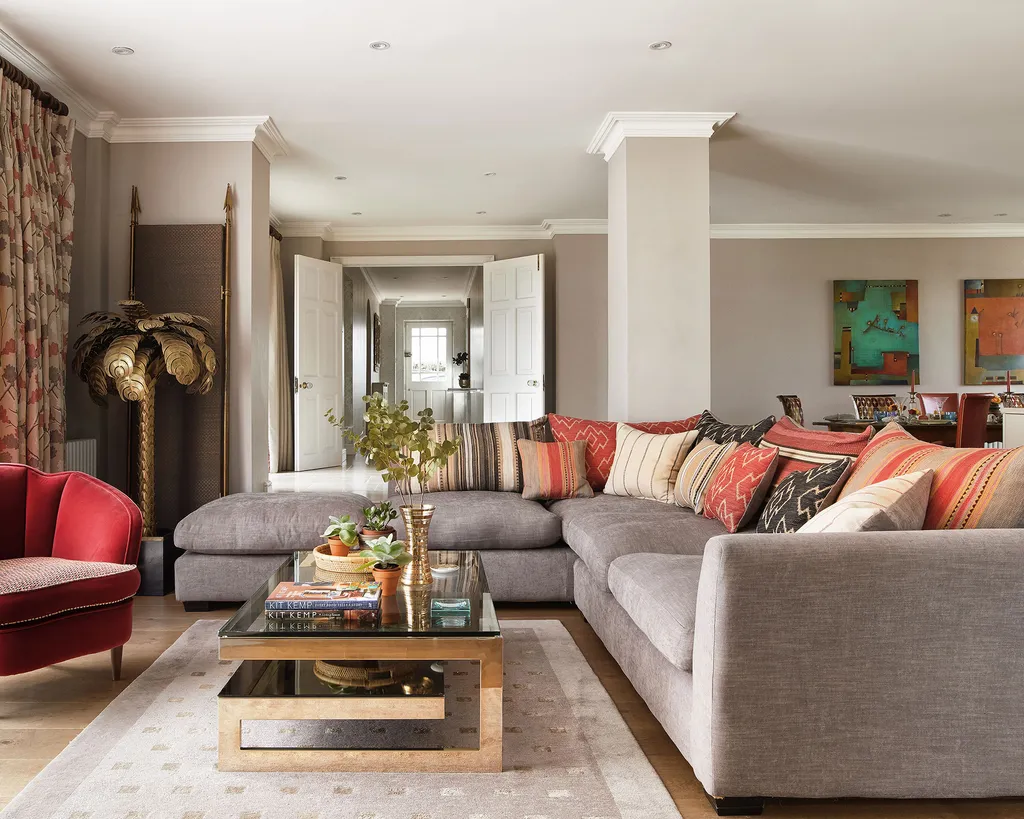 This arrangement facilitates simple mobility around the space and encourages a natural flow. The center table near the L's intersection anchors the area and creates a primary focal point. This arrangement works exceptionally well for creating distinct room areas, such as a comfortable sitting area and a reading or entertainment area.
Make the most of the L-shape by arranging larger furniture pieces along the walls and keeping the center empty to create the illusion of additional space.
Mastering the art of arranging your living room furniture opens a world of possibilities for creating a space that seamlessly blends aesthetics and functionality. Every element, from the alluring combination of curves and angles to the transforming layering of textures and patterns, adds to a setting that expresses your style in a way that goes beyond simple design. Conversation circles arranged strategically create deep relationships, and well-thought-out L-shaped configurations maximize purpose and flow. Not to be overlooked is the influence of uplifts, which give everything vitality and optimism.
We hope you got inspired about how to arrange your living room furniture perfectly according to your preferred style. We invite you to discover our Furniture & Lighting Catalog to elevate your space.