Black and white are classy, timeless, always look neat and clear, perfect for a cosmopolitan city like New York, and fanatic for cleanliness, which explains why the new NYC apartment of interior designer Justin Charette and his husband lifestyle photographer Alexander Atkins has chosen black and white as the pallet for the entire apartment. If you think it must be boring or depressing, then keep reading. 
1. Living Room
A rectilinear sofa with grid seats, warm slate leather, and strong mid-century modern style, a ten-foot-long media console made of walnut which is customized by Desiron in New York, an artistic wallpaper right behind the console from Calico Wallpaper called AURORA ECLIPSE that features different shades of grey, a black wall lamp and a black floor lamp from David Weeks Studio in NYC, an artwork that plays an important part in adding playfulness and character to the space – a black and white 7-foot long photography from Richard Phibbs capturing army men doing push-up(more masculine is possible?)
2. Bedroom 
The Parallel bed is designed by Jeffrey Bernett, Nicholas Dodziuk, and Piotr Woronkowicz for Design Within Reach, features black leather upholstery and wood frames, with combination nightstands. The white table lamp from Artemide is outstanding while the mirror in black from Bower Studios is quite eye-catchy with its three-dimensional look. Black FRITZ HANSEN chair goes along beautifully with white and grey carpet from STARK.
3. Kitchen 
As the apartment was renovated, the kitchen already looks new and fresh, but by changing fixtures and hardwares to matte black, Justin and Alexander have made it a lot cooler and fashionable. The transition is quite effective mainly contributed to the black and white saucer shape lighting from Circa Lighting and the black and simple artwork in the wall.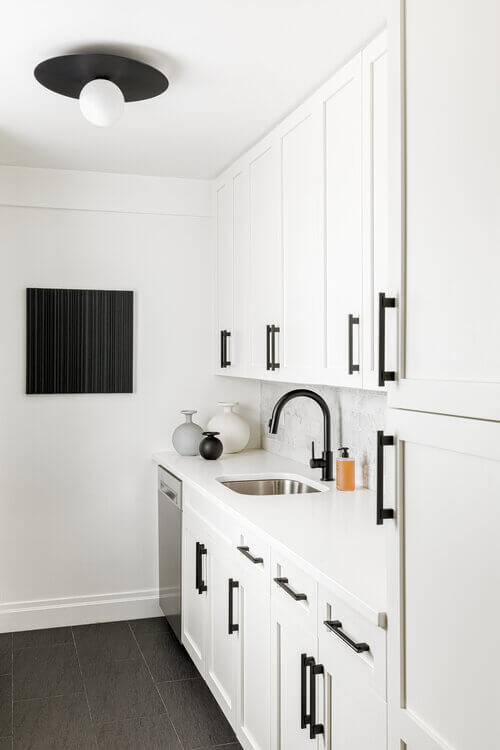 4. Home Office 
The home office area is turned whimsical because of the bear standing on top of a white pedestal –  the Basquiat Bearbrick 400%100% is a limited edition from the Japanese collectible toy manufacturer Medicom Toy in cooperation with NYC based artist Jean-Michel Basquiat. In addition, the artwork of Robert Moreland on the wall takes the stage.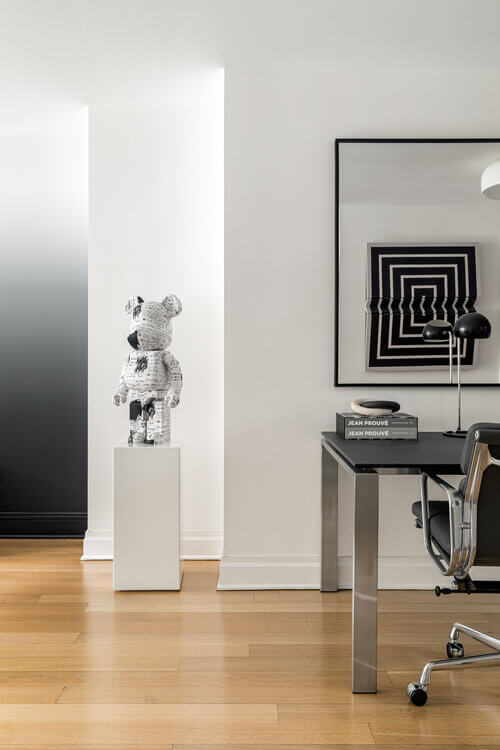 We really hope you liked our article. Feel free to pin all the images to your favorite Pinterest board or to print it and use it on your projects' mood boards. You can also visit our Pinterest boards in order to get more inspirations.