Combining Art Deco and Mid Century styles, this home in London by Child Studio draws inspiration from Yves Saint Laurent's Grand Salon – resonating a unique narrative of timeless beauty.
Subtle tones, elegant furniture, and an exquisite display of art and decor accessories set the sober scenario of this stunning home in London. Child Studio was responsible for this classic design that merges Art Deco and Mid Century styles, where every choice remains a journey into timeless elegance.
In this article, we dive into this refined home interior and explore the design choices that set the tone for this stunning scenario – from the Mid-century style furniture, art deco references, and Yves Saint Laurent's inspirations.
THE INSPIRATION – A JOURNEY INTO TIME
Hidden in Mayfair, a mews courtyard in London, this home shares more than a sophisticated interior – but also a journey into different eras and stunning inspirations. Located in an area that speaks volumes of history, the interior designers Che Huang and Alexy Kos from Child Studio enjoy the opportunity to create a unique design language for the project – which would convey the tales of the area and history and timelessness.
From the historical streets of Mayfair, the designers found the inspiration for a unique design language in Paris, more precisely at Yves Saint Laurent's Grand Salon at Rue de Babylon. Inspired by how Art Deco references and art objects filled the space, the designers mimic it in this home and now the space Mid Century style references while offering a journey into the beauty of '60s and '70s elegance.
THE PROJECT – A UNIQUE NARRATIVE
As a home for a restauranteur and hotelier, the project had a particular headline: special attention to the dining and convivial spaces. Considering the owner's needs, the Child Studio duo infuses the home with a warm and inviting atmosphere that follows all the house areas and assembles the perfect mood for parties and entertainment.
In the generous living room, the designers filled the room with mid century style furniture and an eclectic mix of sculptures, art objects, and books, creating more than a convivial area but almost an art gallery that stimulates conversations while sharing a cozy atmosphere. 
Using wood library panels – the interior designers created different divisions in the generous space – from dining to the study room – everything perfectly integrates the same narratives and space, simultaneously having its delimited zone and offering a flow between the various interior sections.
The dining area is sober and elegant and, at the same time, welcomes the bright outside with a beautiful glass wall. In this space, a wood dining table paired with elegant chairs upholstered in dark green invites the harmony of nature and creates a dance of sophistication and comfort.
Among the sober interior – the Art Deco and Mid Century Style references help to create a sense of sophistication and amenity. Highlighting a sophisticated choice of materials – from sumptuous velvet textiles, leather, wood, and natural stones – the space integrates all the choices, creating a unique narrative that shares sophistication.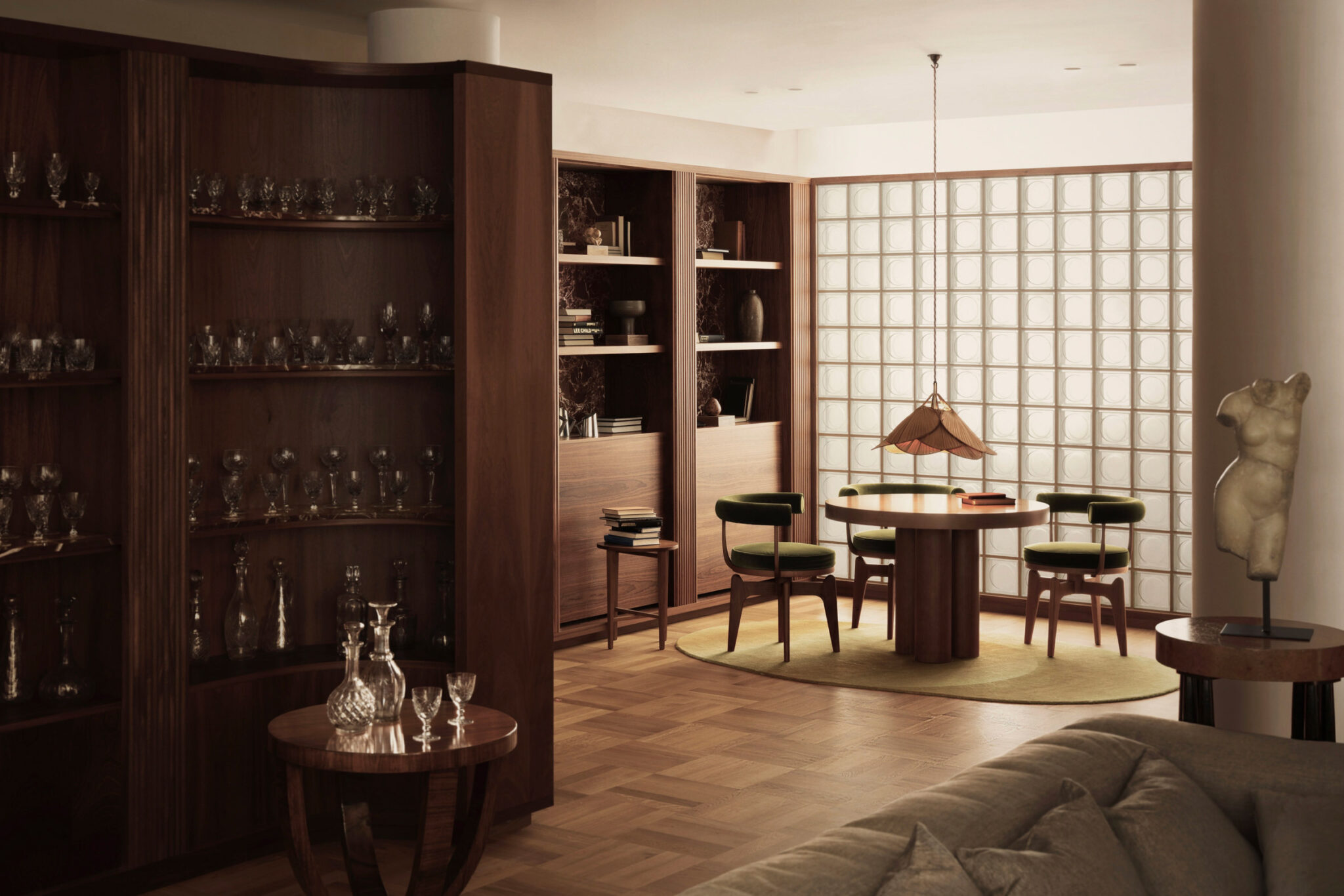 In this stunning mid century style home, a hidden gem is installed discreetly behind the library shelves and open space to the owner's private study. This undercover space is a haven for concentrated work, echoing a tranquil atmosphere. Following the home´s unique narrative, this spot displays an array of sculptures together with Art Deco and Mid Century Style references.
Still, in the study room, the stars are the rare books that play as artworks adorn the shelves. Among the treasures are antique lithographs by renowned artists like George Braque, Jean Cocteau, and Karel Appel, each lending a touch of timeless elegance.
Crafted from rich wood, the walls are tastefully adorned with 1960s Danish acid-treated brass sconces, casting a warm and inviting glow over the room. It's a sanctuary where the past converges with the present, blending seamlessly into the mid century aesthetic that defines this home.
SHOP THE LOOK – INSPIRED BY THIS ELEGANT HOME
Child Studio created a home that resonates with timelessness and glamour, where every design choice helps to share the most significant tale. The studio combined Mid Century style furniture with Art Deco touches to create this narrative. Inspired by this beautiful tale, we have handpicked a selection of stunning furniture from our collection that can share the same cozy and luxurious atmosphere. Check it out:
Pina Chair Iron

Chair

$

2.108
A TALE ABOUT A BEAUTIFUL FUSION
This beautiful home motivates and shows that experimentation and references are essential to creating a unique design narrative. From the Yves Saint Laurent reference, Mid Century Style furniture, and a careful selection of artistic objects, this interior shares a home about a beautiful fusion where timelessness and comfort are the stars.
If you also want to infuse your projects with personality and beauty, check out our selection of unique furniture pieces that will cover your interior project narrative in the best way.