There's a new hotel in a luxurious neighborhood of Paris. Modern Memphis interior design is found in every detail of MGallery Nest. Oscar Lucien Ono, the founder of Maison Numéro 20, teaches us how to bring the iconic style inside our home.
MGallery Nest is in the heart of the business district of Paris, La Defénse. The interior design project praises Memphis interior design style. Despite using popularized imagery, such as lines and curves, and colorful and geometric motifs, Oscar Lucien Ono goes further. For instance, Ono introduces an earthy tones color palette to the iconic style. In every room, from the magnificent entryway to the intimate suites, there's orange, pink, and rusty red. Usually, these shades are paired with neutrals, like black, white, brown, and… gold. Gold is a neutral color, right? But how exactly can we pull off a modern Memphis interior design like Oscar Lucien Ono does?
STRIPES
At MGallery Nest, Ono added stripes to the imposing columns in the lobby. The classic pattern is also Memphis's signature. Stripes in the right amount will add visual energy to the any room. We can decor a wall with striped wallpaper in soft colors, or be a little bit more bold, like the French interior designer. In the lobby columns' stripes are mixed with shapes and other forms, yet they are highly luxurious.

STRIPES INSIDE YOUR HOME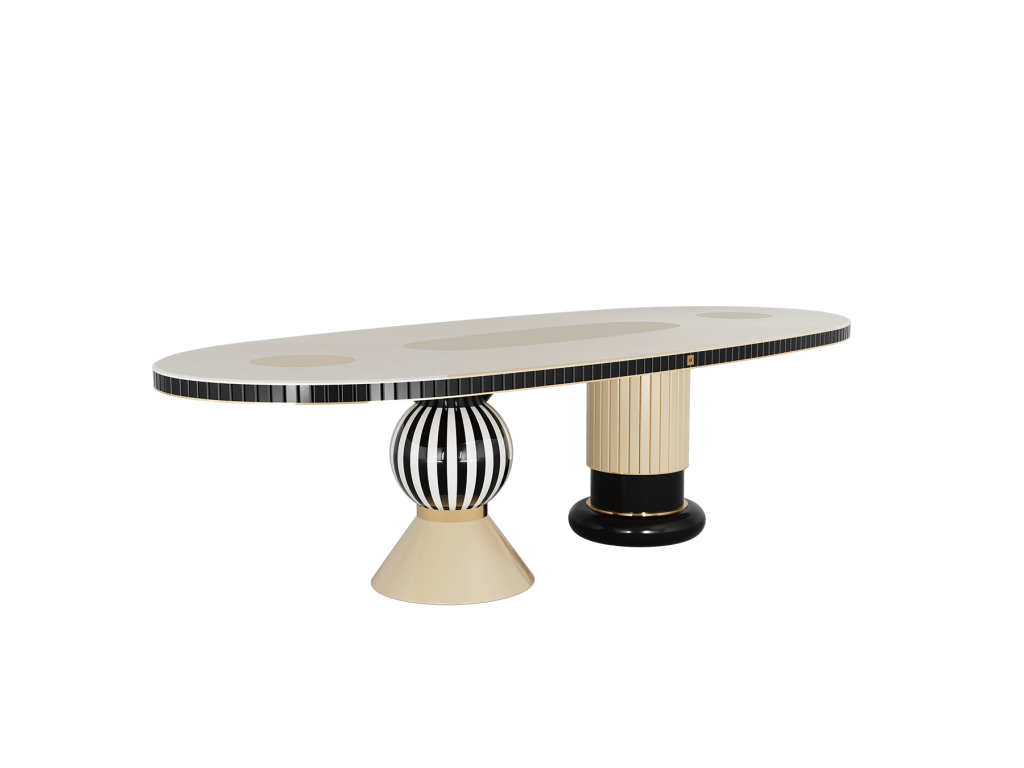 Fuschia Dining Table adds glamour to any high-end dining room. The table combines neutral hues with discreet golden details. In addition, the geometrical shapes and the striped sphere make it a unique modern Memphis furniture piece.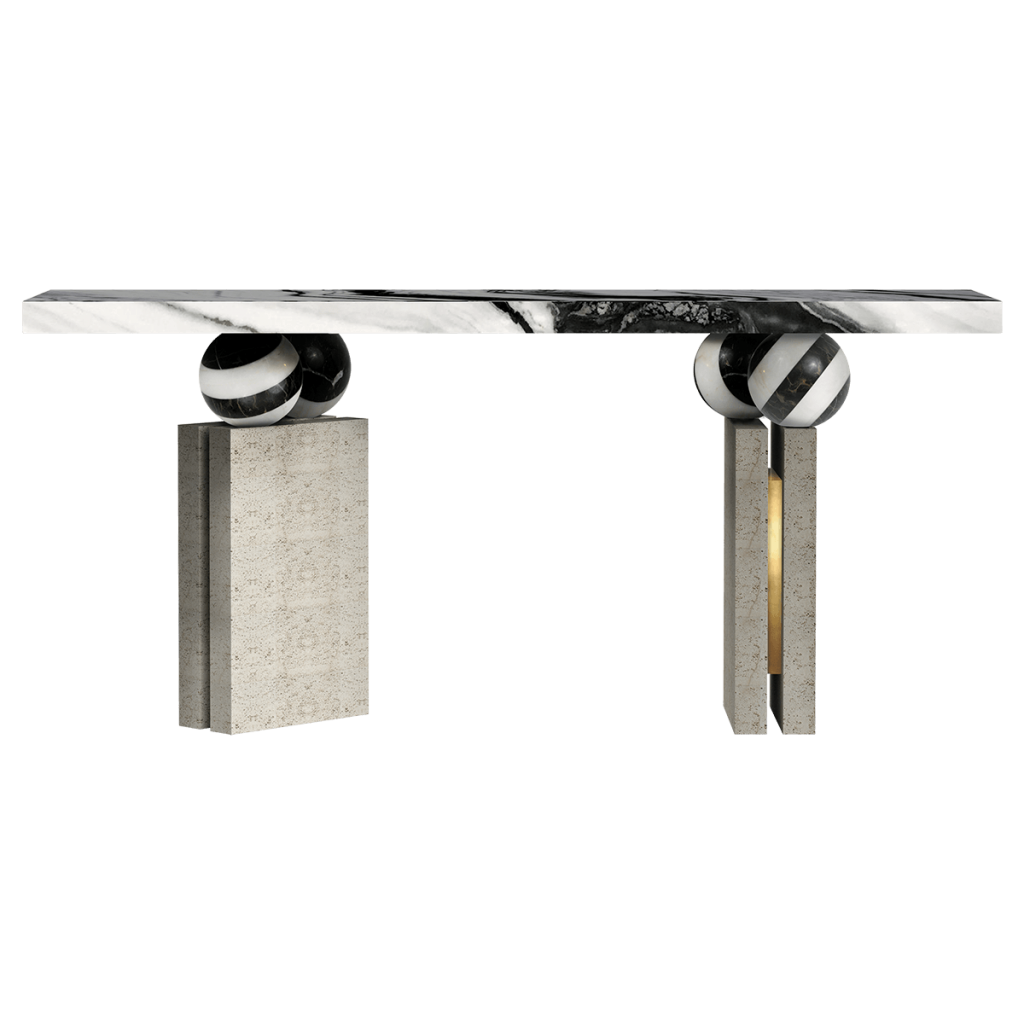 Quantic Console Table praises Memphis furniture and it is a great option for a killer entryway or hall. The luxury console table combines straight lines with round shapes, stripes with golden details. Undoubtedly, a modern piece of furniture to include in your home.
MIX & MATCH MATERIALS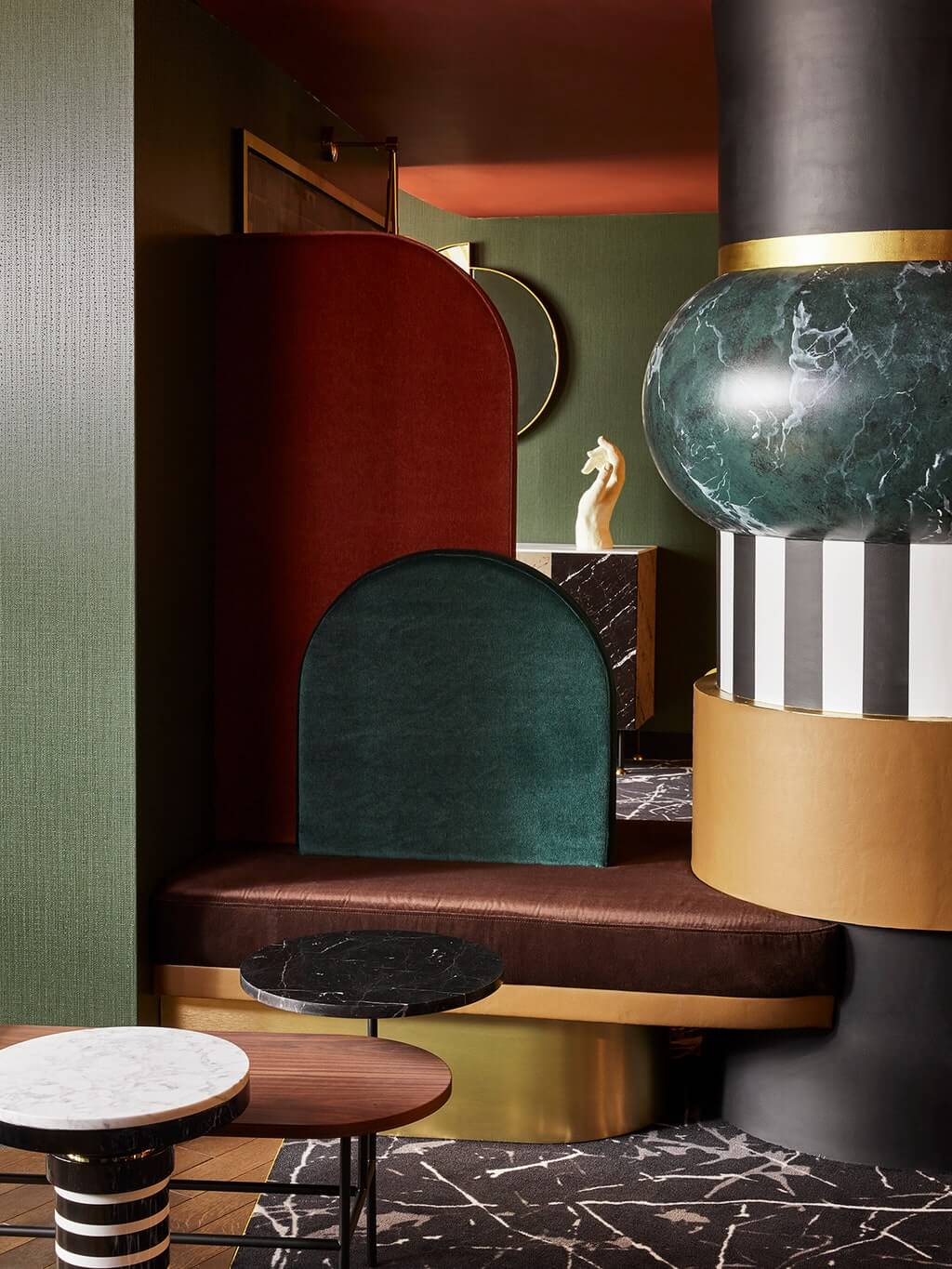 What is the best thing about luxury furniture? Their materials are sustainable. To achieve a modern Memphis interior, simply mix and match furniture made of natural materials. The marble patterns will contrast with wood patterns. And some brass as well. The combination of wood, stone, and metal gives vibrancy to any room.
MIX & MATCH MATERIALS IN YOUR HOME INTERIOR
Arcadia Center Table is a four-in-one table for your living room. What does make this mid-century center table a Memphis design piece of furniture? The variety of materials. Four different tabletops in wood, glass and, leather. All of them are paired with stainless steel rings and lacquered legs. A must-have in a luxurious living room.
Tavle Side Table combines bold shapes with three different natural materials, namely marble, wood and stainless steel. It is the perfect side table to a luxury lobby or living room.

CURVES AND ANGLES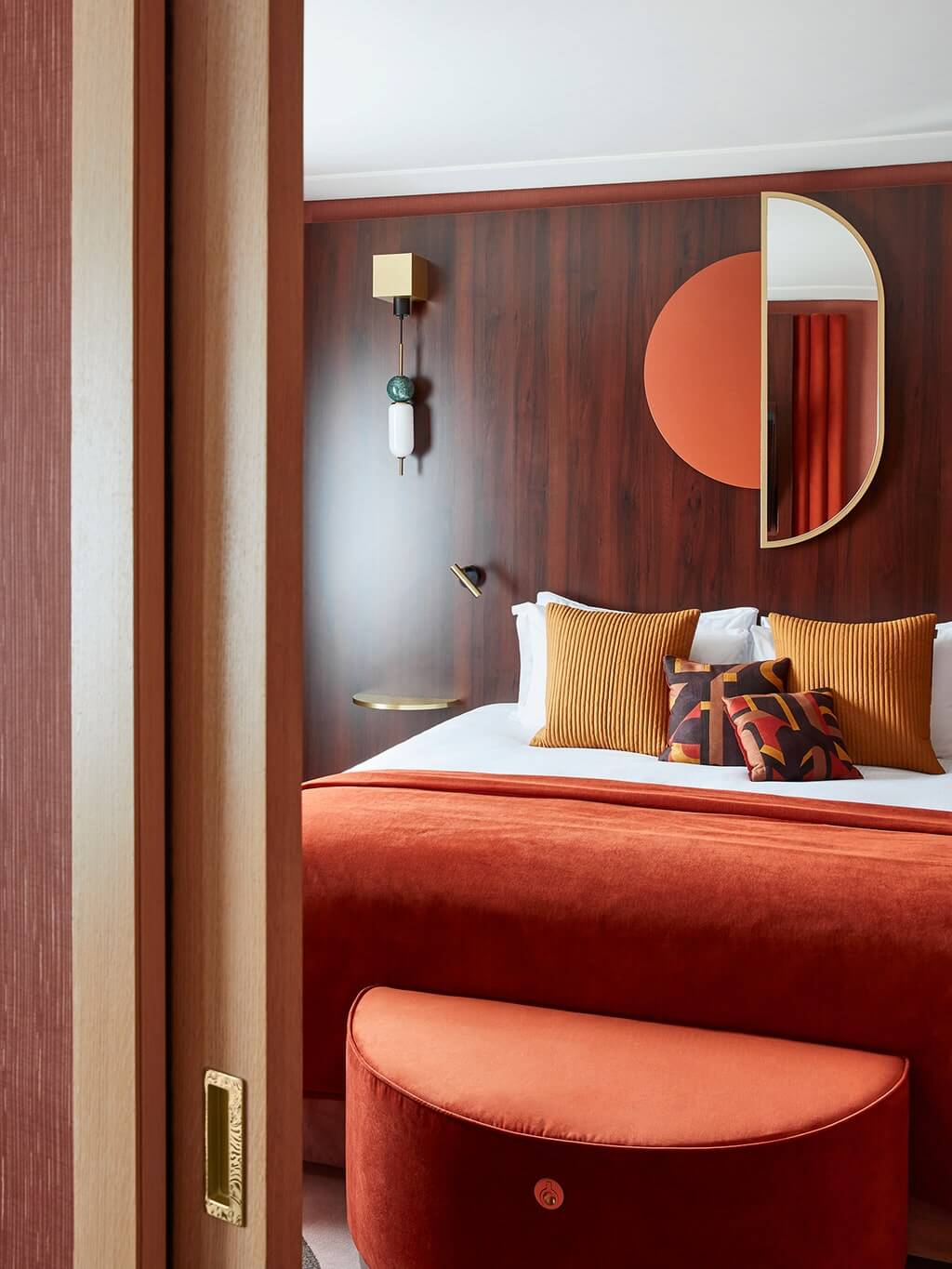 Oscar Lucien Ono plays with shapes and curves, in the good old Memphis fashion. At MGallery Nest, round rugs mark up different areas, such as dining rooms or conversational areas. The benefits of round furniture to interior design are many. They create movement and dynamism while softening the room.
CURVES AND ANGLES IN YOUR INTERIOR DESIGN PROJECT
Lush Wall Mirror is an art deco-inspired decorative piece. Nevertheless, its exuberant shapes make it a must-have furniture fixture in a Memphis interior design entryhall or even bathroom.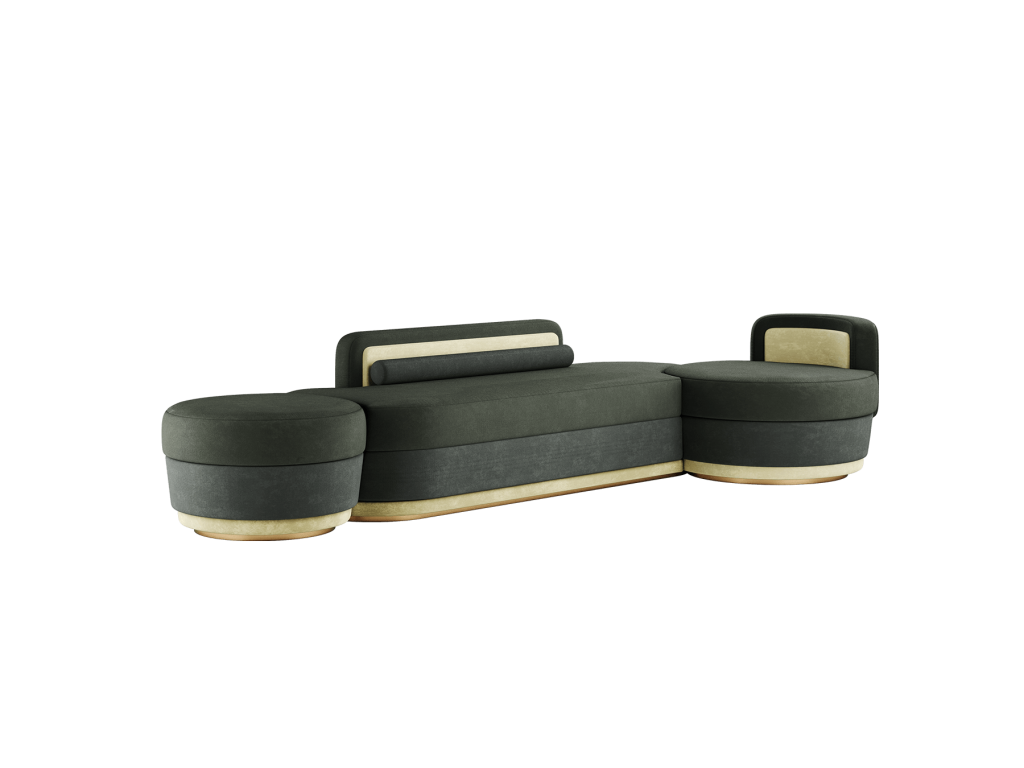 Cluedo Sofa is as Memphis as it can get. The round-shaped sofa is completed with classis ottomans. It is the must-have sofa to a modern Memphis living room.
GRAPHIC FORMS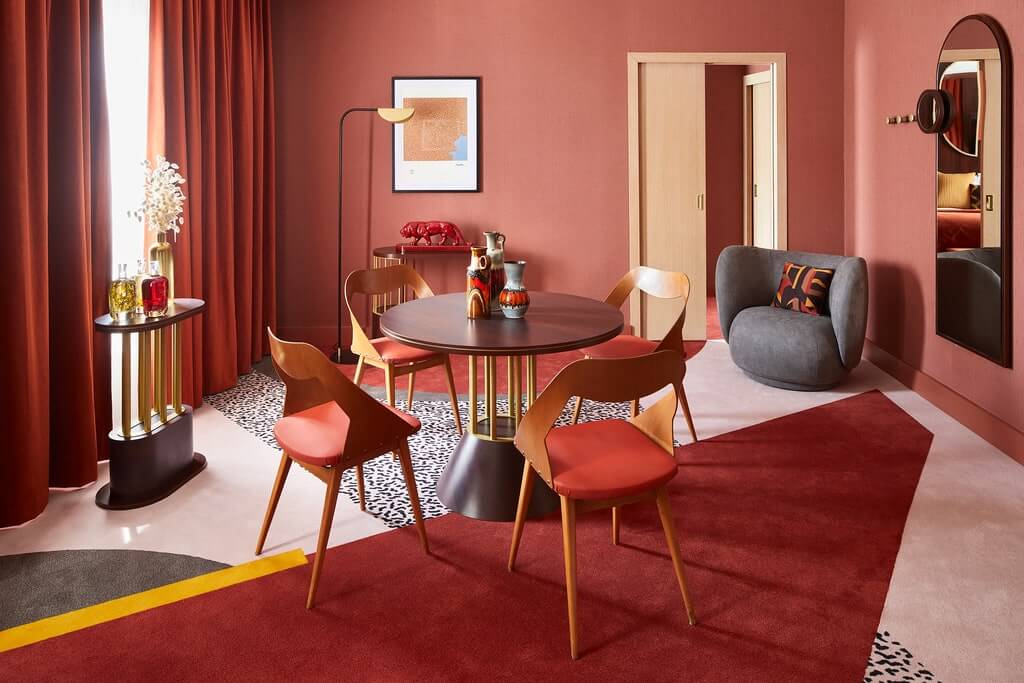 Just like on the Memphis movement, MGallery Nest has a combination of graphic shapes. In the floor of the 16 suites, Oscar Lucien One combines straight lines with round shapes and graphic fixtures. As a result, every room is visually seductive.

GRAPHIC FORMS AT HOME
Kara Bed is a great option to have in your modern Memphis interior design project. Its rectangular headboard asks for sleek round bedside tables. And… voilà. You'll be getting a stunning bedroom just as if you were staying at MGallery Nest in Paris.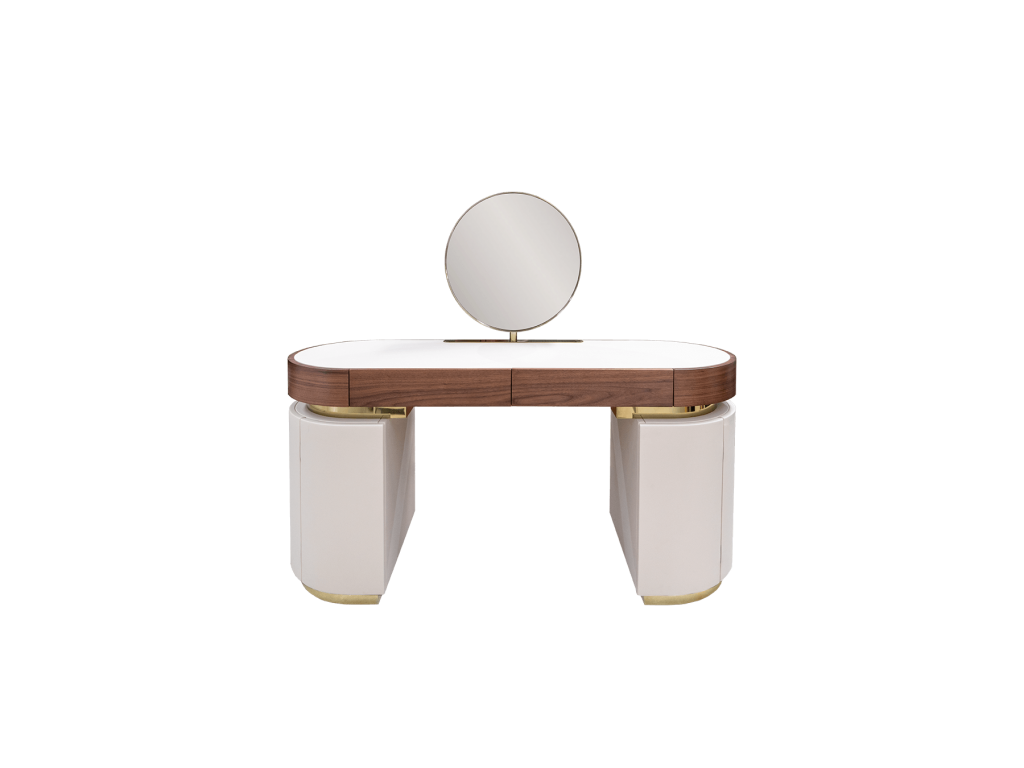 Claire Dressing Table is a must-have not only in a Memphis interior style project but also in a luxury bedroom. A combination of sleek curvy shapes made of different natural materials make Claire a mandotory piece of furniture.
If you're looking for more stuning Memphis interior design projects like MGallery Nest, go check our Pinterest moodboard, with fine interiors curated by Hommés Studio teams.
Source: https://www.architecturaldigest.com/story/mgallery-nest-hotel-in-paris