Anyone with even a passing interest in Chinese culture has certainly heard of the "Year of the Pig", the "Year of the Dragon" or the upcoming "Year of the Ox". These terms, absent from Western culture, refer to the Chinese astrology, and more specifically to the Chinese zodiac. Today Hommes Studio and Ach Collection prepared a zodiac object selection according to each Chinese zodiac sign. 
The Chinese Zodiac shows some similarities to the Western Zodiac as we know it; it too consists of twelve signs, and these signs in some way determine the character and destiny of a person born under a particular star. However, the whole cycle is not only divided into months, but also into 12 years and 12 double hours of the day.
In Western culture, the signs can be animals or material things (e.g. Libra), while in China all 12 signs correspond to the 12 animals that follow one another for 12 years. The order of the animals described corresponds to the order of the legend in which the animals raced to the finish line.
RAT
Element: Water
Color palette: blue, gold, green
Born: 1960, 1972, 1984, 1996, 2008
Those born under the sign of the rat are kind and sympathetic people. They have excellent taste and are very friendly and loyal, especially to their loved ones. They love classic aesthetics and would feel best in interiors kept in blue, gold and green color palette. As their element is water, it is nice to have it near the house, so the feng shui will be correct. 
LEAFUS SUSPENSION LAMP 
Leafus suspension lamp unveils a subtle breeze of fresh and modern design. This luxury suspension lamp is full of sophistication with an organic and elegant shape. Nature-inspired, this design lamp is perfect for enhancing any contemporary living area.
FRACTURED RACETRACK TABLE 
This beautiful modern table by Kelly Wearstler will be an excellent zodiac object for any Rat. Its classic sculpture makes a contrast to the mix of raw and refined elements. Each panel of tempered glass is hand-fractured, creating a juxtaposition of materials with an elegant Antique Brass edge banding. 
OX
Element: Fire
Color palette: white, yellow, green
Born: 1961, 1973, 1985, 1997, 2009
If you were born in the year of the Ox, fire should be your inspiration for home décor. It will give you good energy and best luck. The house of the ox should be decorated in consideration of inviting friends and family, as the Oxes are introverts, so they would likely invite few closest friends than go out. They need to stay in their comfort zones so it's not likely to see an Ox totally changing the house décor. They would rather renovate old furniture and choose zodiac object that brings good memories.
REBUS FOLDING SCREEN 
Rebus Folding Screen is the perfect choice for a room divider. Rotative screens that allows multiple combinations, in between the glass mirrored panels and the patterned upholstered panels, as your preference demands. This Folding Screen is the encounter between aesthetics and functionality, honoring an expertise handmade manufacture process.
OX PRINTED CUSHIONS
Ox cushions pays homage to the Ox's Chinese New Year 2021. ACH presents you with a unique and elegant gray and red cushion design inspired by the lunar zodiac signs. In addition, this eye-catching pillows promises to provide your seating decor a unique sense of positivity, strength, and stability. We believe that every day is a reason to celebrate life, and this is no exception. Powerful shades of gray and red that bring the Ox as a special host to inspire your spirit on this new season of good luck for 2021.
TIGER
Element: Earth
Color palette: blue, gray, orange, white
Born: 1962, 1974, 1986, 1998, 2010
Those born under the sign of the Tiger are usually people with a very complicated character. They have strong leadership qualities, hate submitting to anyone, are bossy and self-centred. They are characterised by great courage and taking on difficult challenges which they are able to cope with. Their houses will look like from interior design magazines, everything they choose will 'impress'. 
GLOBO CABINET
Globo cabinet designed by Jonathan Adler is a luxury product, that will impress all the Tigers. It's the best zodiac object, as it looks very glamorous, with the shiny gold legs and blue solid acrylic cabochons, but it's also functional. Tapered brass legs give it an extra elegant edge. 
IRON TIGER CUSHION 
IRON TIGER is a handmade decorative cushion that stands an eye-catching design by the botanical and exotic blended elements. This sofa cushion boasts mesmerizing colors as the brown shades with black and white motifs in a camel velvet background. It will infuse a bit of the wild jungle into your home, creating a stylish room to please friends with comfort.
RABBIT
Element: Earth
Color palette: red, pink, purple, blue
Born: 1963, 1975, 1987, 1999, 2011
Rabbits do best when surrounded by people, avoid conflict, and are very warm and empathetic. Such people are usually talkative and easy-going, therefore for them the common areas of the house will be the most important ones. Choose comfy zodiac object for this sign and go for pastel, creamy color palette. 
GUILLERME ET CHAMBRON CHAIR 
This oak chair by Guillerme et Chambron show what comfort means. This oak armchair with signature spindle back and great angle-legged profile are everything a Rabbit needs after a long day. 
KARA BED
Kara Bed is a "modest luxury" styled piece – a precursor to minimalism– stripped away any superfluous decoration in search of simplicity. The best choice for a minimalist luxury master bedroom design project.
DRAGON
Element: Water
Color palette: gold, silver, white, gray
Born: 1964, 1976, 1988, 2000, 2012
As we know, the dragon is one of the symbols of China and, contrary to Western culture, there it has a very positive meaning. People born under this sign are charismatic, sociable, energetic and courageous, they also show strong leadership qualities and are not afraid of new challenges. They're houses will look like a wonderland, as they will design it with creativity and passion. Dragons are keen on art and luxury interiors, so we can expect high ceilings and golden details. 
MESHMATICS CHANDELIER 
As we read on the Mooi website: "whoever sets eyes on the Meshmatics Chandelier will never guess what hides behind its sophisticated appearance." Designer Rick Tegelaar made a perfect zodiac object for Dragons, as the thin and flexible material of the lamp is stretched and captured within three layers of beauty. 
NAGY BOWL
The ceramic item holds a high-decorative function that is inspired in a Bauhaus special edition, from ACH Collection by HOMMÉS Studio. This luxury decor series of Bauhaus it combines traditional work with cut-off pieces in various size shapes for added texture and character. Nagy bowl is more than a stylish homeware piece to serve food.
SNAKE
Element: Metal
Color palette: black, red, yellow
Born: 1965, 1977, 1989, 2001, 2013
Snakes are very charming, smart, romantic and nostalgic. They hold on to big moments in their lives and want to relive them forever. Their houses will be filled with souvenirs and weird zodiac object, that will remind them of their past travels, family reunions and big moments. They will choose happy, positive colors and a lot of photographs hanging over the walls. 
AMMIR RUG
Ammir rug designed by Hommés Studio is a boundless expression of the Islamic culture. Hand-tufted with New Zealand wool, mohair and cotton. A mix of shapes and neutral tonalities that will make your dining room a one-of-a-kind.
TOWER CABINET
Tower Cabinet by Nika Zupanc is an elegant piece of furniture, that will fit all the souvenirs and object that Snakes want to keep in the house. It has tons of tiny drawers though, so better remember where you put what, as you may lose it forever!
HORSE
Element: Metal
Color palette: yellow and green
Born: 1966, 1978, 1990, 2002, 2014
People born under the Horse sign are very flexible but need to have their own freedom. They love travels and intimacy. Horses will follow interior design trends and will adapt their house décor to their changing lifestyle. They opt for modern interiors kept in minimalistic way with some metal elements. 
MENAGERIE LARGE HORSE 
This decorative horse by Jonathan Adler will remind every Horse about his zodiac sign and will be an amazing décor piece to adorn your interior. 
KENYA CENTER TABLE 
Kenya Center Table is a conceptual furniture piece. The right coffee table for any design collector who appreciates a handmade process full or uniqueness.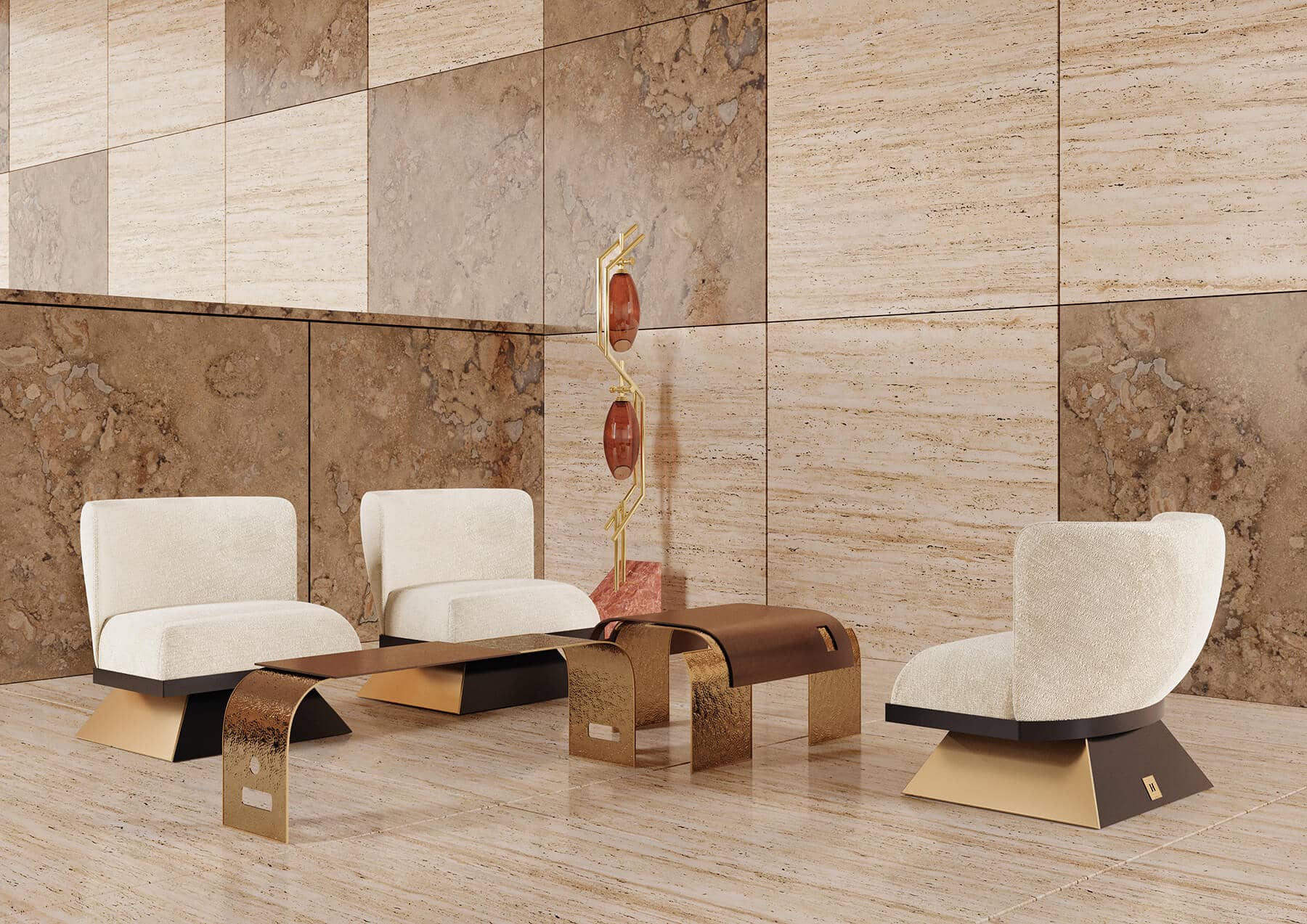 GOAT
Element: Wood
Color palette: green, purple, red
Born: 1967, 1979, 1991, 2003, 2015
Goats like to be left alone with their thoughts, they are very creative, perceptive and unorganised. People from this sign often lack self-esteem, which means they need a lot of love and support from those closest to them. They are very protective about their space and will design it to make an impression on guests. They usually go for comfort rather than style, so we can expect cushy pillows, comfy sofas, big cabinets, soft rugs and neutral colors with some bold accents. 
SPRING SOFA
This fluffy sofa by Patricia Bustos will add an elegant and feminine touch to any room in the house. It's chic yet very comfortable, so it will please the needs of all the Goats. Upholstered in Dedar fabric, its size makes it suitable for any room. 
CHILLOW POUF 
Chillow daybed pouf is a statement addition to your contemporary master bedroom, living, or office room. Perfect for modern and classic interiors, this opulent daybed is upholstered in a beautiful botanical illustration from our Monkeys Collection.
MONKEY
Element: Wood
Color palette: white, blue, gold
Born: 1968, 1980, 1992, 2004, 2016
Monkeys like to have fun, are energetic, reckless and often lack control. They focus mainly on their own needs and only then think of others. They change their mind fast, so they will change their interiors when they please. Monkeys will tend to buy furniture that can be used in multiple ways, like sofa beds and extendable dining tables. 
RENDEZVOUS TOKYO PILLOW 
This blue pillow from Moooi with an amazing Monkey print will be a wonderful compliment to the living room sofa, adding a bit of artsy feeling into the comfy zone. The rectangular pillowcase depicts a lush Japanese forest with playing Indigo Macaques. 
JAGGER DAYBED 
Jagger Chaise Longue is a luxury chaise longue that aims to relax the body and mind and to break routines, ideal for contemporary garden designs.
ROOSTER
Element: Wood
Color palette: gold, brown, yellow
Born: 1969, 1981, 1993, 2005, 2017
Roosters are open to new acquaintances, direct, credulous and sincere. Those born under this sign are perfectionists with analytical minds, unfortunately prone to selfish behaviour. Their interiors will be well-organized and neat, with a lot of beautiful art pieces. They will surround themselves with some small but artsy objects that compliment a well-designed interiors. 
SUPERLUXE BEJEWELED BANDED STOOL 
This stool by Kelly Wearstler is a perfect example of a small artsy object, that will make a statement in any room. This piece features a variety of hand-selected, semi-precious stones bezel set in a brass body. Stones include a mixture of lapis, pyrite, druzy, turquoise, malachite, labradorite, all hand-picked by the designer. 
NINA FIGURINE
Nina figurine is a very special decorative ceramic head. Each detail of this item is inspired by the Native American name "Nina", which means "mighty warrior". A hand-painted figurine that will bring the perfect decor style to your modern luxury project.
DOG
Element: Wood
Color palette: red, green, Purple
Born: 1970, 1982, 1994, 2006, 2018
Dog is the most faithful friend and partner. Those born under the sign of the dog are inclined to be wild, whimsical, but also loyal, gullible and sincere. They will focus on intimate spaces and tend to design with the thought of their well-being rather than suiting their guests. 
KARA SOFA
Kara Sofa is an art deco style sofa. This statement sofa promises to be the absolute protagonist of a living room project. Its art deco inspirations are reflected in its shapes, revealing an eclectic, luxurious style.
LIQUEFY CENTER TABLE 
This center table by Patricia Urquiola will take you to another dimension, with its oval shapes and mesmerizing pattern. It combines the transparent fluidity of glass, with the elegant vein patterns of marble. Tempered, extra-light glass contrasts with the faded and irregular decoration. A surprising zodiac object, an ever-changing effect make the veining look dynamic and variable, depending on the viewpoint.
PIG
Element: Fire
Color palette: yellow, gray, brown, gold
Born: 1971, 1983, 1995, 2007, 2019
The last sign of the zodiac does not mean the weakest sign at all, as pigs are very polite, well-mannered and have good taste. They are also good and devoted friends who are always there to help. They usually end up being wealthy and they like luxury interiors with a touch of art. 
GUCCI JACQUARD ARMCHAIR 
This amazing and very unique armchair by Gucci will impress every Pig that is an art lover. The whimsical design of the armchair is enhanced by GG pattern jacquard upholstery interspersed with bees and stars—codes that have become synonymous with the House. The seat is trimmed with braided and knotted fringes, accented by brass nail heads that highlight the silhouette.
CLEINE CONSOLE TABLE
Cleine Console Table embodies the meaning of "art for interiors". It's a luxury zodiac object that was specially developed for art and design lovers. The console's cubic shapes defy the laws of physics and provide a staggering identity to any hallway project.