The first impression of a home is often set by its entryway. Take inspiration from Celebrity Homes with these Entryway Ideas to design your own.
Celebrity homes can be a great starting point for inspiration for your interior design projects. Hollywood stars often have unique and creative styles reflected in their entryway ideas, which serve as the first impression of their homes.
When designing a house, the entryway is crucial as it gives a glimpse of the interior. It's vital to take great care when creating this space since the initial impression is essential! In this article, we will take inspiration from celebrity homes and provide fantastic entryway ideas for your projects.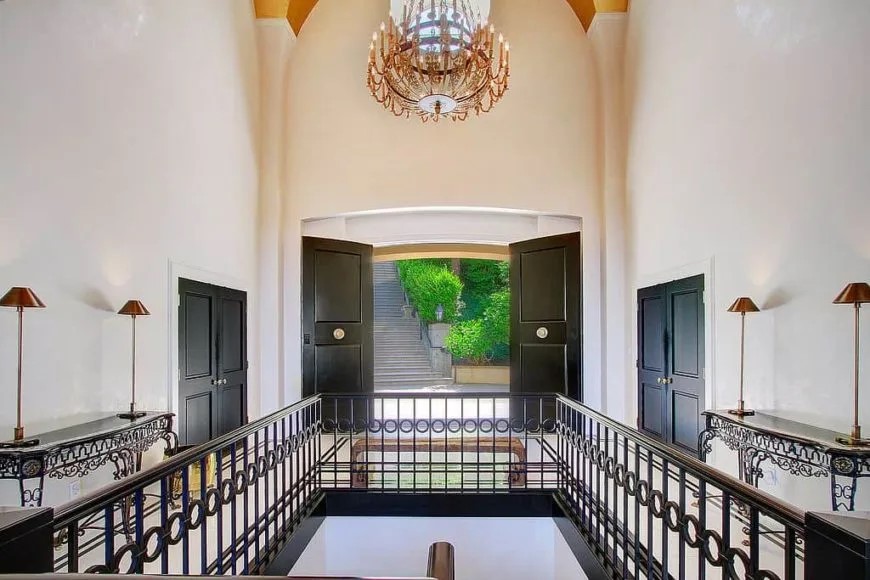 Gwyneth Paltrow Contemporary Entryway
Gwyneth Paltrow's residence exudes a serene ambiance with its modern design. The entryway of Gwyneth Paltrow's home features an exquisite 18th-century fireplace, a large window, and a reclaimed black-and-white title floor inspired by her time in London. Her entryway draws inspiration from European architecture and boasts breathtaking features like high ceilings, elegant arches, and stone walls.
Additionally, a ship decorates the center table, adding to the overall ambiance of the space. The entryway exudes a calming atmosphere with its perfect architectural details, sacred geometry, and dedication to the Vitruvian proportion. It's an excellent idea for interior designers looking to seamlessly blend European and contemporary styles.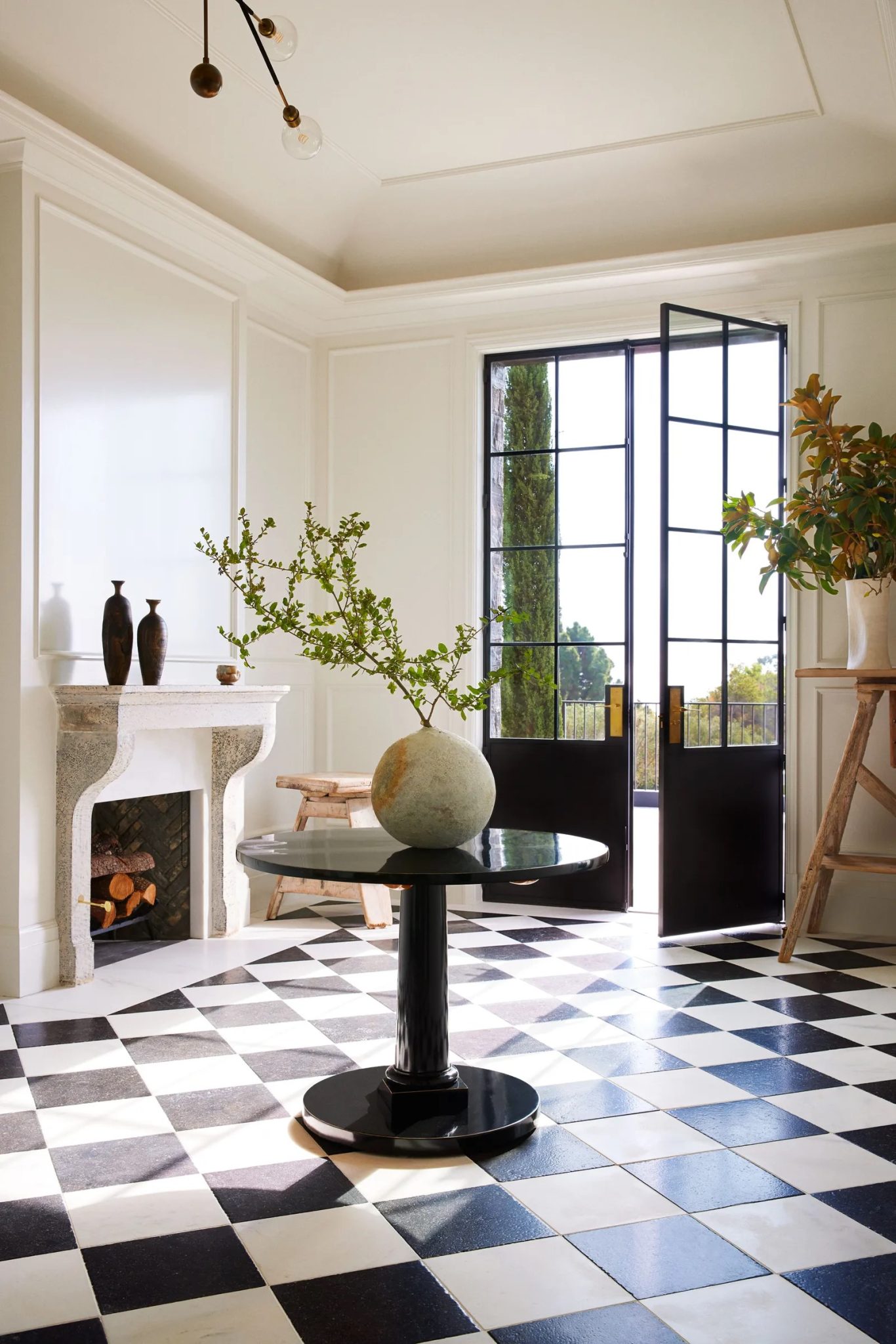 Carla Zampatii Italian Entryway Idea
Carla Zampatti, the renowned Australian designer, profoundly admires the minimalist and sophisticated style of Italian design, and her entryway perfectly embodies this aesthetic's bold and striking essence.
The entryway seamlessly blends the elegance of Italian design with the exquisite artwork of Elisabeth Frink, beautifully filling the corners of the grand entrance, and the central double-height stairwell with the original windows of the home is incredible. For those seeking a contemporary and sophisticated entry, the Carla Zampatii entryway is the perfect example.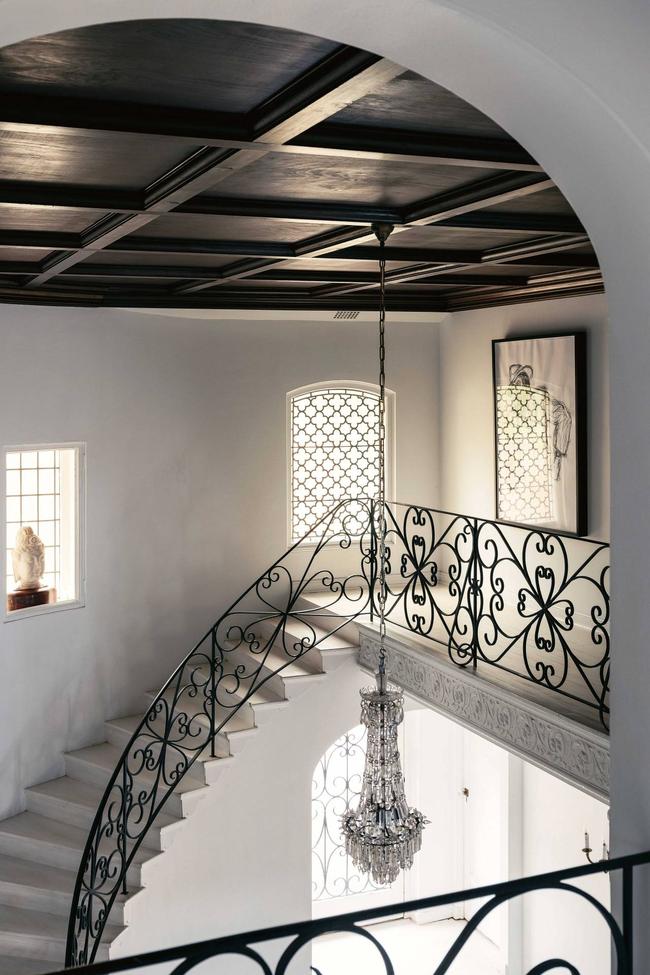 Casual Entryway of Ashley Tisdale
In addition to showcasing contemporary and artistic entryway ideas, we present a modern and casual entryway design. This particular entryway is featured in the gorgeous residence of actress Ashley Tisdale. The inspiration for Tisdale's beautiful entry was a simple conversation that served as a welcoming greeting at the entrance.
She has created a serene atmosphere in her home by incorporating a mid-century design and neutral colors. At this entrance are two comfortable accent chairs and a beautiful neutral rug. The actress's casual entryway provides a peaceful and relaxed setting for anyone seeking an informal and elegant design.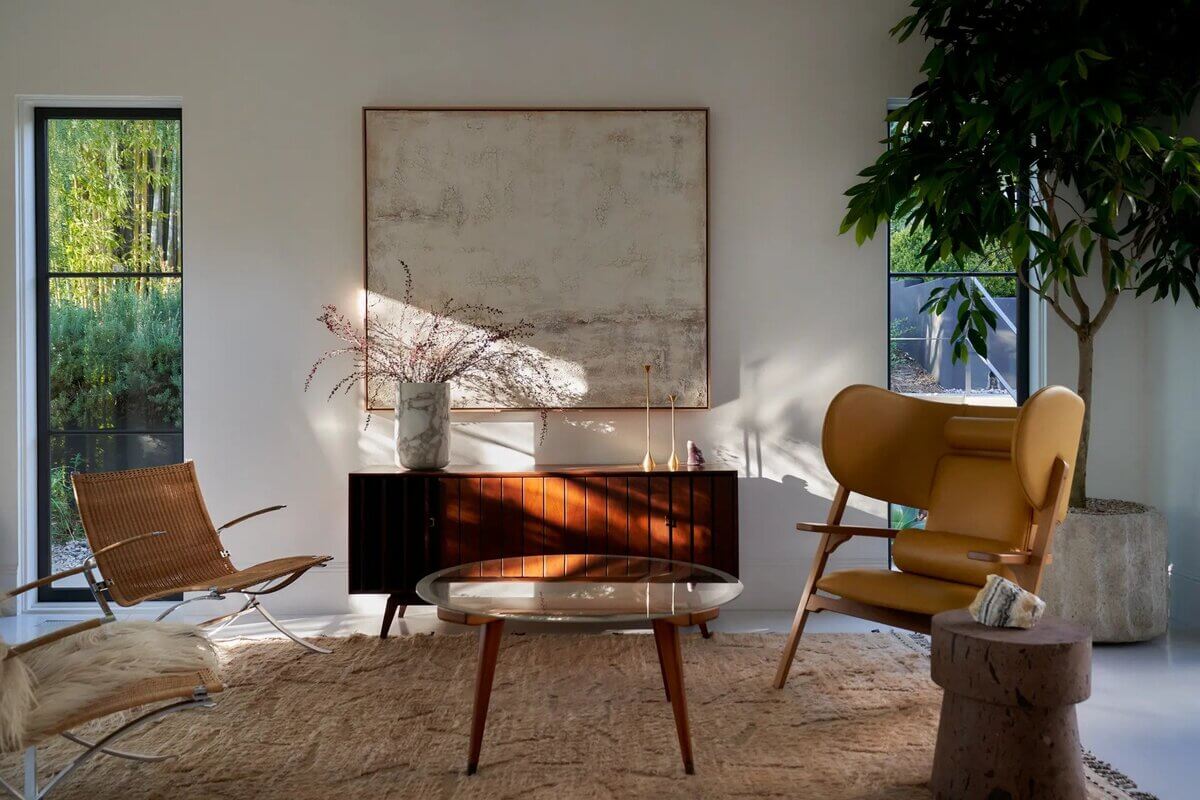 Demi Lovato's Modern Entryway
The entrance exudes a tranquil and peaceful ambiance with several art pieces. This contemporary and artistic foyer showcases an Ekstrem chair, and above it hangs an Untitled RL032 artwork by Ko Kirk Yamahira, which is stunning.
The entrance to Demi Lovato's farmhouse is a sight to behold, exuding both sophistication and beauty. A lovely curved vase adorns an Italian travertine table, complemented by a sleek black Alvar Aalto stool. The artistic and unique design of the modern farmhouse serves as an inspiration for those seeking to create a simple yet elegant entryway, complete with modern furniture and artwork.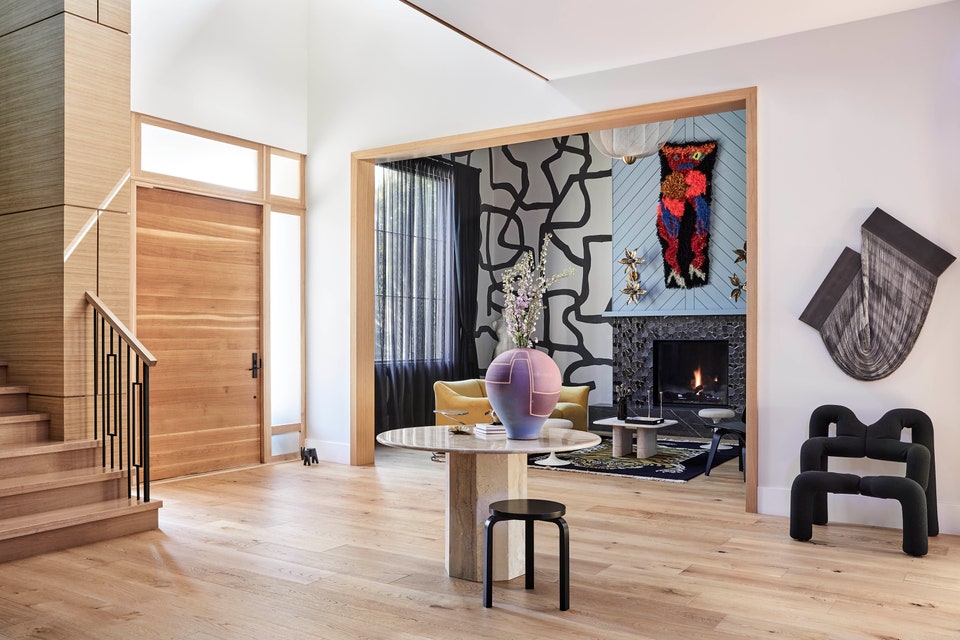 Kylie Jenner's Playful Entryway
Kylie Jenner's residence exudes vibrant and playful energy with its pop art decor. The first thing that catches the eye is the stunning all-white foyer, adorned with taupe wooden flooring and a sleek staircase. The entryway showcases an Andy Warhol screen print of Marilyn Monroe, adding a touch of glamour. Multicolored pendant lights further enhance the vibrant and beautiful ambiance of the home.
The atmosphere of Kylie Jenner's entryway is captivating and welcoming for guests. A luxurious leather sofa stands out, with matching cabinets in the same striking sheen. The Kylie Jenner aesthetic is a fantastic source of inspiration for creating youthful energy in interior design.
Angelina Jolie Spacious Entryway
Angelina Jolie's entryway exudes a classic and meticulously curated design. The spacious entrance boasts a stunning vintage rug at its center, perfectly matching an Indonesian wood table adorned with a striking bouquet.
Vintage armchairs on either side of the doorway lend a touch of timeless elegance, while a traditional light sconce adds a charming accent to the wall. This entryway provides a serene atmosphere and elegance, with the natural light streaming through the French door and the small art on the wall completing the delicate entrance aesthetic. The Angelina entryway design is both stunning and unique, setting it apart from previous entryway ideas that have been showcased.
Serene Entryway of Matt Damon
The ambiance of Matt Damon's Pacific Palisades home is incredible, with a serene and zen-inspired feel. The stunning wood coffered ceilings and large wood and glass framed doors add to the natural aesthetic. A vintage-style rug creates a warm and inviting atmosphere, while framed black-and-white art adds a touch of modernity to the elegant design.
The design of this home seamlessly merges interior decor with the natural beauty of the outdoors. The entrance exudes a natural vibe, with sizable planters and thick branches, creating an ideal setting for those who love the nature of the outside.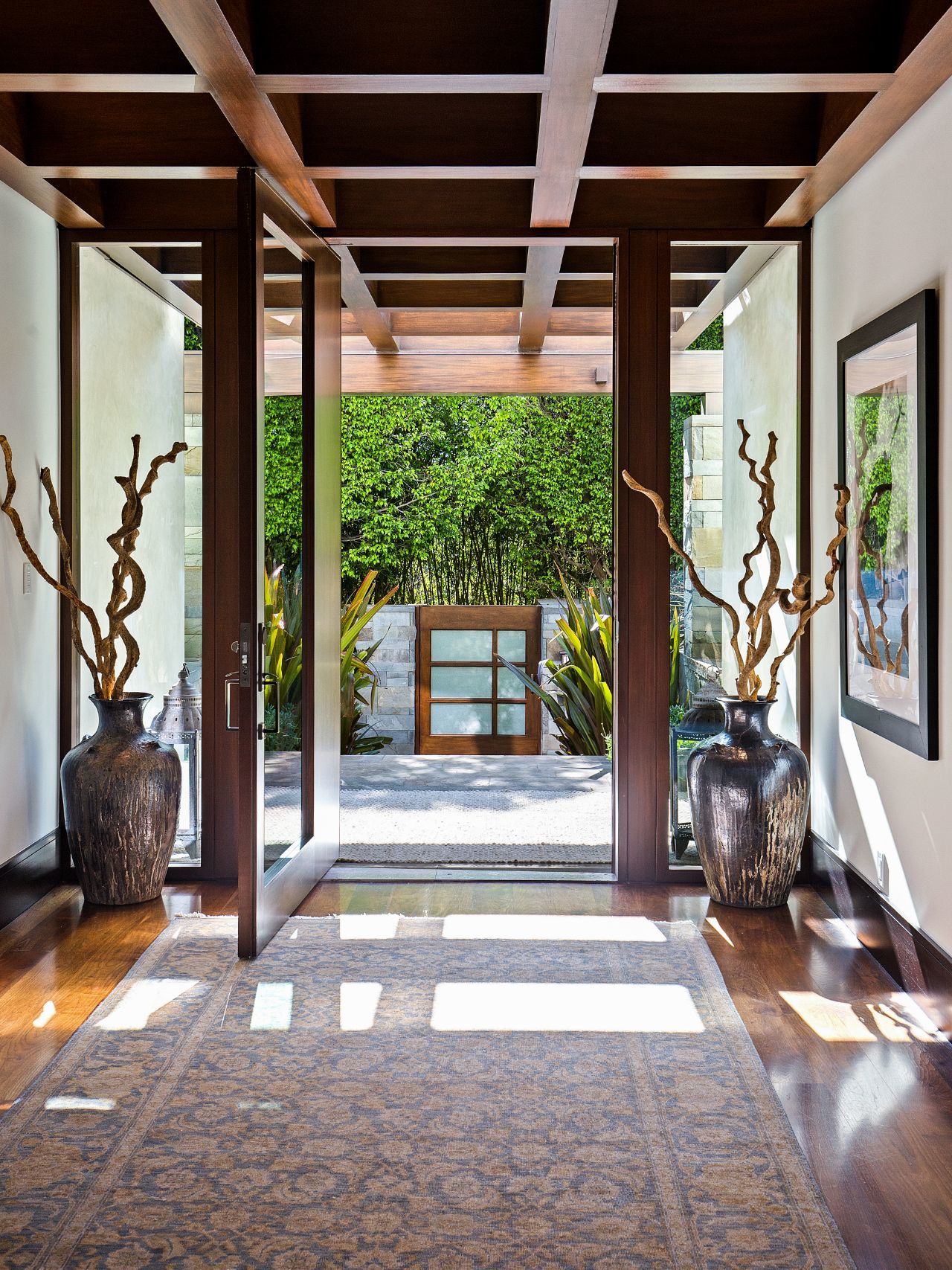 Travis Backer's Mansion Entryway
The entryway idea of Travis Backer is the most artistic among the other entryway ideas. As you enter the mansion, the home design makes a perfect impression. A diamond-dust Dracula installation hangs above a 19th-century Chinese console adorned with charming ornaments.
The entryway of Travis Backer's Mansion exudes a serene ambiance and features tastefully arranged furnishings that convey both sophistication and personal style. The stunning artwork gracing the walls adds to the overall aesthetic appeal of the space—a perfect entryway idea for those who want to combine elegant furniture with artistic elements.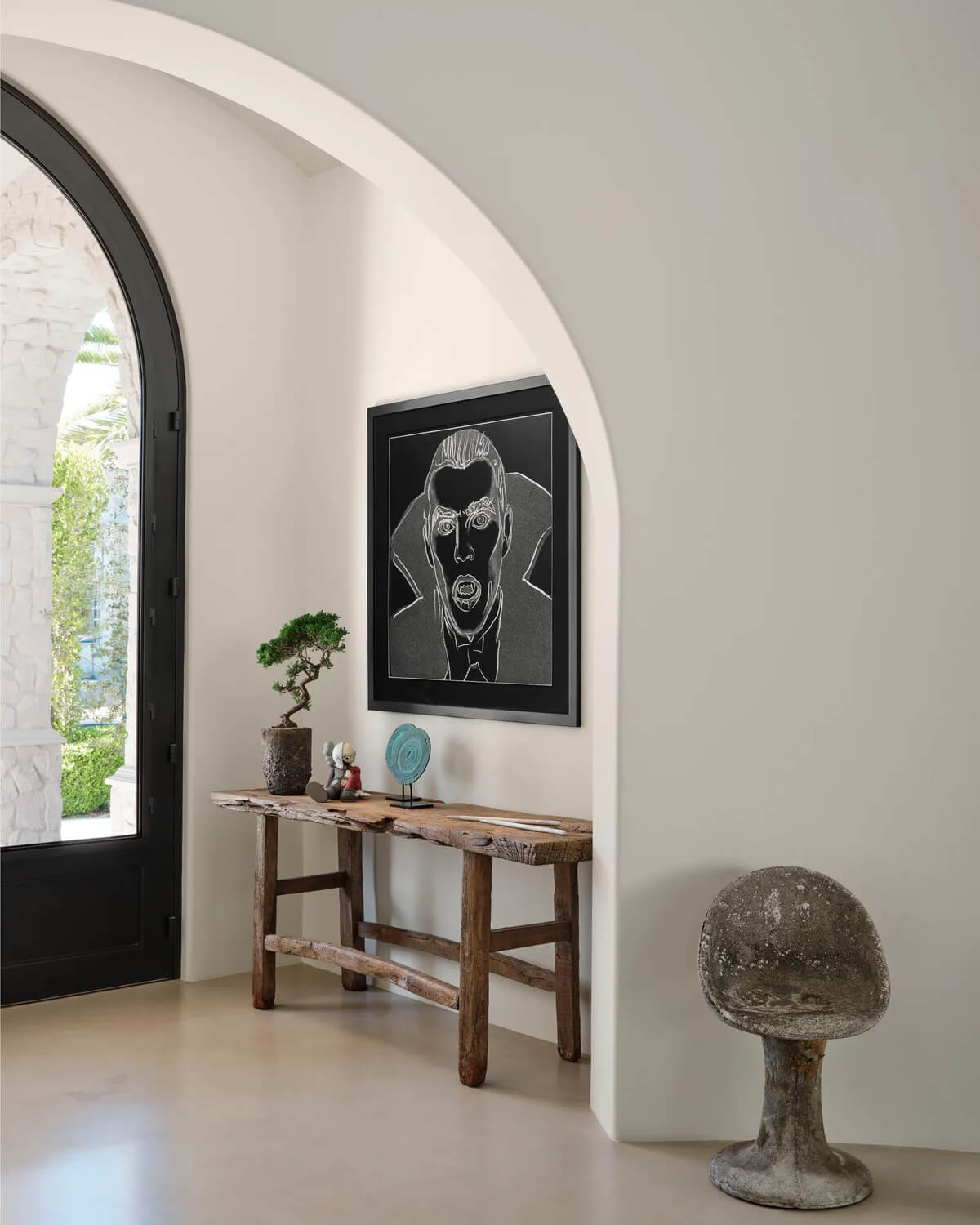 Ready to create an Entryway like a Celebrity?
The entryway ideas presented here are exceptional, each displaying a unique and distinct style. Whether you prefer vintage charm or modern flair, these entryway ideas will inspire you to create an entryway that exudes a luxurious and sophisticated feel – fit for a celebrity. You can make an unforgettable first impression by combining perfectly selected furnishings and artwork elements.
We hope these gorgeous entryway ideas have inspired you to create a luxurious and unique entrance area, just as they inspired us. Know that you know some entryway ideas, be sure to check out the article How to Decorate an Entryway Like a Celebrity for further inspiration. This article showcases entryway ideas and how to apply them to your entryway projects.