Passionate about decoration, Ashley Tisdale's inspirational home in LA, was designed by herself and with the help of other prestigious designers.
With her own Interior Design business, Ashley Tisdale's inspirational home was designed by herself and with the help of other prestigious designers, a stylish home with a clear connection to nature, in LA.
Ashley Tisdale is an actress, singer, songwriter, producer and most recently founder of her own Interior Design business Frenshe Interiors. 
With a tendency to completely rebuild the interiors of her houses, Tisdale believes that she has become quite creative with her homes because of the influence of her father, Mike Tisdale, who built her first house from scratch.
The thirty- six year old new mom, developed a new passion during the pandemic. She launched her company, Frenshe Interiors, which was born after the renovation of her own home, giving rise to a structured and compelling business.
With a background of interior design projects inherent in her past homes involving designers such as Pierce and Ward, Tisdale has also been involved in a masterclass by Kelly Wearstler, highlighting her taste for this industry.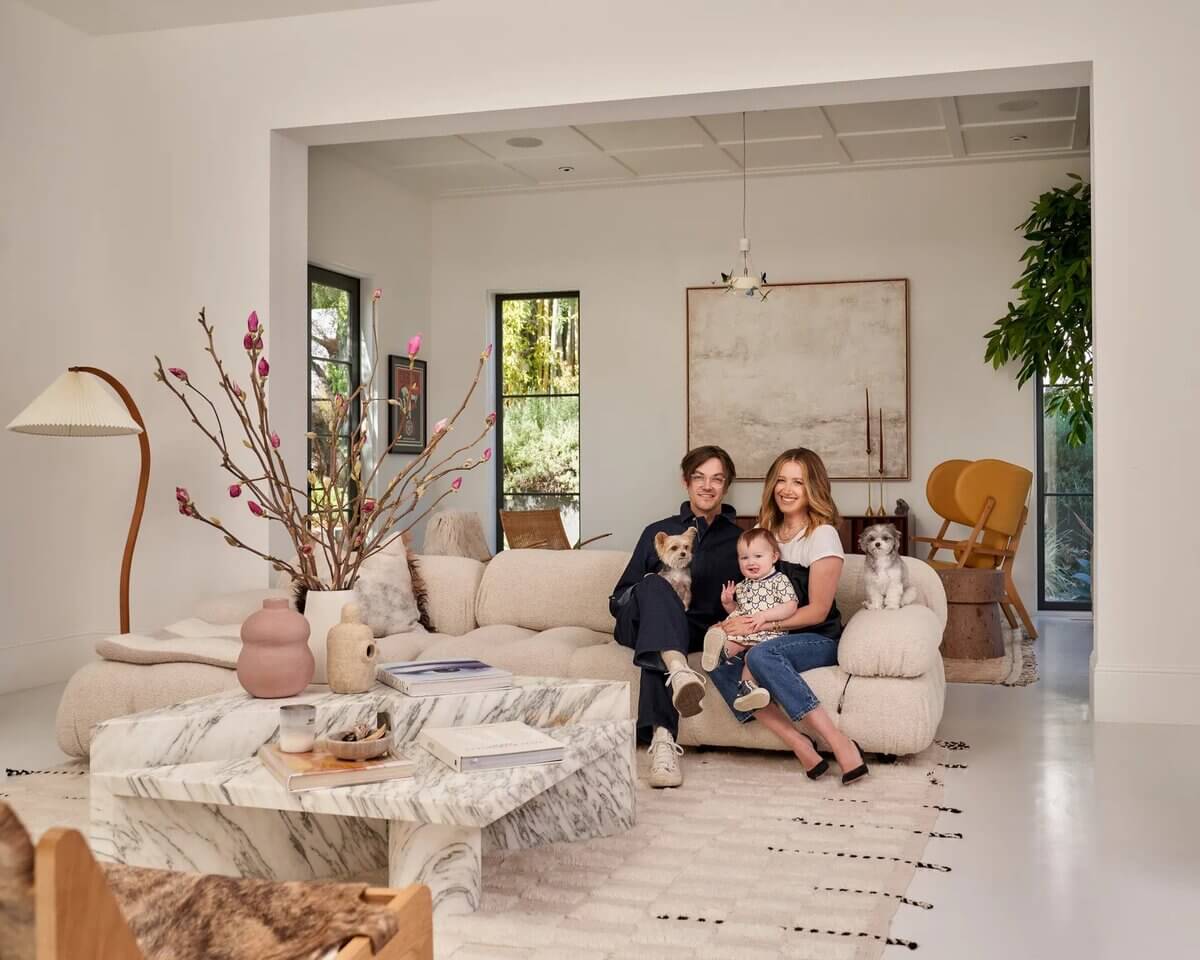 With a more refined and modern feel, compared to the actress's former home in the Hollywood Hills, a Spanish Colonial home, Tisdale was able to adapt her style to perfectly fit her new house, pairing the change she wanted with a dynamic coherence between the existing spaces.
The main source for Ashley Tisdale's inspirational home was Instagram, since she was unable to leave her home due to the worldwide pandemic and the fact that she was pregnant and needed to be extra careful.
A clear evidence of this inspiration, is the presence of an Ettore Sottass mirror, Ultrafragola Mirror, a piece that has gone viral on social media, which reveals her taste for popular and trendy designer pieces.
After designing her new home in partnership with renowned designers, Ashley Tisdale has become passionate about working with icons in this area.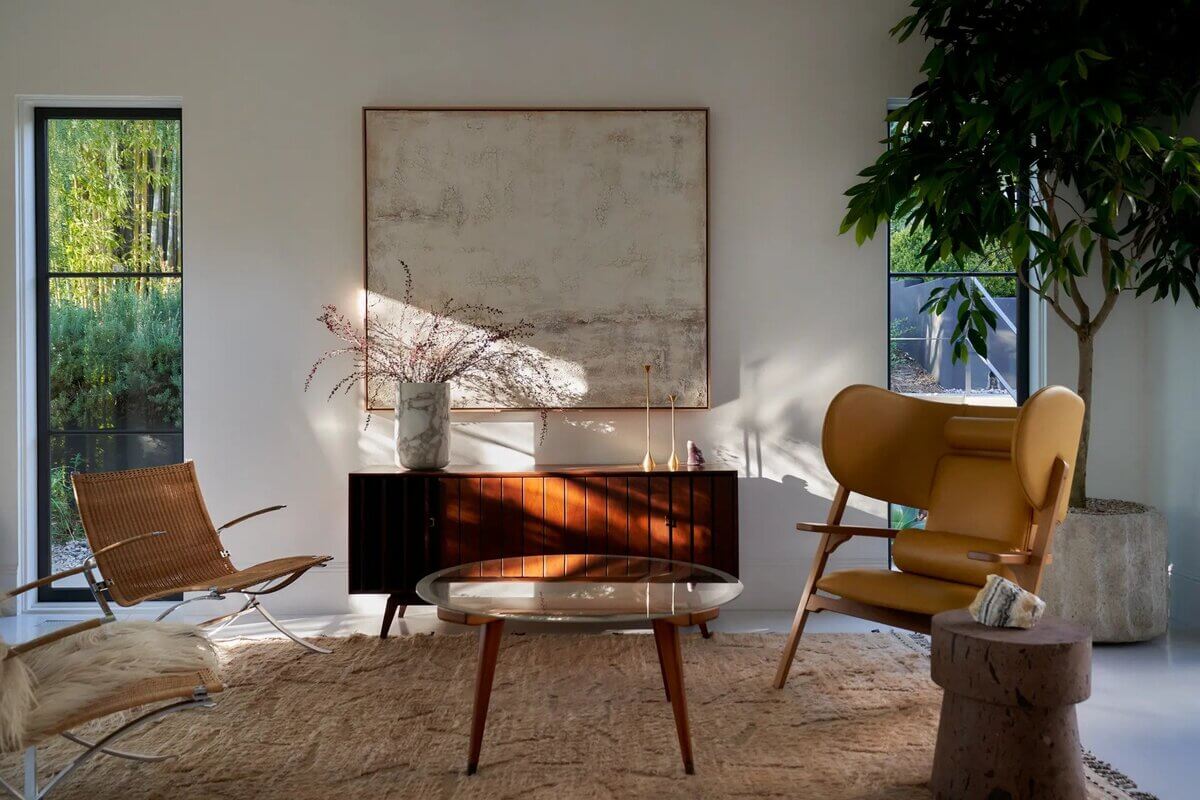 The living – room at Ashley Tisdale's inspirational home is a soothing that features a textured painting by Sabine Maes, giving it a more artsy look.
This specific part is divided into several sitting areas, it also embraces a midcentury signature style.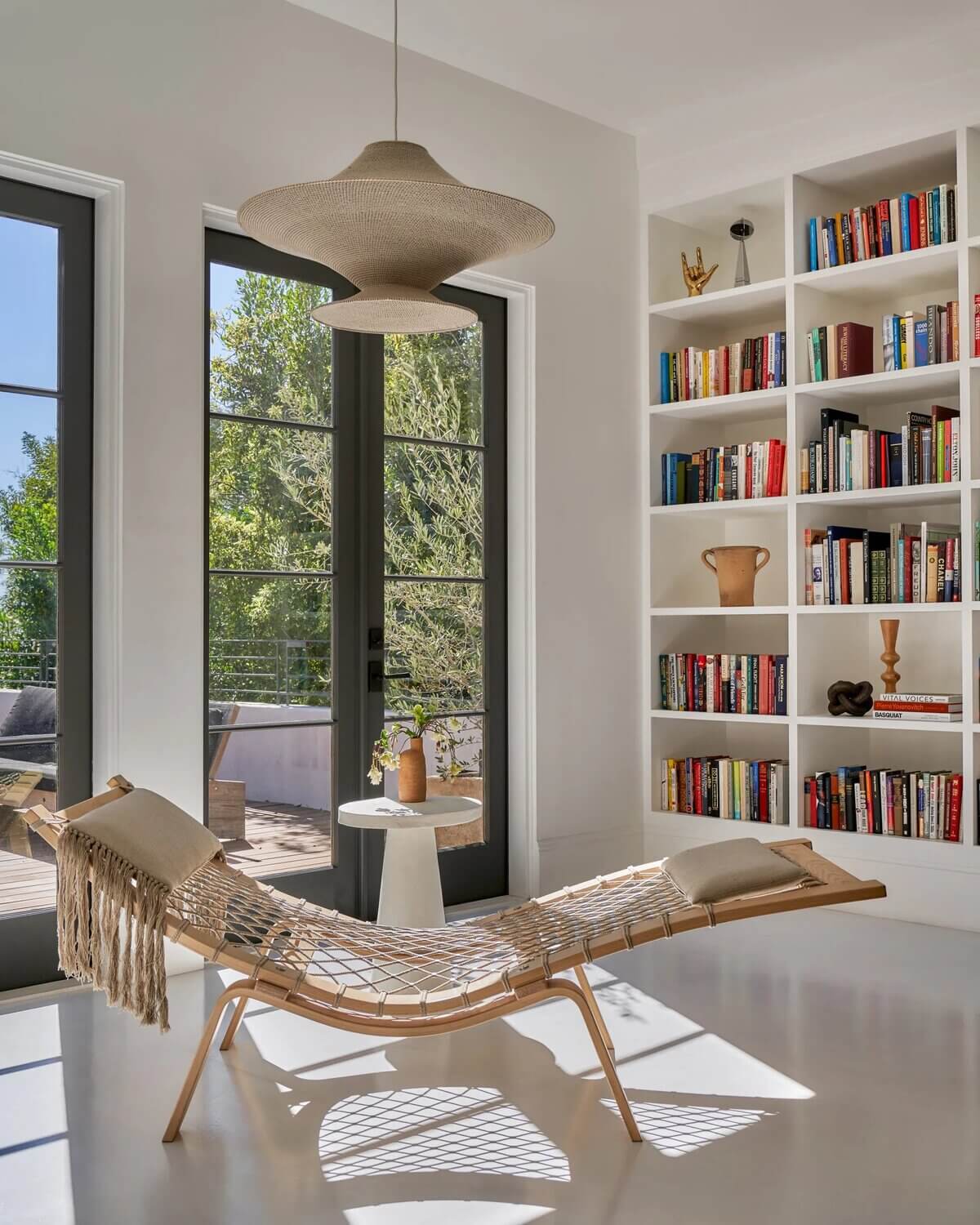 At Ashley Tisdale's inspirational home, the third section of the living – room serves for meditation, highlighting the balcony doors, which, when opened, you can contemplate the eucalyptus trees that are right in front of you.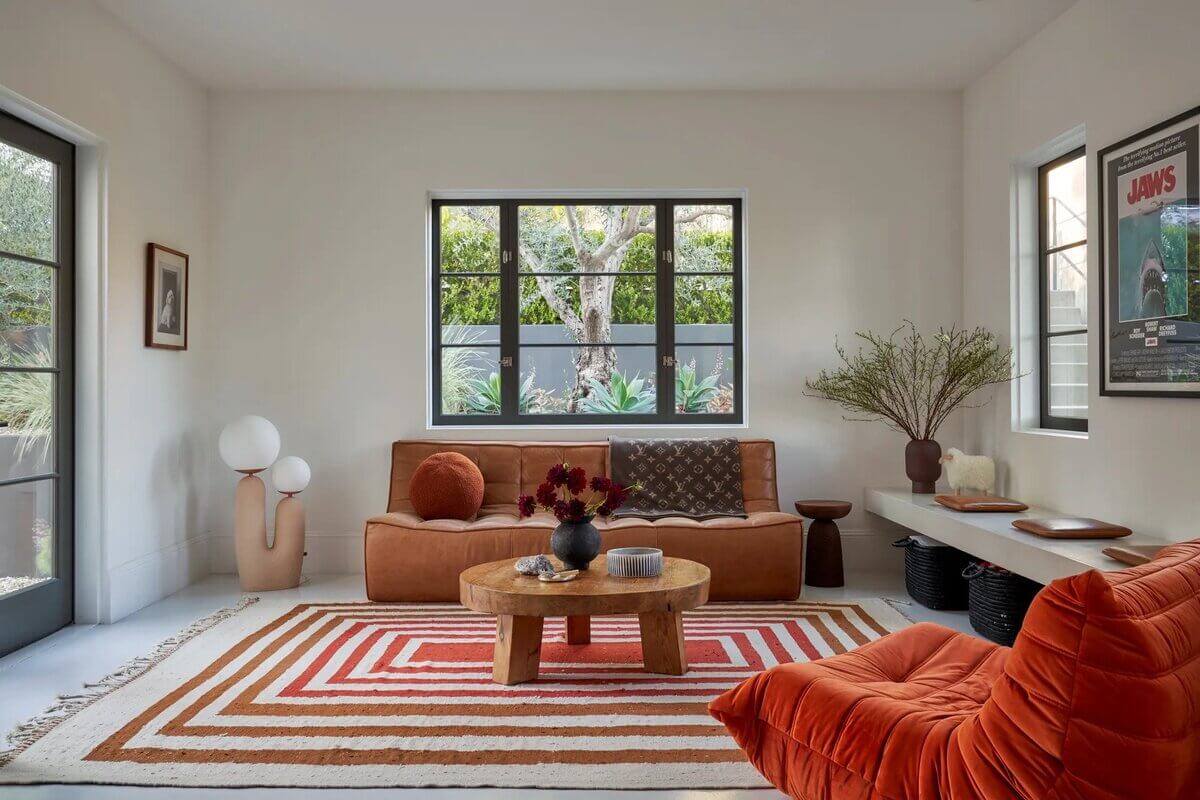 A space with a fun approach, the TV room at Ashley Tisdale's inspirational home is based on orange tones, cozy cognac, giving it a sophisticated style, with a captivating and lively ambiance. Reminding us of our Ach Collection products, as playfulness rule in its name.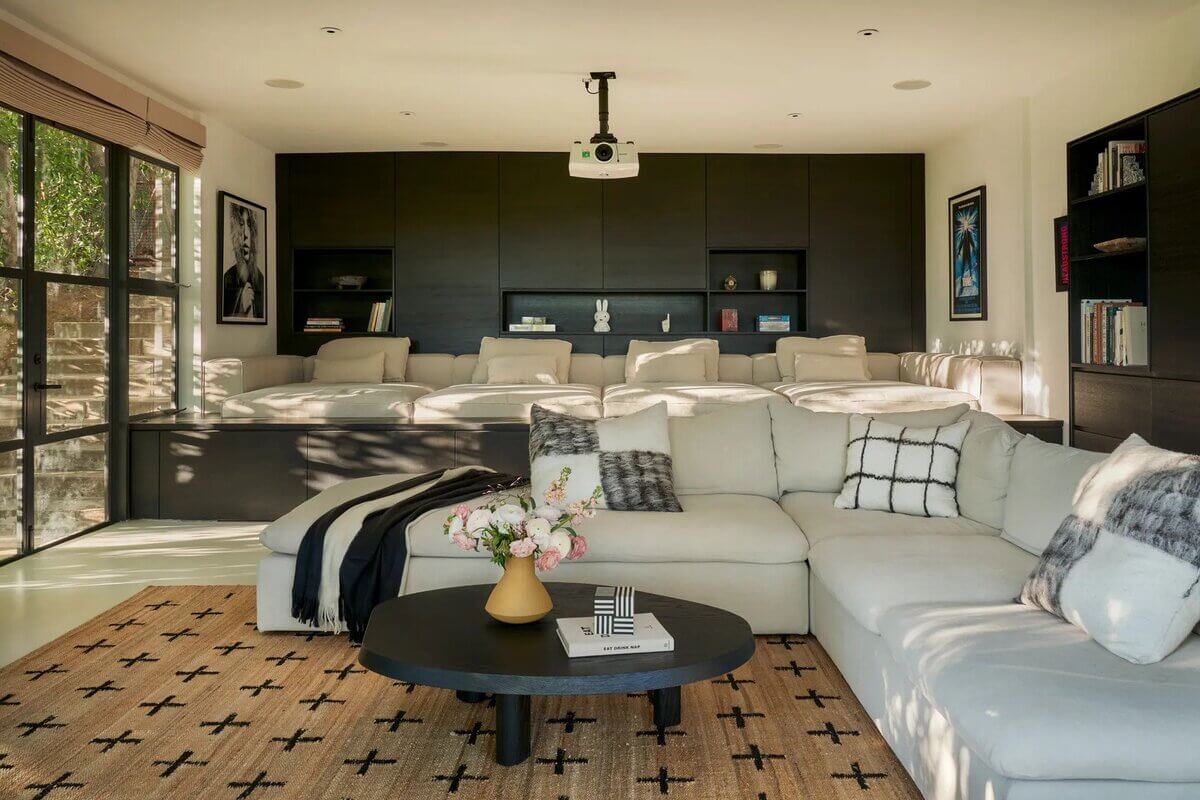 A much needed room for Tisdale and French. A Movie Room. A space that requires comfort, why not add one of Hommés Studio's extremely high quality and tasteful sofas, pairing it with the Lunarys Round Center Table.

With a calm and minimalist style, the trunk by Louis Vuitton at Ashley Tisdale's inspirational home immediately attributes a careful and luxurious feel to this bedroom.
With a corner dedicated to relaxing, nothing better than adding the Lunarys Medium Side Table.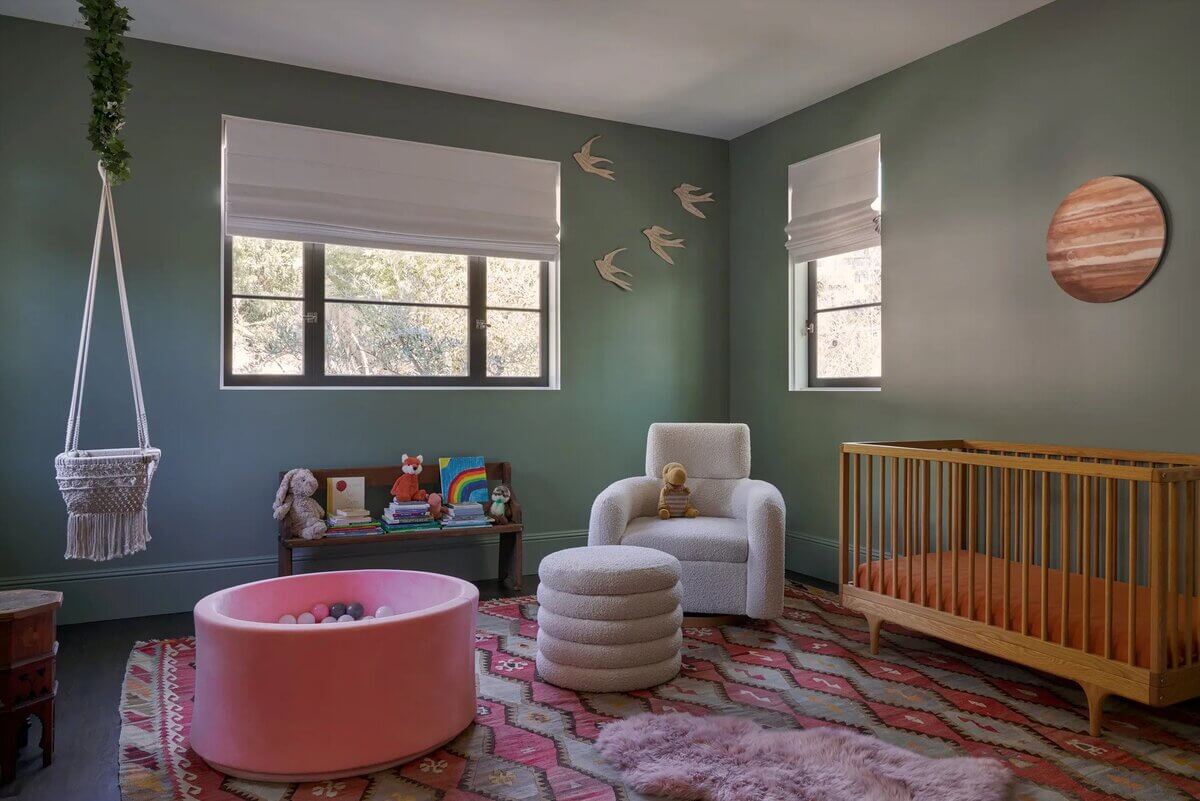 Along with her husband Christopher French, Ashley moved into her new home while pregnant. With an initially minimalist nursery with neutral tones, as she became a mother, she found it necessary to adapt the style of the room to the developing personality of her daughter Jupiter, a fun and entertaining little girl.
Its exuberant leafage captivated Tisdale, since her little daughter is not only fun, but also a nature lover.
Jupiter's room, at Ashley Tisdale's inspirational home, has been completely transformed from vanilla to green tones, with furniture in round shapes, giving it a funky style. Once again, the presence of a piece of art by Gabrielle Graessle.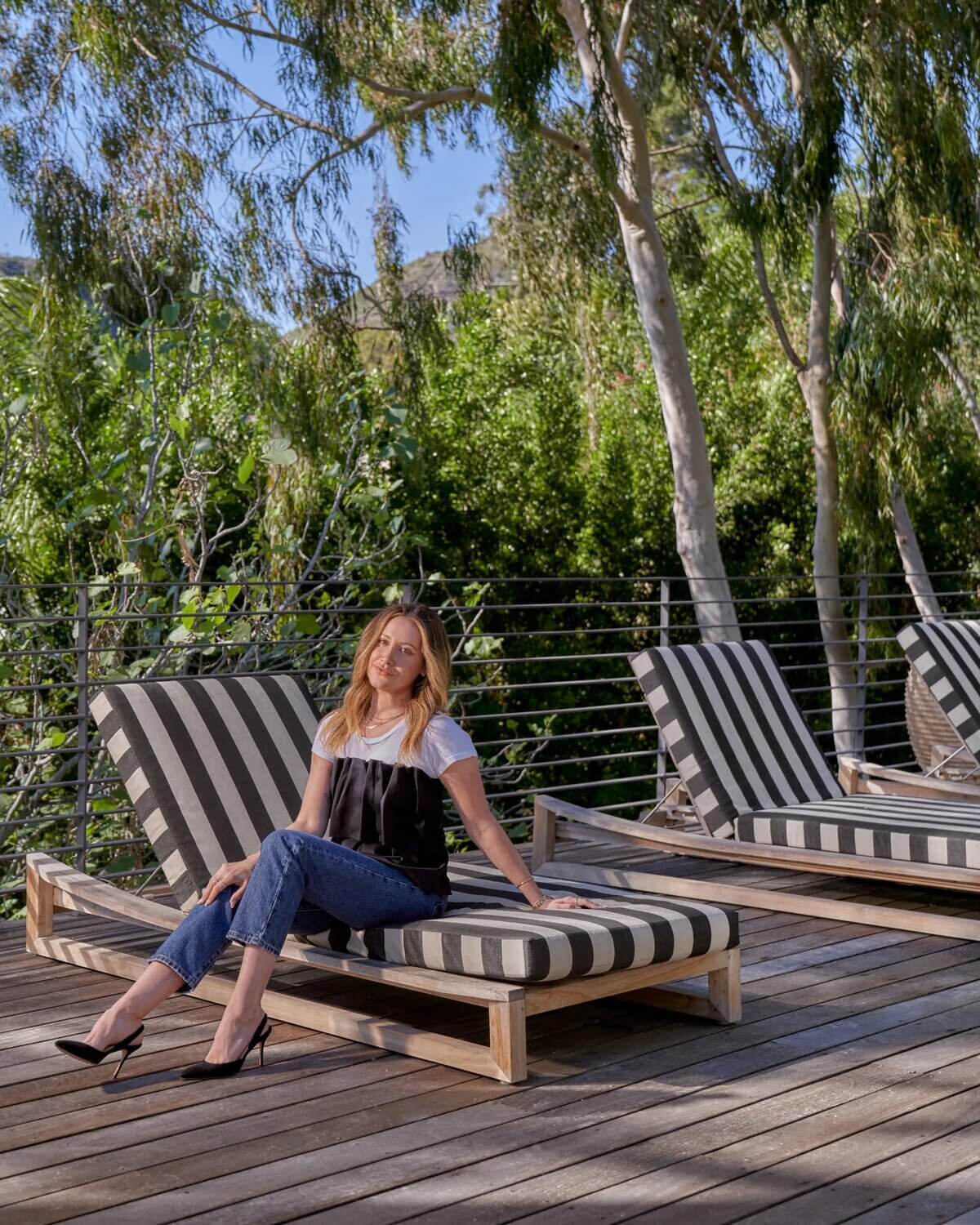 As Ashley feels that nature is extremely important, why not add our pieces from the new Hommés Studio Mediterranean Resort Outdoor Collection, giving it a comfortable yet sophisticated and luxurious style.
ARE YOU INTO INTERIOR DESIGN?
If so, discover modern furniture and lighting designed by design lovers for design lovers. All you need is to download the Hommés Studio catalog. To complete your interior design project, choose the high-end homeware by ACH Collection.