Celebrity Beyond is the newest ship from Celebrity Cruises. Some famous personalities such as Nate Berkus, Gwyneth Paltrow, and chef Daniel Boulud give their personal touch to this vessel.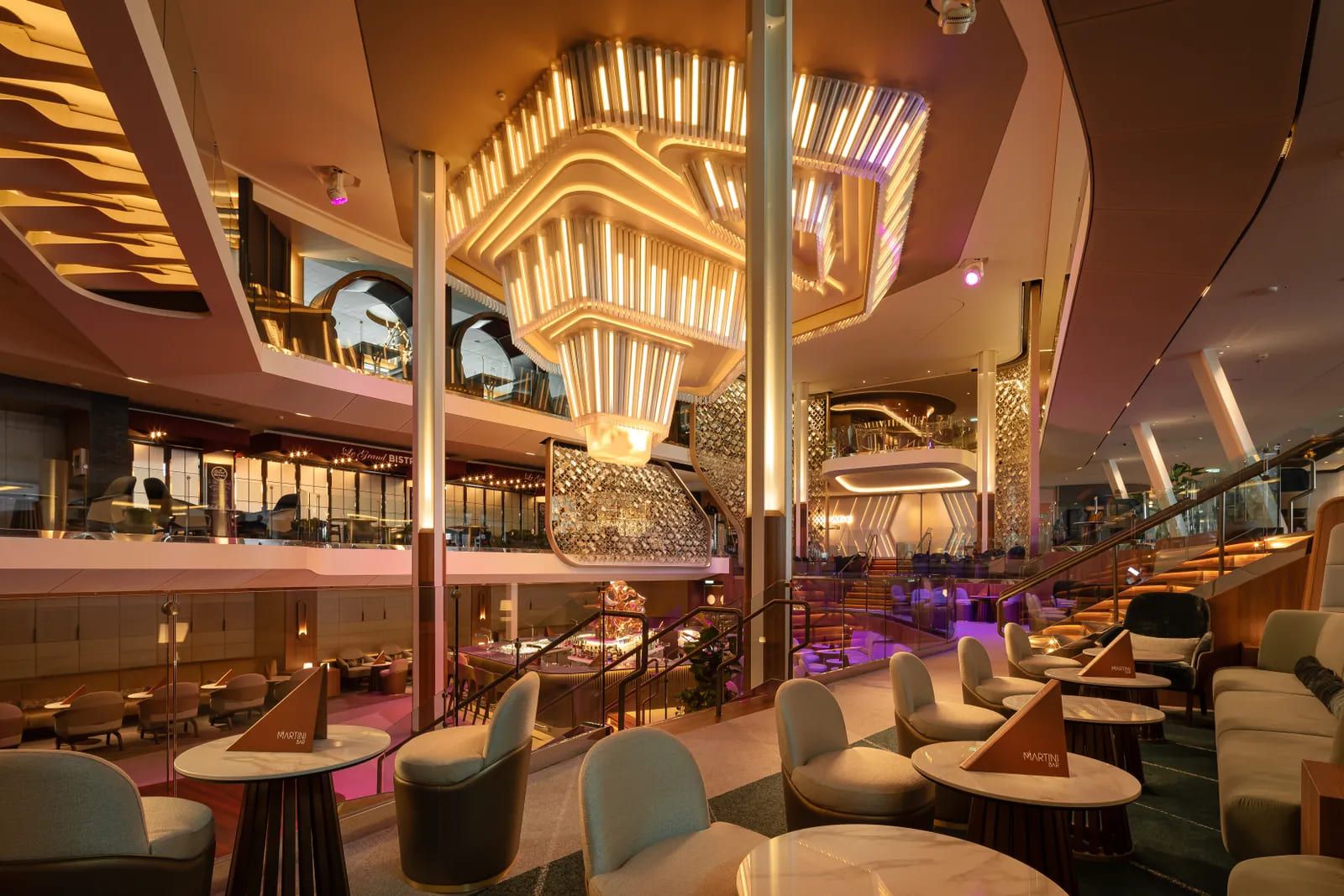 Prepare yourself for a trip beyond the seas, a luxurious and contemporary journey that will reveal a stunning interior design. It's time to see inside the Celebrity Beyond, the cruise ship that makes it possible to travel to places and into the interior design.
Celebrity Beyond is also the slogan from Celebrity Cruises, and as a memorable quote for the company, this ship also has something special. Three real-life stars were invited to help in this project and give their personal luxury touch.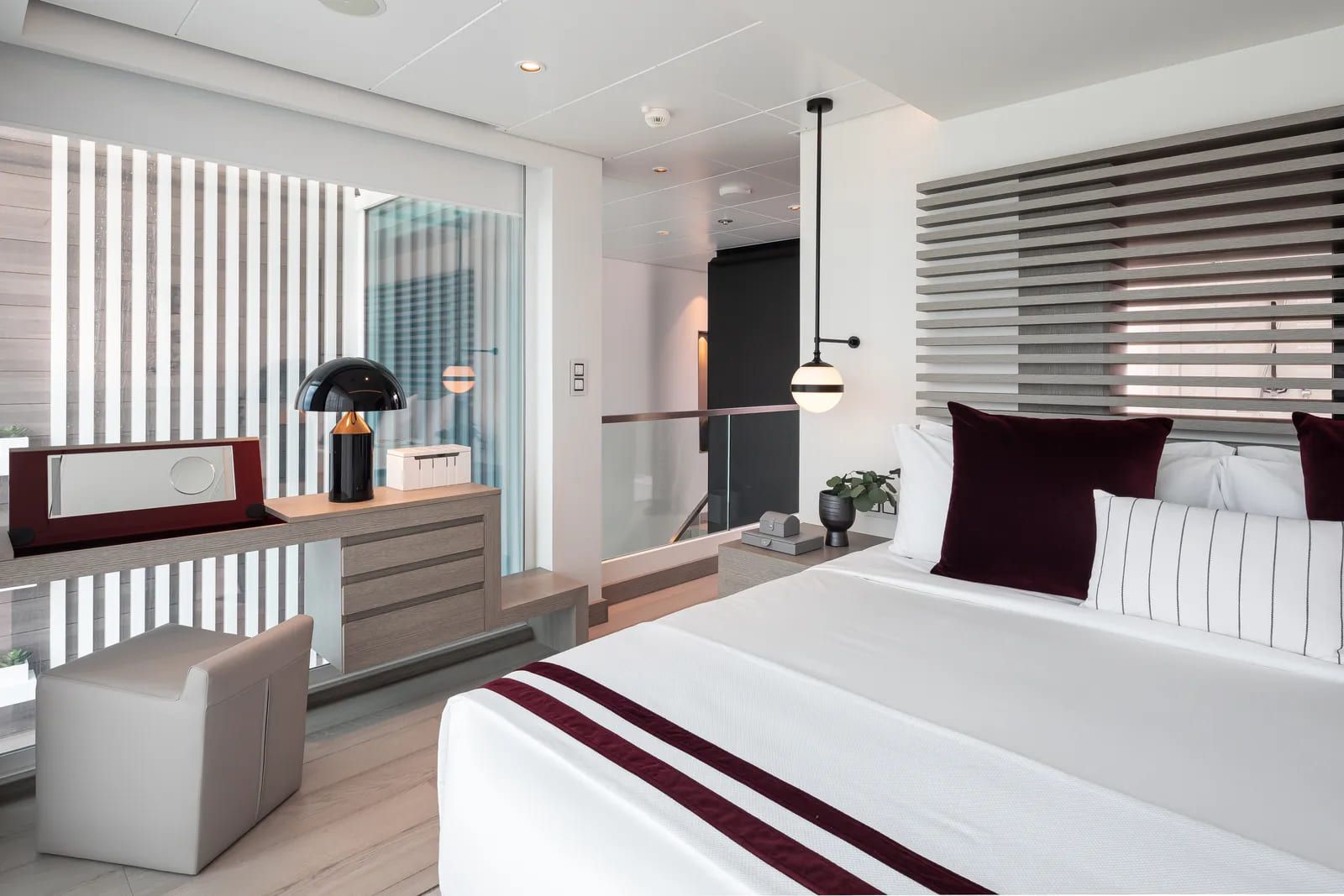 The cruise ship has the exterior architecture by Burj Al Arab, design by Tom Wright, and the interiors by Kelly Hoppen. The ship has 17 decks and room for more than three thousand passengers.  
Who travels on this cruise can see the beauty of France, Spain, and Portugal. But more than appreciate these charming Countries, the passengers can enjoy the luxurious touch of famous personalities.

Sunset Bar by Nate Berkus
Nate Berkus is a famous interior designer, author, and television personality. He was a regular guest on The Oprah Winfrey Show and is the owner of the interior design firm Nate Berkus Associates.
At Celebrity Beyond, he used his travel ideas as an inspiration for his contribution to the two-deck Sunset Bar. Berkus aims to active a concept in his design where the passengers could feel like be in anywhere.
Berkus imagined an entrance that transports those who pass to another place and timeless material in earth tones to active this concept. The Sunset Bar also has a 360-degree view, a perfect addition for a beautiful journey.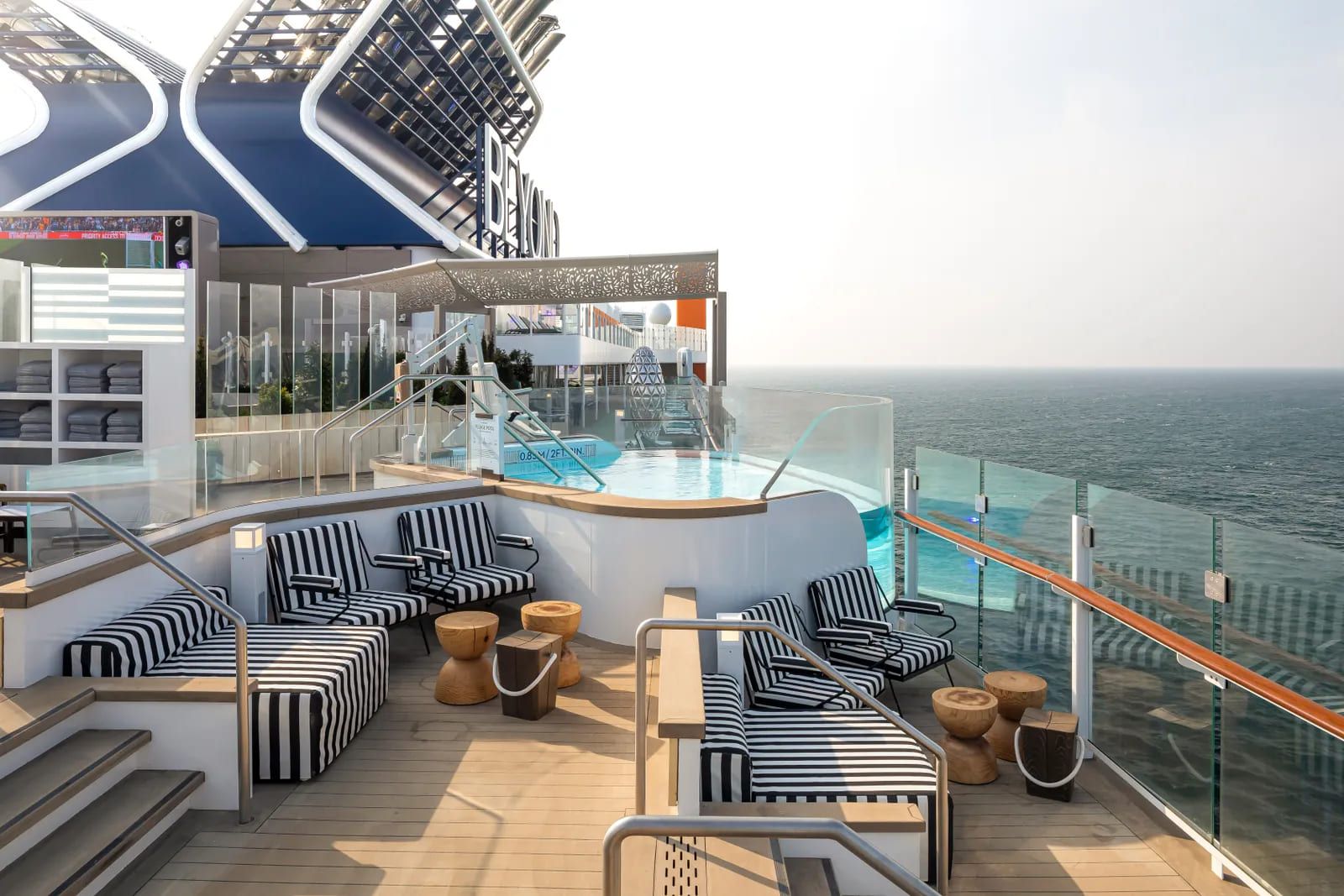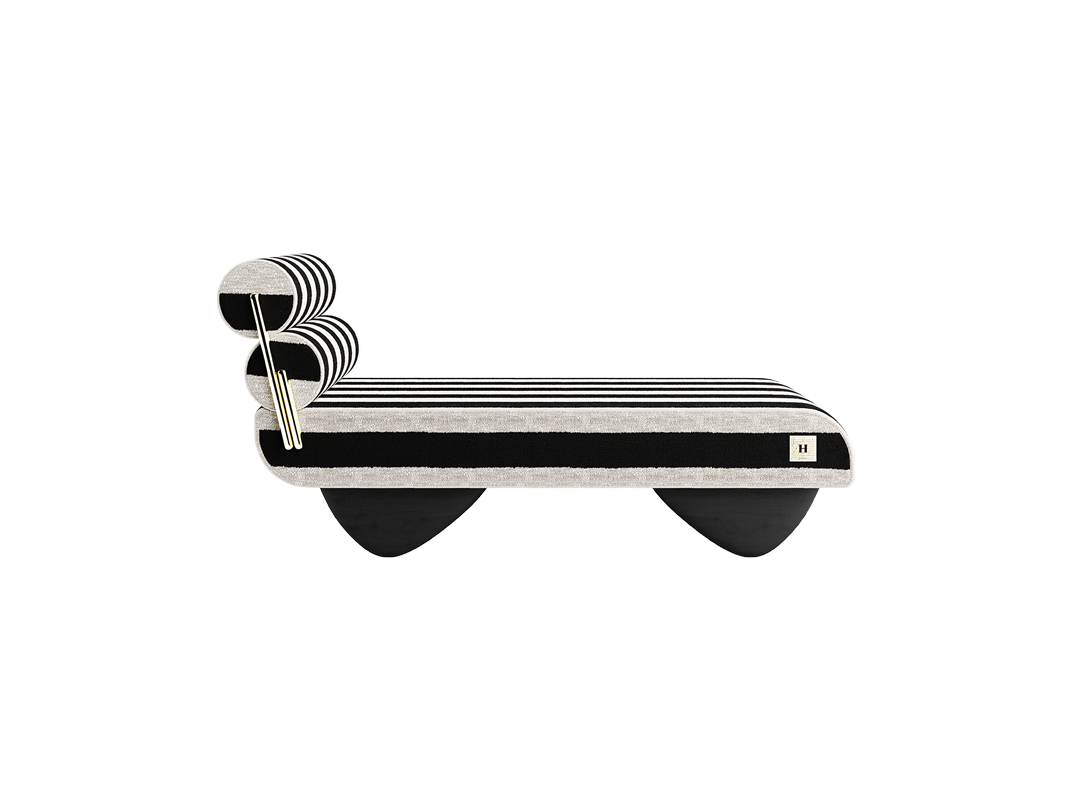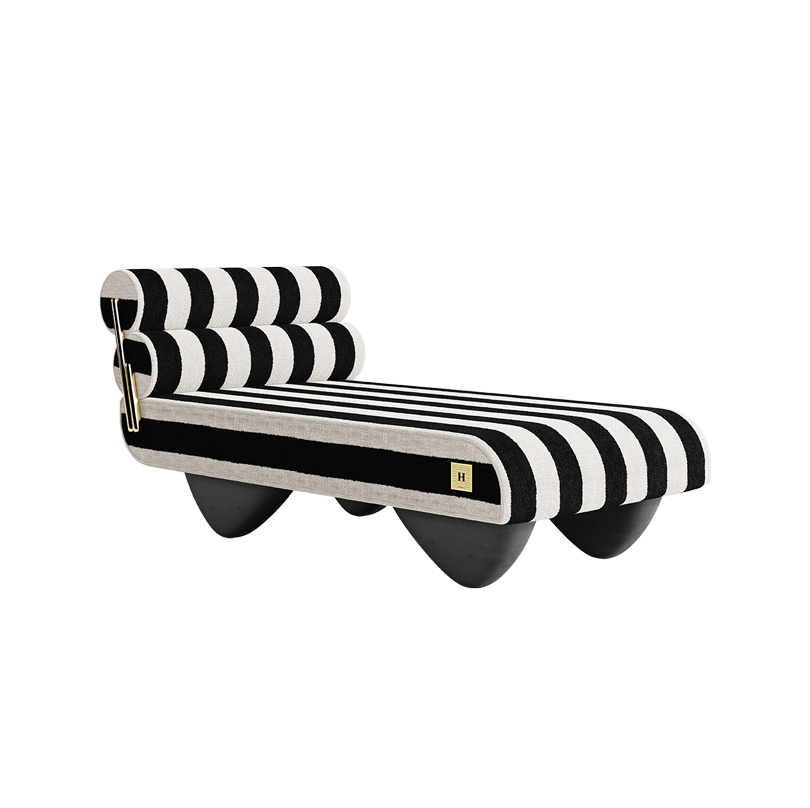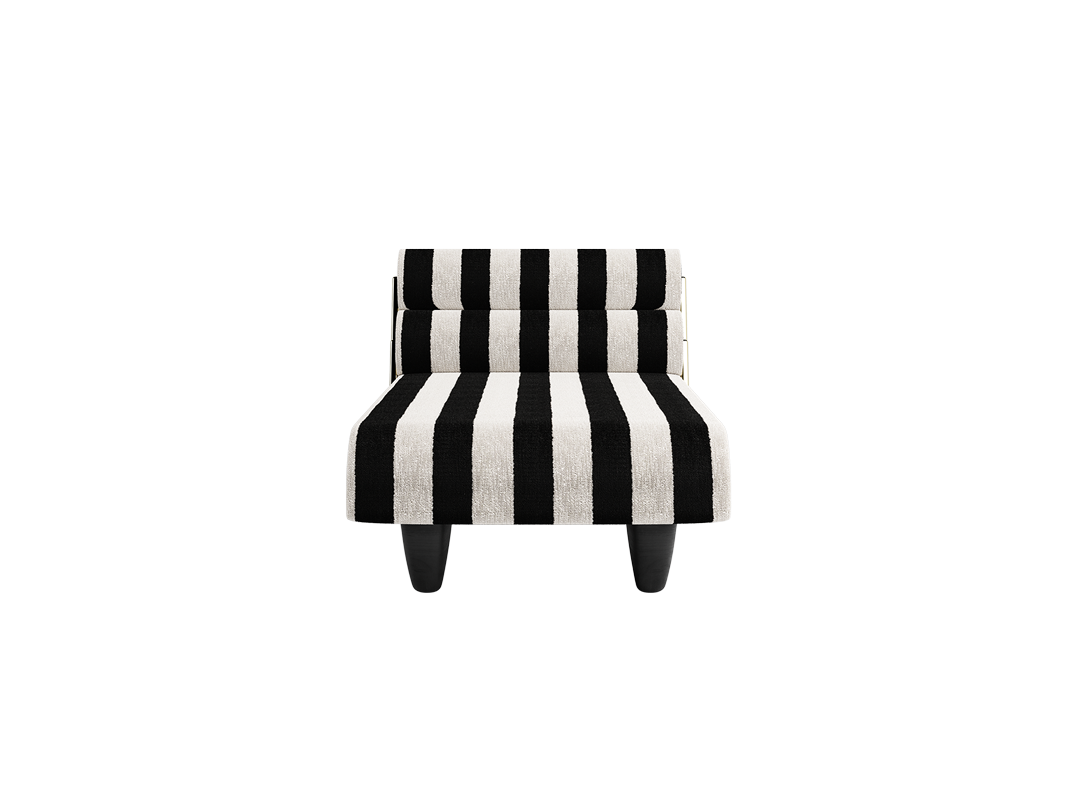 Goop at Sea by Gwyneth Paltrow
Goop is a wellness and lifestyle brand and company founded in 2008 by Gwyneth Paltrow. Since 2020 the brand has had a partnership with Celebrity Cruises. At Celebrity Beyond, the label developed a detox smoothie in the Spa Café, Goop-branded products in the cabins, and Goop-approved virtual movement classes on stateroom televisions.
Le Voyage on-board by chef Daniel Boulud
Daniel Boulud is a French chef. He is best known for the restaurant Daniel in New York City, with two Michelin stars. At Celebrity Beyond, he worked with Sanjit Manku and Patrick Jouin to create the Le Voyage on-board. Boulud aimed to have an intimist restaurant and this ambient; interior design has soft pallet color that helps bring a cosy sensation.
Therefore the famous touches, the interior design of this luxury ship has most spaces designed by Kelly Hoppen. A highlight of the layout is the Rooftop Garden with neutral colors, where the guests can feel the comfort of a home.
Celebrity Beyond offers a luxurious trip with some unique touches and shows that is no place where a sophisticated design cant elevate the ambient.
DO YOU LOVE INTERIOR DESIGN?
So, we have an invitation for you. Discover our Chromatik House, a synaesthetic exhibition that will take part in Milan Design Week; click here.

Source: AD Photos: Celebrity Cruises and Erica Silverstein