Are you searching for inspiration to create a remarkable project? You just found it! Discover eight stunning living room decor ideas to make your layout stand out.
There is no place like home – and there is no better space to spend quality time than in a stunning living room! We always like to bring inspiration to create the perfect living room – and there is a reason why: we believe this is the heart of any home – it's where the family gathers, friends laugh, and incredible memories are created.
As one of the essential home spaces, the living room must be wonderful. In this article, you will find eight living room decor ideas that will help you to create the perfect living space. Read on to discover more and create a stunning project.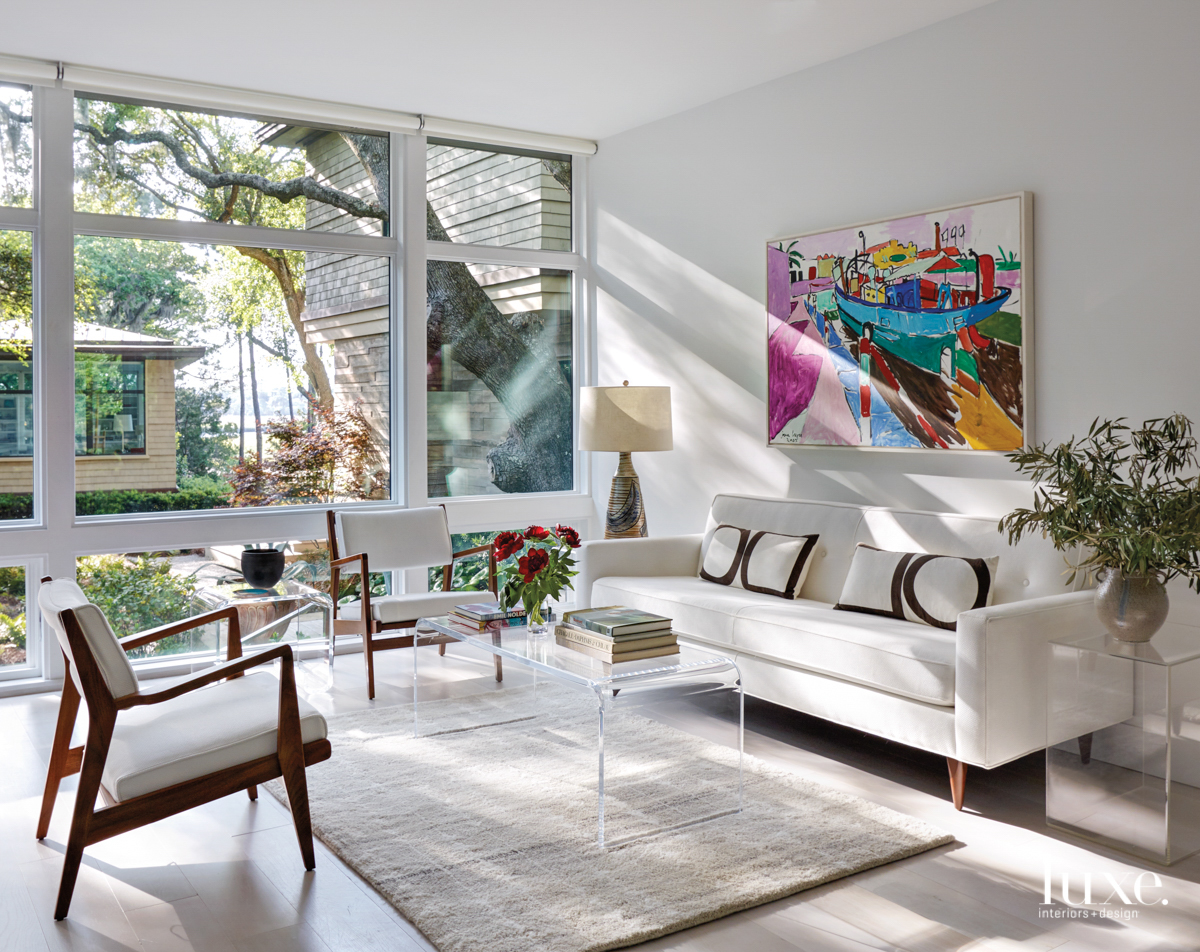 Living Room Decor Ideas
Functional and stunning, this is our definition of the perfect living room; as the heart of any home, this space needs to meet all the homeowner's needs and, simultaneously, be beautiful for the eyes to inspire daily life. If you are looking for some ideas to shine up your project and create the perfect background, you are about to discover eight living room decor ideas, and one for sure will meet your project needs. Get inspired:
1- TAKE INSPIRATION FROM ART
Art is beautiful and full of inspiration, so why not bring the magnificence of the artwork to your project? Our first living room decor idea (and one of our favorite ones) is looking for references in the art! You can reflect the shapes and colors of an art piece in your project or feature the art elements to give your layout a unique flair while adding more value to the design choices.
To brighten up your project, we selected a beautiful living room decor by the interior designer Fernando Santangelo, who drew inspiration from art for this charming living space. The landscape in the 19th-century canvas painted in the Old Master style on the wall is echoed in muted tones of olive, midnight blue, and charcoal and creates a space that seems to share calm and nostalgic feelings.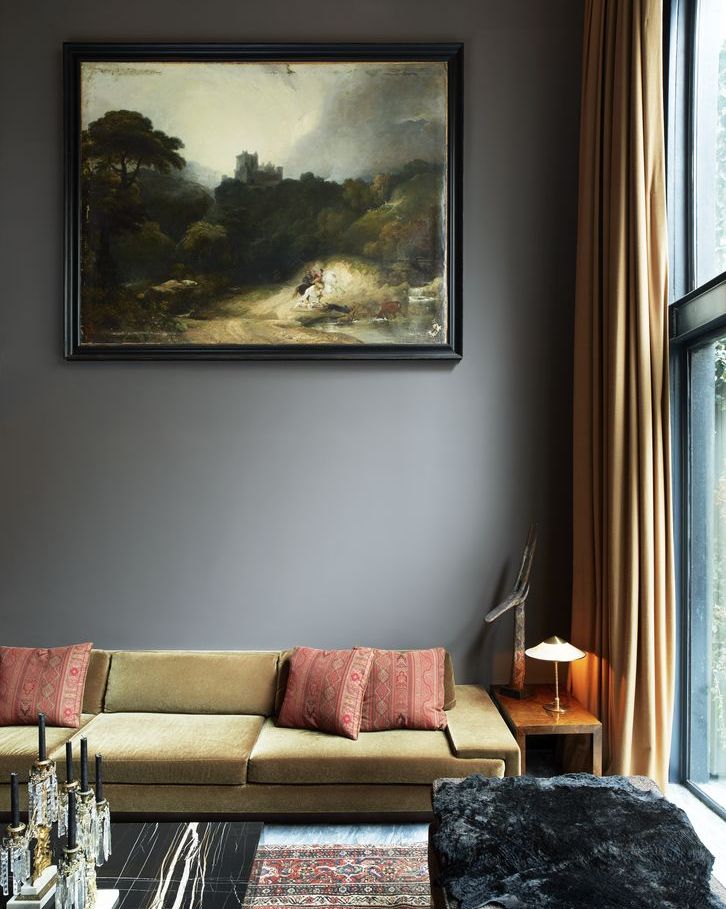 2-MAKE IT MEANINGFUL
Do you remember when we said the living room is the heart of any home? So, more than a stunning space, this spot should also reflect meaningful choices, and one of our living room decor ideas to make your project stand out goes to the encounter of it. Make your design remarkable but also make it significant and memorable by selecting furniture and decor items with a personal story; it will create a space that is not just beautiful but also expressive.
A stunning example of creating a meaningful living room comes from the Ukrainian design studio Rosko, which has created a beautiful family room where the room´s star piece is a vintage tapestry that has been in the family for generations. Now, besides having a stunning space to gather, the family can be inspired daily by all the stories behind this stunning piece.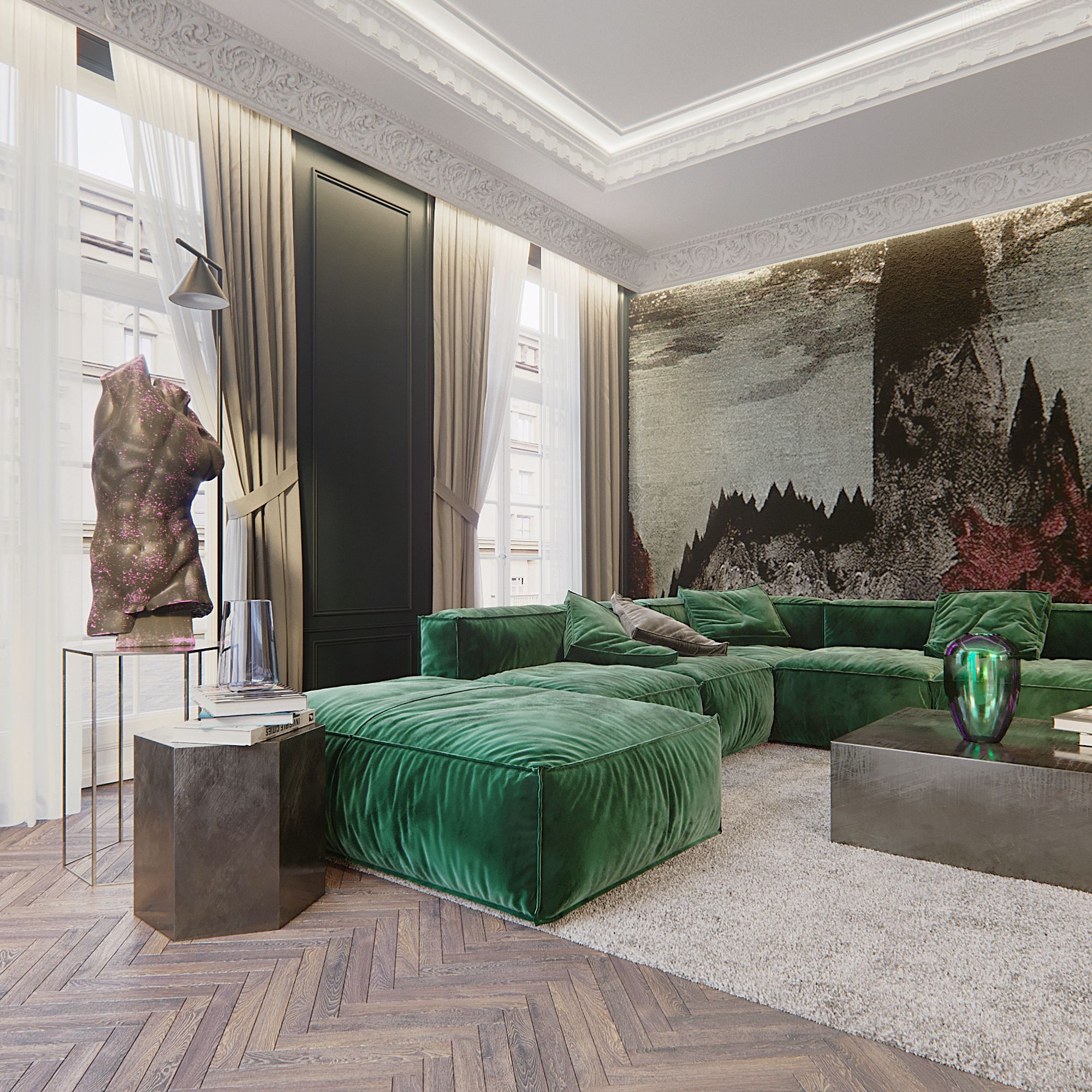 3- EMBRACE MORE COLORS
Colors can help create incredible interiors – our third living room decor idea is to embrace more colors in your layout. But more than welcome a colorful vibe to your interior, use the hues in favor of the mood you want to assemble. So before painting your interior with beautiful shades, think about the feeling you want and select the better colors to help you achieve it. From warm to cool colors, there are many options to brighten up your interior and make it even more attractive.
To inspire you to create a colorful living room decor, we selected this charming project by Ashley Goforth Design, which perfectly combines green, purple, and pink without overwhelming the space; for that, the colors get life in the sofas, cushions and stunning art! Everything is well-appointed in this room, where luxury, modernity, and fun meets.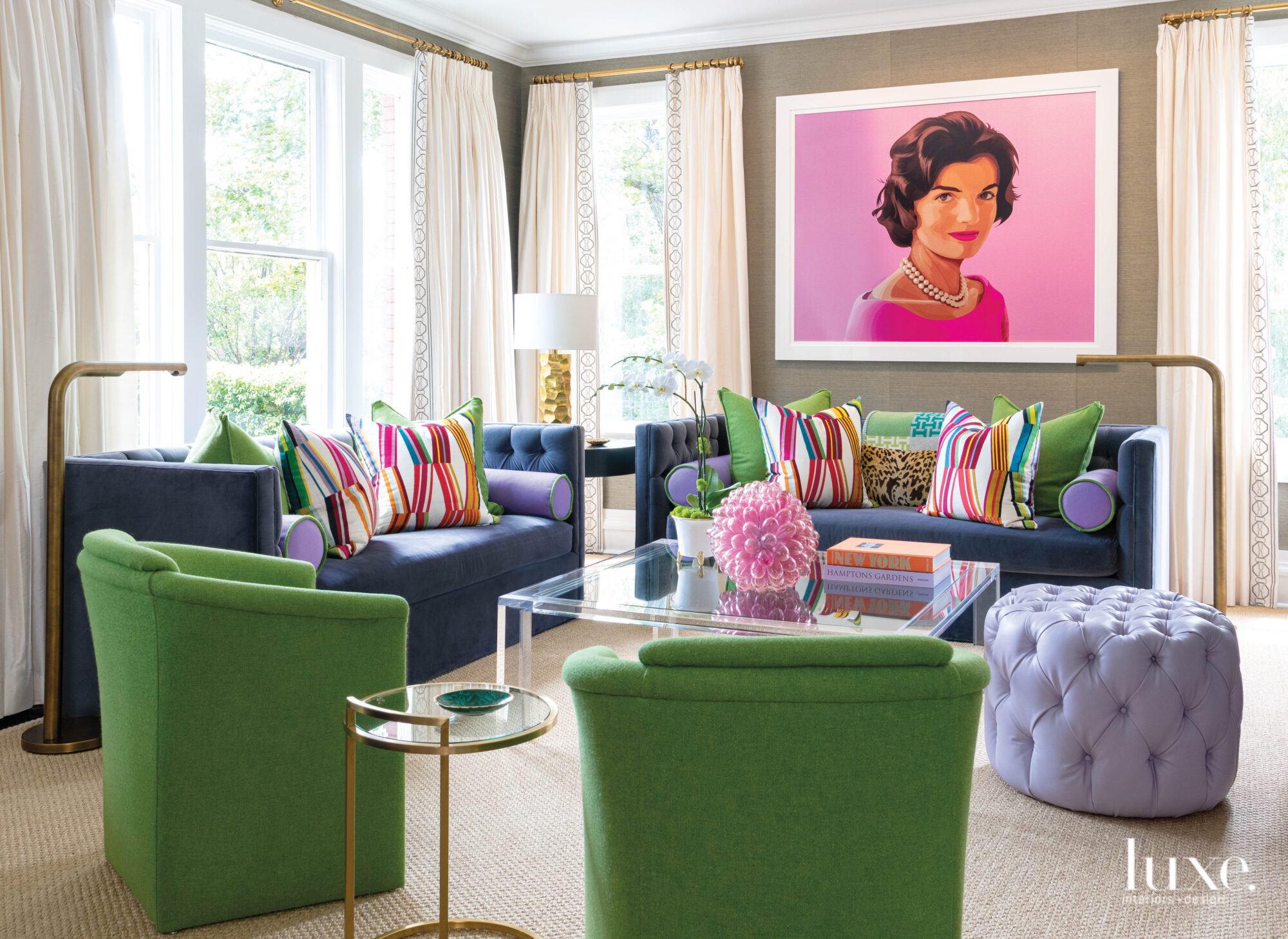 4- COMBINE EYE-CATCHING FURNITURE
There is no limit to statement furniture; this idea is to create remarkable living room decor by combining eye-catching pieces. First of all, you will need to get out of some traditional rules, free your creative mind and play to create an outstanding space that will surprise everyone that step in. A good tip to help you combine statement furniture is to take advantage of the color wheel to create the best color combinations and consider the design principles of proportion and scale.
To motivate you to combine eye-catching furniture into your living room decor, we have selected this stunning layout by Lauren Svenstrup from Studio Sven; here, the designer went for more by combining a sculptural center table, seatings furniture with an organic shape, and an impressive painting. And even though everything here can make a statement for itself, the combination fits perfectly harmoniously.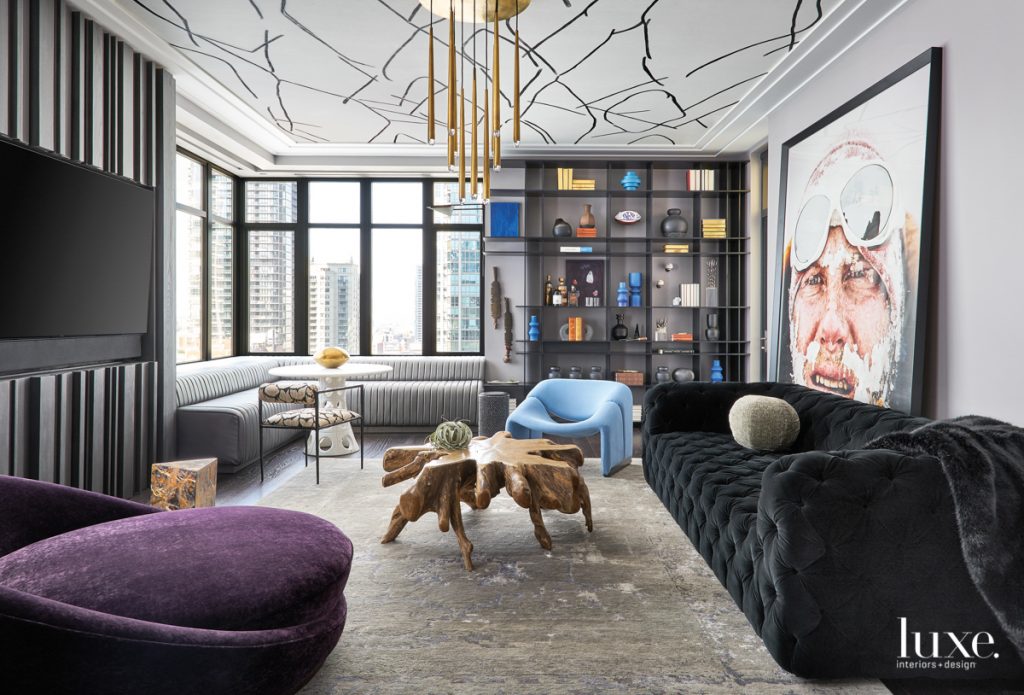 5- MIX DESIGN ERAS
From the interior decor trends for 2023, we highlight another living room decor idea to help you to boost your project. Mixing design eras will help you to create an interior with an extra dose of interest and, of course, beauty! Embrace different periods and guarantee a charming and sophisticated atmosphere.
Ready for a charming example of how beautiful it can be to mix design eras? Take a look at this living room designed by Lauren Haskett! Like in a blank canvas, this neutral room gets life thanks to the stunning combination of furniture and home accessories; here, an Italian Baroque mirror hangs over the marble center table while a curved modern sofa is paired with vintage armchairs.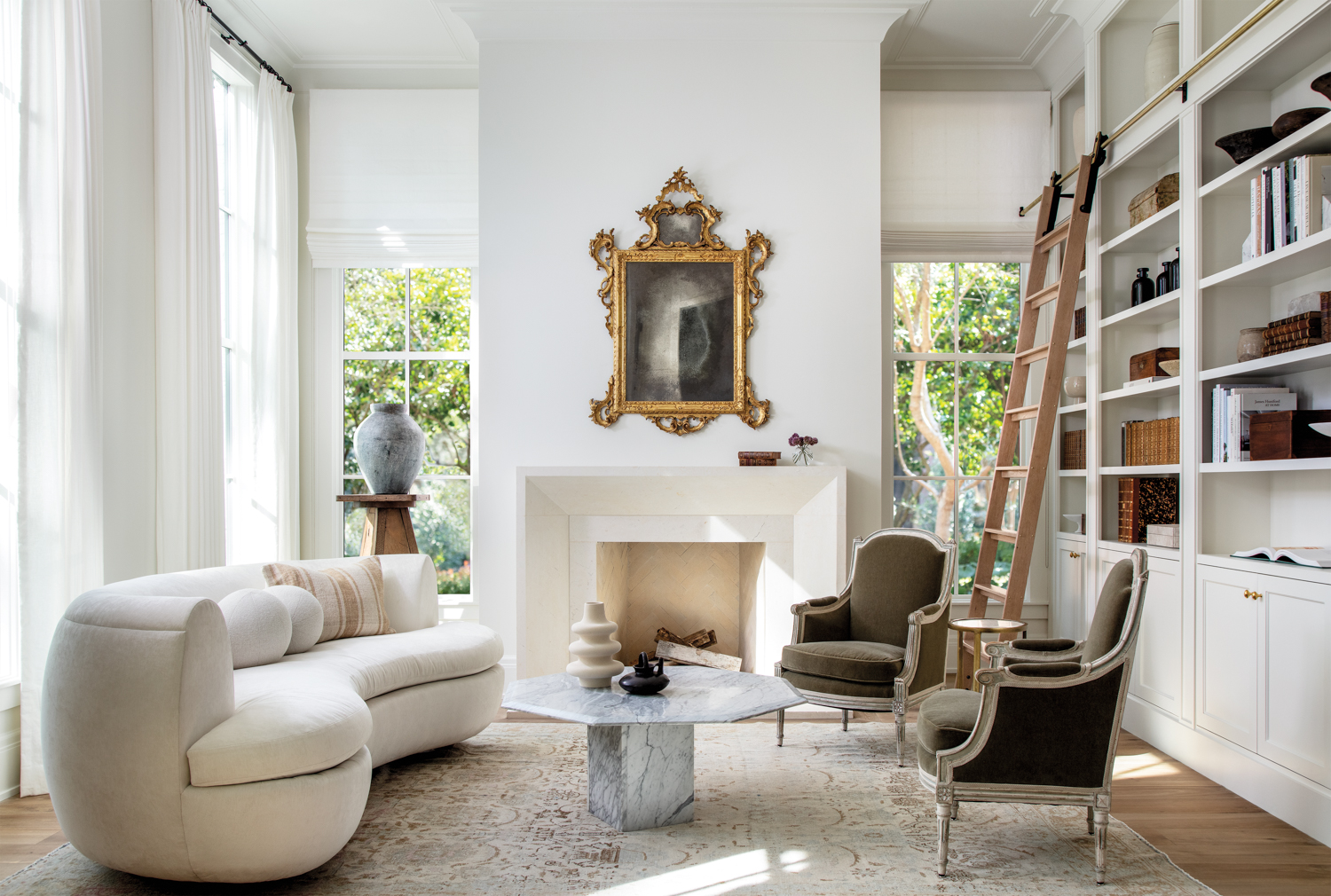 6- GO BOLD WITH A STATEMENT RUG
Another living room decor idea that can create a bold aesthetic is placing a statement rug into your layout; besides being an incredible way to boost your layout, it will always add an extra layer of comfort and make your project even more comfortable. A rug is always welcoming in a living project – to add an extra dose of interest in a Maximalist space or to give a hint of color to a minimalist spot.
Be inspired by this bold living room designed by Peter Marino, where two rugs of different sizes help to create a connection between the interior while also adding extra glam to the interior.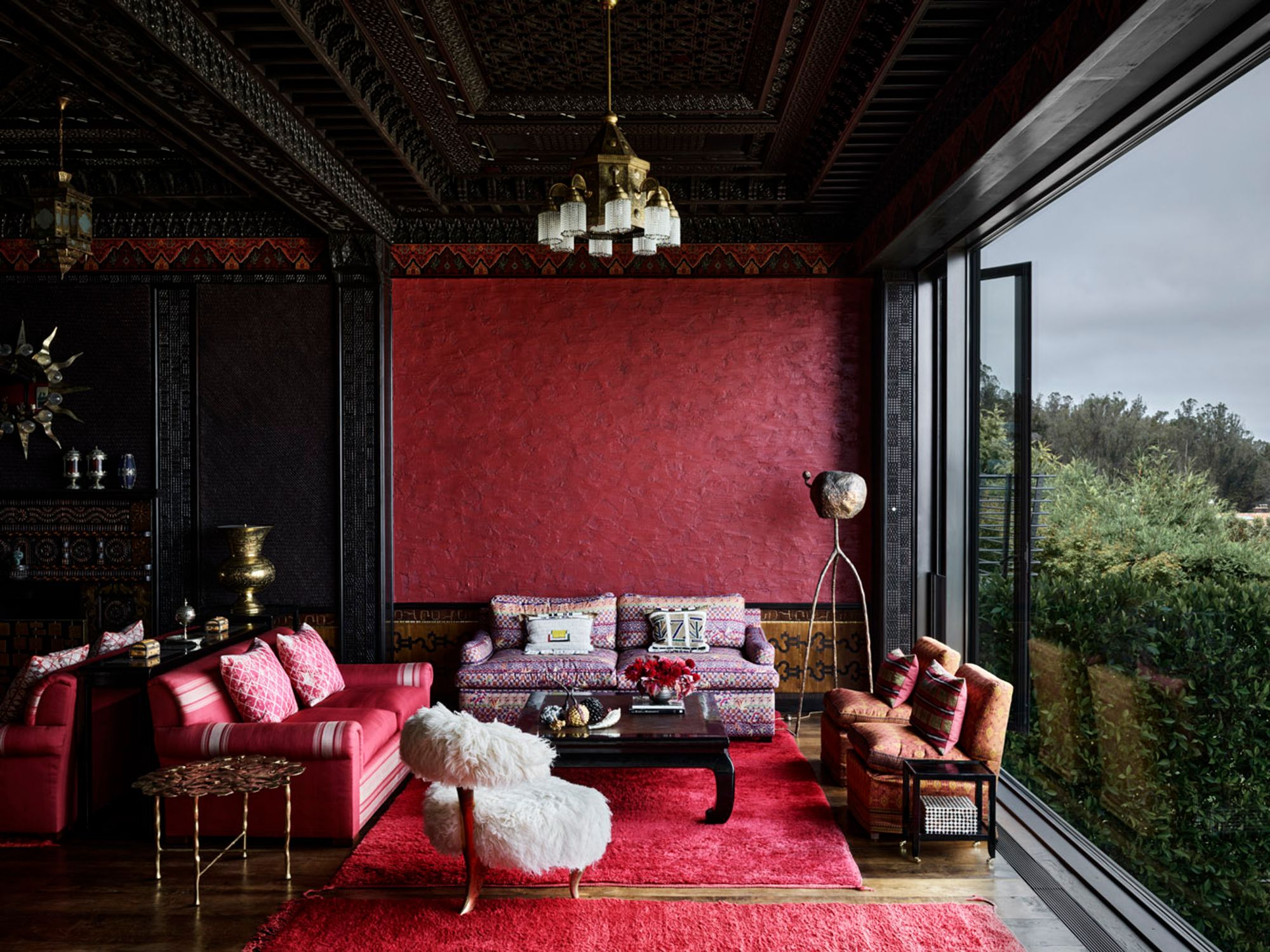 7- GET INSPIRED BY NATURE
That is another trend that promises to highlight the interior this year – and of course, it can help you to create a remarkable living room decor. You can get inspired by selecting exquisite materials or color schemes (or both) from nature. From a serene green vibe to a minimal room that finds on the rich textures of the stones the perfect point of interest, nature is always a stunning inspiration.
We have a charming example to show how beautiful it can find inspiration in nature; in this living room designed by Phillip Sides from Phillip Studio, the stunning landscape is mirrored in the living space thanks to the color scheme that brings the blue from the water and the green from the threes.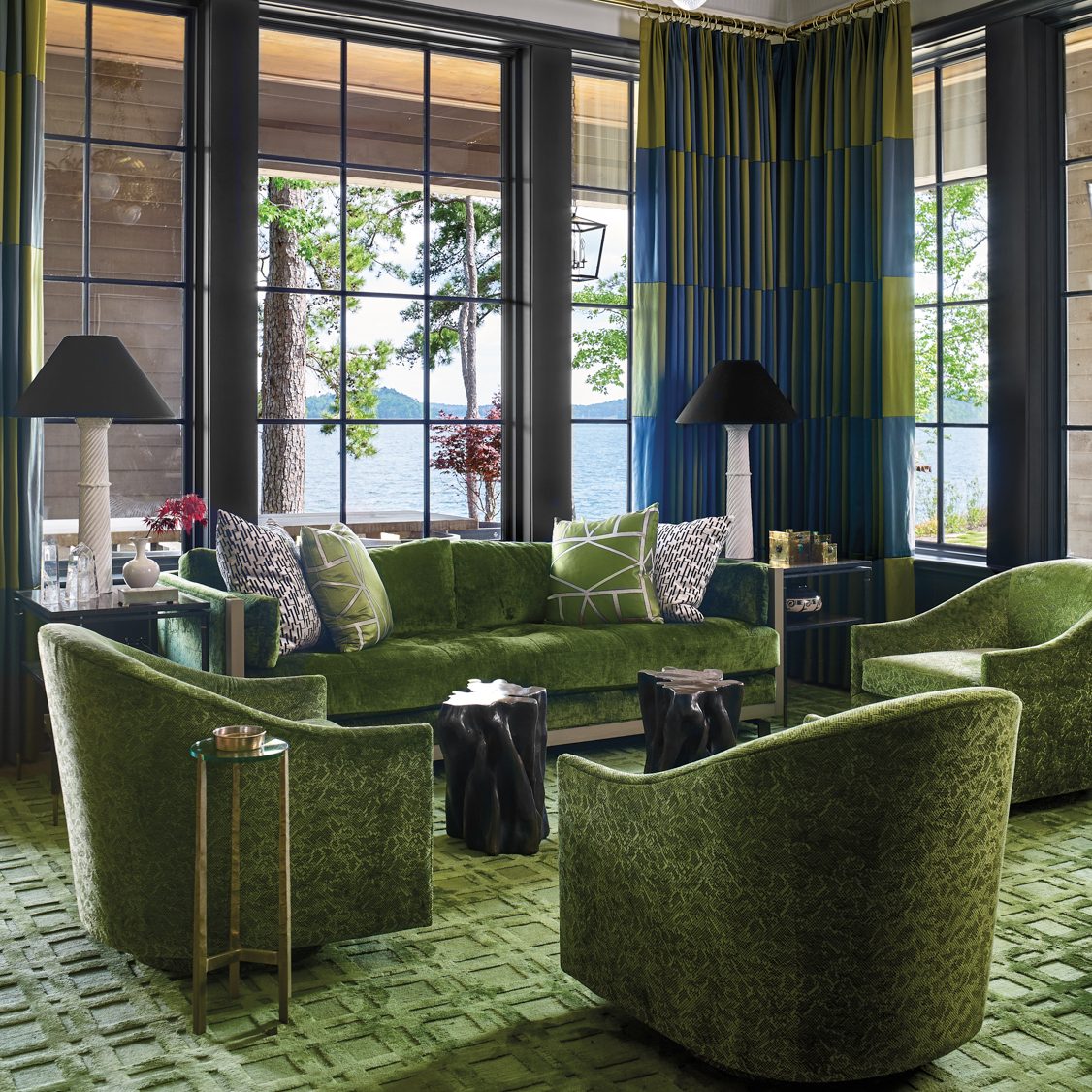 8- WELCOME PEACEFUL VIBES
Our last living room decor idea is to embrace the peaceful vibes of your layout and create a dream paradise. You can choose a cream or white color scheme to transform your living room design into a peaceful haven and invest in the textures for more visual interest.
The Whyte Lilja, a Stockholm-based design firm, perfectly finds how to create a peaceful spot – in this living room, there is a mix of patterns, white and greys tones, and modern furniture that create a space that is peaceful and incredibly beautiful.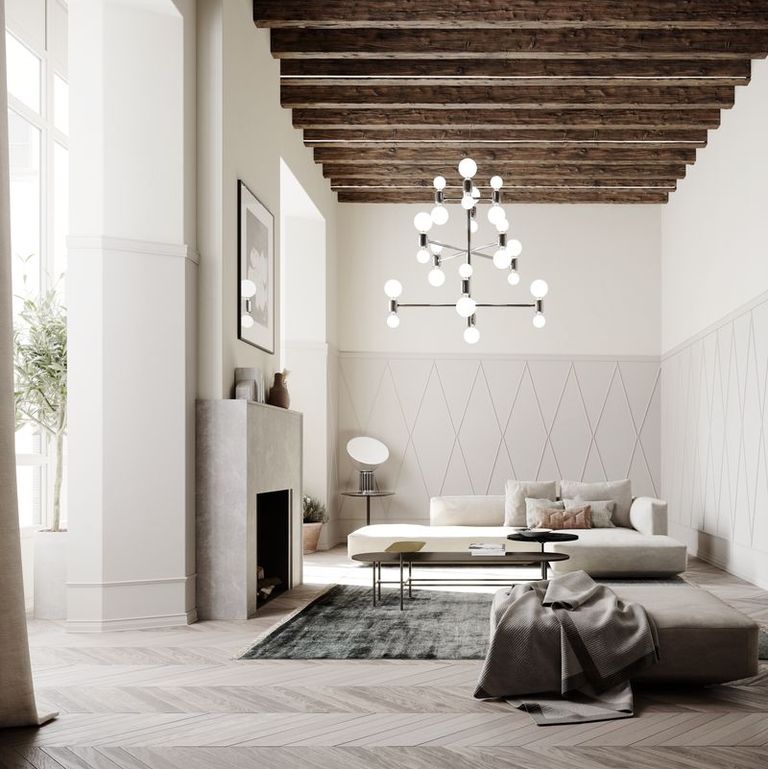 From taking inspiration from art to welcoming peaceful vibes, there are many ways to create a remarkable living room project, and you just discovered eight incredible ways to make it. We hope you have found one living room decor that suits your project needs. Now, you can enjoy finding the best sofa model according to your living room style to complete your project.