Deciding on the best sofa for living room decor is not an easy task. There are different models, colors, textures and sizes that interfere in both design and comfort.
Not sure about how to choose a sofa? Then you have come to the right place! Discover 8 models selected by HOMMÉS Studio to help complete the decoration of your space in a unique and sophisticated way. Choose from our curved sofas, sectional sofas, contemporary sofas, and mid-century modern sofas to find the best sofa for your living room!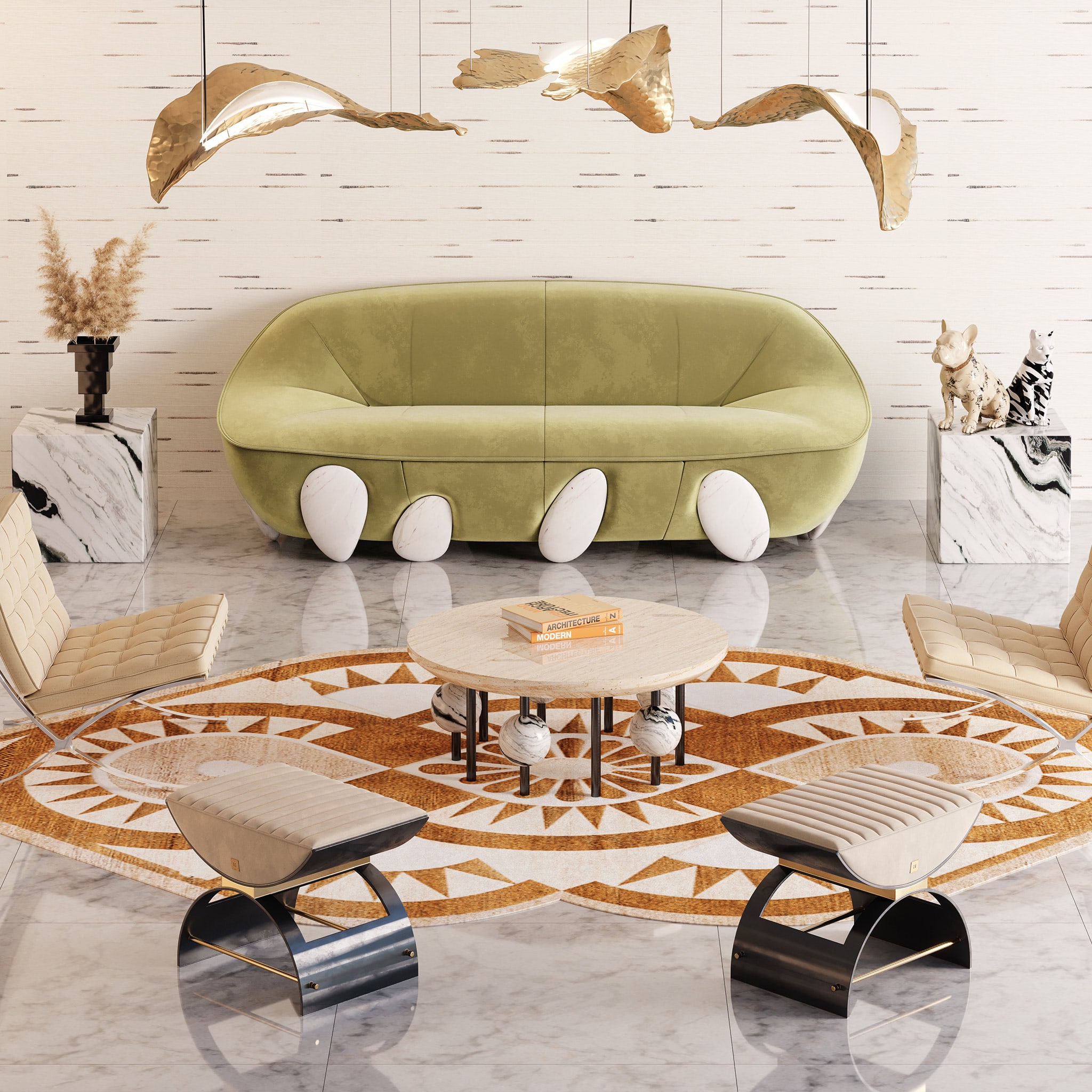 Which Is The Best Sofa For The Living Room?
It may seem like a generic answer, but the truth is that the best sofa for living room will be the one that best fits your needs. This is because, in any case, it is an investment that will contribute to the beauty of your living area and serve as a unifying focal point for all its components, whether of comfort, quality, or design. Let's check some of the most common elements that can influence your decision for the best sofa for living room:
Choosing The Best Sofa For Living Room By Type:
Regardless of the choice of model, keep in mind that to be able to choose the best sofa for living room you must first measure the area the furniture will occupy to help narrow down your search.
TRADITIONAL: This is the most common model found on the market (and in most homes). It usually has three or two seats. They can be of the most varied models and materials and are perfect for accommodating guests.
MODULAR: Exactly as it sounds, this type of sofa is "divided" into different sections that can be fitted together in any way you choose to best fit your space. Modular sofas are perfect for those who have little space available and a small budget to customize an existing model.
DAYBED: Also known as "sleepers" or "chaise longue" sofas, this model values, above all, the comfort of those who use it (since it has extra space for the feathers). Ideal for nooks that aren't quite big enough for a sofa or if you want a classy look. Although considered a complement to traditional sofas, a daybed is a very good choice for those who lack a proper guest room or bedroom too.
How To Choose a Sofa According to The Desing Styles
The sofa is the "soul" and most important living room furniture piece. Therefore, choosing a piece that matches the main style and decor of the space makes all the difference.
Sectional sofas are ideal for modern living rooms with large areas. Curved sofas are the best living room furniture for mid-century modern interiors that are warm and elegant. For minimalist and brutalist interiors, an armless sofa or couch is the best choice. Check out a selection below with 8 sofa models to decorate your living room according to different design styles.
Mid-Century Modern Sofa:
The Mid-century Modern furniture reveals clean lines, a wise combination of natural and manufactured materials, and a sophisticated look, almost like a "modern retro feel". For the choice of sofa, it could be no different. The best sofa for living room in the Mid-Century style is usually iconic and timeless.
1 – GIULIA SOFA: Giulia Naked Sofa is a mid-century modern style sofa. This luxury sofa promises to be the absolute protagonist of any modern living room project. Comfortable but also elegant, the Mid-Century design inspiration can be found in its shapes, revealing an eclectic and luxurious lifestyle. The upholstery produced in bouclé fabric and the finish of the legs in polished brass help to create an even more elegant relaxing environment.
Maximalist Sofa:
Maximalist furniture is more than just bold. They are a creative form of design and expression that allow you to travel into fantasy and dreams. The best sofa for living room in the maximalist style has more colors, patterns, and textures to share an identity and a world vision.
2 – LUNARYS SOFA: This is a contemporary style sofa that features a glamorous aesthetic look. It's an outstanding modern sofa, upholstered in bouclé and feet in a handpainted gloss marble effect, that amazes everyone with its powerful presence. It is a stunning piece that disrupts commonly seen shapes, transitioning its admirers to another dimension.
Memphis Design Sofa:
Memphis Design style furniture decor is recognized for being iconic, eye-catching, and remarkable. The pieces, for the most part, feature streamlined shapes, maximalist silhouettes, and vibrant finishes. We have separated below two examples of the best sofa for living room models in Memphis style to help you:
3 – CADIZ SOFA: with curvilinear shapes that make a statement without renouncing comfort, the Cadiz sofa sculpture has a wavy backrest that perfectly reflects feminine beauty. Upholstered in two velvet colors, the Cadiz Sofa is the focal point of a modern or contemporary living room. This Memphis Design furniture is daring and refreshing, blending the elegance of art deco with iconic colors and aesthetics of pop art.
4 – AJUI SOFA: Another example of a Memphis-style living room sofa is the Ajui. The sofa combines an artsy interpretation of a cactus shape and is upholstered in velvet with structure and base in polished brass.
Modern Sofa:
The best sofa for living room in Modern style, as well as the other furniture in this style, has as its main features clean lines, geometric form, and natural materials. Check out two classic models of modern sofas below, perfect for luxurious and memorable living room decor.
5 – VONKLI SOFA: The Vonkli Sofa is a modern round sofa with a chaise longue. This statement curved design sofa will provide a classic-chic vibe to any living room project. Upholstered in velvet, this is a timeless sofa that will completely satisfy the comfort and wonder needs of your guests in your modern living room.
6 – MOA SOFA: Moa Sofa is a pure-lines' design. It is upholstered in suede and structure in matte wengue ash wood with details in polished brass. The modern sofa design expresses a solemn geometry accentuating a modern identity in any contemporary interior design project
Retro Sofa:
The decoration of furniture in retro style counts mainly as characteristics prints with geometric patterns, and shapes that mix all the artistic side of art deco, with some modern traces. The style, which is gaining many supporters, evokes affective memories and transmits a lot of warmth to the spaces. When it comes to the best sofa for living room, we have selected the model Lisola:
7 – LISOLA SOFA: Lisola Sofa Retro is a modern outdoor seating piece. An luxury outdoor sofa created by the most refined design with delicate materials makes it an authentic luxury design piece. With its printed fabric upholstery and black leather details, it fits perfectly into a contemporary outdoor design.
Emerged in the 20s as a style that embraced refinement and elegance, Art Deco style furniture evokes all the glamour of the era.. The best sofa for living room in this style available in HOMMÉS Studio is the Kara Sofa.
8 – KARA SOFA: Its art deco inspirations are reflected in its shapes, revealing an eclectic, luxurious style. This modern design sofa promises to be the absolute protagonist of any living room project.
Art Deco Sofa:
Now that you know a little more about how to choose the best sofa for living room, how about also checking out other complementary furniture to compose the living room decoration with a lot of style and sophistication? Enjoy it!