Choosing the best color for a bedroom is an important task. This article will explore the Best Bedroom Colors to enhance your bedroom design in 2024.
Finding the best bedroom color is significant; getting the best one can be tricky. These seven colors for a bedroom will give your sleep sanctuary a fresh new look in 2024.
To find the best color for a bedroom, you need to consider many factors – the size and shape of the room, the natural light available, and the direction. We have selected the best colors for bedroom decoration to help you choose the best option. Let's take a look at the best bedroom colors for 2024!
1. Pale Green
The first color we selected to make your bedroom elegant was Pale Green. This incredible color is synonymous with nature, calm, and classic. This color is timeless and versatile, creating a serene atmosphere for a bedroom.
Pale Green can give a refreshing look to any room, inviting nature to get in. The Miami landscape inspired this green bedroom by Natalia Miyar to provide a calm, serene, and cozy feel.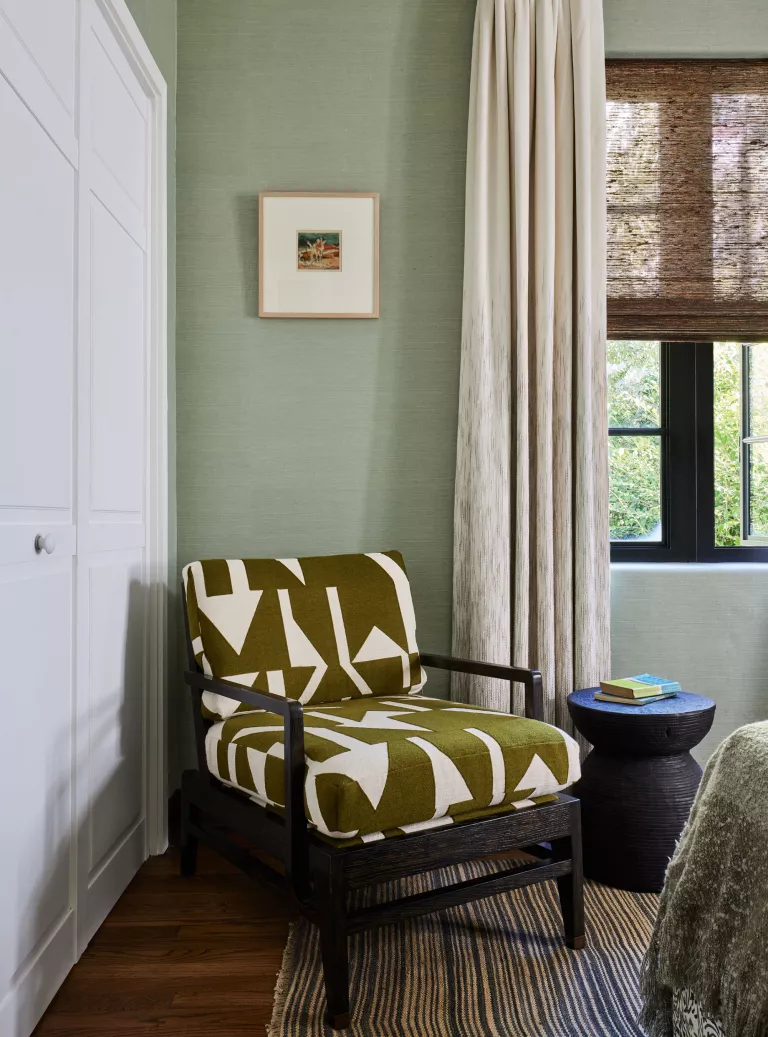 2. Neutrals
Neutrals are always the best option for bedrooms. Creating a bedroom with neutrals adds a gentle and soothing touch to the interiors. The neutrals color palette adds warmth and elegance to any modern bedroom, with a soft color scheme of neutrals creating a natural and calming influence in the room.
Neutrals colors are the perfect combination for a cozy and stunning bedroom. Adding to the bedroom natural elements and pile-on texture, such as a soft rug underfoot or a diaphanous drape at a window, elegantly transform the room. Neutral colors perfectly combine with cool colors, such as light greys and soft greens, creating a stunning contrast to the bedroom colors.
3. Midnight Blue
Dark blue has been famous for centuries. This color is stunning and combines with many hues and creates glorious results. Inspired by the ocean, night skies, and dark and navy blues, this bedroom color is a perfect example to make a serene and calm bedroom. The dark blues continue to be one of the best bedroom colors for interior designers.
To create a subtle dark blue bedroom, paint only woodwork and pair it with contrasting floral wallpaper or white paint. To update the bedroom with a bit of color, introduce blue through decor accents, adding soft furnishings or accessories, such as a rug or artwork. These tips for a dark blue bedroom will create a peaceful and calm bedroom scheme.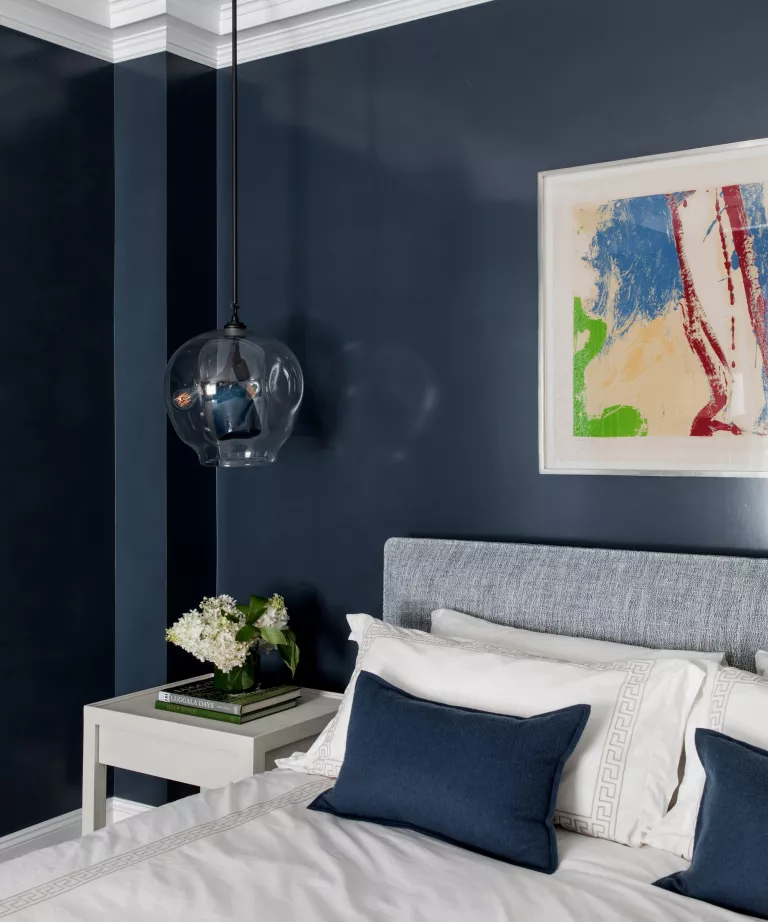 4. Forest Green
The wood, the colors, and the oak trees always inspired interior designers. The enchanting forest ambiance provides the interiors with leaves, richness, and nature. Dark greens are versatile and can be paired with many shades and materials.
Adding this stunning forest green color to your bedroom will bring a sense of warmth and fresh air to your living space. Deep green perfectly combines with south-facing bedrooms, creating a dramatic and stunning tone to a bedroom. Combining natural materials and dark green makes a perfect connection to nature.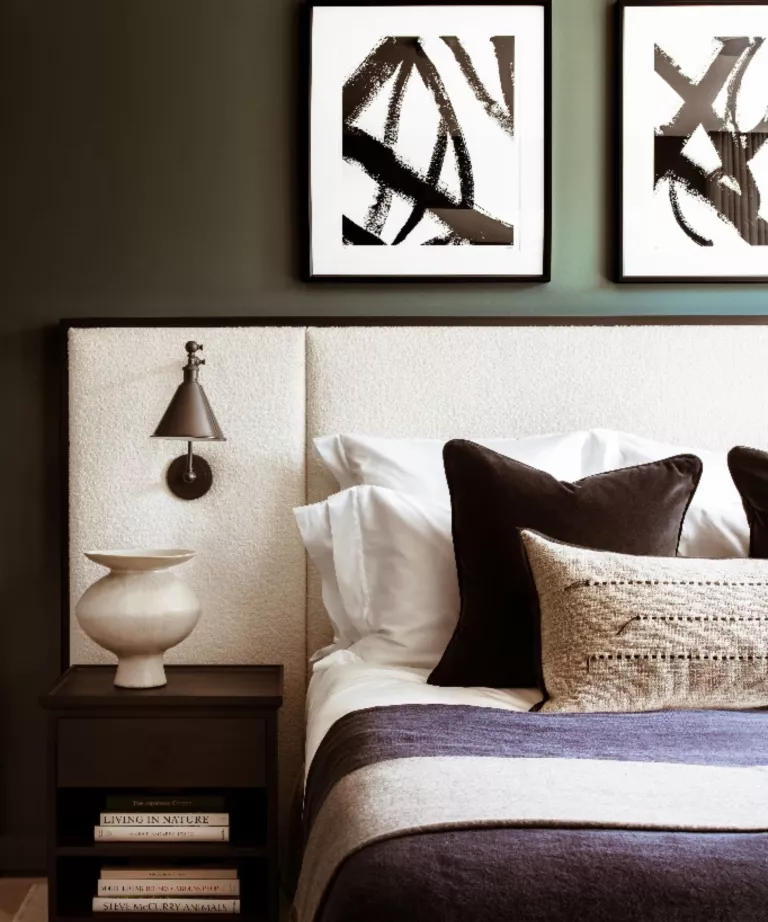 5. Red
One of the most passionate bedroom colors on this list is Red. This color can transform interiors, adding a sophisticated fun aesthetic and a confident and playful ambiance. Red is one color that adds positive energy. This enchanting and romantic color offers the perfect decorating scheme for a bedroom.
Red can perfectly combine with accessories, deep shades, or shapes of a bedroom. Adding this stunning color to your bedroom design, we can create different moods, from playful to romantic. All kinds of reds will work well for your bedroom projects, but we selected some tips for combining the perfect red hues. The primary red work nicely in children's rooms, while the dark reds will combine perfectly in large bedrooms.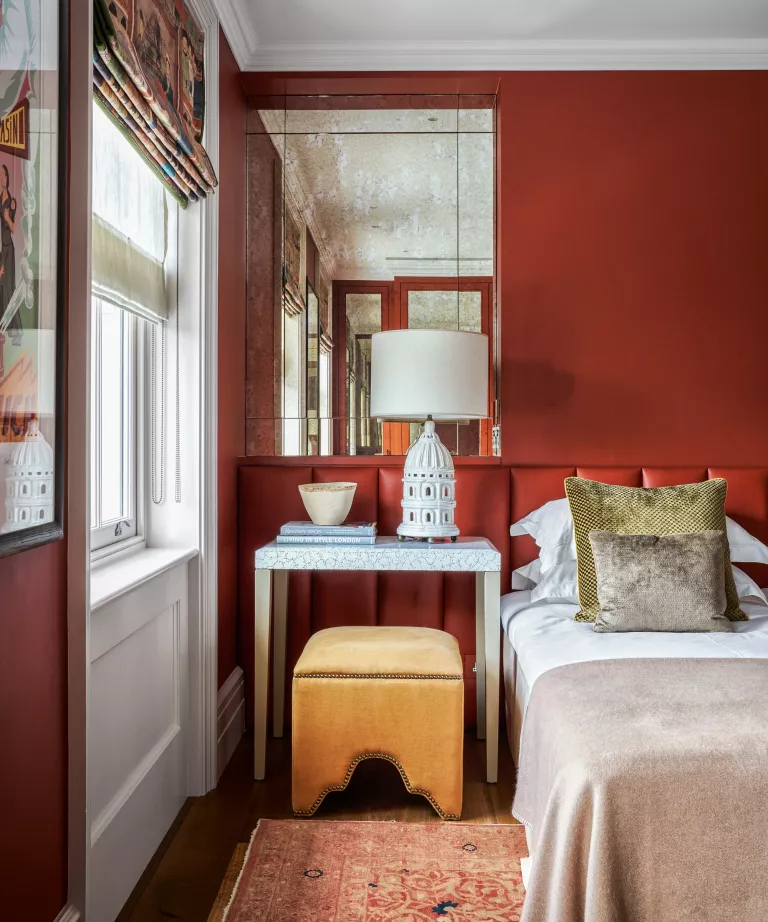 6. Sage Green
Sage Green is another of the best bedroom colors trending in 2024. The bedroom colors put comfort and calm at the heart of any bedroom decoration. This nature-inspired shade of green is the perfect choice for a relaxing bedroom scheme.
Bedrooms are our relaxing sanctuary, so choosing the best colors can be the key to the peaceful atmosphere we want to achieve. Green is the best option for a calm and inviting bedroom or home. Sage green provides a tranquil atmosphere and a sense of earth and wholesome to the living space.
7. Yellow
This color is one of the most positive bedroom colors trend for 2024. Yellow colors in the bedroom bring energy, confidence, and optimism. This luminous color creates warmth and sunshine living space. From pretty primrose to zesty lemon, yellow is the best choice for creating a cozy bedroom with a touch of sunlight.
The most bright color on this list, combined with soothing tones such as greys, pale, and muted blues, gives a feeling of well-being and peace. Adorning bedrooms with yellow will bring creativity and coolness to any space.
In this article, we've carefully selected the top seven bedroom colors projected to be the center of attention in 2024. These captivating colors will infuse your bedroom designs with a renewed sense of vitality, from the calming tones of green to the vibrant and stimulating shades of yellow. Embrace the future of bedroom aesthetics and revitalize your space with these stunning and timeless color options.
We hope these bedroom colors inspired you to make the right choices for your bedroom designs and create the best sleep sanctuary. Now that you know the best bedroom colors for 2024, enjoy following the tendencies by exploring the Furniture Trends: Color Gambling and The Future of Interiors

.