Cozy, warmth, and romance can set the perfect bedroom's vibe; fall in love with the best romantic bedroom ideas to elevate your design.
The bedroom is not just a space – but a refuge where it´s possible to rest and escape from the world's hustle. It´s a sacred room where every design choice should reflect calm, coziness, and warmth.
The perfect bedroom can vary from person to person – but there is one thing that we all may agree on: a little romance can elevate any bedroom layout and invade it with a lovely atmosphere. After all, all we need is love, and a romantic bedroom can share it in the best way by making each day more memorable.
If you want to bring romance to your space, you are in the right place – we have gathered the best romantic bedroom ideas to elevate your design with whimsical and charming vibes. Read on to get inspired!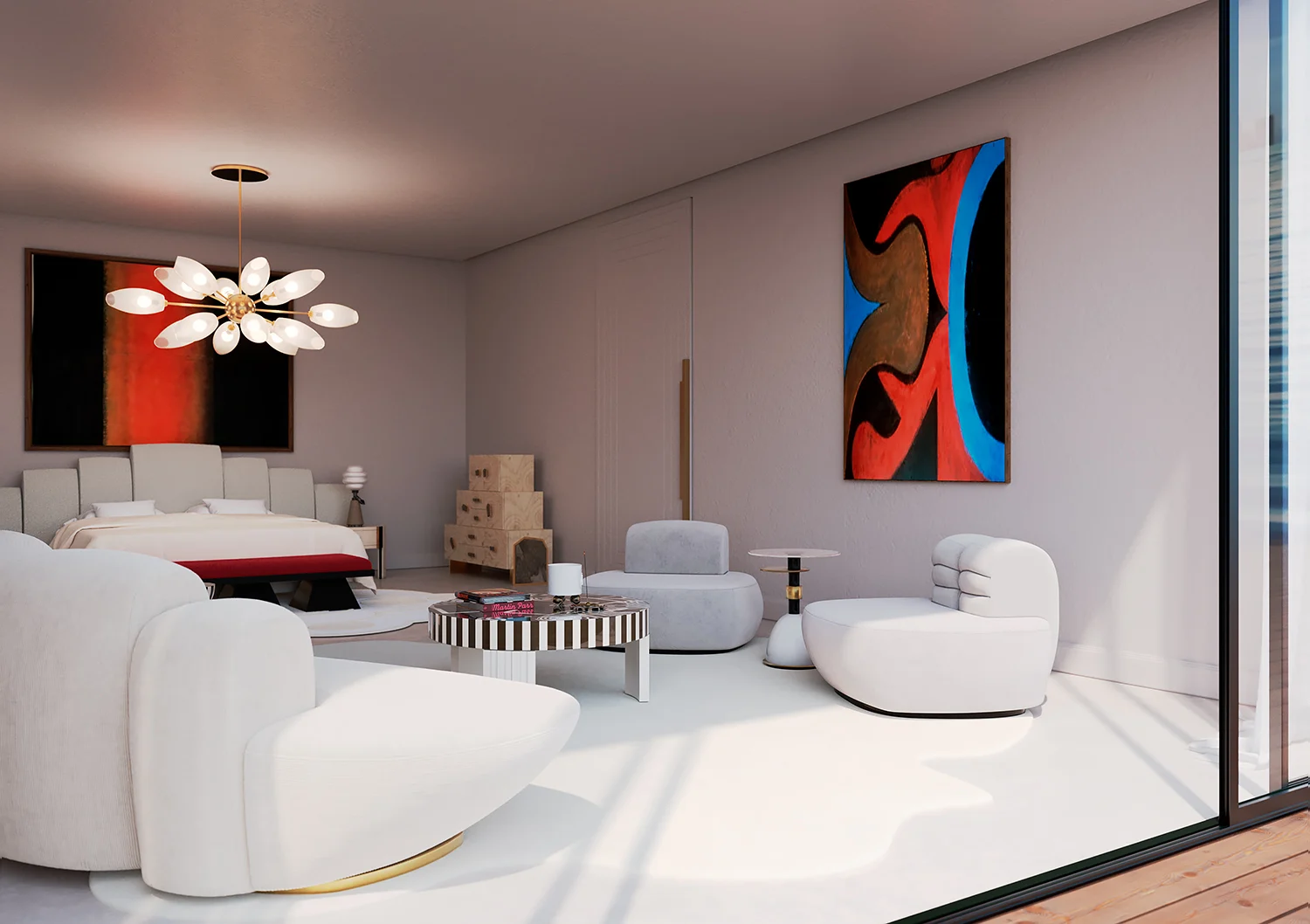 How to Design a Romantic Bedroom?
A romantic bedroom can set the perfect vibe that a room needs by reinforcing coziness, warmth, and charm; it can help to elevate the space's mood and make it even more special. A romantic bedroom doesn't need to be a space full of florals and pink tones; we can bring romance into the details to make passion and tenderness go through the decor. So, before sharing the best romantic bedroom ideas, we have some tips about how to design a romantic bedroom; check it out:
Make the bed cushy: the bed is the central point of any bedroom design. To spread romantic vibes, you can invest in layered bed lines and extra cushions with rich materials to bring a layer of coziness to your layout and bed.
Pay attention to the color scheme: to create a romantic bedroom, one of the successful keys is to choose the perfect color combination – pastel hues usually are associated with calm feelings and help to create a charming atmosphere, while red is the color of passion and can embrace this feeling to your interior. Before designing, match your room vibe with the perfect color scheme.
Keep the room cozy: romanticism combines with coziness, so an excellent way to make your room design more romantic is by keeping it cozy – for that, you can embrace neutral color schemes or add more textures to your layout.
Create a whimsical vibe with the perfect rug: in a romantic bedroom layout, comfort can't be missing, and rugs are all about it! To create the perfect layout, don't forget to add a layer of coziness with the perfect rug.
Set the romantic tone with the light: pay attention to the light when designing your romantic bedroom – focus on creating a relaxing atmosphere and prefer warm and ambient light.
Go romantic with wall decor: you can embrace the romantic vibe to your bedroom project by adding meaningful wall decor – a wallpaper with a sentimental theme or art objects.
Create a memorable space with perfume candles: revive the romanticism in your layout by including all the senses in your design – adding scent candles will boost your romantic layout and make it unforgettable. Besides, it also can play as an ornament in your room design.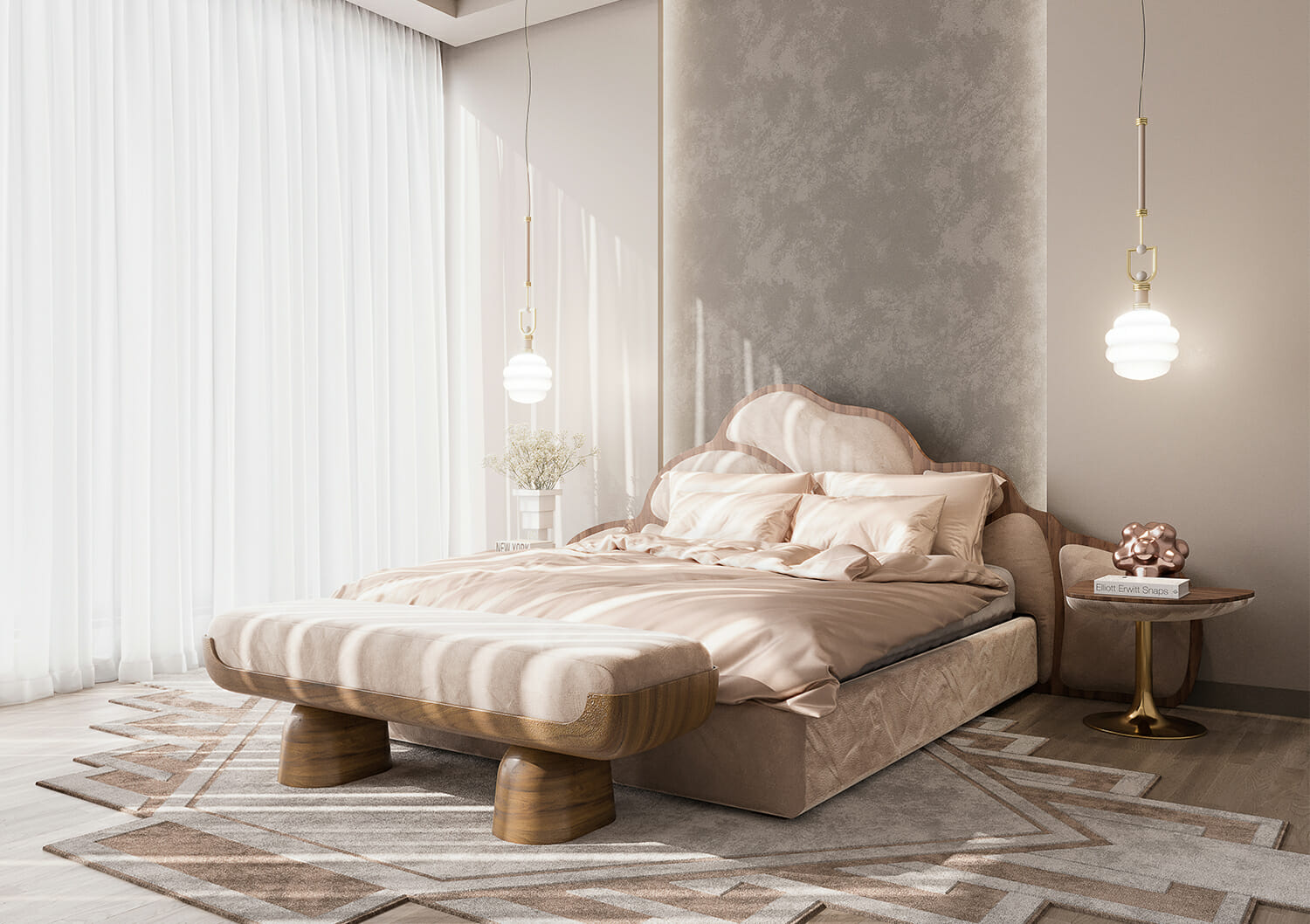 The Best Romantic Bedroom Ideas
Warmth, romance, and coziness are perfect for a romantic bedroom layout – but there are many ways to incorporate them into a design. From modern to classical, romance can be in every style. Now, it´s time to fall in love with the design ideas that we gathered! Be inspired:
1- Add an artsy vibe to the walls
This romantic bedroom designed by Maja Lithander Smith is almost a jewel. Here, the hand-painted mural of a redwood forest by Caroline Lizarraga helps to set the warm vibe and anchors the space with beauty and charm. Other stunning choices that help to set the romantic tone for the space are the suspension lamp with organic shapes, the velvet bed headboard, and the lovely combination of green and pastel pink.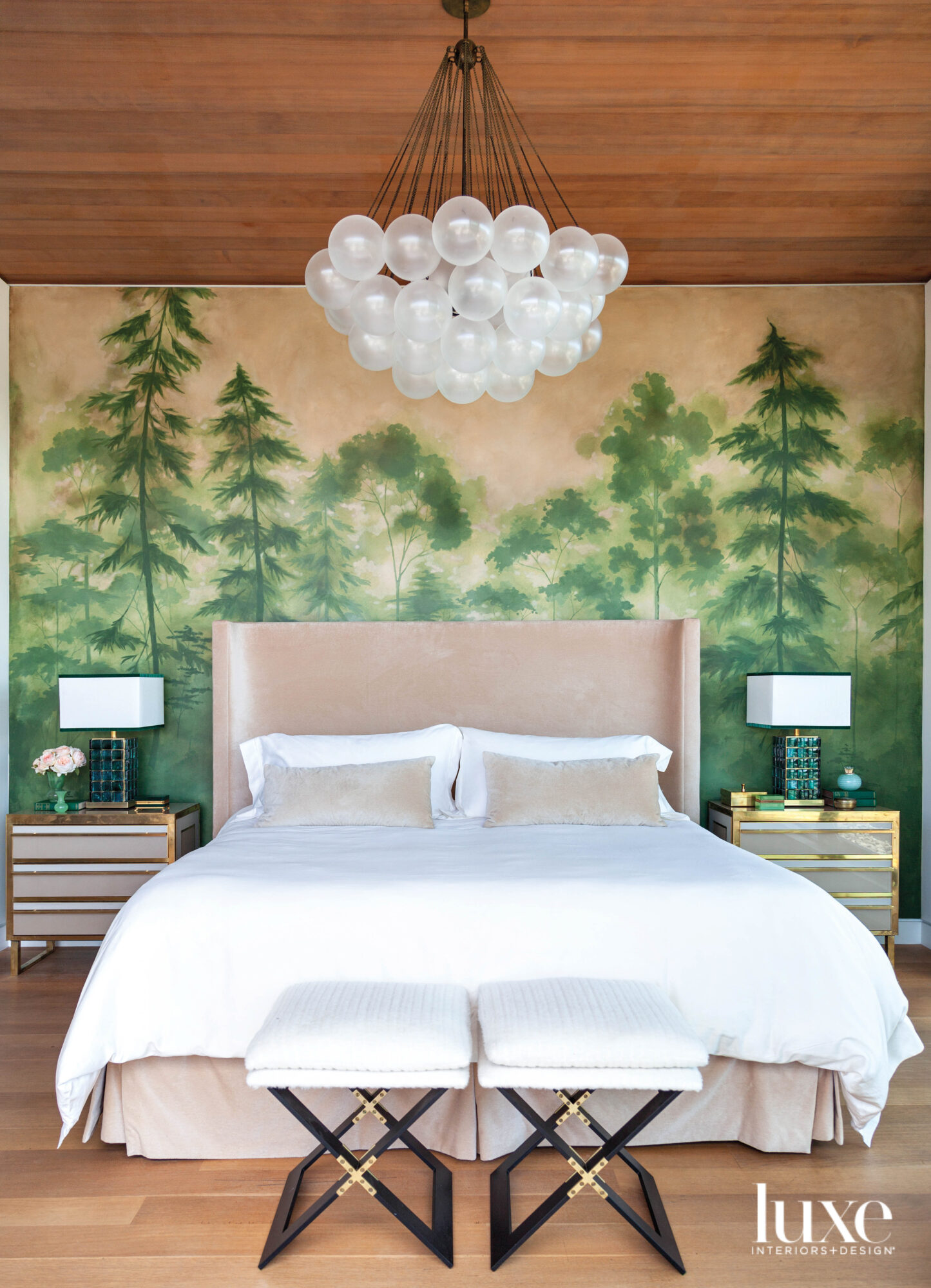 2- Embrace colors with a charming wallpaper
Adding a charming wallpaper can set the perfect romantic vibes for a bedroom design; the layout by Melissa Lindsay from Pimlico Interiors translates it beautifully by embracing the charm and also coloring the interior. Here the green shade also gives an extra dose of magic by bringing the outdoors in and helping to unify the layout details.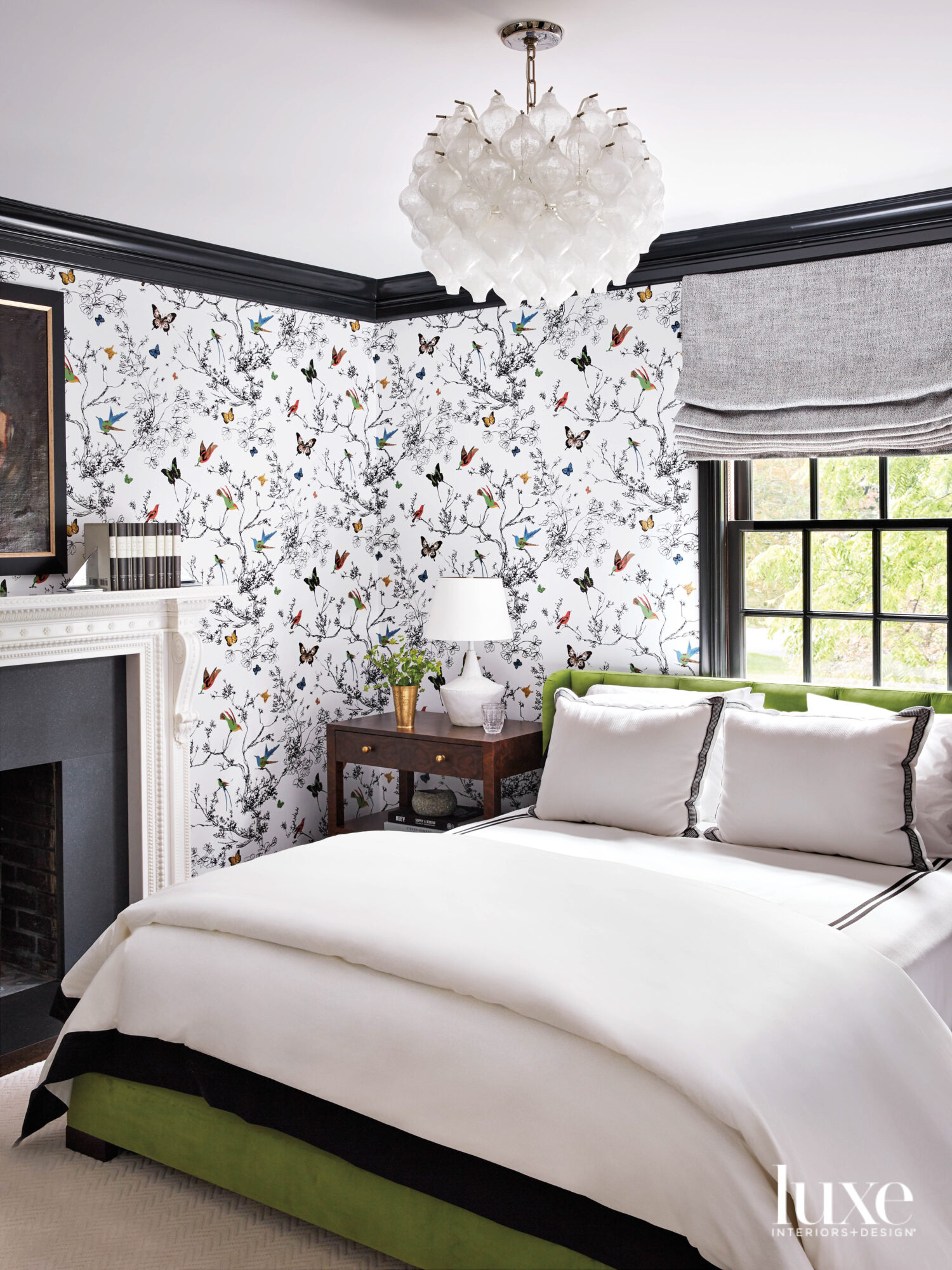 3- Keep it clean and cozy with a neutral color scheme
Wrapped in pastel blue with pink and gold accents, this romantic bedroom designed by Leslie Jenkins is the perfect spot to pause for a moment and relax. Featuring classic furniture and delicate materials, the charming color combination sets the room vibe while textiles and floral patterns break the blue with warm hues. Inspired by the Mediterranean style, the room shares peace and romance.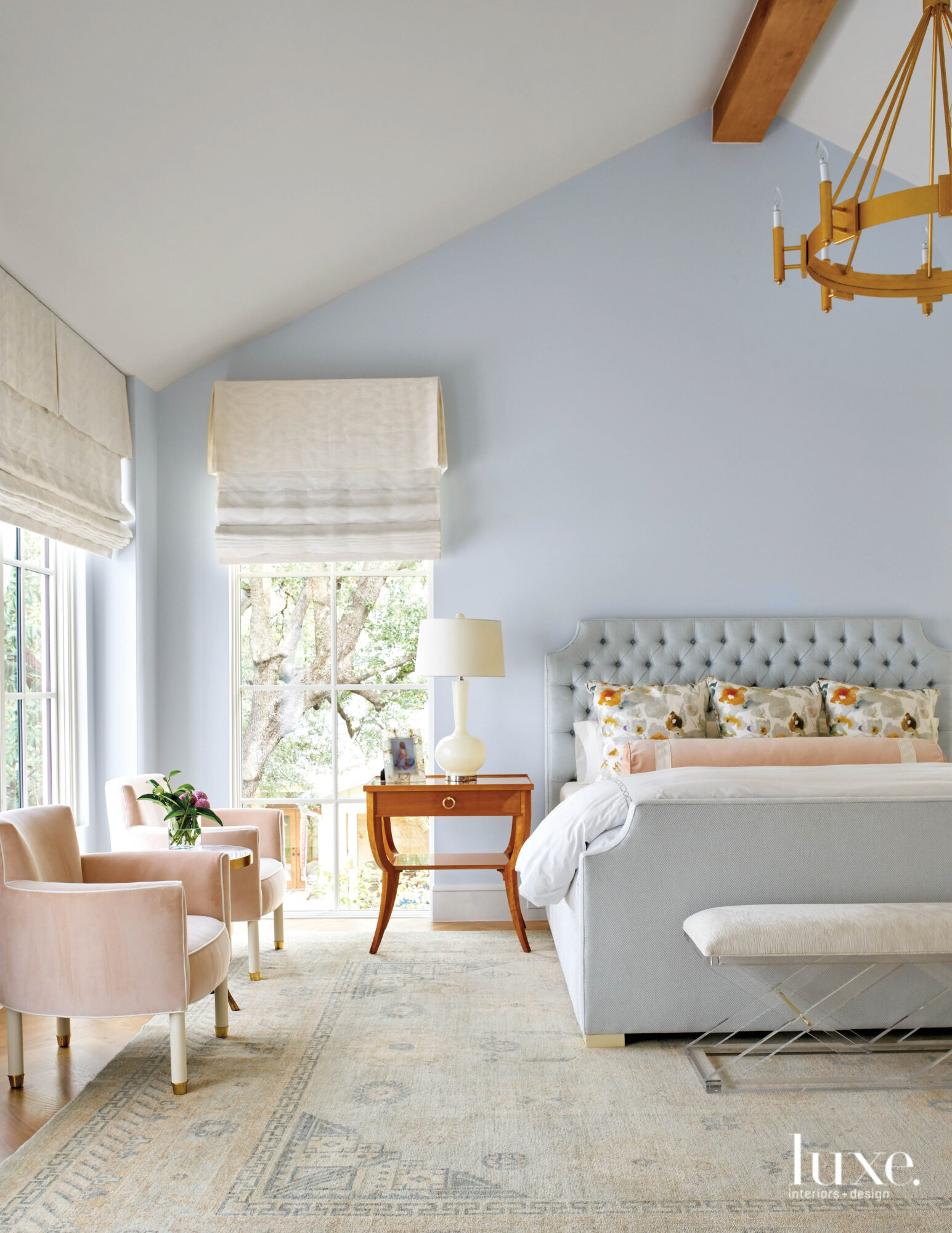 4- Add a vintage flair to set a charming atmosphere
Red is the color of passion, and this romantic bedroom by Ashley Sharpe creates a magical atmosphere full of red hues and vintage inspirations. In this room, the special highlight goes to the sideboard, which recalls the bed layout's central point; the color scheme and charming patterns also help to embrace passion in each space of this room.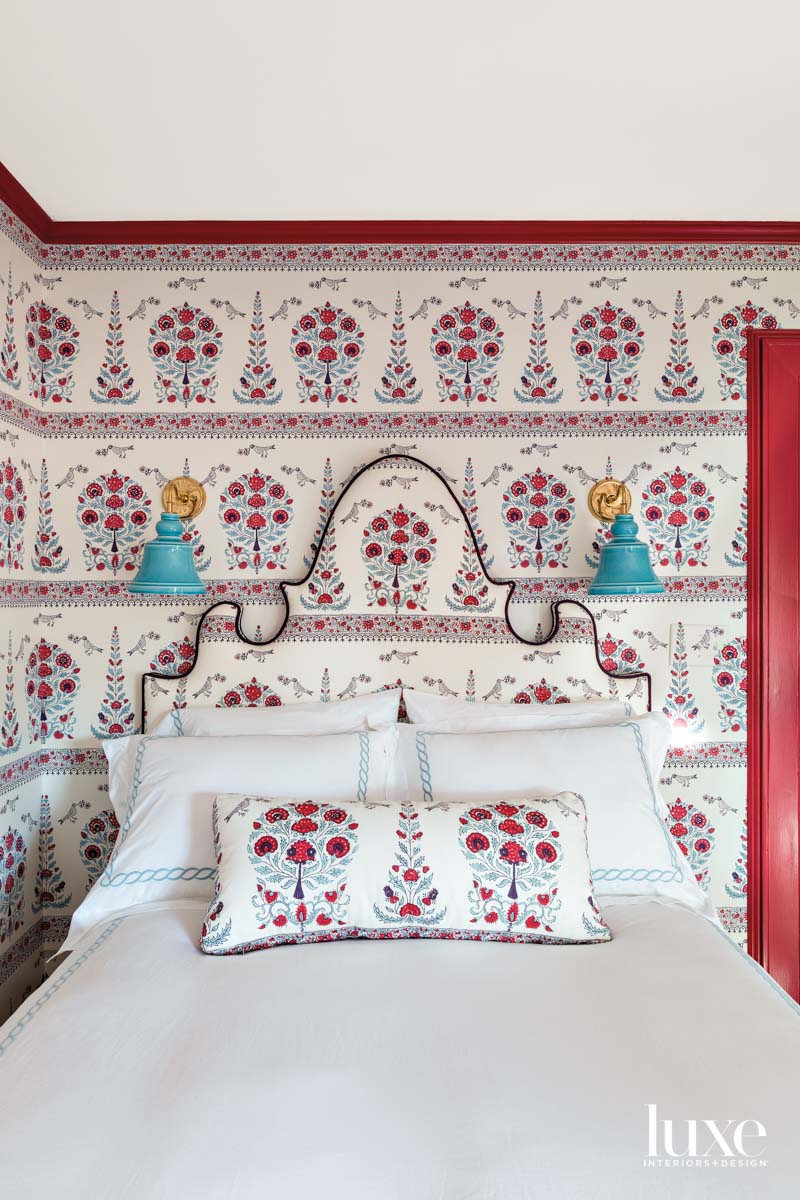 5-Create a bold statement with a stunning sideboard
The bed should be the room´s central element when designing a romantic bedroom. In this layout, the designer Sara McCann and Donna Morris from McCann Design Group create a bold statement with the sideboard that shares vintage flair and sophistication. Open, bright, and full of romance, this master suite is private and glorious. The room also features modern furniture with organic shapes, sophisticated decor items, and matching curtains to complete the layout.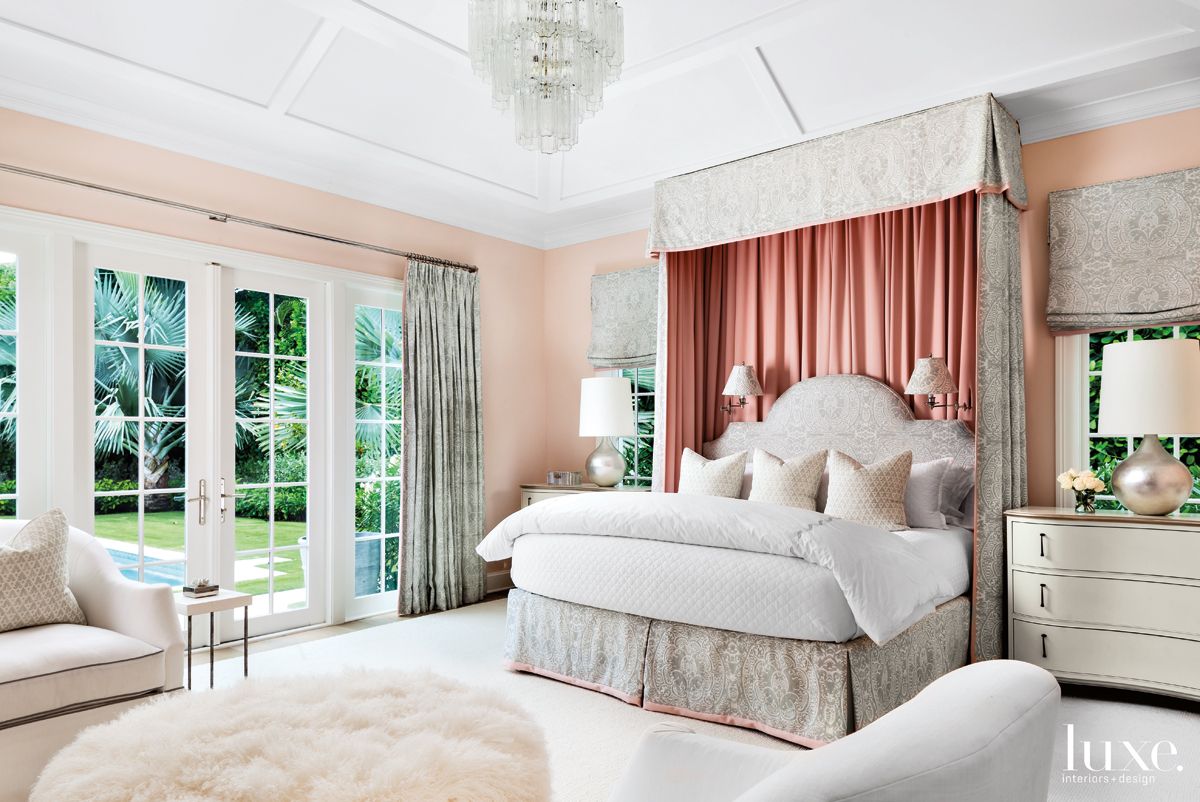 6- Mix styles to create a unique vibe
Finishing our romantic bedroom inspiration, we couldn't miss this stunning design by HOMMÉS Studio. Embracing peaceful vibes and minimalist styles, this bedroom merges art deco references with a paradisial landscape, making it the ideal refuge in every detail. Covered in pastel hues but with bold red accents and a fusion of art deco furniture and contemporary pieces, this bedroom shows romance in every detail.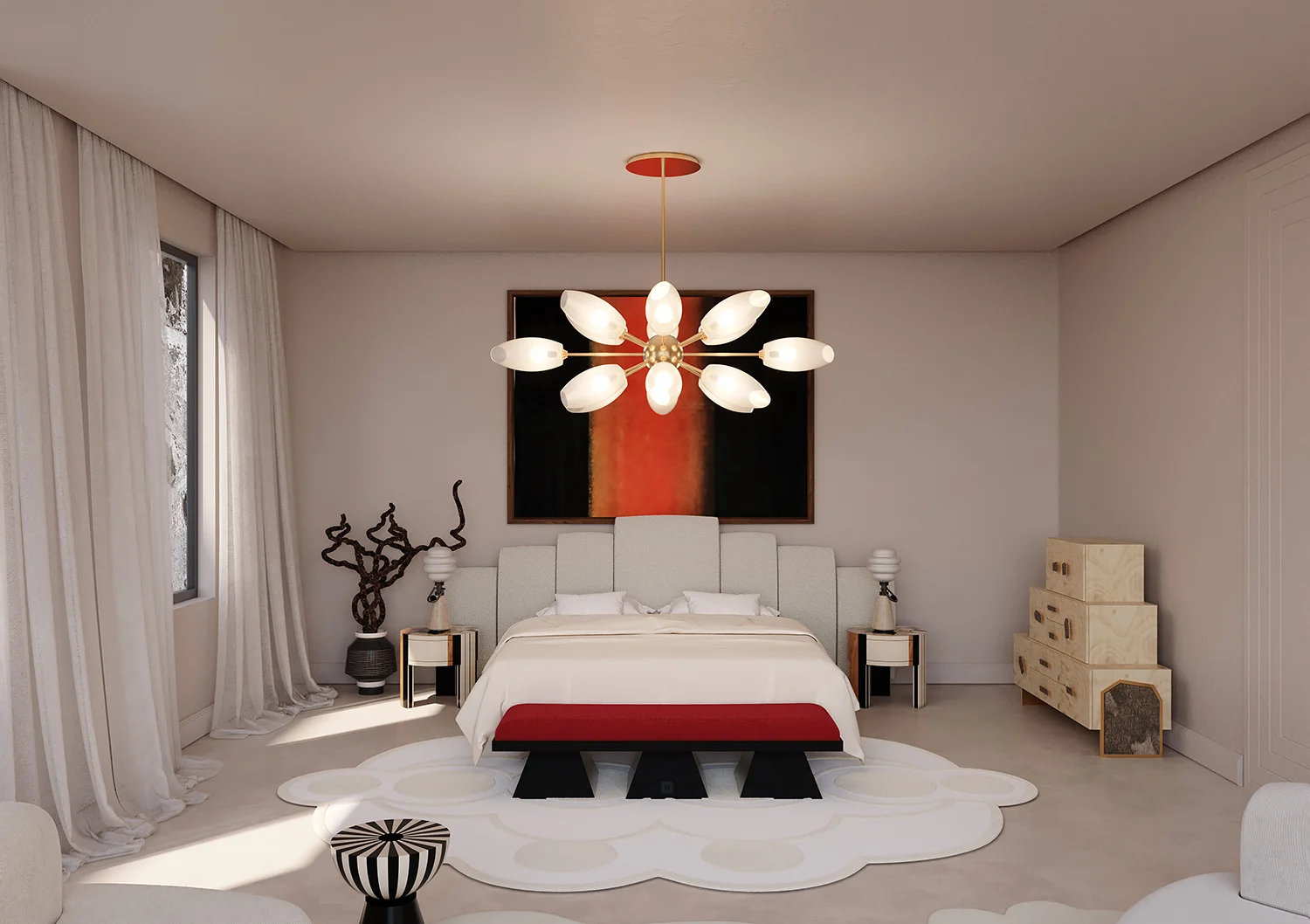 A romantic bedroom design is a charming way to elevate your project with coziness, warmth, and passion. As we discovered in this article, there are many ways to set this mood to your interior, from choosing the best color combinations to adding an extra layer of warmth with the design choices.
We hope you have enjoyed and are inspired to embrace the romantic mood in your project. Enjoy discovering a bedroom furniture collection by HOMMÉS Studio that will help you to activate the passionate feel to your layout.