Think of a merge of art deco with pop art and a pinch of 1950s kitsch aesthetic, and you'll get what is Memphis design furniture.
Do you want to know what is Memphis Design furniture and to discover interior design projects that will inspire you to design a Mephis Modern interior?
To know what is Memphis Design furniture, we need to discover more about the Memphis style because this type of furniture borrows the unique aesthetics from the Memphis Milano, a group of Italian architects and designers led by Ettore Sottsass that, at the beginning of the 1980s. The Memphis Milano group has created many Memphis design furniture – and also a series of objects, homeware, lighting fixtures, that combine the streamlined silhouettes of art deco design with the vibrant, bold, sometimes acidic colors of pop art.
The Memphis Group developed the retro design aesthetic known as Memphis Design and is known as the name behind the Memphis design furniture. It was all initially because of their mutual dislike of the minimalist design style of the 1960s and 1970s modernism; the group of creatives set out to make what is Memphis Style furniture. This postmodern furniture contrasts with the wood, glass, metal, and concrete of mid-century modern homes and furnishings. Instead, Memphis Style furniture is colorful and vibrant due to print, lacquer, and plastic-laminate finishes.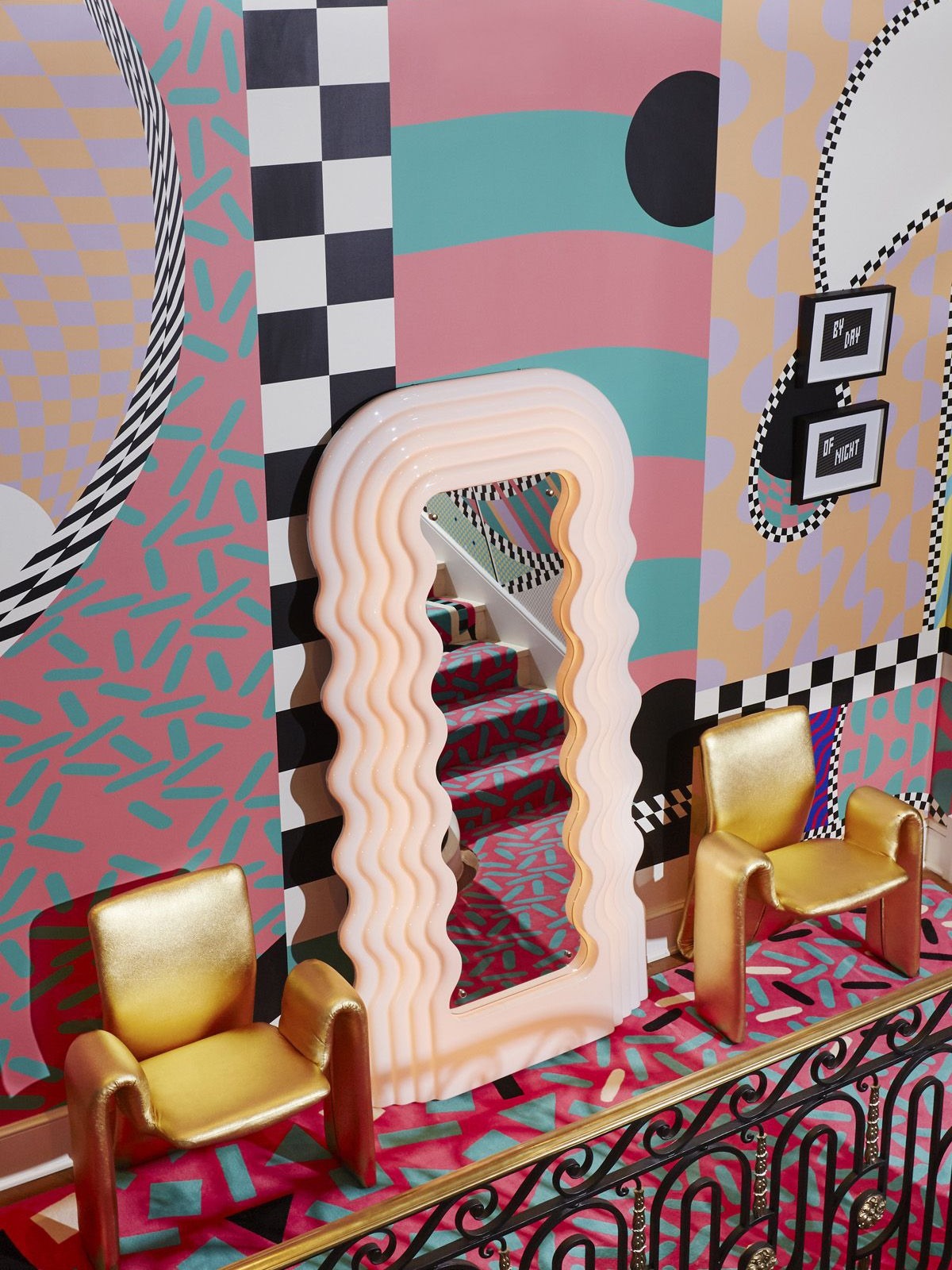 What Is Memphis Design Style?
Memphis Design style is one of the most instantly recognizable – and beloved – design styles. This design movement was founded by Ettore Sottsass (who gave us some iconic design pieces, such as the Ultrafragola Mirror) and more than 20 other Italian architects and designers in his living room as a rebellion against the simplicity, modest lines, bland shapes, and natural colors of mid-century modern design style.
In Ettore Sottsass's living room, the Memphis Group decided to design and create decorative objects, fabrics, prints, ceramics, and furniture with unusual shapes, colors, materials, and perspectives. The Memphis Milano group was bold enough to create 'bad-taste' objects that would get bad critical acclaim at the time. Little did they know that groundbreaking as they were, their unique aesthetics would become a design movement that would be trendy for decades on – and would inspire new artists and brands to combine geometric and sterile shapes with bold colors, materials, and finishes.
The Memphis Design style is still very popular, especially among Millennials. Even though this generation is hardly a homeowner, it owns statement pieces that are often proudly displayed on social media. And the Memphis Design movement is all about prints, colors, and shapes that make a statement and unleash wild emotions.
While a home decorated with Memphis Design style can be overwhelming, any home must have – at least – one item of Memphis Design furniture.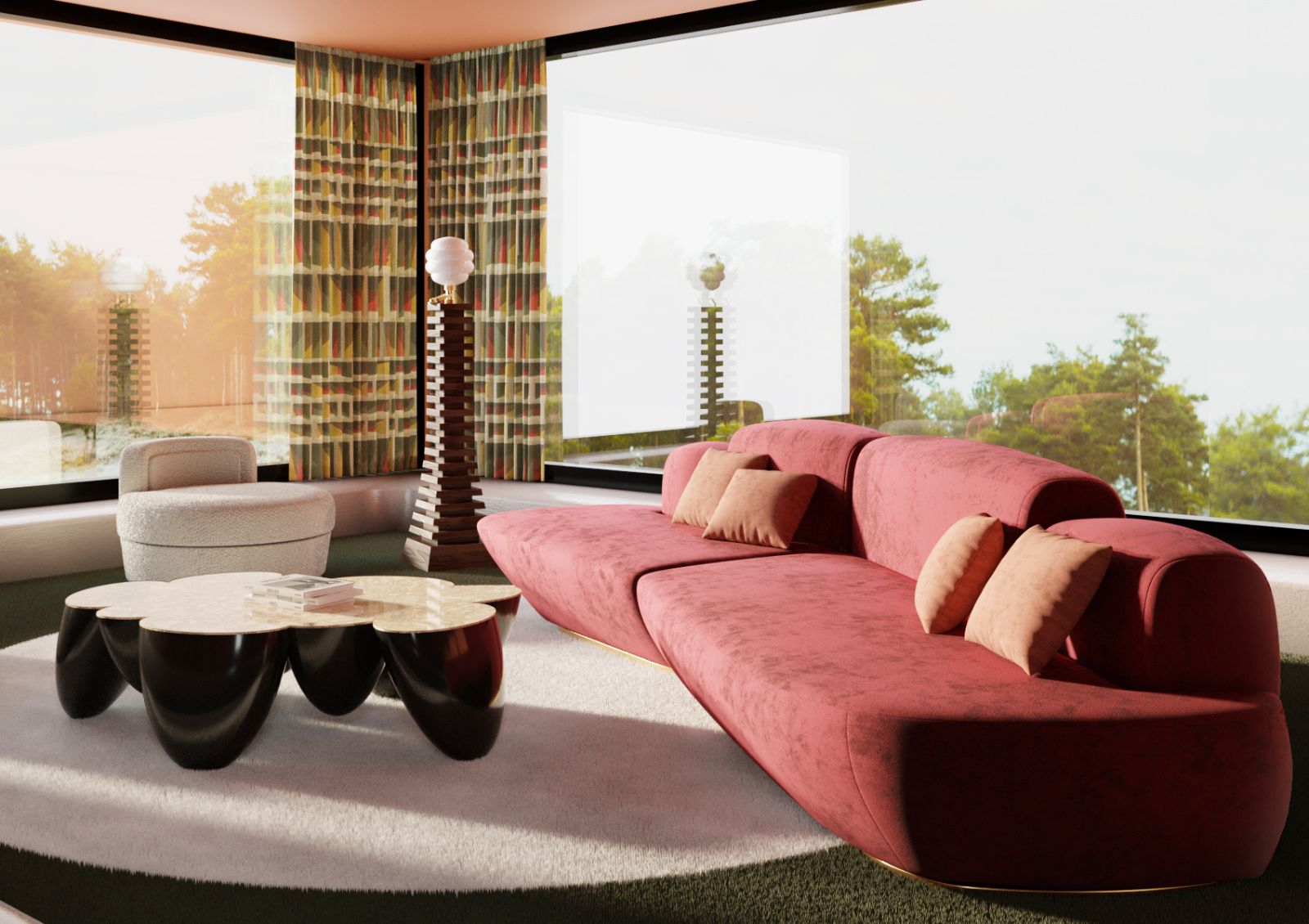 What Is Memphis Design Furniture?
Think of a merge of art deco with pop art and a pinch of 1950s kitsch aesthetic, and you'll get what is Memphis design furniture.
The Memphis Milano group created this unseen Memphis design furniture design style. The postmodern aesthetics of Memphis Milano delivered objects and furniture with streamlined shapes, maximalist silhouettes, and vibrant finishes.
Here's what is Memphis Design furniture and its characteristics:
Art Deco Influence
Memphis Design furniture is inspired by art deco furniture. In addition to a seductive, captivating geometry, art deco furniture has notable finishes coated with glamour.
Contemporary interpretations of Memphis Design furniture attribute bulky forms to this furniture style more than the Memphis Group initially did. Symmetry, verticality, and a juxtaposition of geometric shapes defined the objects created by Ettore Sottsass and associates. Glamour is not the best word to describe the sweeping finishes of Memphis Design furniture. Yet, finishes are critical, giving each item of Memphis style furniture vibrant colors, shining texture, or playful patterns.
Bold Patterns
Another feature of Memphis Design style is bold patterns. Strongly influenced by and influencing modern graphic design, the Memphis Group produced patterns and printed textiles that made a comeback with Nathalie Du Pasquier, a founding member of the Memphis Milano group when she designed a collection of patterns for the fast-fashion giant American Apparel.
Memphis Design's bold patterns juxtapose different geometric shapes in contrasting colors. In Memphis Design furniture, repeating geometric shapes and print upholstery is key to a statement furniture piece.
Vibrant Colors
Ettore Sottsass and the other members of Memphis Group made jaws drop with their 'bad taste' furniture. Unlike the wood, glass, metallic, and concrete mid-century modern furniture that kept the material's natural color, Memphis Design furniture introduced refreshing items with colorful plaster-laminated and lacquered finishes. Blue, yellow, orange, and red are just some vibrant colors that characterize Memphis Design furniture. This palette of electric colors is often paired with neons, pastel colors, and neutrals hues to create airiness and blend in easily with different design styles.
Stripes
A black and white composition of stripes is as Memphis Style as it gets. Repetitive, obeying a unique geometry and verticality, this monochromatic pattern is timeless and iconic. On the one hand, black and white stripes are minimalist and blend in with any design style. On the other hand, if combined with graphic patterns or vibrant colors, this classic combination of lines quickly means a dash of sophistication while keeping a dazzling joyfulness.
Once you know what is Memphis Design furniture, unleash your creativity. Get inspired and learn How To Decor With Memphis Design Furniture in our blog.