Art Deco furniture is making a coming back – the beautiful lacquered finishes and geometric patterns are all around in stunning interiors. But what is Art Deco furniture unique? It's what we will explain in this article.
Have you ever wondered what is Art Deco furniture? If we need to answer in just a few words – we would say it's a furniture style that evokes bold patterns, finishes, and shapes that turn each piece into a special one. But for our luck, we have more words to share, and we will tell you in this article. Please keep reading to discover what is art deco furniture and why they are unique.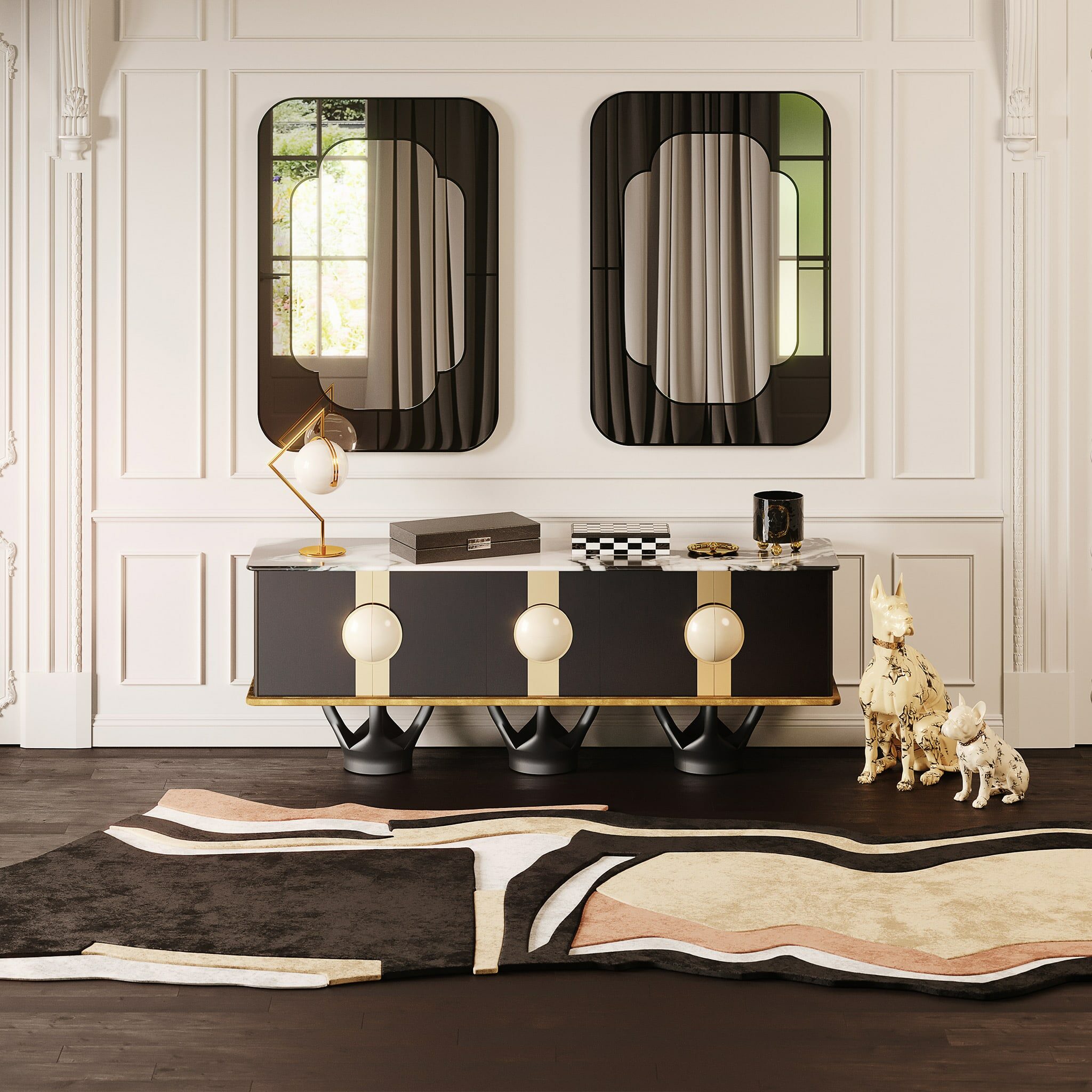 What is Art Deco?
To comprehend what is Art Deco Furniture and why they are unique, we need to understand the background of this style. Known for its refinement, elegance, and geometric patterns, Art Deco is an artistic, architectural, and decorative style that first appeared at the start of the 20s. Therefore this style dates from the 20s; the term Art Deco first appeared in the 60s, referring to the International Exhibition of Decorative Arts and Modern Industries, which took place in Paris in 1925.
Art Deco shares a passion for geometric and fragmented forms- some people used to refer to this as a Cubism transition to comprehend this style better. But in Art Deco, one crucial thing to highlight is the focus on usability.
The focus on usability, the use of geometric and fragmented forms are some of the main characteristics of Art Deco. Still, the style also emphasizes symmetry, layered shapes, line art, and metallic colors like gold. If you want to know more about this stunning style, you can read our guide about Art Deco Style; but remember to come back to this article to understand what is art deco furniture.
What is Art Deco furniture?
What came to your mind when you heard the term Art Deco furniture? Velvet finishes, sparkling gold, geometric shapes, and bold patterns? You are right; these are some characteristics of furniture style. As we already know, the art deco movement emerged in the 20s as a style that embraced refinement and elegance. The furniture inspired by this style presents high-end craftsmanship blended with luxury and glamour.
Art Deco furniture is bold. Some main pieces from this style are sideboards, armoires, generously sized chairs made of exotic woods like zebrawood, and chrome and mirrored elements. It´s a beautiful way to elegantly reflect the essence of luxury and glamour in your decor. Each art deco piece of furniture is a statement of art, making it unique and special for any home. To better understand what art deco furniture is, we will highlight some attributes that make them remarkable:
Exotic Wood: Each piece is carefully crafted and can add a luxury vibe to any space because of its material, such as ebony, lemonwood, or zebrawood.
Lacquer: Art Deco furniture can shine up any space thanks to the lacquer finish applied in its pieces, which also adds a touch of glamour and sophistication.
Marquetry: Marquetry is the art of creating elaborate geometric patterns out of several types of wood; this technique is usually incorporated into Art Deco furniture.
Leather: Art Deco furniture highlights rich materials, and leather is one of them – adding a stylish flair to the pieces. It's usually used in armchairs and sofas that can turn any living room into a sophisticated one.
Luxurious adornments: Luxurious stones like quartz and gems are used as embellishments on Art Deco furniture pieces. Onyx, jade, ivory, and Murano glass are a few of the more well-liked decorations.
So what is Art Deco furniture? Summarily we could say they are unique pieces made with particular attention to the details that give a luxurious and glamorous vibe to any space. But more than that, Art Deco pieces are art statements for bold home interiors.
Now that you know what Art Deco furniture is, what about some inspiration? Get inspired by five interior design projects that show all glamour of this style.

Source: Magazine Art Land / My Domaine