WHAT IS HOLISTIC INTERIOR DESIGN?
Holistic interior design, or wellbeing design, is an approach to interior design that supports the wellness of the mind, body, and soul. This is a multidisciplinary interior design field since it combines biophilic design, color psychology, human biology, and ergonomics, among others.

The goal of holistic interior design is to design spaces that look good, feel good and actually promote your physical, mental, and spiritual health. Approaching interior design holistically is to understand that the spaces in which we live affect how we live and how we feel.

In architecture, holistic design acknowledges the importance of creating an atmosphere around us that is supportive to both our inner and outer senses. Holistic architecture embraces the multi-faceted complexities of the built environment – a juxtaposition of harmony and balance, light and color, relationship to our surroundings, sustainable building processes, and green materials.
Discover below our Small Guide For Holistic Interior Design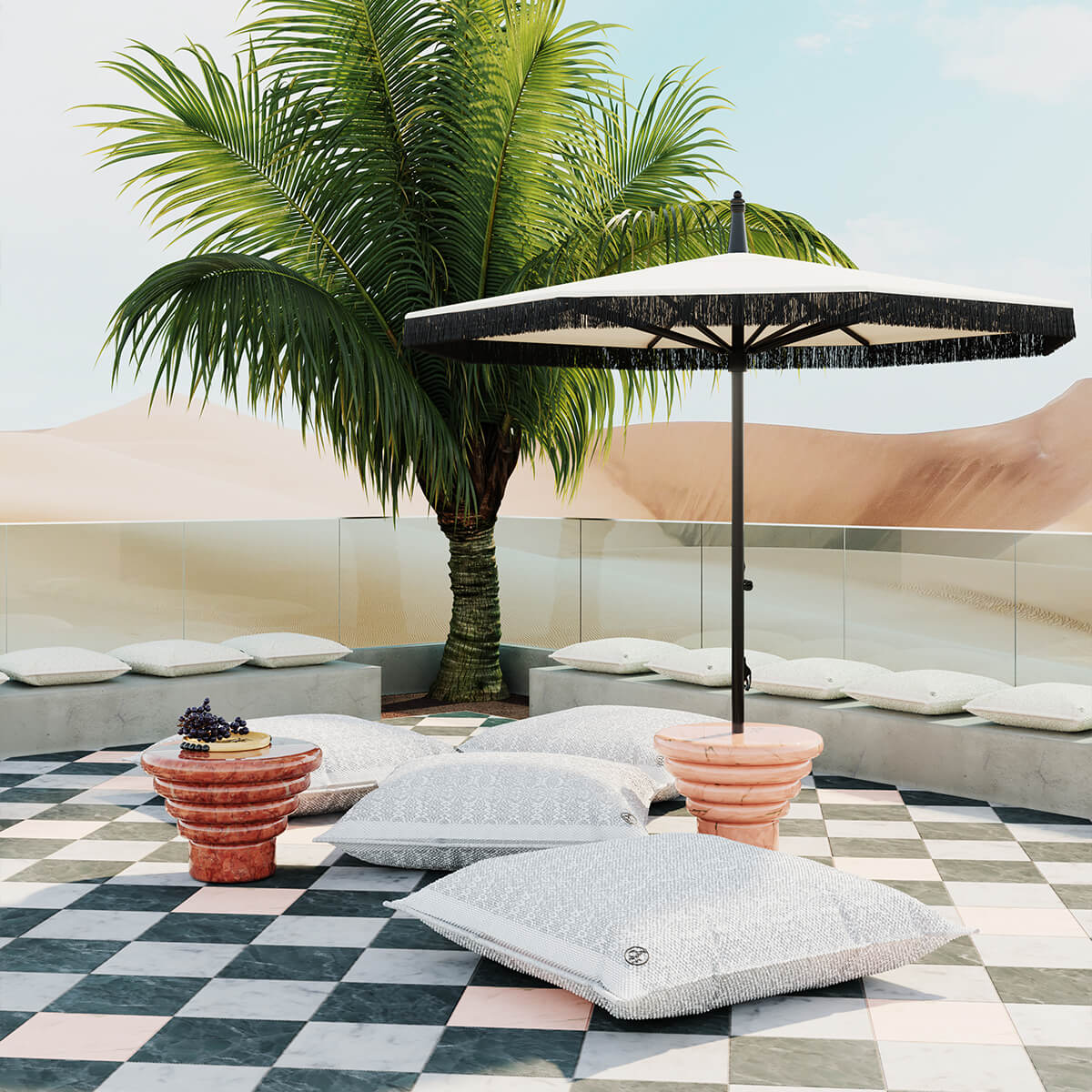 SMALL GUIDE FOR HOLISTIC INTERIOR DESIGN
1. FIND PURPOSE
What's the purpose of your interior design project? Is it comfortable for children or the elderly? If your client works from home will they need a quiet room to work in? It is better a home office or a library? Or is it a commercial interior design project, such as a medical center or a restaurant?

Asking these questions – among others – are essential to holistic interior design. Answering these questions will define the amount and type of furnishings as well as the materials. It will also help you to optimize the space and to choose colors and textures, for instance.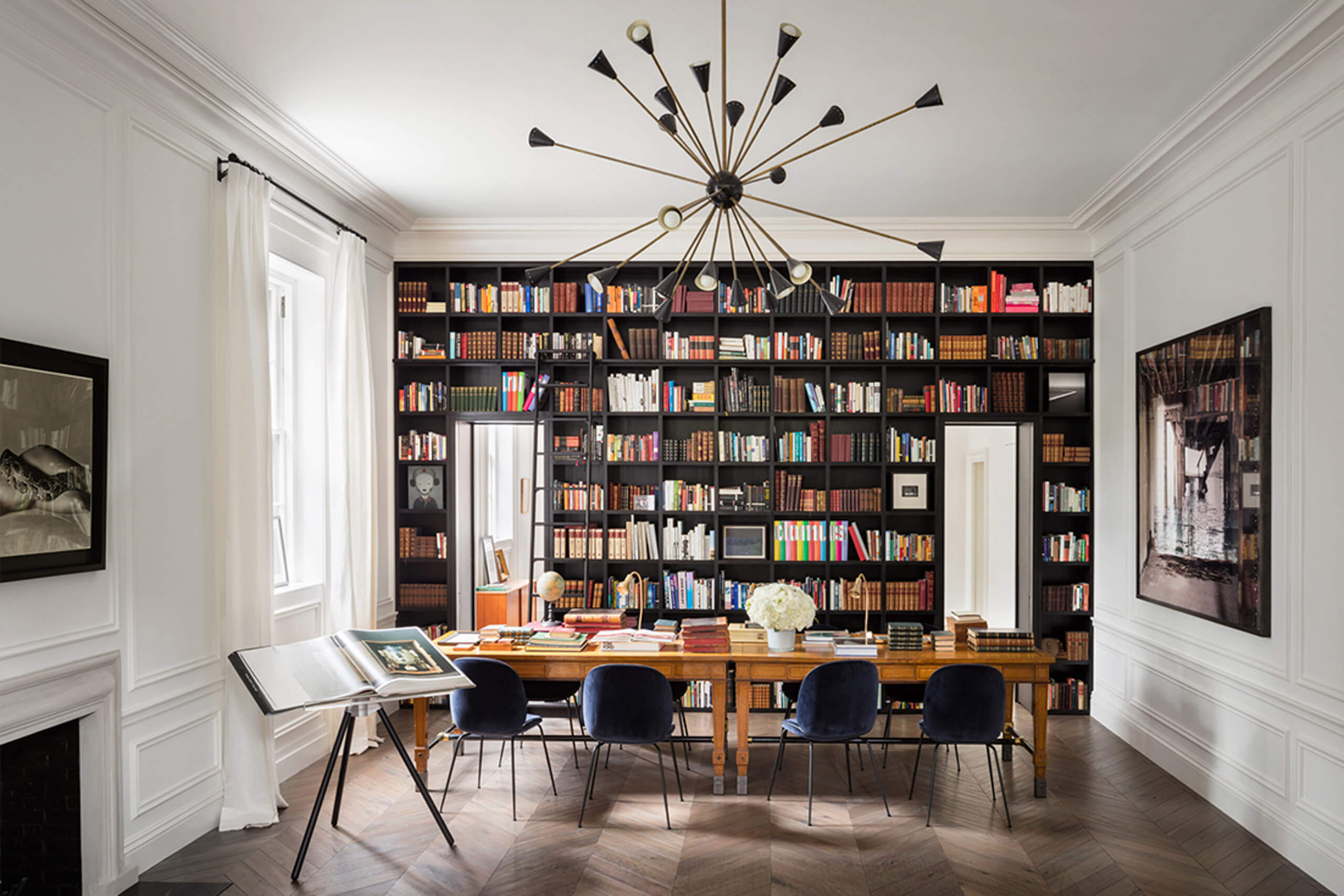 Boston Residence, the masterpiece of Steven Harris Architects is the home of a young couple focused on their careers. Spending very little time at home, the couple chooses utilitarian areas over entertaining areas. In order to provide maximum comfort to the owners, Steven Harris used the ground floor to design the master bedroom and the kitchen. The upper floor hosts the entertaining areas and a big home library.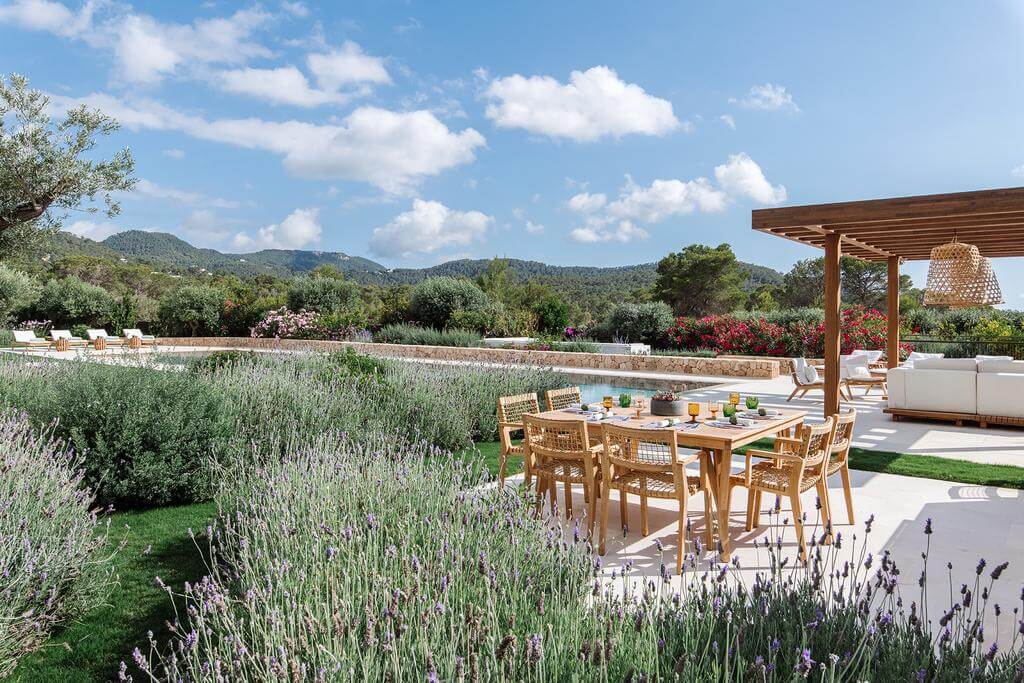 Sabina Estate is the holiday home of a British family on the Spanish Balearic Island of Ibiza.

The house was designed by architect Jordi Carrenõ with the interior design of Tara Bernerd. To create the perfect holiday home in a paradisiacal destination such as Ibiza, Tara Bernerd created three distinctive areas outdoors – namely pool, living room, and dining room. The open-air entertaining areas led the owner to enjoy the sunlight and to contemplate the stunning view.
2. OPTIMIZE THE SPACE
A floor plan layout is a powerful tool of holistic interior design. Think – and plan – the space in advance. Do it to optimize function and comfort but also for wellbeing. Displaying certain objects in certain places can really revolutionize the body, mind, and soul.

The ancient Chinese philosophy Feng Shui teaches how to design harmonious spaces where the energy – yours and from inanimate objects' – flow freely. For instance, according to Feng Shui, the disposition of the bed in the bedroom influences the quality of one's sleep.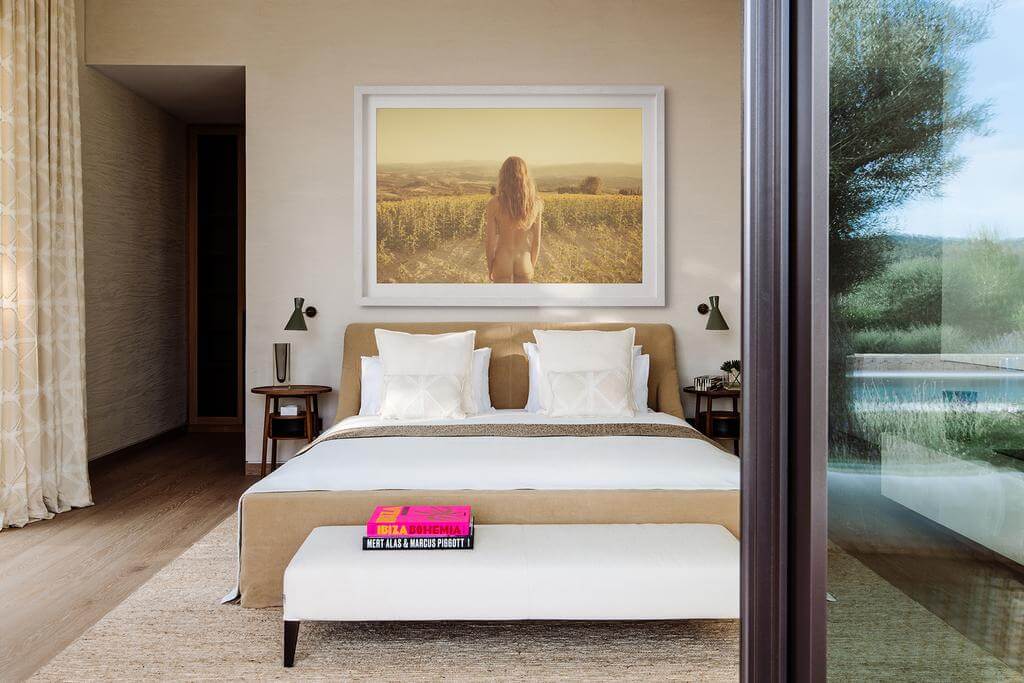 Following Feng Shui philosophy, it is better to choose light and soft fabrics. Feng Shui looks for avoiding metal frames, as it fastens the energy flow, which will interrupt your sleep. Moreover, a bed in a feng shui bedroom should have a headrest, since it represents stability and support in life.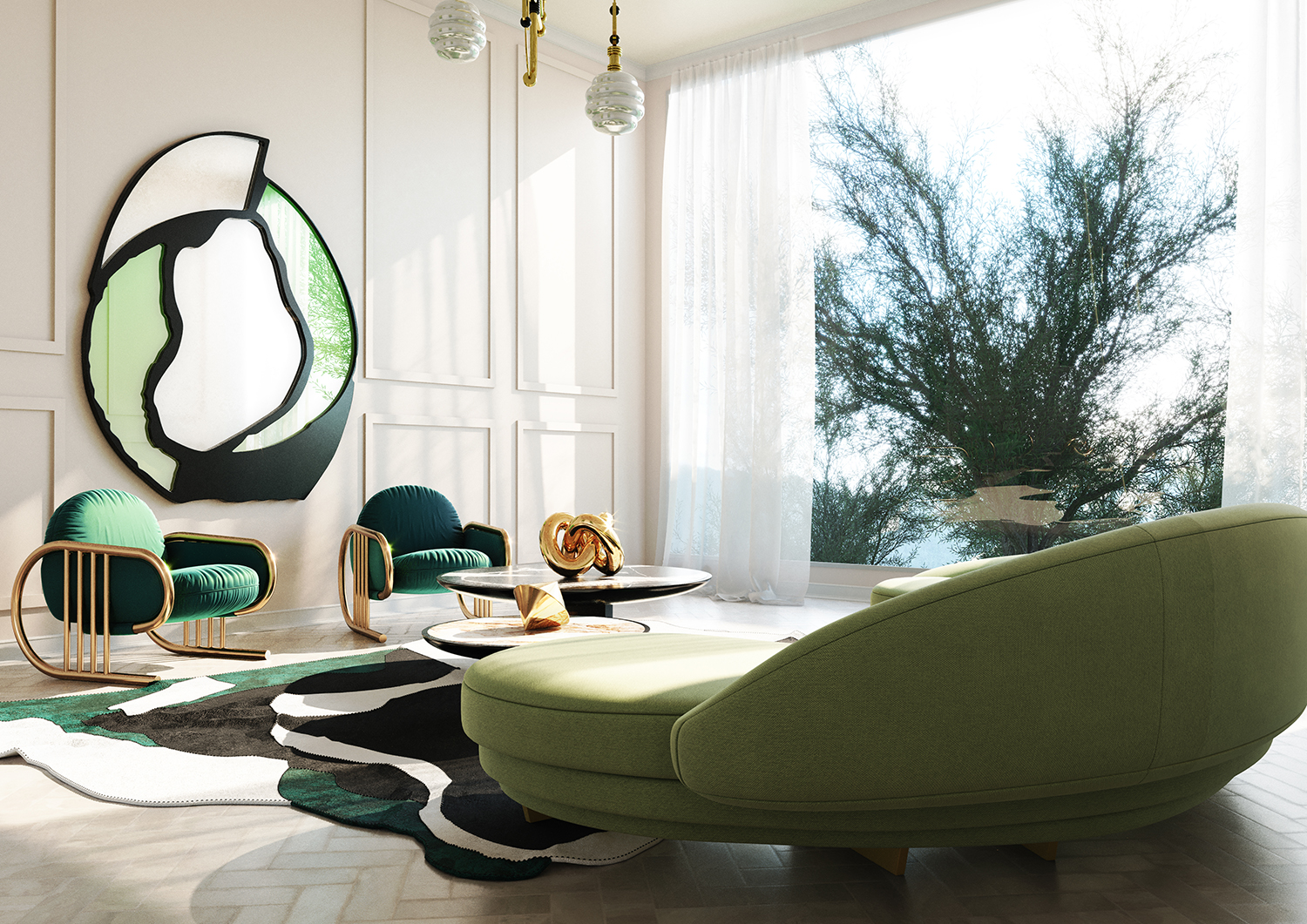 To learn more about Feng Shui, we suggest you reading How To Decorate According To Chinese Feng Shui Philosophy – an article by Hommés Studio that is a useful tool for holistic interior design.
3. DEFINE THE COLOR PALETTE
The psychology of color is a study field broadly applied to interior design. Why? Color psychology relates the color to human behavior. It defends that colors trigger perspectives, feelings, and emotions in humans.

While red stands for aggression, orange increases appetite and blue emits a relaxing effect. As a result, holistic interior design requests colors that trigger wellbeing the most.

Generally, natural colors are the ones that bring the best vibes. White for peace, yellow for happiness, blue for calmness, and green for prospect.

Color Psychology In Interior Design is an article that tells you everything you need to know about pigmentation and human behavior.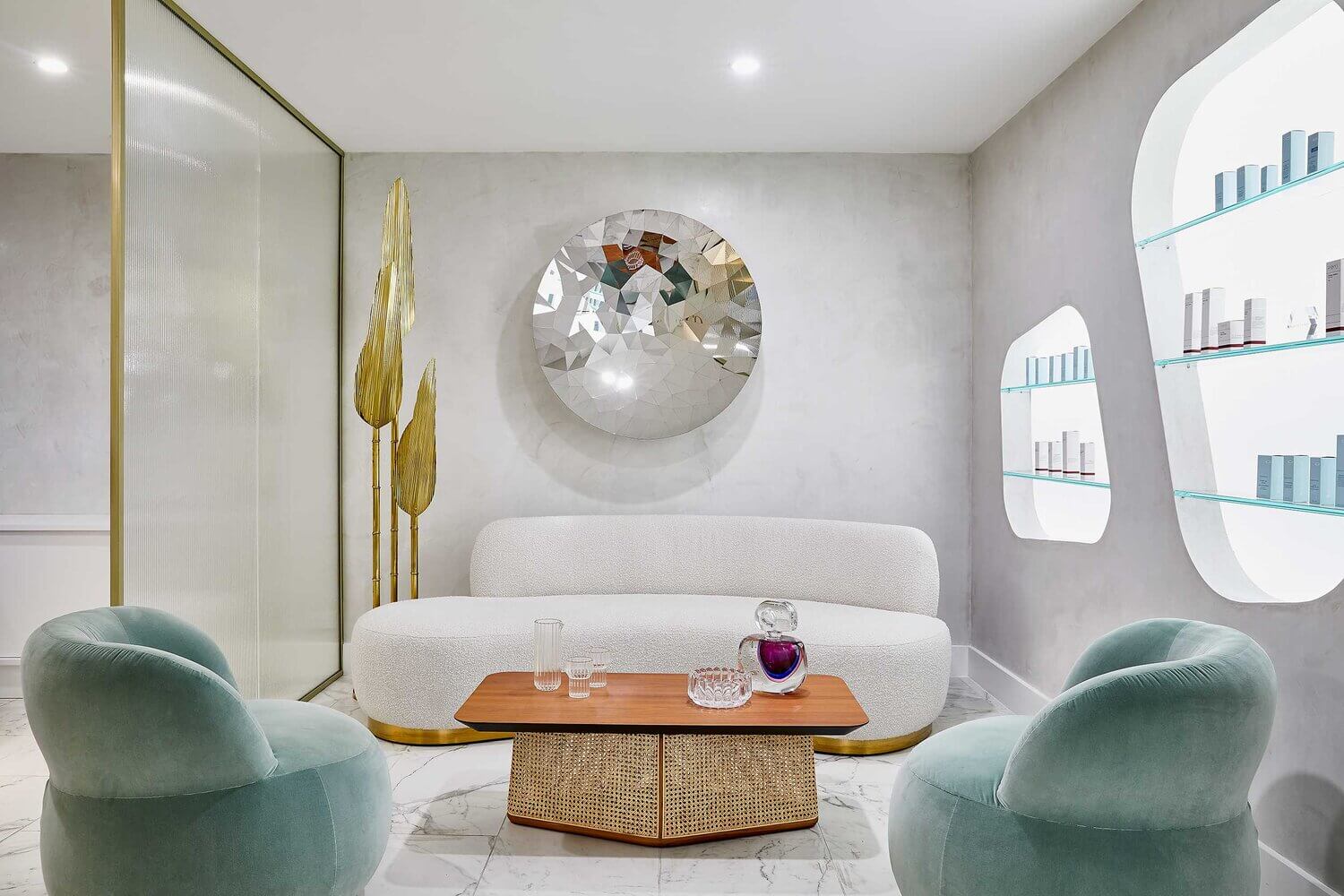 Nina Maya designs the rebranded Glow by Quayside medical clinic in Sydney. Nina Maya's predominant colors in this wellness center are white and blue. There are some golden accents as well.

For a luxury clinic that offers dermatological treatment, plastic surgeries, skin cancer treatment, and even non-surgical cosmetic procedures it is very important to communicate know-how, commitment, and sophistication. With this color palette, Nina Maya expected to deliver a trustable ambiance – and she did it.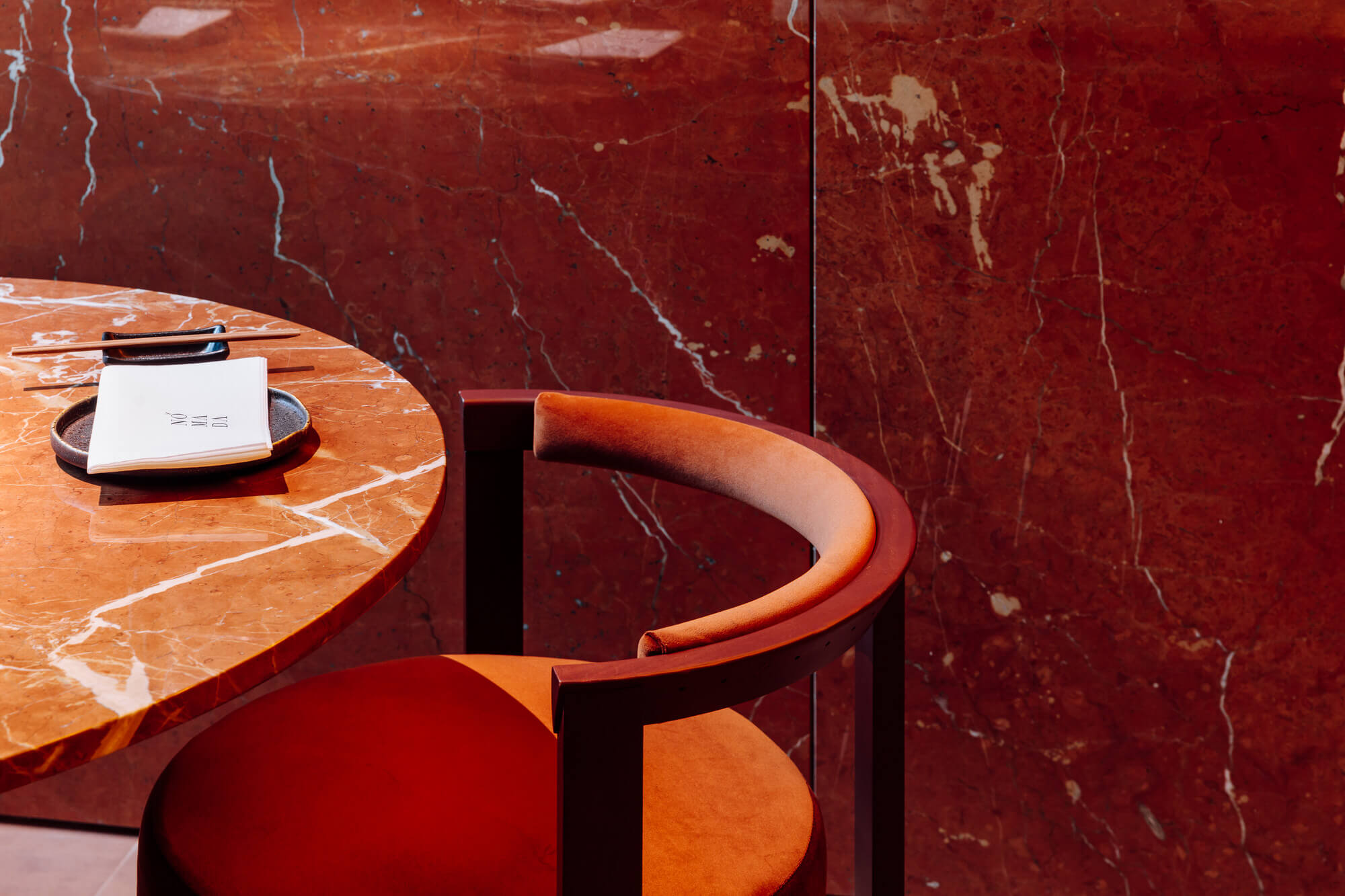 Orange is happy and joyful. The juxtaposition of red and yellow results in a warm and fierce color. If you're working on a restaurant with a holistic interior design concept, orange is the best possible color because it triggers both hunger and sociability. And that is the perfect recipe for a memorable night out, don't you think?
4. DON'T FORGET ABOUT LIGHTING
Lighting may vary according to purpose. On a holistic interior design project, lighting is something more than an essential and functional tool. Lighting, as much as color, outlines the perception of a room. For instance, a medical clinic requires a pale white lighting bulb – that will indicate trustability – while a private dining room matches bulbs with low-intensity warm light. In this manner, the best possible light for at-home wellness rooms in natural light.

The holistic architecture delivers homes where space is thought to detail to maximize comfort. Holistic design when integrated into architecture is capable of designing natural light and control the mood of an entire house.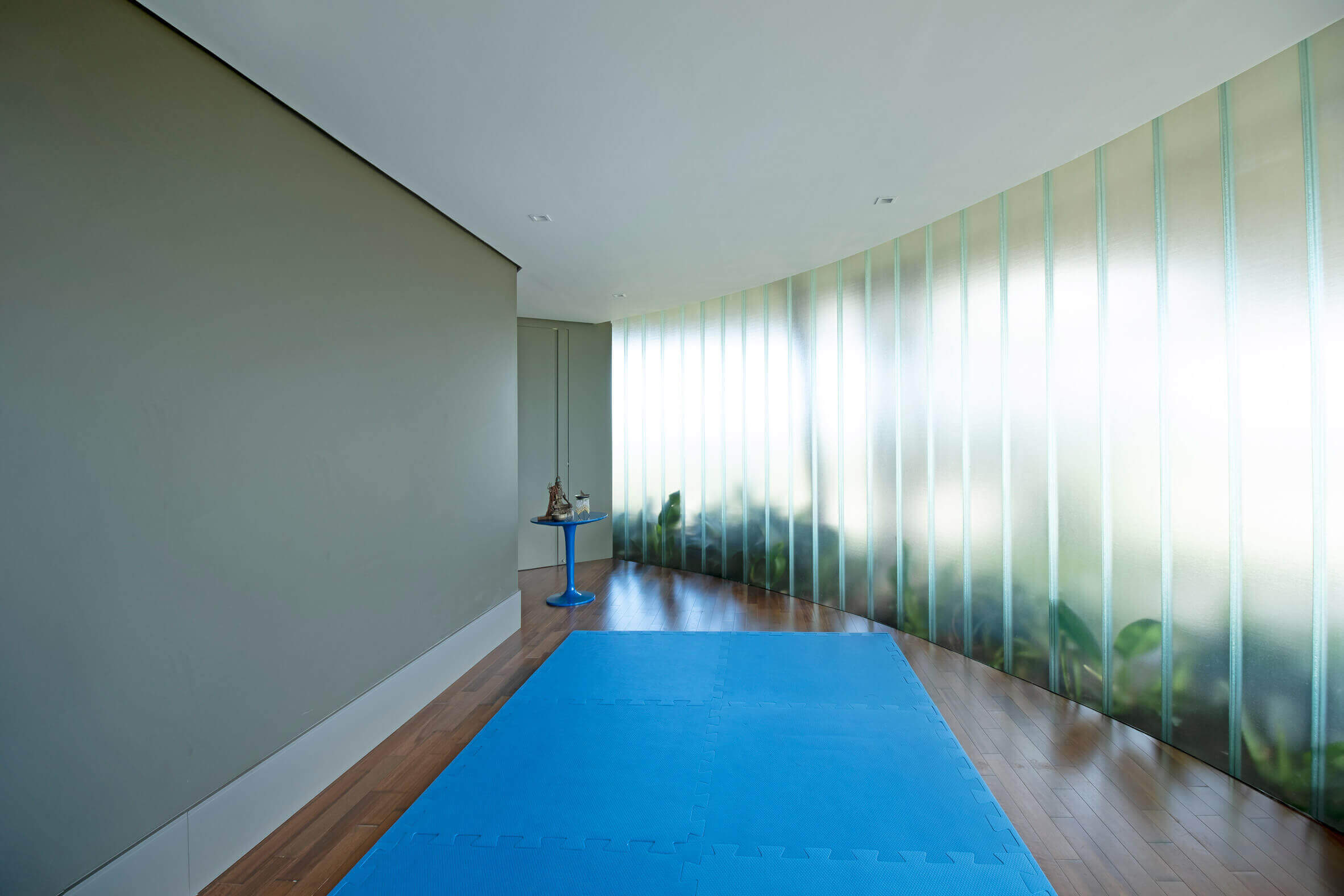 The home yoga studio of a yoga teacher in Brazil has a curvy glass wall that lets sunlight inside the yoga studio creates a calming glow. Ananda House is a holistic architecture project by Stemmer Rodrigues architects.
Casa Azul by Bak Gordon Architects in Alentejo, Portugal was designed to let the vertical sunlight invade the house with its unique geometrical arrangements. At the same time, Ricardo Bak Gordon creates multiple shade spaces to escape from the intense sunlight, allowing the owners to enjoy the outdoors even under hot temperatures.
5. EMBRACE BIOPHILIA
Nature is an essential element of holistic interior design. Nothing nurtures the body, mind, and soul like nature does, so incorporating it into your holistic interior design project is mandatory.

Biophilic design is not an interior design trend but an interior design movement – that came to stay. Biophilia creates a human-centered approach to the environment that when applied to design improves the spaces that we live and work in. It is demonstrated that biophilic interior design is beneficial to health and wellbeing since it reduces stress, blood pressure levels, and heart rates. In addition, biophilic design increases productivity and creativity. In the workspace, biophilia improves workers' concentration, their engagement, and their cognitive abilities as well.

Are you wondering about What Is Biophilic Design? our article has a cohesive but compact explanation of it.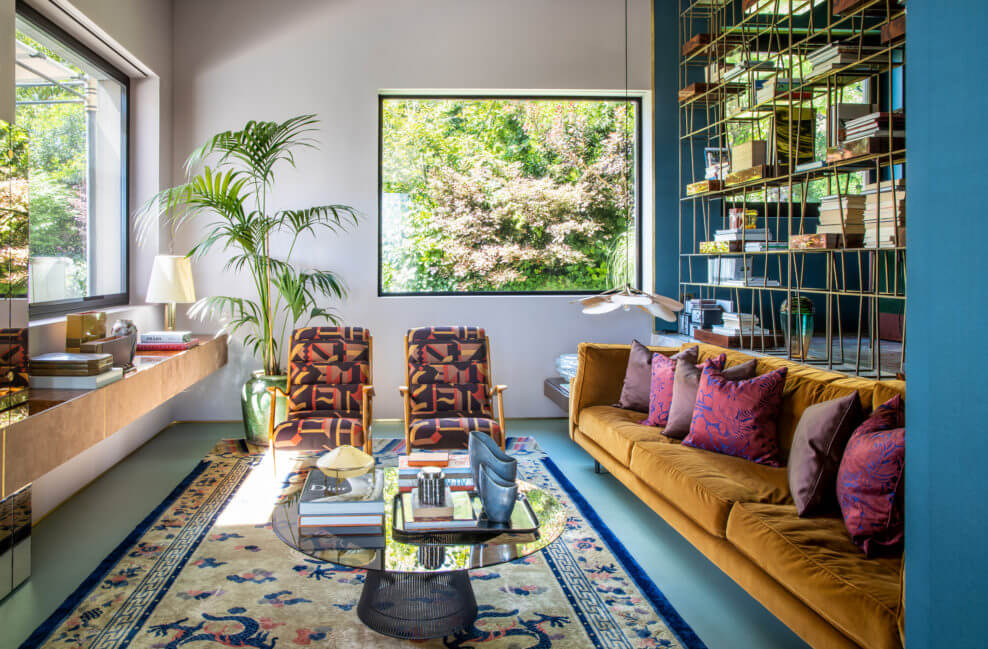 This interior design project is all about texture, fabrics, color, and nature. The brutalist architecture heritage is still present at this modernist home built on the top of Florence. Reimagined by Dimorestudio, the house stills addressing to European '70s style.

With vibrant earthy tones – almost electric – the design studio turns the natural landscape into contemporary artwork. The strategic windows make the landscape look like living paintings.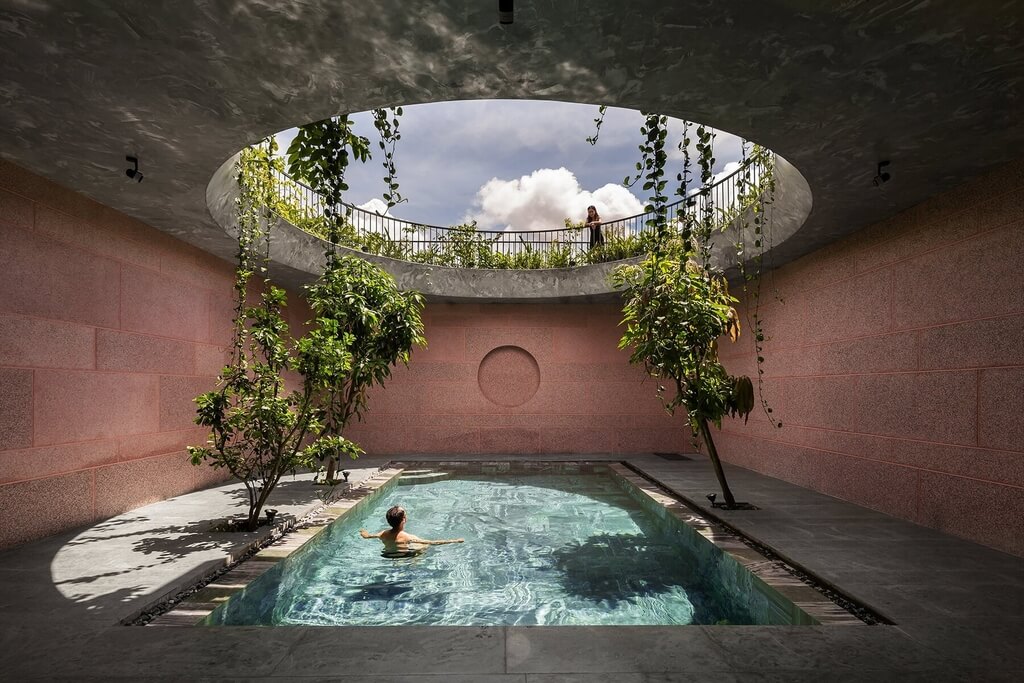 23o5 Studio designed The Pink House, a holistic interior design project in Vietnam with closedness, expansion, and tranquility in mind. A large opening connects the sky and the building.

The studio used an earthy colors palette and granite in the project. The idea was to blur the boundaries between indoors-outdoors.
6. CREATE A WELLNESS ROOM
If you're designing a home, you must make some room for fitness. The benefits for body, mind, and soul from physical activity are countless.

Holistic interior design must consider the creation of space at home to exercise your body. Sometimes, all you need is a yoga mat – this way, there are no excuses not to exercise. Nevertheless, don't miss the opportunity to design a home gym. Basements are usually mistreated and underrated but you can turn it one of the most important rooms of the house.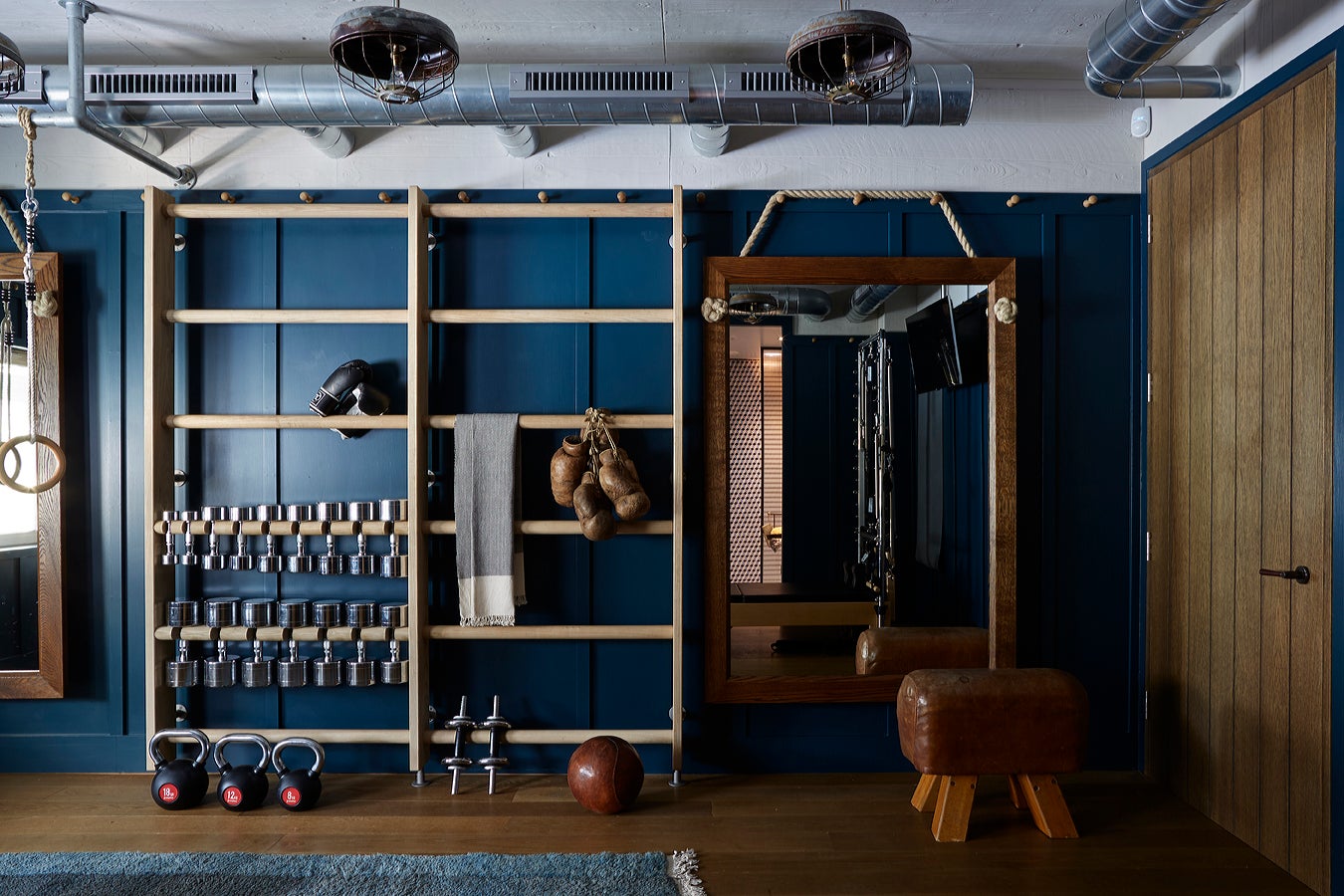 Hubert Zandberg takes no excuses and designs a home gym that combines practical utility with aesthetics. Despite the lack of natural light in the basement, Hubert Zanberg upgraded his interior design project to a holistic level with vintage furniture sourced from Belgium and France.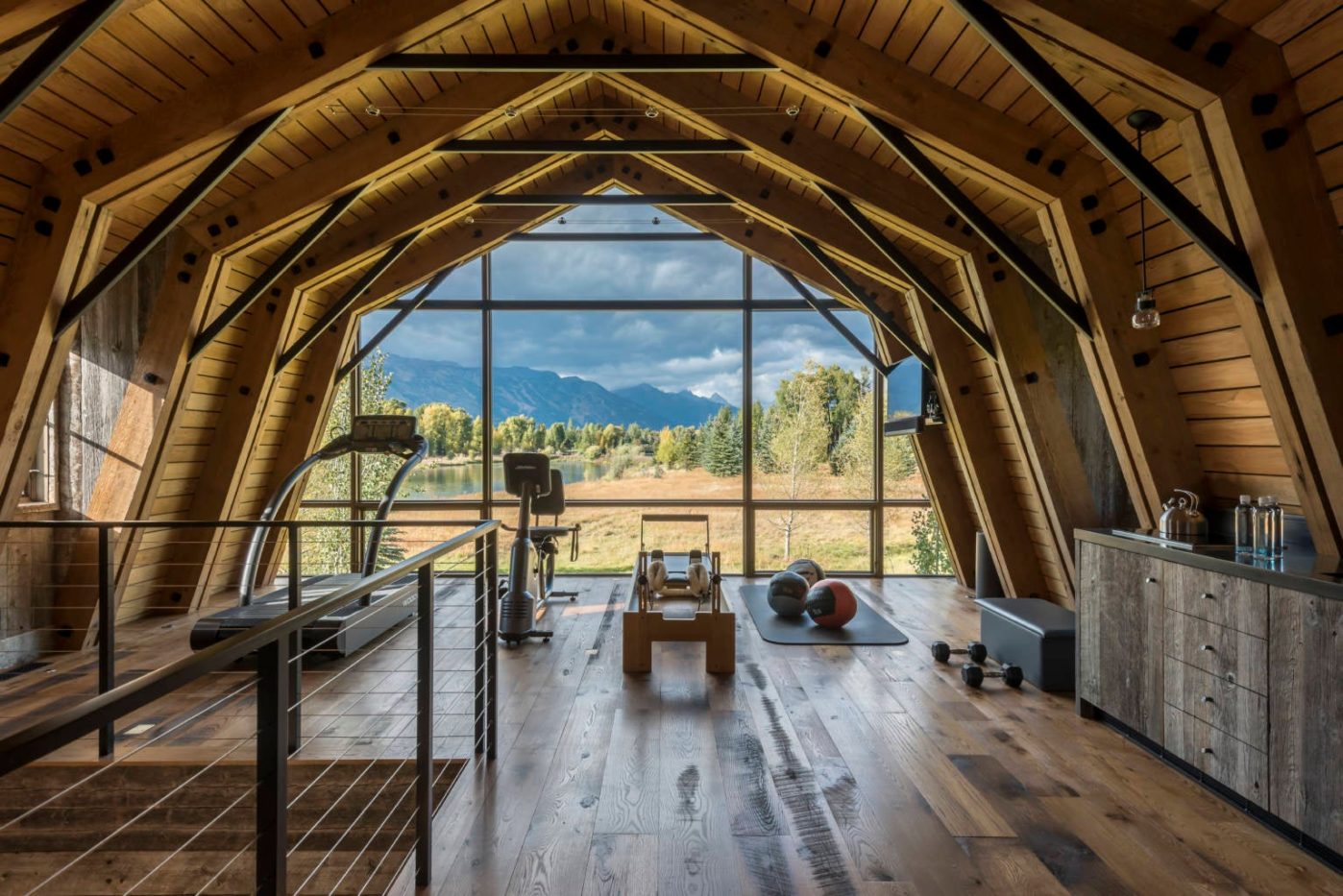 Thinking of wellbeing, WRJ Design Associates turned the upper floor of a barn-look-alike guest house into a home gym. The property located in Jackson Hole offers a unique sight over the Teton Range.
BODY & MIND, A COLLECTION FOR HOLISTIC INTERIOR DESIGN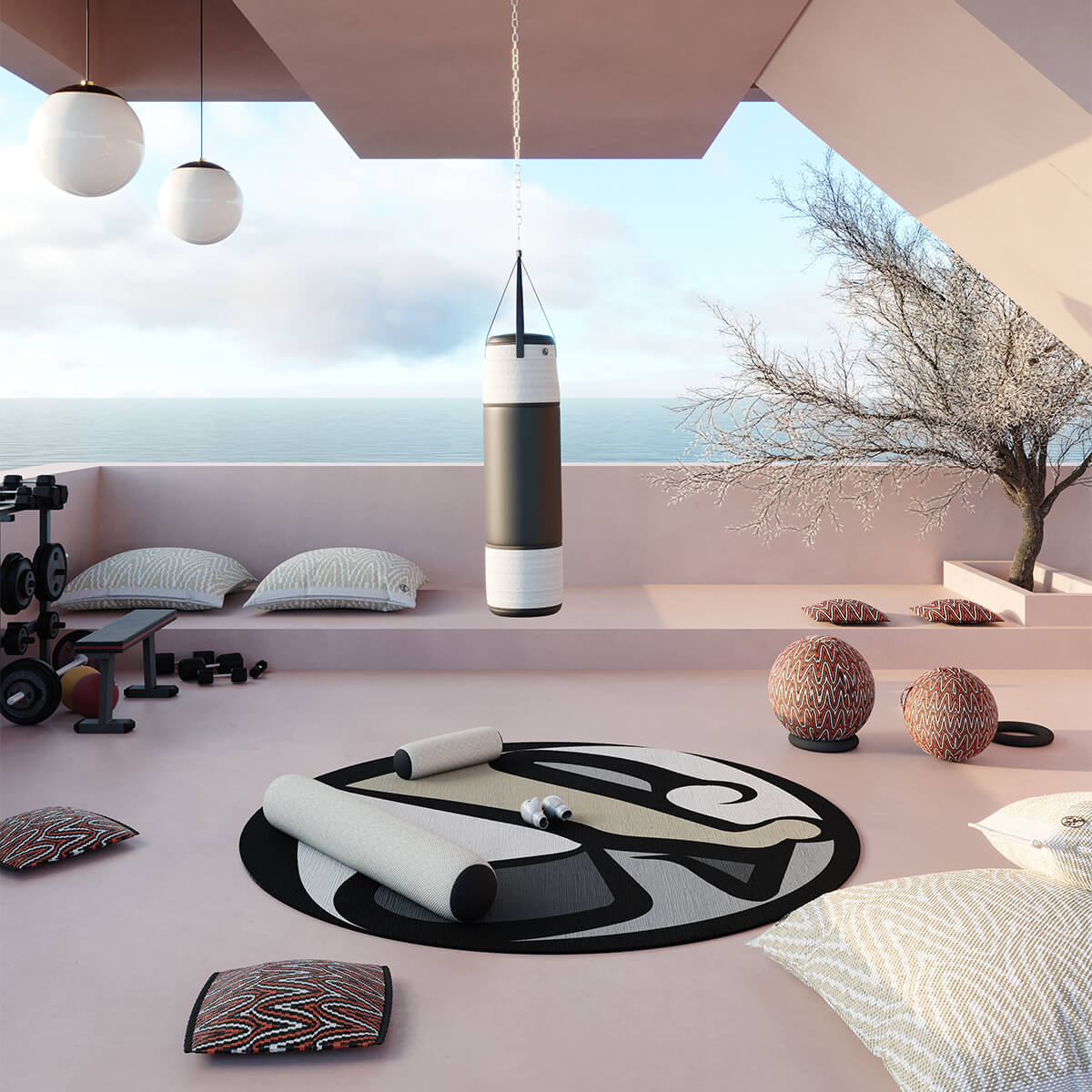 Body & Mind is an outdoor furniture collection by Hommés Studio and ACH for holistic living.

By definition, holistic philosophy believes that everything is connected. The individual and the world. The food we eat and the bed we sleep in. The physical activity we do and the place – or person – we call home.

Body & Mind is the mindfulness we are positively seeking in the world. Whether for fitness or therapy, the outdoor collection by Hommés Studio and ACH wants to help you to wear your soul, exercise your identity, and speak your mind.

Discover the wellness accessories on the ACH Collection website.