Discover the new trendy furniture collection by HOMMÉS Studio featuring the Pantone Color of the Year, Viva Magenta, a daring selection of furniture pieces for striking interiors.
A touch of boldness, please. The new trendy furniture collection by HOMMÉS Studio evokes daring feelings and promises to inject the bold hint that any interior design project needs.
Featuring the Pantone Color of the Year for 2023, Viva Magenta, a color that vows to paint interiors worldwide with brave sentiments, the new trendy furniture collection has a variety of statement pieces to make any layout stand out.
From sofas and console tables to mirrors, one piece from this trendy furniture collection is perfect for completing your design. Read on to discover more about this trendy furniture collection and find the piece that better match your layout.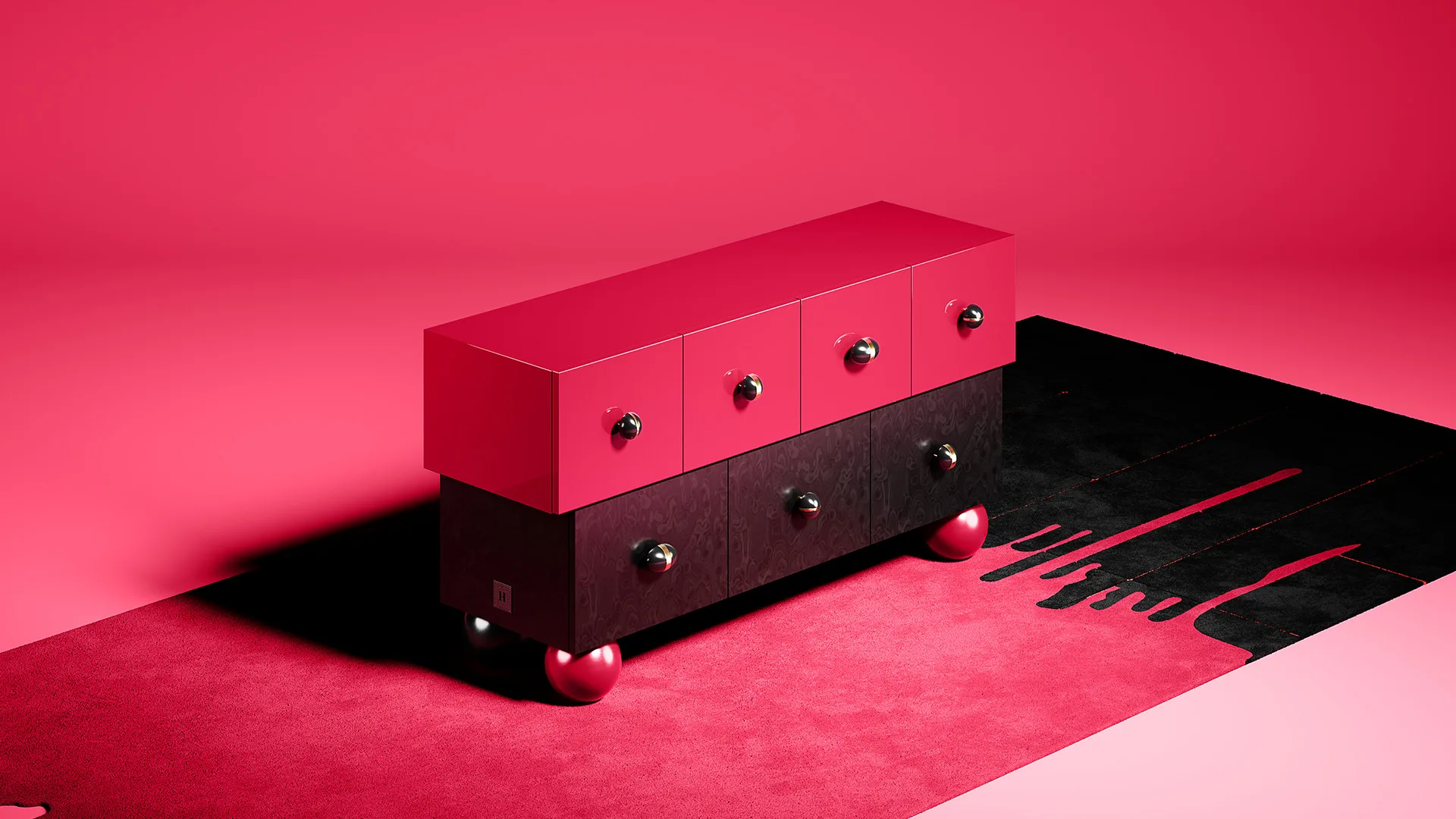 Viva Magenta
A collection that vows to be bold, this is the new trendy furniture selection by HOMMÉS Studio. Inspired and featuring the Pantone Color of the Year, Viva Magenta, the pieces from this collection aims to translate the brave feeling that the trending hue evokes and help to paint interiors with this beautiful shade. As everything started with Viva Magenta, this will be our starting point to discover this new trendy collection.
"An unconventional shade for an unconventional time" – as the Pantone Color Institute described, Viva Magenta is a color that pledges to bring a new vision for 2023; a subtle red, bold but not aggressive; a hue that goes to the encounter of the maximalist trends of the year and provides feelings of joy, optimism, and fearlessness.
Viva Magenta is a fantastic hue for any decor. This striking color can create a bold arrangement, for example, by covering the entire wall or having it on a statement piece. Still, this color is also a fantastic choice for a minimalist style because it may provide a pop of color to the space and make it more cheerful.
The Pantone Color of the Year promises to accentuate any space, from dining rooms to living rooms. Now, check out some trendy furniture featuring this color that can be the perfect acquisition to make your project stand out.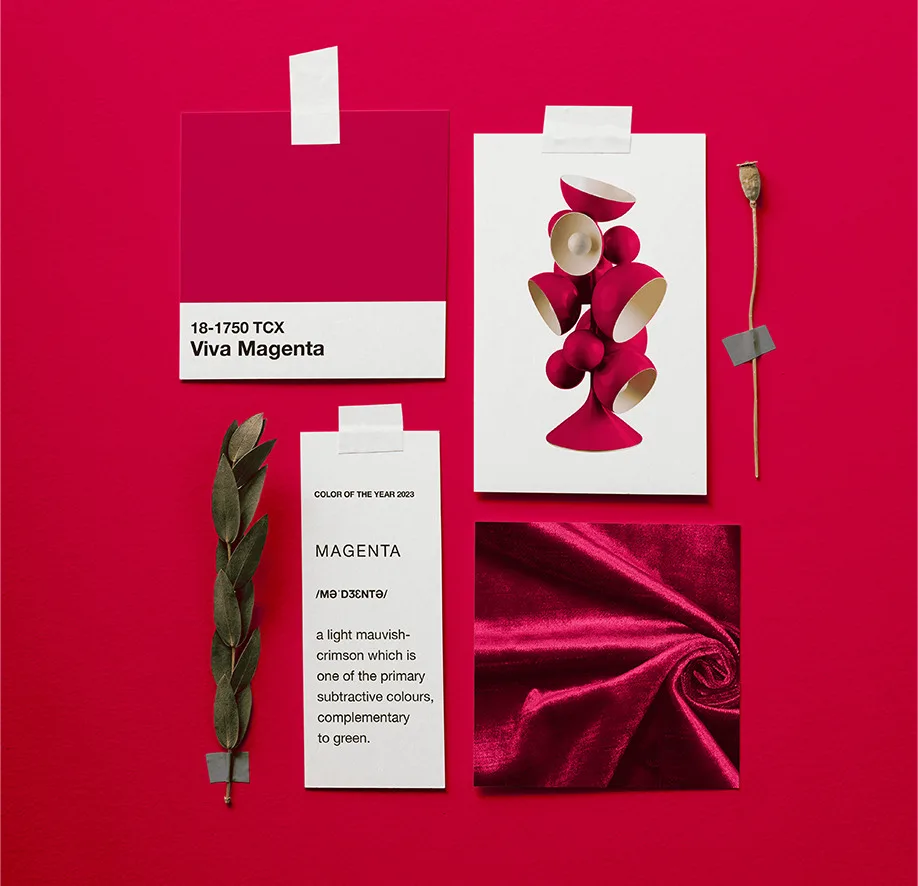 9 Trendy Furniture – discover the Viva Magenta Collection
For a touch of boldness and to bring the optimism and brave feelings that Viva Magenta highlights, we have selected the best trendy furniture to complete your layout and make it stand out. Check them out:
1- CADIZ SOFA MAGENTA
Upholstered in the vibrant Viva Magenta fabric, Pantone Color of the Year 2023, the Cadiz Sofa Magenta is pure joy for your interiors, encouraging self-expression without limitation; it´s the perfect piece to complete a maximalist layout or to give a touch of color to a neutral interior design project.
2- PINA CHAIR MAGENTA
Are you looking for a way to cheer up your dining room design project? The Pina Chair Magenta can be the perfect solution for you; this trendy furniture is both comfortable and glamorous, perfect for modern dining room projects that aim for a classic-chic vibe.
3- FIFIH BENCH MAGENTA
Make the first look of your layout stylish and full of glam with the Fifih Bench Magenta; this luxury bench with a wooden base, upholstered in velvet, highlights the Pantone Color of the Year, Viva Magenta, and is perfect for a modern interior project.
4- AJUI SOFA MAGENTA
Ajui Sofa Magenta is inspired by the iconic Memphis style, combines an artsy interpretation of a cactus shape, and is upholstered in vivacious pink. It´s the piece that will make a statement in any living – thanks to its incredible shape and impressive color.
5- CADIZ BENCH MAGENTA
Benches are versatile pieces; they can help to highlight an entryway project or give a bold touch to a master bedroom layout, which is why we have another stunning bench to present in this trendy furniture collection. Cadiz Bench Magenta is a Memphis design-style piece that can add a playful vibe to any interior and, combined with the trending shade this year, will make the right statement that any room needs.
6- AJUI II ARMCHAIR MAGENTA
This modern armchair is the perfect choice for a modern living area project. Upholstered in the vibrant Viva Magenta fabric, Pantone Color of the Year, the Ajui II will give the interior a bold and playful vibe.
7- GIULIA SOFA MAGENTA
Searching for a star piece for your living room project? We have another bold sofa to show you. Giulia Sofa Magenta has a mid-century inspiration and features curves and classical lines, but the addition of the Viva Magenta turned it into the ultimate piece that will highlight any living room.
8- MOA BENCH MAGENTA
Make a great impression in your interior design project with the Moa Bench Magenta – this modern piece can set a bold vibe to where it is placed- from living rooms to entryways, it´s a statement piece for brave interiors.
9- AJUI ARMCHAIR MAGENTA
Finishing the list of trending furniture to make your layout stand out, we have the incredible Ajui Armchair Magenta, a stunning Memphis-inspired piece that combines the irreverence of bold shapes with the bravery of the Viva Magenta. This piece can be the bold element for an office design or give a pop of color to a bedroom suite.
The new trendy furniture collection from HOMMÉS Studio has the boldness and irreverence that any project needs, thanks to the stunning combination of shapes, materials, and colors. For different styles, room divisions, and needs, this collection promises to add a statement and make any layout standout.
After meeting the beautiful pieces from our trendy furniture collection, enjoy downloading our Viva Magenta Pantone Ebook to discover more about the trending shade of 2023.