MW Apartment represents two generations of Brazilian architects. First, modernist architect Acácio Gil Borsoi designs a building in northeast Brazil. Then, from 2019 to 2021, Studio Arthur Casas rethinks the modernist building for a couple and their one daughter. Among the breathtaking landscape of Recife, MW Apartment flows into the sea.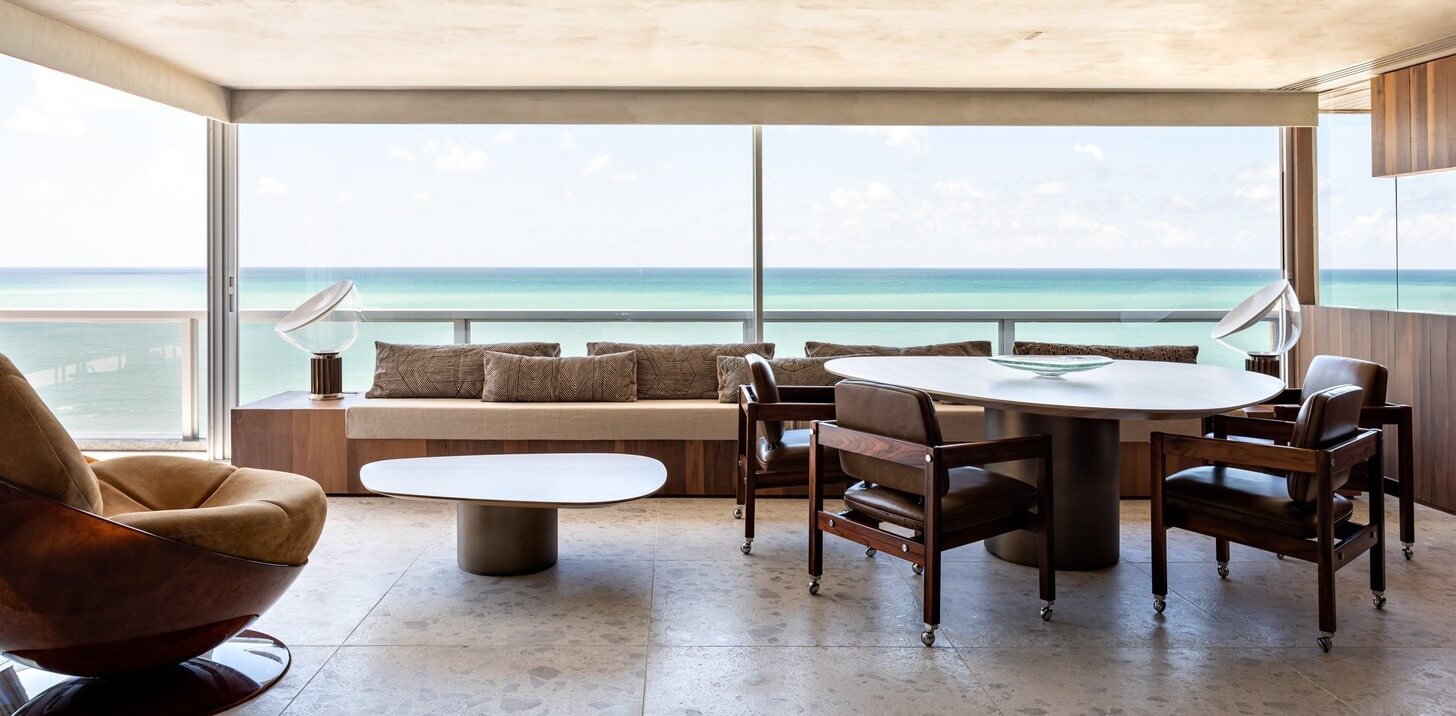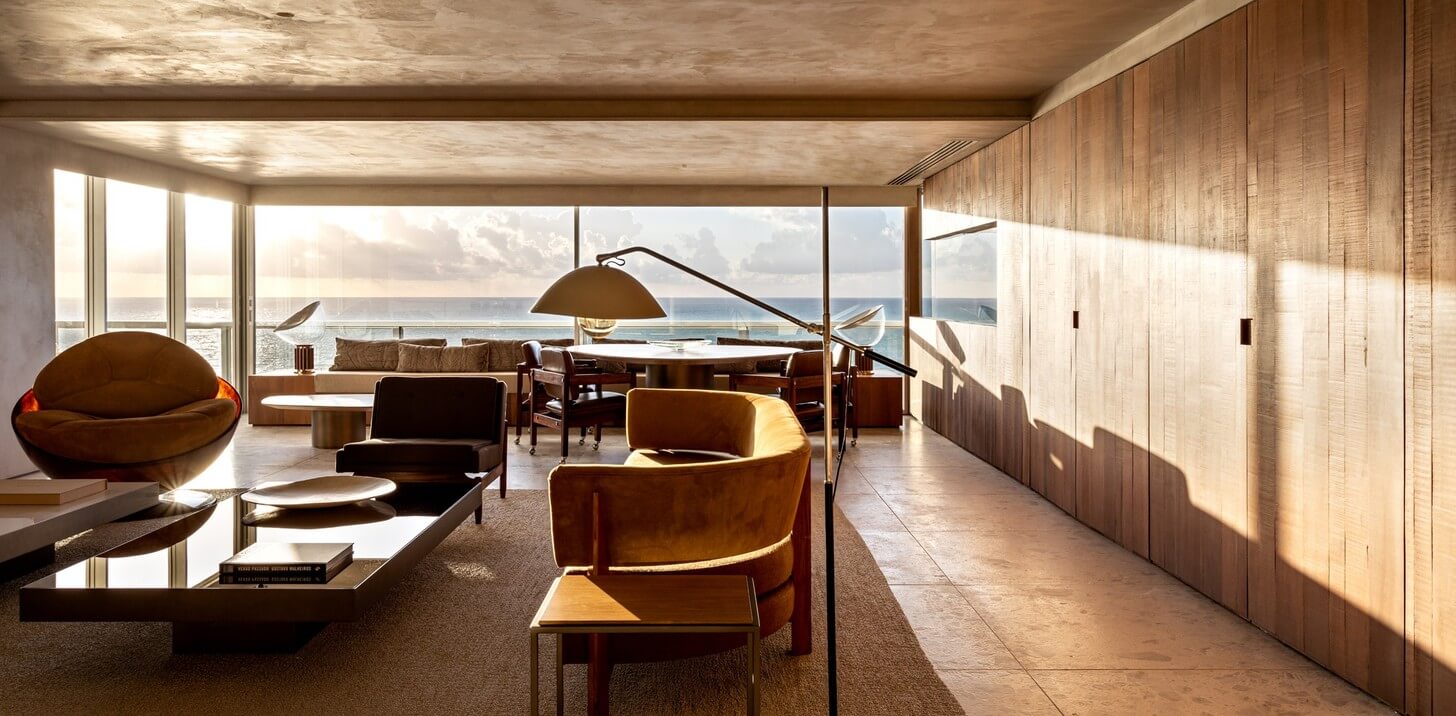 The sea is the focal point of Gil Borsio's modernist building. Studio Arthur Casas highlights the landscape in MW Apartment. As a matter of fact, it is the sea that endures privacy to the open space area of the house. Studio Arthur Casas reserves smaller rooms for intimate areas, such as bedrooms, bathrooms, and closets. The open space area of the modernist building designed by Gil Borsio shelters the living room, the dining room, and the terrace with modern outdoor furniture to enjoy al fresco meals. These three areas follow each other, one after another, flowing until the blue horizon of the Atlantic.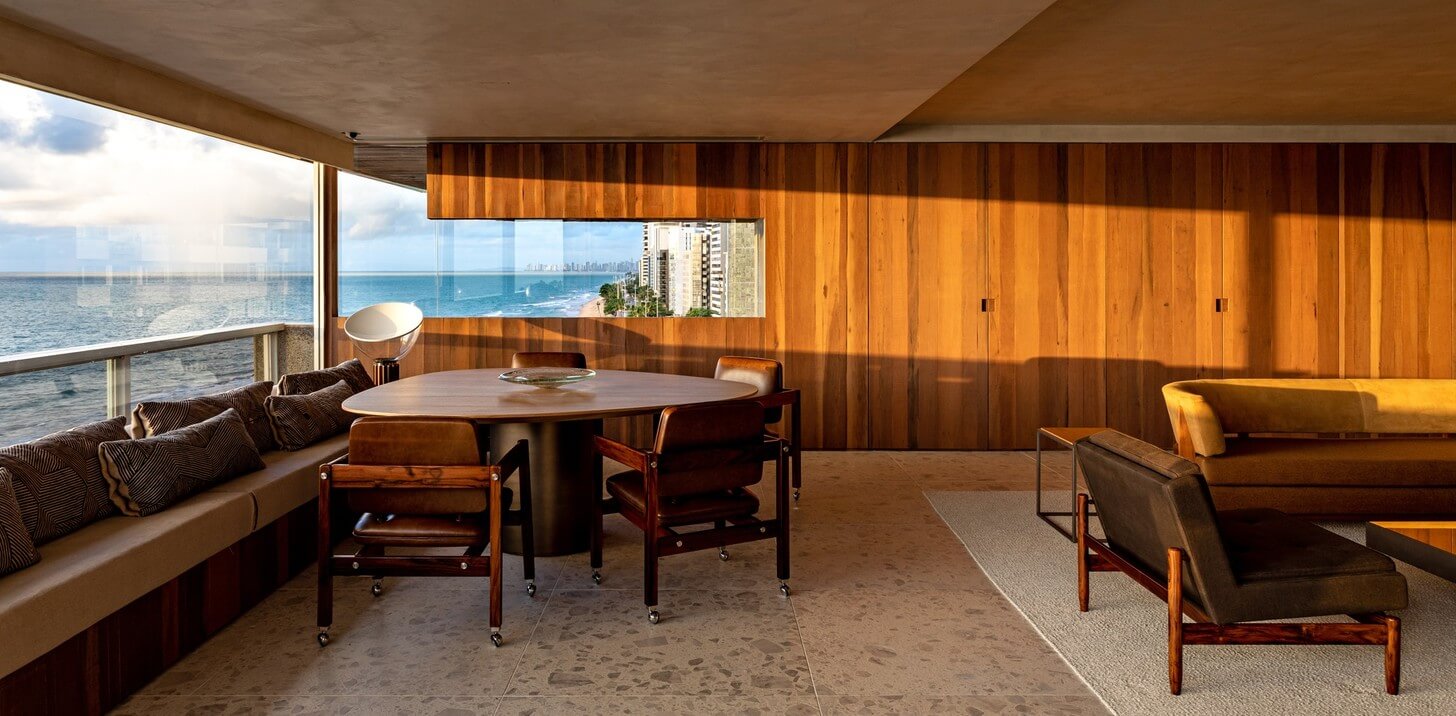 MW APARTMENT BY STUDIO ARTHUR CASAS
MW Apartment by Studio Arthur Casas is a top floor neighboring the sea. To design a comfortable and efficient home, the architecture studio took these natural features into account. As a result, Arthur Casas chooses cold and resistant building materials, such as terrazzo flooring, cement-painted walls, and canela wood panels.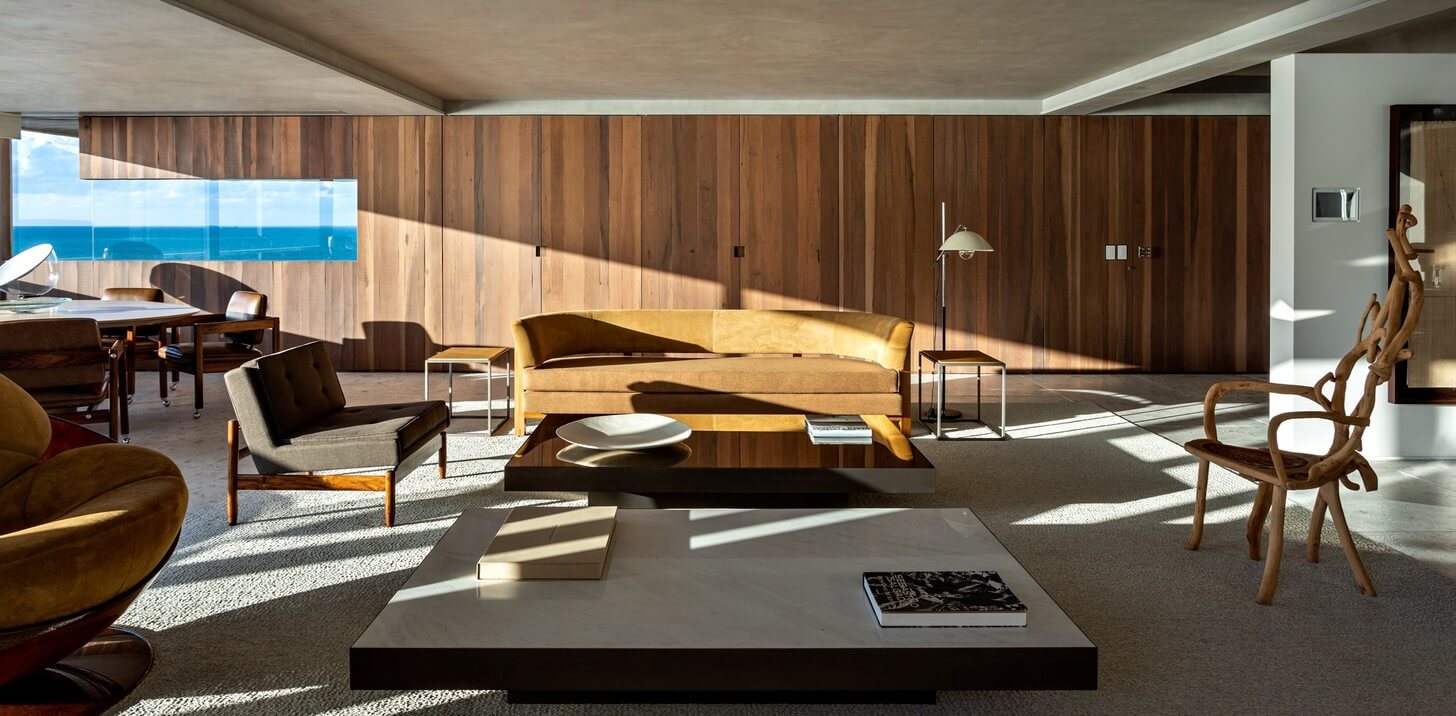 The rethinking of this Brazilian mid-century modern building originally designed by Acácio Gil Borsio was challenging when designing high ceilings and distributing social areas. Due to the beams of the building, the rearranged space now includes three bedrooms, an office, a kitchen with a breakfast area, and a combined open-plan living, dining, and terrace space.
At MW Apartment, the office was thought especially to accommodate the owner's extensive photography collection.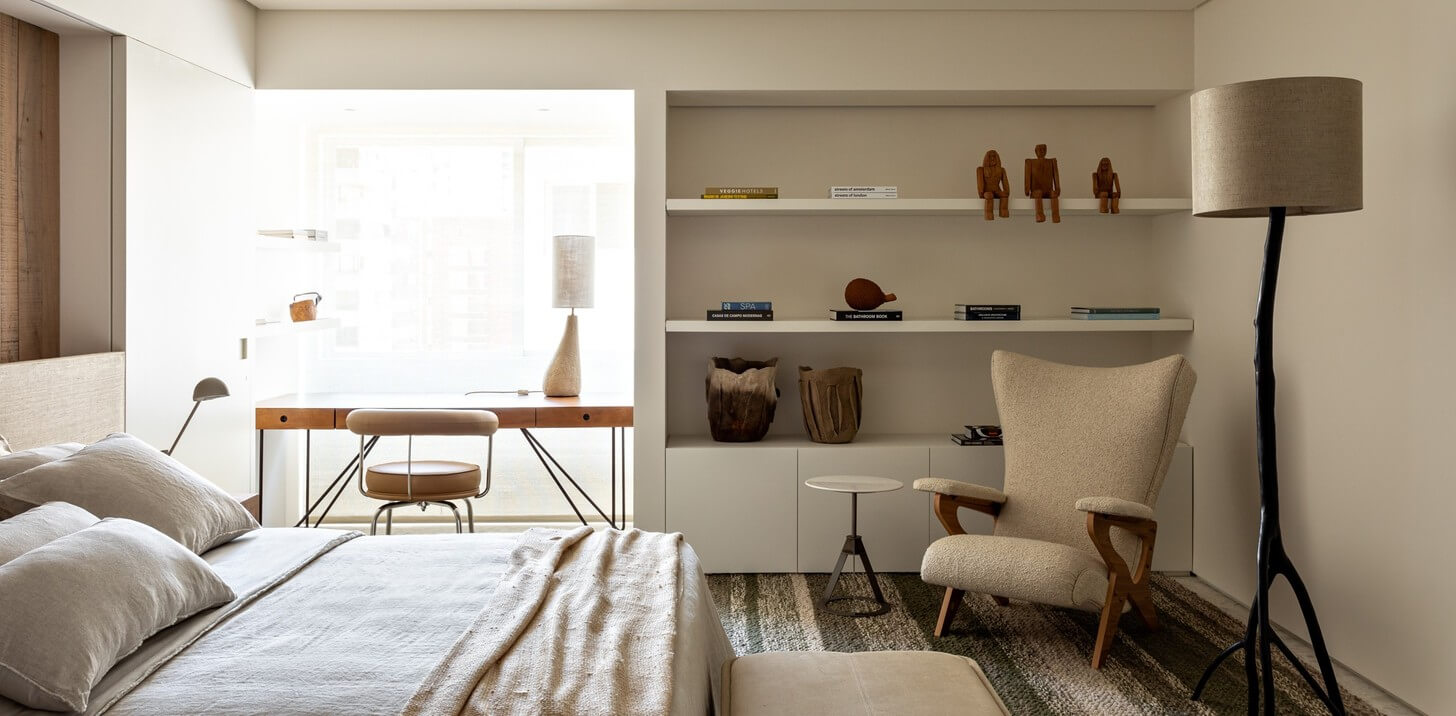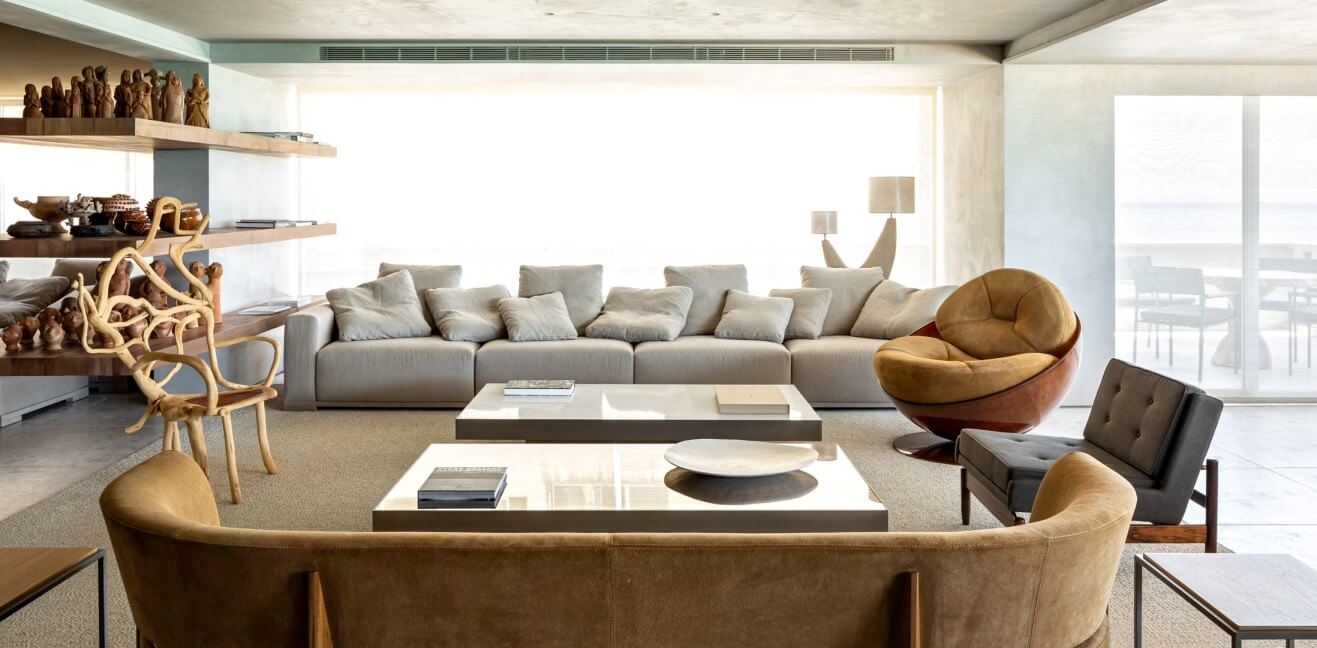 The social areas become golden when the sunlight touched the canela wood panels and the vintage and modern furniture in brown hues. It creates a cozy and romantic atmosphere, something that Studio Arthur Casas mimics with the talented hand of Maneco Quideré, one of the most respected Brazilian lighting designers. In addition to this residential project, Maneco Quidaré has designed lighting for recognized theater and concerts productions.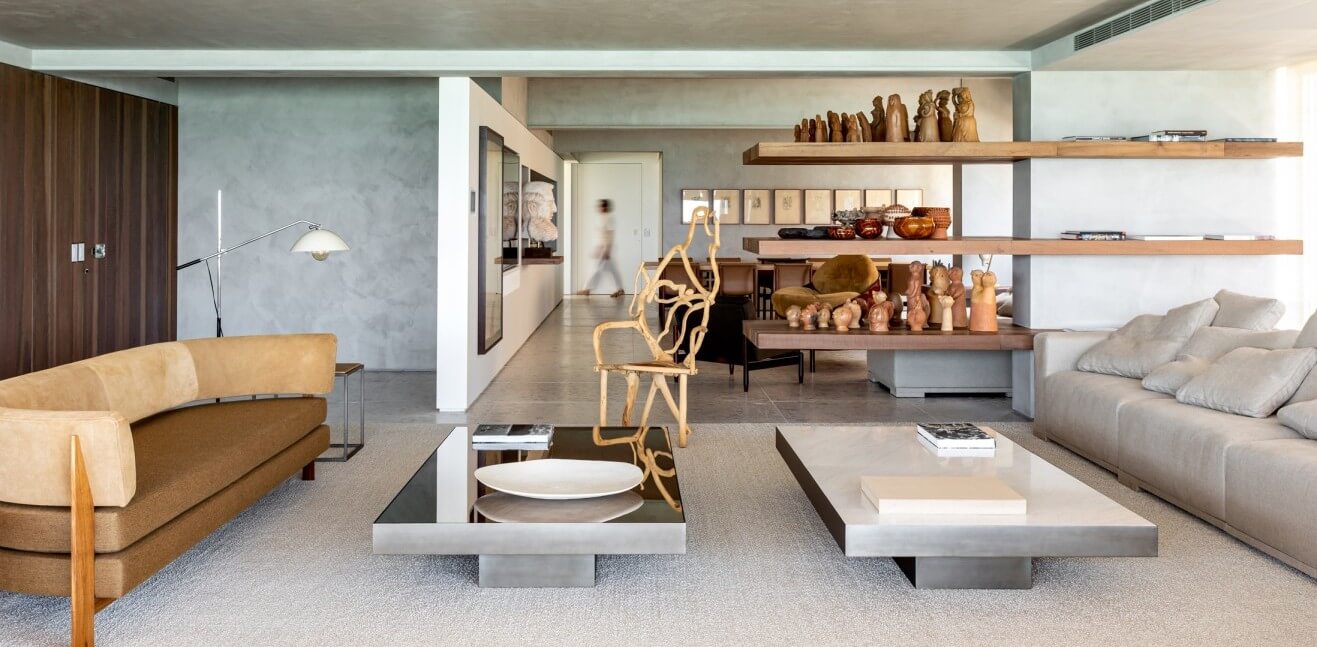 The characteristics of the building's structure, namely the parallel walls, are highlighted with wood panels, rectangular windows, and wood shelves and benches. In this manner, Studio Arthur Casas elongates the modernist building with an illusion of continuous straight lines. Nevertheless, most of the vintage design's curvy furniture breach the straightness of the MW Apartment, creating contouring and dynamism. Additionally, folklore decorative elements with curvy and irregular shapes provide a sense of movement. Simultaneously, it honors the endogenous culture of northeast Brazil.

Be delighted with more mid-century modern architecture – discover RICHARD NEUTRA'S WILKINS HOUSE, which is now home to top model ELSA HOSK AND HER AMAZING COLLECTION OF VINTAGE FURNITURE.
For mid-century modern architecture inspiration, round up to MODERN ARCHITECTURE PROJECTS moodboard on Hommés Studio Pinterest.
Source The Cool Hunter
All Photos by Fran Parente