There are several sofa shapes available in the market, but do you know how to choose the right model to match your decor style? Then this guide is for you!
Sofa shapes can affect a room's overall look and feel, as well as its function and comfort. There are numerous sofa shapes available in the market, each with unique characteristics and design elements. In this blog post, we'll dive into the world of sofa shapes, exploring their unique features and helping you determine which one is right for your next interior design project.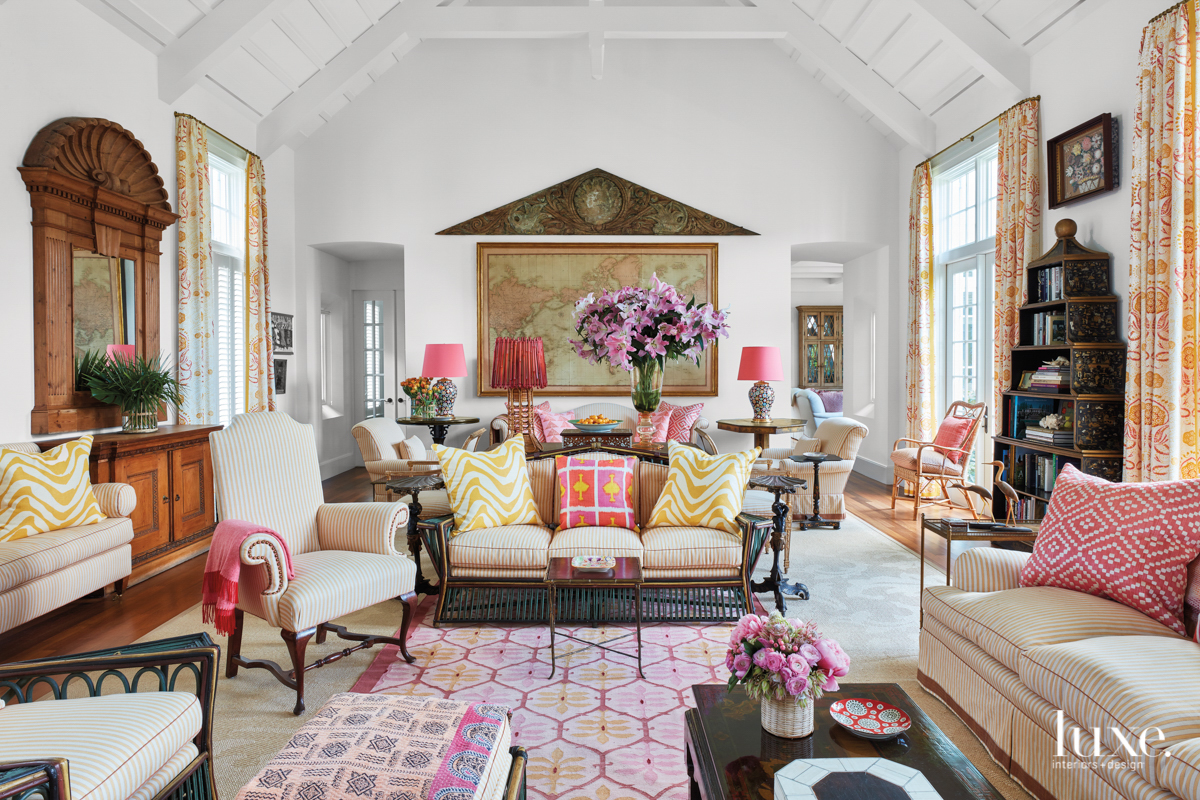 The best sofa style is the one that suits your personality and your interior design style. Sectional sofas, for example, are ideal for modern spaces with large areas. Curved sofas, while more modern, are perfect for interiors with contemporary, daring, and elegant atmospheres.
Since this piece is one of the main items in the decoration of the living room, choosing the ideal model sofa shape should take into consideration factors such as comfort, quality and beauty. Check out the most common sofa shapes in interior design:
Main Sofa Shapes In Interior Design:
1 – RECTANGULAR SOFA SHAPES
This is the most classic and traditional sofa shapes style. Its straightforward design and simple lines make it a versatile choice that can work in any room and with any decor style. It's also the most commonly used sofa shape in commercial spaces, such as hotels and offices, due to its straightforward design.
Rectangular sofas are also great for families with kids, as the straight lines are less likely to get snagged on clothing or toys. Among the most traditional are the "Chesterfield" models, which are easily identified by the quilted and tufted style with high arms; and the "Camelback" which, as the name suggests, resembles the curved back of a camel.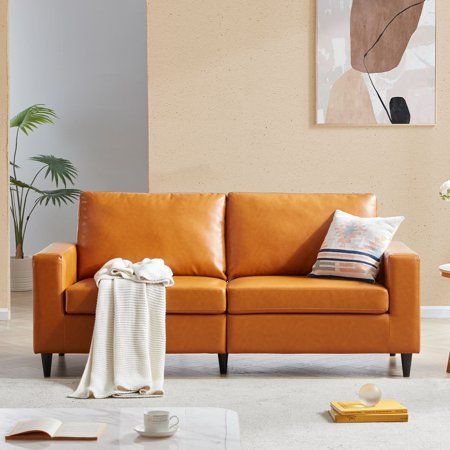 2 – THE " L" SHAPED SOFAS
An L-shaped sofa, also known as a sectional sofa, is a piece that is divided into two sections, forming an "L" shape. The ease of the shape allows the piece to fit more easily into corners, making it one of the most popular choices for small spaces. This sofa shape is also great for creating a cozy and intimate atmosphere, especially when placed in front of a fireplace.
Another advantage of these sofas is that they are also great for large spaces, such as a family room or living room, as it offers ample space for a large group of people. They create a cozy and intimate atmosphere, making it a great choice for a movie room or reading nook.
3 – CURVED SOFA SHAPES
The sofa in curvilinear shapes can be a good option for those looking for an attractive, functional and comfortable piece of furniture for their home. Not only are curves one of the trends for 2023 furniture, but they also add a sophisticated and attractive look.  In the case of sofas, they can be more space-efficient (especially in small or irregularly shaped rooms); are often more comfortable than rectangular models (due to their shapes, allowing more space to relax); and are ideal places to sit and chat with friends and family. Curved sofa shapes combine very well with Memphis-style interiors.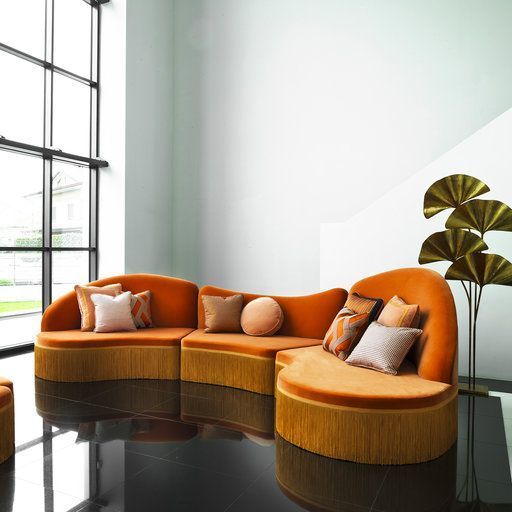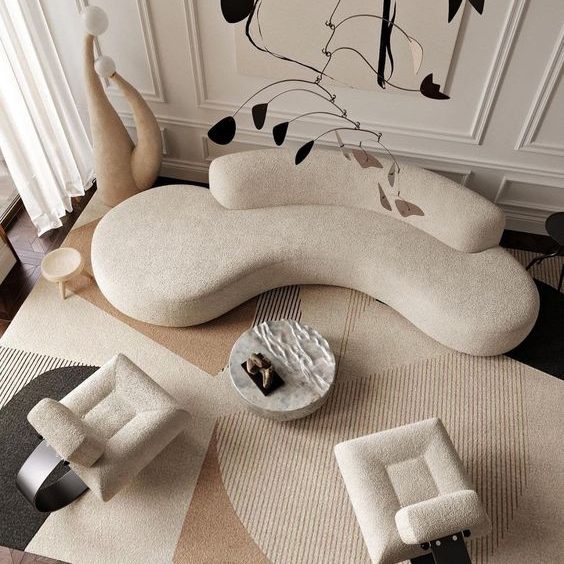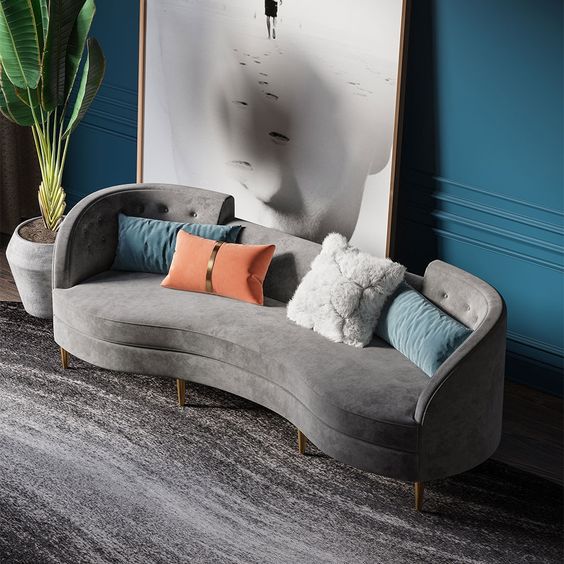 4 – ROUND SOFAS
Round sofas, also known as circular sofas, are a unique and modern alternative to traditional sofa shapes. They are great for creating a warm and welcoming atmosphere, as the curved design encourages conversation and interaction. Round sofas are also a great option for small spaces, as they don't take up too much room and can be tucked into a corner. However, they may not be the best choice for families with kids, as the round shape may not be as practical as a straight-lined sofa.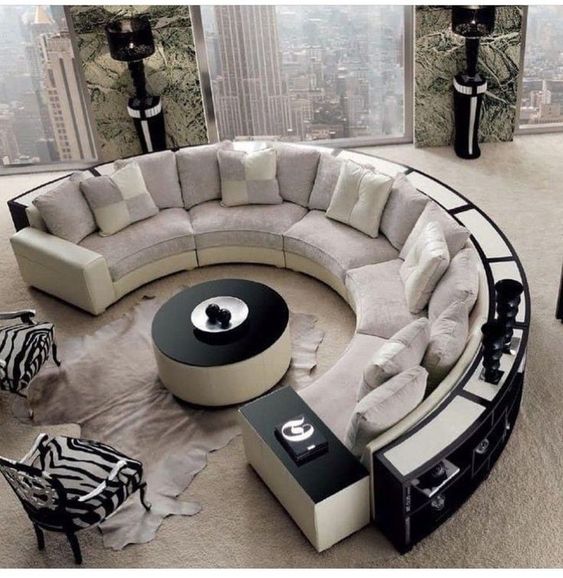 5 – TUFTED SOFAS
Tufted sofas are characterized by their button-tufted upholstery, giving them a classic and timeless look. Tufted sofas are available in various shapes, including rectangular, L-shaped, and U-shaped. The tufted design adds depth and texture to the sofa, making it an excellent choice for traditional and vintage-inspired decor styles. Tufted sofas are also a great choice for families with pets, as the tufting helps to hide pet hair and dirt.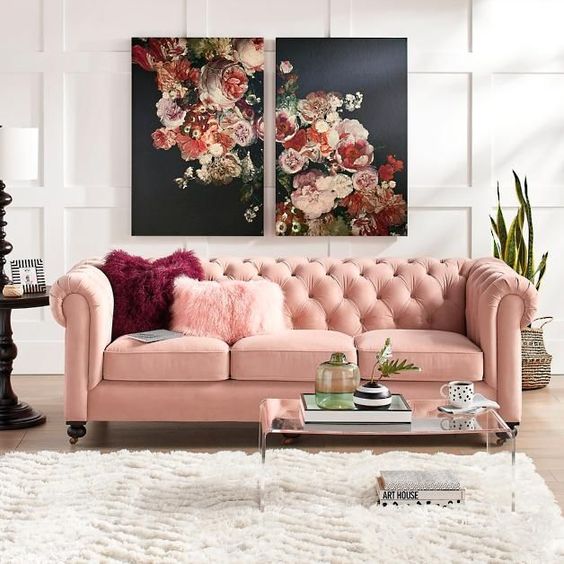 6 – SLEEPER SOFAS
A daybed in interior design is designed to save space by offering both seating and sleeping in a single piece of furniture. Considered versatile items, so-called "sleeper sofas" or "chaise longues" come in a variety of sizes, styles, and colors to match any decor. Ideal for nooks that aren't quite big enough for a sofa or if you want a classy look. Although considered a complement to traditional sofas, a daybed is a very good choice for those who lack a proper guest room or bedroom too.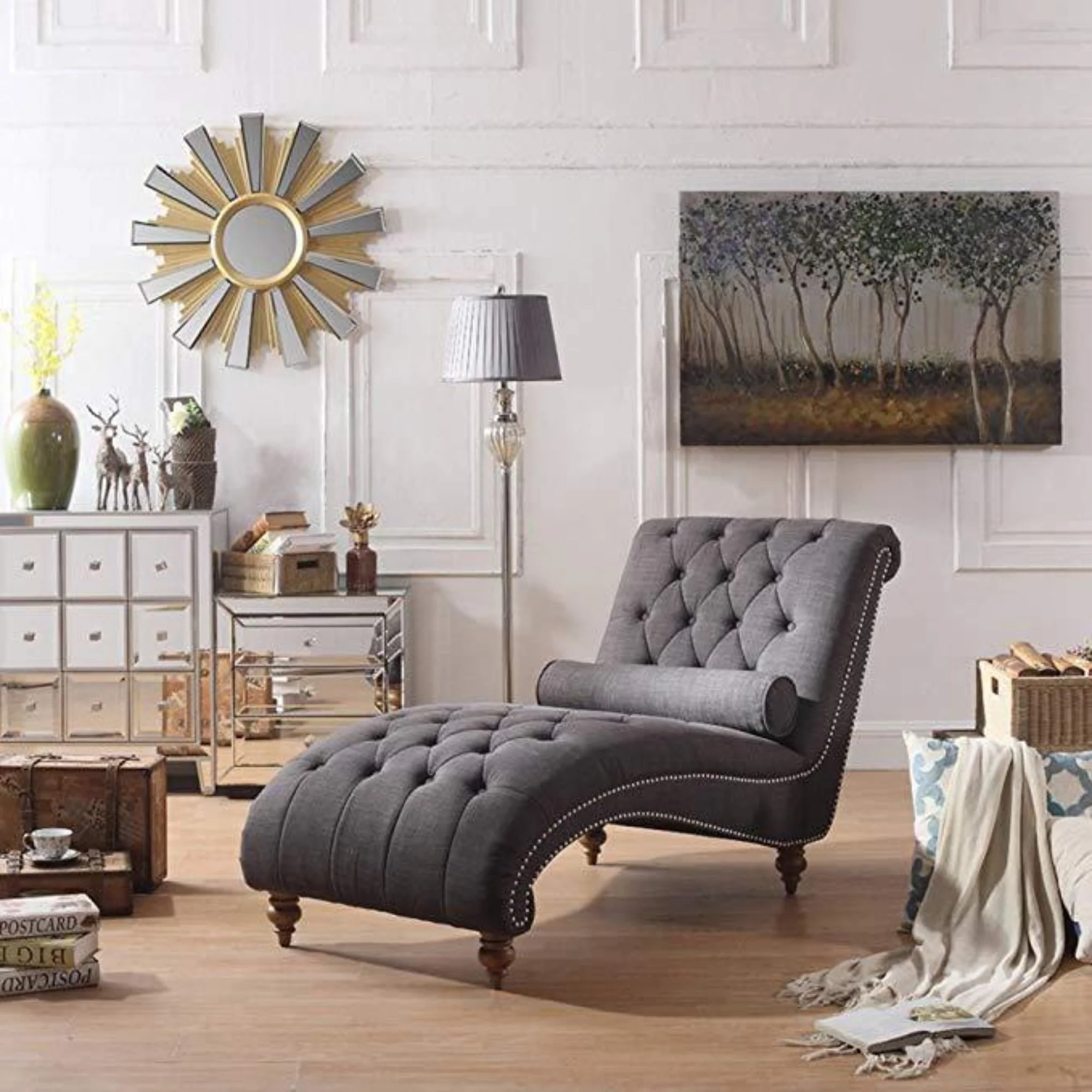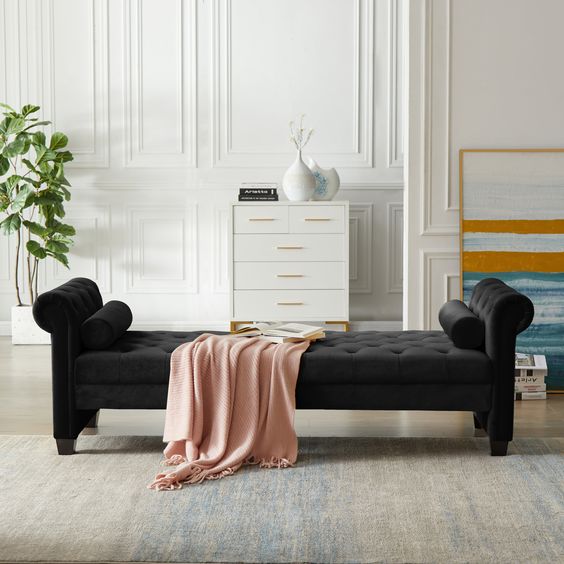 7 – MODULAR SOFA
Modular sofas are a versatile and modern alternative to traditional sofa shapes. They consist of separate components that can be rearranged and reconfigured to fit any room layout. They are available in various shapes and sizes, making them a great option for small or large spaces alike. Modular sofas can be U-shaped, curved or completely freeform. They are also a great choice for families with kids, as the modular design makes it easy to clean and maintain.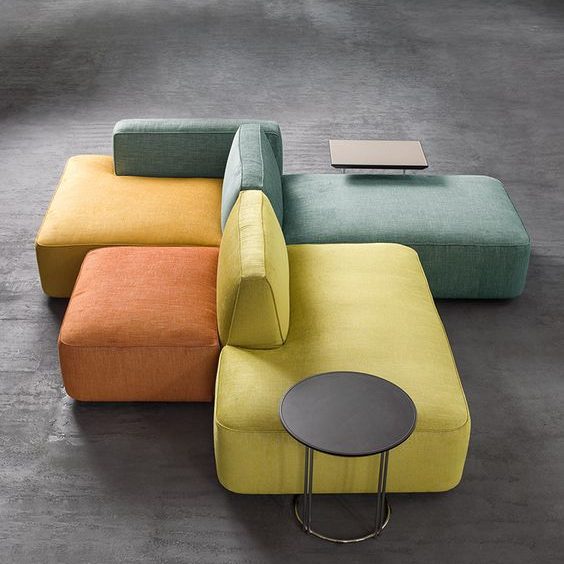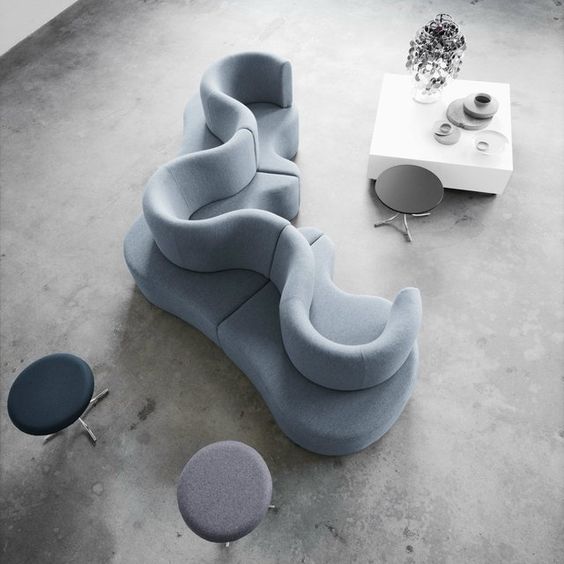 Sofa Shaped Suggestions
Discover modern sofas for a sophisticated living room. Choose from our curved sofas, sectional sofas, contemporary sofas, and mid-century modern sofas to find the best sofa for a modern interior or customize it!
For every decorating style, there is a sofa shape waiting for you. Explore more unique and exquisite settings in this exclusive content about the best sofa for living room: 8 models according to styles to inspire you!