If you were looking for how to decorate a bedroom like a star, you have come to the right place!
A celebrity's bedroom decor can say a lot more about their personality than we can imagine. And when it comes to the world of the famous, there is always a curiosity to know about their intimacy that is worth discovering. But the question that remains is, how to decorate a bedroom like an artist? In today's post, we bring you some bedroom decor features signed by leading interior design professionals. Read on:
Get Inspired By Celebrities Bedroom Decor
Courtney Cox's Bedroom Decor:
In Courteney Cox's master bedroom, the furniture is as practical as Monica Geller, the character the actress played for years in the American series "Friends". Designed by Trip Haenisch a mixture of Contemporary and Minimalist Style is what prevails in the bedroom decor. With striking shapes and clean, straight lines, the space is based on black and white. The headboard of the bed, in zinc, and the set of bedside tables in selenite stones help to compose the whole style of the environment.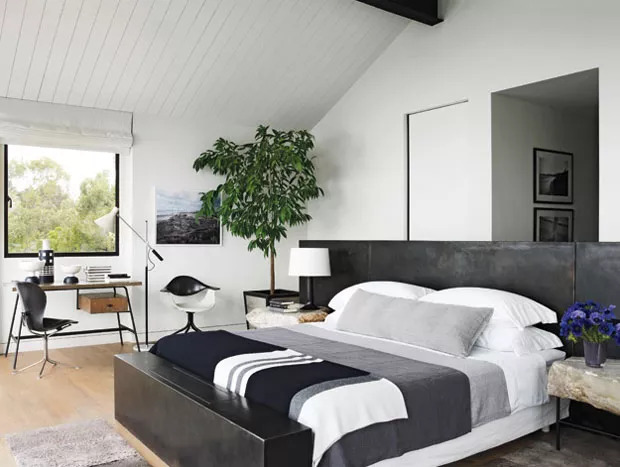 Ralph Lauren's Bedroom Decor:
It is impossible not to feel relaxed in the master bedroom of the legendary American designer Ralph Lauren in his summer home, in Montauk. The bedroom decor, consisting of rattan furniture, bamboo curtains and light colors is a true tropical escape. The Marquetry Furniture in combination with the floor lamp and cotton bed curtains — exclusive to the Ralph Lauren Home brand — helps transform the atmosphere of the cozy atmosphere.
Roberto Cavalli's Bedroom Decor:
At a first glance, it is already possible to identify all the luxury and opulence in the of Italian designer Roberto Cavalli's bedroom decor, in Tuscany. The extravagant and heavy decoration, typical of the Maximalist style, features strong colors that attract attention. 
The large 19th-century gilt-wood mirror, used as a headboard, reflects the other pieces of art that makes up the bedroom decor. The bedding, with warm tones and animal print, helps to complete the picturesque and striking decoration at the same time.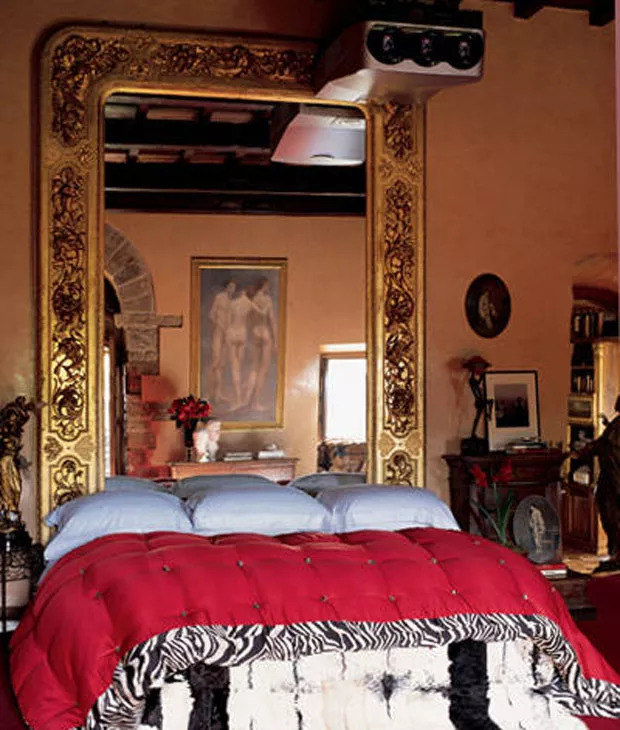 Alec Baldwin's Bedroom Decor:
Inspired by Mid-Century Modern furniture that combines curvy appeal with streamlined shapes, Alec and Hilaria Baldwin's bedroom decor, in Long Island home, is authentic and comfortable. The light tones and whites, predominant in the space, are broken up by the choice of furniture and complements, such as the blue velvet club chairs and the bedding, by Sferra and Frette.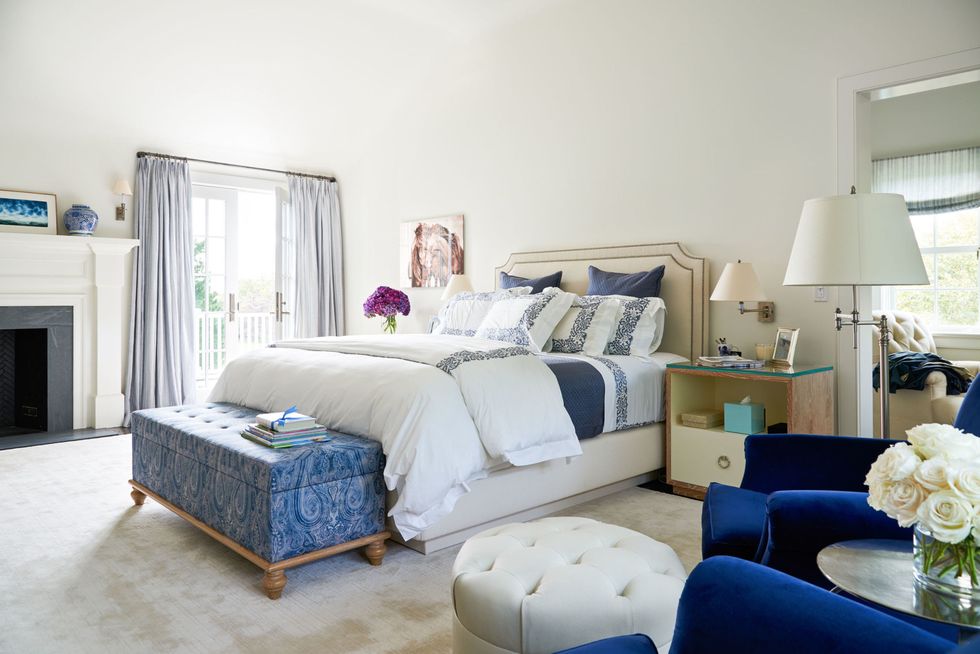 Ellen Pompeo Bedroom Decor:
The master bedroom of "Grey's Anatomy" star Ellen Pompeo is signed by designer Martyn Lawrence-Bullard, responsible for creating a "well-traveled look" for the Hollywood Hills bedroom decor. The room is composed of a piece of tapestry, an antique Egyptian wall hanging, and the bed, chosen in Paris. To complete the bedroom decor, the actress' room also displays a set of Moroccan-style brass lamps, an Indian throw, and 1950s West African pillows from Hollywood.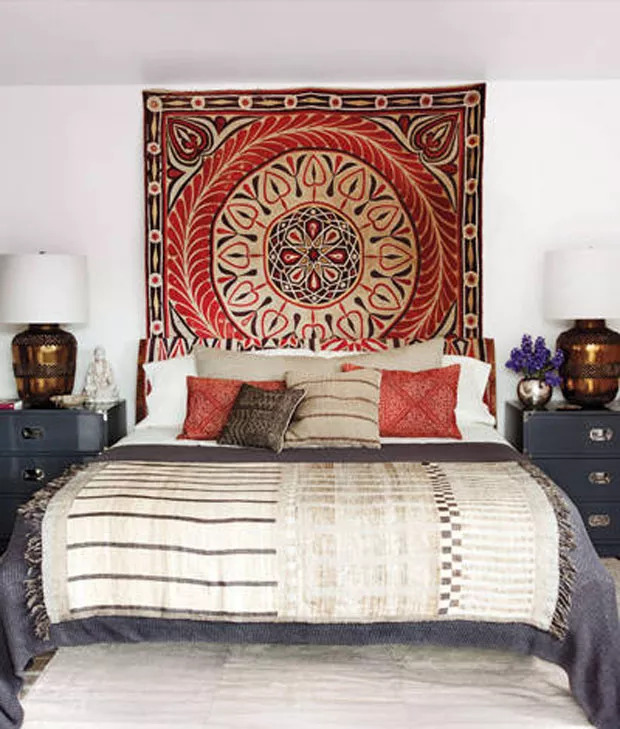 Cindy Crawford Bedroom Decor:
The master suite in the Malibu, where the supermodel shares with her husband Rande Gerber, could not be less inspiring. The choice of stylist was no coincidence either: Interior designer Michael S. Smith was responsible for the 2010 renovation of the White House Oval Office and has designed projects for clients such as Steven Spielberg and Michelle Pfeiffer. For the celebrity's bedroom decor, elements of the traditional —  like a tufted chaise longue, dark woods, and a stone fireplace —  are carefully combined with eclectic touches like Moroccan rugs and an embroidered bedcover.
Tips to How to Decorate a Bedroom Like a Celebrity
Now that you have been inspired by the world's greatest names in interior design, we have separated some tips to help you understand how to decorate a bedroom in a sophisticated and professional way.
1 – LIGHTING
To provide a more relaxing environment and make the room cozier, investing in lighting is an excellent idea for those who want to decorate the room as an artist. Including several lights in different points, such as a set of suspended lights, floor lamps and table lamps, besides creating an atmosphere of pause, makes everything more sophisticated.
2- WALLPAPER
This is a golden tip to help transform the look of any space in a quick, practical and personalized way. For luxurious bedroom decor, investing in unique themed wallpapers adds sophistication and especially an elegant look to the room.
3 – MAIN FURNITURES 
What differentiates the decoration of an ordinary bedroom from a bedroom of the stars is certainly the choice of furniture. Besides quality, the choice of certain materials rather than others makes all the difference. Why have just a simple bed when you can invest in a unique headboard? And how can you not add the practicality and elegance of a nice pair of side tables? To complete the decoration, how about add an exquisite end of bed benche? For bedroom decor, there is always space for confort and cozyness.
4 – COMPLEMETS
ROOM DIVIDER: This is an excellent piece of furniture to complete the bedroom decor. Room dividers can be used to change the arrangement of the space, offer more privacy, increase storage capacity, or just giving a fresh view.
MIRROR: Mirrors are a great addition to any room since the furniture has many benefits. The variety of shapes and mirror styles allows you to profit from their advantages while still expressing style, personality, and good taste.
ARMCHAIR AND CHAISE LONG: This furniture can be both practical and stylish. Armchairs and Chaise Longs are not only provide you another location to experiment with color, pattern, and texture, but they're also the ideal place to read, arrange your clothing or set down a bag. 
BEDDINGD: Just like the choice of color of the walls, floor and carpets, the choice of bedding can make all the difference to the bedroom decor. Choose, in addition to the quality of the materials, beddings that match the style of decoration of the bedroom in question.
RUGS AND CARPETS How to decorate a bedroom like a celebrity without thinking of a stunning rug? They are the perfect way to bring warmth and softness to restful spaces, besides bringing an extra beauty to the bedroom decor.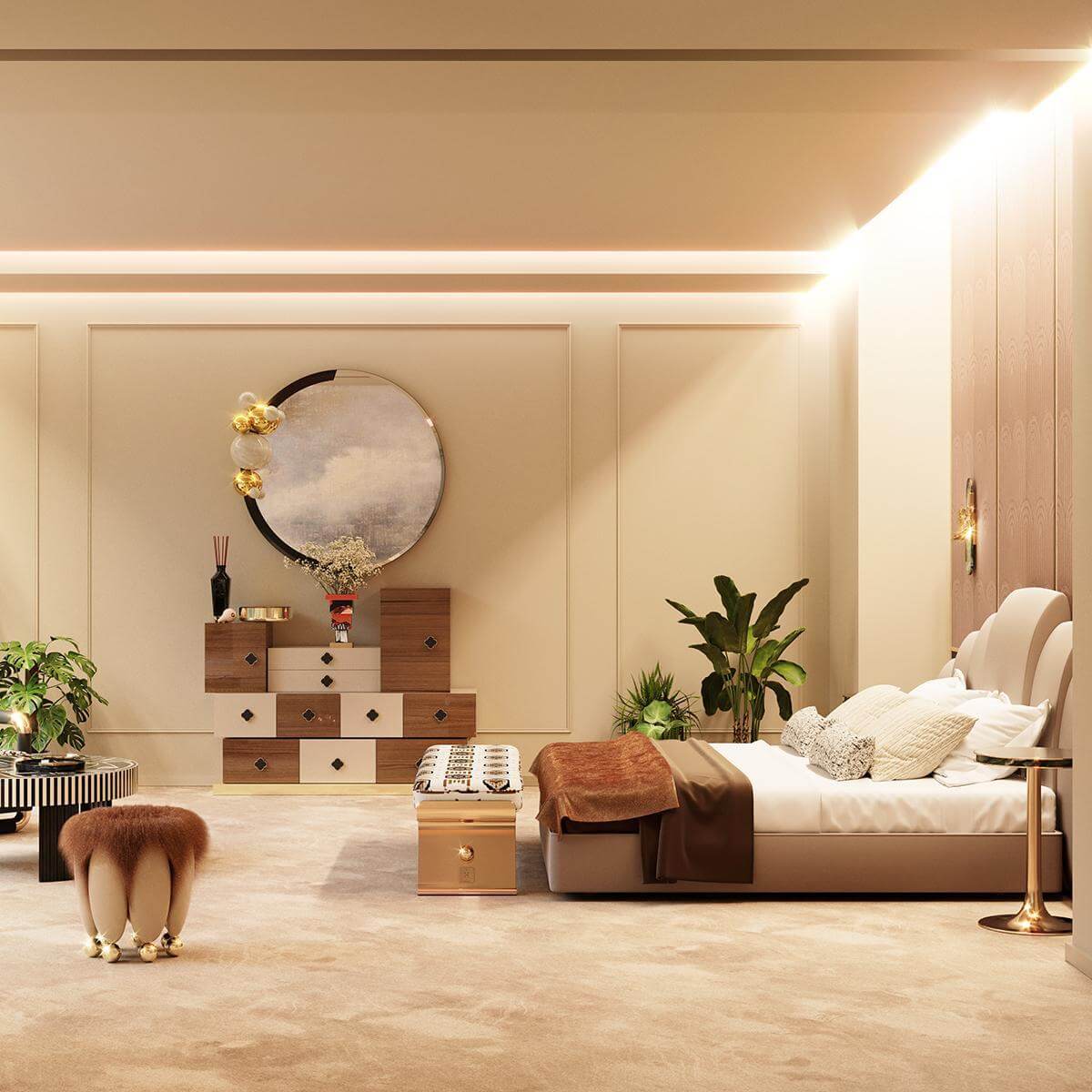 Now that you have checked out tips on how to decorate a bedroom like a celebrity, if you're thinking about a bedroom renovation, HOMMÉS Studio has come up with a Bedroom Interior Design Collection that will fit perfectly! Check out now an exclusive content about this and complete your project decoration like a pro.