Celebrating Design Miami 2022, the Miami showroom by HOMMÉS Studio explores the city´s unique aesthetic and luxurious lifestyle.
Miami's culture is vibrant and diverse, heavily influenced by the Caribbean and Latin America. This vibrant city, renowned for its vibrant nightlife, stunning white-sand beaches, and thriving modern art scene, is the starting point for the spectacular Miami showroom by HOMMÉS Studio and TAPIS Studio, which also aims to celebrate Design Miami 2022.
Inspired by the lush beaches, historic art deco buildings in pastel colors, and vibrant neon lights from the intense city´s lifestyle, the Miami showroom is a dream scenario that also blends 40s art deco and 80s Miami Vice references.
The Miami Showroom honors Miami Design Week and the streets and culture of 'The Magic City' by recreating its dramatic landscape and whimsical energy with authentic materials, textures, and details. The Miami Showroom is a flawless space that shows the best of HOMMÉS Studio´s furniture and TAPIS Studio´s rugs. You are about to discover more of this incredible scenario; keep scrolling.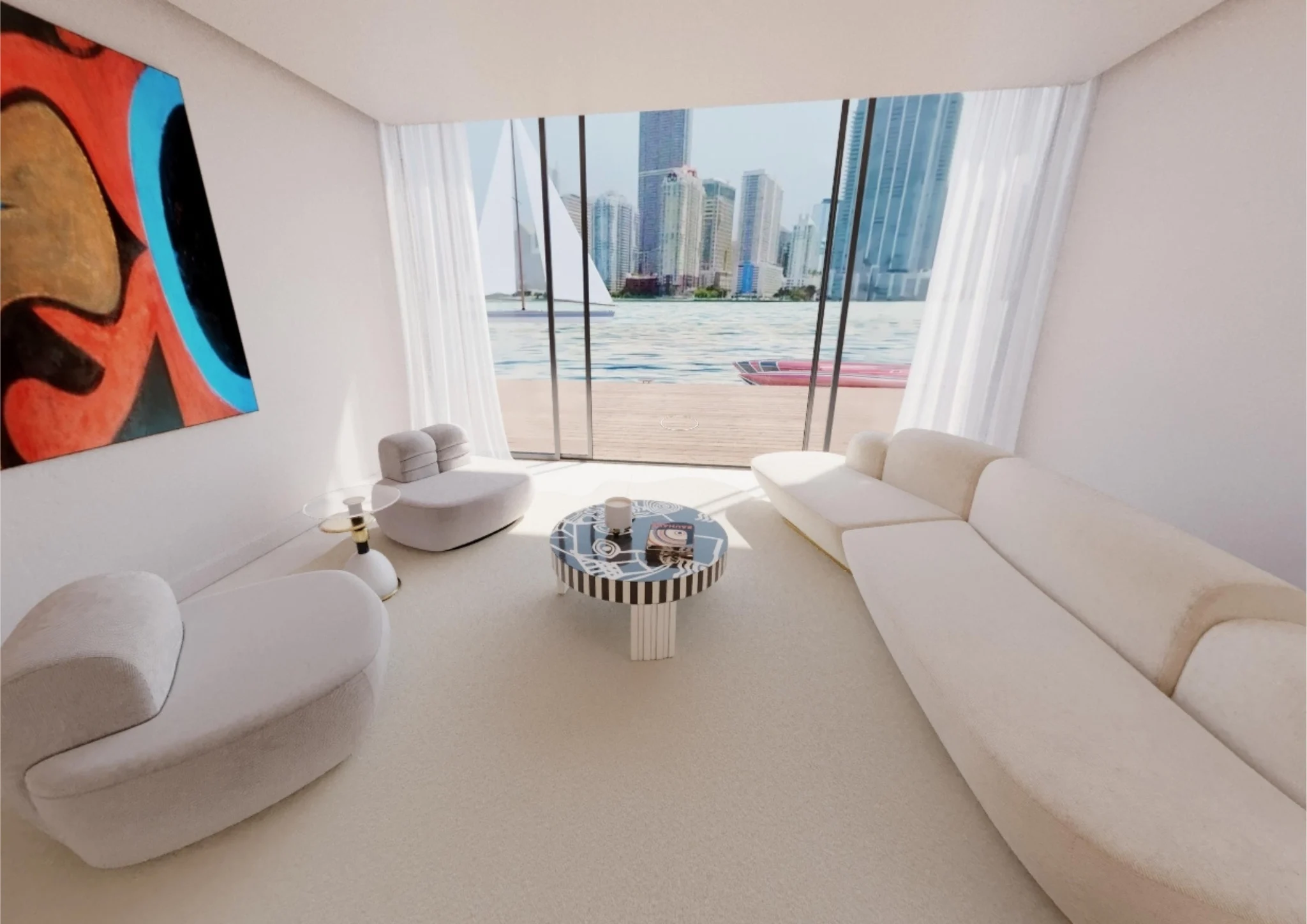 HOMMÉS STUDIO´S MIAMI SHOWROOM
Across three distinctive home spaces: dining room, outdoor, and bedroom, the Miami showroom reveals charming details, stunning patterns, and exquisite materials that seem out of a dream. This stunning layout blends the best of HOMMÉS Studio and TAPIS Studio in a virtual space that can be explored with two virtual tours, but before exploring this beautiful layout, find out more about its inspirations and home spaces:
The first room from the Miami showroom that we will explore is the dining room – as people usually say, "the best gatherings happen around the table," and that´s why the incredible Fuschia dining table is one of the stars of this stunning layout that highlights elegance, and modernity blended with Art Deco flair.
Embedded in the coastal lifestyle, the color palette is natural. The neutral color arrangement makes it easy to mix statement design pieces with traditional or modern pieces, while metallic accents add a glamorous touch. The tropical sunlight invades the Miami design-style dining room, accentuating the beauty of sandy hues and the plethora of curated materials and lush textures.
Designed to celebrate love and life in style and comfort, this modern art deco dining room is embellished with a sleek composition of geometric and streamlined shapes that is seemed in the furniture choices and all details that complete this space. As we already highlighted, the dining table is the star of this room; that also features a stunning metallic suspension lamp and a charming rectangular rug from TAPIS Studio.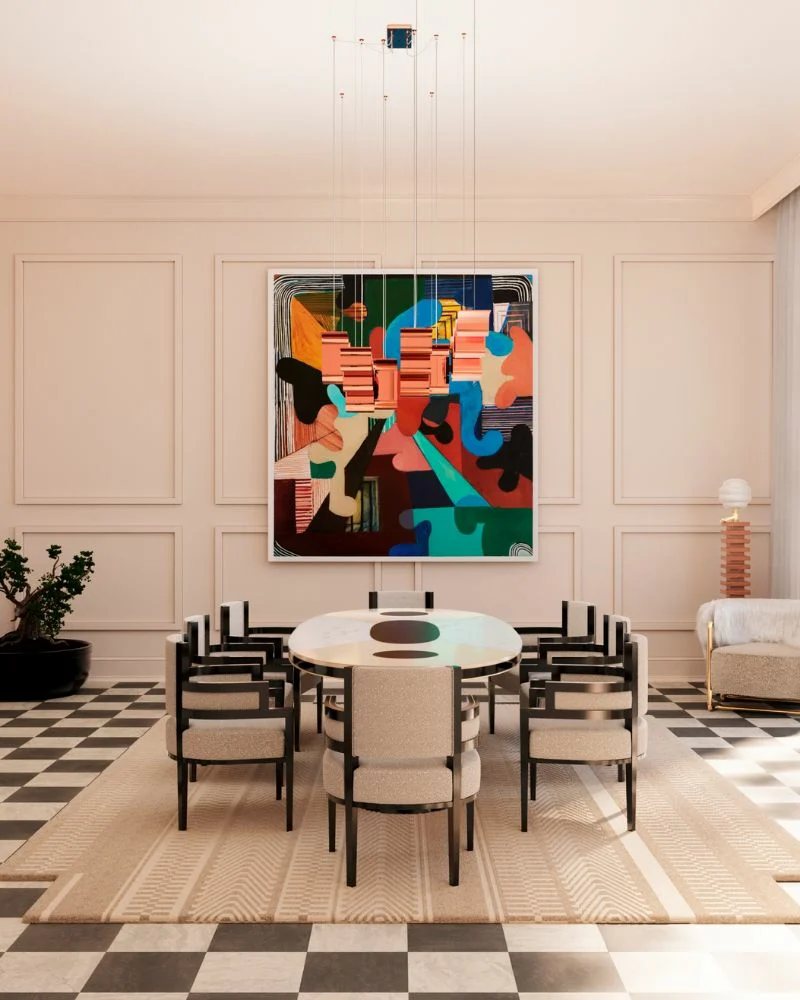 Across the dining room, a stunning outdoor area with Miami vibes and elegant furniture invites a relaxing and peaceful moment.
The indoor-outdoor living area captures Miami's modern aesthetic and dynamic energy, a paradise that flawlessly blends the tropical and urban in a stunning layout. It is restrained yet well-appointed. The Tropez daybed in white and black stripes perfectly matches the stunning Elektra Black and White parasol and invites a moment of pause.
Integrated with the high-rise Miami skyline, this outdoor living space introduces high-end coastal furniture with modern aesthetics, fine craftsmanship, and expensive materials rooted in a luxurious yet laid-back lifestyle.
Lastly, the Miami showroom embraces the peaceful vibes and minimalist style with a stunning bedroom that reveals a modern expression of coastal chic interior design. The bedroom's art deco interior merges with a paradisial landscape dominated by wild nature, making this modern bedroom the ideal refuge in every detail.
The color scheme highlights muted and pastel hues that allow a fusion between art deco furniture and contemporary pieces with effortlessness and simplicity.  The focal point of this dream space is the Kara bed, a luxury piece with a geometric headboard laying. The room also opens space for the charm of craftsmanship, with the Klimt nightstands highlighting the beautiful marquetry technique.
To contrast with the art deco bedroom's natural edge, metallic finishes and pops of bold colors are introduced, adding dimension and celebrating Miami's eclectic and vibrant cultural life. With this room, the Miami showroom reveals the ultimate concept of luxury and that It doesn't have to be extravagant; it can be natural, simple, and elegant.
Now that you are into the interior references that helped to create this stunning layout, you are ready to discover more about the Miami showroom; visit our Miami showroom page and start a journey full of Miami design inspirations.