Home offices are being used more than ever. Therefore, it's a good time to ensure that it has a modern office design, and has space for your creativity.
At Hommés Studio we believe office time must be creative, comfortable, and the most important, it must reflect your style identity.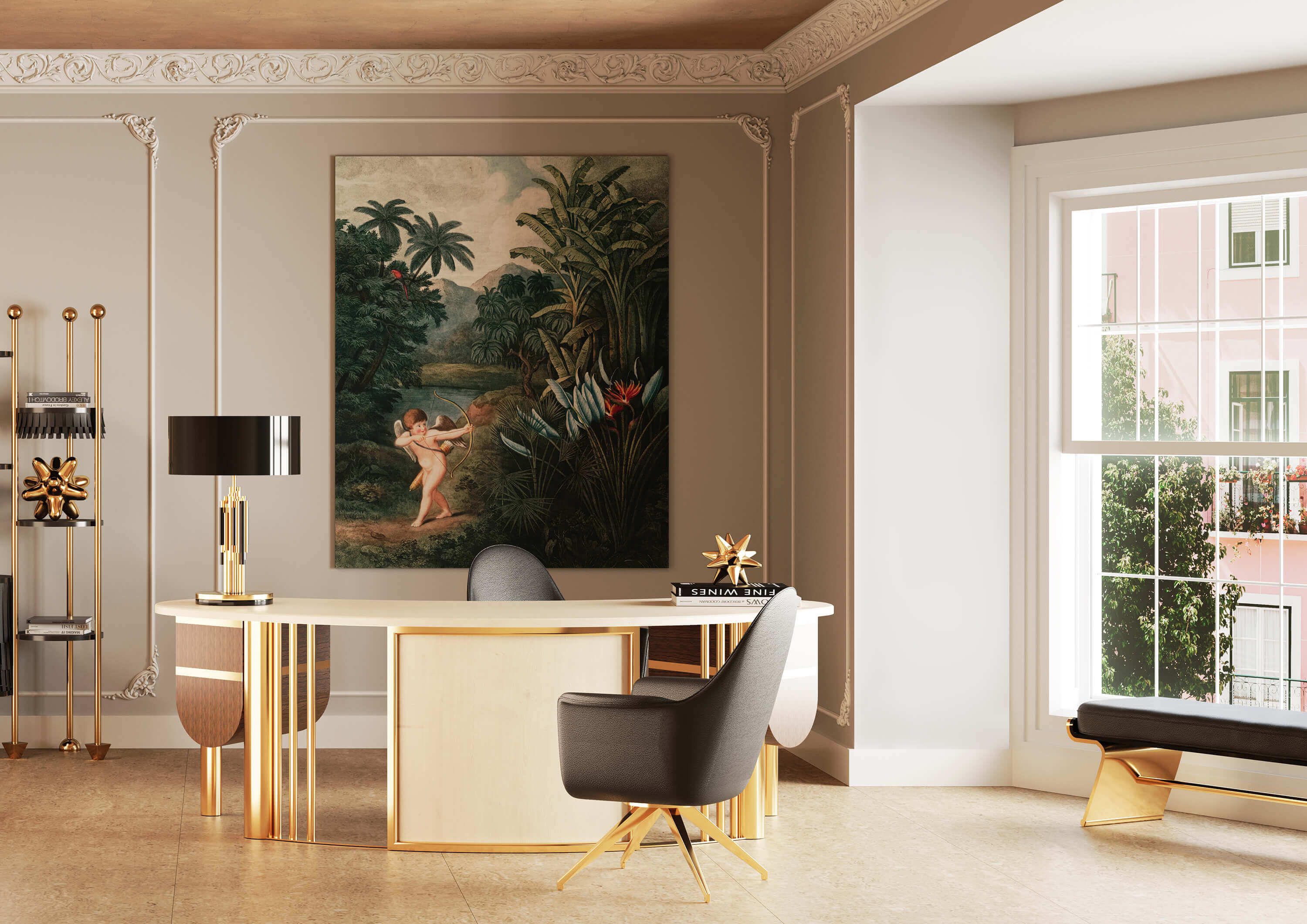 Modern office time, by Hommés Studio, with luxury and glamorous elements to make your office design a welcome place to be yourself.
With an extra dose of gold, eco-leather fabrics, large and colorful paintings, oversized windows, and comfortable seating will provoke an oniric effect to your work time.
The furniture pieces in the look
44 Office Desk fuses elements of surrealism vibes with an art deco style. The luxury desk is the ultimate edition for director offices of sophisticated chic.
Adding instant class to any abode, the Orgue Table Lamp is truly tasteful. Decorative, distinctive, and with a handsome hint of decadence, this luxury table lamp is perfect to be featured on a desk top.
Maak Bench is gorgeously glamourous and it is perfect to add the spaces an elegant extravagance. A sculptural gold base combined with a comfortable seating area that will be your guests' favourite spot, giving an elegant edge to your entrance hall project.
No products were found matching your selection.
Guffy Bookcase is a statement piece. A display case that combines influences from Bauhaus and Memphis movement.
A polished brass multi-level bookcase with a mysterious vibe for any luxury office interior design project.
Hommés Studio's Suggestions
Queena Office Desk promises to be the next statement design for an office project. Offices need to keep a serious language, but that doesn't mean they need to be boring.
Take your office design to another level with this marble and gold metal details desk.
No products were found matching your selection.
Create a contemporary reading corner with the mesmerizing Olafur Bookshelf. Ideal for the divine display of your prized possessions and beloved books, this stunning shelf works well in spaces of sleek contemporary chic.
Slip the Nora Chair into your interior decor and watch it transform your space into one oozing retro charm. The leatherback adds an eye-catching element that brings even more intrigue to the design.
See also: Flaming and Refined Dining room
Get more ideas for your projects and find functional, stylish, and sizable lighting and furniture choices: