A mirror is a unique element of interior design. It allows us to cover up many of the projects' imperfections and expose its advantages. Thanks to a properly positioned mirror, a room may seem deeper and bigger, and a narrow room – wider.
It is one of those decorations that can be incorporated into the arrangement of any room. For this winter season, Hommes Studio prepared a few interior design inspirations for all kinds of rooms, using some of the finest modern mirror project ideas:
ROYAL GREEN LIVING ROOM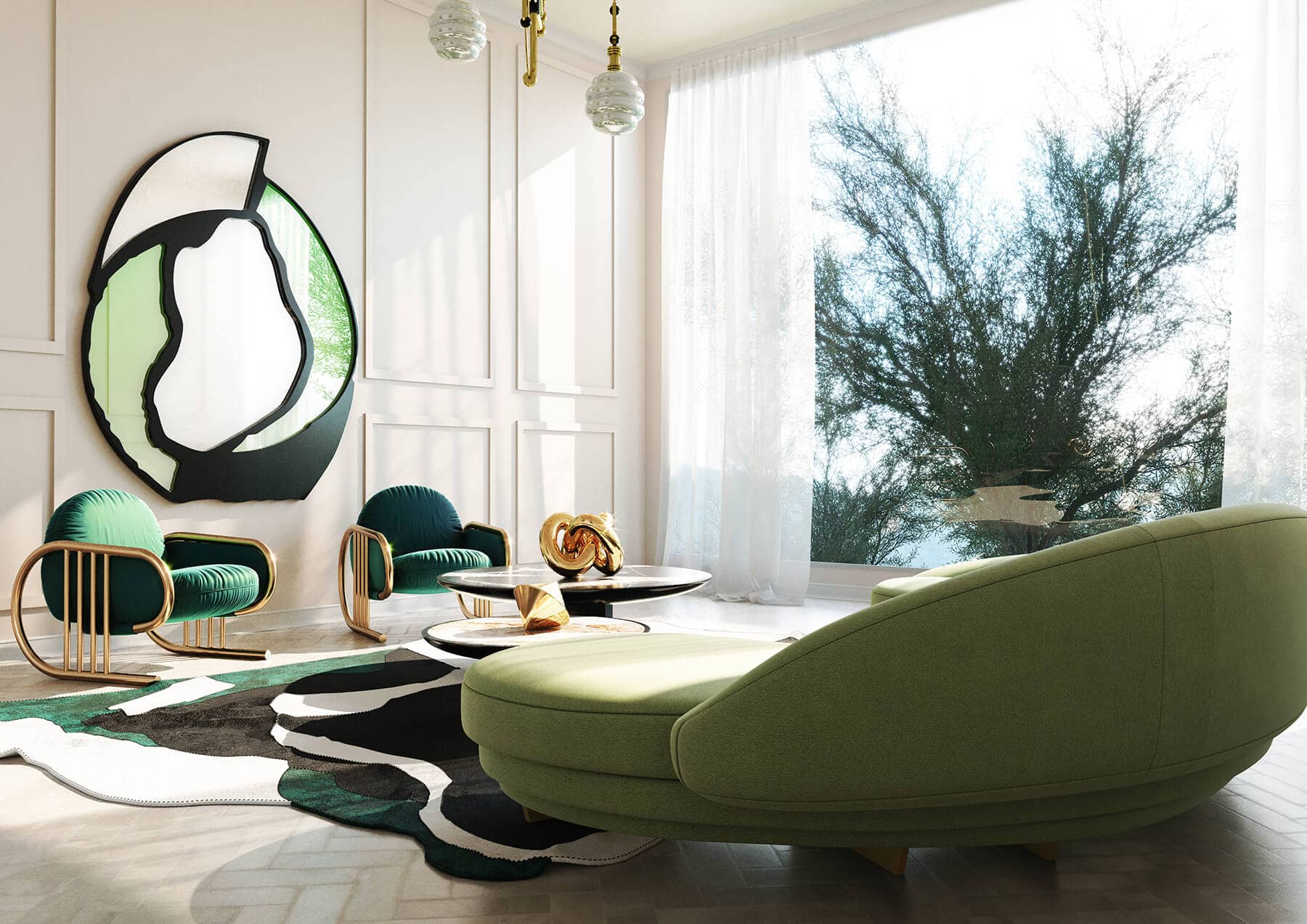 Royal Green Living Room is a remarkable design set, luxurious, mysterious, and confident. The green hues evoke an immersive experience with the peaceful natural scenario that surrounds this modern living area.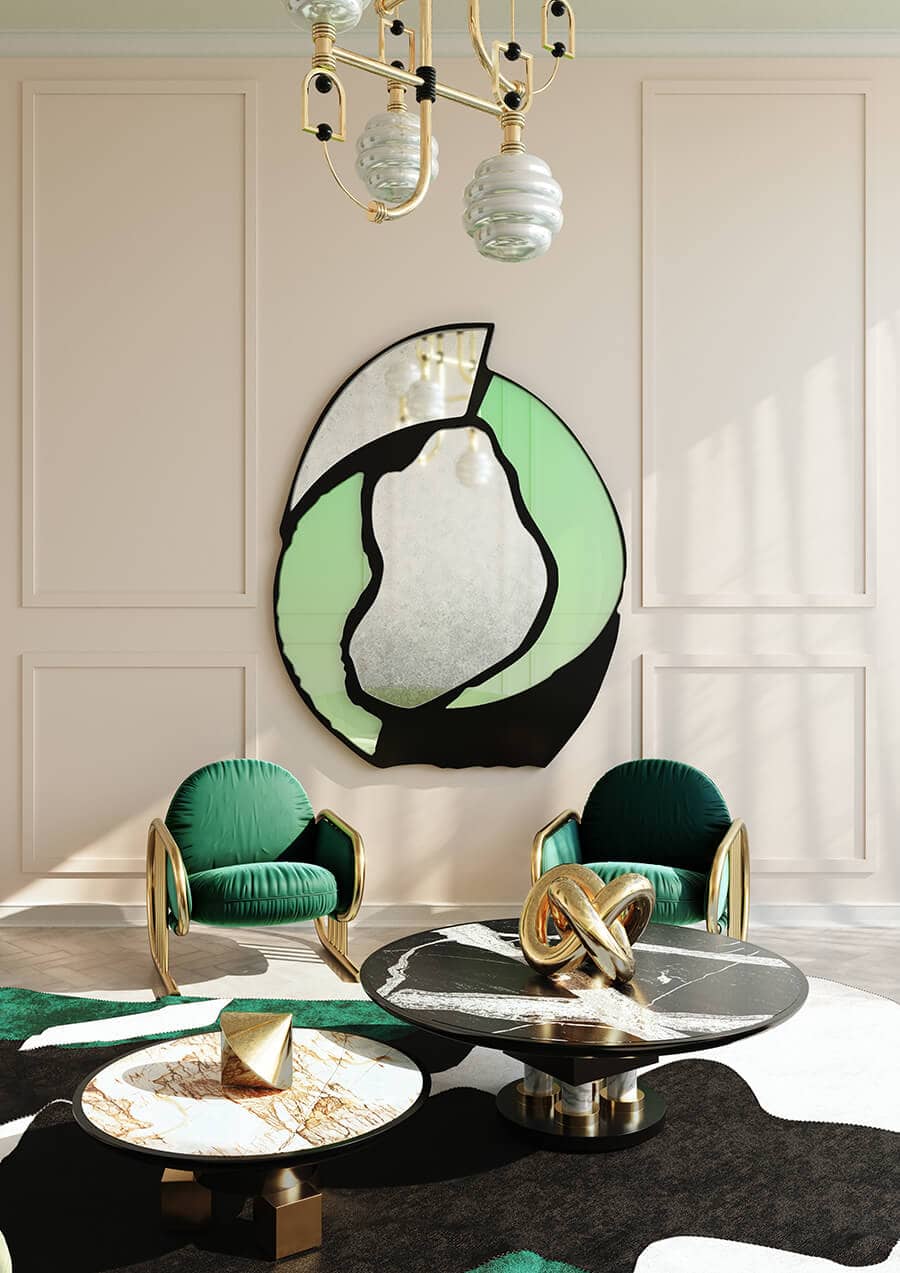 The unique Zadine Mirror is the centerpiece in this luxury interior. The wall mirror is placed alongside mid-century modern armchairs and the elegant Luminous Suspension Lamp. Each piece was beautifully handcrafted, with one-of-a-kind detail that can make all the difference in any contemporary interior.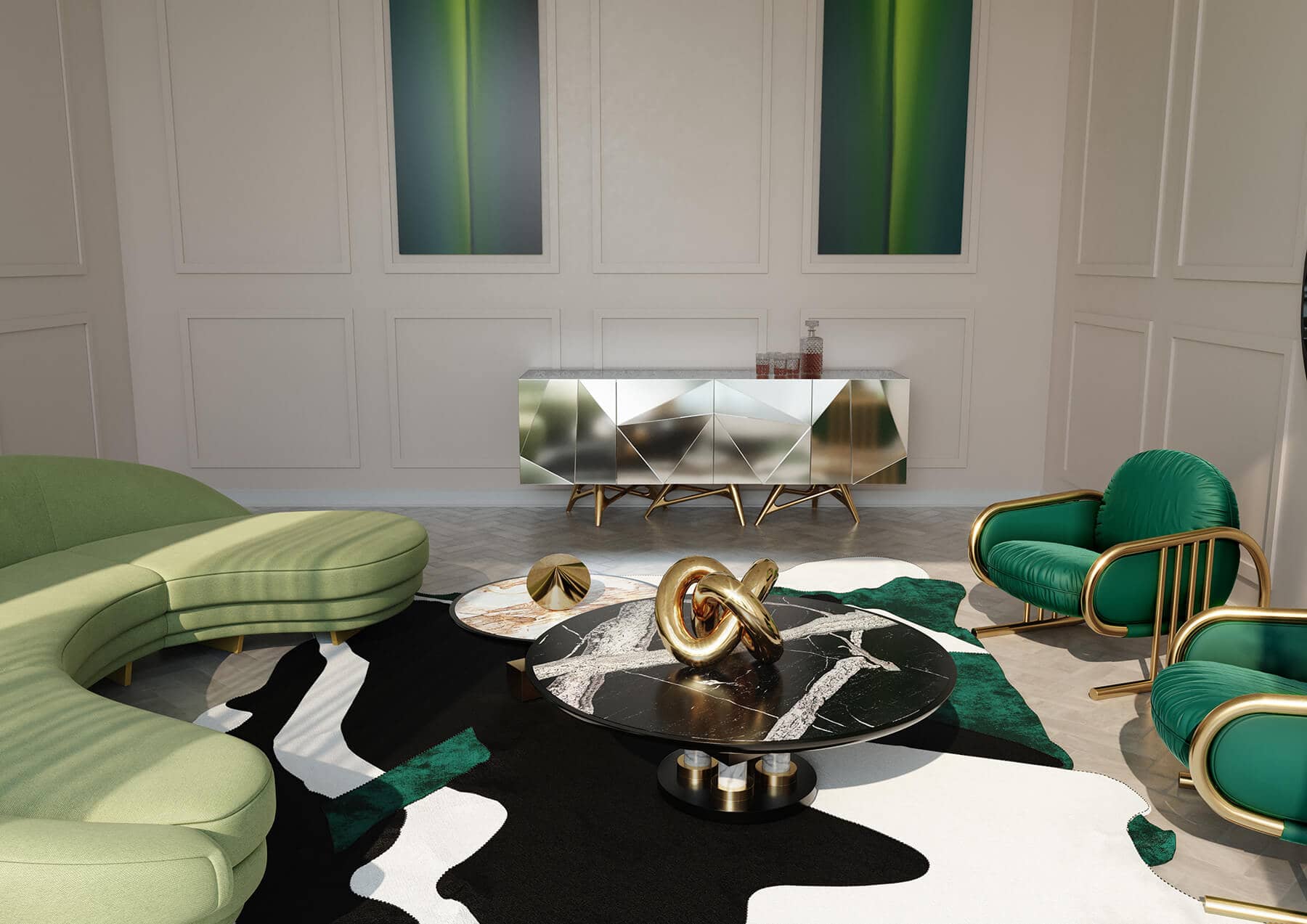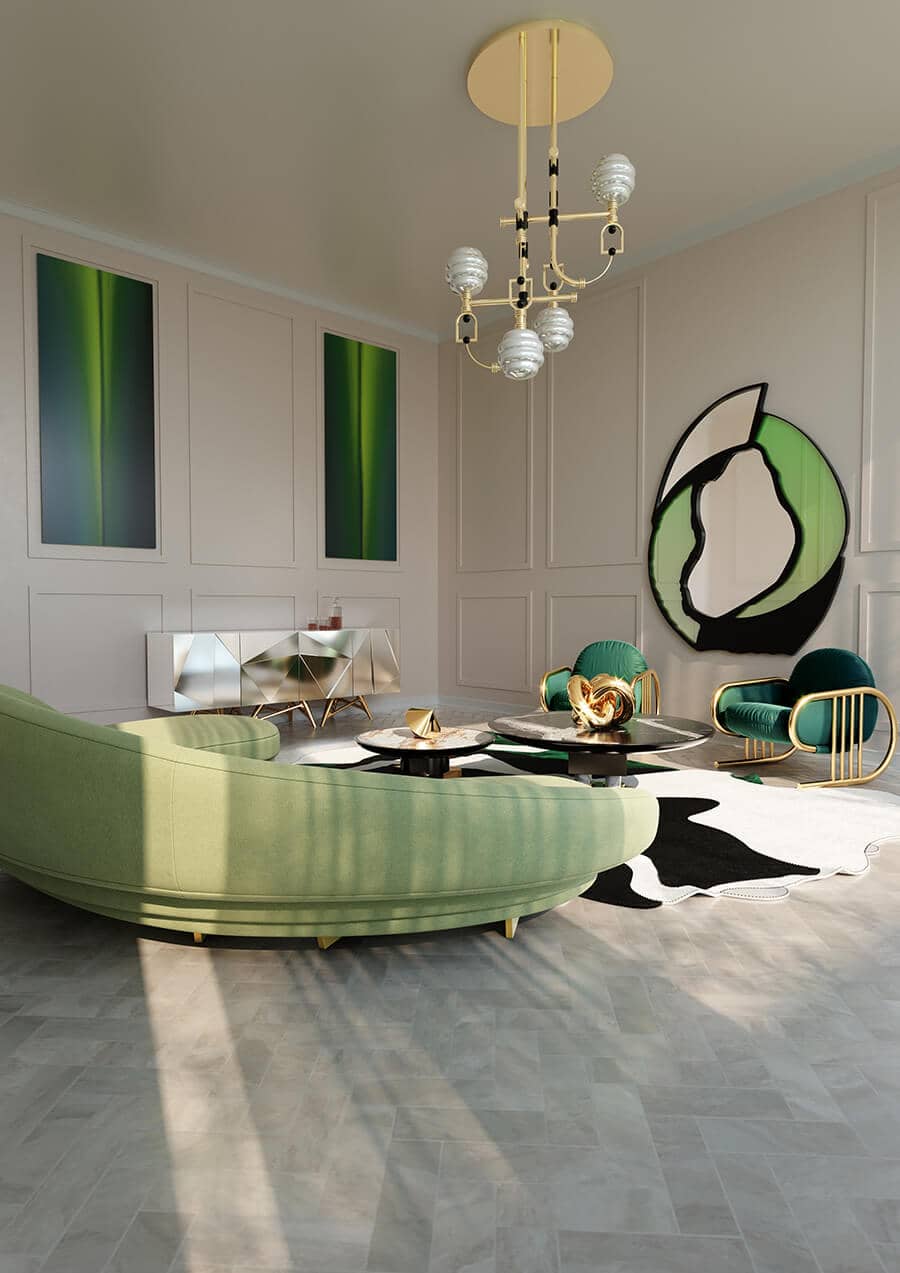 FRENCH ALLURE AREA
A French-inspired room, where timeless aesthetics and lasting quality stand out, specially created for art lovers and collectors of design pieces.
French Allure Living Area is all about bright colors, accessories, and well-balanced contrasts, a contemporary interior that perfectly combines traditional charm with modern design.
Inspired by the sophisticated "Je ne Sais Quoi," this design predominates white color, soaring ceilings, bold patterns, and outstanding furniture. The wall mirrors composition reflects personality and charisma in any contemporary wall decoration. Inspired by the vivid and timeless decoration textures, they combine perfectly with the modern sideboard of harmonious shapes and materials of high quality.
DECADENT BOHEMIAN ENTRYWAY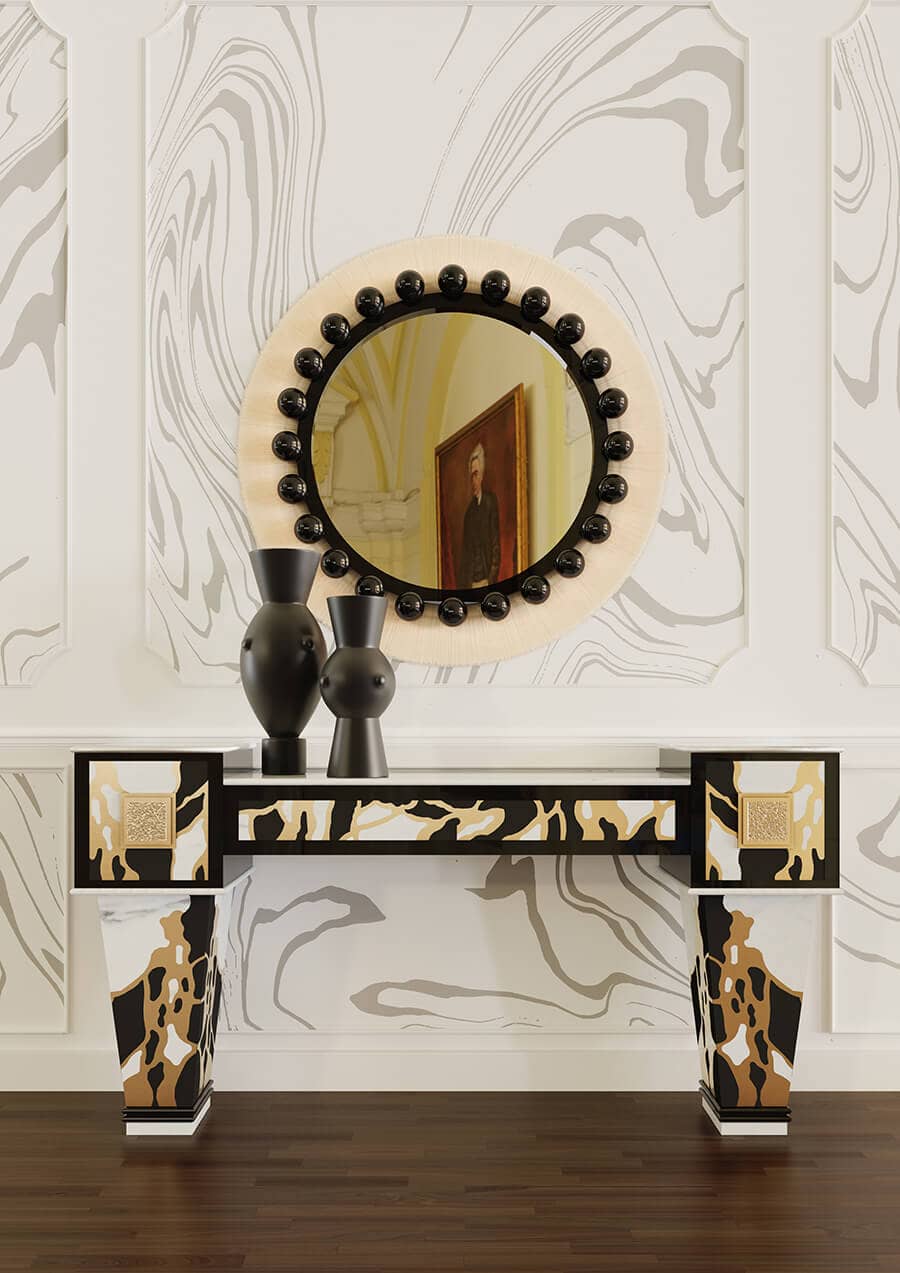 Decadent Bohemian Entryway is an eclectic design full of refined details that bring that warmness to the entire home. It's a charming entrance in a modern black and white mood enriched with warm accents. With a strong design aesthetic, this combination of pieces boasts a sleek and fresh look for your home.
EFFORTLESS ELEGANCE HALLWAY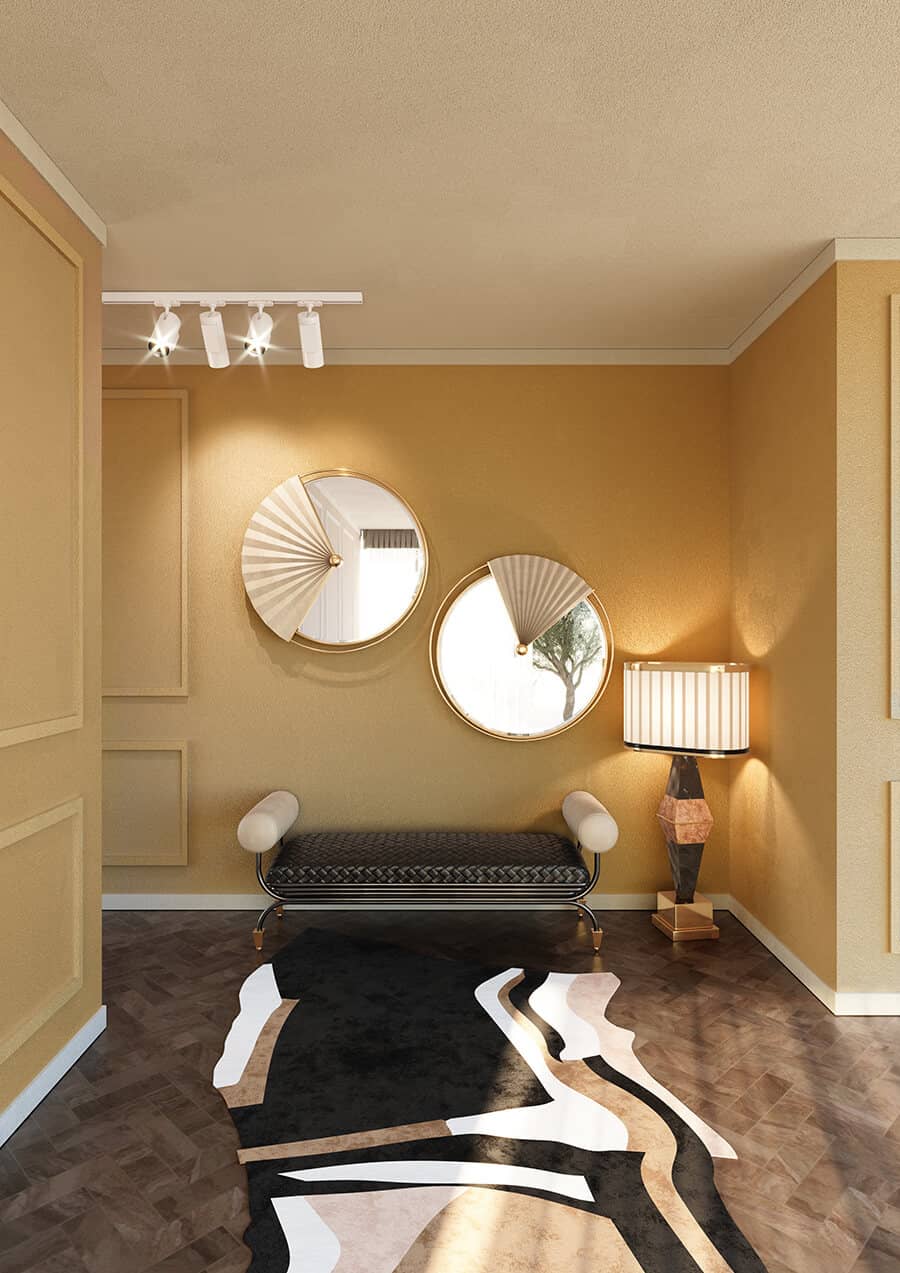 Effortless Elegance is an elegant entrance with a modern style and statement design pieces. With a strong design aesthetic, this combination of pieces presents a luxurious look to create a cozy atmosphere in your home.
With attention to the smallest details, the mirrors positioned above the modern bench present a peculiar design. The design of the mirror goes beyond the obvious. It is not about your reflection. It is what you see beyond it. These mirrors are a reinterpretation of an old object, a hand fan.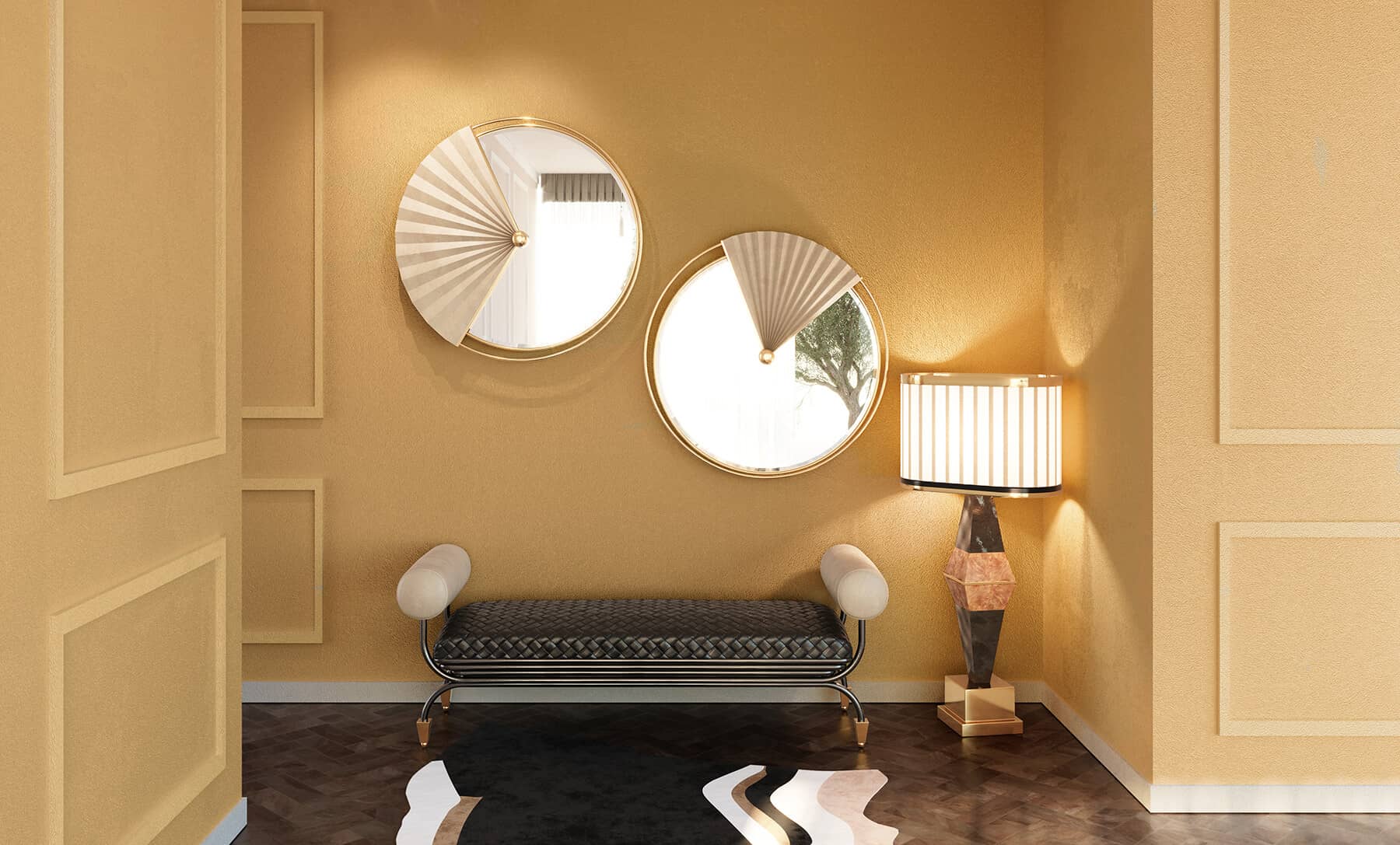 SAFARI DINING ROOM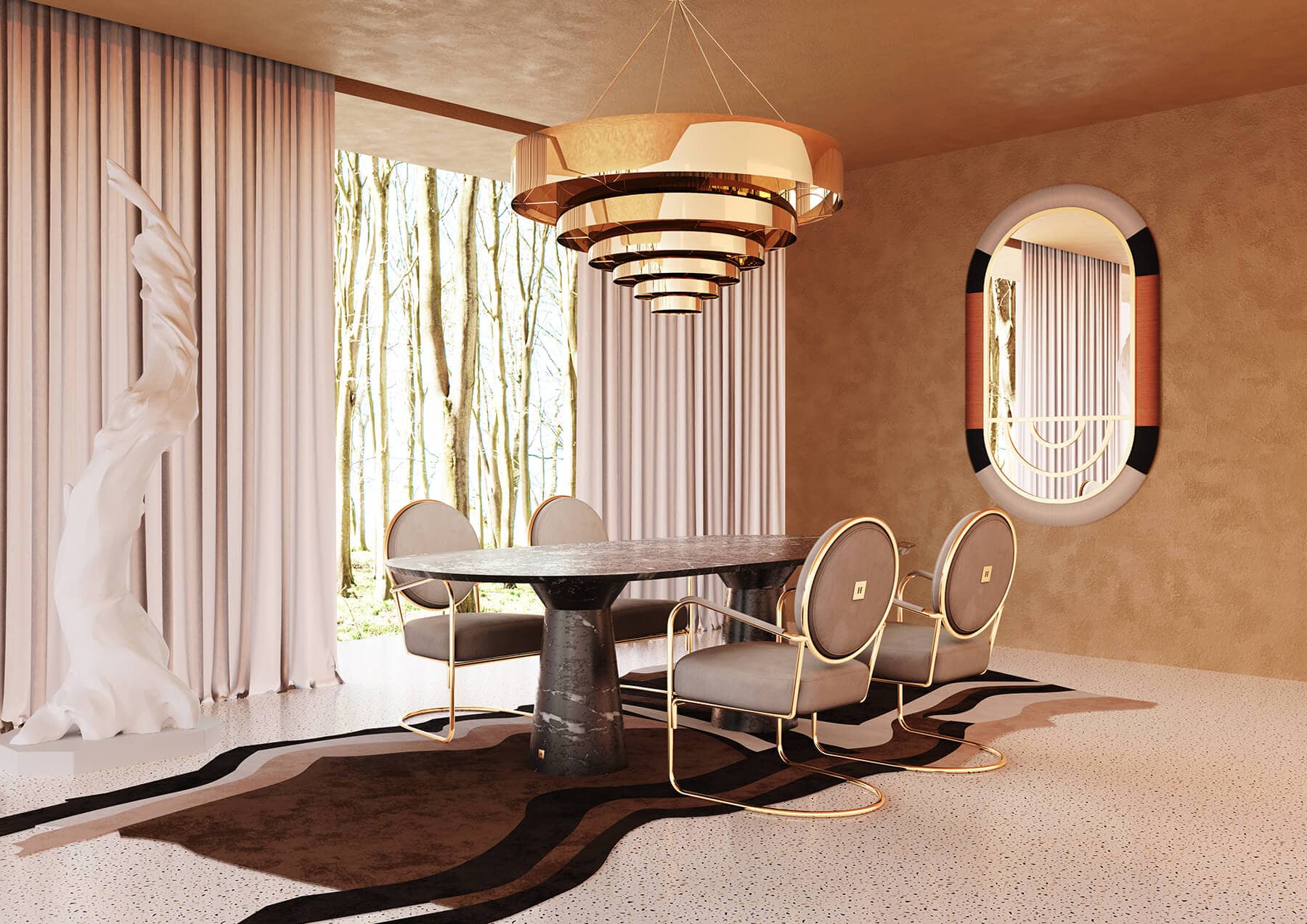 Safari Dining Room portraits warm colors and organic elements join forces to present a comfortable and timeless dining experience, featuring wood and metals, including natural fibers details. Elevate and honor the craftsmanship with hand-crafted products, hand-woven materials, and polished golds.
OPTIMISTIC MAXIMALISM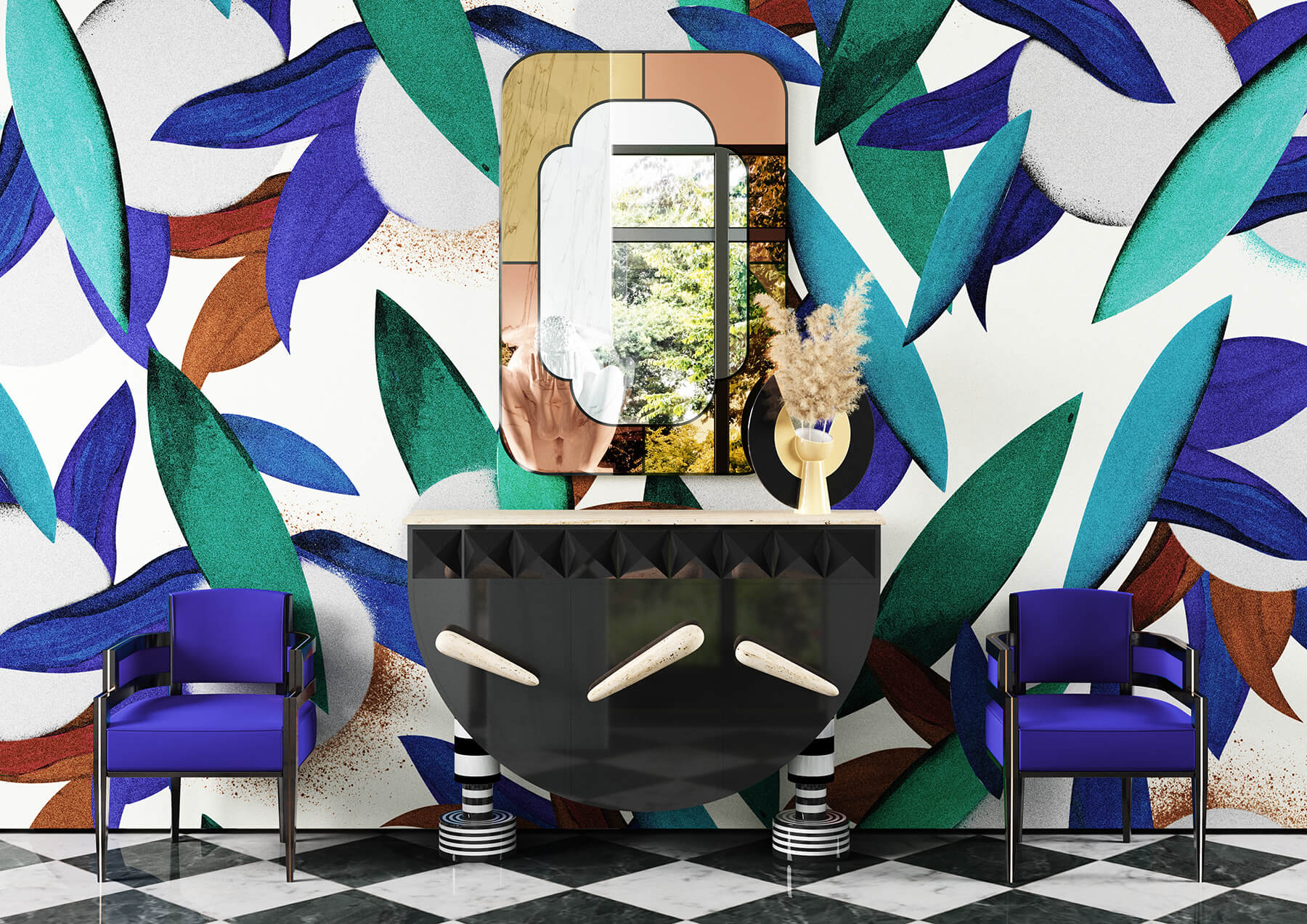 Introduce "Maximalism" into your home as an extension and expression of yourself. The Optimistic maximalism set is a vibrant and exciting aesthetic style that doesn't follow any rules! Select joyful patterns, fun decor accessories, and daring design pieces evoking an attitude that "welcomes a positivism in." The key to achieving balance in such a bright and full interior is to work in the same color palette.
BRIGHT AND SAVAGE DESIGN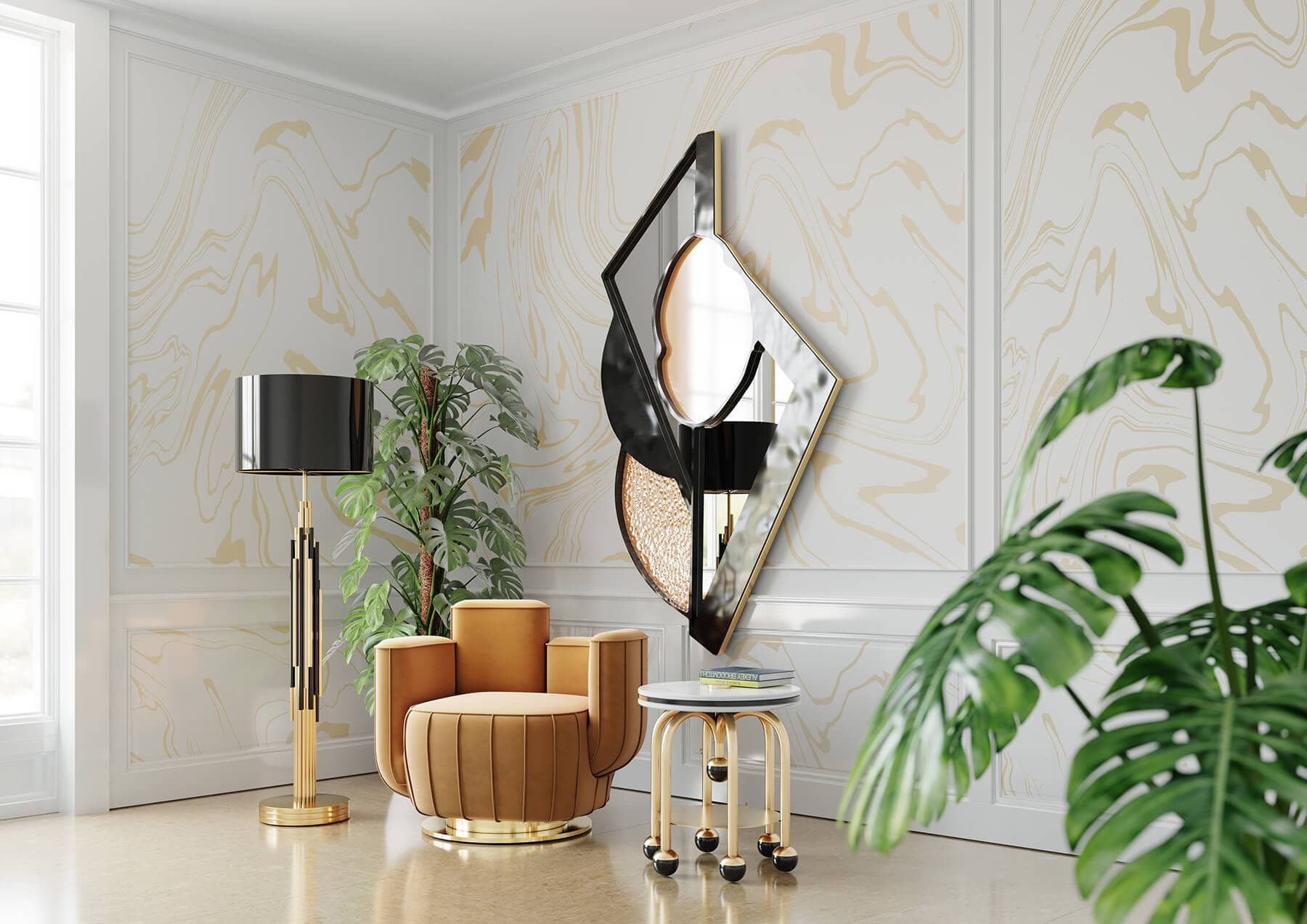 A Bright and Savage design corner celebrates a unique mix of styles, textures, and patterns. A relaxed and lively living space full of color and personality and a tropical landscape reminisces adds a unique decorative touch. Customize an interior for your taste and conceive a unique space that irradiates harmony!
ONIRIC HALLWAY DESIGN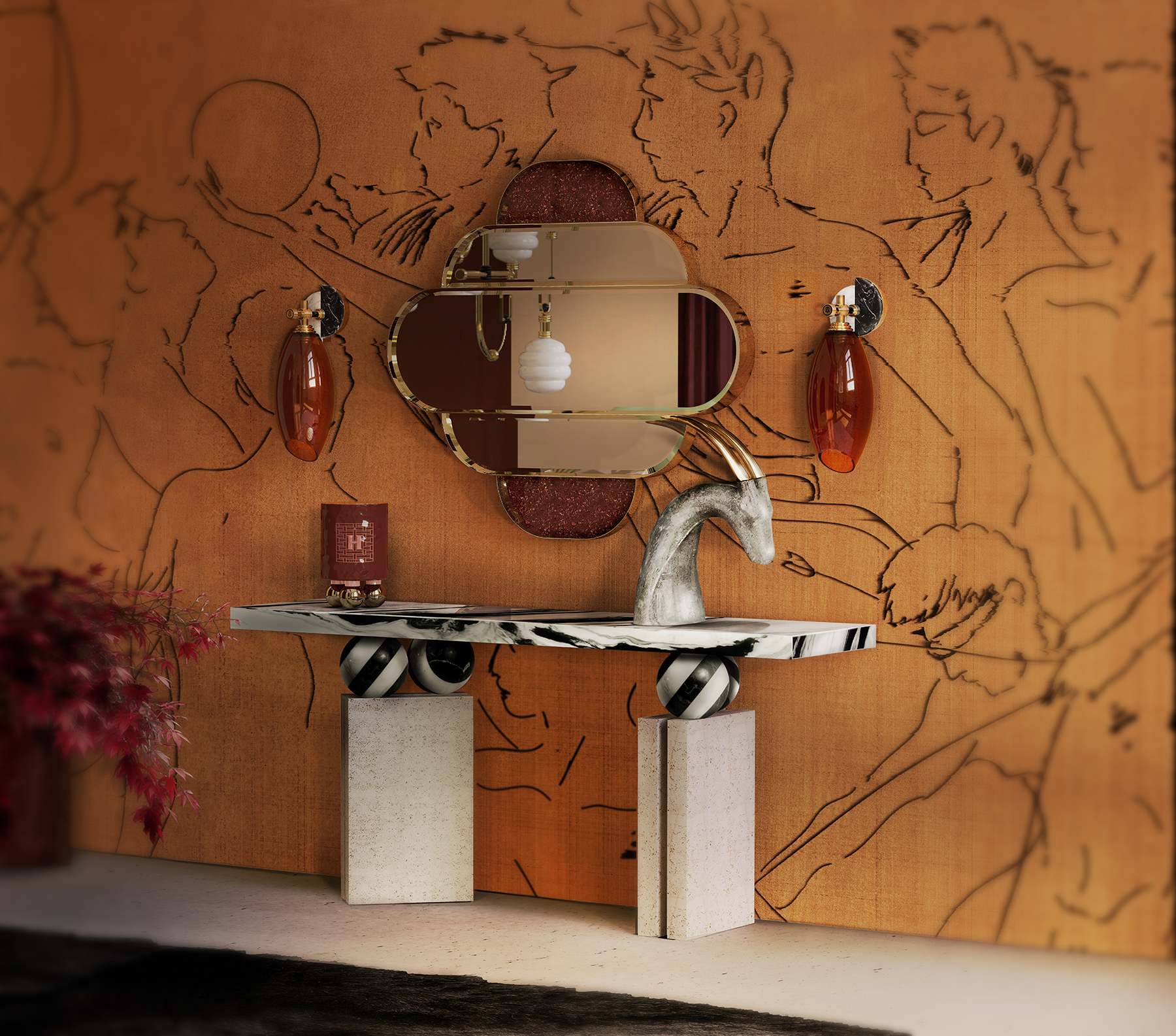 Oniric vibes are a combination of different cultures, extending an eclectic and modern design style. This hallway design evokes dream products capable of elevating your design room by its beautiful selected colors, a harmony of forms, a love for shapes that follows functions.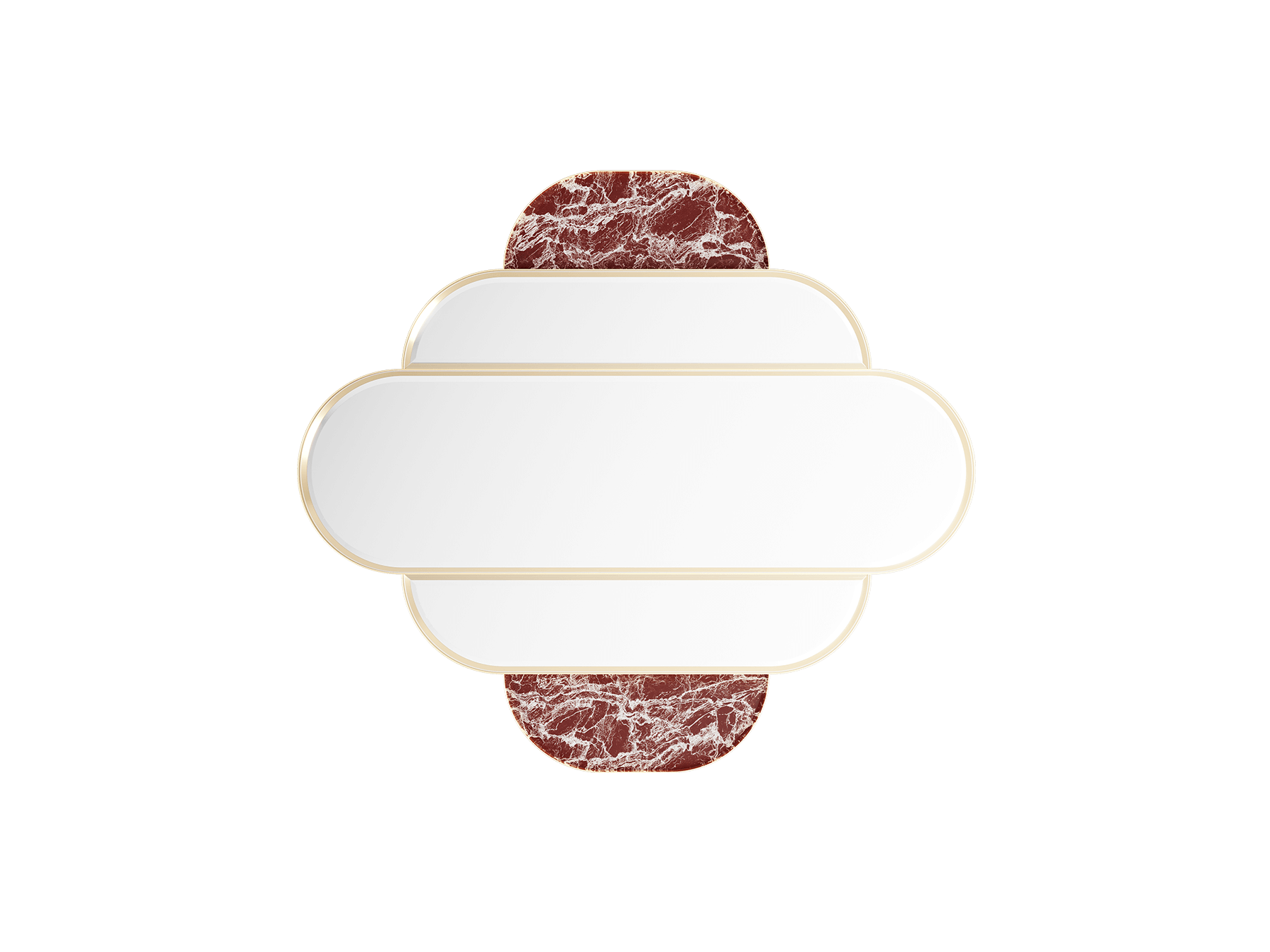 PINK WONDERLUST MODERN MIRROR DESIGN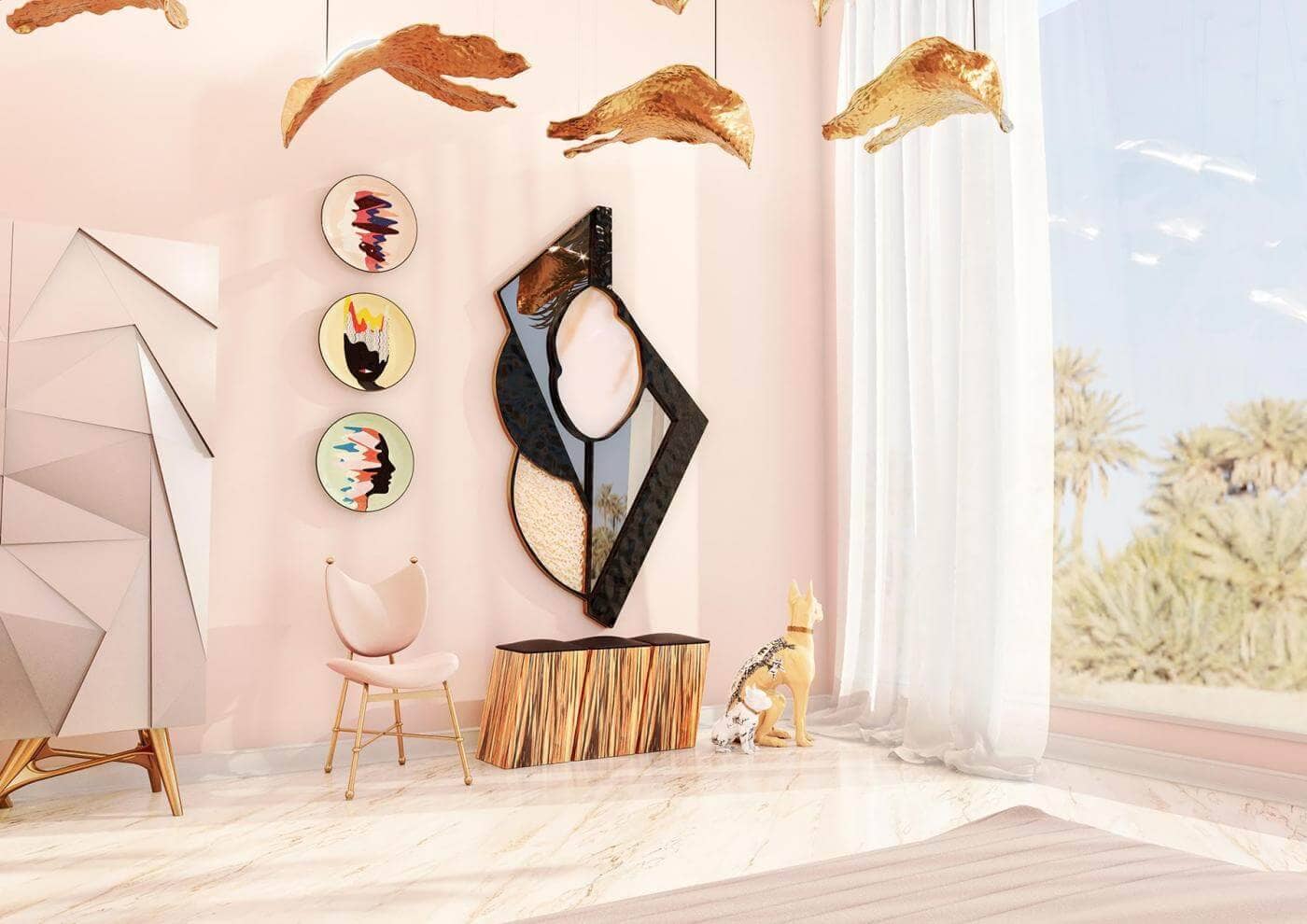 Imagine a dream world where your home is in pink and blush colors. Pink Wonderlust is for someone bold and audacious, that takes risks and is not afraid of rose-colored interiors. A beautiful hue, pretty versatile, millennial pink, is excellent for a wide range of interior design styles.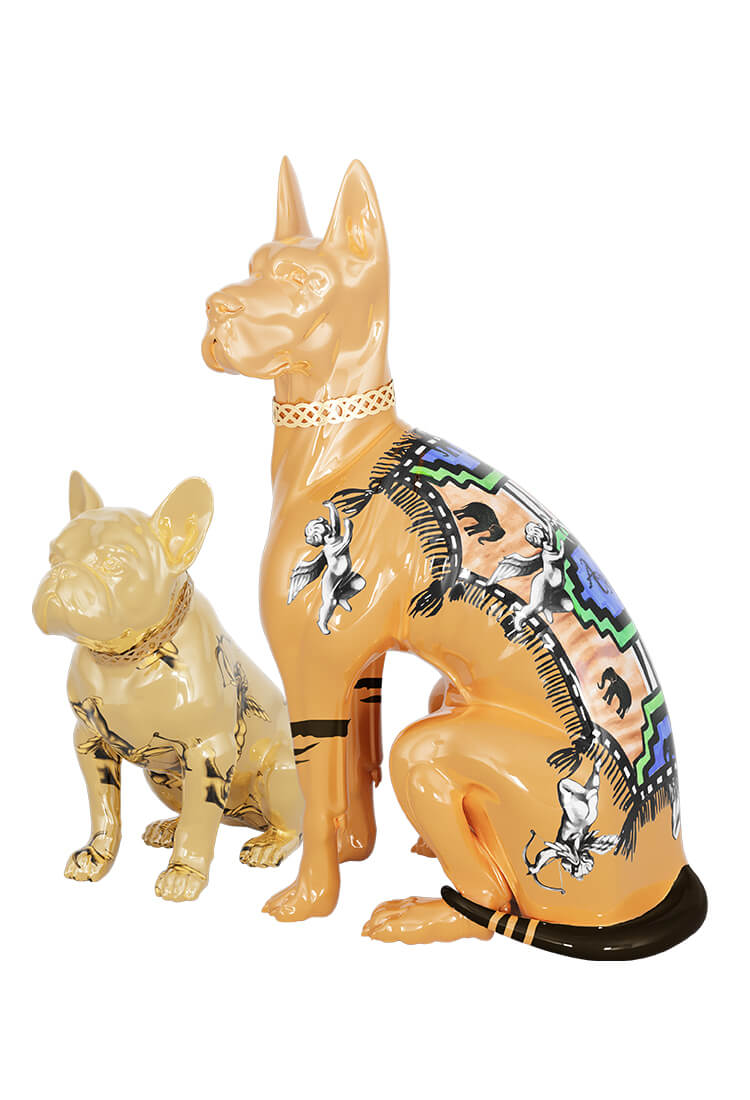 A Lush Pink is a magnetic color with a distinctly romantic character. Create an eye-catching décor, an immersive design experience, with modern design furniture with refined finishes. Cool and playful accessories are the key to accentuate your lively and fresh personality.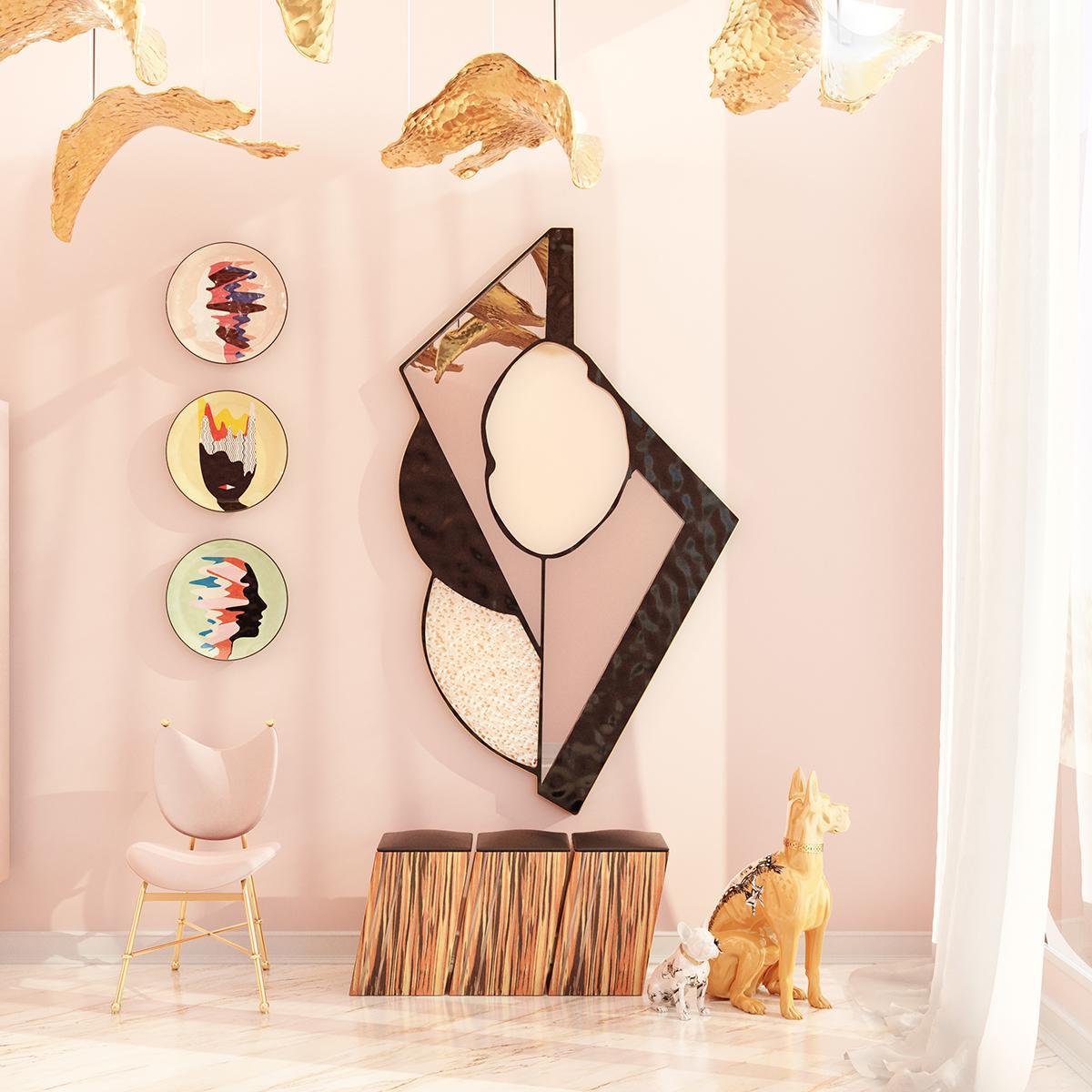 ROUND SHAPES LIVING ROOM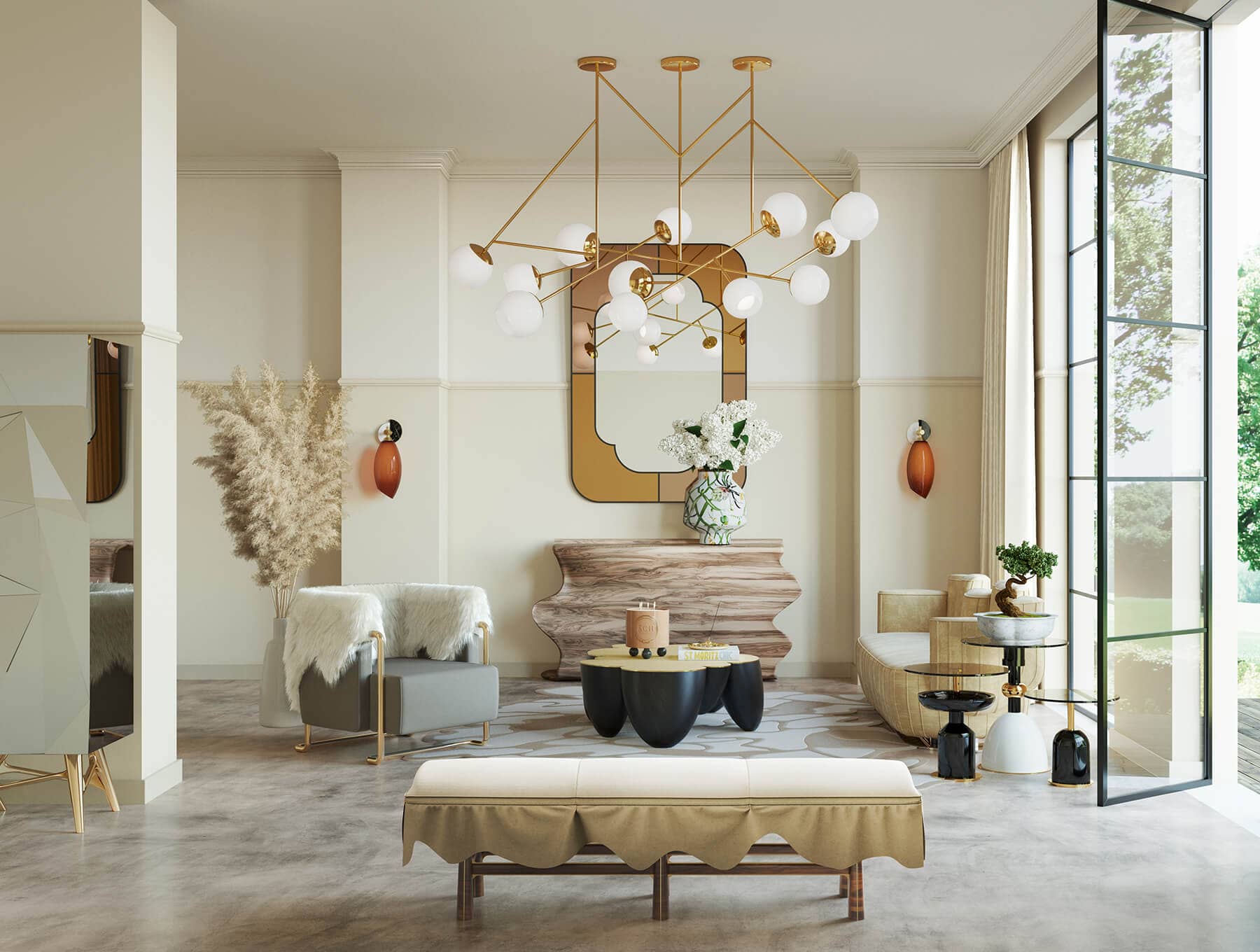 Round shapes and stunning silhouettes will elevate your comfort and offer Home the desirable unique style. It is an invitation to present your living room with a new attitude and charismatic style. This modern living room will make your home more comfortable than ever. Curved silhouettes and sharp lines are your way to go this season!