Discover ten incredible Art Deco Style Furniture by HOMMÉS Studio that will add the right amount of glam that your project needs.
Art Deco is back! And with this great style – all the glamour and luxurious vibe that it provides. The bold shapes, beautiful patterns, and finest materials are trending in interior design projects worldwide, showing that some glam never is too much. If you are into a dramatic look for your next project, you should consider incorporating some Art Deco Style furniture into it. This article will present a selection of Art Deco Style Furniture you can't miss from HOMMÉS Studio.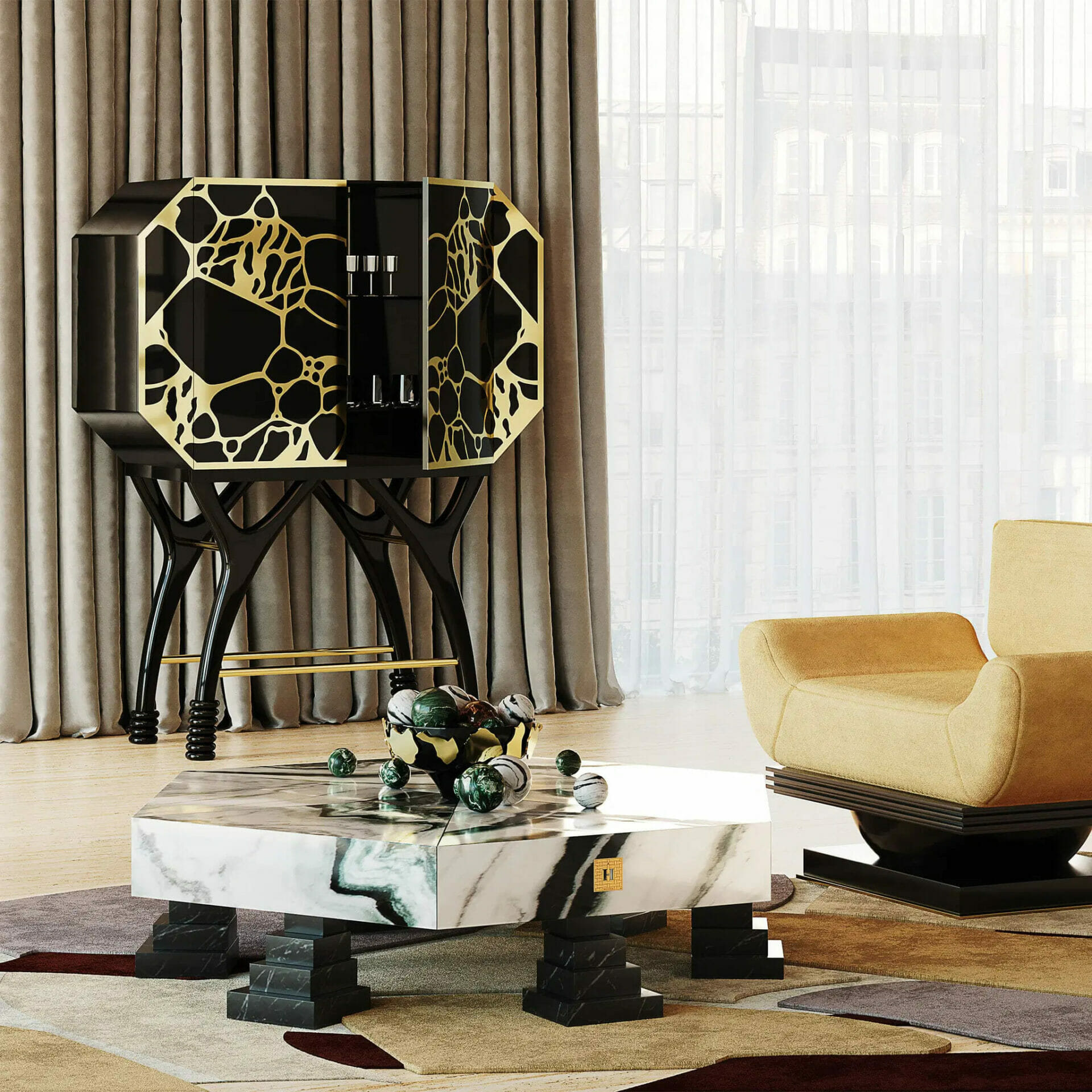 ART DECO FURNITURE
The Art Deco style furniture is a beautiful way to reflect a luxury and glamour essence in an interior design project, some main pieces from this style are sideboards, armoires, and generously sized chairs.
The pieces from this style usually highlight exotic wood, lacquer, leather, and luxurious adornments, making it a sophistication acquisition to any interior look. If you would like to understand more about the main characteristics of this type of furniture, you can read our article What is Art Deco Furniture and then come back to see the essential pieces for your upcoming project.
ART DECO FURNITURE IN INTERIOR PROJECTS
Even if you are not into a total Art Deco look to your project, there are many ways to introduce Art Deco style furniture to your layout and have the perfect touch of glamour that these pieces can bring. For example, mixing vintage and contemporary items can create a flawless harmony with the bold shape of the Art Deco pieces. Another great addition is to add some modern items together with art deco pieces.
Depending on what kind of furniture and pieces you introduce, start by bringing in the larger pieces, like mirrors and sofas, and then go on to artwork and lamps. The materials wood, steel, bakelite, plastic, and glass are frequently used. Concentrating only on the colors used in each item can add a hint of Art Deco style. There is a variety of Art Deco style furniture that you can add to your project; it's why we will highlight ten pieces that you can't miss in your projects. Check it out:
1. GYVATÉ SERPENTINE

Gyvaté Serpentine Sofa will add the perfect Art Deco vibe to your interior project. Upholstered in Velvet, this piece revives the main art deco characteristics by showing rich material and bold design. The elegant silhouette and iconic aesthetic can be perfect for blending in a modern living room or a vintage project.
2. ROMA BAR CABINET

The Roma bar cabinet is the best choice to make the happy hour more glamorous. This piece evokes the best Art Deco style, with golden details and gloss black lacquer that can give a luxurious vibe to any space – from a bar area to a living room corner. It's the perfect piece for a bold and authentic project.
3. MARINO SIDEBOARD
For an art deco project, some pieces, like a bold sideboard, can't be missing. Marino sideboard is the perfect example of art deco style furniture; this stunning piece has a unique design combined with rich materials – the top in panda marble and lacquered finish is everything a luxurious project needs.
4. NILO MIRROR
Nilo mirror features a stylish shape that can help to brighten up a dark hallway or corner. This stunning piece has a vintage look inspired by the art deco vibe and is ideal for elevating any room decoration. You can combine this piece with a bold sideboard for an intense look.
5. CLAIRE DRESSING TABLE
Claire Dressing Table embraced the Art Deco style with curvy and opulent shapes. This charming dressing table owns the promise of enriching any master bedroom design project.
Claire Dressing Table

Dresser

$

9.538
6. COCOON FLOOR LAMP
An elegant Art Deco style furniture to shine up any space. The cocoon floor lamp is the perfect piece to add a final touch to your art deco project; this charming piece can add the right amount of glam and luxury.
No products were found matching your selection.
7. KARMEN CHAIR

Karmen Chair adds instant class to your modern dining room project. An upholstered luxury dining chair with a polished brass structure will add the perfect art deco vibes to your layout.
No products were found matching your selection.
8. MAAK BENCH
Are you looking for Art Deco style furniture to complement your entryway project? Maak bench can be the perfect piece for it, this luxurious bench features the main materials that an art deco project needs: leather, wood, and golden details. The combination of these rich materials and the bold shape of this piece makes it the perfect piece for a striking entryway.
9. BILLIE DINING TABLE
Billie Dining Table owns a striking attitude and sculptural shapes. This marble table is the perfect acquisition for an art deco
dining room.
10. KARA BED
To finish our list of essential Art Deco style furniture, we select this incredible bed that can add a glamorous vibe to any master suite. Kara can be perfectly matched with modern pieces for a more minimalist look or with other Art Deco style furniture for a luxurious vibe.
Kara Bed

Bed

$

7.727
This selection of Art Deco Style furniture reflects this luxurious, enchanting, and extremely beautiful style in its best way, showing that a touch of glam never is too much.