This eclectic and colorful Art Hotel is a hub of creativity and self-expression that pushes boundaries and challenges conventions.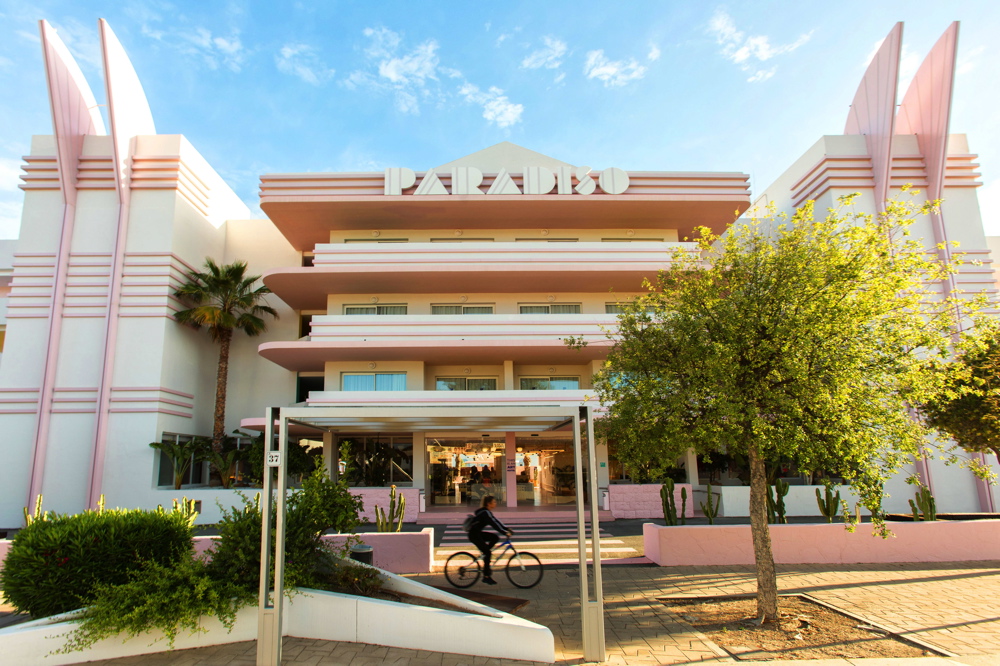 Ibiza has become a popular destination for those seeking unique and unforgettable accommodations, and the Paradiso Ibiza Art Hotel is certainly one of the most talked-about hotels on this island. This one-of-a-kind art hotel is a stunning example of design that pushes boundaries and challenges conventions.
In this article, we'll delve into the design elements that make the Paradiso Ibiza Art Hotel so special, and explore why it has quickly become a must-visit destination for anyone with an appreciation for bold, creative design (and of course, fun).
About Paradiso Ibiza Art Hotel
Paradiso is an adults-only Art Hotel located in San Antonio Bay (Ibiza), which opened its doors to the public in 2018 with the goal of providing an alternative to other lodging options on the party island by hosting a complete art programme (designed by artist Iñaki Domingo and film-maker Diana Kunst) for visitors and other tourists to take advantage of throughout their stay. In this sense, this art hotel features its own gallery (which hosts three exhibitions during each high season) and art library (which allows visitors to look at contemporary artwork all year long).
Where MiMo Style meets Memphis style
In fact, the art approach permeates not only the program but also the hotel itself, with its striking facade drawing inspiration from Miami's MiMo style (a post-war architectural trend that emerged as a reaction to harsh minimalism), and its interior taking on the Memphis design movement of the 1980s.
This art hotel, designed by Ilmio Design, is a work of art in itself, something that is evident from the moment you step into the lobby, where you're greeted by pink mosaic tiles that cover the floors and which complement the pink walls and ceilings, as well as contrast with the reception desk in green tiles and the banquette upholstered in bright red.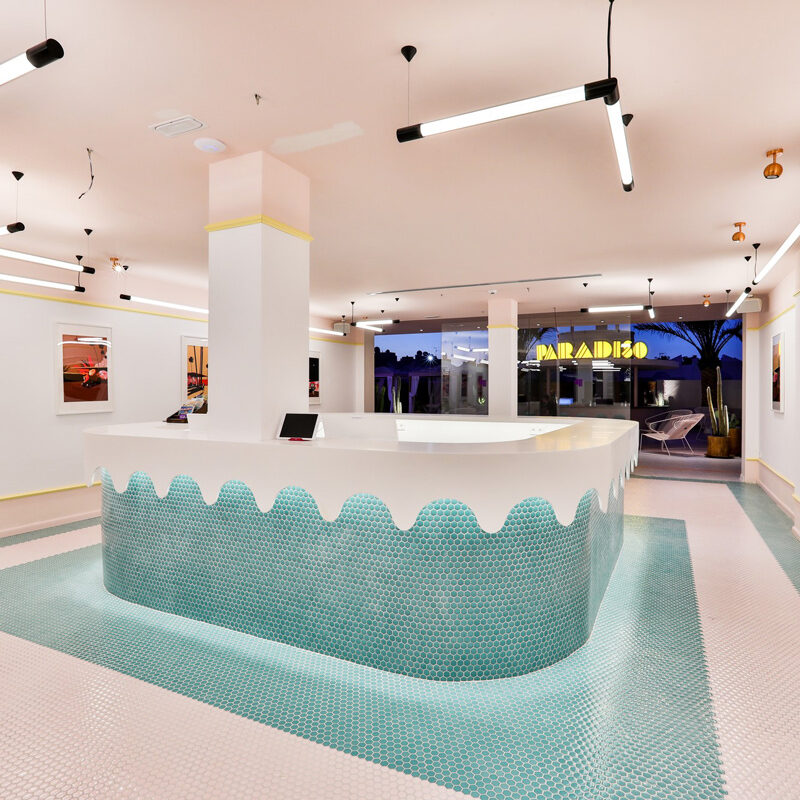 Yet, the real highlight of the hotel is the guest rooms, each room being decorated in pink, yellow, or green, depending on which level they are situated on, but also varying in size, with some offering lounge and kitchen areas that are furnished with clashing colors, or access to balconies that continue the hues found inside.
However, every single one of these rooms is sure to feature iconic pieces of Memphis-style furniture, as well as some works by artists affiliated with the hotel's art programme.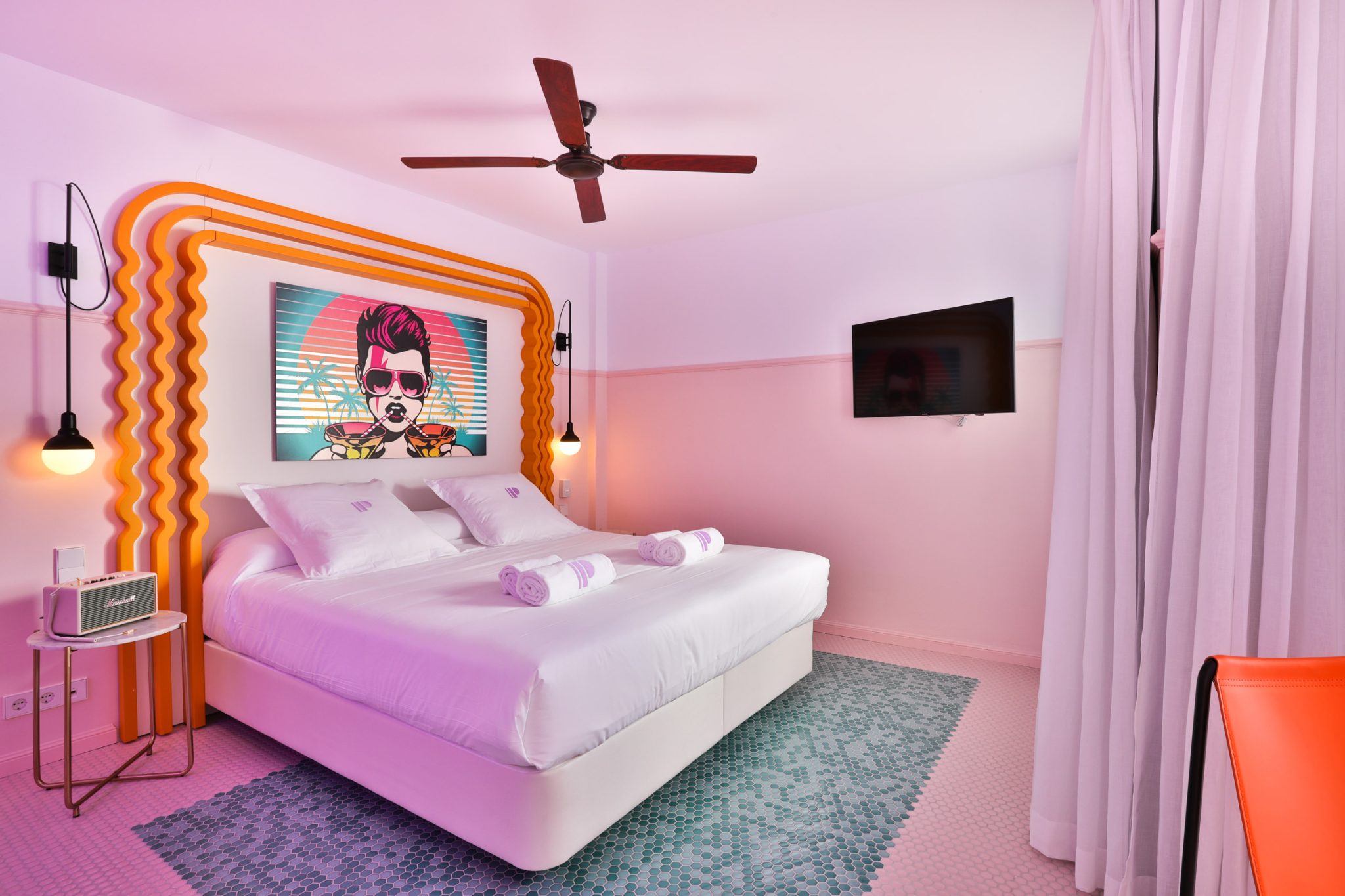 But the most interesting room in this art hotel is for sure the Zero Suite, a glass-enclosed sleeping area situated in the lobby that is reserved for artists who can complete "micro residencies" at the hotel, creating art while taking in the ambiance of both Ibiza itself and the hotel, with the Paradiso Ibiza Art Hotel also landing their social media accounts so that these artists can explore digital art and interactivity, allowing visitors and the general public to participate in the discussion.
But it's not just the interiors that are noteworthy. The pool area outside continues the hotel's unique flavor with pale pink and purple tones, which not only remind us of Miami's MiMo style but also make us feel like we're at Barbie's pool, with two rectangular swimming pools being situated on either side of a circular bar, with the word Paradiso being written on the bar's top in a similar 1920s-inspired script.
The decor of this outdoor space instead follows a more modern approach, with the designers opting for some amazing large white daybeds and parasols.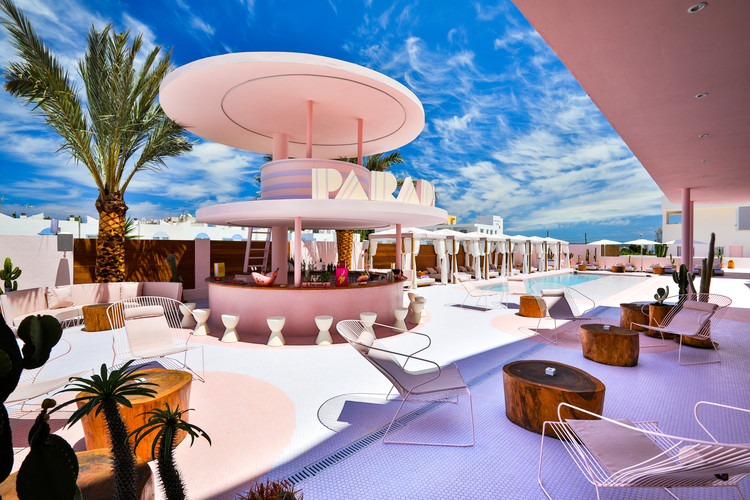 The Paradiso Ibiza Art Hotel 's remarkable fusion of outstanding design, vibrant color, and awe-inspiring art creates a truly unparalleled experience that is guaranteed to make a lasting impression. The hotel's focus on art is not just limited to its exclusive art program, but it permeates through every aspect of the hotel's interior design, elevating the guest's stay to new heights of aesthetic brilliance.
Whether it's the lobby's glass room, the guest rooms' varying colors and art installations, or the pool area, every corner of the hotel is a work of art that transports guests to a realm of imagination and creativity. So, if you're looking for an art-inspired hotel experience on the beautiful island of Ibiza, Paradiso Ibiza Art Hotel is definitely worth checking out.
But if what you're really looking for is some inspiration on Memphis style, then get to know The 10 Best Memphis Style Furniture For Modern Home Design, and discover bold, sophisticated, and refreshing furniture that explores this artistic style in the best way.
Source: Paradiso Ibiza Art Hotel