Art is one of the most powerful tools in a designer's toolbox. In choosing particular art pieces, serving the clients' personal tastes and collecting habits is always the primary goal. Nevertheless, for other aims, both traditional and contemporary art can perform equally well, depending on the mood you want to reach.
Either can secure a space, lead the eye through it, evoke a feeling of calm or liveliness, create a rhythm. Classical art can enhance a sense of formality and history in an otherwise cutting-edge dining room. Moreover, modern art might indicate a bold, adventurous spirit in a living room filled with traditional furniture.
Each category's numerous styles can bring wistful romanticism to a bedroom, a 'wow' factor to an entryway, or a graphic blow to a stately library.
BEDROOM
TRADITIONAL ART
Nicholas Haslam Ltd was established in 1980 by Nicky Haslam, who owned and ran the company in partnership with Paolo Moschino.
The goal is to establish the difference between interior design and simply furnishing a house. The studio likes to create the bones, think about interior architecture, and consider how everything works together.
The space contains different shades of colors, from pale to bright, furnishings from different periods, creating layers, which the designer always feels excellent atmosphere in any interior.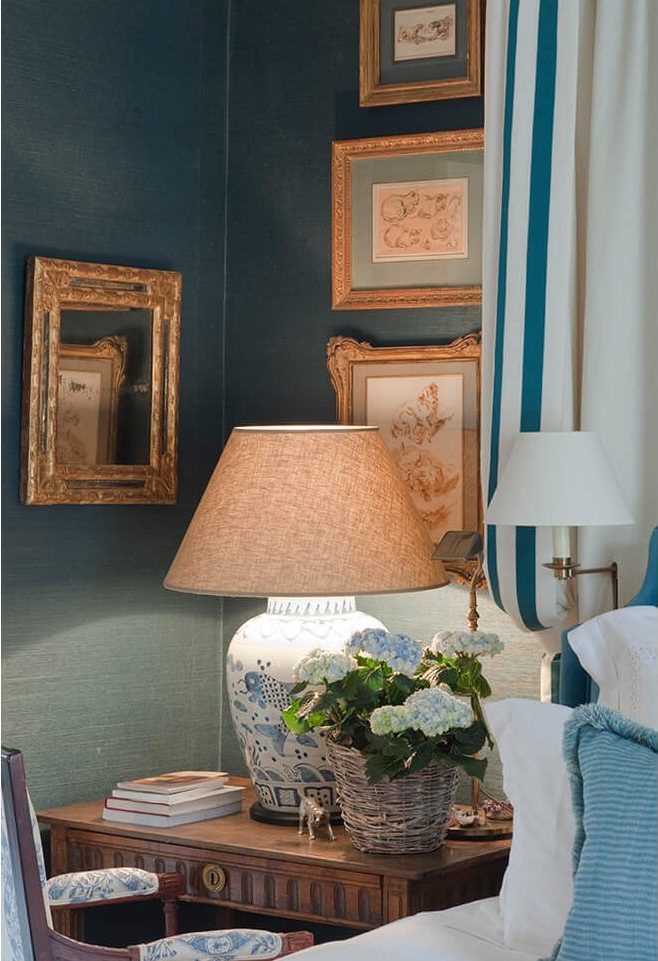 CONTEMPORARY ART
Luis Bustamante designs this master bedroom. In this room, distinct bold artworks animate the whole space.
His projects, and this, in particular, transmit his artistic passion between contemporary and classical arts. Using white matting and white-lacquer frames also illuminates and brightens the wall.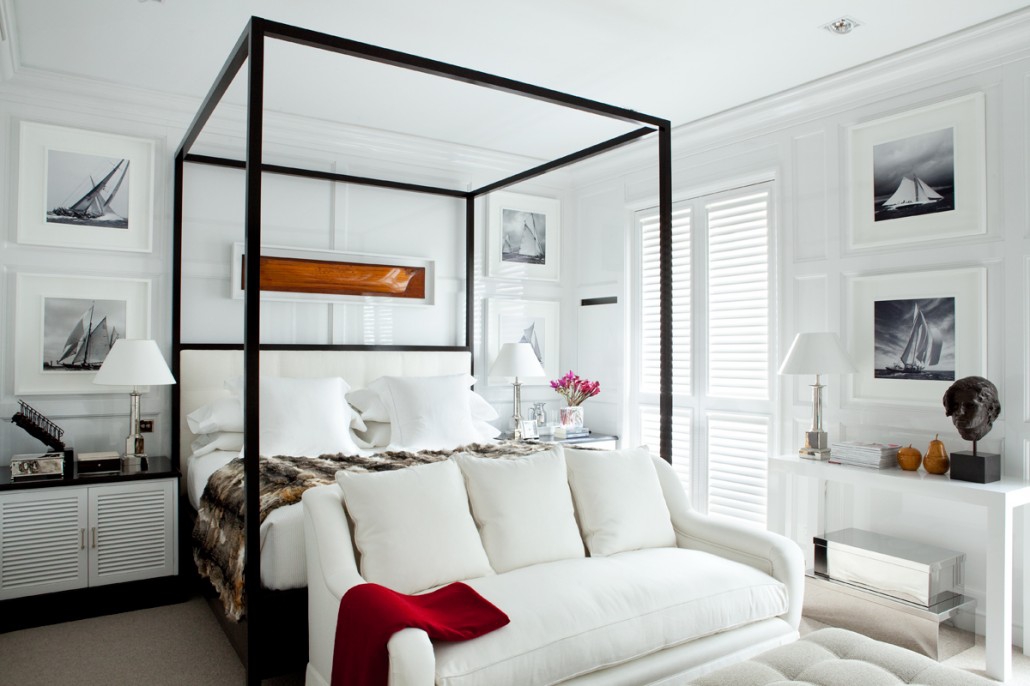 OFFICE
TRADITIONAL ART
Sheila Bridges founded her own interior design firm in 1994. As Creative Director, Sheila has thoughtfully designed residences and offices for many prominent entertainers, entrepreneurs, and business professionals.
Located in one of Harlem's most iconic landmark buildings, Graham Court was conceived and designed by Clinton & Russell architects and built-in 1901 for the Astor family. The art pieces echo the blue of the wall, creating an elegant and relaxing space.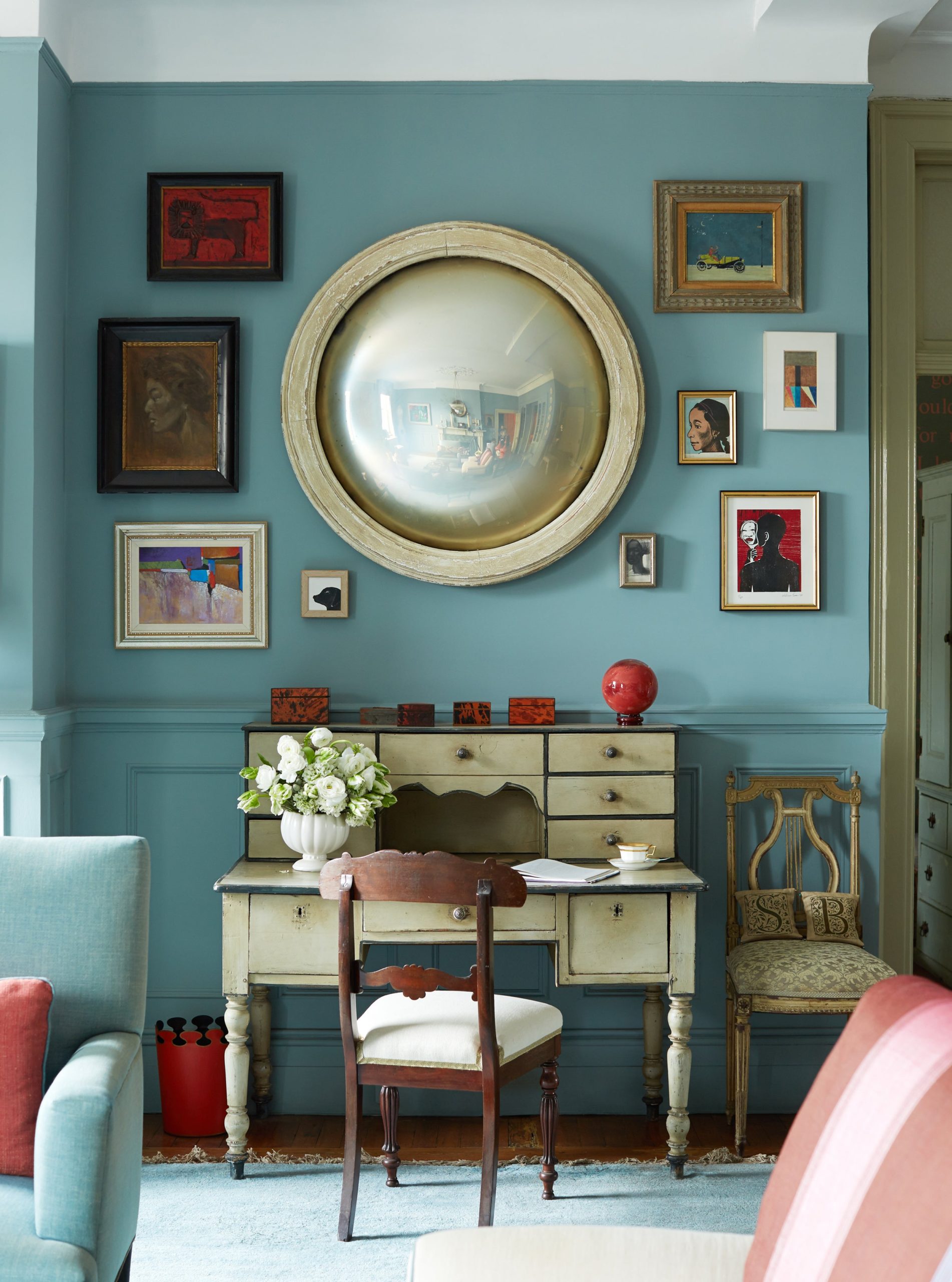 CONTEMPORARY ART
NICOLEHOLLIS conceives timeless interiors that elevate the human spirit. The Studio offers a holistic approach to the art of living through residential, hospitality, and product design.
The client for this project on San Francisco's Russian Hill is an avid art collector focused on emerging California artists. Matt Lipps' work pops against the inky moodiness of charcoal-gray grasscloth and an expressionistic Marc Phillips rug.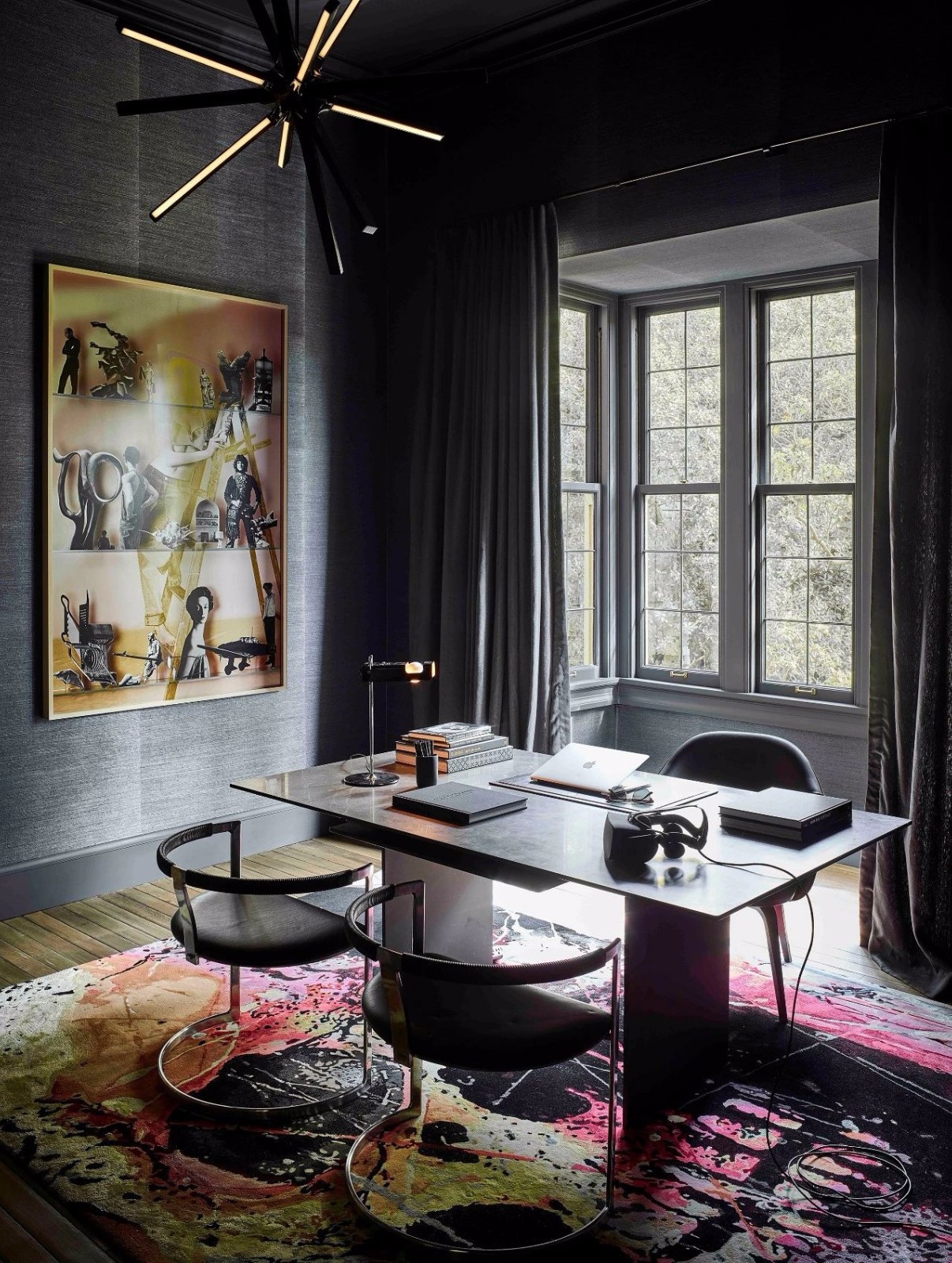 LIVING ROOM
TRADITIONAL ART
"I believe in the old definition of art, which is that it has no other purpose than to please the mind," one of the owners of this Northern California home told Pamela Shamshiri.
The owners had hung a sequence of Italian Renaissance paintings that emphasized the soaring ceiling height. Shamshiri explains that she wanted to soften the room's scale with design, making it intimate and warm, inviting colors and rich finishes. Anchoring the fireplace is an 1888 painting by Julius Grimm created from his scientific photographs of the moon.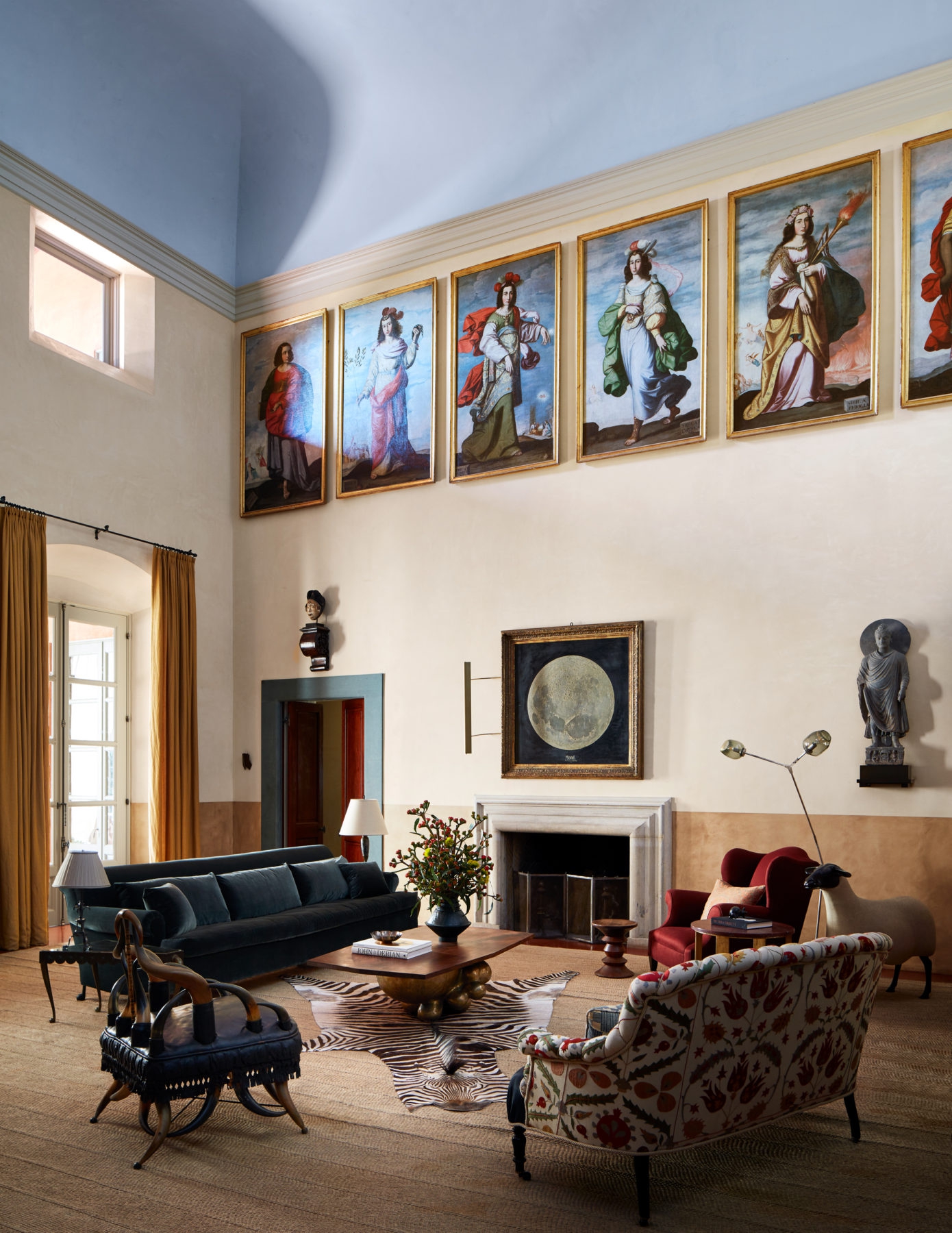 CONTEMPORARY ART
Thomas Pheasant is internationally recognized for his 30 years of creating interiors.
When working with bold collections, Thomas Pheasant likes furnishings to rely on strong forms that stand up to the art without distracting the eye with color or patterns.
Even when collections exert power, his goal is a serene space to enjoy their energy.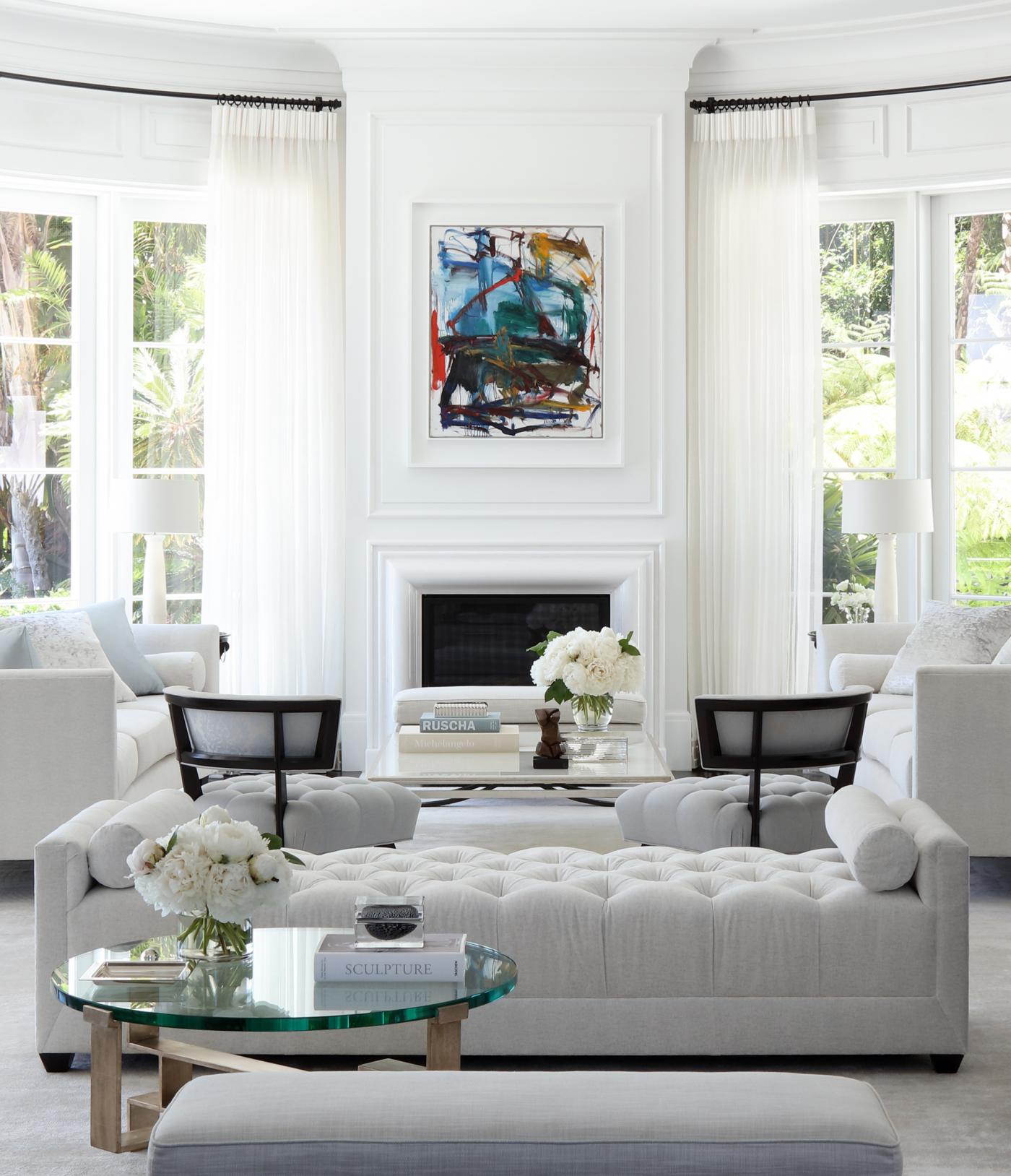 DINING ROOM
TRADITIONAL ART
A classically trained architect specializing in high-end residential and commercial interiors, Jennifer Vaughn Miller's unique ability to combine architecture and interior design enables her to master all aspects of a project.
In this dining room, the designer left the 19th-century architecture intact, adding an Osborne & Little contemporary wallpaper, a table with an industrial steel base, and a Murano glass chandelier.
A traditional portrait of unknown origin provides a dramatic contrast. The color, scale, and texture of the old, crackled painting lend some weight to the whimsical Victorian details.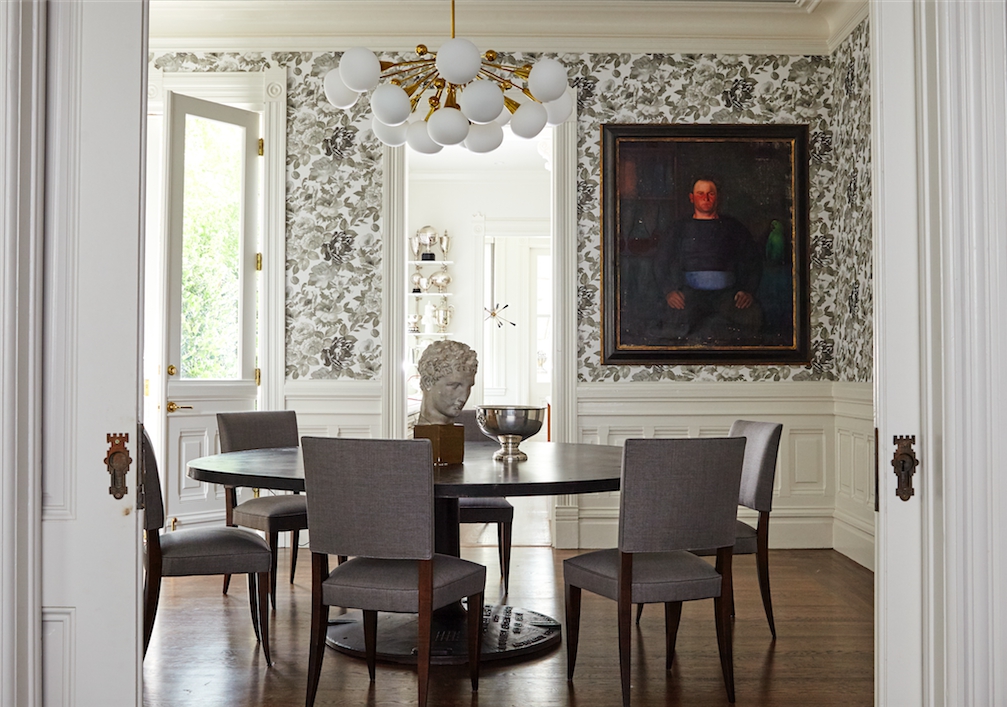 CONTEMPORARY ART
Samuel Amoia's passion for interior design originated with his extensive international travel, which has allowed him to see and experience first-hand some of the world's most prestigious living environments.
In this dining room in New York's Soho, Hisao Hanafusa's graphic artwork contrasts with the textures of a blackened-steel and wood table surrounded by chairs made of natural fiber and wood.
The art piece served as a strong focal point to anchor the entire room and create interesting tension and balance with the chairs and Volker Haug chandelier.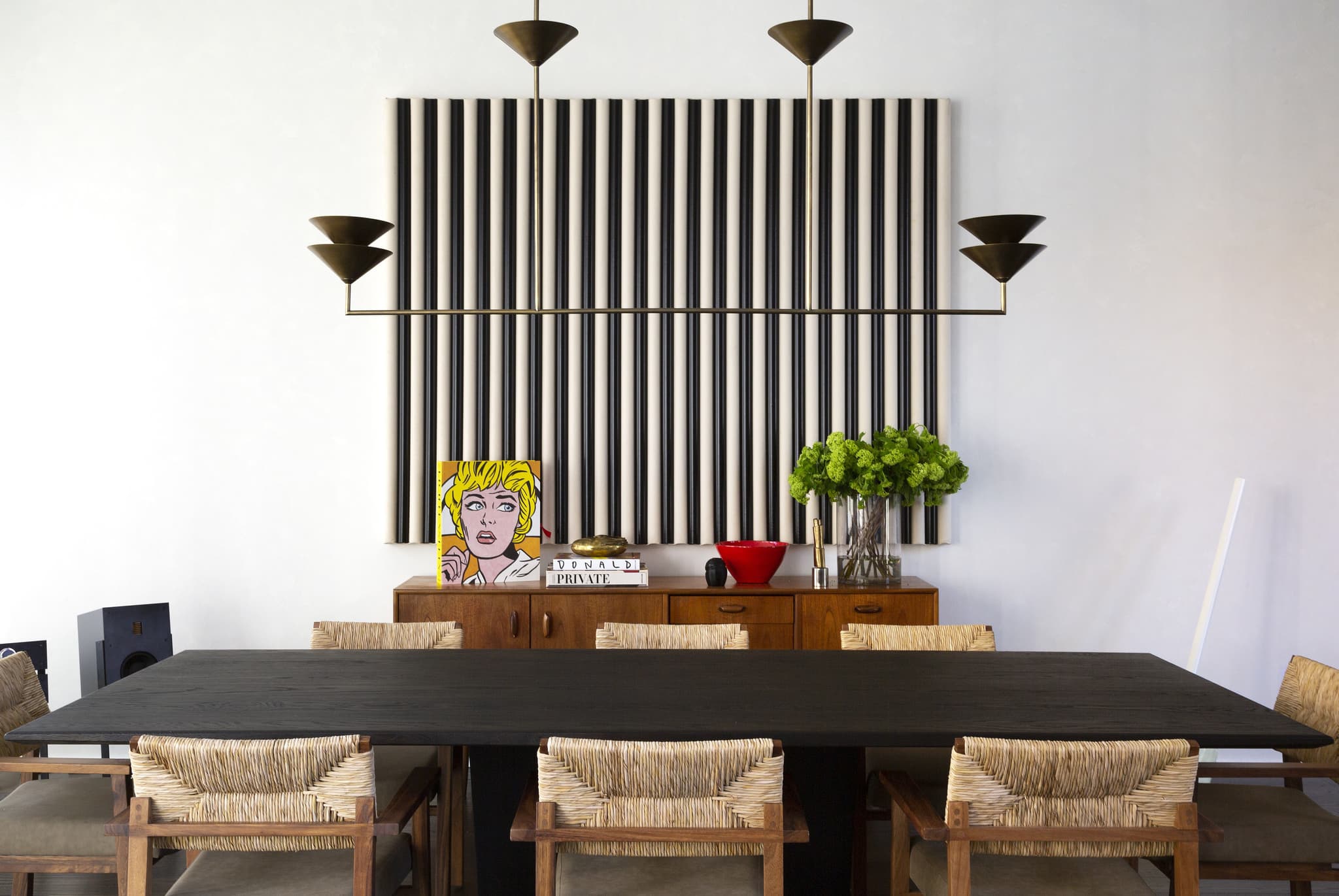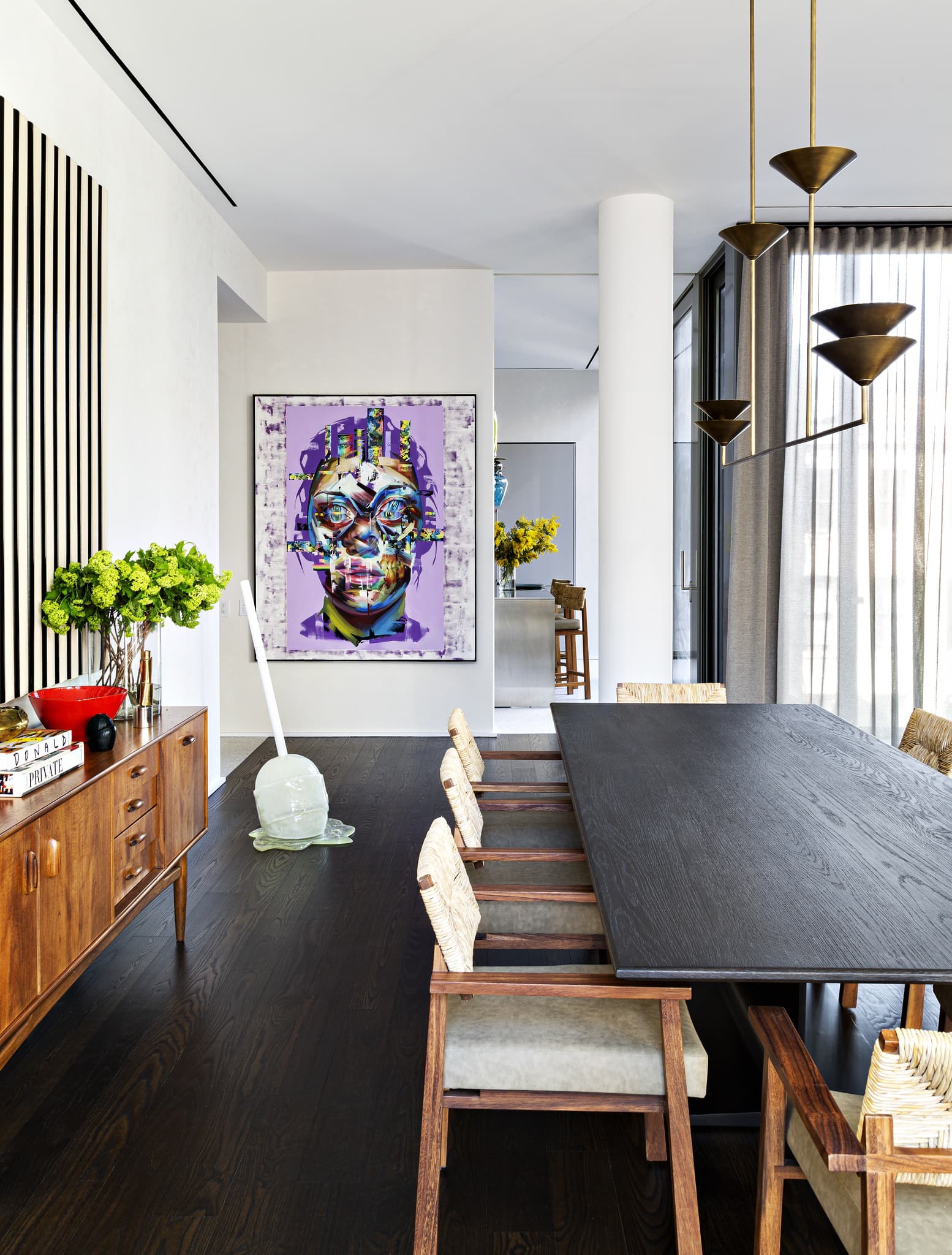 We really hope you liked our article. Feel free to pin all the images to your favourite Pinterest board. Meanwhile, you can also visit our Pinterest boards to get more inspirations.
Get more ideas for your projects and find functional, stylish, and sizable lighting and furniture choices: