These are the 20 AD Works Of Wonder. For the first time, the architecture and design authority selected the best projects inaugurated in 2021, all over the world.
Read the article and discover the 2022 AD WOW.

2022 AD WORKS OF WONDER: CHAPEL OF SOUND, CHINA
Conceived to look like a massive, precariously balanced boulder mysteriously dropped into a mountain valley two hours from the center of Beijing, the Chapel of Sound expands the possibilities of the concert hall.
Beijing's OPEN Architecture, helmed by Li Hu and Wenjing Huang, crafted the dramatically cantilevered design in concrete mixed with local mineral-rich rocks, allowing it to blend into its surroundings. As a result, the building's semi-alfresco music chambers have a primordial, cave-like quality, their openings letting in natural light and affording views of the landscape, which is dotted with remnants of the Great Wall.
When the chapel is not in use as a concert venue, its blending of organic and industrial, indoors and out, open and closed makes it an ideal place for quiet contemplation, whether you're in one of its halls or up on the panoramic rooftop.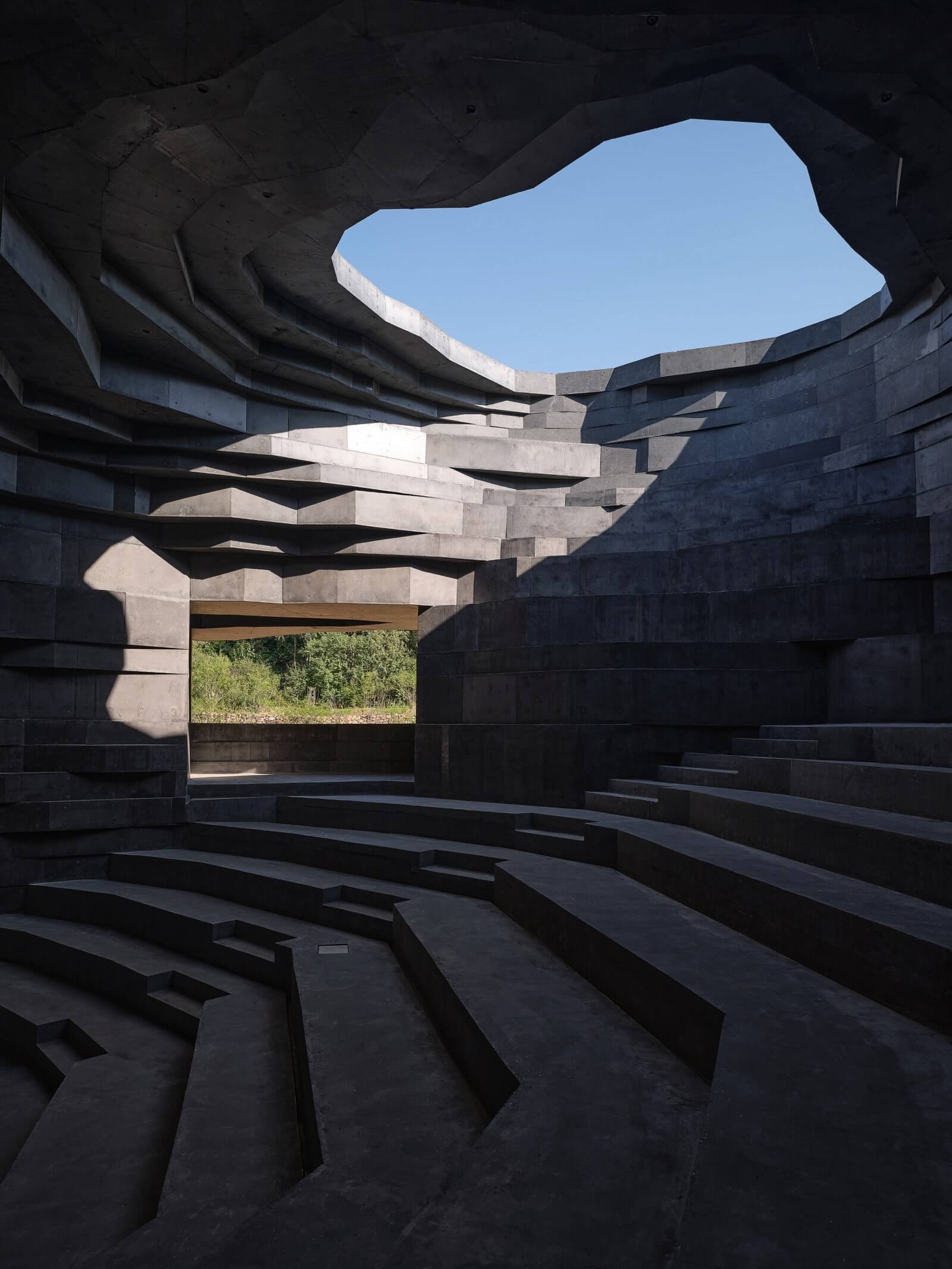 2022 AD WORKS OF WONDER: HAUSER & WIRTH MENORCA, SPAIN
As much a multifaceted, highly immersive art destination as it is a commercial gallery, the latest outpost of international blue-chip dealer Hauser & Wirth reimagines the outbuilding of an 18th-century naval hospital on the largely abandoned Isla del Rey, just off the coast of the Balearic island of Menorca.
Hauser & Wirth tapped Argentine-born, Paris-based architect Luis Laplace to sensitively and sustainably carve eight open, airy white-washed gallery spaces—as well as an education lab, a restaurant, and a shop—out of the original stone-walled, tile-roofed maritime buildings.
They've opened onto wild-feeling Mediterranean perennial gardens by celebrated Dutch landscape designer Piet Oudolf along with an outdoor sculpture trail featuring works by such 20th-century greats as Louise Bourgeois and Joan Miró.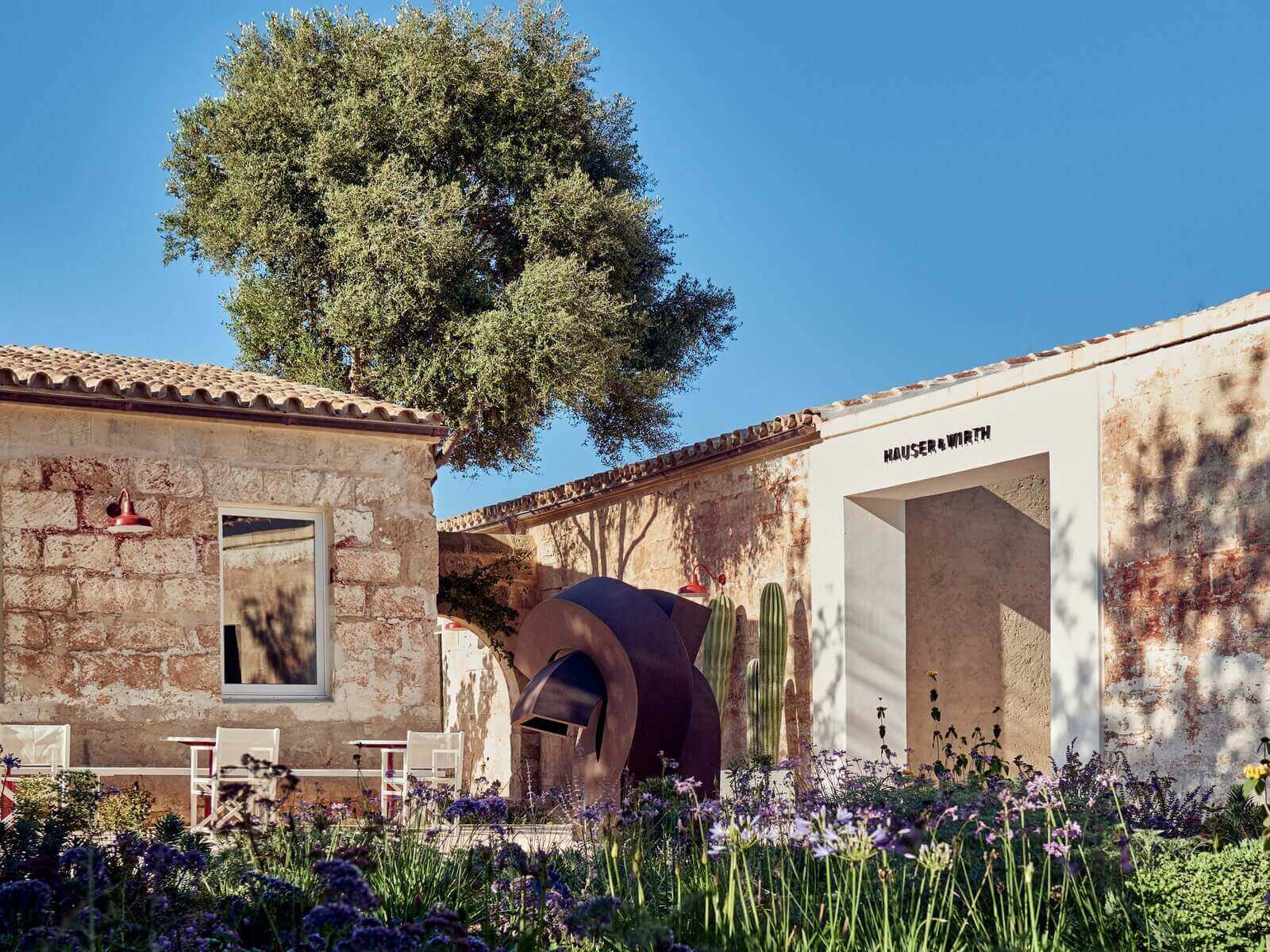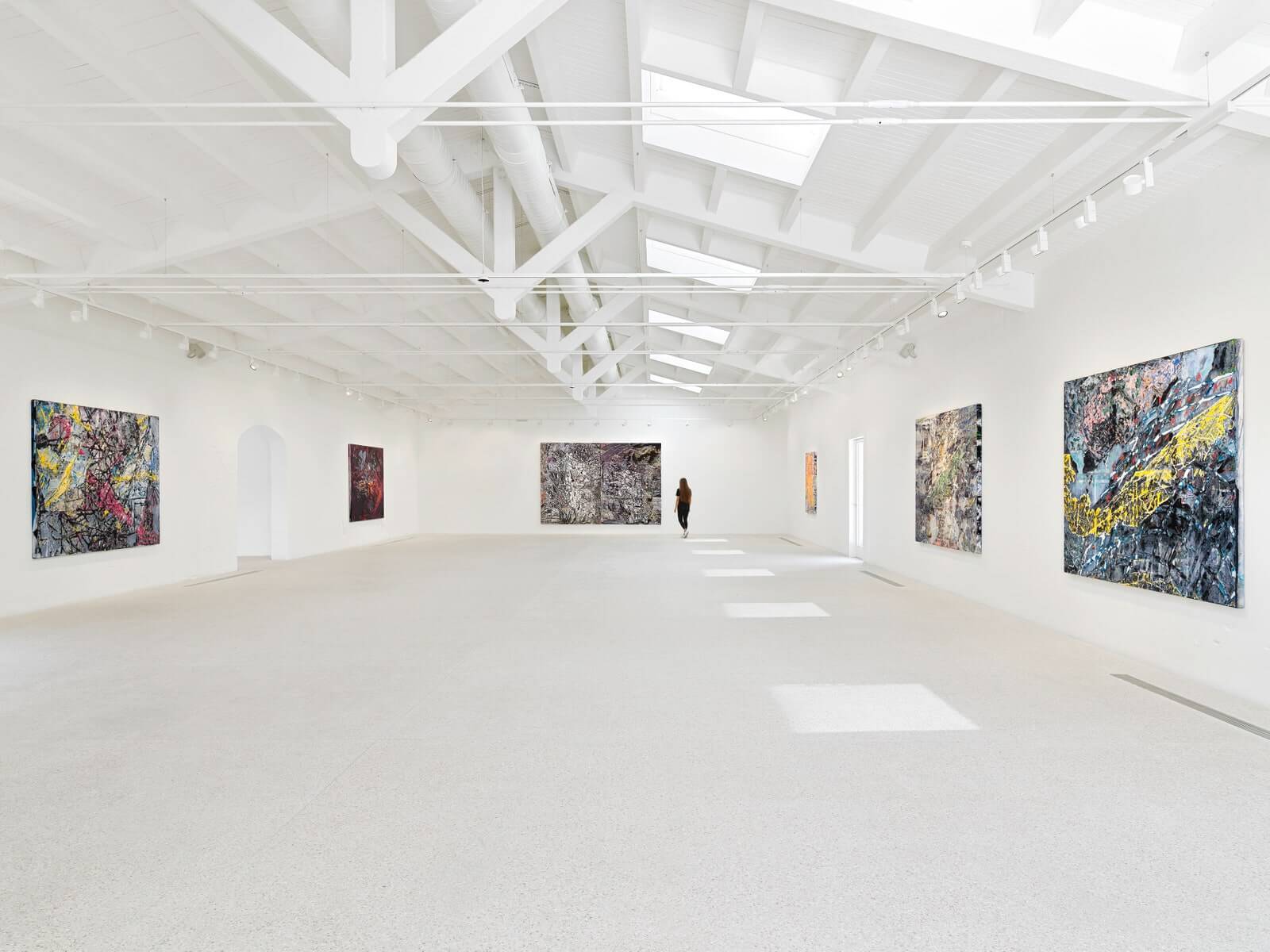 2022 AD WORKS OF WONDER: LUMA ARLES TOWER, FRANCE
Pritzker Architecture Prize-winning architect Frank Gehry inaugurated Luma Arles Tower, a center in southern France, on 26th June 2021.
Named The Tower, the stainless steel-clad cultural building is the centerpiece of the Luma Arles arts campus. According to Gehry, the design references Arles' Roman architecture, nearby mountains.
It was designed in part to pay homage to Vincent van Gogh's The Starry Night, the masterpiece painted during the artist's stay at an asylum in nearby Saint-Rémy-de-Provence.
Sheathed in over 11,000 reflective steel panels, the glittering Luma Arles emerges from the Provençal landscape like a windswept tree. The 56-meter-high arts building contains the exhibition galleries, archives, a library, offices, seminar rooms, and Luma Arles cafe.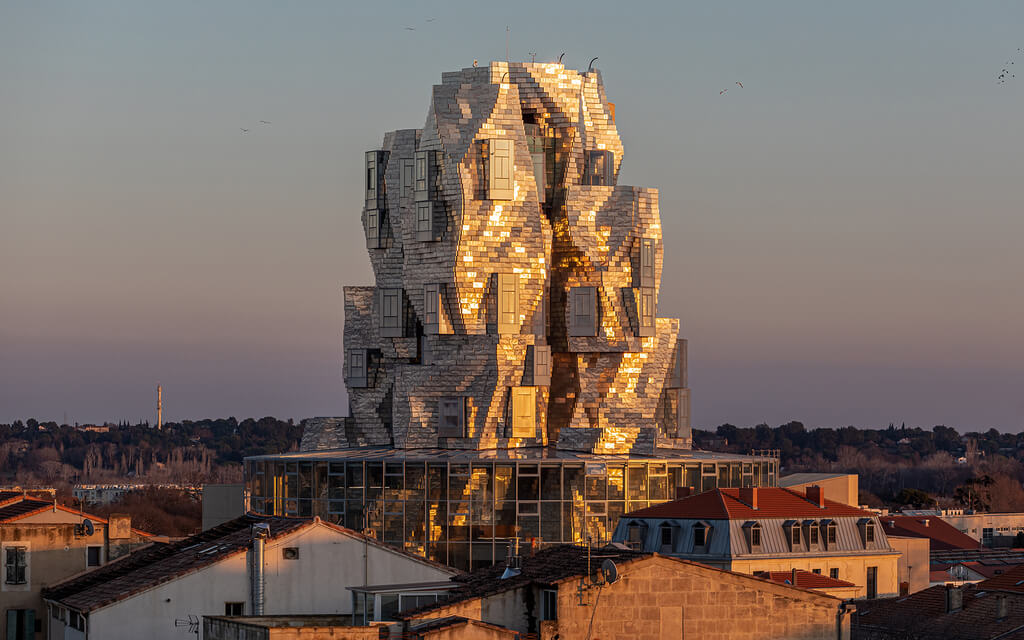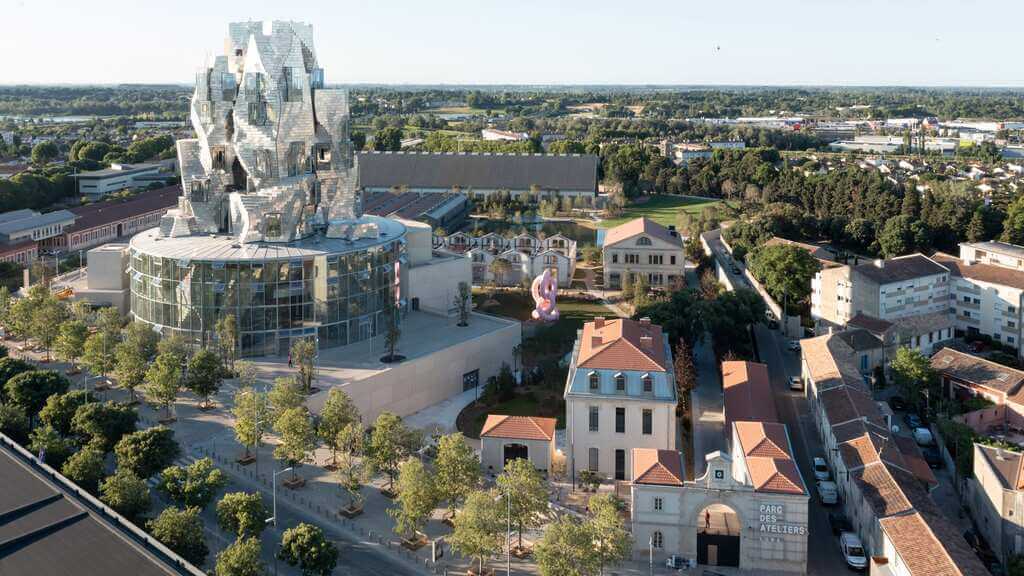 DISCOVER THE LUMA ARLES TOWER HERE
2022 AD WORKS OF WONDER: MERCADO PÚBLICO MATAMOROS, MEXICO
Designed as part of a competition sponsored by one of Mexico's top universities, this dramatically angular brickwork structure near the U.S. border serves as a prototype for future public buildings intended for vulnerable areas of the country.
A collaborative known as C733—composed of architects Gabriela Carrillo, Carlos Facio, Eric Valdez, Israel Espín, and José Amozurrutia—developed a scheme for a rectangular tree-planted plaza surrounded by 40 inward-facing vendor stalls. These are topped by metallic, monumentally sized inverted trapezoidal forms that provide shade and allow heat to escape. Conceived to encourage passive cooling and the capture of rainwater runoff, the market's flexible design focuses on sustainability, while its use of prefabricated elements allows for easier replication.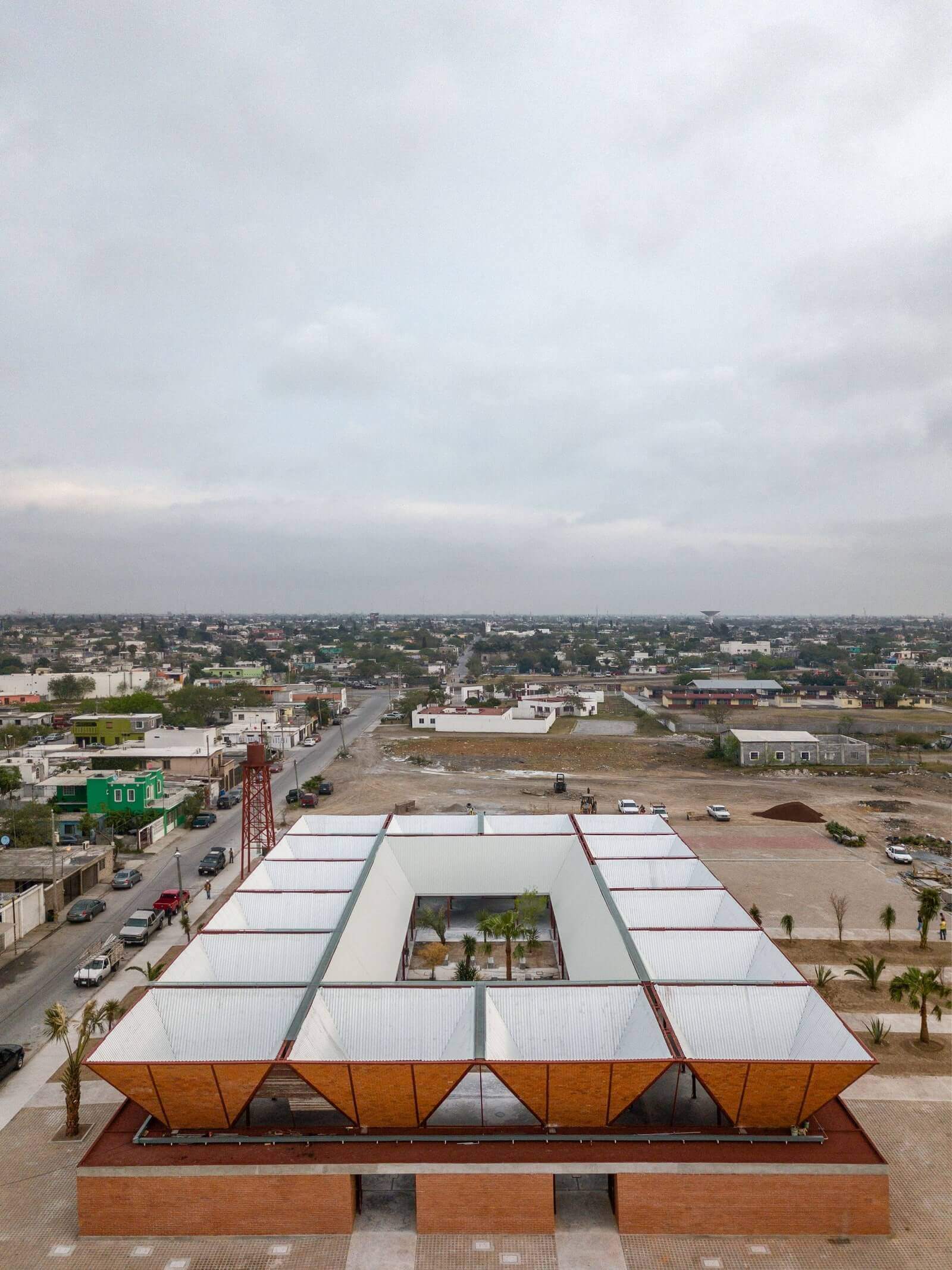 2022 AD WORKS OF WONDER: TECLA, ITALY
Birthplace of Vitruvius and Palladio and arguably ground zero for classical architecture, Italy has now harnessed cutting-edge construction methods to give the world one of its first 3D-printed houses.
Bologna- and Milan-based architect Mario Cucinella created Tecla—named for Italian writer Italo Calvino's fictional city of Thekla—with the Italian company WASP, a specialist in 3D printers.
The 645-square-foot structure's shell is made entirely of local clay, its curving walls and arched ceilings cocooning a cozy, minimally adorned bedroom, bathroom, and living room.
With its simple domed shape and humble materials, the project pays homage to ancient architecture even as it leverages future-forward 21st-century technology. It also responds to contemporary problems like climate change and housing shortages: A Tecla home can be constructed relatively sustainably and cheaply—all in just 200 hours.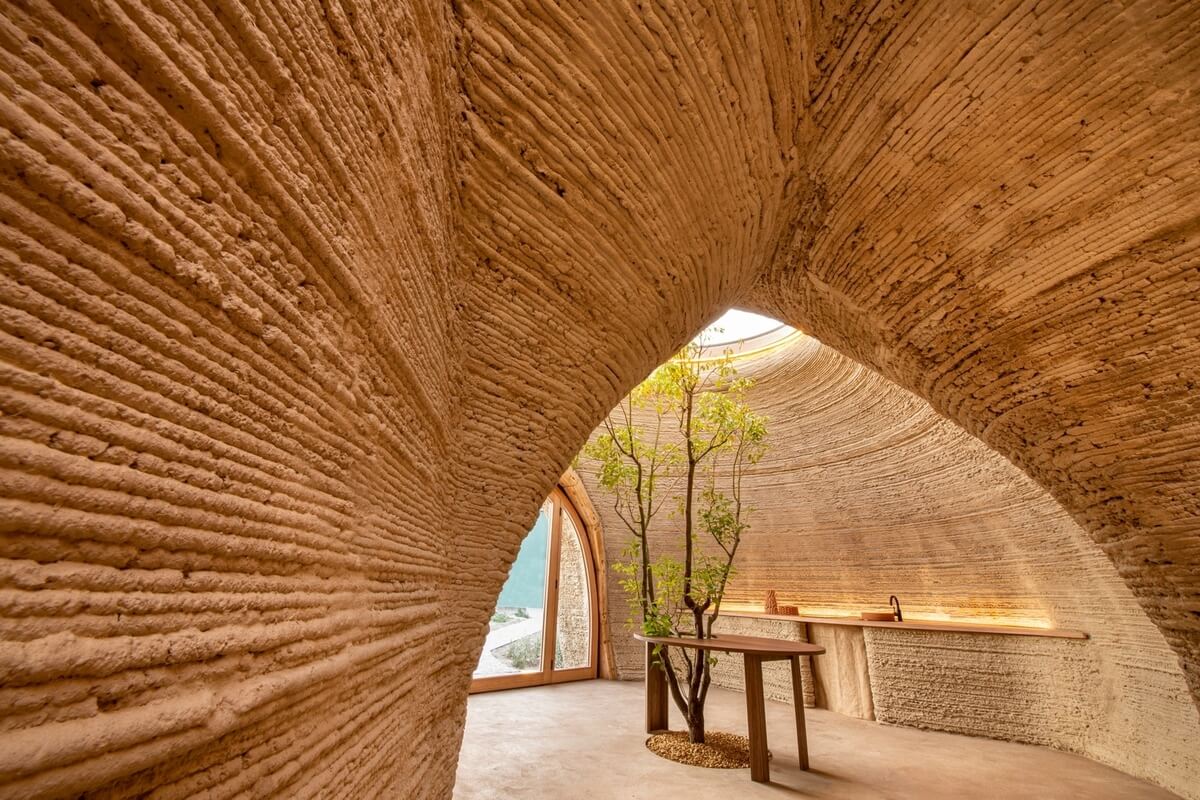 2022 STARTUP LIONS CAMPUS, KENYA
Insect habitats might seem unlikely aesthetic inspirations, but Berlin-based firm Kéré Architecture built on these humble foundations to achieve a strikingly sophisticated design for Kenya's Startup Lions Campus.
Set amid umbrella acacia trees on the banks of the Rift Valley's Lake Turkana, this information and communication technologies school by Burkina Faso–born architect Diébédo Francis Kéré provides free training, networking, and housing space to 200 young entrepreneurs.
Its two tiers of terra-cotta-colored, plaster-covered local stone buildings feature a series of pergola-shaded terraces and a trio of tall, chimney-like towers. The latter borrows not only their look but their thermodynamic properties from the earthen termite mounds dotting the region: Their angular shape, narrower at the top, draws hot air up and out of the buildings, while openings lower down let cool air in.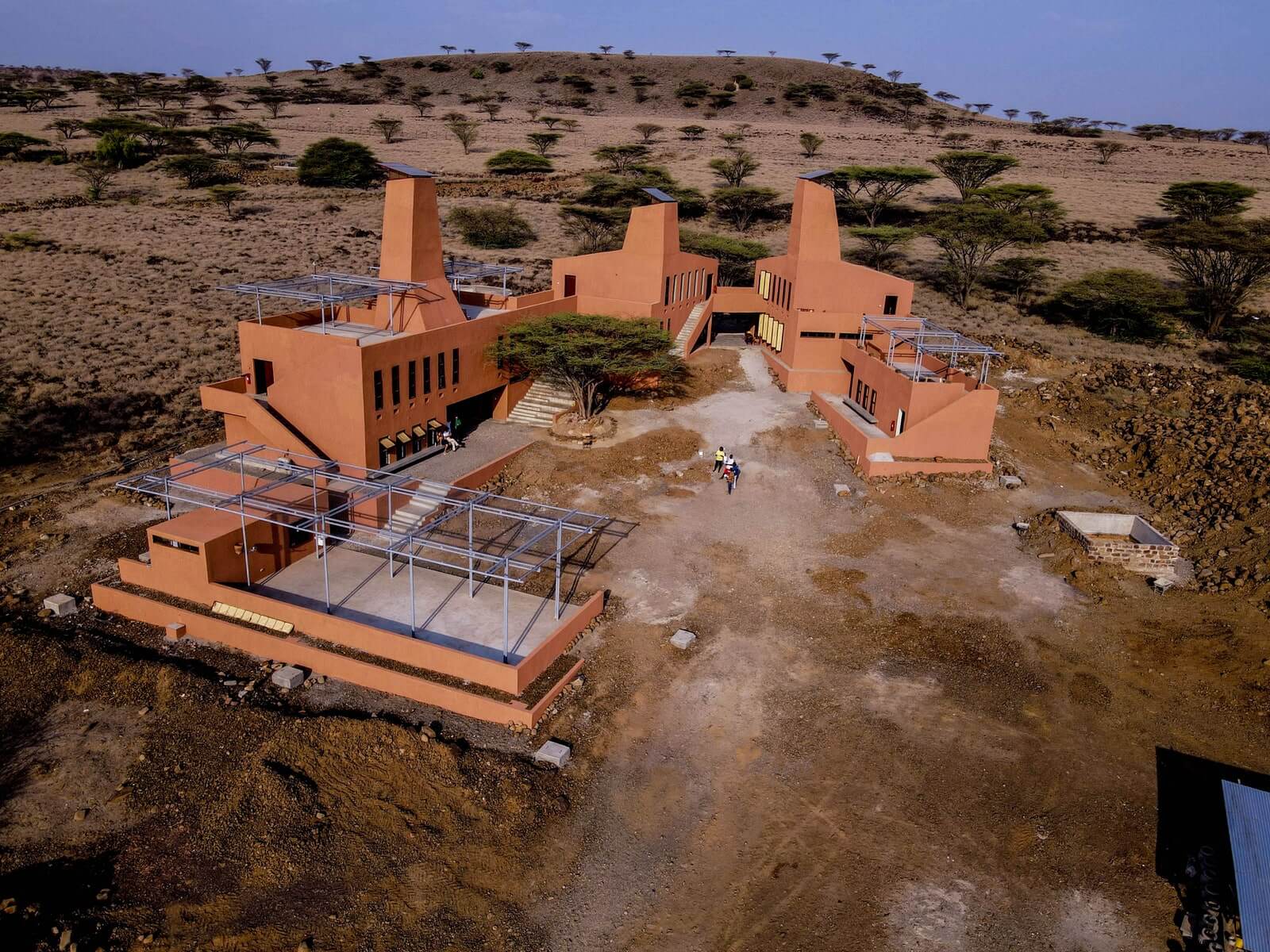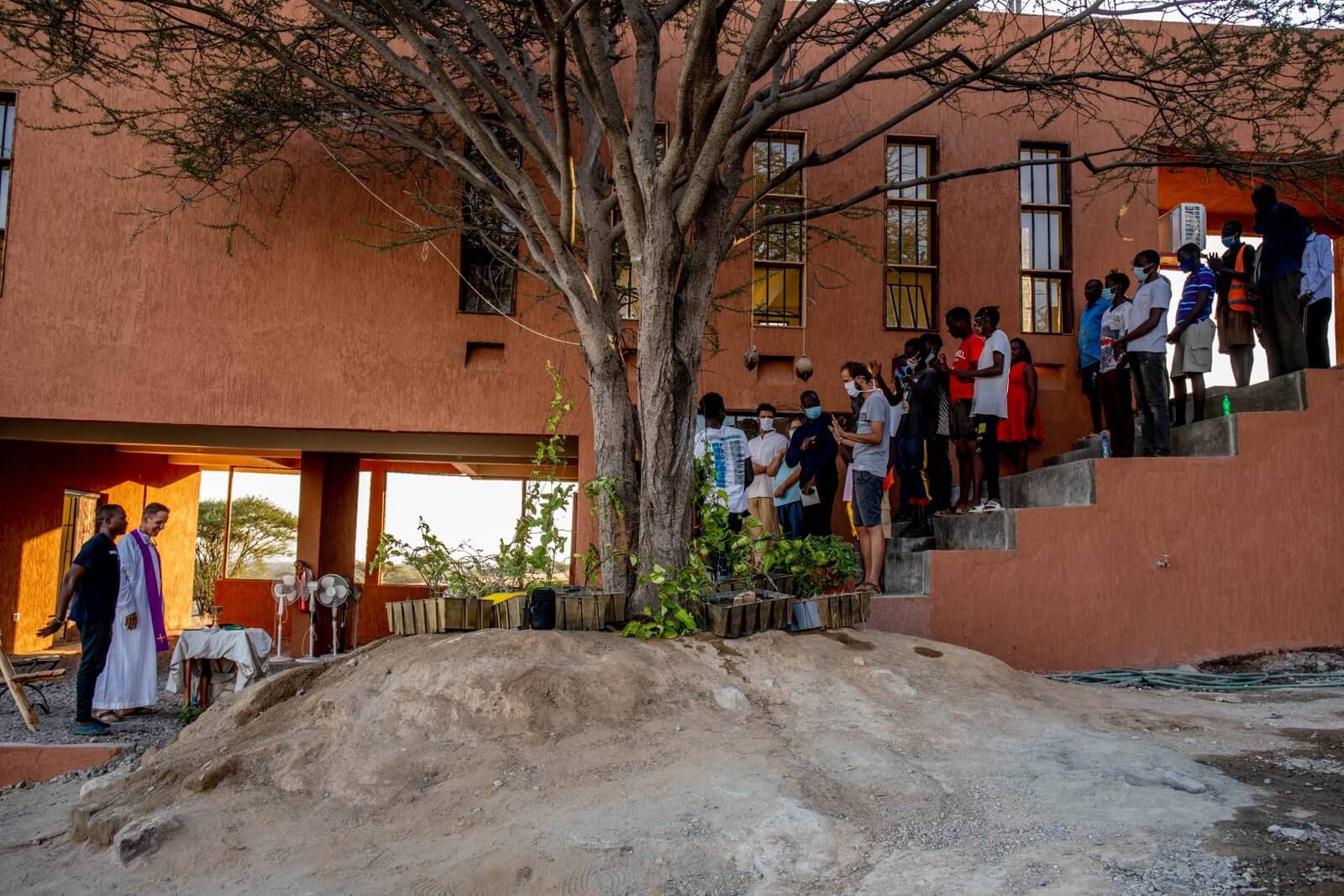 2022 AD WORKS OF WONDER: SHANGHAI ASTRONOMY MUSEUM, CHINA
Ennead Architects completed the world's largest astronomy museum, set within an expansive green zone in Shanghai, China. The monumental was open on July 18, 2021.
The building is designed without straight lines or right angles, repeating the geometry of the universe and the dynamic energy of celestial movement. Its dynamic form creates an immersive experience that places visitors in direct engagement with natural astronomical phenomena.
Ennead Architects wanted to create a place where the institutional mission is fully involved with an architecture that is teaching and finds form in some of the fundamental principles that shape our universe.
The big idea of the Shanghai Astronomy Museum was to introduce an instinctive experience of the subject matter into the design and deliver that before visitors even enter the building. Moreover, at the end of the visit, this culminating moment is direct with the sky, framed and supported by the architecture.
At 420,000 square feet, the new astronomical branch of the Shanghai Science and Technology Museum is the largest museum worldwide, exclusively dedicated to the study of astronomy.
DISCOVER THE SHANGHAI ASTRONOMY MUSEUM HERE
2022 AD WORKS OF WONDER: NEUE NATIONALGALERIE, GERMANY
Both an art museum and a modernist monument that has achieved icon status, Berlin's Neue Nationalgalerie was one of master architect Mies van der Rohe's last significant commissions and the only European building he designed after fleeing Germany before World War II. Now, following nearly a decade of painstaking refurbishment by British architect David Chipperfield—the first such project since the building's unveiling in 1968—it has emerged almost imperceptibly changed but markedly improved.
Updated features include entirely new glazing of its glass curtain wall; a refreshed steel canopy; and a reconfigured lower level within the structure's granite-clad plinth that houses a cloakroom, café, shop, and other services. All told, this work required the removal and precise restoration of some 35,000 design elements.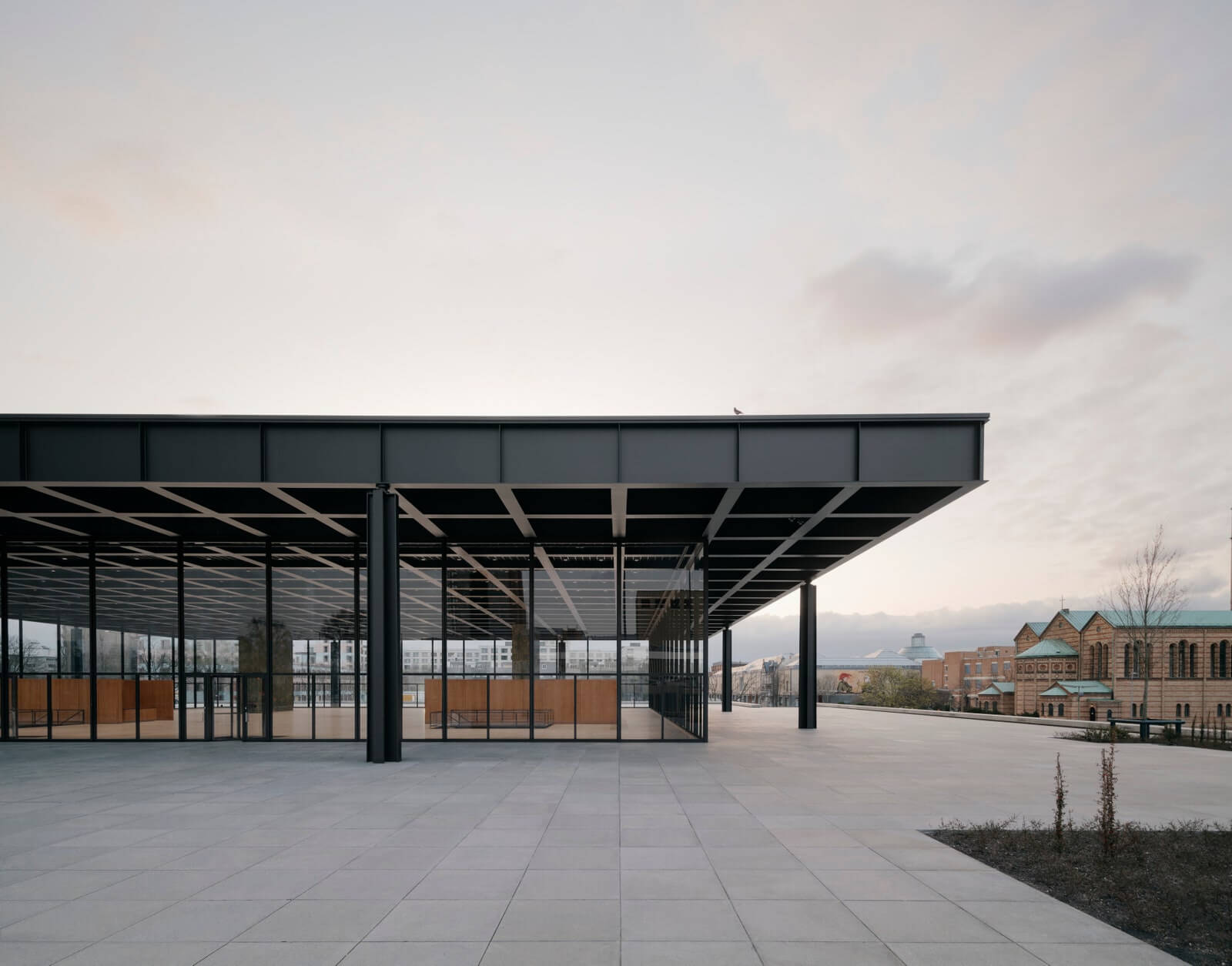 2022 AD WORKS OF WONDER: HOTEL CHEVAL BLANC, FRANCE
Many of the coveted labels of French luxury-goods powerhouse LVMH are inextricably linked to Paris, and yet the company's hotel brand, Cheval Blanc, has never had a property in the City of Light until 2021.
This fall, AD100 architect Peter Marino unveiled his decadent transformation of La Samaritaine, the 1928 Art Deco department store initially conceived by designer Henri Sauvage.
Updates feature rich stone floors, straw-marquetry walls, and leather-wrapped elevators with lighting installations by Thierry Dreyfus.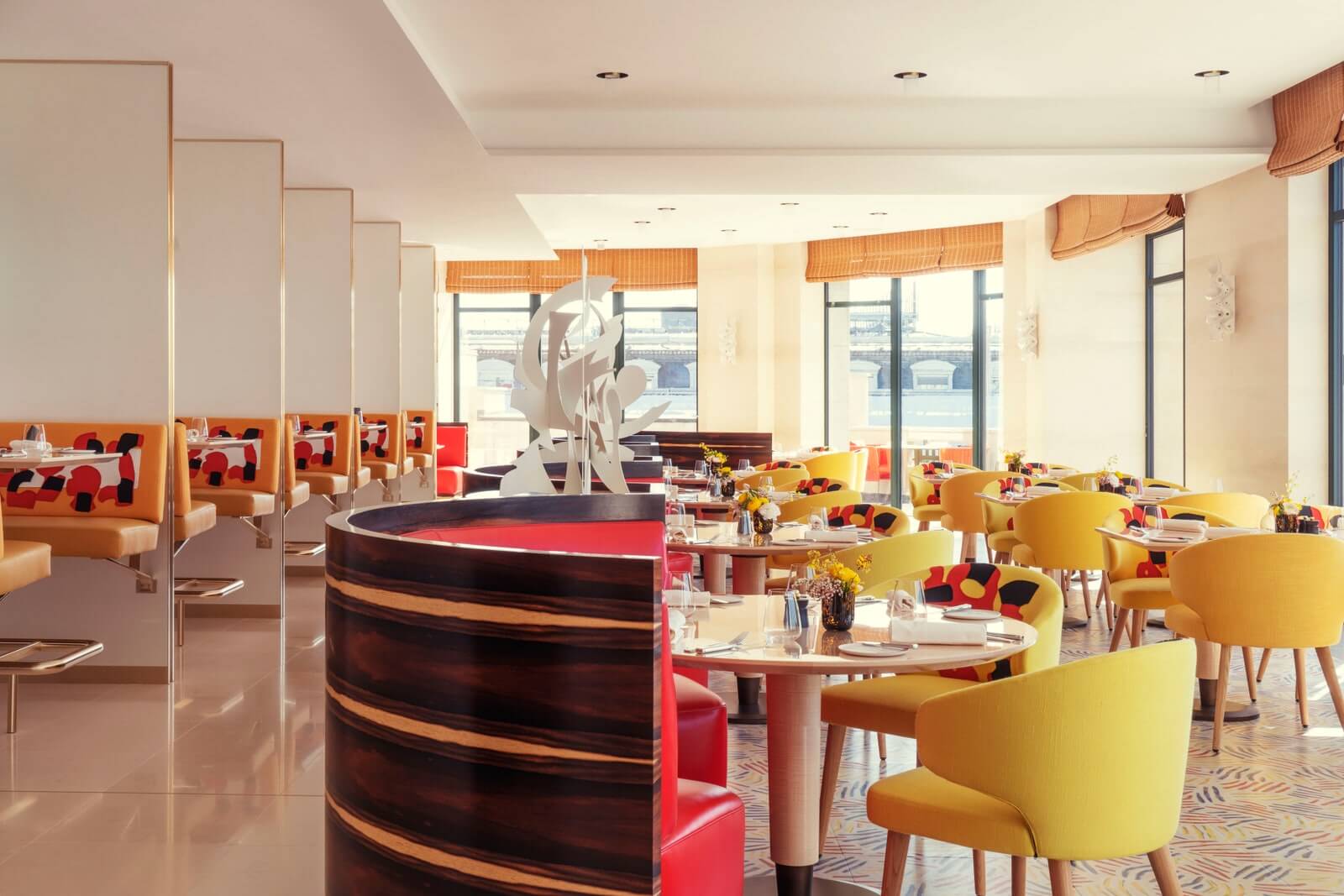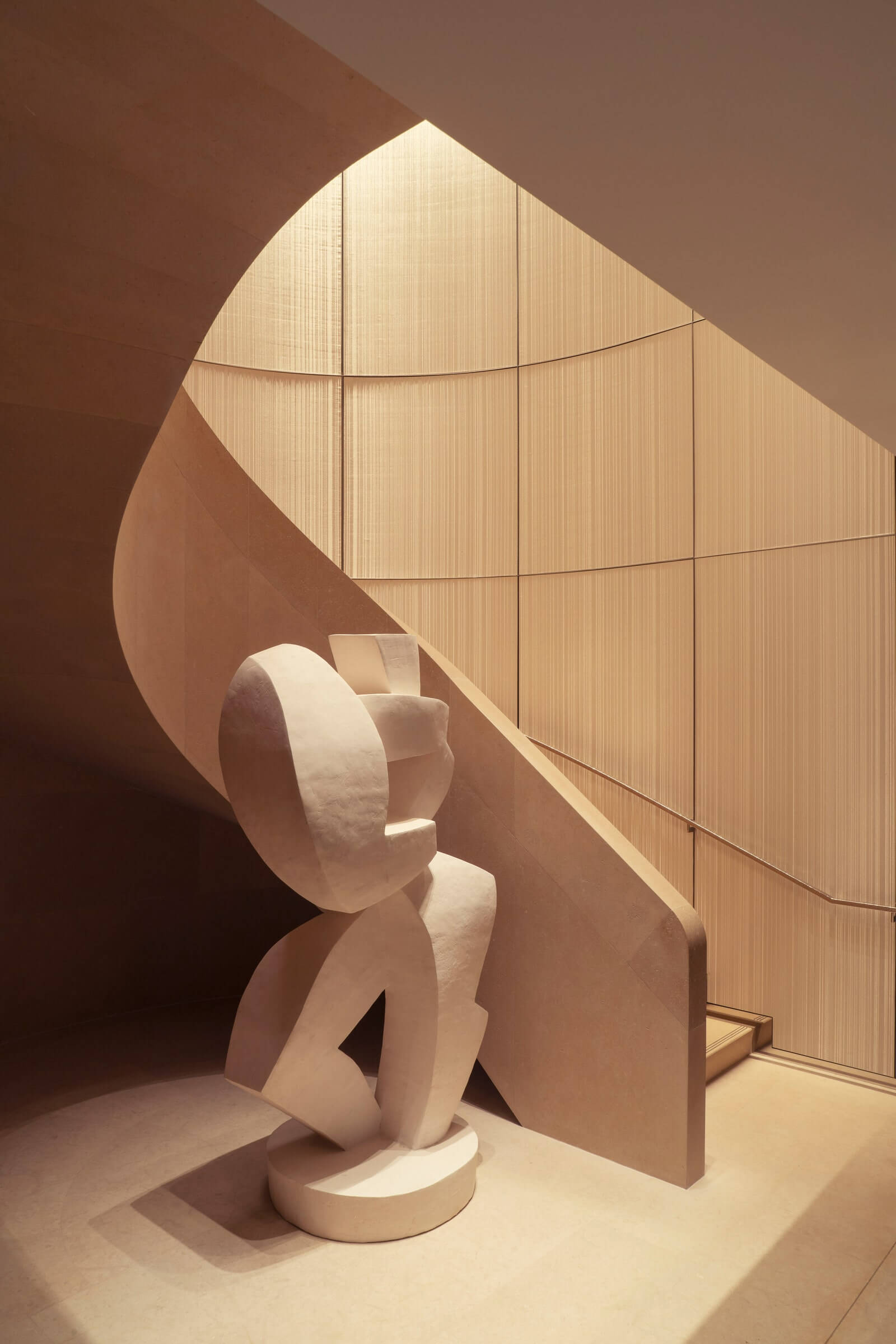 2022 AD WORKS OF WONDER: FRICK MADISON, US
While the Frick's Beaux Arts mansion on Manhattan's Upper East Side enters the final two years of a renovation orchestrated by AD100 designer Annabelle Selldorf, the museum's collection of European masterpieces has moved into an equally iconic but perhaps more iconoclastic architectural masterpiece nearby, on Madison Avenue.
Designed by Marcel Breuer in 1966 as the home of the Whitney Museum of American Art, the Brutalist building more recently served as an annex for the Metropolitan Museum of Art.
Now, the Frick has reconceived the space, also spearheaded by Selldorf, to create a temporary home for works by the likes of Bellini, Fragonard, Holbein, and Vermeer, several newly juxtaposed with contemporary creations by Doron Langberg and Salman Toor. Here, Breuer's coffered concrete ceilings, cement walls, and slate floors reveal the Frick's Old Master works in an entirely new light.
2022 AD WORKS OF WONDER: THE ACADEMY MUSEUM OF MOTION PICTURES, US
Pritzker Prize-winner Renzo Piano proved the perfect architect for the American Academy of Motion Picture Arts & Sciences to turn to for its new Los Angeles museum.
Not only is Renzo Piano known for his cultural projects—like Houston's Menil Collection or New York's Whitney Museum—he is also a consummate cinephile. To create the 300,000-square-foot, $482 million Academy Museum, Piano oversaw the adaptive reuse of the Streamline Modern–style May Company department store, a gold-leaf landmark constructed in 1939 and now refitted with galleries. He then paired it with a 1,000-foot, red-carpet-swathed theater in a newly built—and entirely iconic—concrete-and-glass sphere inspired by early-20th-century zeppelins.
Connecting the two buildings are a pair of elegant bridges and the sort of signature industrial-chic external staircases Piano pioneered at Paris's Centre Pompidou.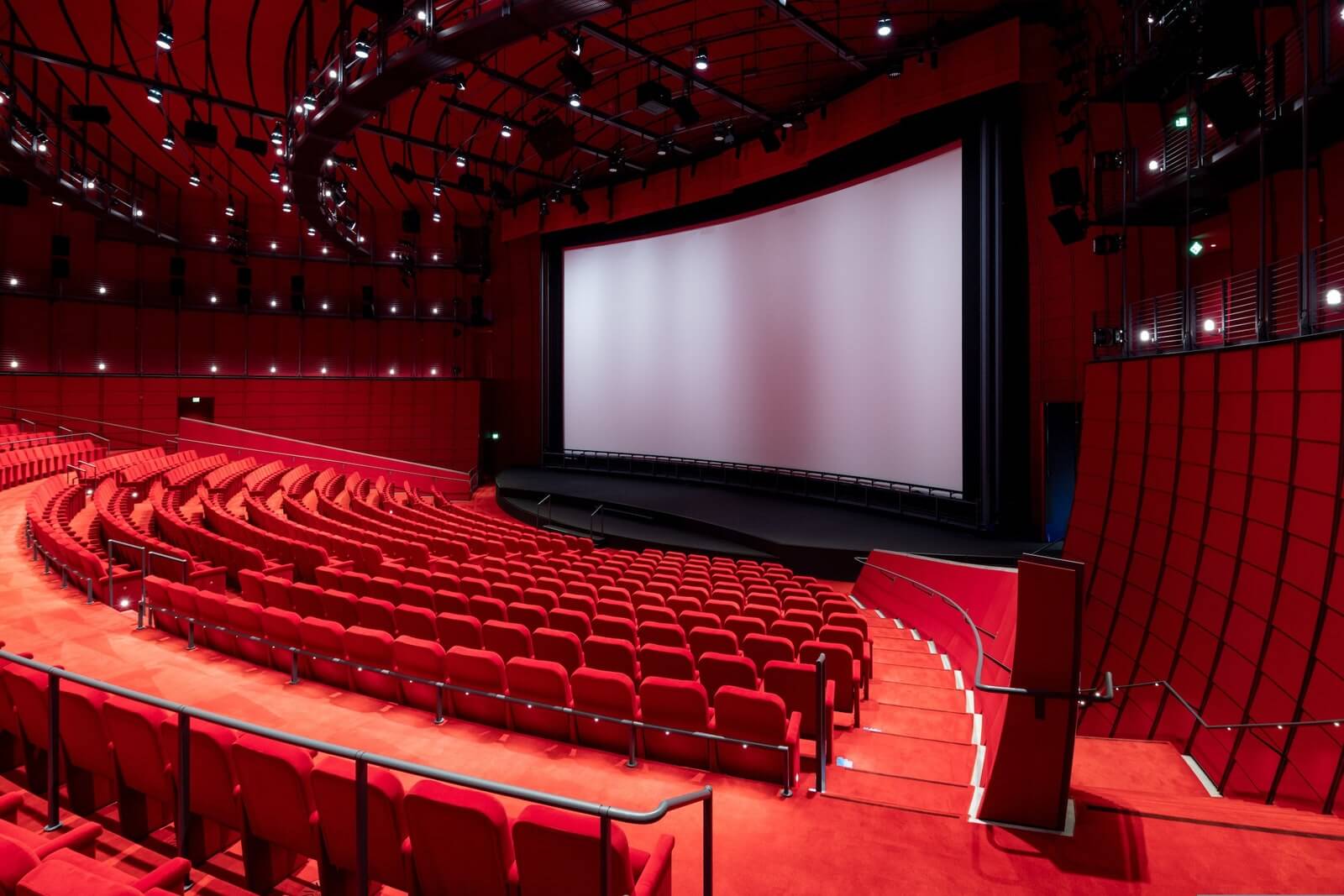 2022 AD WORKS OF WONDER: MUSEUM OF THE FUTURE, UAE
The ambitious US$136 million Museum of the Future designed by Shaun Killa is destined to play a pivotal role in inspiring and nurturing imagination globally.
Museum of the Future has pushed the boundaries of design. It is one of the most complex steel and façade projects to date. The building is more than a cultural icon. Moreover, it is a great example of collaboration and sharing expertise. A regional design practice engaged with global leaders in new building materials and techniques and incorporated their pioneering technologies into the built environment.
The primary inspiration of the building's unique shape was to create a form that embodies humanity and its aspirations. Therefore, the physical building embodies floors and spaces. They represent our understanding of the 'future' as we know it today and possibly for the next few years. In contrast, the void represents the 'unknown,' and people who seek the unknown innovate and discover new ideas that help guide humanity towards a better future.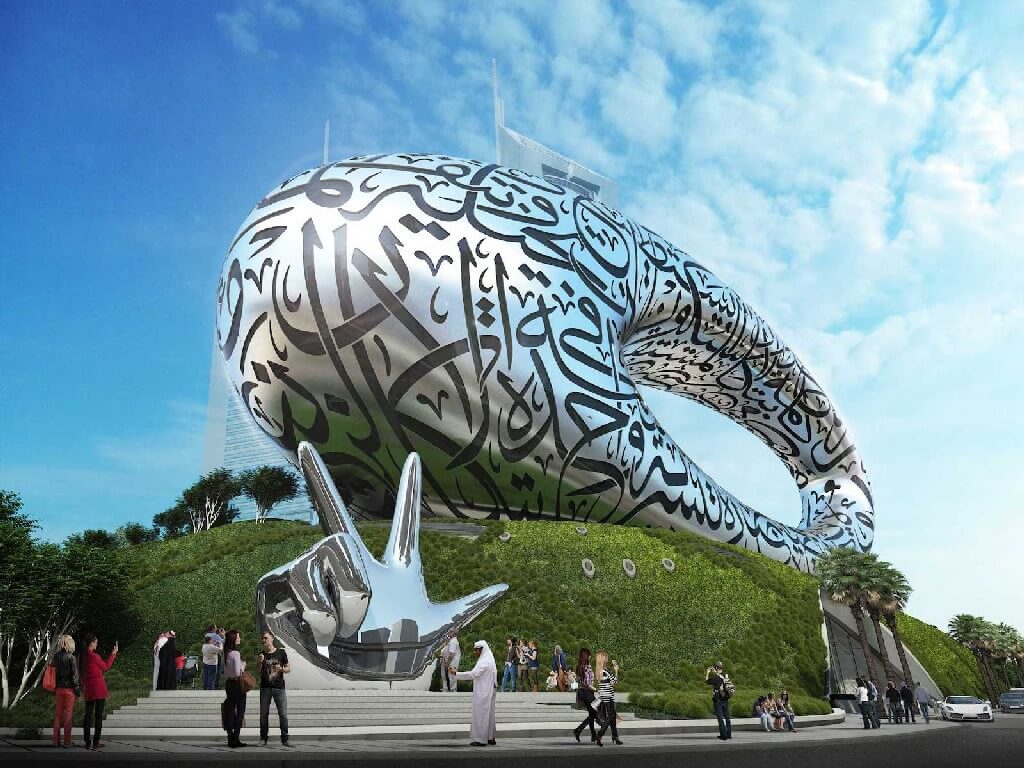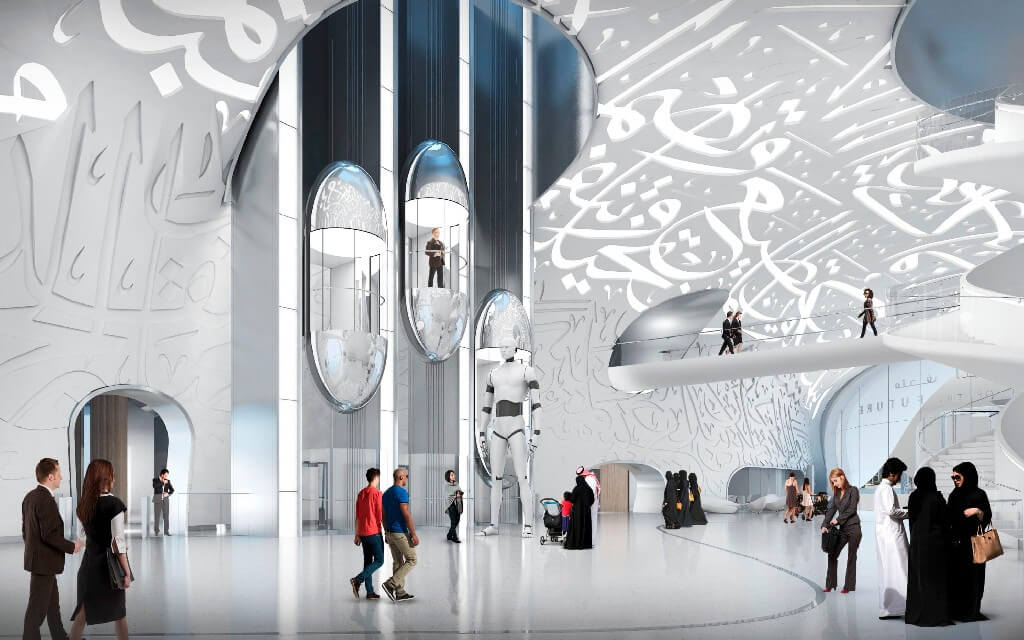 DISCOVER THE MUSEUM OF THE FUTURE HERE
AD WORKS OF WONDER: CAN TERRA, SPAIN
Husband-and-wife architects Antón García-Abril and Débora Mesa, of Madrid- and Boston-based Ensamble Studio, have taken adaptive reuse to new heights—and depths. Their Ca'n Terra ("House Belonging to the Earth" in Catalan) carves a residence out of and into an abandoned 19th-century sandstone mine on the Mediterranean island of Menorca. Reminiscent of Egyptian tombs and Native American cliff dwellings, the home blurs the distinction between indoors and out, organic and manufactured, wild and domestic.
Mesa and García-Abril, who teaches at MIT, began by creating 3D laser scans of the warren of spaces. Then they progressed to cleaning off decades of dirt and mold, cutting skylights into the quadruple-height space's darkest stretches and installing translucent plastic walls and windows to let in light while keeping out the elements. Now, comfortable bedding and seating rest on stone plinths and within niches; a kitchen sink bridges two rough-hewn stone blocks; and a grotto has become a sublime swimming pool.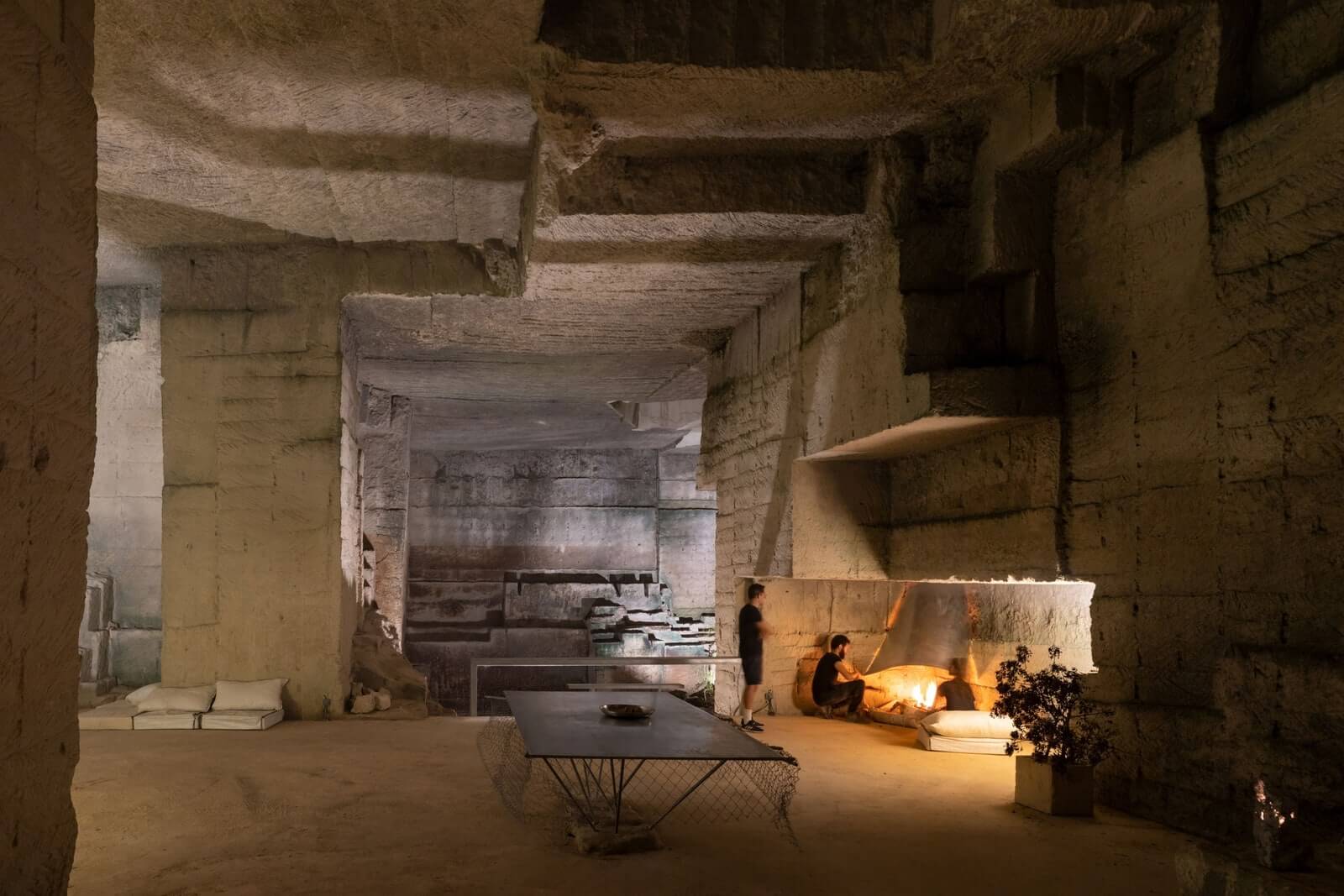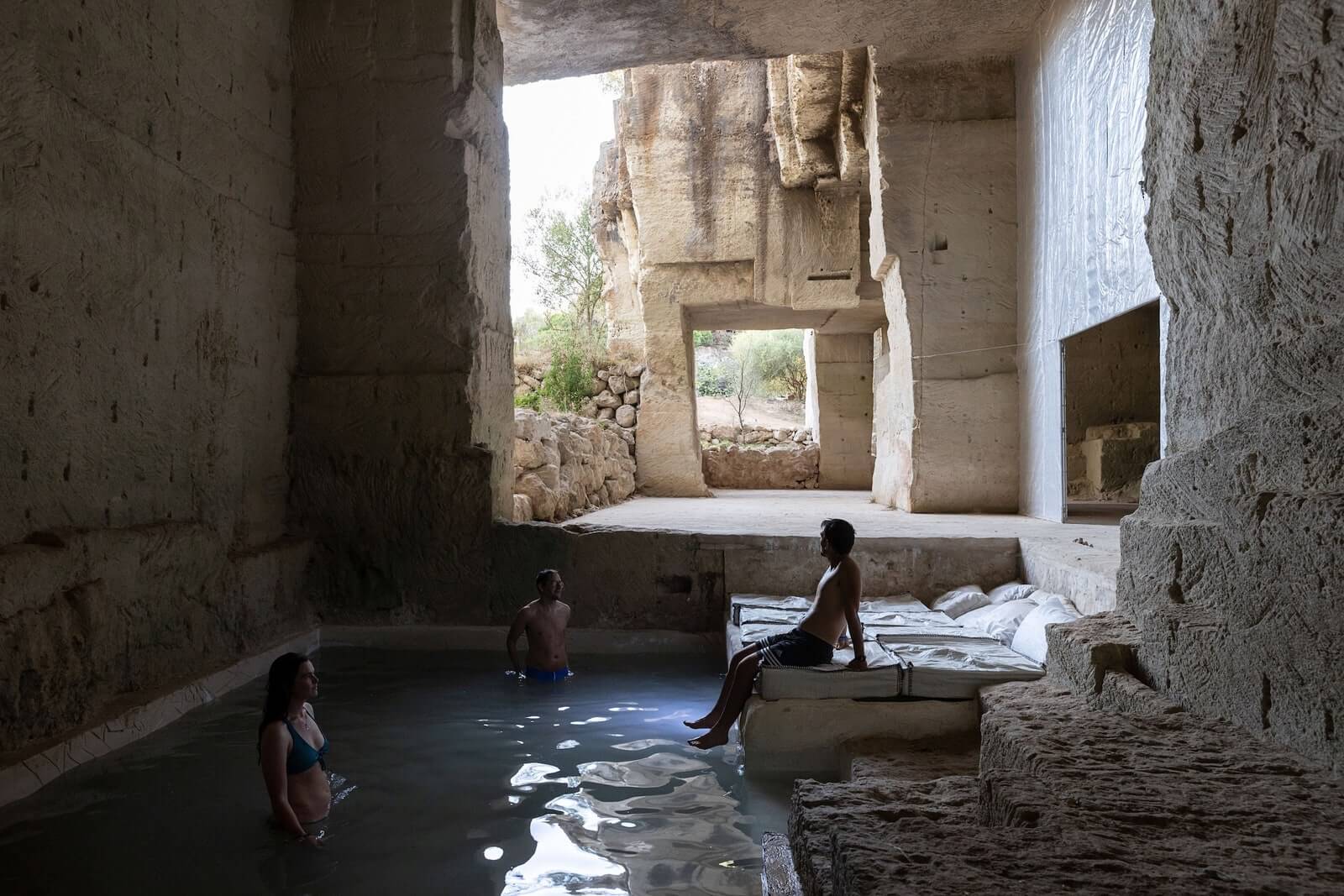 AD WORKS OF WONDER: GES-2 HOUSE OF CULTURE
For his first project in Russia, Pritzker Prize–winning architect Renzo Piano has transformed a 1907 power station on an island in the Moskva River into a five-acre cultural campus for the contemporary art–focused V-A-C Foundation.
Now, the plant's soaring, largely open cathedral-like spaces—once occupied by steam turbines and other machinery—contain a host of flexible exhibition and performance halls, as well as a library, shop, restaurant, classrooms, workshops, and areas for artist's residencies.
Replacing several ceilings with glass and switching out small-paned windows for large panels of plate glass, Piano has flooded the power station with natural light. In classic Piano style, the redesign celebrates the building's original industrial elements—exposed roof trusses, ductwork, columns, and beams—as well as its connection to the city and the natural world: On one side, the campus gives on to a broad-stepped embankment down to the river; on the other, a birch grove.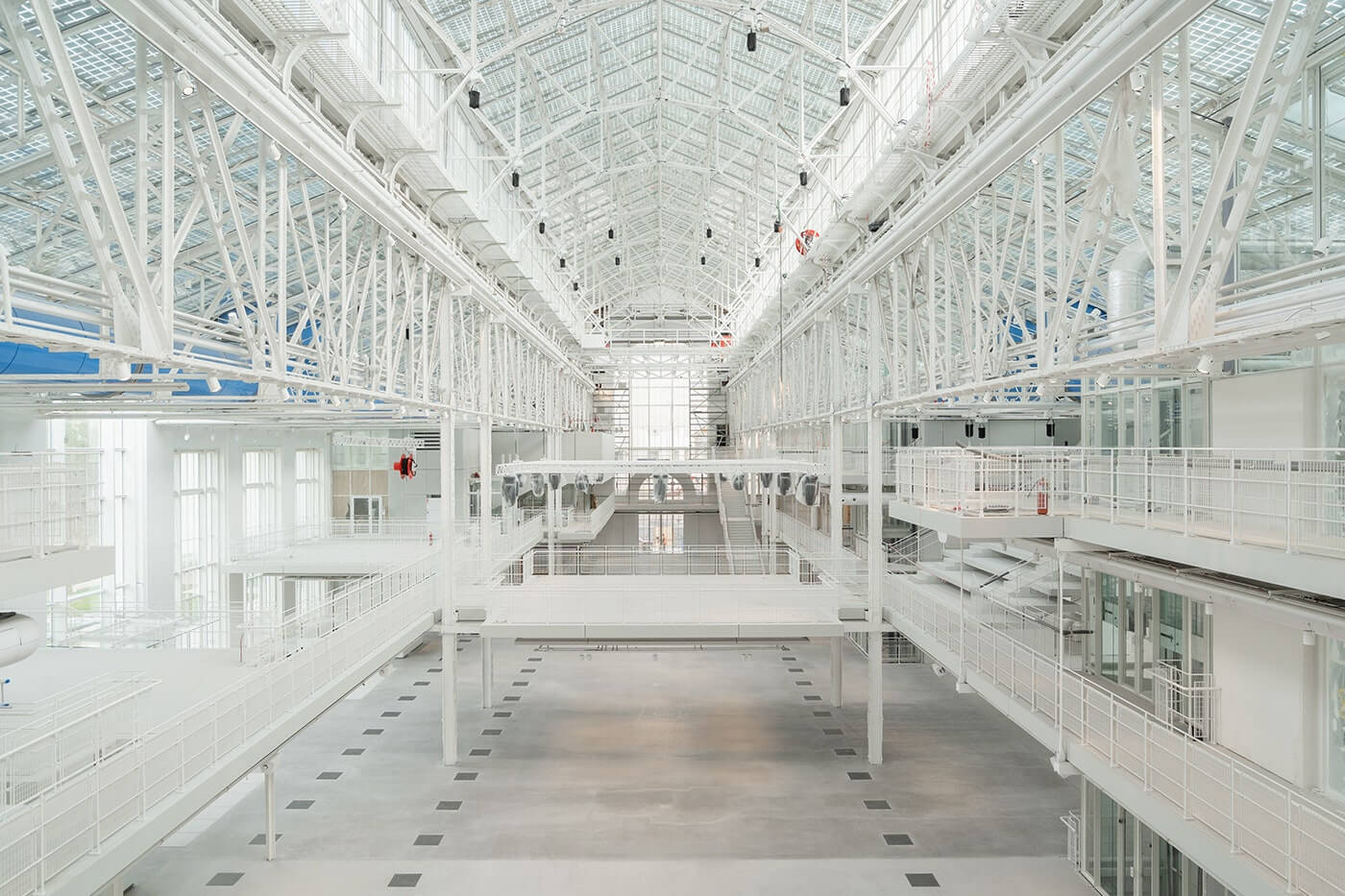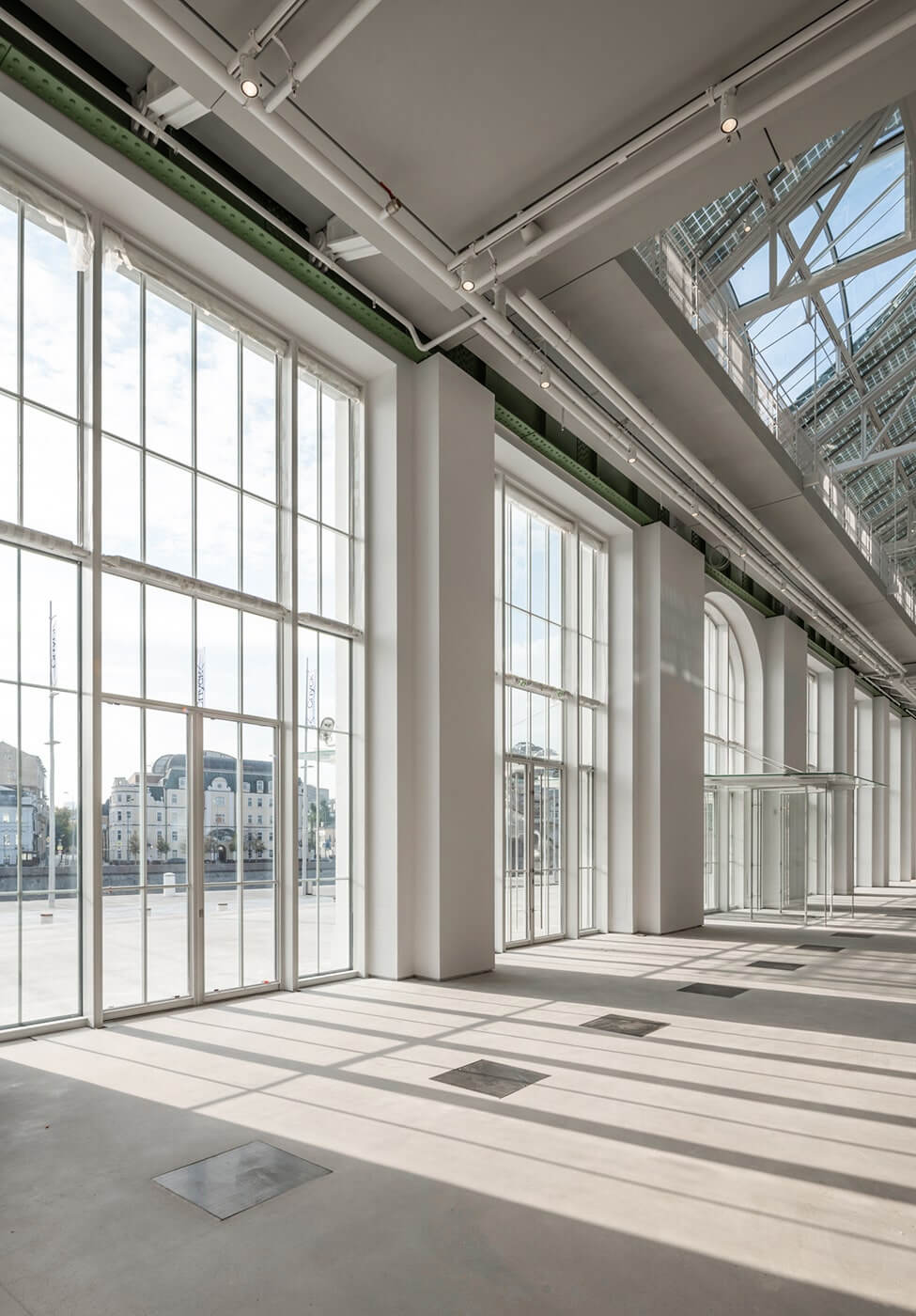 AD WORKS OF WONDER: PARK UNION BRIDGE, US
With a design intended to evoke the speed, skill, and style of athletes of all stripes, the new Park Union Bridge connects downtown Colorado Springs's U.S. Olympic & Paralympic Museum complex with the America the Beautiful Park, spanning some 250 feet over an active rail yard.
Architects at the New York–based firm Diller Scofidio + Renfro, including Benjamin Gilmartin who led the project, created a scheme centered on two interlocking loops of steel that seem to sprint over the train tracks—an engineering feat as much as an aesthetic one: The structure acts simultaneously as an arch and a truss. The architects, who previously built the adjacent museum, designed the bridge to be mainly prefabricated off-site and then installed in about eight hours.
Today, it accommodates walkers and bikers alike, framing views of the trains below, the city's downtown to the east, and Pikes Peak to the west.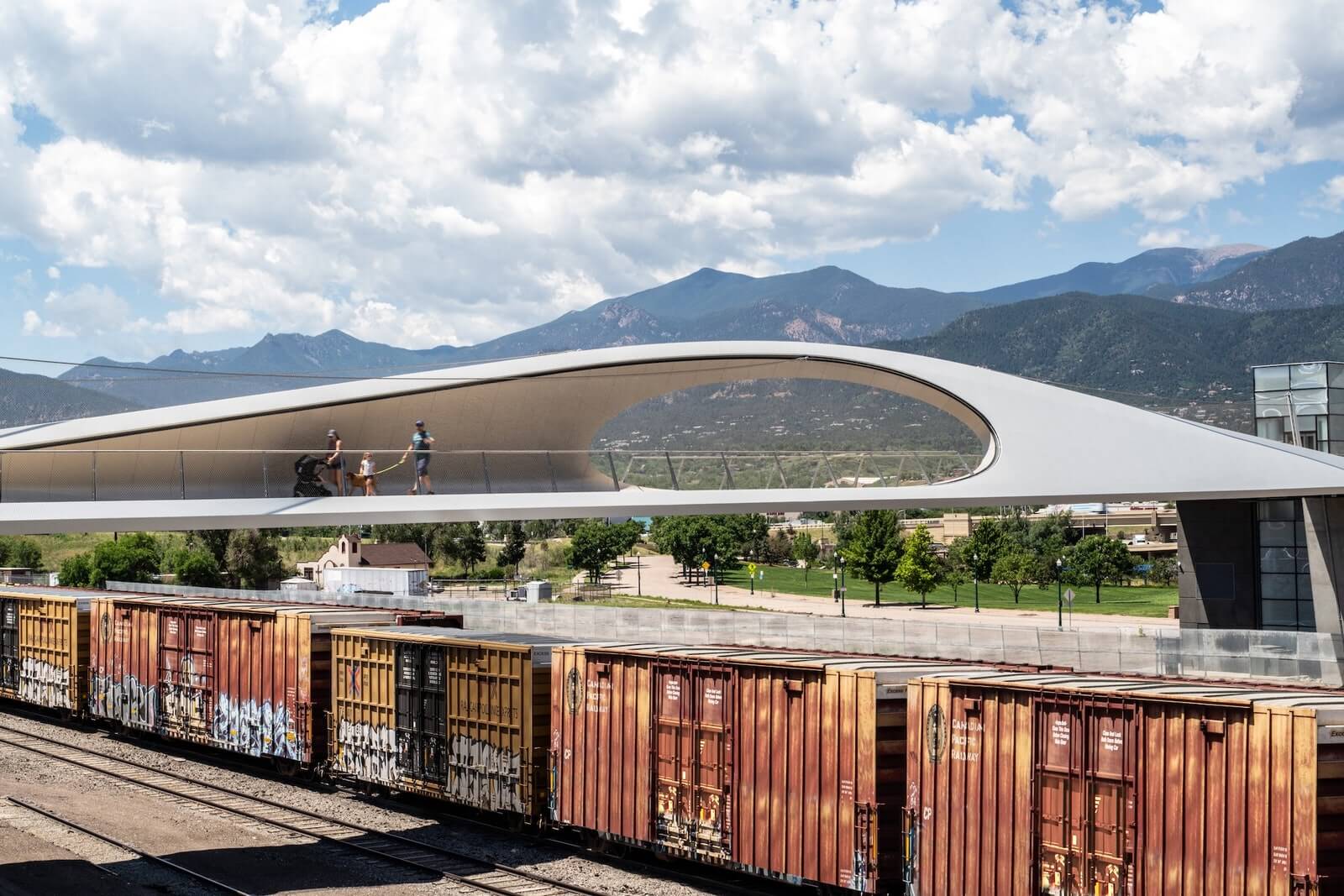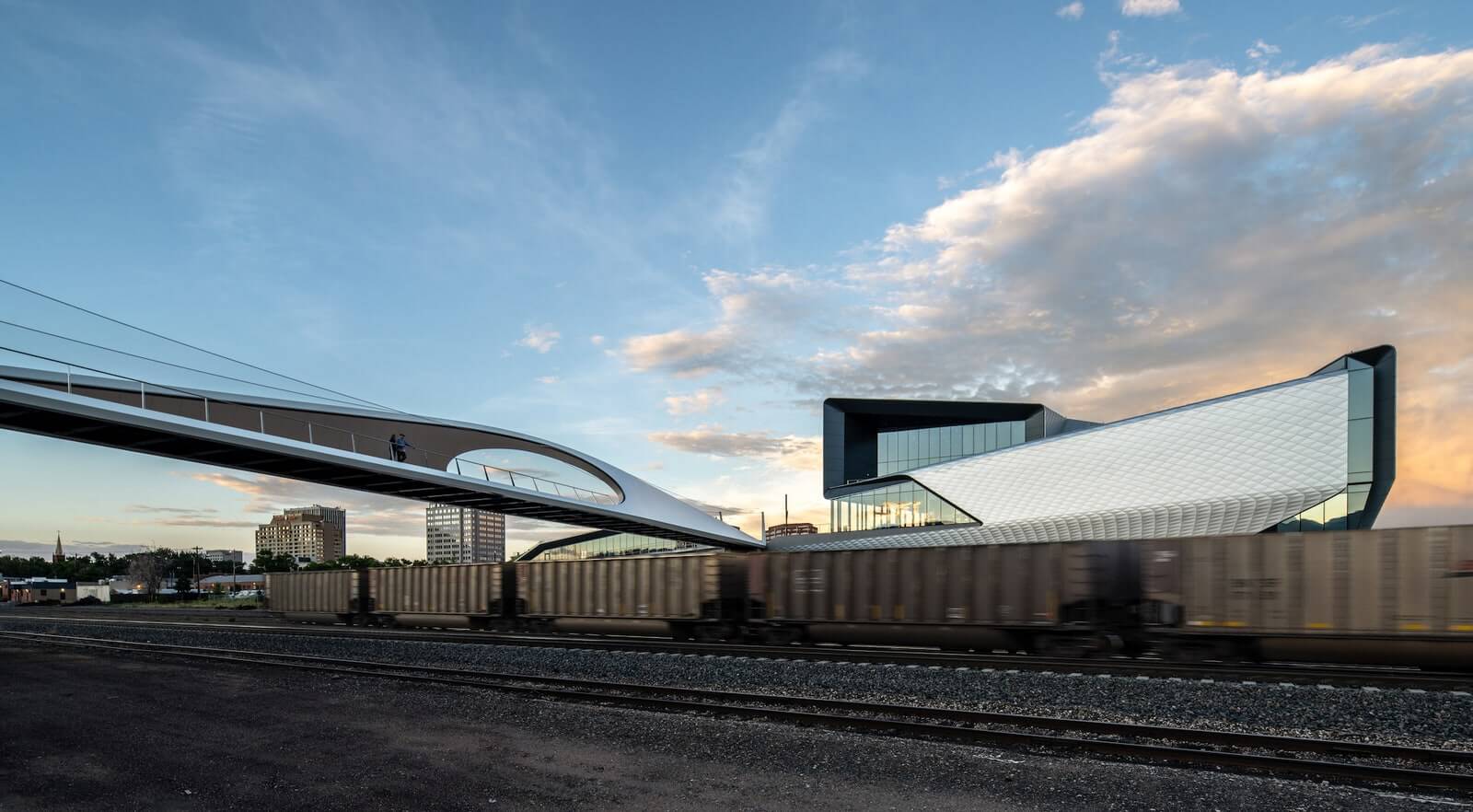 2022 AD WORKS OF WONDER: WILSHIRE BOULEVARD TEMPLE, US
Expanding the campus of a building as iconic as the copper-domed, Byzantine and Romanesque-style Wilshire Boulevard Temple is no mean feat. But the worldwide Office for Metropolitan Architecture rose to the challenge with style—and substance—to spare.
Led by partner Shohei Shigematsu, OMA's New York arm created a 21st-century beacon that glows at night through rectangular windows cut into the hexagonal panels of its concrete cladding. The three-story building's canted-parallelogram shape tilts away from the landmarked 1929 temple and simultaneously leans out over Wilshire.
Contained within are a trio of diverse and dynamic spaces: The first floor's grand ballroom features a vaulted wood ceiling whose curves recall the original dome; the second floor's chapel opens to a terrace framing the synagogue's stained glass windows across a courtyard; and the glass walls of the third floor's community center for older adults curves around a central sunken garden and roof terrace.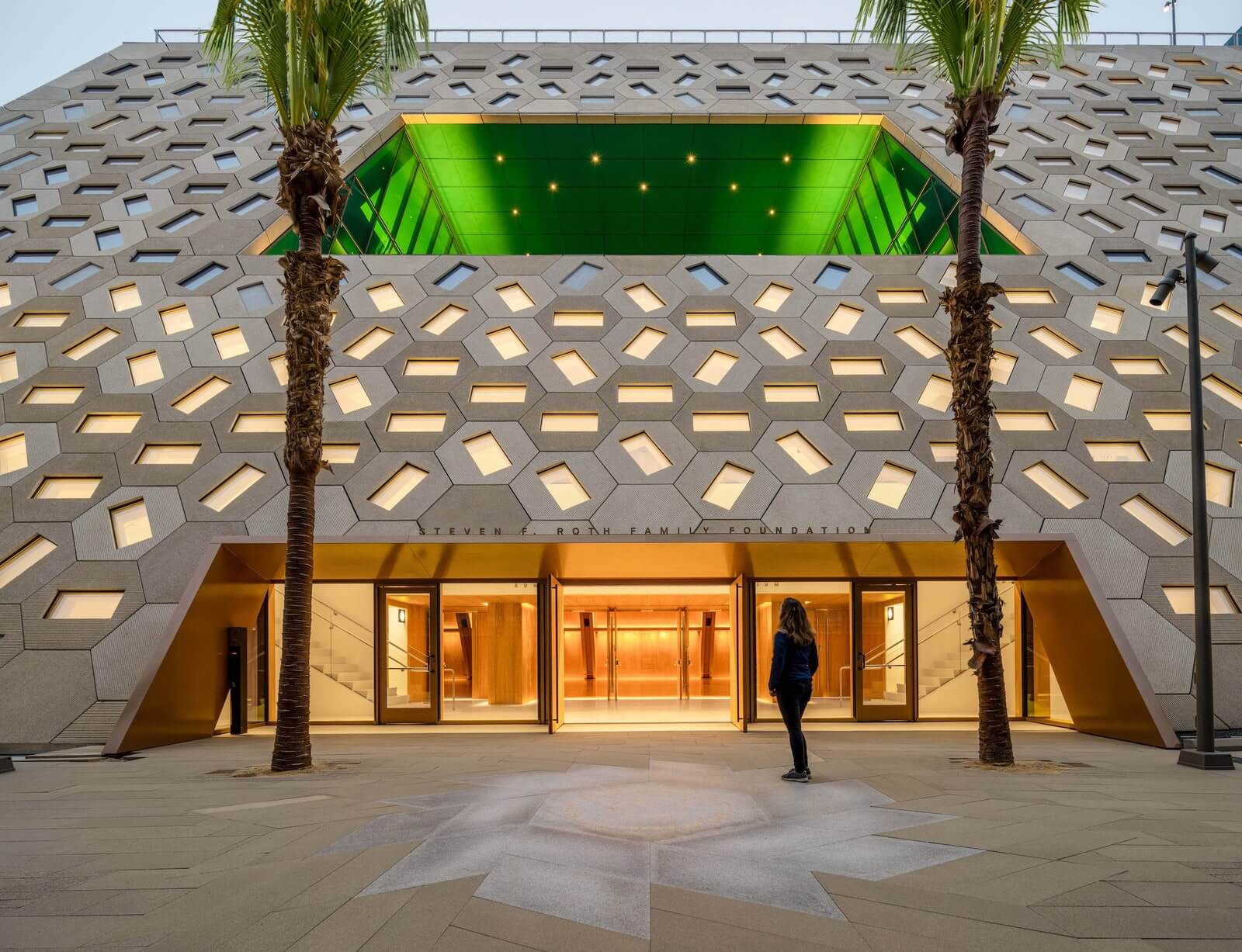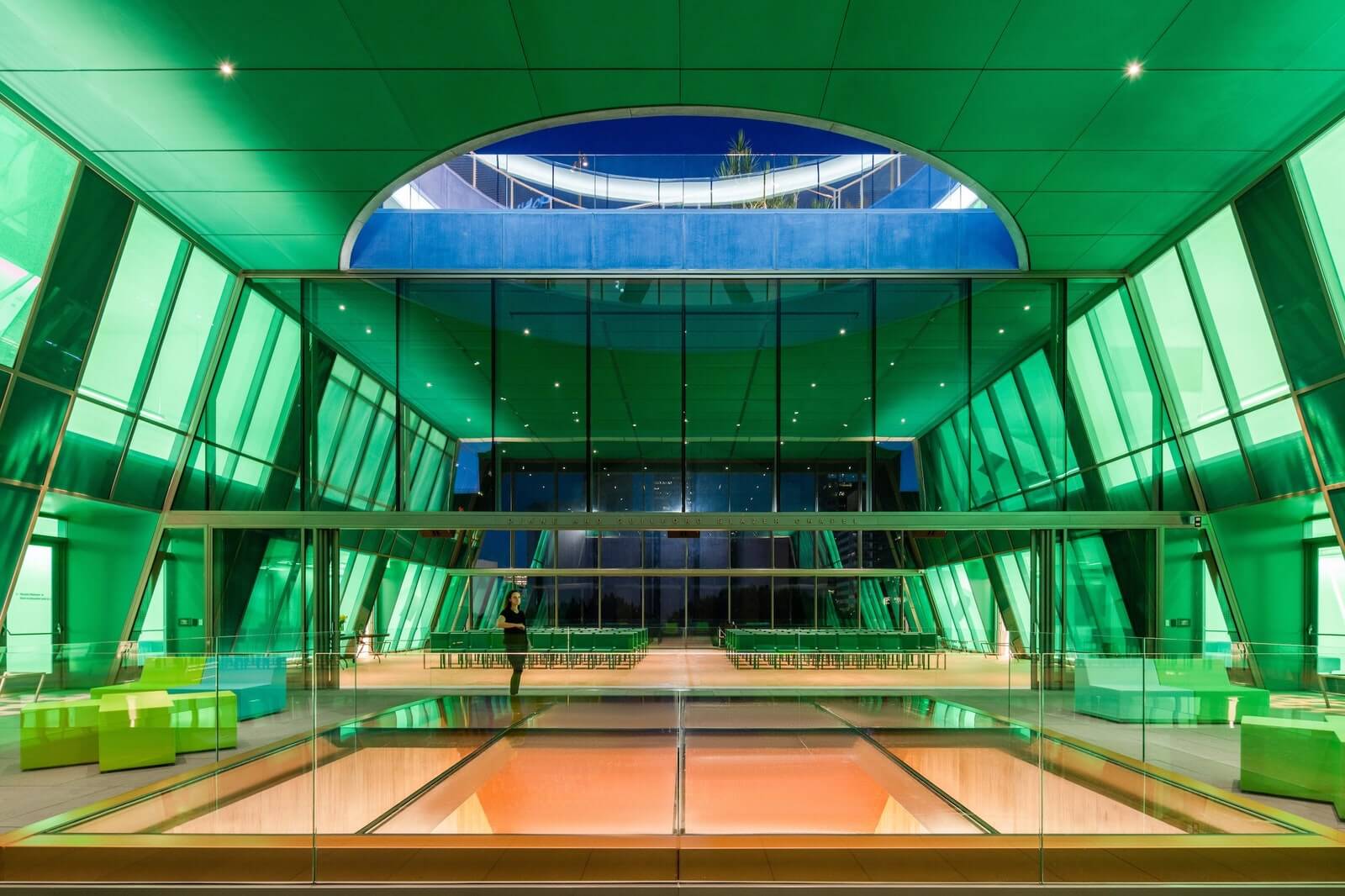 2022 AD WORKS OF WONDER: JAPAN NATIONAL STADIUM, JAPAN
Designed as the centerpiece of this past summer's Olympic Games in Tokyo, architect Kengo Kuma, Taisei Corporation, and Azusa Sekkei Co.'s Japan National Stadium sat almost devoid of spectators during opening and closing ceremonies, and events in between. But that doesn't lessen its significance.
Formed by overlapping, multi-layer eaves clad on their underside by thin strips of cedar sourced from 46 of Japan's 47 prefectures, plus Ryukyu-pine from Okinawa, the arena celebrates the long history and impressive ingenuity of Japanese wooden architecture. Despite the size required of his design — it comprises more than two million square feet and holds 68,000 seats — Kuma wanted the stadium to maintain a certain human scale and to blend into its surroundings in a large park.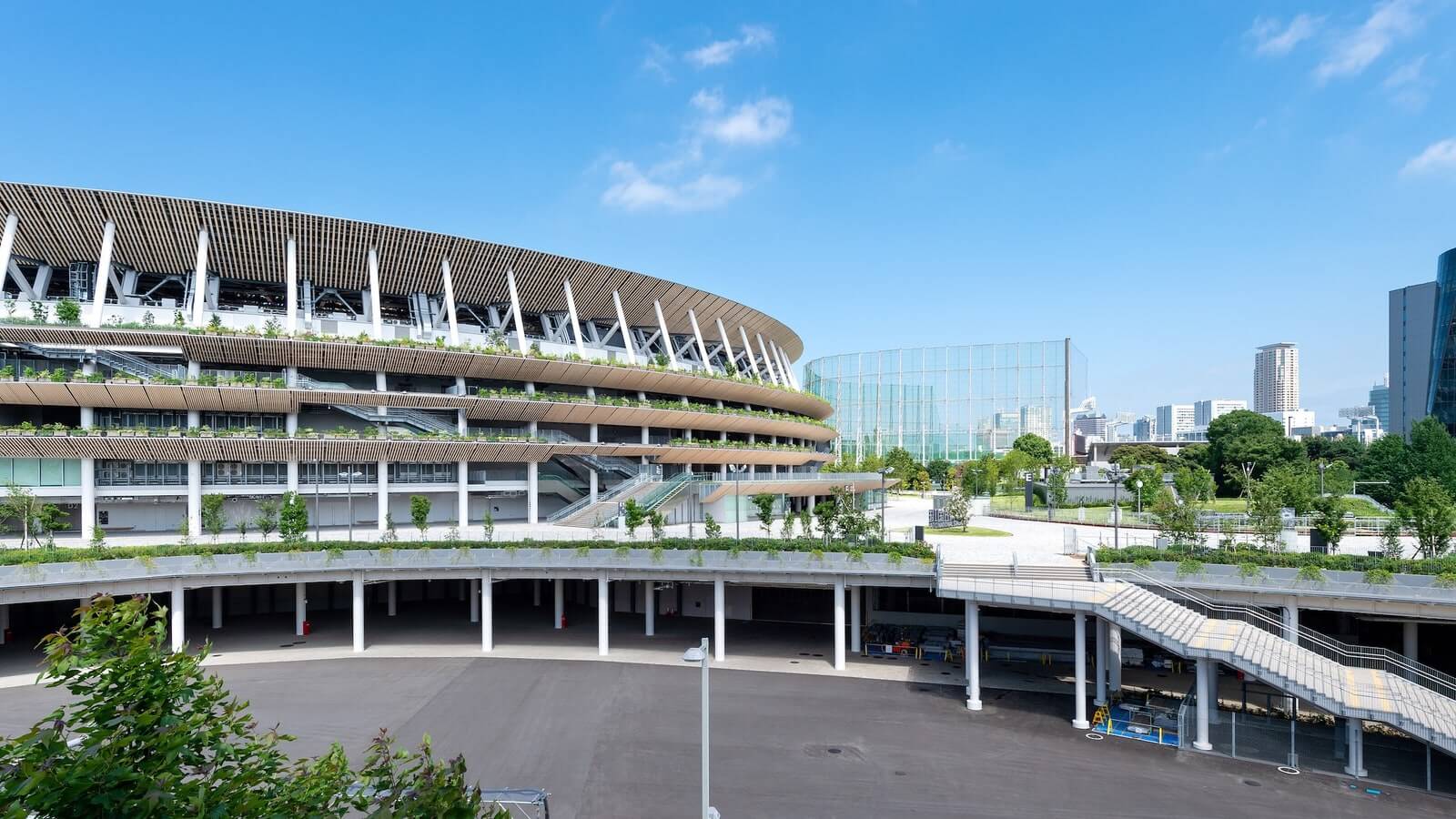 2022 AD WORKS OF WONDER: LAL BAGH PALACE, INDIA
Built in the late-19th and early-20th century in high Italian Renaissance Revival Style, the stately Holkar-dynasty Lal Bagh Palace boasts some of the best surviving European-inflected interior design of its era in all of India. But since the aristocratic family who commissioned it left the premises, it had fallen into disrepair. And, so, the World Monuments Fund partnered with Mumbai-based architect Abha Narain Lambah—who specializes in preserving India's most historic sites — for the palace's conservation and restoration.
Now, it has reemerged; Lambah (and her design directors, Kruti Garg and Krishna Iyer) have brought back to their original glory all of the palace's Italian Breccia Violetta marble columns and wainscoting, as well as its Murano chandeliers, decorative plaster and gilding, and hundreds of silk-upholstered chairs. Horticultural aficionados will also find among its 70 acres some of India's finest rose gardens.
2022 AD WORKS OF WONDER: BOURSE DE COMMERCE – PINAULT COLLECTION, FRANCE
Bourse de Commerce, the museum housing the Pinault collection in Paris, opened its doors to the public on January 23, 2021. The project, which was first announced in 2017, saw the city's former stock exchange transformed by Japanese architect Tadao Ando into a museum for businessman and art collector François Pinault. Bourse de Commerce was originally set to open in September 2020, but the date was pushed back due to the COVID-19 pandemic.
Ronan and Erwan Bouroullec have filled with light the entrance, the monumental stairs, and the restaurant. The project, commissioned by François Pinault, conceived in dialogue with Jean-Jacques Aillagon and Martin Bethenod, and manufactured by Flos Bespoke, expresses the power of a dialogue between architecture and design and history and contemporary times, developed with delicacy and respect thanks to unique technical know-how.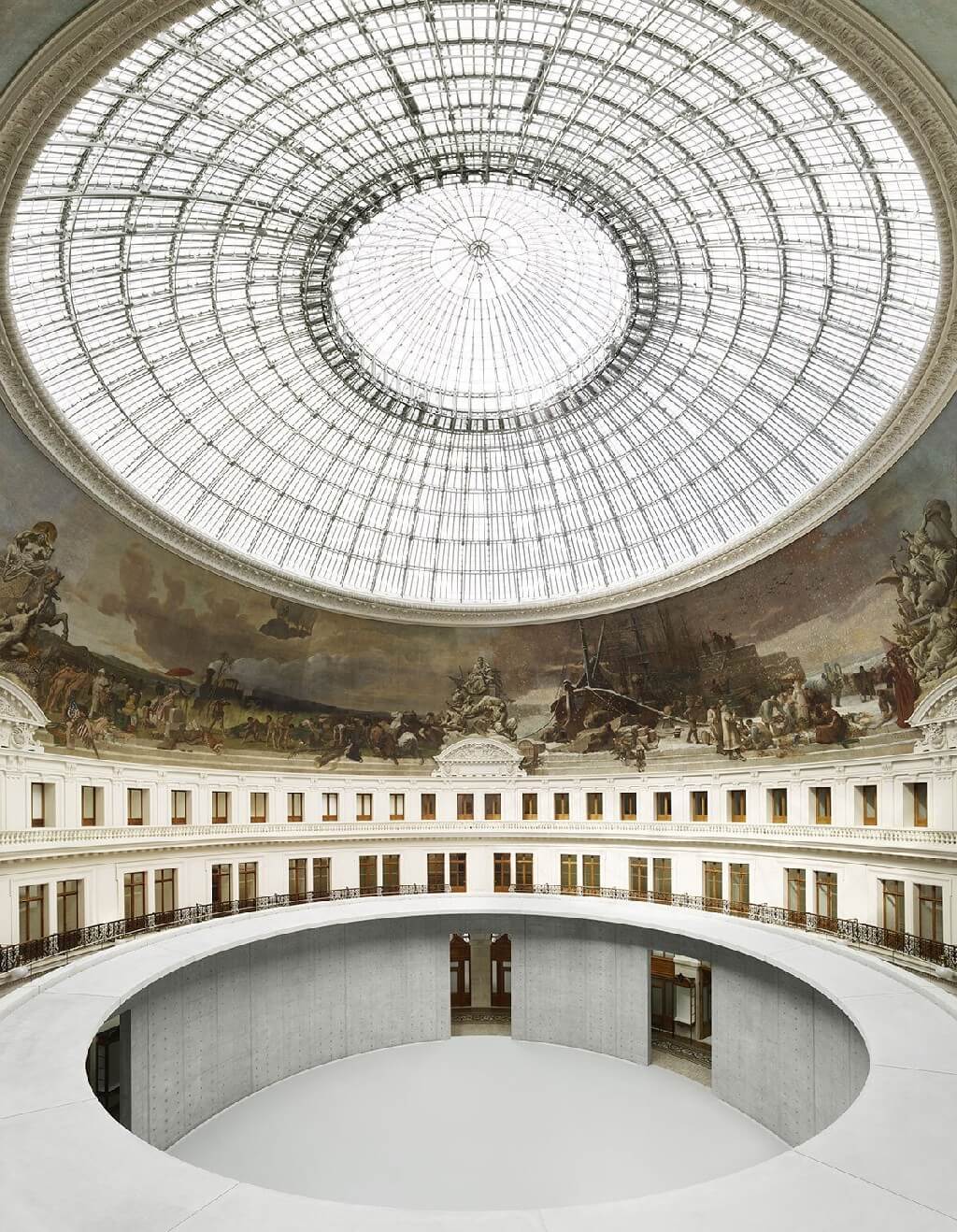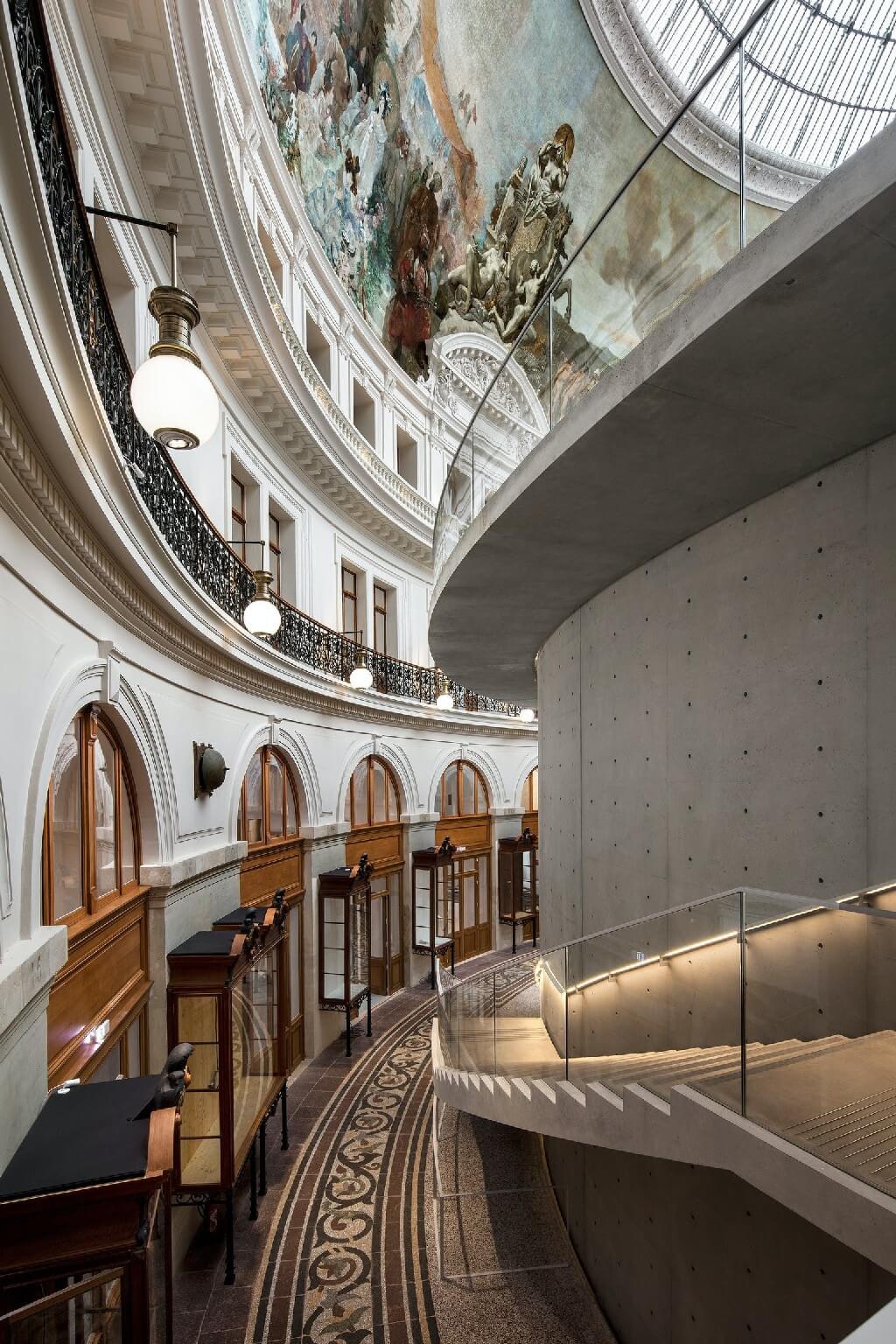 DISCOVER THE BOURSE DE COMMERCE – PINAULT COLLECTION HERE
2022 AD WORKS OF WONDER: TOMB SITE MUSEUM, INDIA
The Aga Khan Trust for Culture commissioned architects Pankaj Vir Gupta and Christine Mueller to create this Delhi museum and visitors' center on the site of Humayun's Tomb—the 16th-century mausoleum of the second Mughal emperor, which inspired the aesthetic of the Taj Mahal.
A professor at the University of Virginia and founder of the Delhi-based vir.mueller architects, Vir Gupta took inspiration from medieval Northern Indian stepwells as well as the traditions of Mughal design for the low-lying structure, designing an ingenious system of skylights, courtyards and lightwells to channel natural light deep into the largely subterranean structure. Impressively, the project will be the very first contemporary museum built on the grounds of a UNESCO World Heritage Site anywhere in India.
GLAD YOU'RE HERE
Since you have come this far, we kindly invite you to download the Hommés Studio's Catalog and discover furniture, lighting, and home accessories to design an iconic home.
Pay a visit to ACH Collection website as well and discover high-end homeware and pet accessories for a wholesome modern lifestyle.

Source AD