There are buildings that try not to change the surrounding environment. Others follow the brutalist path and are created to blend in with it. This Sardinian house designed by the Parisian studio Stera Architectures is an example of how to build and blend with the landscape.
Stefania Stera, the company's founder, constructed a sinuous structure with views of the sea that appears to emerge from the rocks in the Costa Smeralda area of the northern Italian island, reminiscent of a brutalist and naturalistic design. "The director of the Parisian studio tells us, "I've been climbing them since I was a kid; I know all their contours by heart and their fantastic shapes are part of my imagination. The Sardinian house fits into those natural volumes as a result."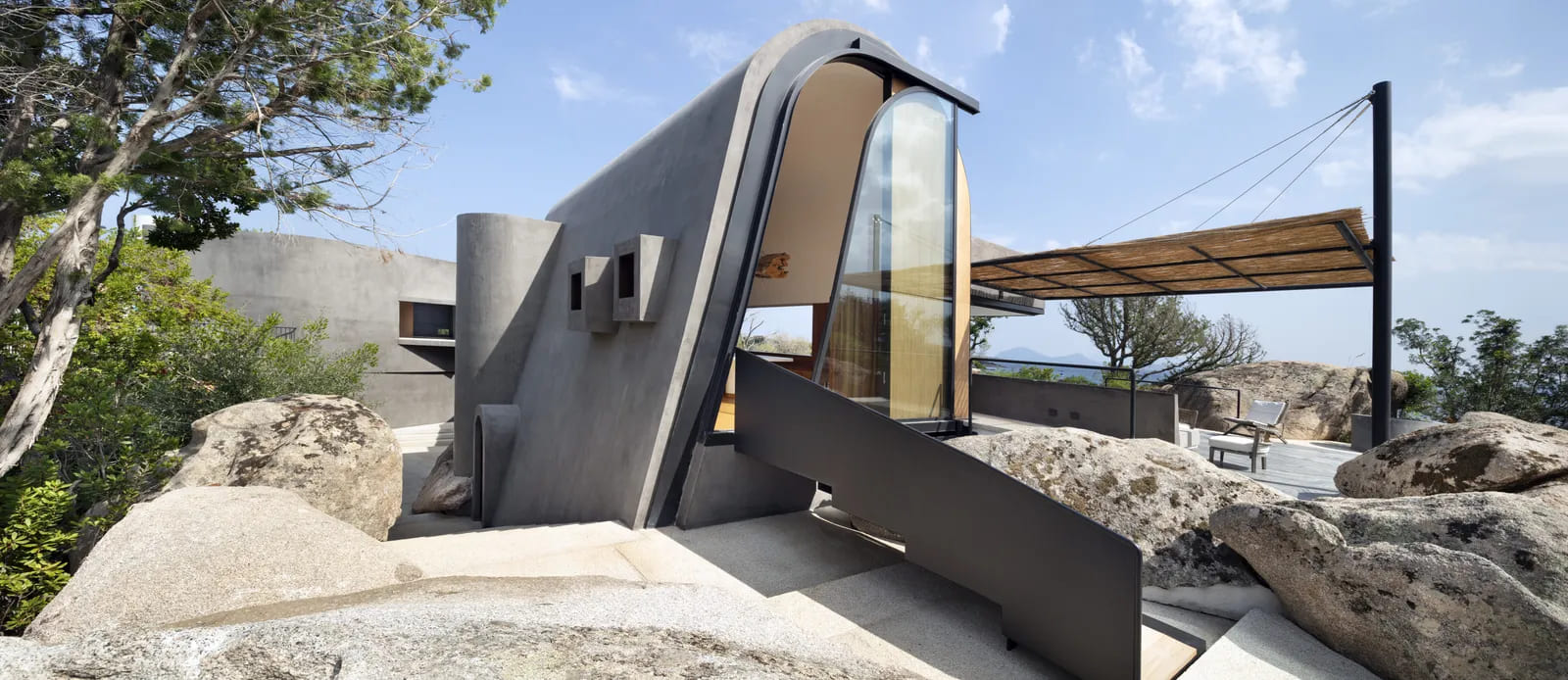 A true brutalist experience
Contrary to what would naturally occur, the villa is actually framed by the region's almost untamed vegetation and the backdrop of the Mediterranean Sea's crystal clear waters, not the other way around. It attempts to simulate the surrounding reliefs to blur the line dividing the interior from the exterior thanks to a floor plan that is entirely open to nature, exposing the brutalist style making use of raw construction materials and structural elements.
Stera explains, "I promised its owner a palace to live barefoot and that's what I've done". The house is surrounded by 350m2 of winding terraces, tunnels, and ledges and looks out onto a sizable shaded patio that is well protected from the force of the wind.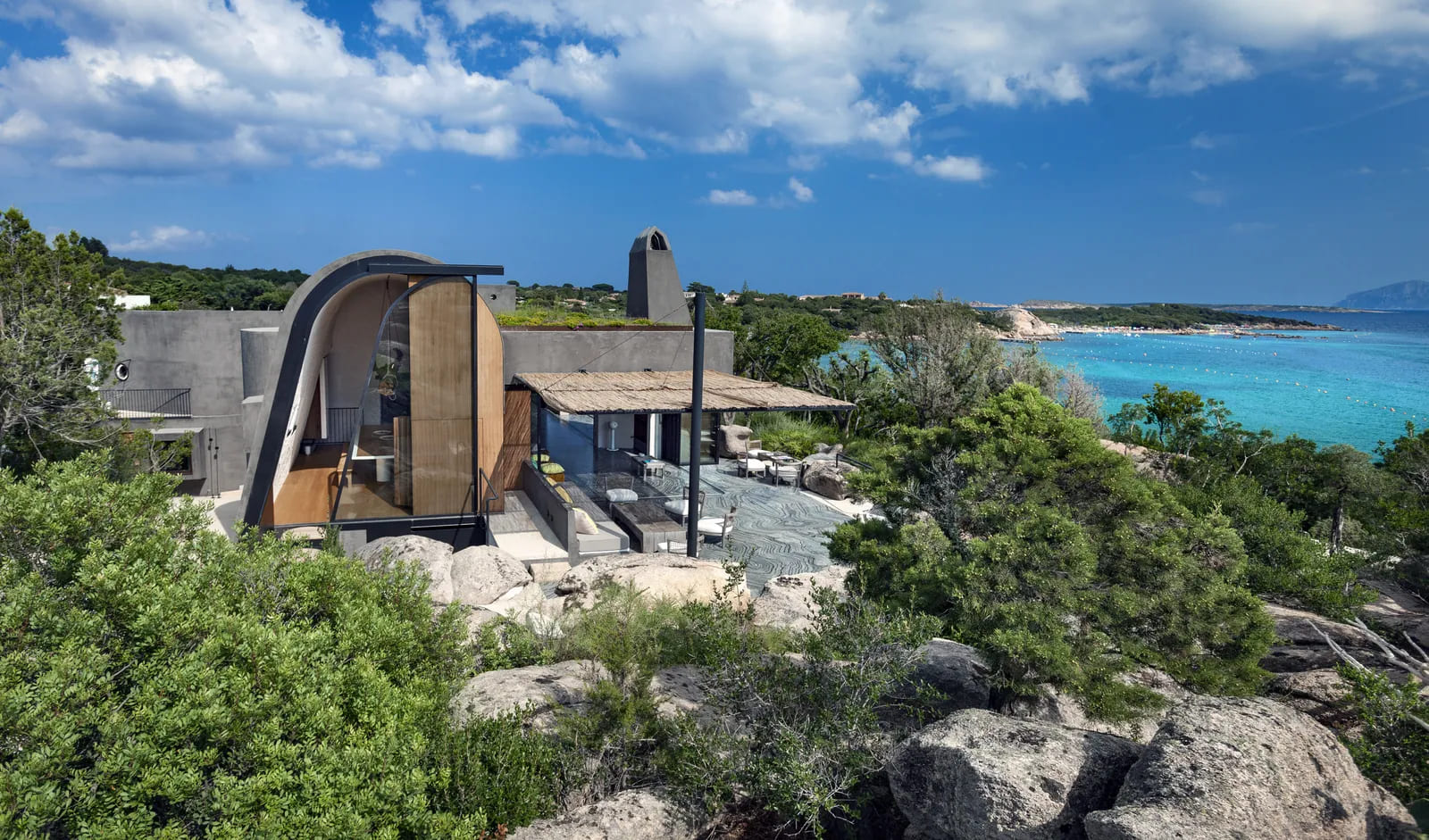 Photographs taken by Tiziano Canu
See Also: What is Brutalist Design, Brutalist Architecture and Brutalist Furniture?
Smooth anthracite gray plaster was used to raise the exterior walls, blending in with the granite used for the entrance and some of the outdoor areas, such as a pebble might. The upper floor is set up like "a bridge," with the private area including two spacious bedrooms and en-suite bathrooms, while the ground floor is organized "by separate blocks" that include various rest areas.
Two terraces with light blue and turquoise ceramic tiles, wood, polished resin, and natural marble cladding, in contrast to the façade's material, break the building's nearly flawless camouflage.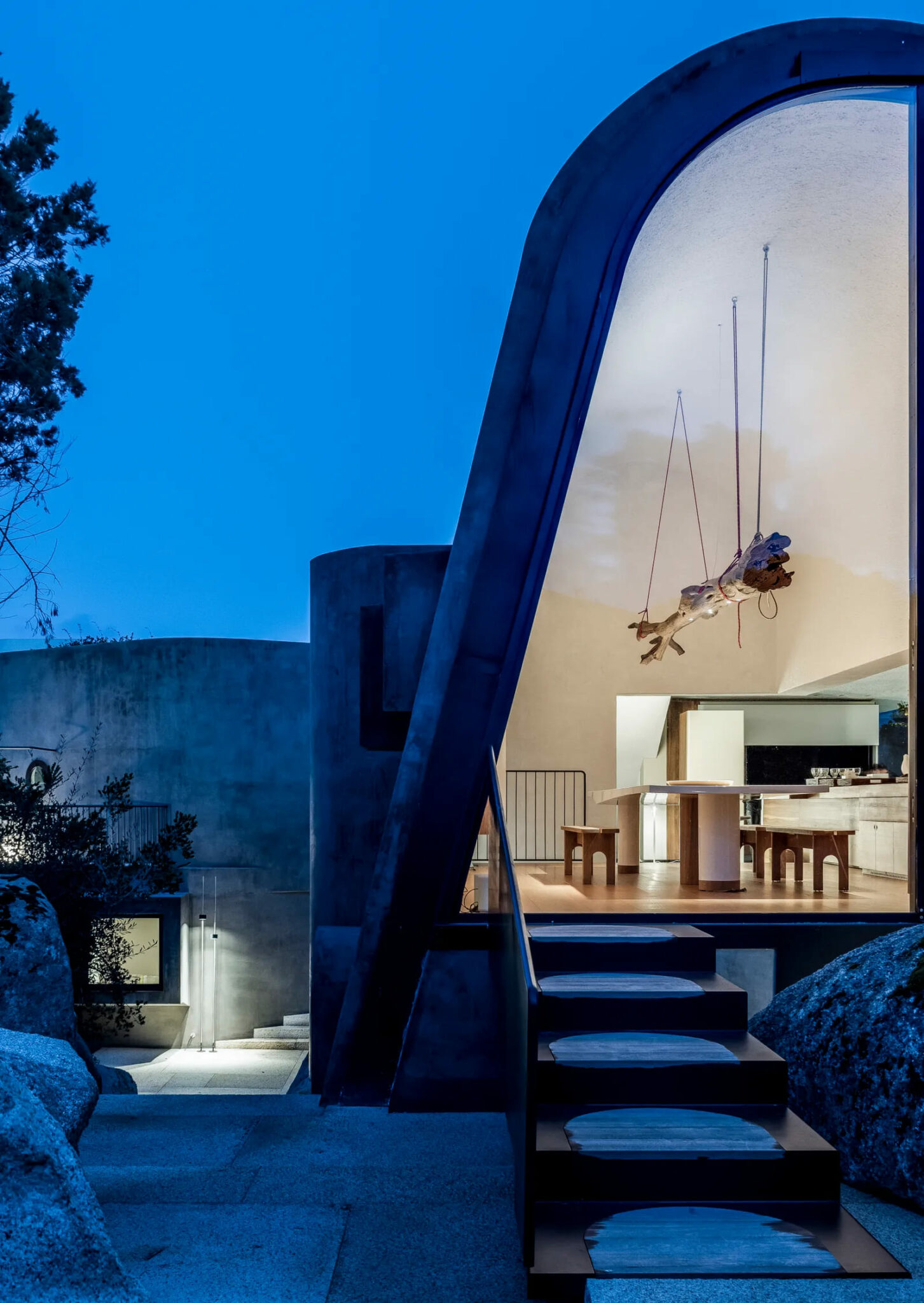 The interior of this wild cave, however, is an example of clean, straight lines with an almost simplistic cut, punctuated by organic elements like the wooden furniture and the large dry branch that hangs over the dining area. The bathrooms are also integrated into the environment through fully folding windows, just like the bedrooms and the living room-terrace.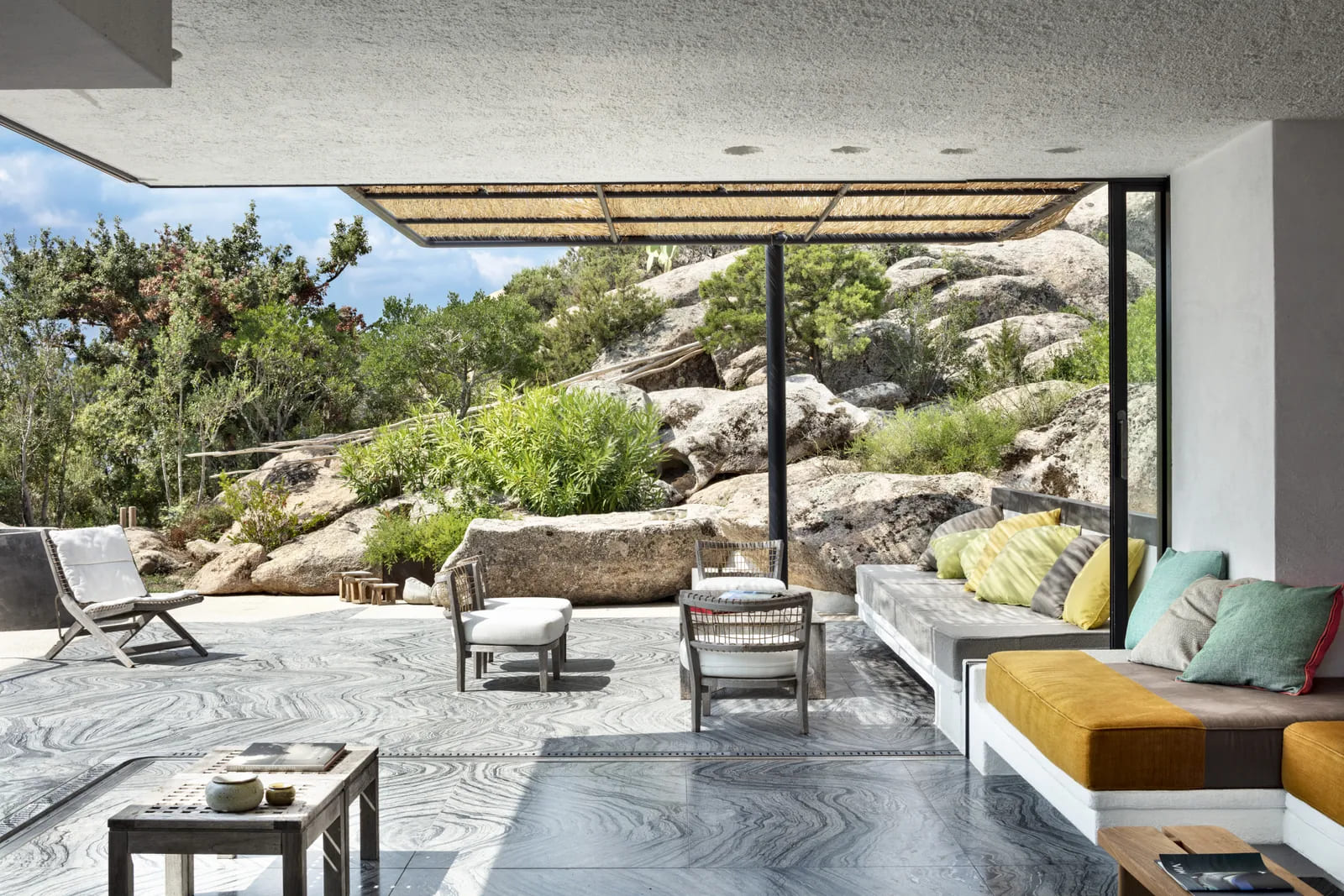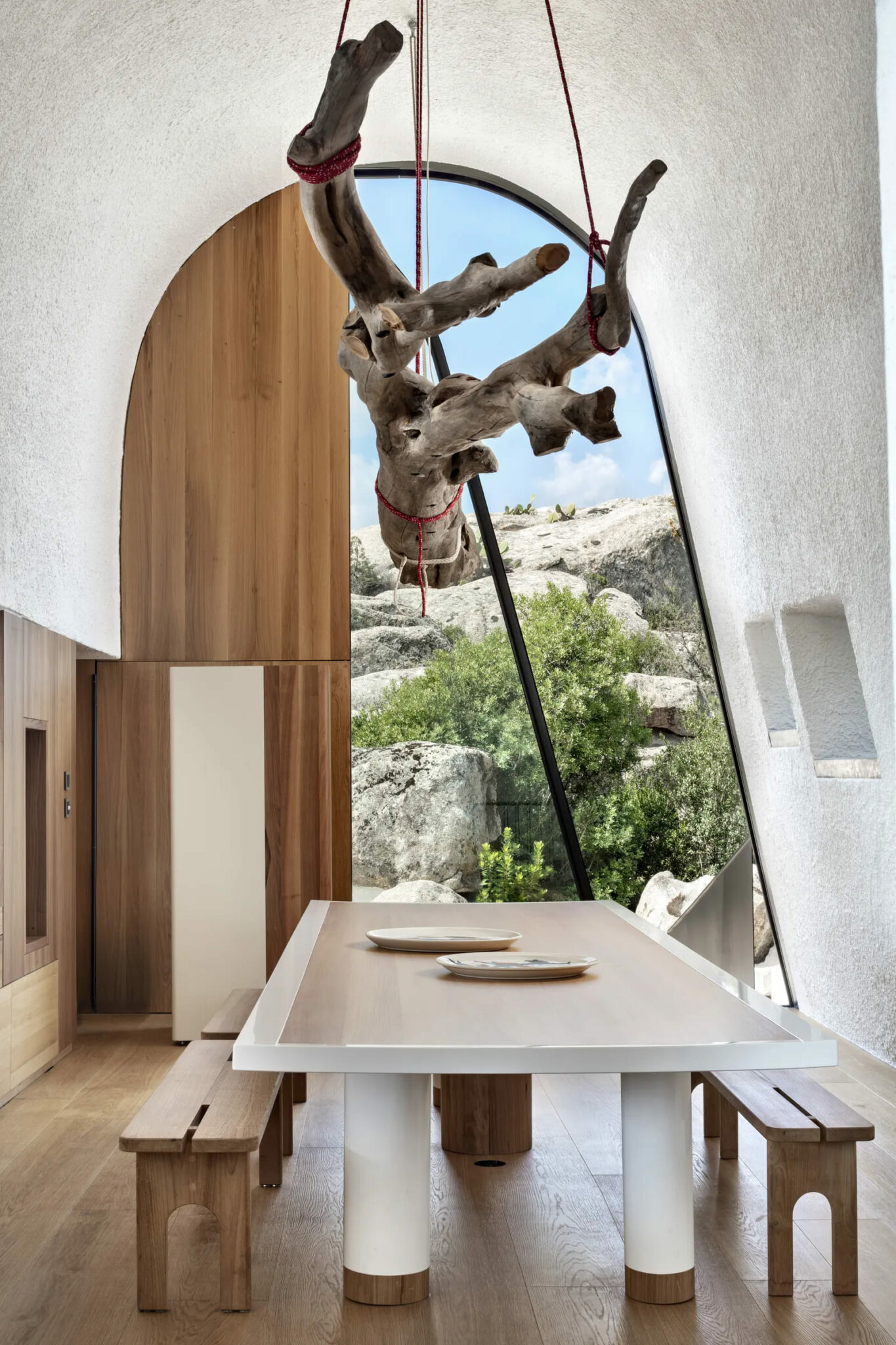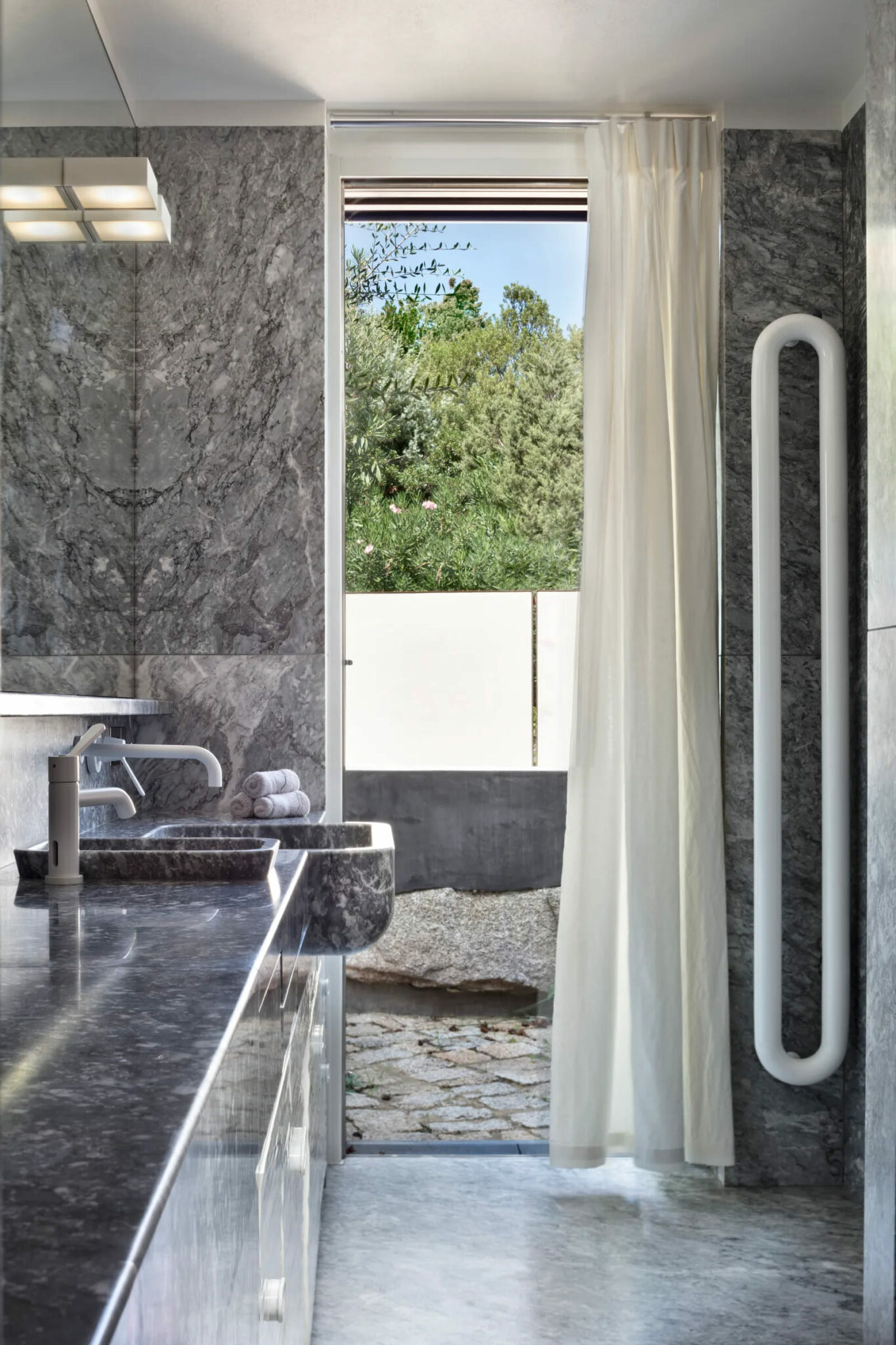 See also: Brutalist Architecture Revives into a Modern Hotel in US
ARE YOU INTO INTERIOR DESIGN?
If that's the case, come and discover our modern furniture and lighting pieces designed by design lovers for design lovers. All you need to do is to download the Hommés Studio catalog. Choose the high-end homeware by ACH Collection to complete your interior design project with style.

Source: Revista AD