We welcome fall into your home with a moodboard inspired by autumn's color, smell, and textures. The sunshine, the rain, and the crusty leaves outline the fall decor trends.
Pumpkin spice orange and other fiery hues are paired with muted neutral colors, such as white, sand, and grey – this juxtaposition is the main characteristic of fall interior color trends.
A series of natural shapes contrast with the crisp lines of modern furniture design. And the combination of natural materials brings indoors closer to the outdoors.
A refurbished home with luxurious yet comfortable furniture pieces is the best way to welcome fall into your home.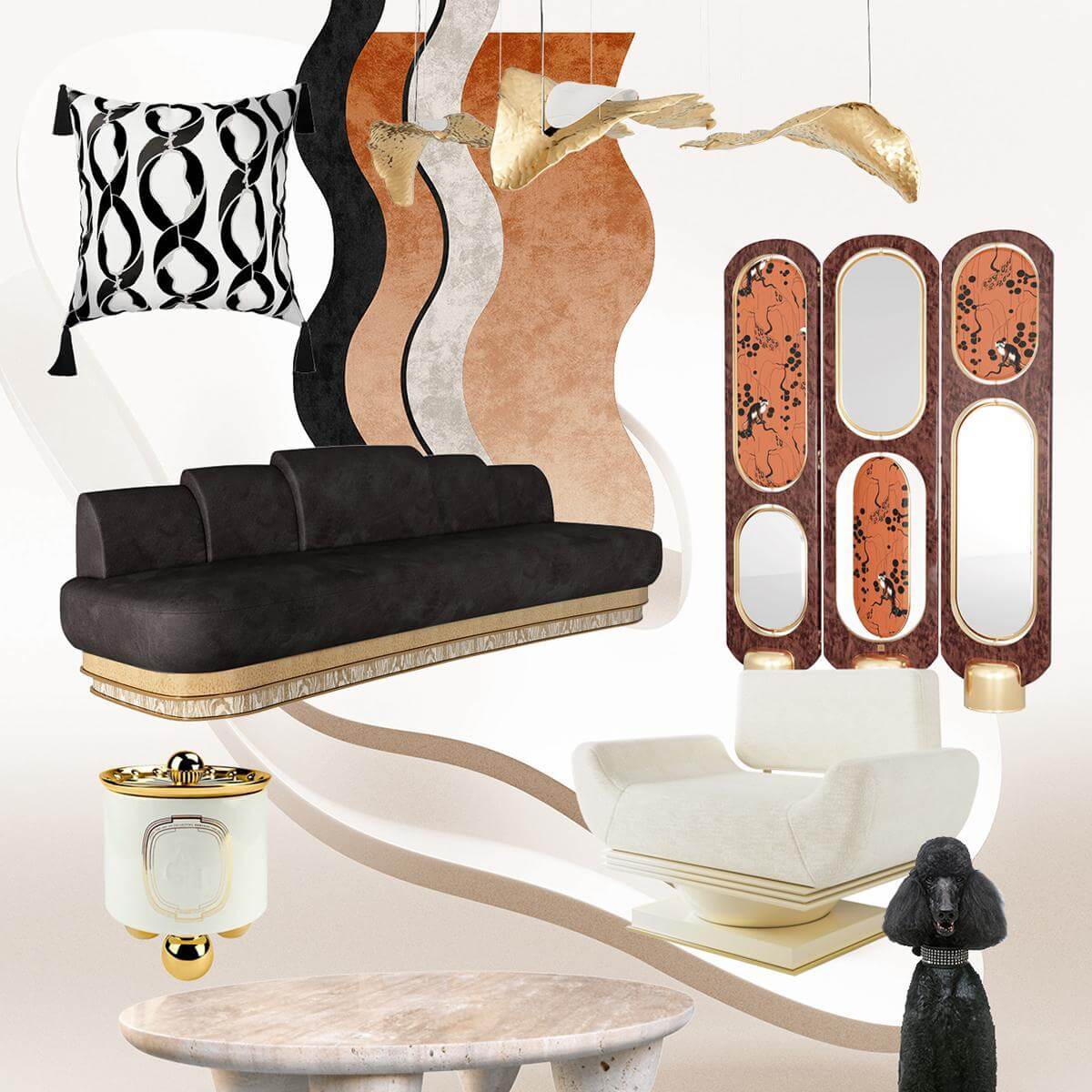 LUNARYS CENTER TABLE
Lunarys Center Table is an outstanding piece. A key item for any contemporary living room project that seems to come directly from space. Available in three different versions and with multiple customization options.
REBUS ROOM DIVIDER
Rebus Folding Screen is the perfect choice for a room divider. Rotative screens allow multiple combinations, in between the glass mirrored panels and the patterned upholstered panels, as your preference demands. This folding screen is the encounter between aesthetics and functionality, honoring an expertise handmade manufacture process.
No products were found matching your selection.
ALICE ARMCHAIR
Alice Armchair is a luxury armchair composed of exquisite materials. This eclectic armchair is perfect for a contemporary interior design project.
It features the most comfortable materials that anyone can ask for in an armchair. This is a piece whose design incorporates influences from the past.
LEAFUS SUSPENSION LAMP
Leafus Suspension Lamp unveils a subtle breeze of fresh and modern design. This luxury suspension lamp is full of sophistication with an organic and elegant shape. Nature-inspired, this design lamp is perfect for enhancing any contemporary living area.
HOMMESEAT038
KARA SOFA
Kara Sofa is an art deco-style sofa. This statement sofa promises to be the absolute protagonist of a living room project. Its art deco inspirations are reflected in its shapes, revealing an eclectic, luxurious style.
Kara Sofa

Sofa

$

7.499
JAXON RUG
Jaxon Rug is an irreverent and funny geometrical rug by Tapis Studio. It brings back the rebellious attitude within Memphis Design Movement due to its unconventional curvy shape.
Jaxon rug is also the perfect modern rug to add flow and dynamism to your interior design project.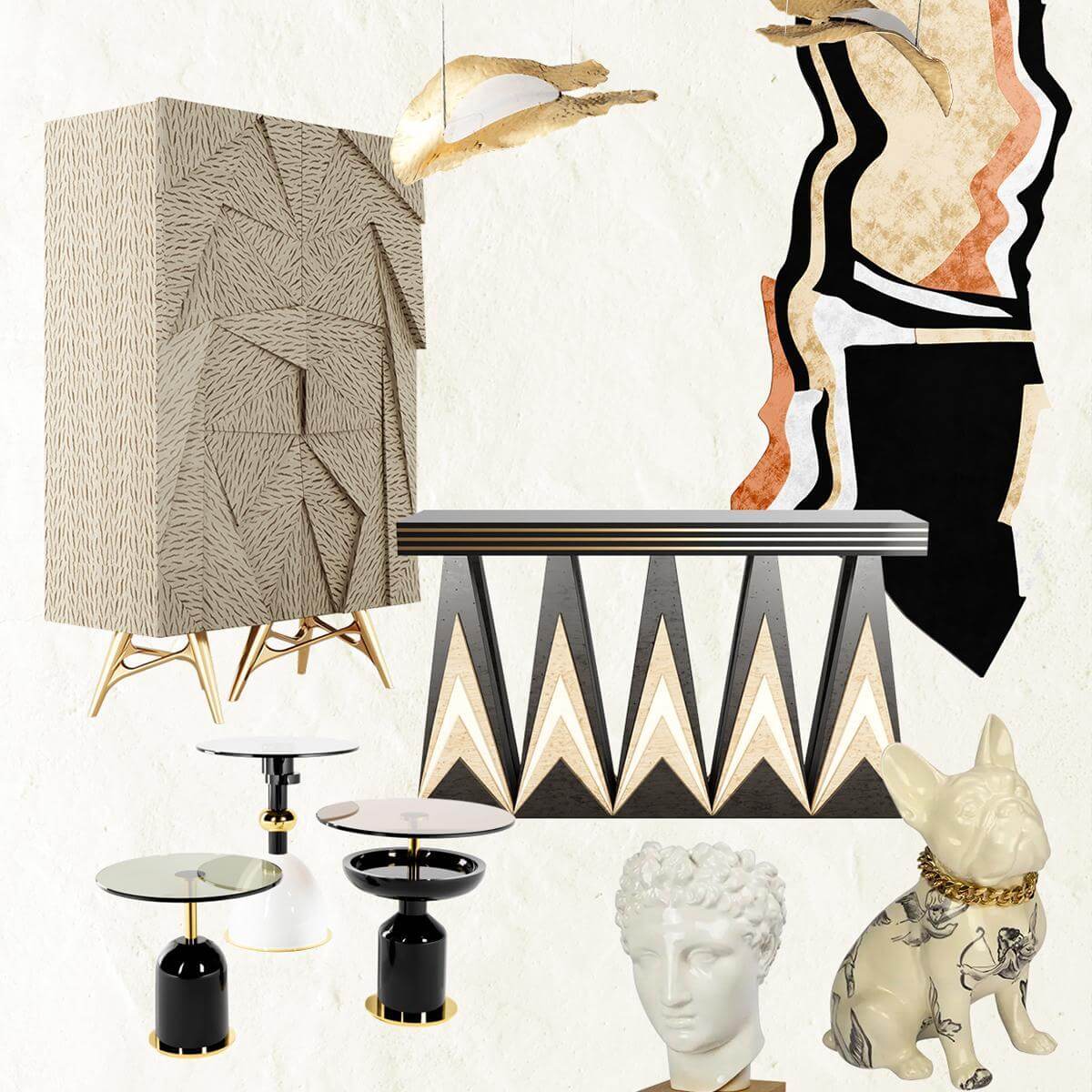 ROSALIA CABINET
Rosalia Cabinet is an outstanding modern style design. This bar cabinet combines harmonious shapes and materials. An elegant theatrical shape to store your favorite drinks and be part of your high-end design project.
No products were found matching your selection.
KLIMT SIDE TABLE
Klimt Center Table is the perfect choice for a nature-inspired luxury interior design project.
Made with the marquetry technique, can be customized to meet your style and favorite colors of wood.
RAPLEE CONSOLE TABLE
Raplee Console Table is an Art Deco-inspired modern piece. Besides being inspired by this 20s design style.
It mixes a luxury variety of woods and it's perfect for a hotel entrance project.
COCOON SUSPENSION LAMP
Cocoon Suspension Lamp was inspired by the shapes of Art Deco jewels. It was designed to bring elegance and character to any living area. A luxury chandelier for a high-end interior design project.
No products were found matching your selection.
COMBO RUG
Combo Rug arises from a powerful combination of materials and shapes that collide in the same dimension. With an abstract design, this modern rug can be the protagonist of your contemporary interior design project.