In interior design, lighting is not just about function but also about making a statement. Statement lighting, as the name suggests, creates a dramatic and impactful look in a room. From oversized chandeliers to sculptural floor lamps, the power of the lamps can transform a space and add a touch of personality. Let's explore everything you need to know about lighting and how to choose the right fixtures for your home!
What is statement lighting?
Statement lighting refers to fixtures designed to make a visual impact in a room. These lamps can be anything from large chandeliers to luxury pendant lamps or floor lamps. Statement lighting can also be thought to be attention to a specific area, or designed to create a focal point in a room. These fixtures are often unique and eye-catching and can add a touch of personality to any space!
Why lighting is so important in a room?
Statement lighting can add personality and character to a room, having the power to transform and set "the tone" of the entire space being decorated. These fixtures can also help define the style of the interior project, bring together different design elements, and help create a mood or atmosphere in the space. For example, dimmer lighting can create a cozy and intimate atmosphere, while brighter lighting can make a room feel more energetic and lively. Good lighting can also highlight the best features of a space, such as art or furniture, and improve the overall aesthetics of the room.
What are the most common lighting fixtures in Interior Design?
There are many different types of statement lighting fixtures to choose from. Some popular options include:
SUSPENSION LAMPS: These lamps are hung from the ceiling and can range from sleek and minimalist to bold and sculptural.
WALL LAMPS: Also called "sconces", these lamps are fixed to the wall and can be used to create a warm and inviting ambiance in a room.
FLOOR LAMPS: These lamps are a great way to add some height and drama to a room. They come in a range of styles, from sleek and minimalist to bold and sculptural.
TABLE LAMPS: These lamps are a versatile option for statement lighting, as they can be moved around to different parts of a room. They are perfect for adding some extra light to a desk or bedside table, or for creating a cozy ambiance in a living room.
How to choose the right lighting?
When choosing statement lighting, it's important to consider the overall style of your home and the function of the room. For example, if you have a minimalist or industrial-style home, then a sleek and simple suspension lamp or wall lamp may be a good fit. On the other hand, if your home has a more maximalist or ornate look, then a chandelier with intricate details and embellishments may be a better fit.
Second, consider the function of the room. If you are looking for statement lighting for a dining room or living room, then a large chandelier or suspension lamp may be a perfect choice. For a bedroom or home office, a table lamp or floor lamp can add some drama and style without overwhelming the space.
Shop The Look: How to Style Statement Lighting
LIGHTING FOR DINING ROOM:
Consider using a statement chandelier or pendant light above the dining table to create a focal point in the room. Use dimmer switches to adjust the lighting for different occasions, such as intimate dinners or festive gatherings. Since the dining room is a convivial environment, consider using wall sconces or accent lighting to highlight decorative objects common in these spaces, such as mirrors or artwork.
LIGHTING FOR LIVING ROOM:
Create a warm and welcoming atmosphere with unique and eye-catching pieces. Try using floor lamps near a beautiful chaise longue or table lamps to create softer task lighting for reading or work, as well as ambient lighting for relaxing. For an even more elaborate setting, combine it with iconic coffee tables and an unforgettable rug.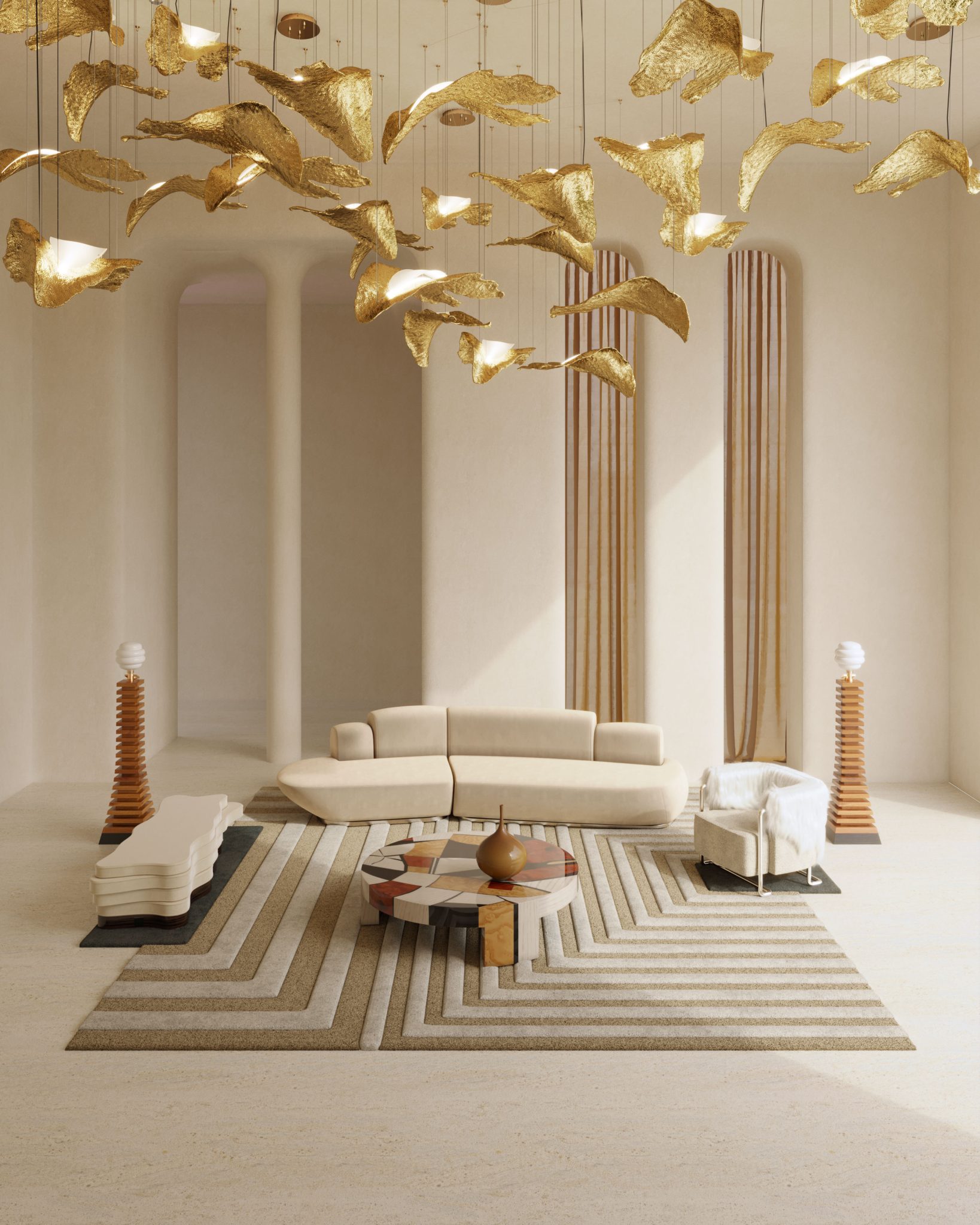 LIGHTING FOR BEDROOM:
Nothing better than having lighting in our resting place that goes with our needs. For the bedroom, use soft, soothing lighting to create a relaxing and calming atmosphere. Consider using bedside table lamps for reading assignments, or modern pedant lamps for a more eclectic aesthetic.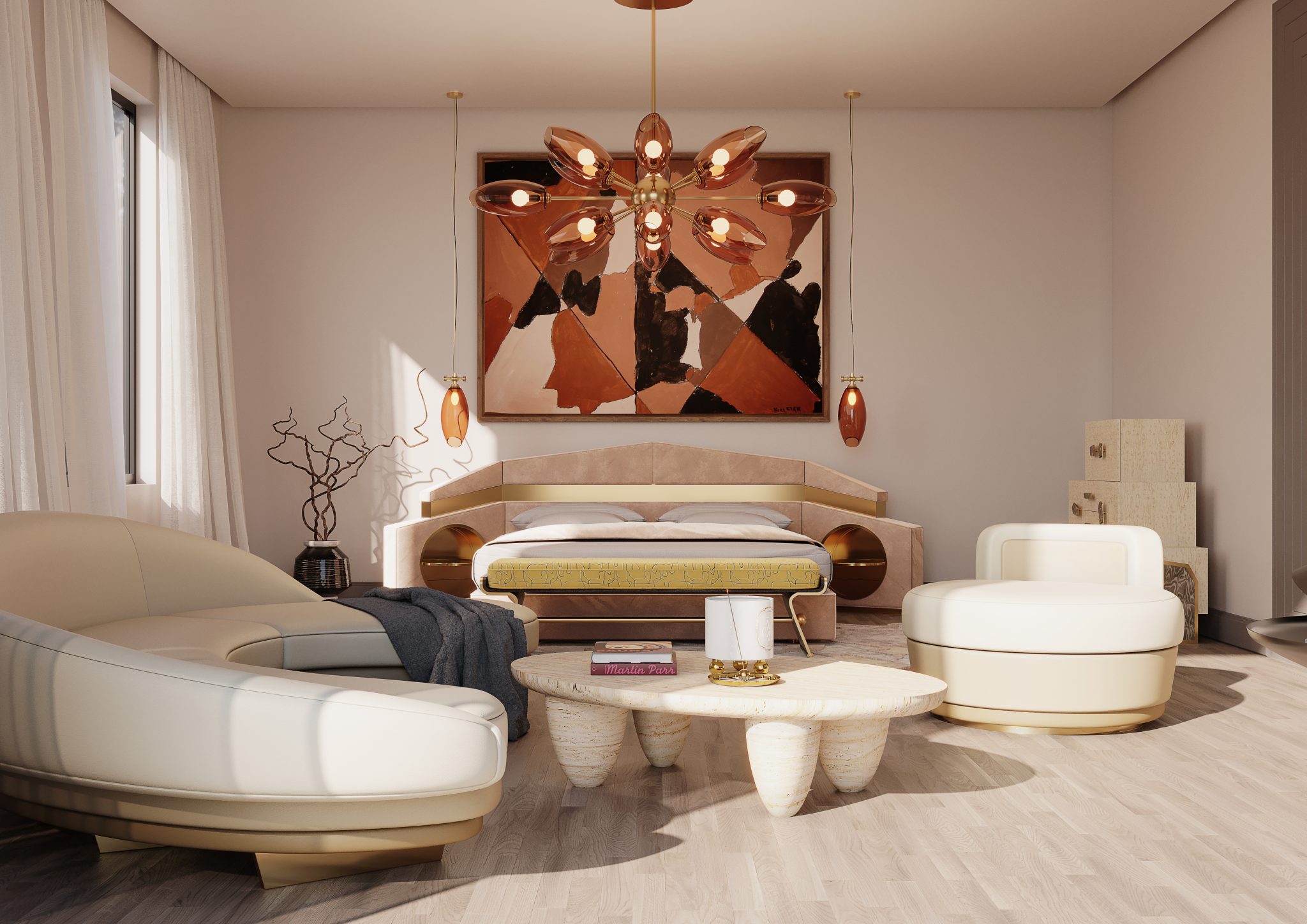 Finally, statement lighting is a great way to add some personality and character to your home. Whether you opt for a suspension lamp, wall lamp, floor lamp, or table lamp, make sure it complements the style and function of the room and creates a cohesive and stylish look. Visit HOMMÉS Studio Shop Interiors page and discover a selection of modern statement lighting to add extra elegance to your project!