Explore the opulent world of the Carmelo Anthony mansion in Westchester, New York. Discover the luxurious vintage design elements that can inspire your next interior design project.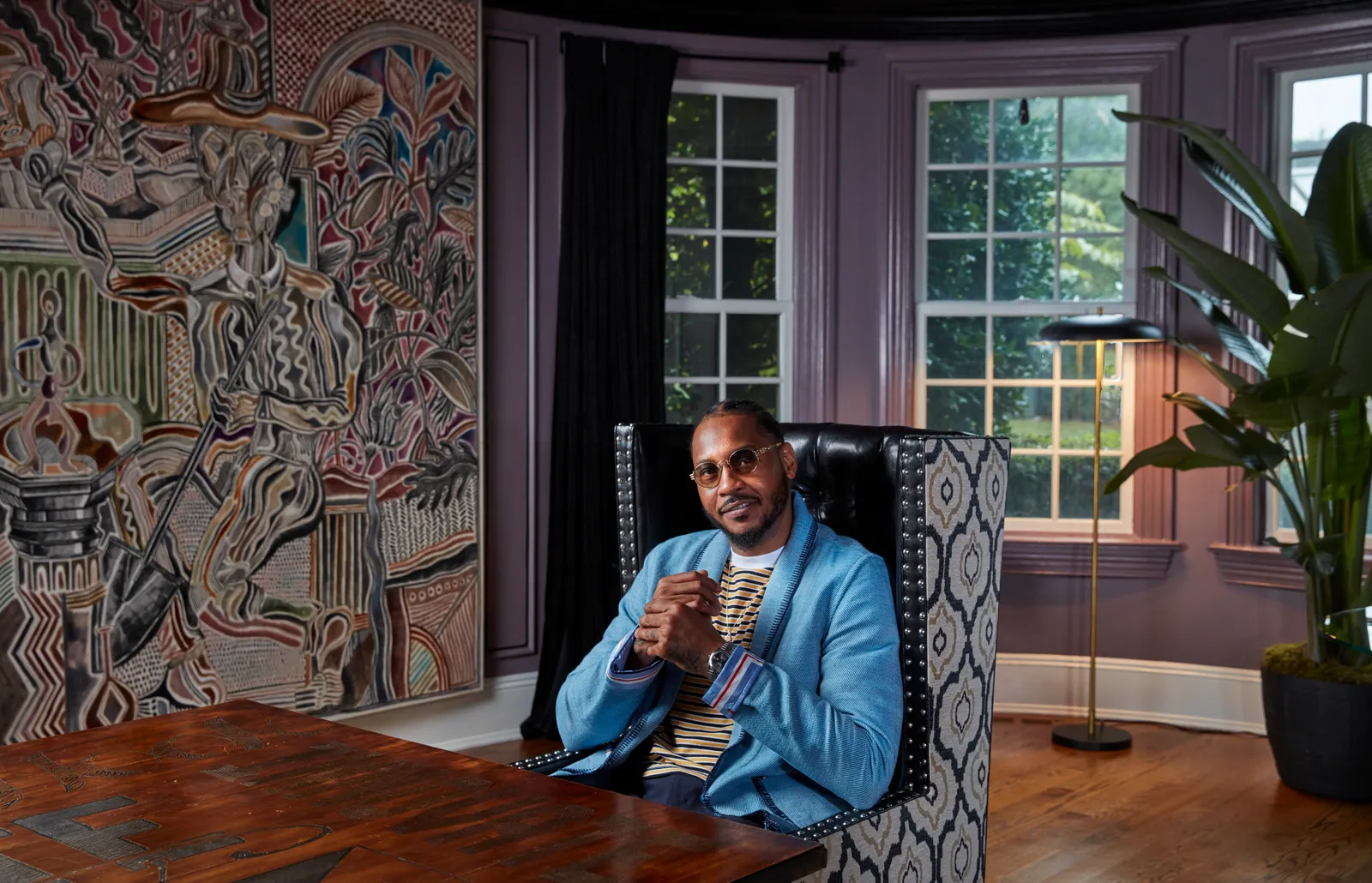 When it comes to luxury and vintage-inspired interior design, few homes can match the grandeur of Carmelo Anthony mansion in Westchester. It is more than just a residence; it's a living work of art that seamlessly blends luxury, vintage aesthetics, and a modern comfort. As you enter the premises, you'll be greeted by a sense of opulence that permeates every corner of this remarkable home. You're welcomed by a soaring ceiling adorned with a dazzling chandelier. Marble floors and a sweeping staircase set the tone for the luxurious vintage journey that awaits.
The music room of Carmelo Anthony mansion is a true masterpiece of timeless elegance. This expansive space welcomes you with grandeur as you step inside. At the heart of the room stands a majestic fireplace, a focal point that exudes warmth and sophistication. The choice of furnishings is impeccable. Plush vintage-inspired sofas and armchairs, upholstered in rich fabrics, create a comfortable yet luxurious seating area. Antique coffee tables and side tables with exquisite detailing complement the seating ensemble, providing both functional and aesthetic appeal.
Also, the living room in Carmelo Anthony mansion is a space where vintage charm meets modern comfort, making it the perfect setting hosting elegant gatherings or simply unwind in a space that exudes classic opulence. To tie this room's design, the color palettes used id a harmonious blend of deep, rich tones. Shades of burgundy, gold, and white wood finishes that creates a warm and inviting atmosphere that encourages relaxation and conversation.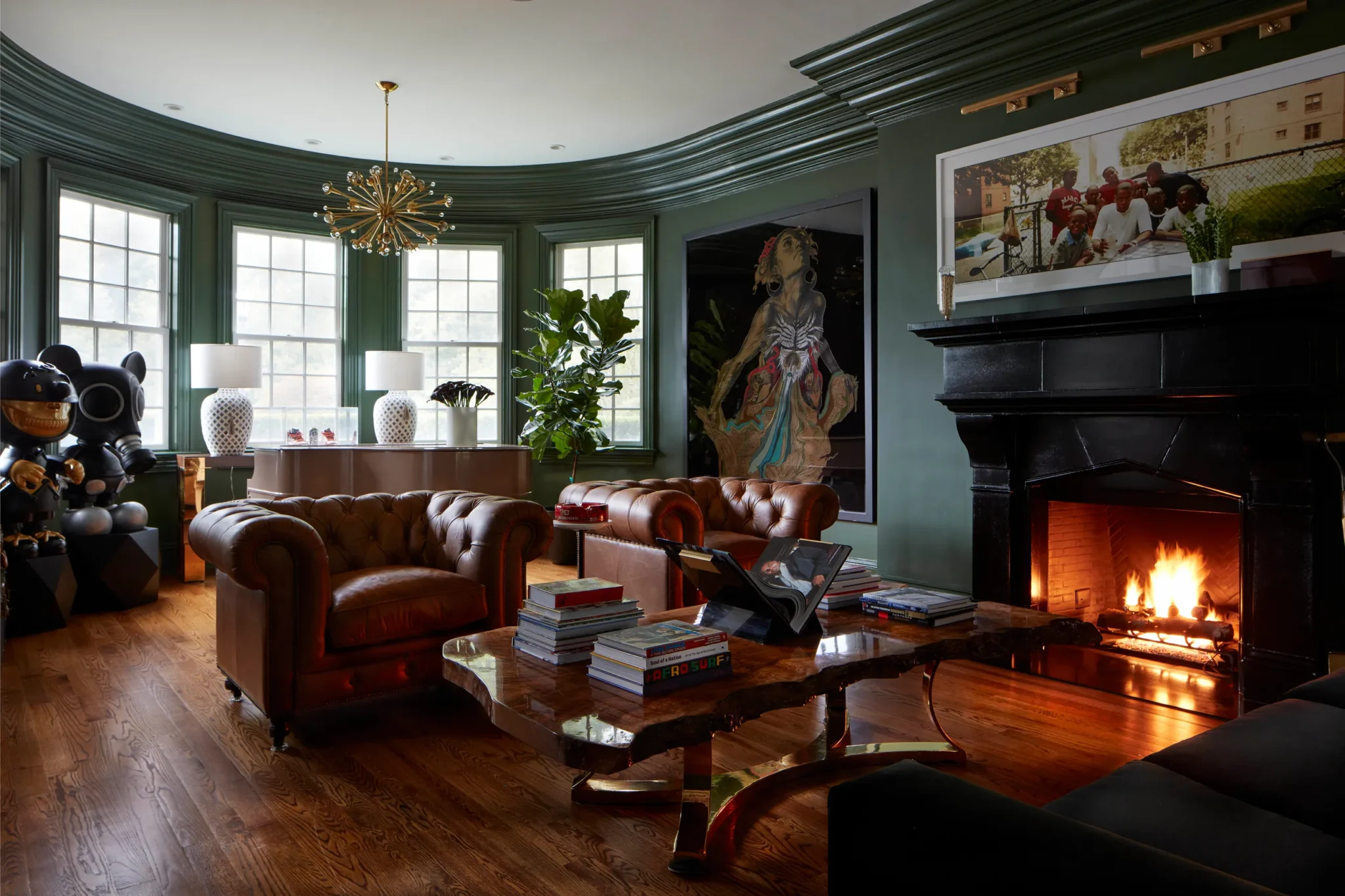 The formal dining room of the mansion is a testament to the art of fine dining. As you step into this exquisite space, you are transported to a world of unparalleled sophistication and grace.
The room is dominated by an impressive antique dining table that can comfortably seat a large party. Above the table hangs a dazzling crystal chandelier, citing a shimmering soft light over the dining area, creating an intimate and elegant atmosphere. To complete the scene, modern chair with upholstered seats are arranged around the table offering both comfort and style.
The dining room of Carmelo Anthony mansion is a space where every detail, from decor to the table setting, contributes to an atmosphere of sophistication and timeless vintage luxury,, making each dining experience truly special.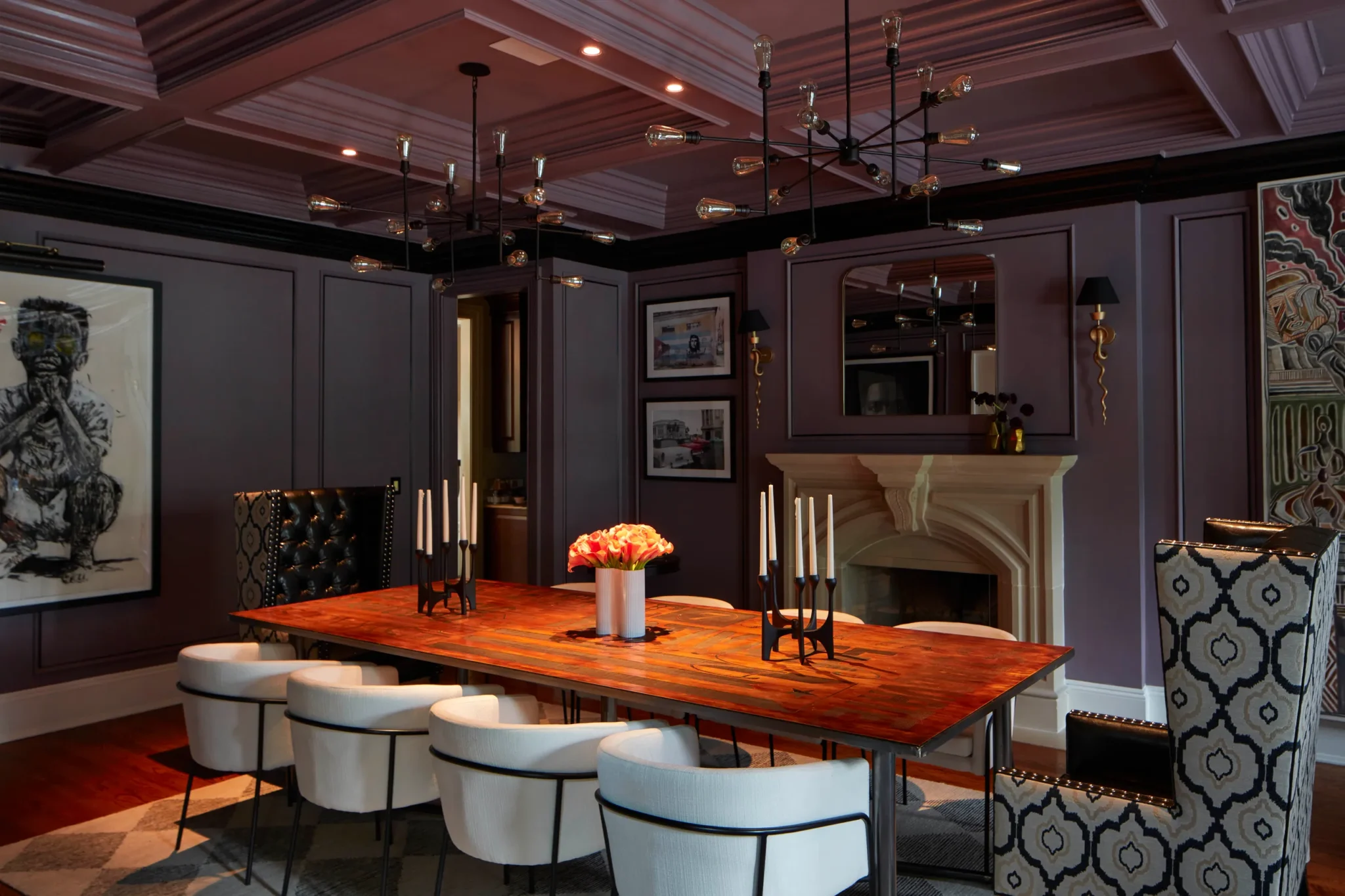 In the kitchen, modern convenience meets vintage charm. High-end appliances, marble countertops, and a cozy breakfast nook offer a perfect blend of the functionality and style.
The vintage charm is evident in the choice of materials and color palette. Rich wood cabinets with intricate detailing graces the walls, evoking a sense of old-world craftsmanship. The color scheme leans toward warm, inviting tones, with deep browns and soft creams dominating the space. This creates an atmosphere that feels cozy and inviting, reminiscent of a vintage farmhouse kitchen.
Carmelo Anthony mansion kitchen is a testament to the idea that can be a boy a chef's dream and a design lover's delight. It seamlessly combines the timeless charm of vintage aesthetic with the efficiency and convenience of modern appliances and design elements.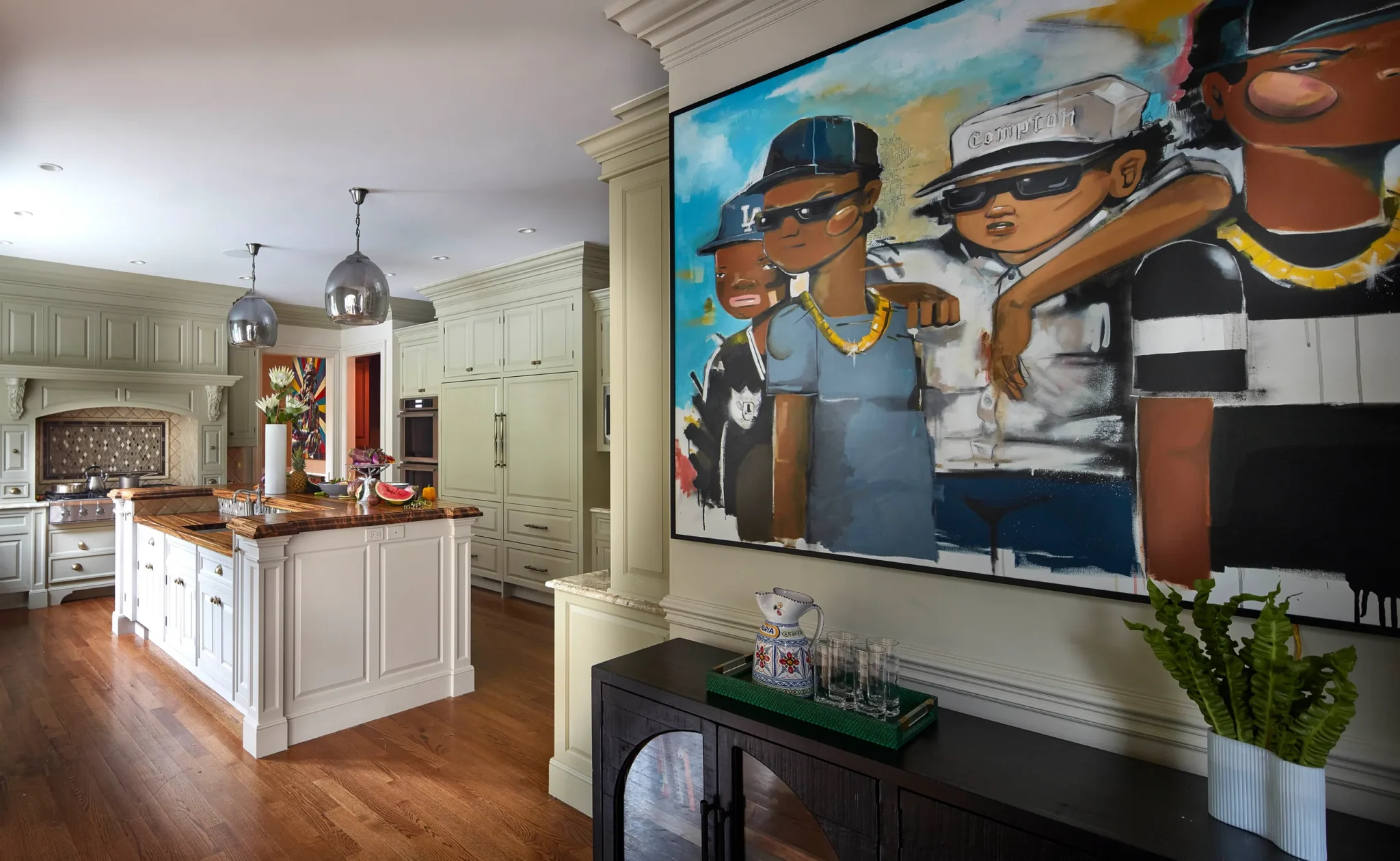 The bar area in Carmelo Anthony mansion is a visual masterpiece that seamlessly combines vintage charm with modern entertainment amenities. It's a spade dedicated to the art of enjoying cocktails, fine wines, and a good company in an atmosphere that exudes timeless elegance.
The bar itself is a work of art. Crafted from rich, dark wood with intricate detailing, it serves as the centerpiece of the room. Surrounding the bar, plush barstools with leather upholstery provide a comfortable seating. The deep, inviting colors of barstool upholstery complement the overall color palette of the room.
The walls are adorned with tasteful artwork, adding to the room's aesthetic appeal. Rich wooden paneling and ornate crown moldings further enhance the vintage charm. The lighting fixtures, including pendant lights and sconces, create an intimate and inviting atmosphere.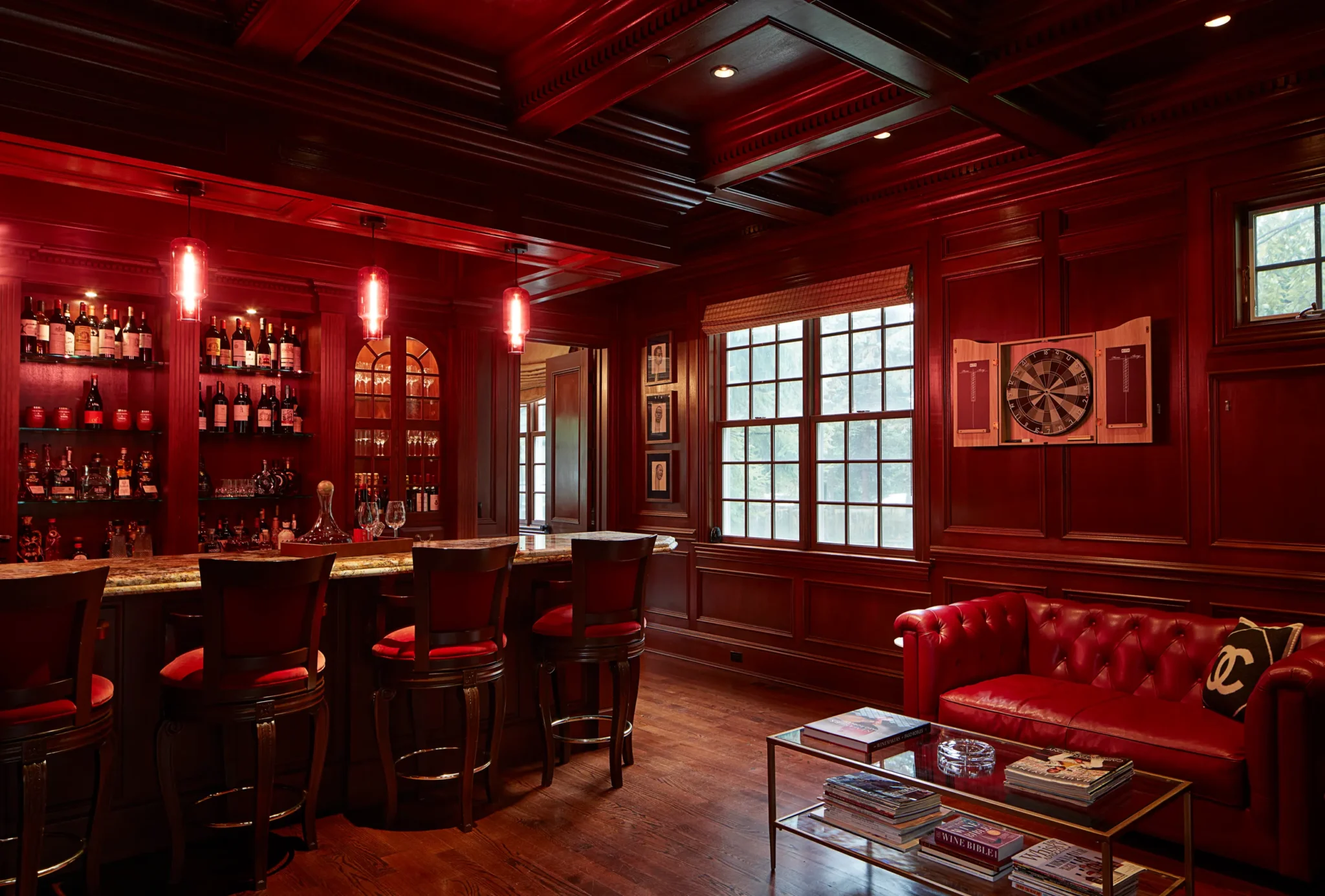 Carmelo Anthony's primary bedroom in his mansion is a lavish and relaxing retreat that combines opulence with comfort. This spacious sanctuary is designed to provide the ultimate relaxation and respite from the world.
At the heart of the room is a lavish king-sized bed with a grand upholstered headboard. The bed is adorned with high-quality linens and an array of decorative pillows, adding to the sense of luxury. Additionally, a sitting area with a comfortable sofa that provides a cozy spot.
The room is adorned with sumptuous textiles, including luxurious draperies, plush carpets, and soft bedding in calming neutral tones. These elements create a serene atmosphere that invites rest and relaxation.
Adjacent to the primary bedroom, a walk-in closet offers ample space for storing all Carmelo's sneakers collection, that is a testament to his passion for sports and fashion. This dedicated space showcases an impressive array of sneakers, each carefully curated and displayed as a work of art.
Another room of Carmelo Anthony mansion is his son's Kiyan bedroom that features a specific theme and motif that aligns with his interests. The bedroom has a basketball them, with basketball-inspired decor elements such as hoop and basketball-themed wall art. This room is the testament of Kiyan's love for the sport and his father's career.
Carmelo Anthony's Outdoor oasis is a true haven of leisure and entertainment, carefully designed to blend natural beauty with luxurious amenities.
At the heart of the outdoor is an expansive swimming pool that exudes sophistication and opulence. The pool features pristine, azure blue water that shimmers under the sun. It's surrounded by elegant stone tiles that create a seamless transition between the pool and the outdoor lounging area.
Also the outdoor is surrounded by meticulously landscaped garden and greenery. Carefully selected plantings, mature trees, and vibrant greens that create a natural barrier ensuring privacy and adding beauty to the space.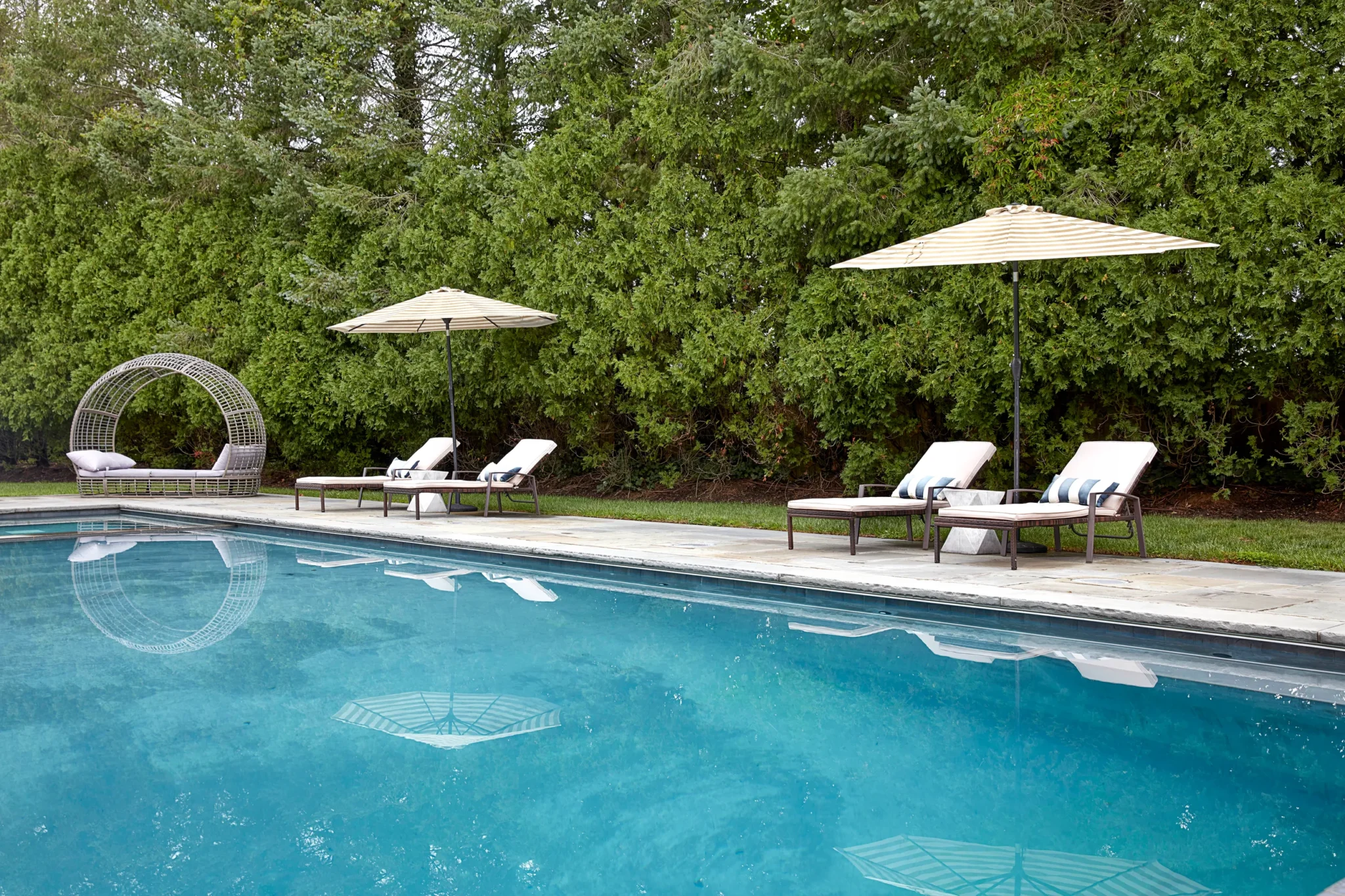 Carmelos Anthony's mansion is a testament to the power of design to evoke emotions and create memorable spaces. Whether you're an interior designer or someone with a passion for decor, let this luxurious vintage dream inspire your next project. Craft spaces that exude timeless elegance and charm, just like this remarkable mansion.
The Carmelo Anthony mansion is a masterpiece of vintage opulence, offering a wealth of design inspiration for those looking to infuse their interior with a touch of luxury and history. Explore the world of upscale decor and embark on your own journey to create, vintage and modern inspired spaces. For more inspiration, explore HOMMÉS Studio's modern collection.