Located right on the coast of Southampton, this beach house designed by Kelly Behun embodies a luxurious fresh style. Let´s peek inside!
Coastal-style beach houses are usually designed with open floor plans, plenty of windows that bring in natural light, and outside living areas like porches and decks. In this article, we will inspire you with this beautiful signature beach house style.
When the homeowners recruited Barnes Coy Architects to create a family Hamptons beach house, they had one specific demand: every deck and room should have an ocean view. In order to achieve this, architect Christopher Coy designed this contemporary home in an uncommon way. He opted to gather the guest bedrooms on the first floor and the main suite, dining room, kitchen, and living room on the second. Thereby, we realize that this beach house was indeed designed to welcome the sensorial comfort provided by the beach through the transparency of the high glass walls.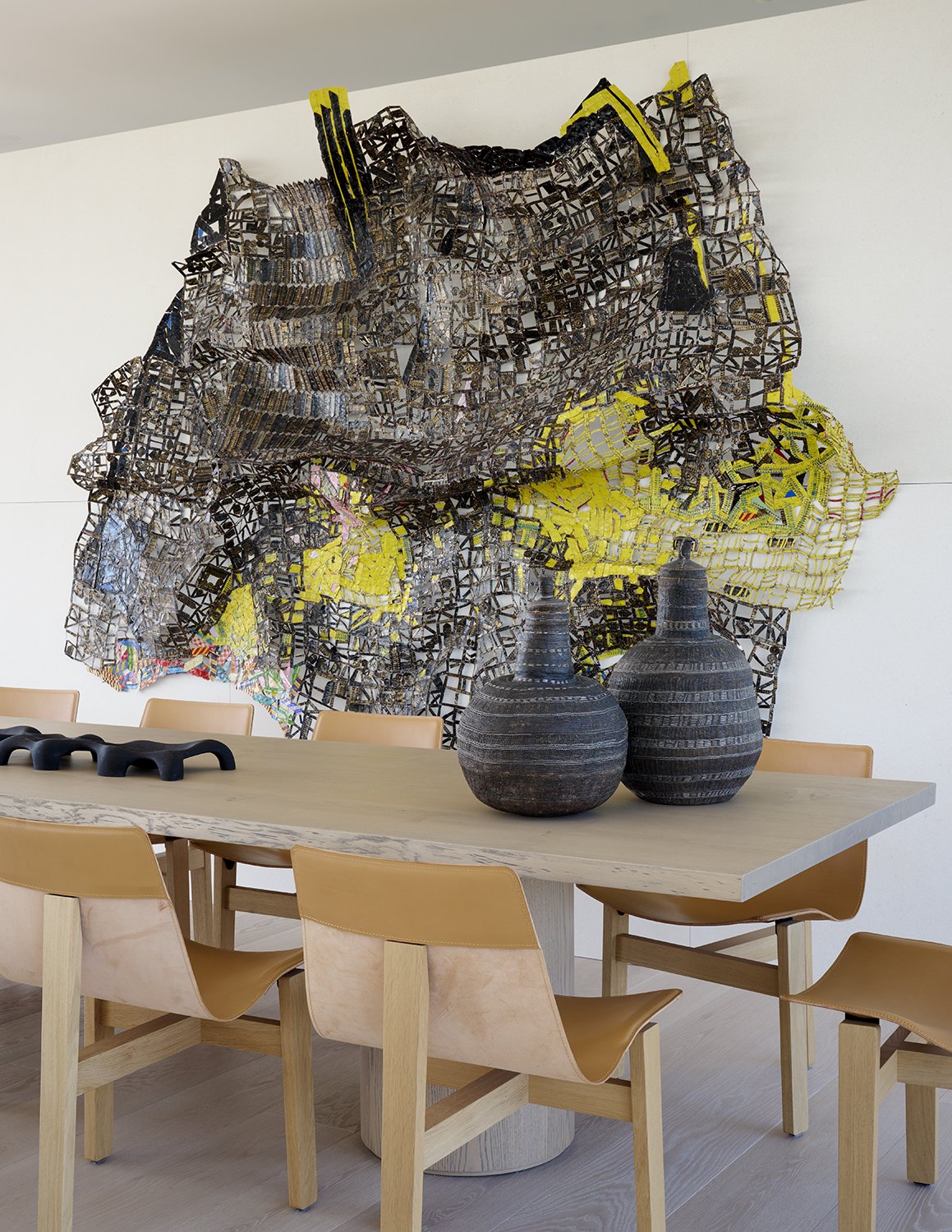 The interiors are covered in neutral hues, such as beige and cream, with light wood and limestone floors. The open-view dining and living room is swathed with a smart minimalist palette which exhales a sophisticated feeling thanks to Kelly's powerful gathering of textures.
This is noticeable, for instance, on the handmade ceramics created by regional artists like Cody Hoyt, the fluffy Moroccan rug, thick upholstery, chunky knit throws, and showy chairs with a soft fringe. In addition, there is a trio of coffee tables, a sculptural work by El Anatsui graces the wall right next to the dining table, and a piece by Goerge Condo hangs above the fireplace. The ceramics on the fireplace mantle are by Brenda Holzke.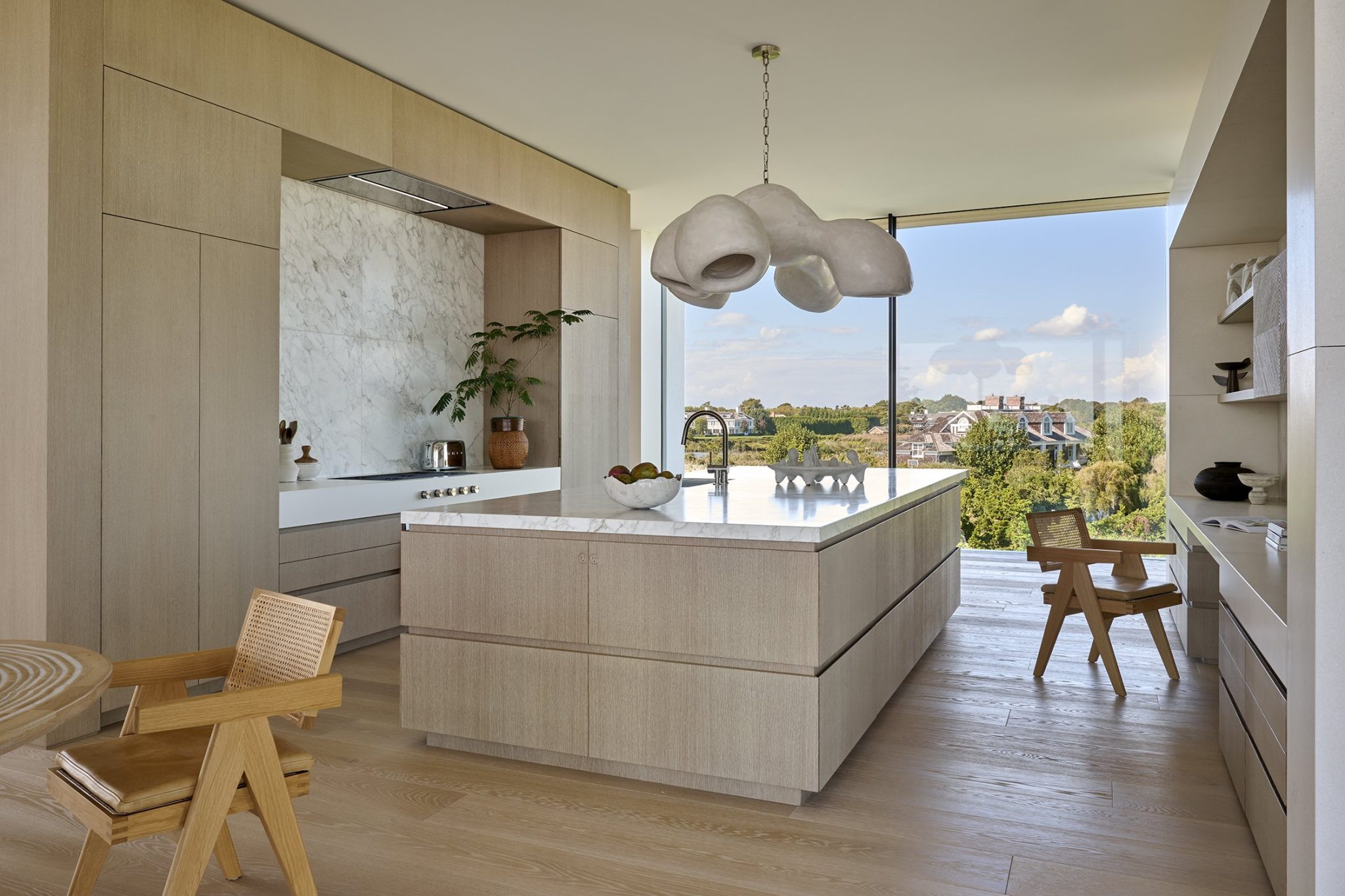 According to AD100 designer Kelly Behun, if you look out of the window to the north, you will find a charming pond, and if you look to the west, you will see a gorgeous sunset view. She also added that those views made her feel like she was on a ship. Although, there are no indications of a nautical decoration inside the house. Alternatively, this feeling led the designer and architect to be cautious with the space they had to work with.
This naval accuracy is fully exhibited in the kitchen, where Kelly hid the coffee machine and diverse appliances behind the driftwood-inspired doors, providing the family with an organized and coherent space. Despite that, the designers chose a piece that enhances this area, the illuminated sculpture by Rogan Gregory. Another interesting part of this room is the desk that Behun built into the kitchen cabinetry to offer the wife an office nook.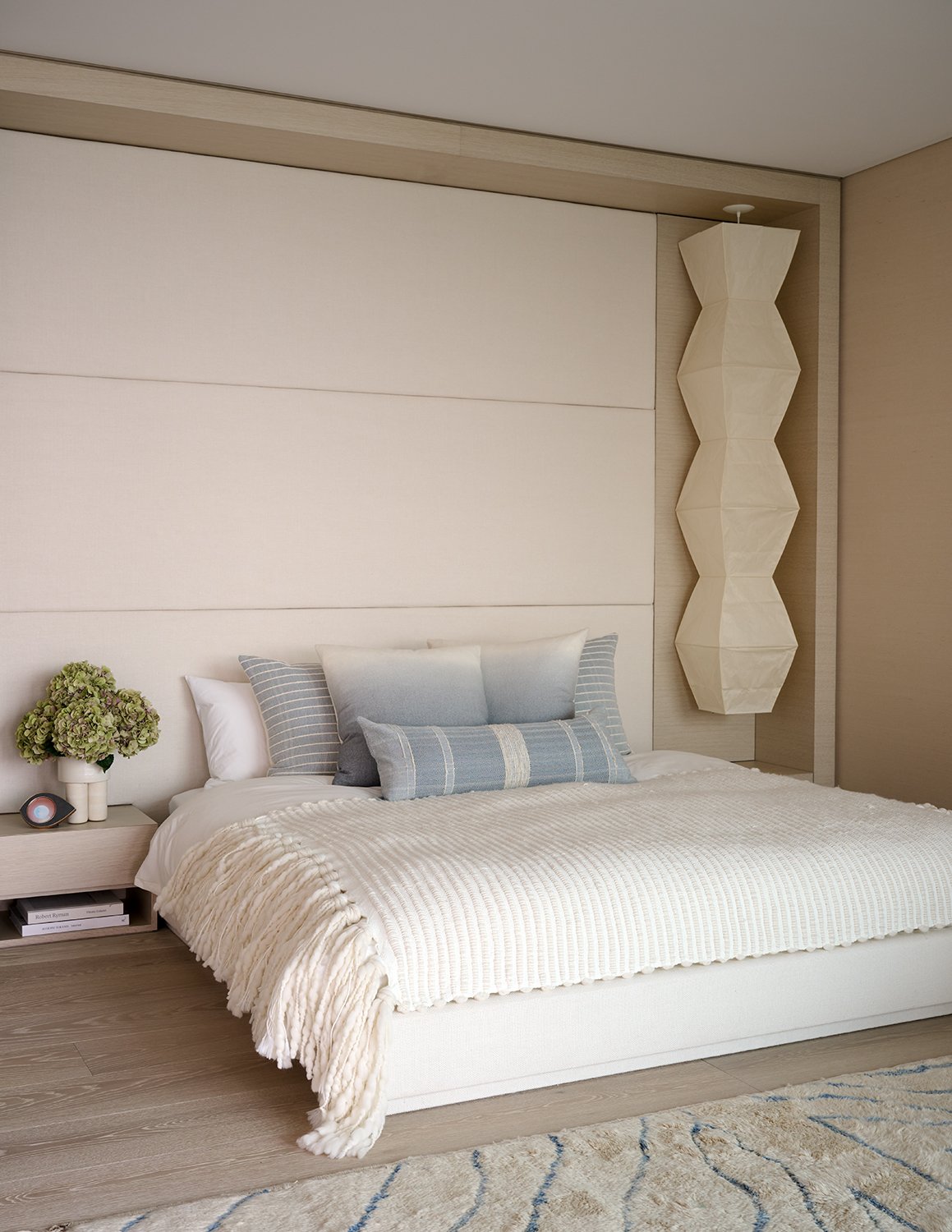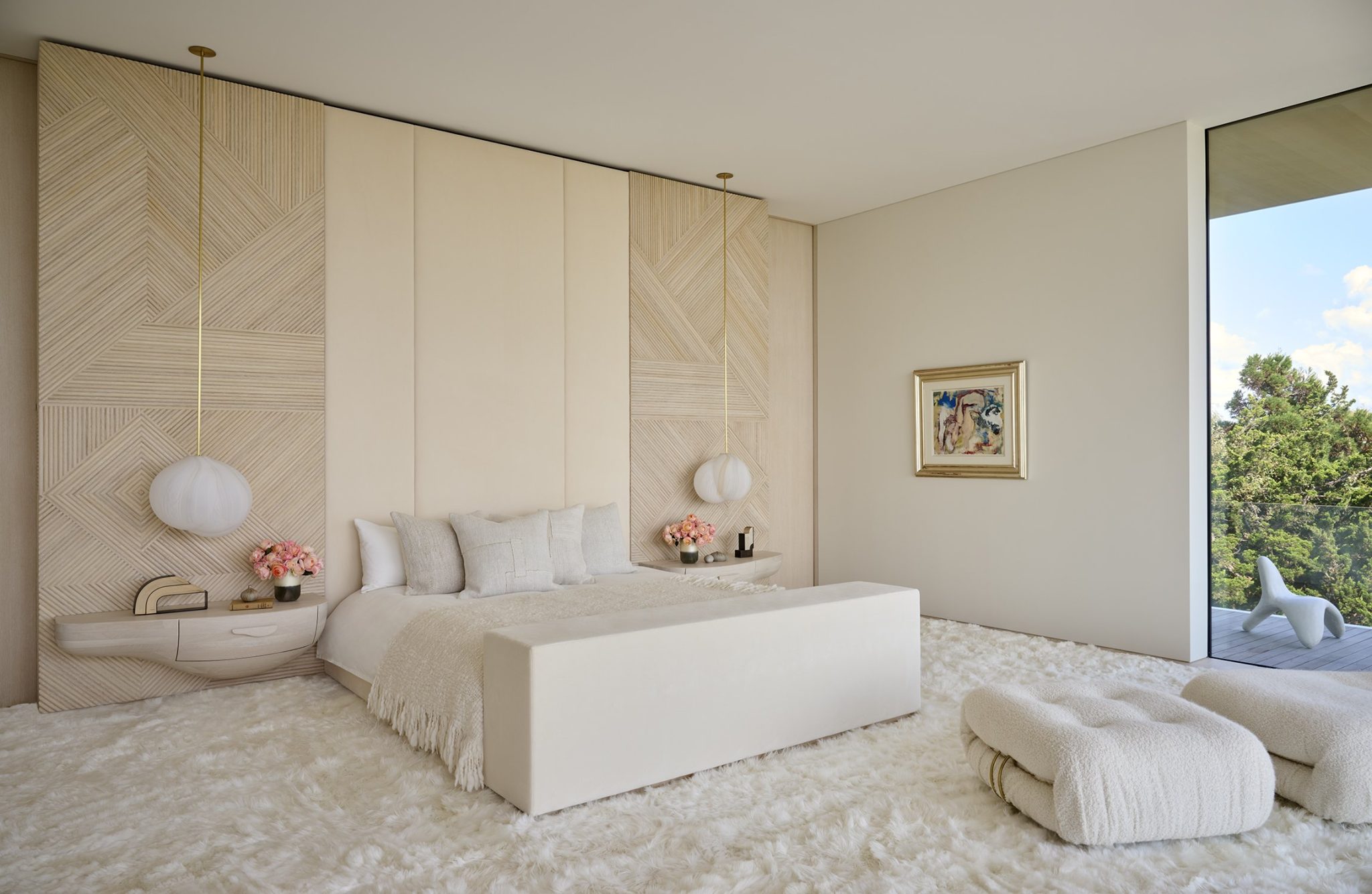 It was already decided that this beach house would never be an amusing dramatic home. The homeowners were sure that they wanted a familiar environment where they could relax. Possibly, that's why the guest bedrooms are organized based on a hotel style.
Behun stated that these rooms were relatively compact with minimalist built-in bathrooms and justified that by saying that the proprietors wanted these rooms to feel like a beach hotel. Consequently, now every room is a relaxing refuge, as well as the master suite on the top floor, incorporated with a soaking tub and surrounded terrace.
In the main suite, Behun used tiny pieces of beaded bleached wood to create deconstructed geometric patterns for the dramatic headboard. The carved wooden side tables are illuminated by cloud pendants in mouth-blown glass. The charming room is completed with a cozy rug and beautiful artwork.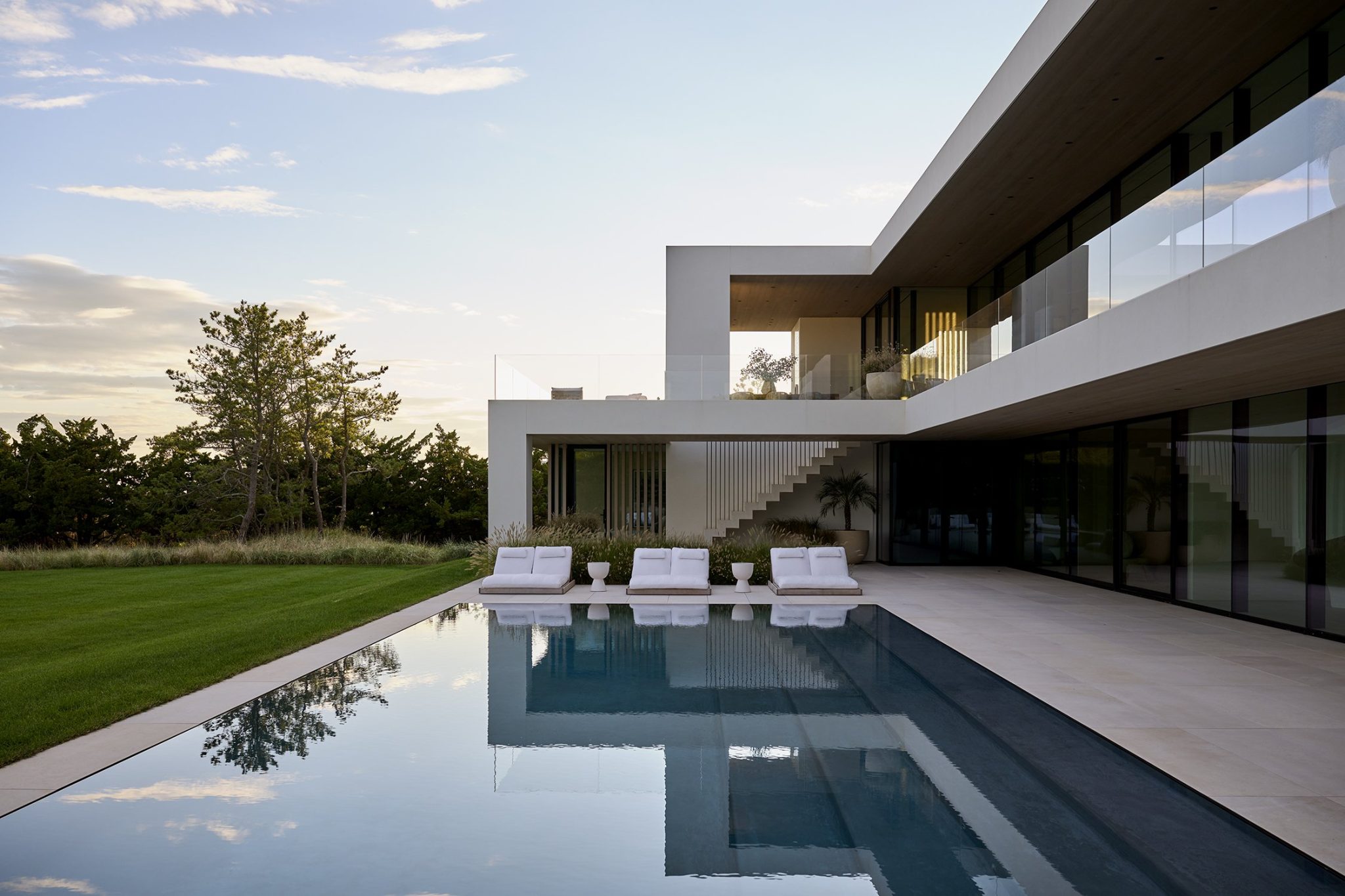 This remarkable Southampton Beach House by Kelly Behun uses design elements, such as neutral tones and modern furniture, to infuse its interior with a peaceful and tranquil atmosphere. With this design, Behun masters the art of living and proves that luxury and comfort can create a dreaming atmosphere. Now that you have seen this inspiring beach house tour, discover our How To Create a Cozy Project to get this beach house feeling to your projects.