Are you looking for living room design ideas? If the answer is "yes", keep reading this article. Here you'll find an example of a colorful living area designed with luxurious and modern furniture pieces.
Living rooms can be the most intimate place in a house. Color touch living room is a commitment to wisely blend vibrant colors with a neutral pallet to connect your space with your emotions closely.
Moreover, the room should reflect not only your personality but also your soul and taste. Baire in mind that the living area is the place where the guests are received and most importantly where you'll spend most of your time.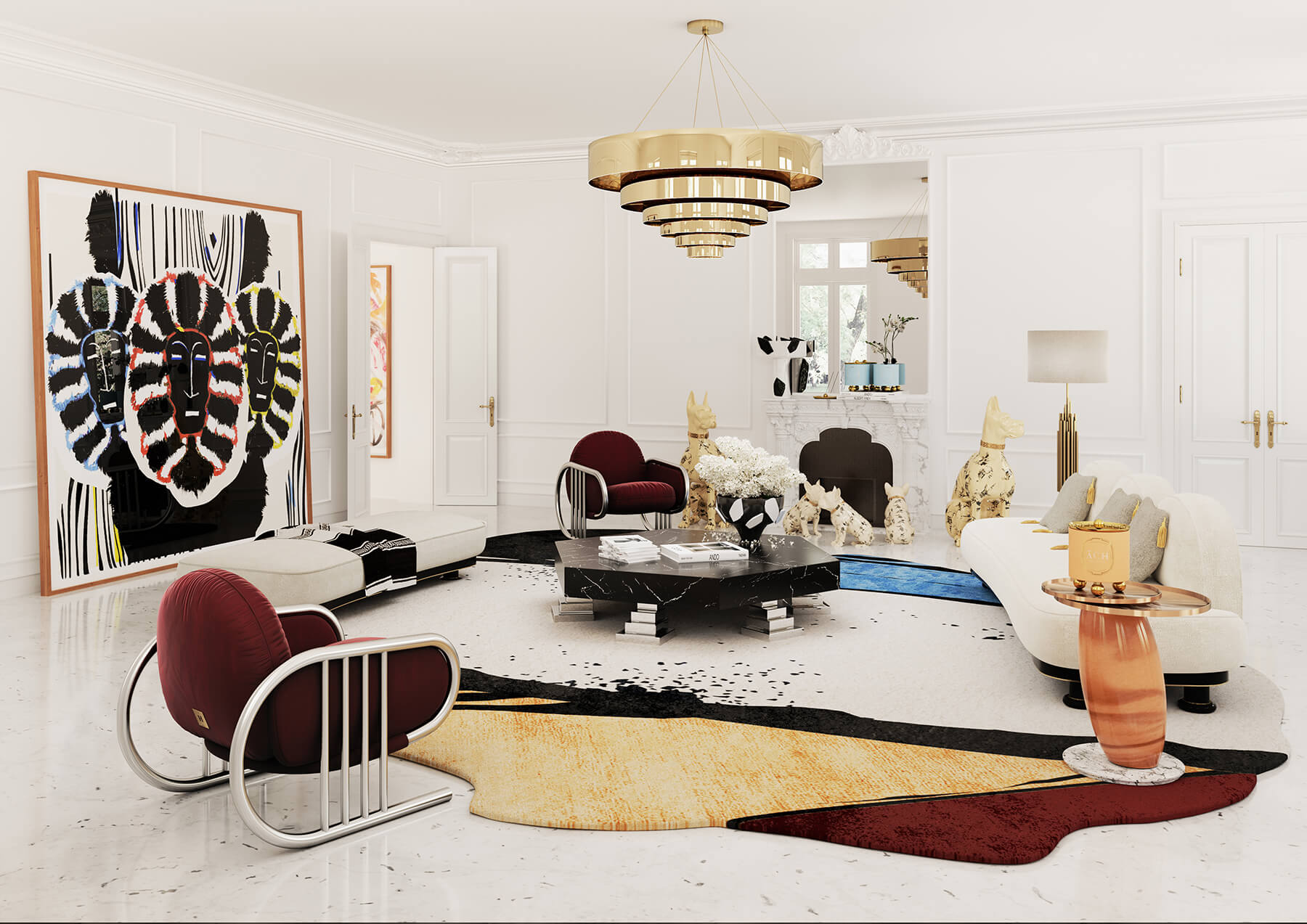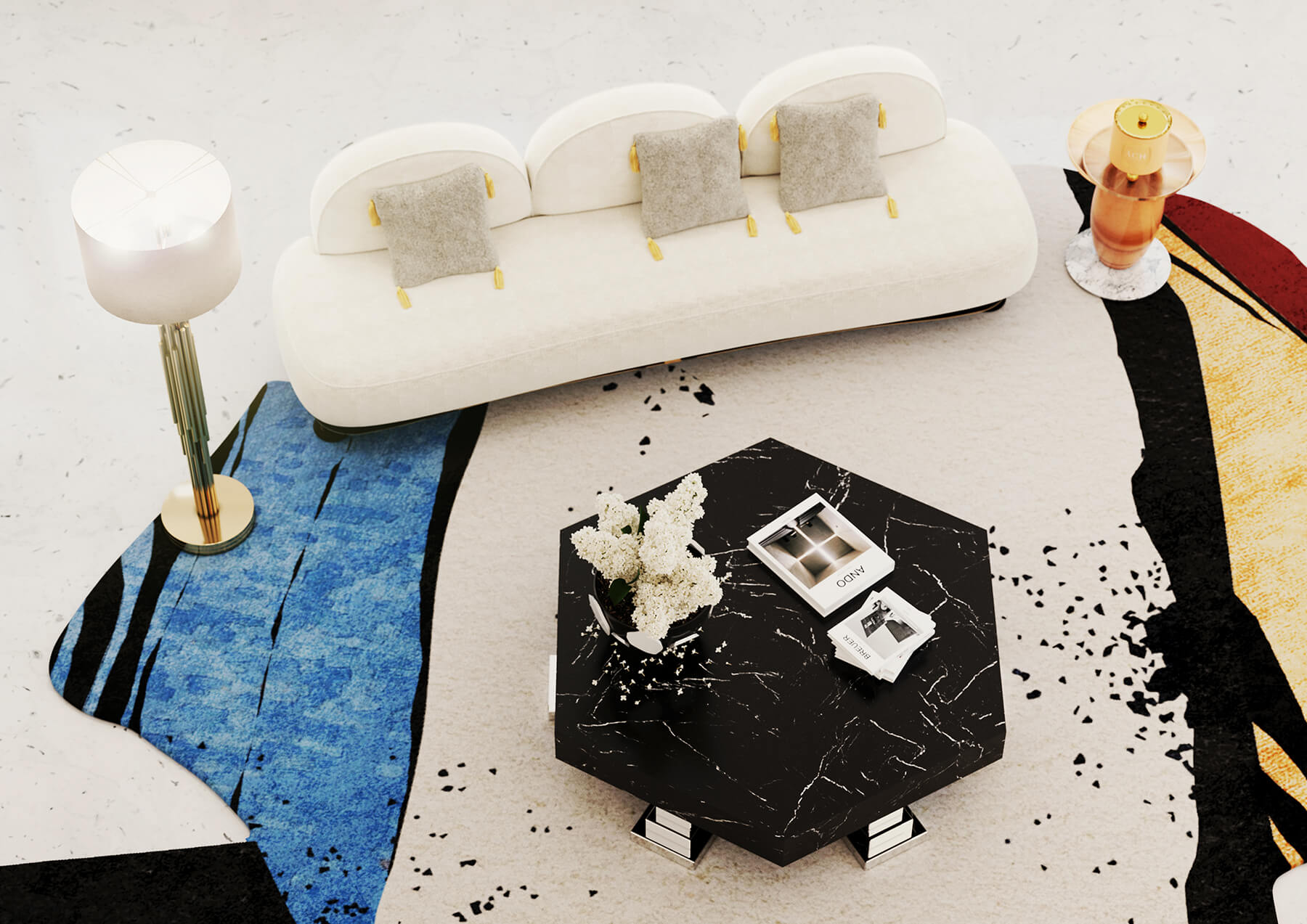 The furniture pieces used in this look
Odonto Center Table was designed as an outdoor center table. It was created in the attempt to re-interpret the hexagonal shapes seen in the Islamic Culture mixed with a funny Memphis design extra.
This elegant outdoor center table is a great choice for a contemporary luxury garden design. Also suitable for indoor usage.
Materials
Top in Polished Panda White Marble; Feet in Polished Negro Marquina Marble.
Fifih Bench is the perfect luxury bench for a minimalist and modern interior architecture project. Elements from the past mixed with a futuristic vision.
Materials
Upholstered in Velvet; Base Lacquered in Black in Matt.
Tavle Side Table is a contemporary design. This unusual side table combines harmonious shapes and materials. A great choice for a modern living room or for an artistic master bedroom project.
Materials
Top in Polished Gold Stainless Steel; Body in Tulip Wood in Gloss; Base in Polished Carrara Marble.
No products were found matching your selection.
Cocoon Suspension Lamp was inspired by the shapes of Art Deco jewels. It was designed to bring elegance and character to any living area. A luxury chandelier for a high-end interior design project.
Materials
Structure in Gold Polished Stainless Steel; Amber Colored Glass; Canopy Polished Carrara Marble and Polished Negro Marquina Marble Details.
Due to the handmade production of blown glass, some air bubbles may appear.

Lunarys Sofa

Sofa

$

9.699
Lunarys Sofa is a contemporary style sofa that features a glamorous aesthetic look. It's an outstanding sofa that amazes everyone with its powerful presence.
A stunning piece that disrupts commonly seen shapes, transitioning its admirers to another dimension.
Materials
Upholstered in Bouclé; Handpainted Legs in Gloss Marble Effect.
The accessories used in this look from ACH Collection: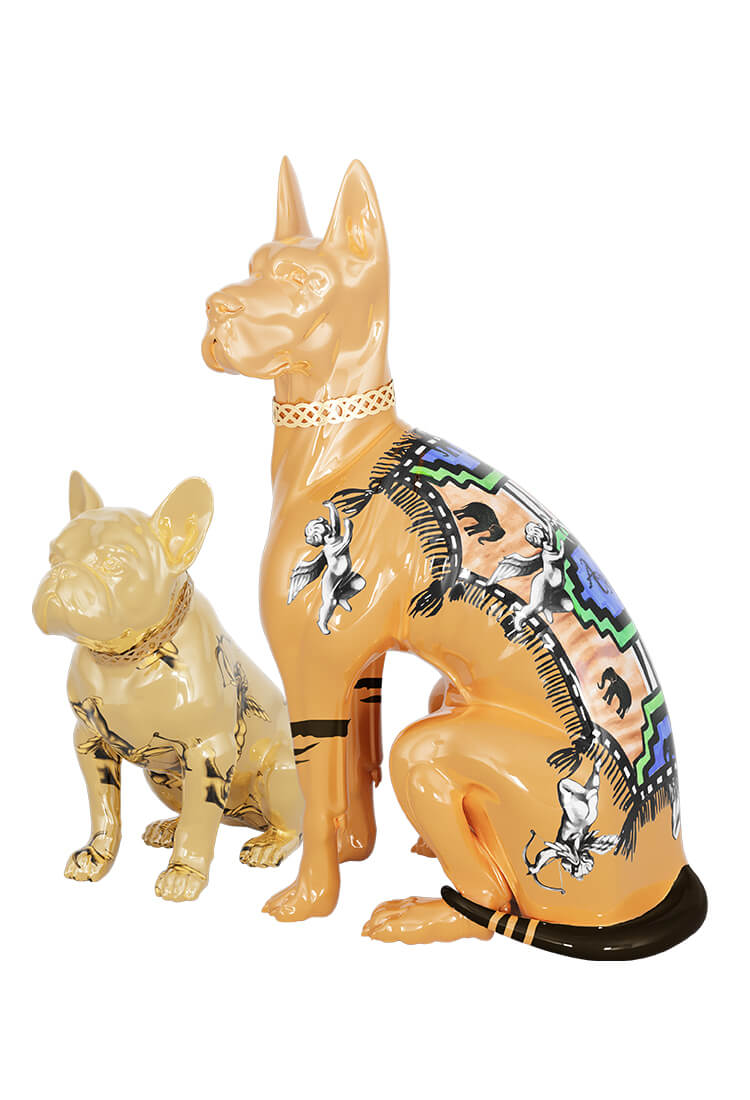 Perros figurine decor is a luxury set of two decorative figurines inspired by the vintage ceramic dogs. An artistic expression for decor and pet lovers.
With a modern vibe, this set of two dog's sculptures are handmade and painted by skillful artisans.
Perros is the ideal decor compliment for a stylish living room, master bedroom, or hallway entrance.

ACHI candle releases a hypnotic perfume adding extra value to a space thanks to its eye-catching container design. The natural composition of scents promises to excite sensorial experiences through your Home.
ACH advisors recommend you to continue the experience by using the container as a vase plant.
See also this Dining Room:
ART DECO DINING SET DESIGN by HOMMÉS Studio.
We really hope you liked our article. Feel free to pin all the images to your favorite Pinterest board. Meanwhile, you can also visit our Pinterest boards to get more inspirations.
Get more ideas for your projects and find functional, stylish, and sizable lighting and furniture choices: