Anthony Authié has seamlessly combined the Memphis style with Brutalist Design. Let's explore this incredible and colorful abode.
Anthony Authié, the founder of Zyva Studio, has uniquely and colorfully created his home in Bagnolet, France. He has combined Memphis style with Brutalist design, featuring vivid colors, playful furniture, and flaming curtains. This fresh concept in his home is incredible and breaks away from traditional apartment designs.
This residence embodies the free-spirited nature of Authié and his wife, Adele, showcasing its exuberance and love for comics. It exudes a distinct personality with its striking and daring features. Authié, in his design, tries to break concepts and traditional ways of designing an abode. He tries to work relaxed and funny when creating a space; this home reflects all that.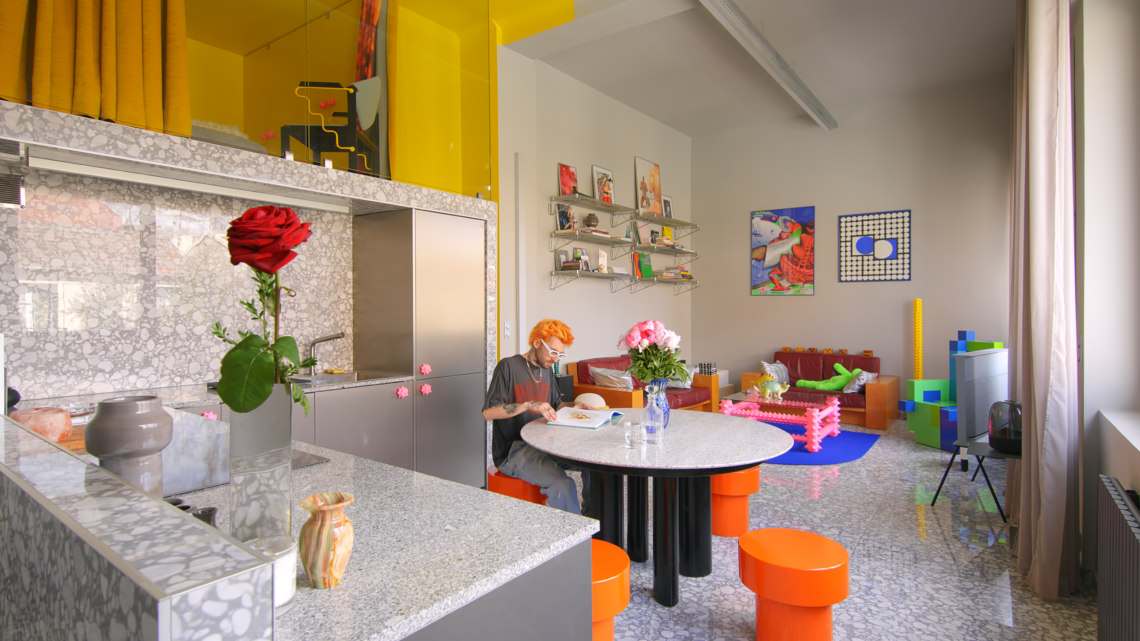 Memphis and Brutalist Home
This particular abode defies conventional norms of spatial design. It is an exemplary industrial building meticulously fashioned by the vivid imagination of Anthony and Adele, who found inspiration in their childhood recollections. This home encapsulates their fervor, remembrances, and distinctive individualities.
All the furnishings introduce colorful accents to the basic grey. In the living room, the Memphis-style furniture perfectly completes the Brutalist design of the space, from the exquisite center table to the incredible and colorful stools. The artwork also completes the Memphis and Brutalist design of the room, adding stunning and fun decor.
Authié wants to create a home that would authentically reflect his personality. Inspired by Lego and Mario Games on Nintendo, the architect crafted a creative, functional, and personal living space. Adjacent to the living room, the fully metallic kitchen is a true masterpiece.
Every detail of this kitchen reflects his love of pop culture and video games. The spiny turtle shells seen in the Mario Bros. franchise inspired the door handles and lighting textures, which were made using a 3D print at his studio. The colorful stools and stunning dining table evoke Lego's playful and vibrant colors.
This house boasts an open-concept design that blends practicality with elegance. The open living, kitchen, and dining area leads to a bright, striking bedroom accessible via a staircase. To enhance the brutalist style of the mini loft, the designer opted for a vibrant yellow hue in the bedroom. This color adds a touch of warmth and freshness to the room.
When viewed from the lower floor, the bedroom looks like a spacious yellow box, providing a peaceful retreat. The bedroom is decorated with a bright yellow color scheme and features a beautiful bedside table. The eye-catching flaming curtains add a retro 2000s vibe to the overall aesthetic. The bright and bold bedroom is the perfect example of the Memphis style and brutalist design can work together.
The mint green bathroom in this home stands out from the rest of the loft's brutalist design and grey tones. It creates a sense of tranquility with its green cabinetry, Alix Coco stool, and doorless shower that optimizes space and enhances the room's functionality.
A discreet green closet offers plenty of storage for clothing while also cleverly hiding the washing machine. The room feels luxurious, like a walk-in closet, and expertly blends luxury with convenience. Every detail in this space was thoughtfully planned and created an elegant yet functional living area.
Get to Know Anthony Authié
Anthony Authié is a French architect who founded Zyva Studio in 2019. He operates in the space between architecture and design and draws inspiration from his memories of growing up in the 2000s. Various cultural references influence his work, including Matriz, Dragon Ball, and Mario Bros.
His design concepts embody personality, creativity, and playfulness, and his new apartment in Bagnolet reflects his journey in architecture and interior design. Authié perfectly balances traditional and bold styles, as seen in this apartment, where he blends brutalism design with Memphis furniture and elements.
Ready to Be Bold in your Design Projects?
The apartment boasts a breathtaking blend of Memphis style and brutalism design, resulting in an unparalleled and genuine interior design. With great ingenuity, Anthony Authie and Adele have transformed a modest living space into a stunning haven by masterfully merging the vibrant elements of Memphis with the raw aesthetic of the brutalist design, from the artfully designed living room to the imaginative kitchen and the peaceful bedroom.
Every aspect of this Memphis and Brutalist design showcases the couple's originality, functionality, and aesthetic harmony. We hope this authentic and impressive design has inspired you as much inspired us to be bold and unique in your living projects. If you're looking for more inspiration, we invite you to explore our Guide to Colorful Home Decor to learn how to combine colors in your interior projects.