Looking for new interior design mood board ideas to help bring your projects to life in a creative, practical, and unique way? Discover here!
If you've been looking for fresh interior design mood board ideas to start your projects, you've come to the right place. We have made a selection of mood boards that involve different types of materials, colors, design styles, and even themes. Check out some inspirations and discover ideas for your interior design project.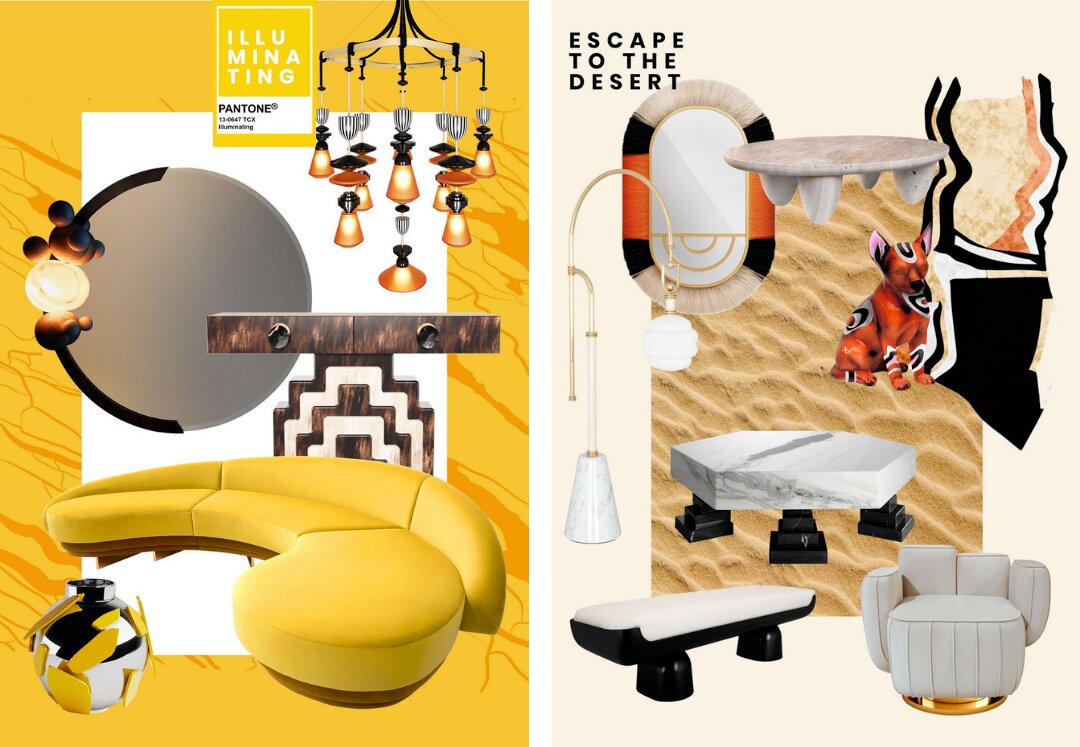 Interior Design Mood Board Ideas
An interior design mood board is a great way for professionals to explore their ideas, collect references and inspirations for an interior design project in one place. If you still have second thoughts about how to start one, be sure to check out our step-by-step how to create a mood board interior design.
To help those who already know where to start, but still need ideas for their interior design project,, here are some practical examples of mood boards that can be created from different approaches. The options are many and worth checking out!
By Design Style
If your final project is to create an interior in the Mid-century style, your mood board can count on specific furniture. Clean lines, neutral colors, a mix of natural and industrial materials, graphic shapes, and some pops of color, for example. If the main focus is an Art-deco style project, you can use bold furniture that follows a geometric line, glossy finishes (such as lacquer), chrome elements, and mirrored.
By Themes
How about taking inspiration from seasonal themes such as seasons or countries of reference? This method enables you to connect the many components, the project's materials, and the palette's various colors. This makes it simpler to determine which elements or furniture are required to complete the space and ensures that the entire design complements the main subject.
To create a Fall mood board, for example, the idea is to explore the colors, smells, and textures of the season. The sunshine, the rain, and the crusty leaves outline the fall decor trends, and all of this stimulates the brain to transport us to this place.
For this, in your interior design mood board you can use soft tones such as beige, dark yellow, oranges, and cozy textures such as velvet. Also, combining natural materials such as wood and marblebrings the interior closer to the exterior.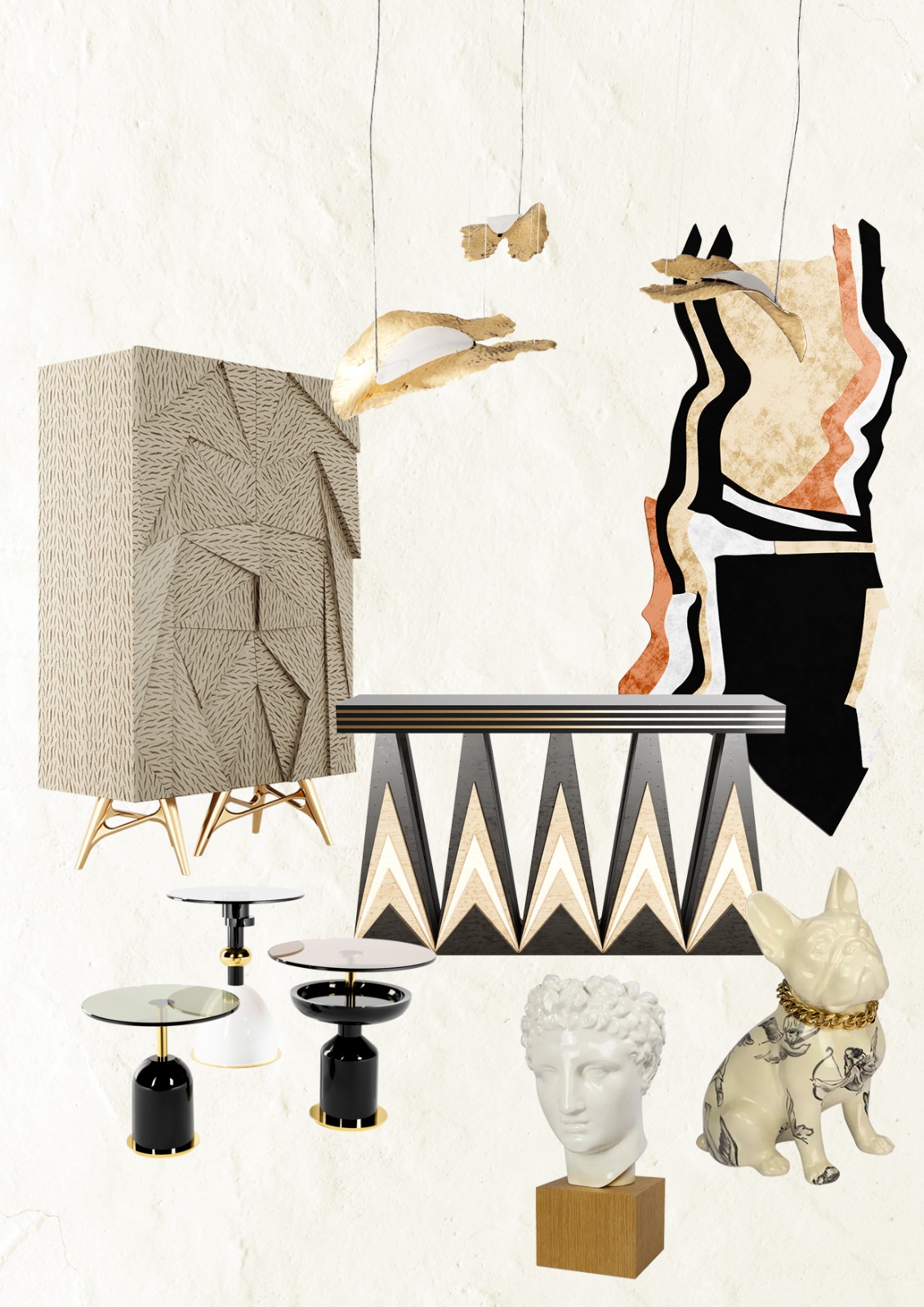 To create summer mood boards, choose warm tones like red, pink, orange, and yellow juxtaposed with metallic materials that will turn any modern interior into a unique and fresh space!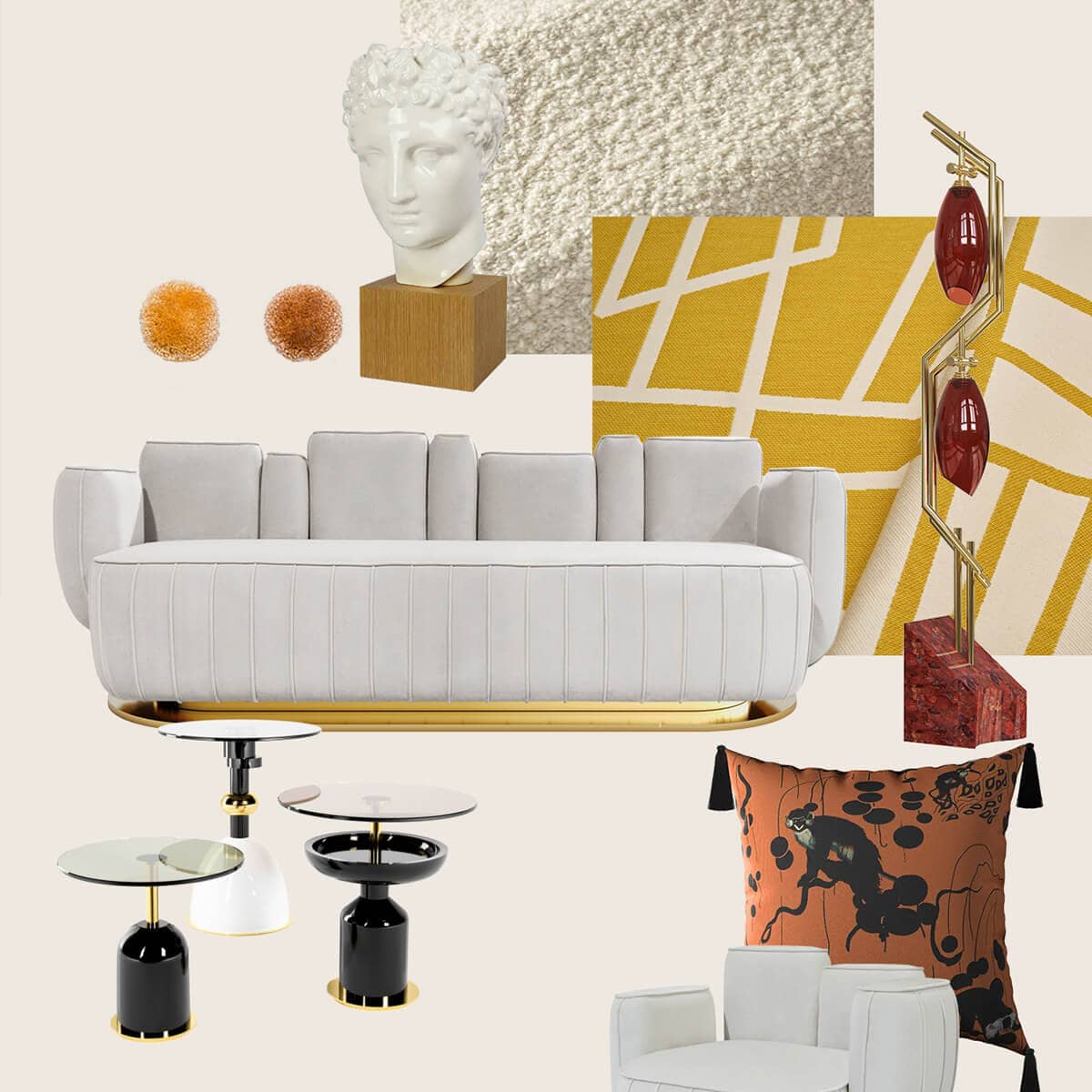 To be inspired by British design is also to be guided to the elegance of traditional handcrafted elements and contemporary materials that style has. Here, sophisticated, innovative, and luxurious pieces are the right words.
By Shades
Creating an interior design mood board by color palette is a common strategy by professionals who aim to represent interiors with sensations and stimulate our brains in many different ways. For example, the aesthetics of a black and white mood board plays with the idea of opposites like negative and positive, evil and goodness, and the perfect balance between Yin and Yang.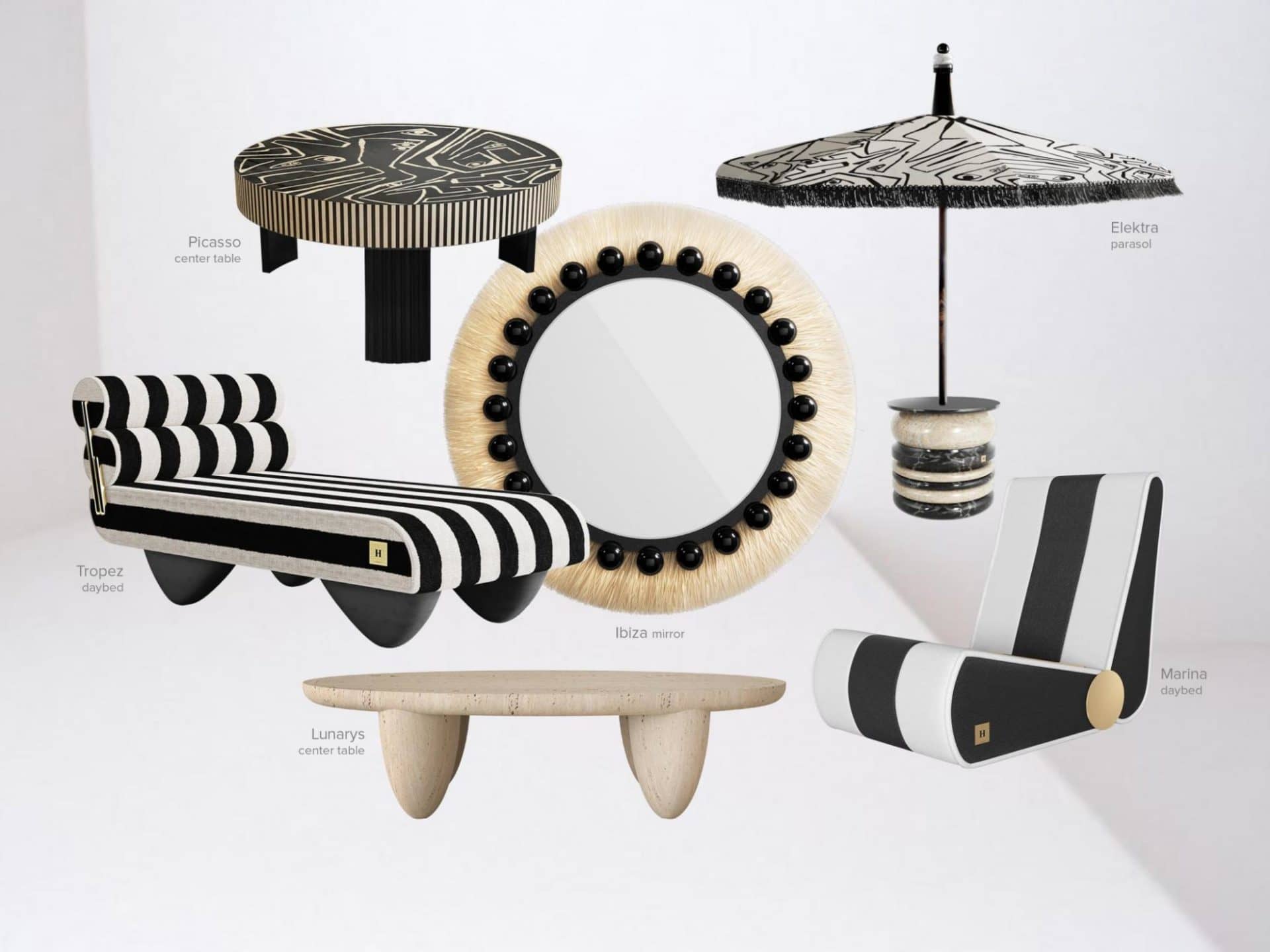 An environment that is created from a mood board with green tone references, in turn, automatically brings in the freshness of nature, the aromas of herbs, or a lighter, more relaxed lifestyle. The use of warm tones, on the other hand, evokes boldness, confidence, and energy.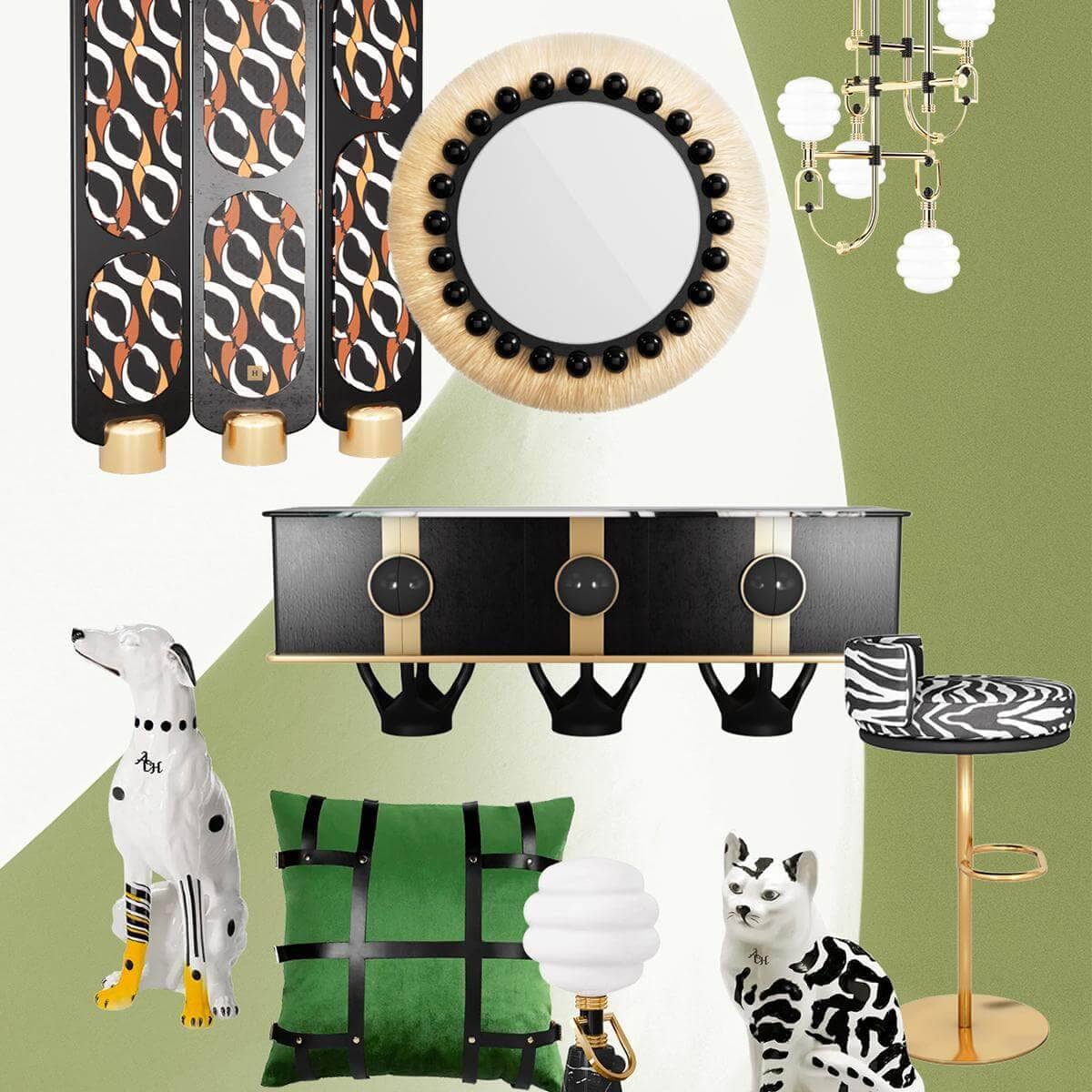 By Material
Thinking about interior design mood boards based on materials can also be a way to start your projects. Just like colors and fabrics, the predominance of some materials for the composition of the space can also say a lot about the final result.
A mood board inspired by wood, a versatile material with durability and resistance, offers a cozy environment. Thus, Marquetry Furniture is an excellent example of a traditional woodworking technique that creates beautiful patterns and designs.
A stone-inspired mood board can feature luxurious pieces in marble, or else in iconic Travertine, a natural colored stone that suits various styles, from minimalist to maximalist. The porous texture further enhances the exclusivity of the pieces and adds visual richness.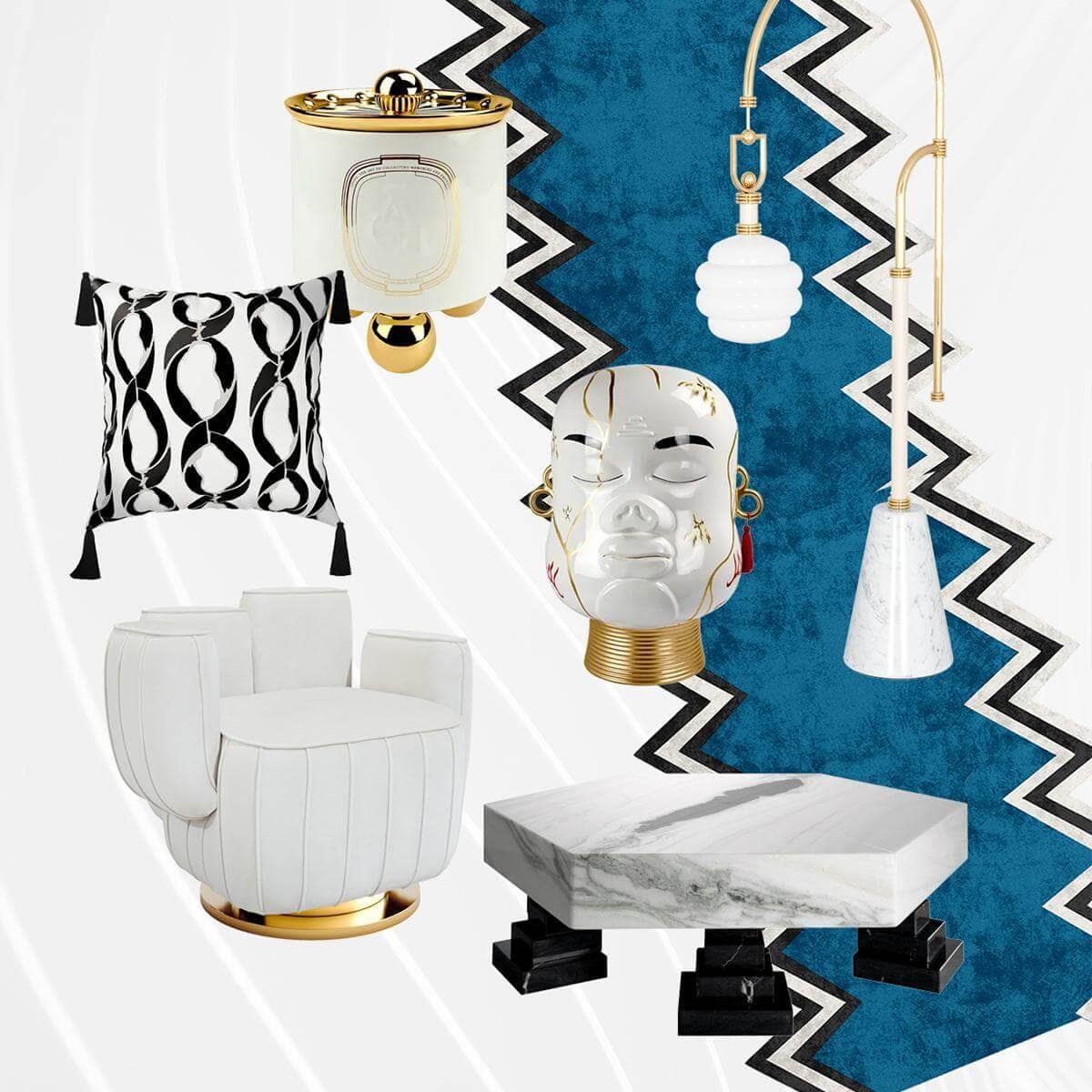 The use of metals is very common for those who wish to offer highly durable pieces with a high level of sophistication. Brass, for example, adapts very well to a contemporary as well as to a more classic design. The details, especially in gold, bring elegance to the projects. Mostly used as a finishing material, it can also be found in whole pieces, such as tables, mirrors, or chairs.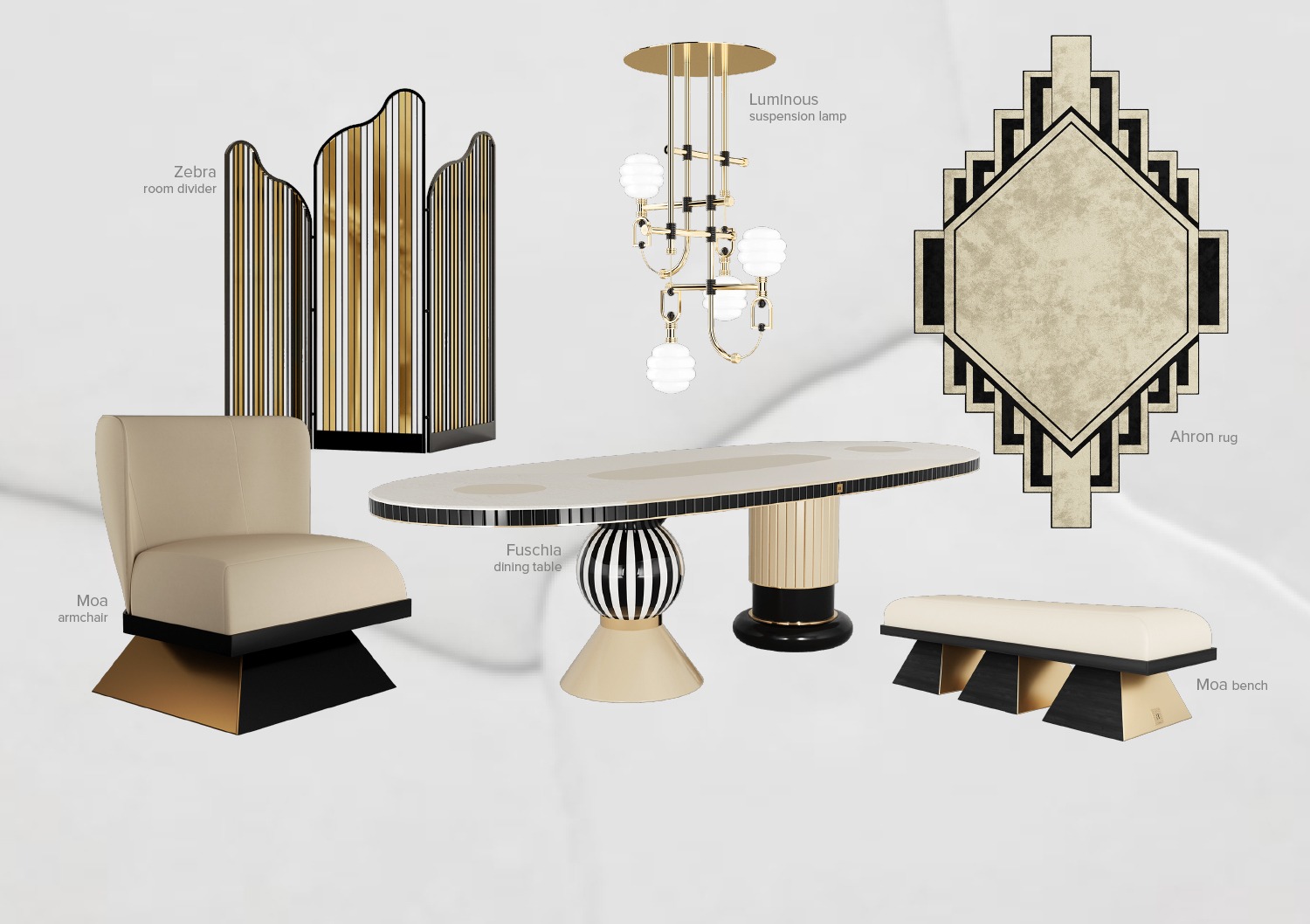 Finally, there is nothing more sensory to the touch than what different types of fabric can offer. An interior design mood board can also be thought of in textures, and here examples like velvet – linked to luxury and power – and bouclé – soft and perfect for sofas and chairs – could not be left out.
WOW! Now that you have followed some tips and combinations on how to complete your project, how about getting a little more inspiration? We have made a special selection of interior design mood board ideas with iconic products for you to be amazed by.