Martin Brudnizki Design Studio is one of the best interior designers and architects in the world. He is known internationally, and his Studio in London and New York was listed in AD 2020 Top 100 list of the Best Interior Designers and Architects.
Founded by Martin Brudnizki in 2000, the team has experience creating hotels, restaurants, bars, private members' clubs; alongside residential developments and helping a select number of people design their dream homes.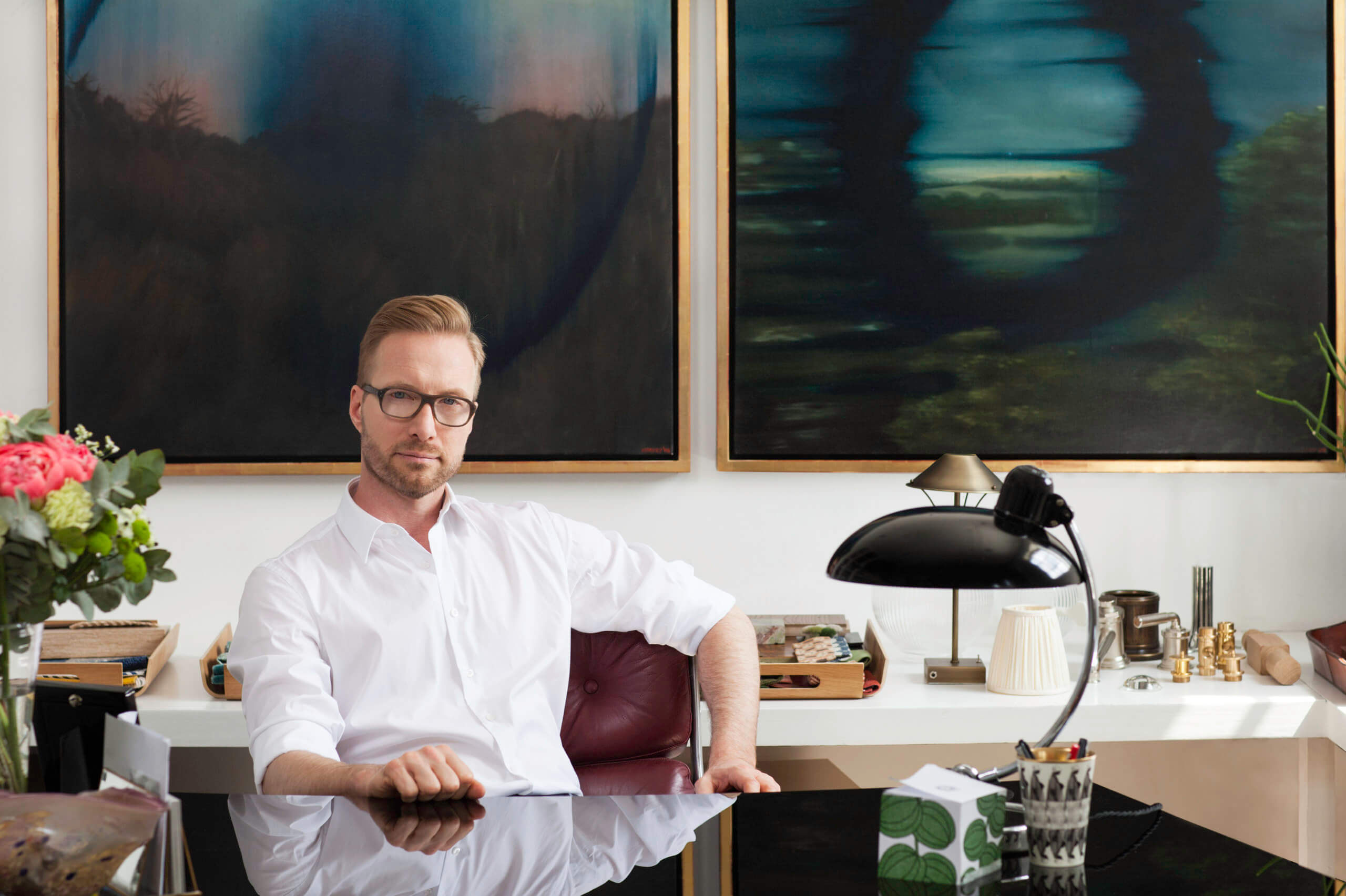 Through the careful study of a project's context and a client's lifestyle, a dedication to functionality, and a love of layering different materials, textures, and styles, the Studio hand-crafts environments enable their clients to develop personal and long-lasting relationships with their interior spaces.
The Beekman is a 287 room Thompson Hotel located near Manhattan's Financial District.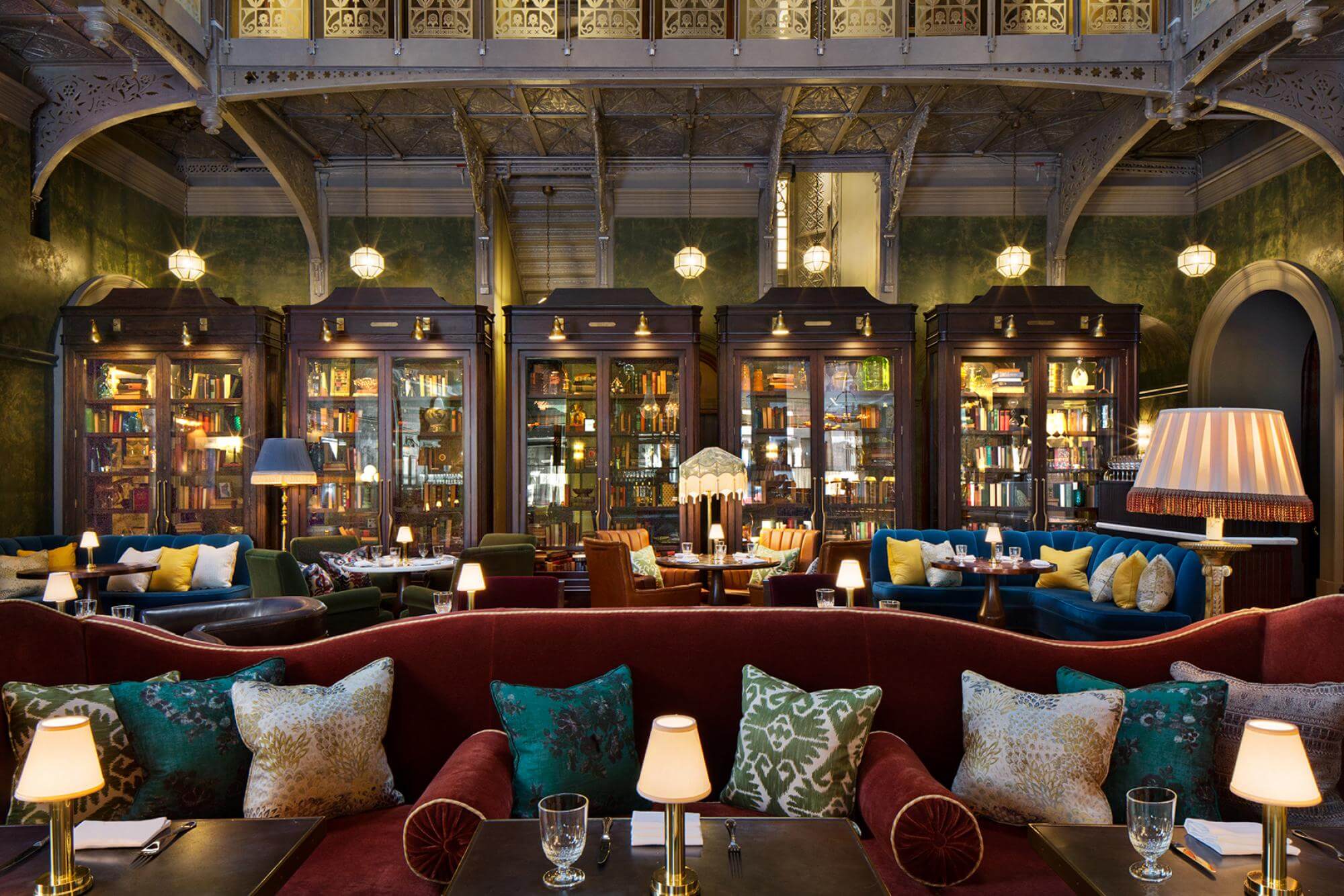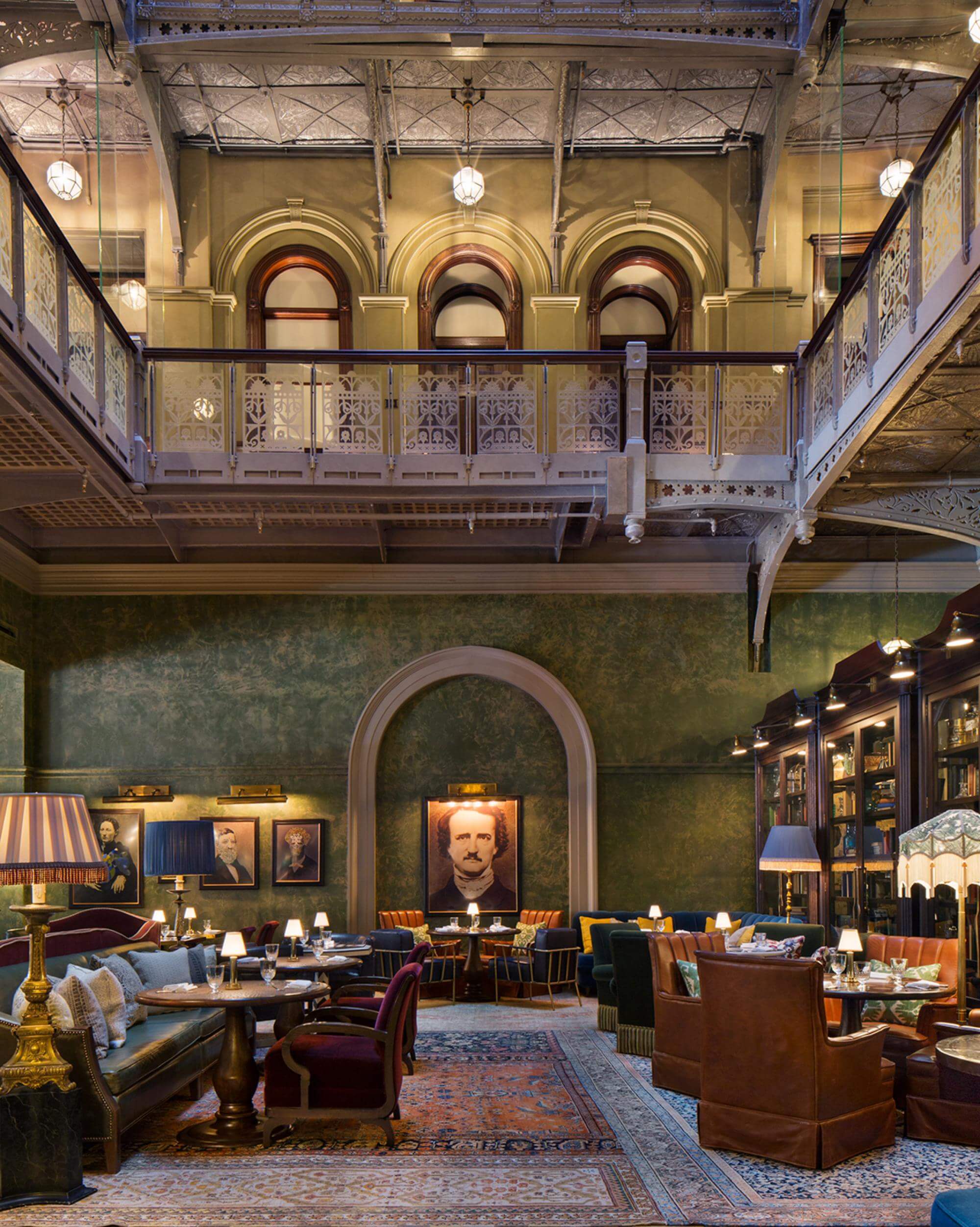 Originally called Temple Court and built-in 1881 in the American Queen Anne style, its powerful architectural history guided the hotel's design. From its unique exterior to the splendor of the dilapidated Victorian interior found inside, the Beekman is a hotel with a background, and its new interior scheme compliments this story.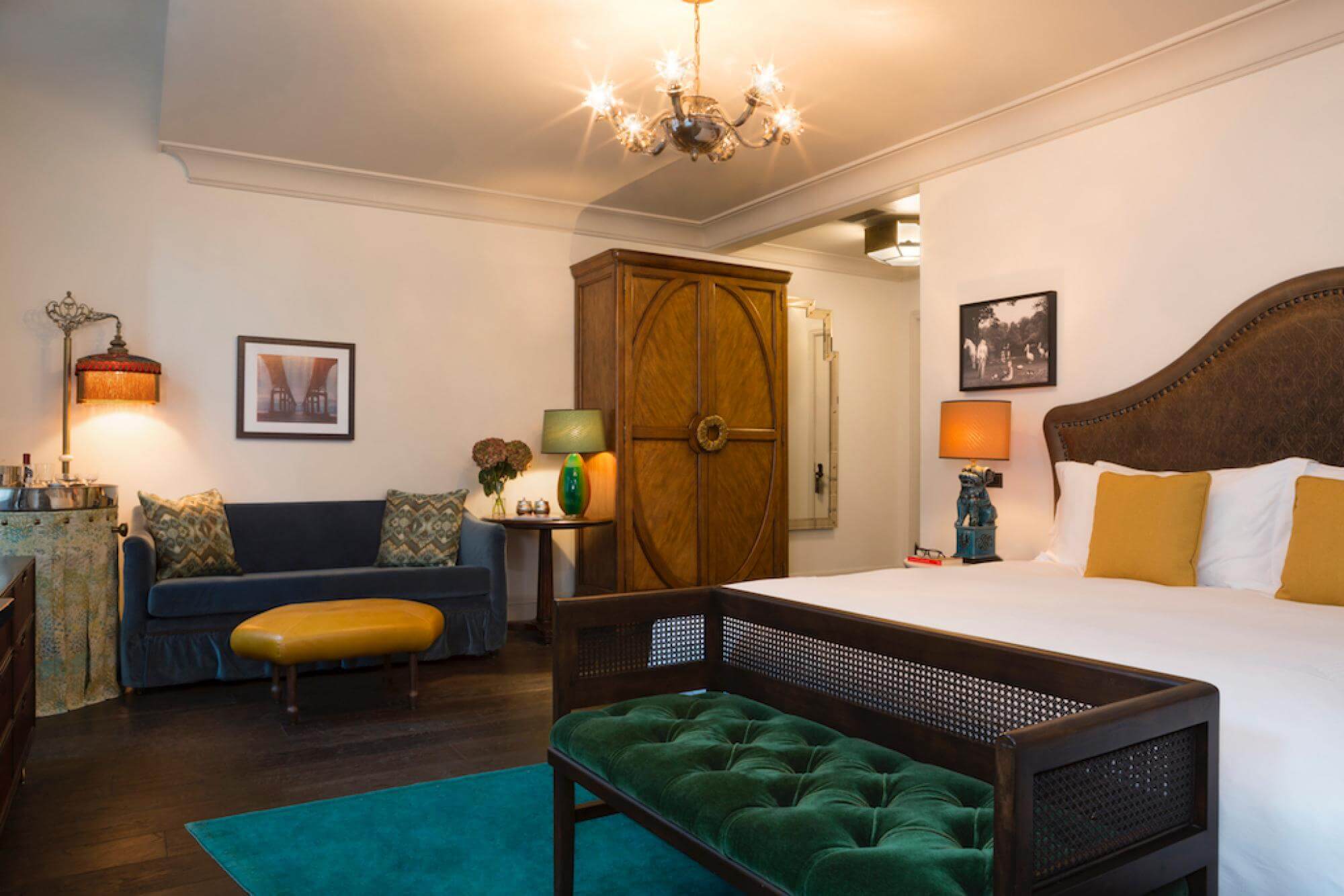 The design showcases a lovingly worn and authentic aesthetic. Alongside the original architectural detailing, the interior is stripped back to its most profound style and focuses on excellent finishes, lush materials, and a meticulous furnishings selection.
Furniture is composed of grey leather banquettes and mohair velvet upholstery, alongside dark stained timber chairs with burgundy leather upholstery. Providing a contrast to this industrial look, restaurant clients will be drawn to the multicolored stained-glass windows.
On entering the lobby, guests walk across the black and white hexagonal-patterned, marble mosaic floor and head to the reception desk upholstered in a patchwork of colorful rugs and adorned with a dark, antiqued timber top – creating a novel use of pattern and texture.

Inspired by the magnificent homes and gardens in Italy, Bellagio, and the glamour and excitement of Las Vegas, The Mayfair Club is a fine-dining restaurant at Bellagio Hotel.
Reinventing the conventional concept of dinner and dancing, The Mayfair Club is located on the ground floor of The Bellagio with unbeatable views.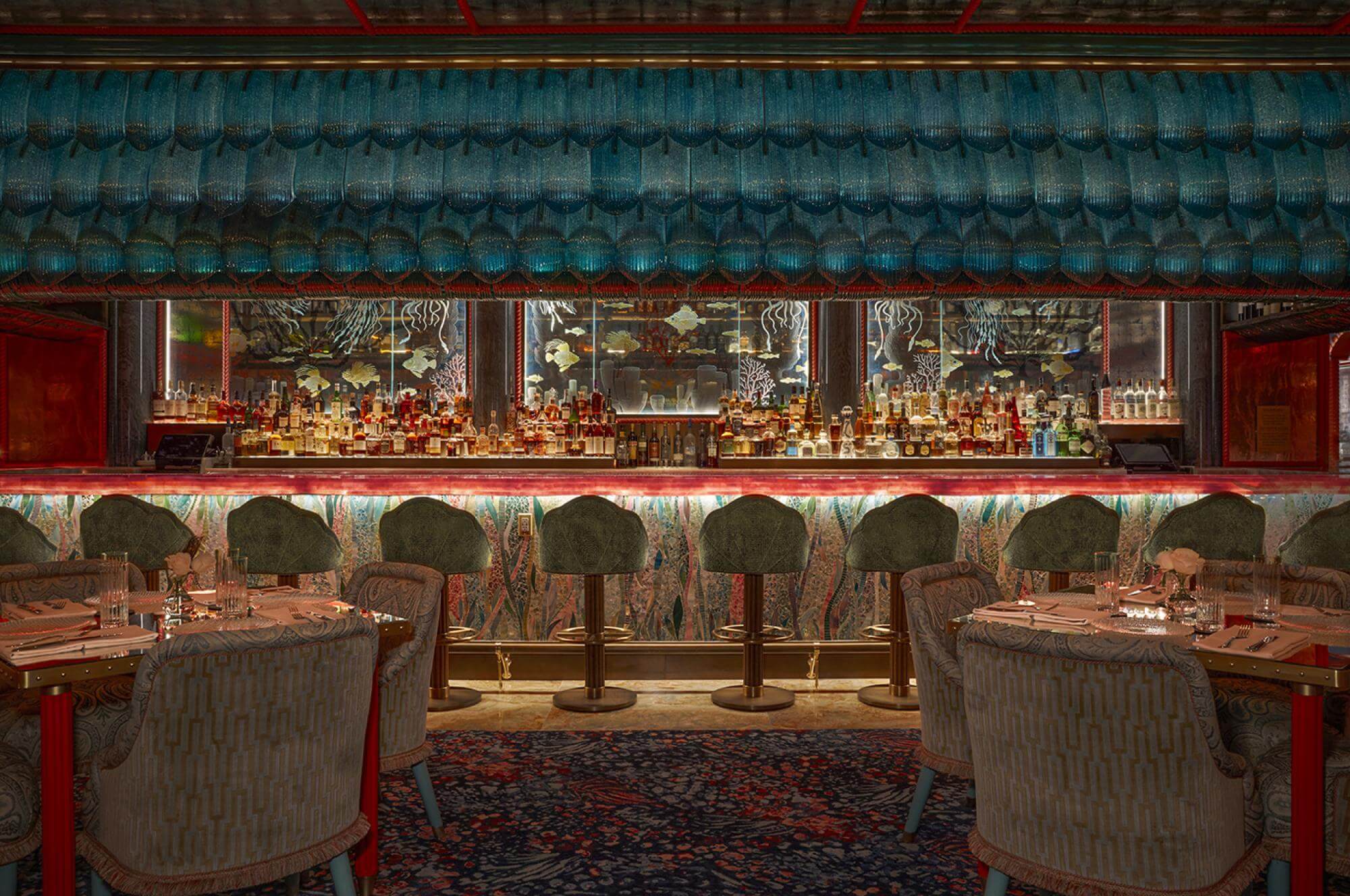 In the bar lounge, the clients are transported to a world inspired by mythology and sea tales. A richly patterned carpet meanders through the restaurant floor with sea-inspired motifs dotted. A mixture of sofa and armchair seating creates cozy nooks for intimate gatherings while large banquettes provide parties' perfect situation.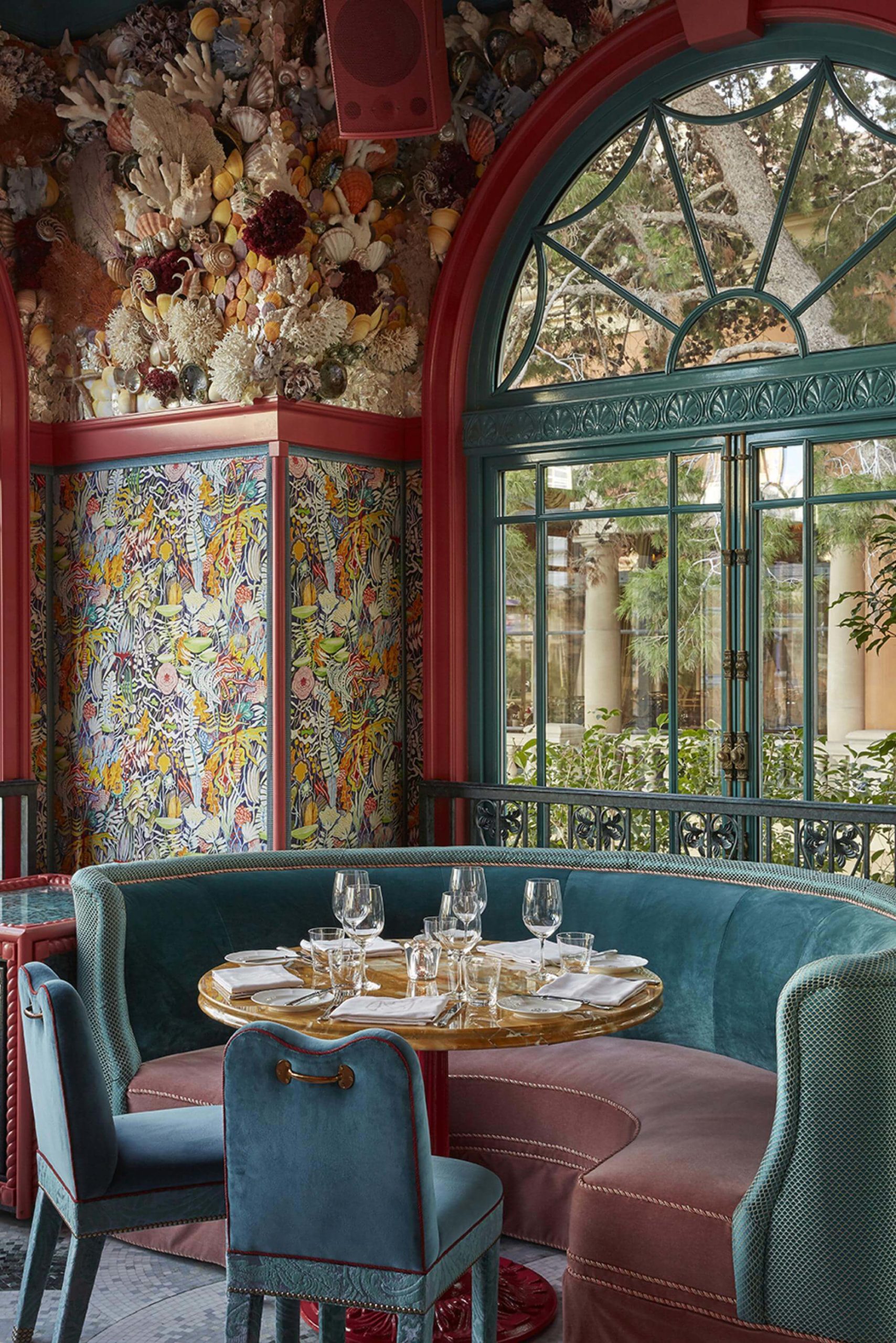 Scalloped edged banquettes in luxurious red velvet are combined with contrasting green dining chairs in the dining area, while timber tables exude glamour and sophistication. Clients can enjoy live entertainment thanks to a dedicated stage area and a bar.
Located in the heart of Stockholm is Pas d'Art, an iconic brasserie. With glamour, color, and heritage, the Pas d'Art is warm and vibrant, serving guests from breakfast through to dinner.
Martin Brudnizki, one of the best interior designers, decided to split across two levels. Pas d'Art features a bar lounge area with patterned bar stools, a turquoise bar front, patterned terrazzo flooring, and sparkling antique mirror detailing.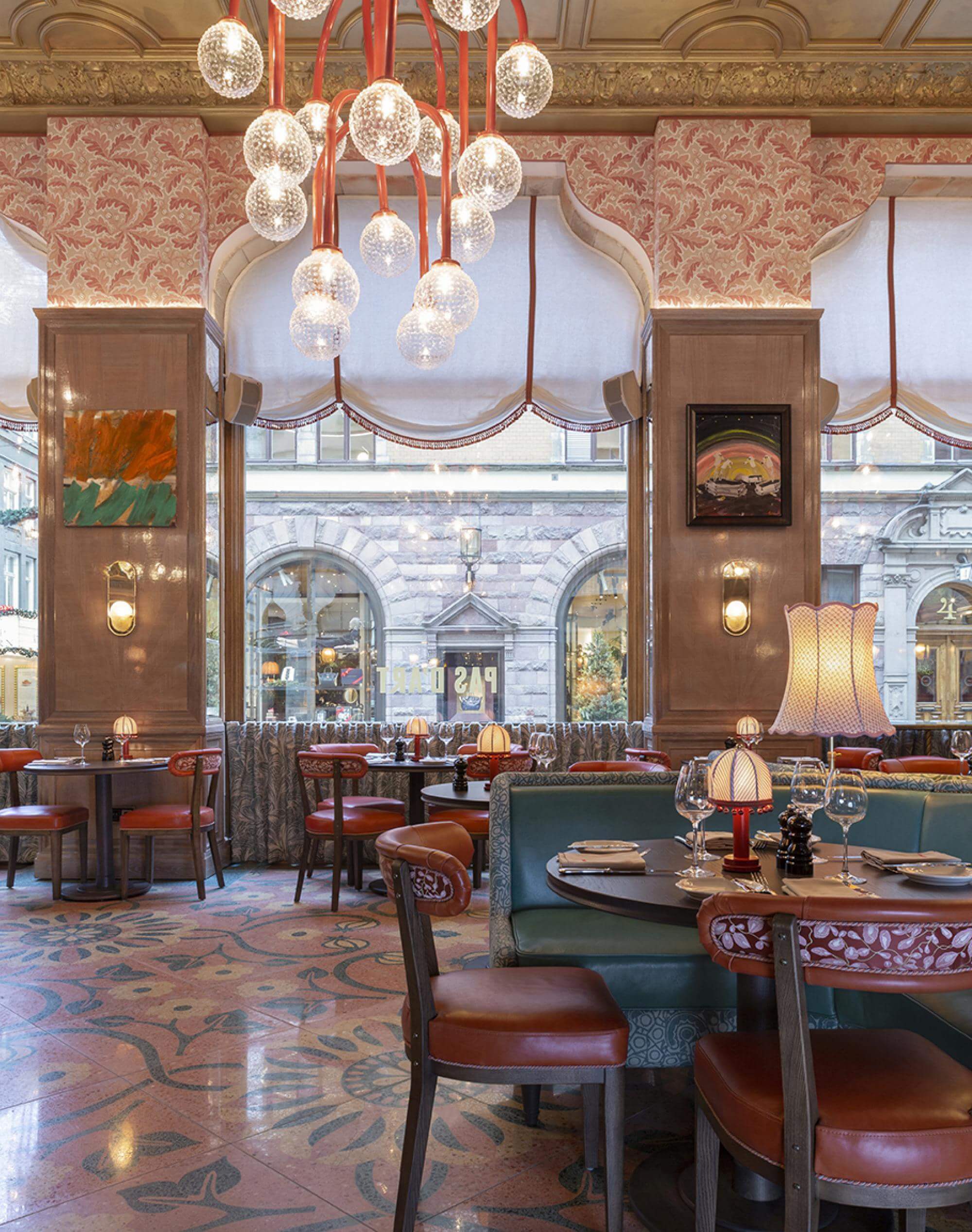 A mezzanine level looms overhead and contrasts the gold painted ceiling with original architectural detailing. Here, clients' can enjoy drinks and snacks before being taken through to the main dining area.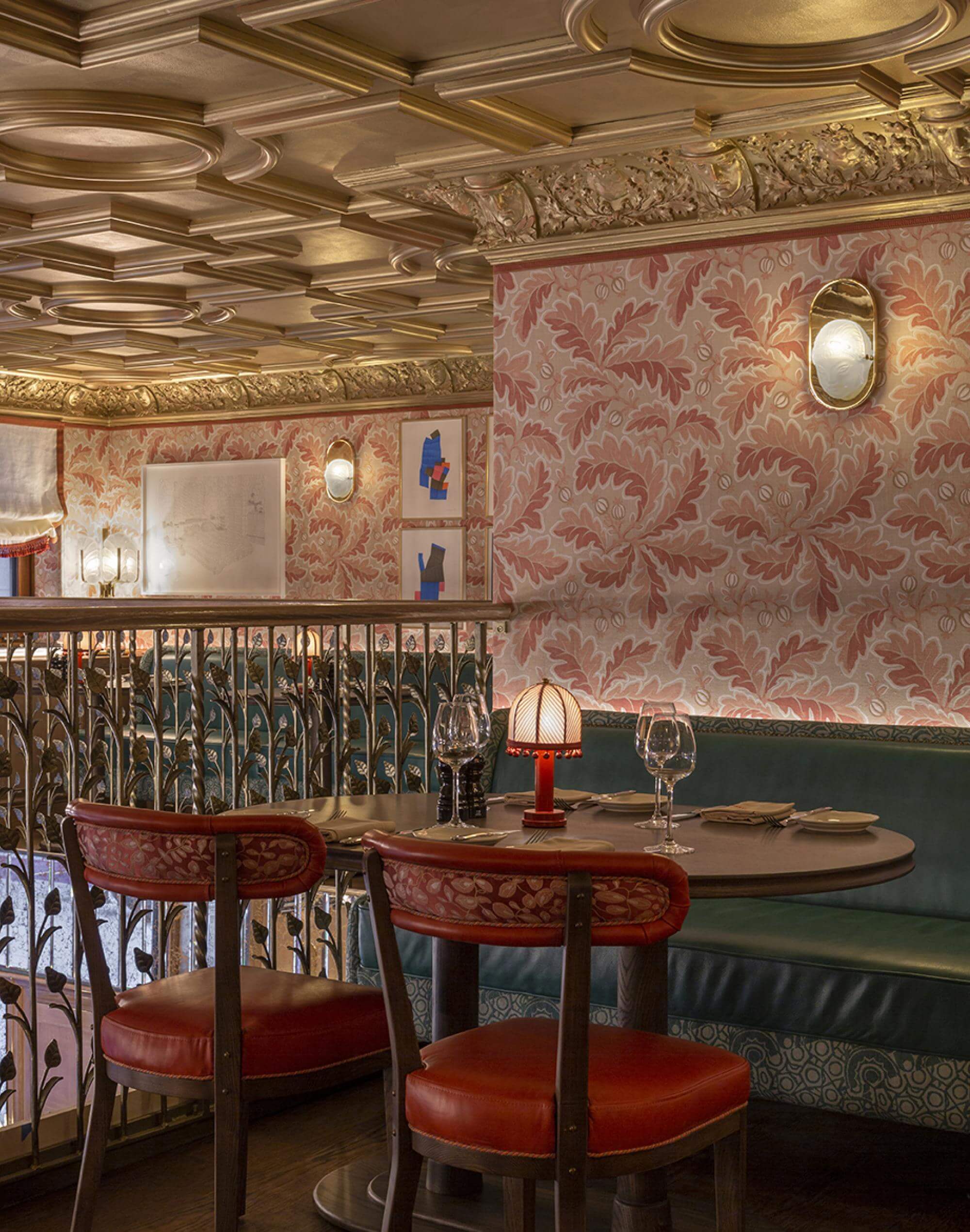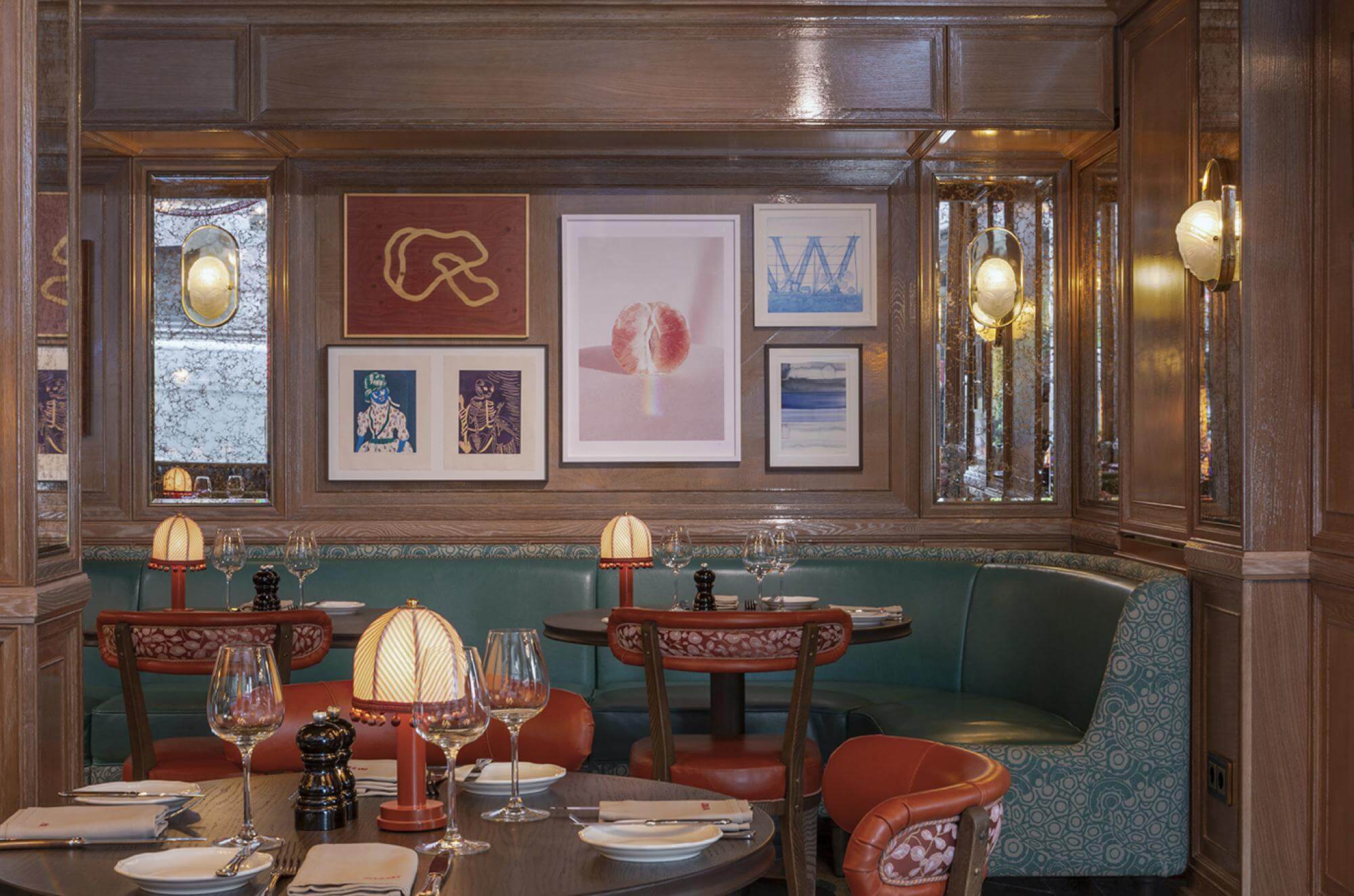 The main dining room makes an impact with its bold color palette of red and gold. A harlequin pattern-inspired painted ceiling looms overhead and echoes the curves and art deco influences of local architecture. A mixture of banquette and dining chair seating is divided by frosted glass panels, creating a relaxed yet private ambiance, perfect for dinner with friends and family.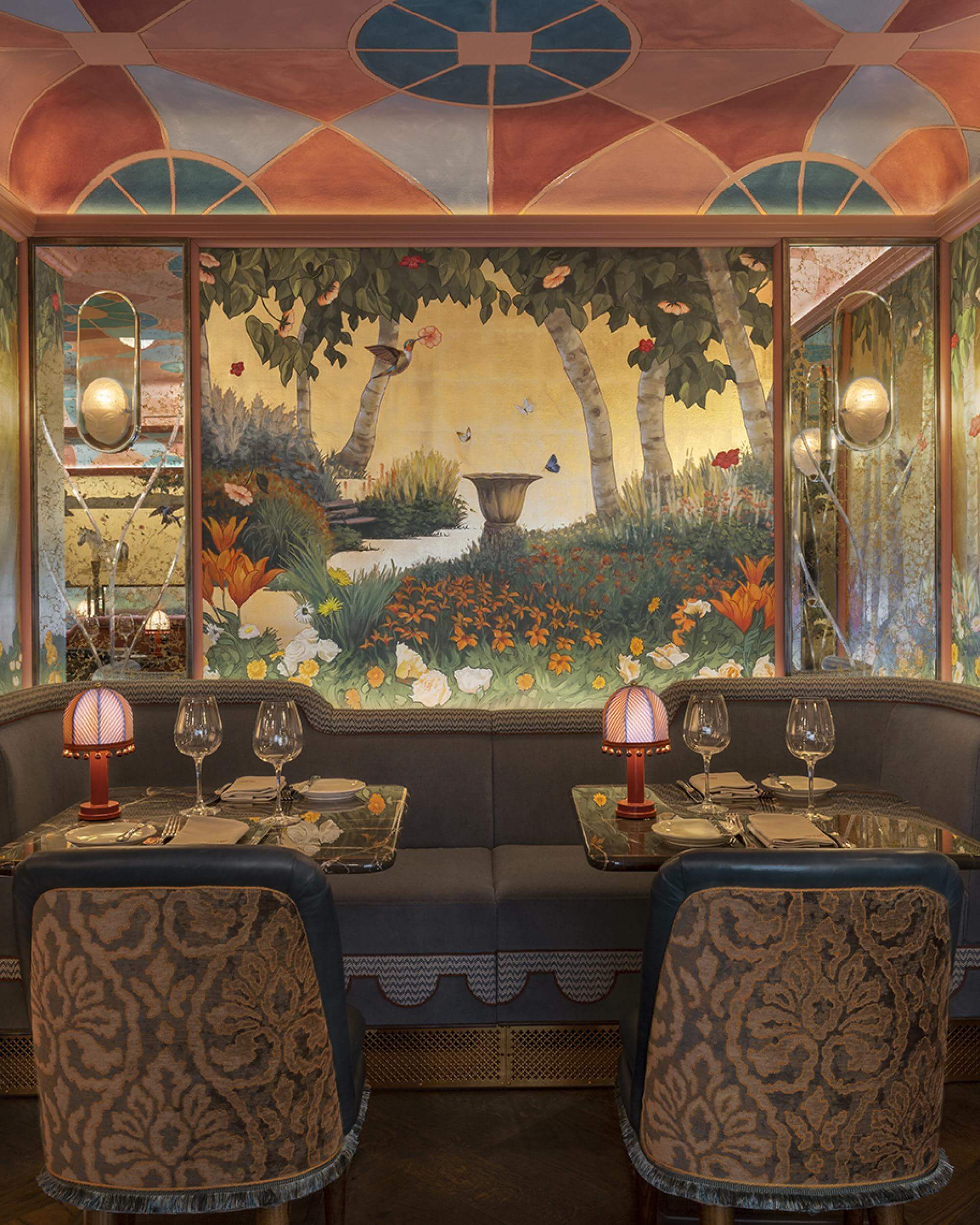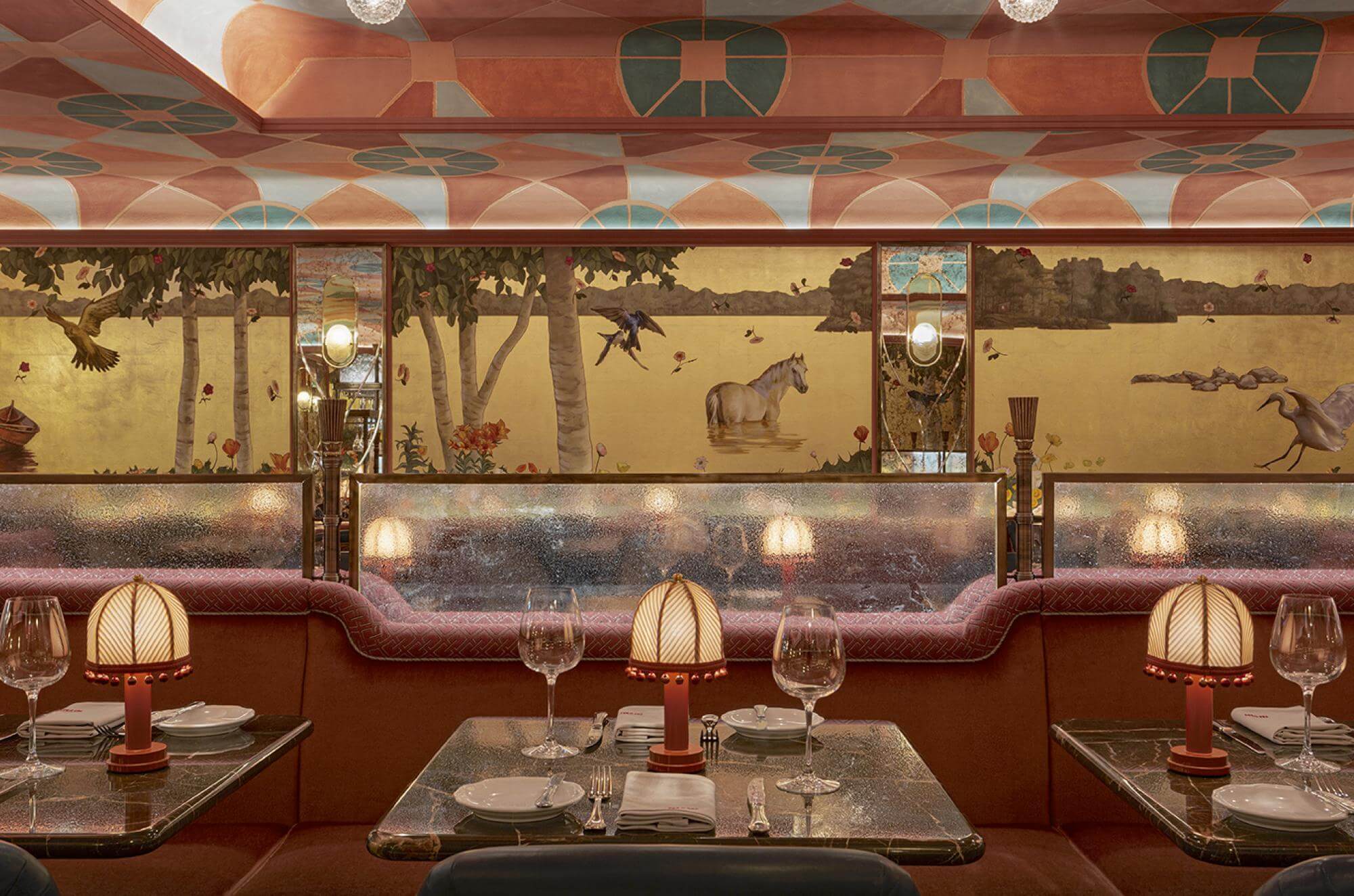 Another successful project from one of the best interior designers in the world is Annabel's private Club. Situated in a Georgian Townhouse on London's Berkeley Square.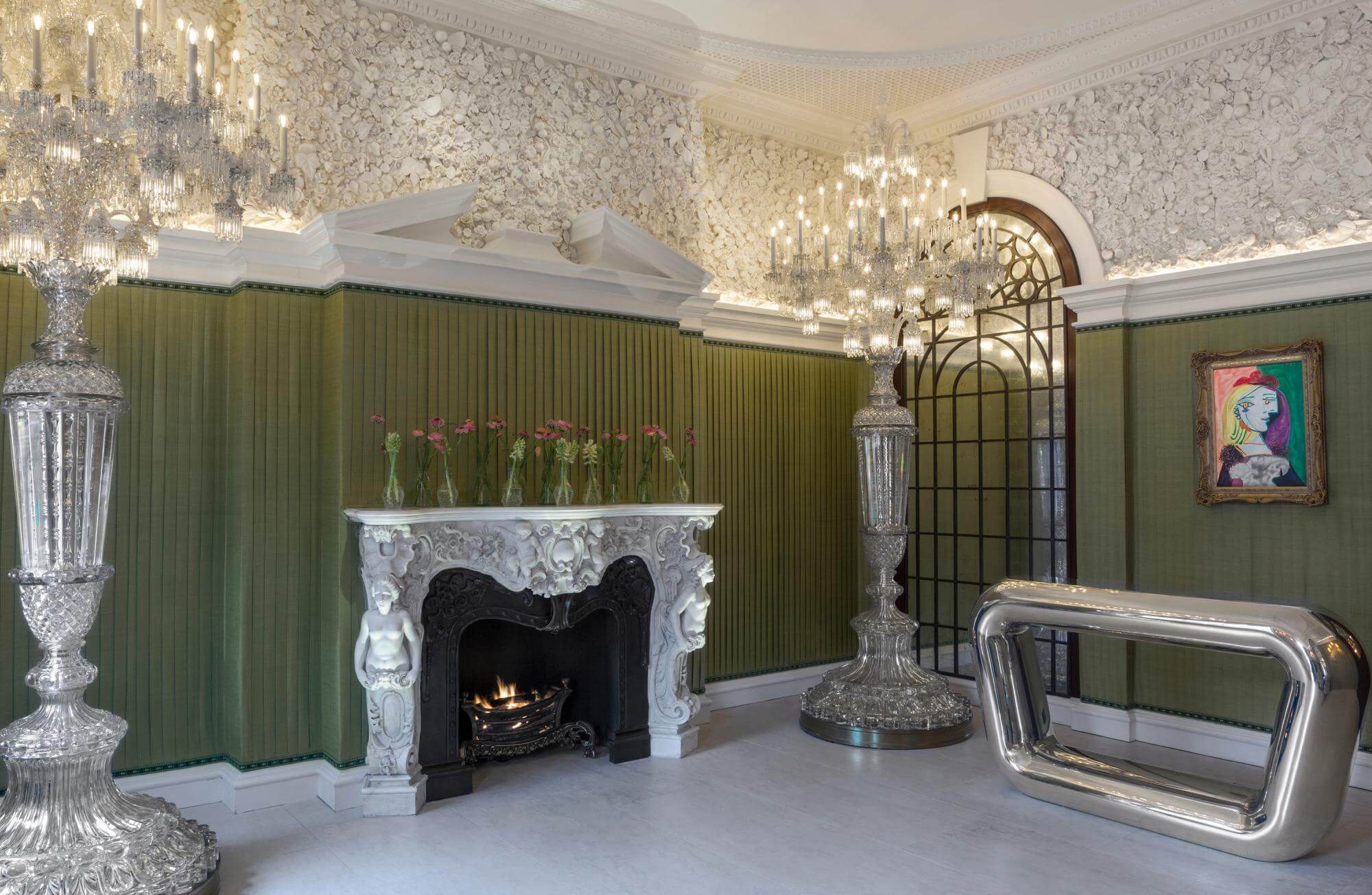 Taking inspiration from the new building's garden and verdant greenery of Berkeley Square and the spirit of English eccentricity, the new Annabel's communicates a design that draws direct links to flora and fauna eclectic and playful manner. Each of the house's four floors tells a unique story, based on several gardens portrayed throughout history.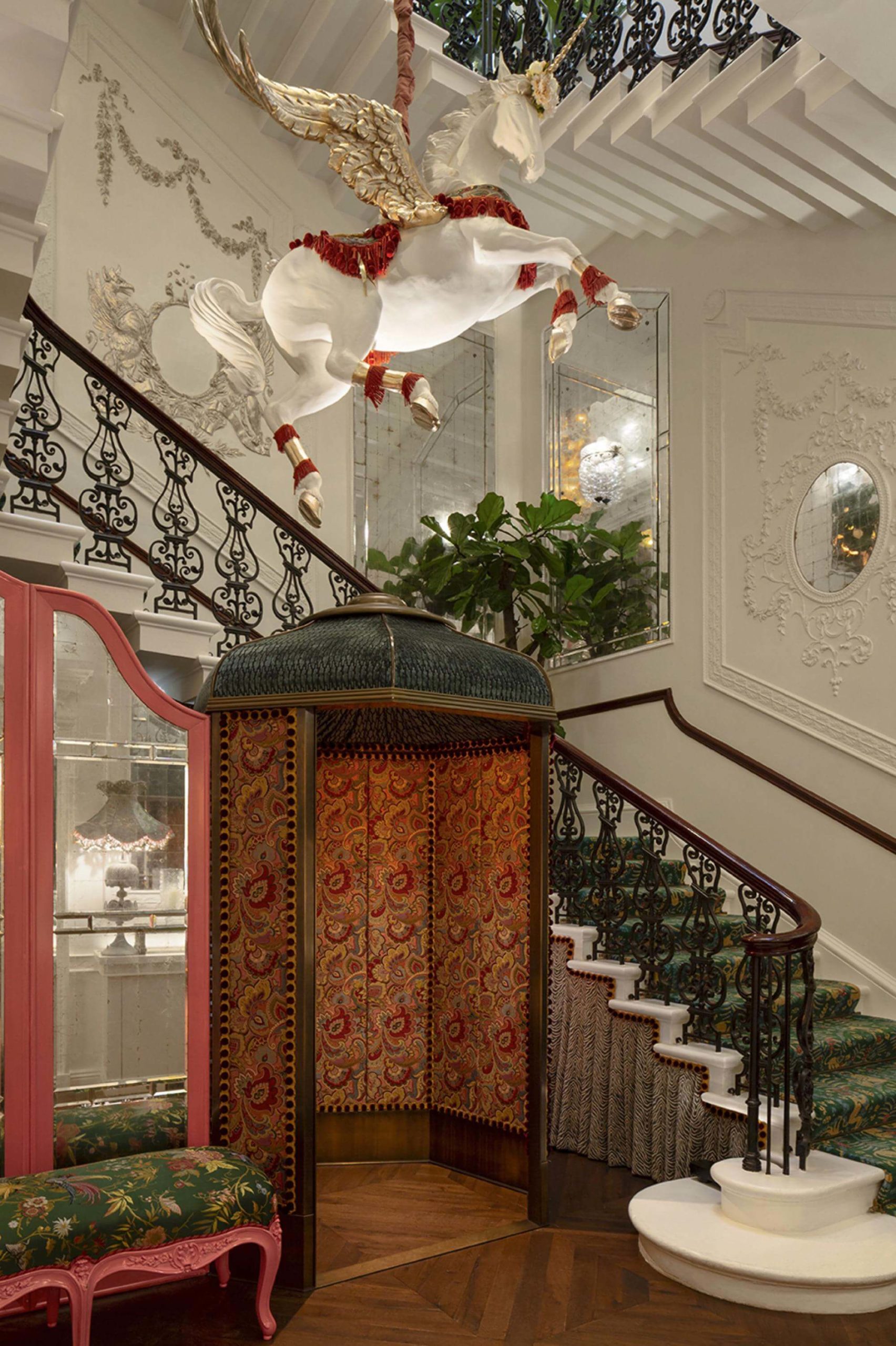 The Rose Room, featuring a hand-painted mural depicting an English country garden brimming with birds and animals, forms the club's main dining area.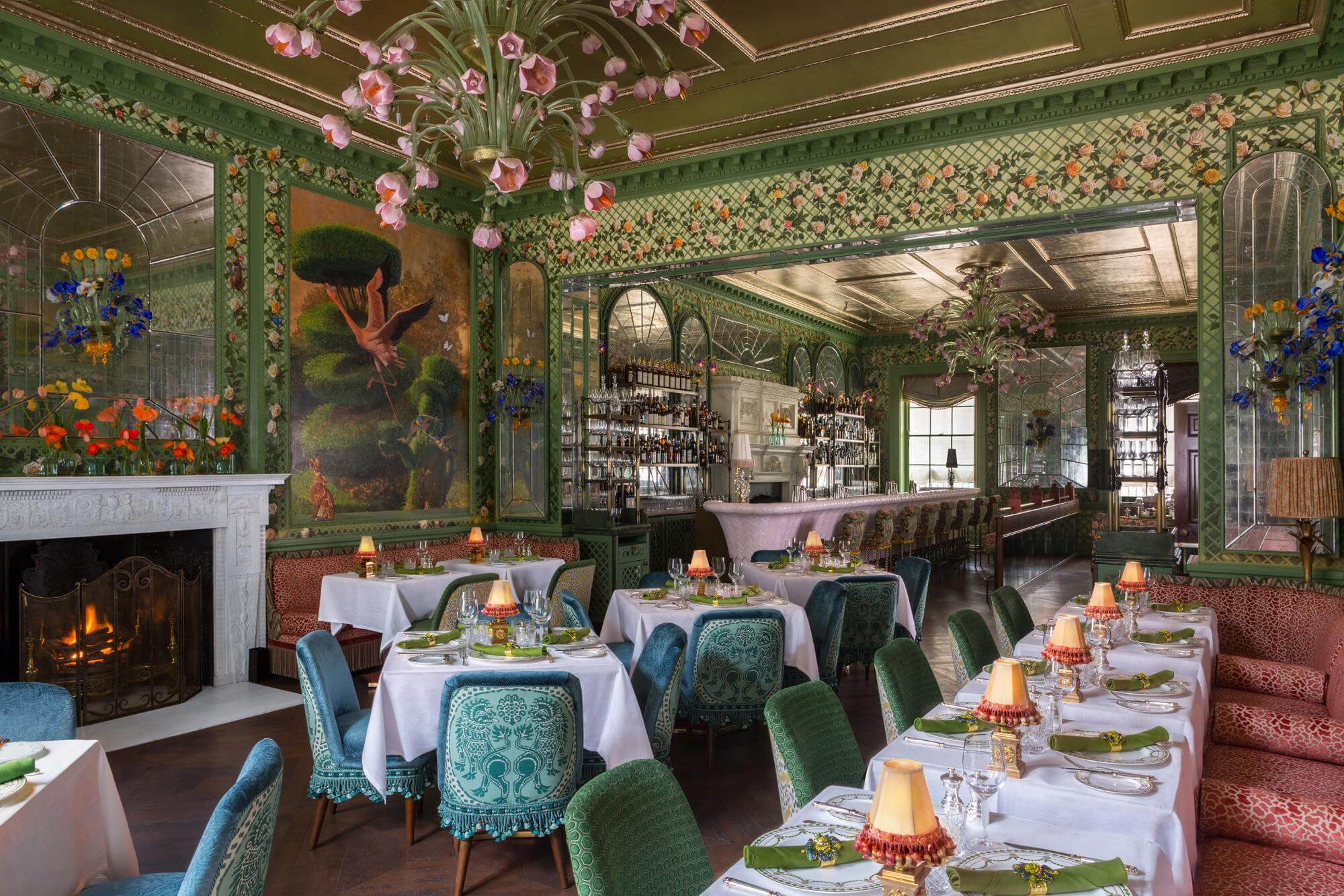 The Garden Terrace, with a fully retractable roof, welcomes guests into the English garden. Mature trees and plentiful planting translates into the ambiance of an orangery. Ornate metal garden chairs have been dressed in various patterns, all complete with pompom tassels and trims.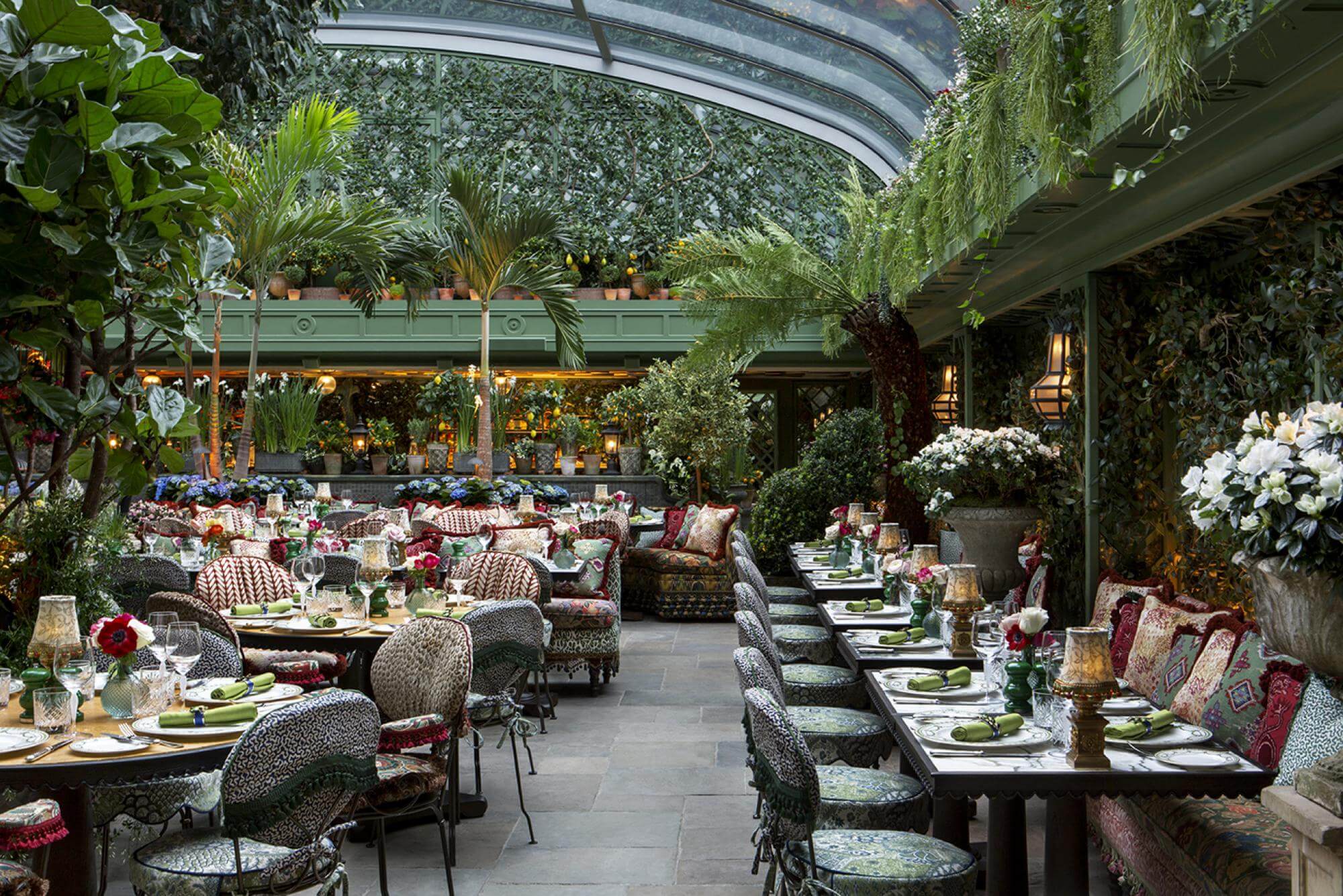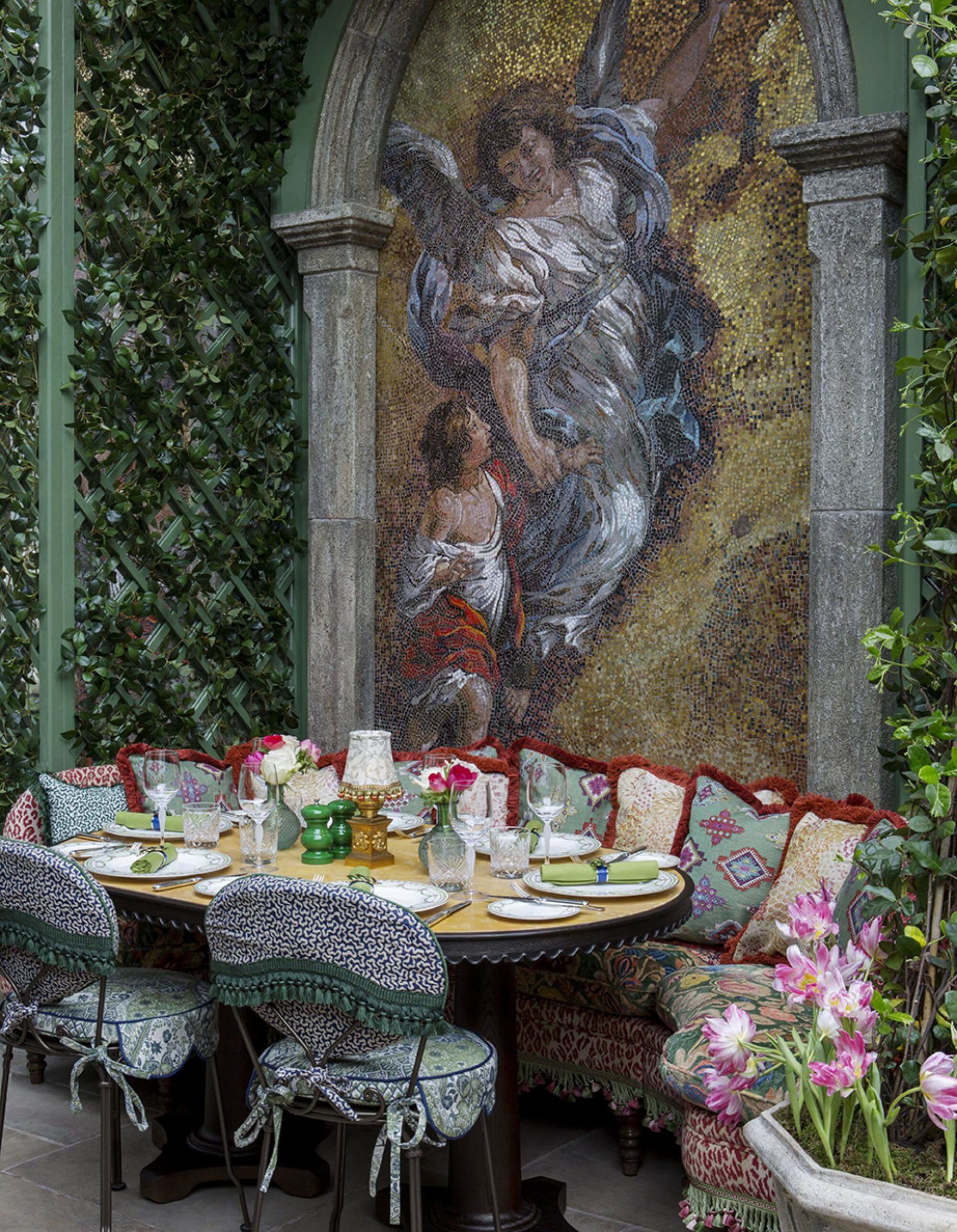 There is a room in shades of green and eggplant on the ground floor. Therefore an original fireplace and upholstered furniture in leather and printed fabric create an elegant space.
On the first floor, the Elephant Room is decorated with bespoke wallpaper. The room is dressed with patterned furniture, timber tables, and antique floor lamps. A statement bar showcases a roof inspired by traditional Indian canopies; this adjoins one half of the room, which features an alternative wallpaper depicting jungle scenes.
Two private dining rooms share the first floor. The first dressed in silver leaf with eight Lalique-inspired panels, each depicting nude figures in classical poses. A second is decorated with thousands of handmade ceramic flowers with diamante detailing.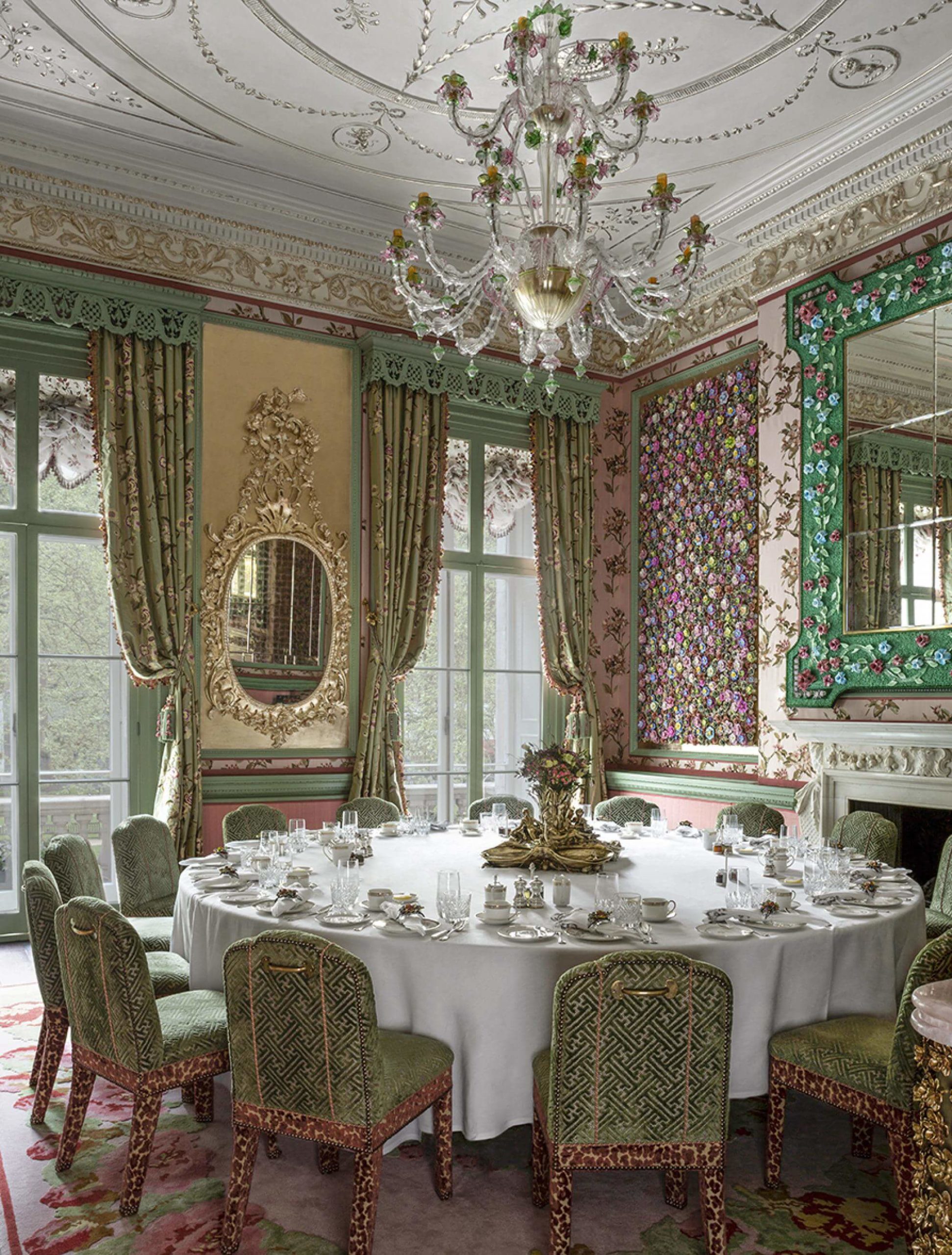 Situated on the second floor is the Mexican Bar. Leather armchairs and tile-topped tables offset timber flooring and a sealed copper-leaf ceiling. The Mexican bar can be used throughout the day for work before turning into a restaurant in the evening.
The second floor is also where guests can find the bathrooms. The women's powder room is a haven of handmade silk flowers lining the ceiling, pink onyx basins, brass wall lights shaped like a blossom, and pink marble flooring. Women will be able to take time out to adjust makeup or recline on the upholstered chaise lounge.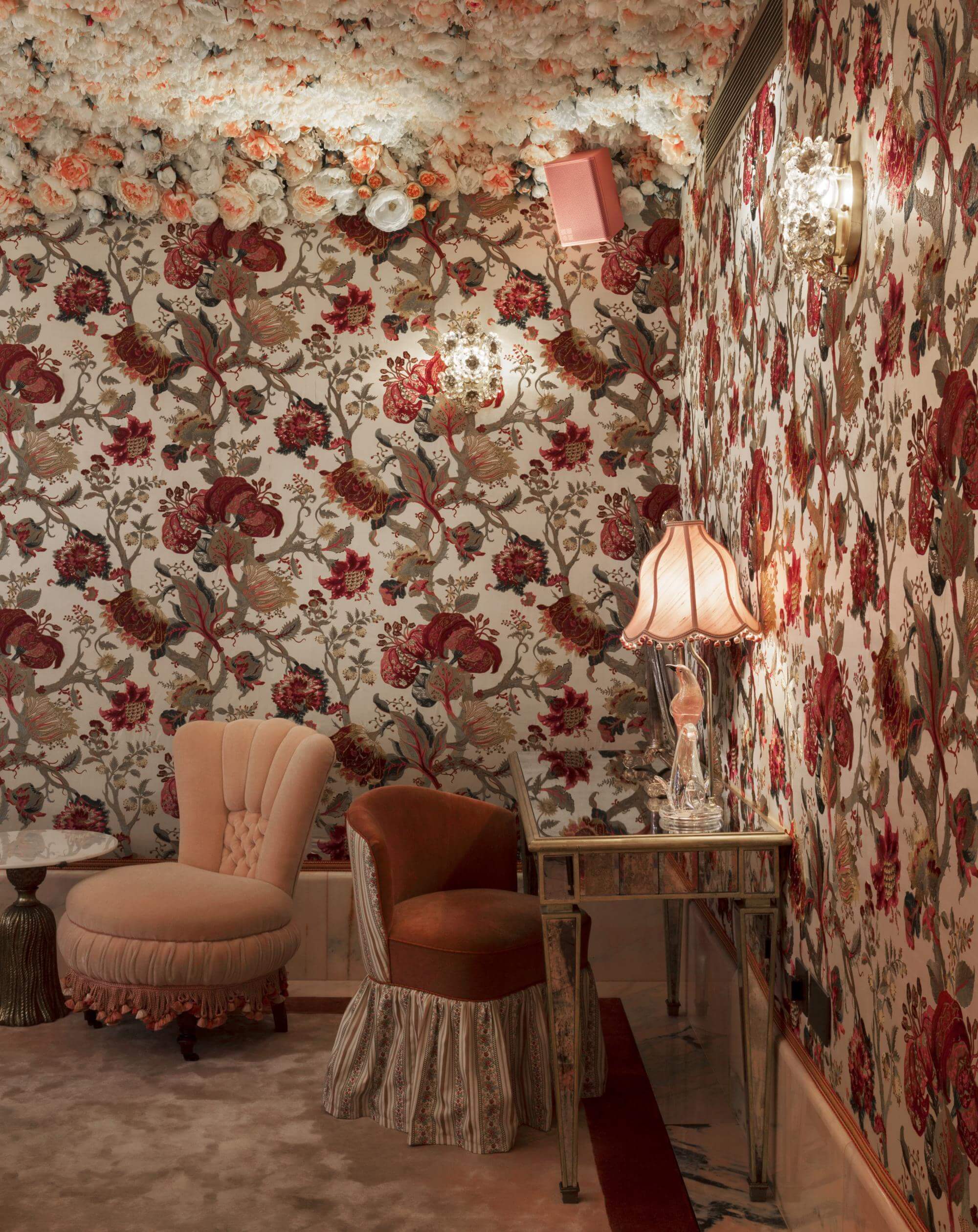 A night-time woodland scene has inspired the men's bathrooms with panels depicting owls, foxes, badgers, and bears. A life-size bear, crafted from metal rods, stands behind a full-length mirror in a bashful pose, further enhancing the atmosphere.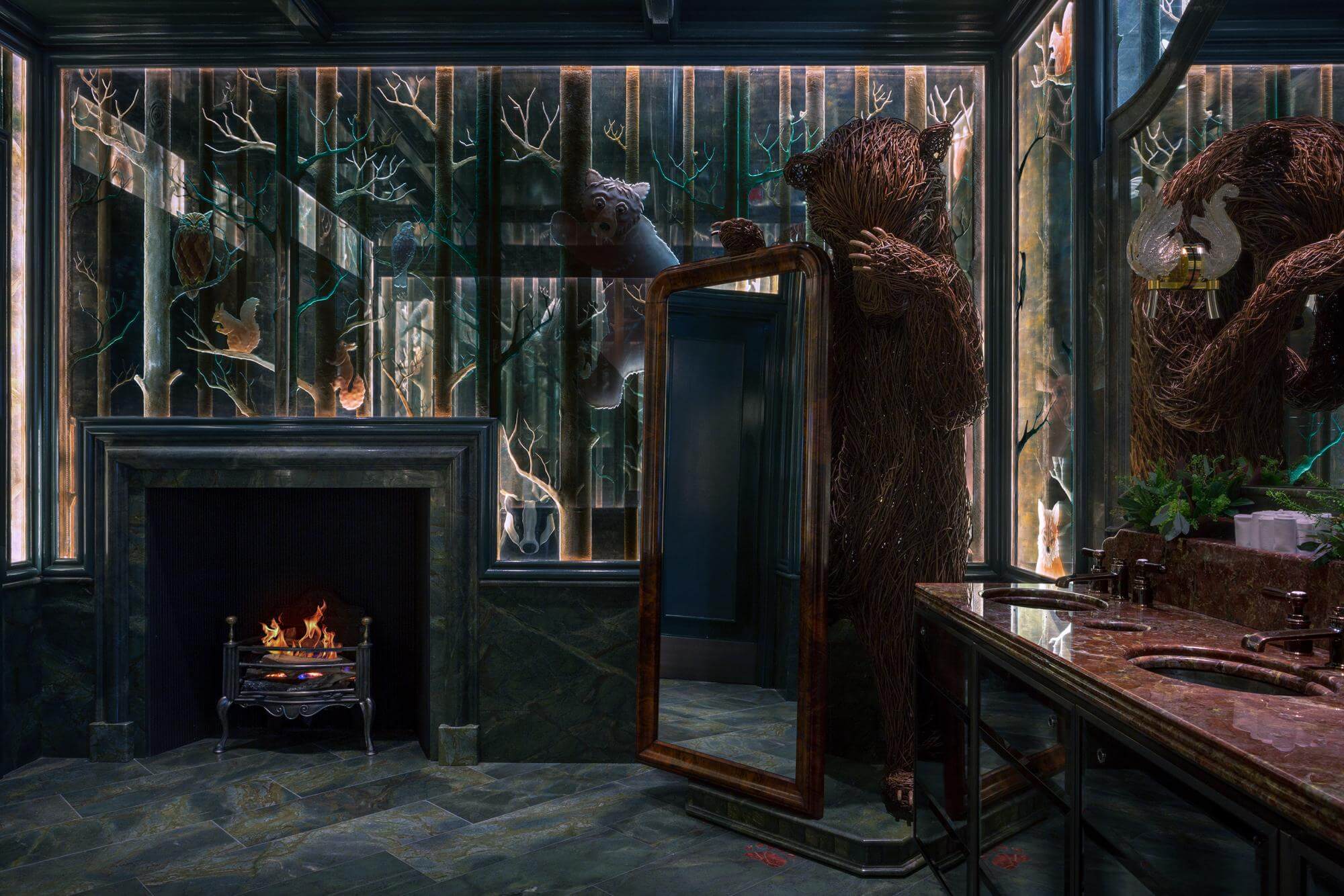 Finally, located above the mews house at the club's back, guests can find the smoking terrace. This place takes inspiration from flora and fauna.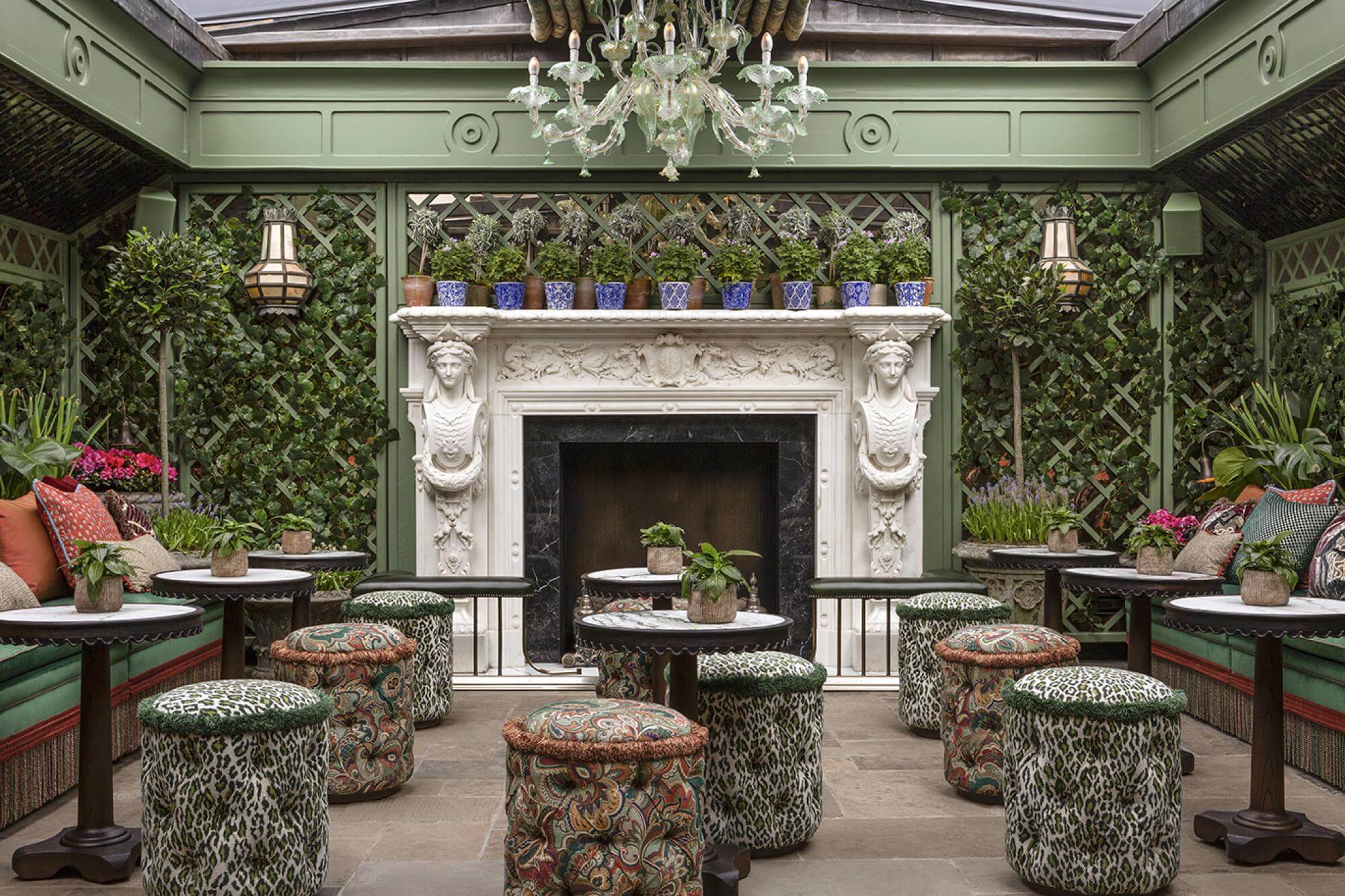 We really hope you liked our article. Feel free to pin all the images to your favourite Pinterest board. Meanwhile, you can also visit our Pinterest boards to get more inspirations.
Get more ideas for your projects and find functional, stylish, and sizable lighting and furniture choices: