It is hard to skip The Moorish Beachside House while being in Almaza Bay in Egypt. That magnificent place is the essence of coastal summer. The Egyptian design studio TDF+, has created a stunning open-plan living concept for this beachside home.
The Moorish Beachside House is a mix of the beach view, the sky above and obviously the Moorish architecture. Throught the wide windows, we can enjoy a truly amazing scenery. What is more, the house has a large, open-sky terrace on which we can just take a breather and loosen up. Here, the eye travels from one beautiful appointed space to another, from the pastel soft interiors to the sandy outdoors.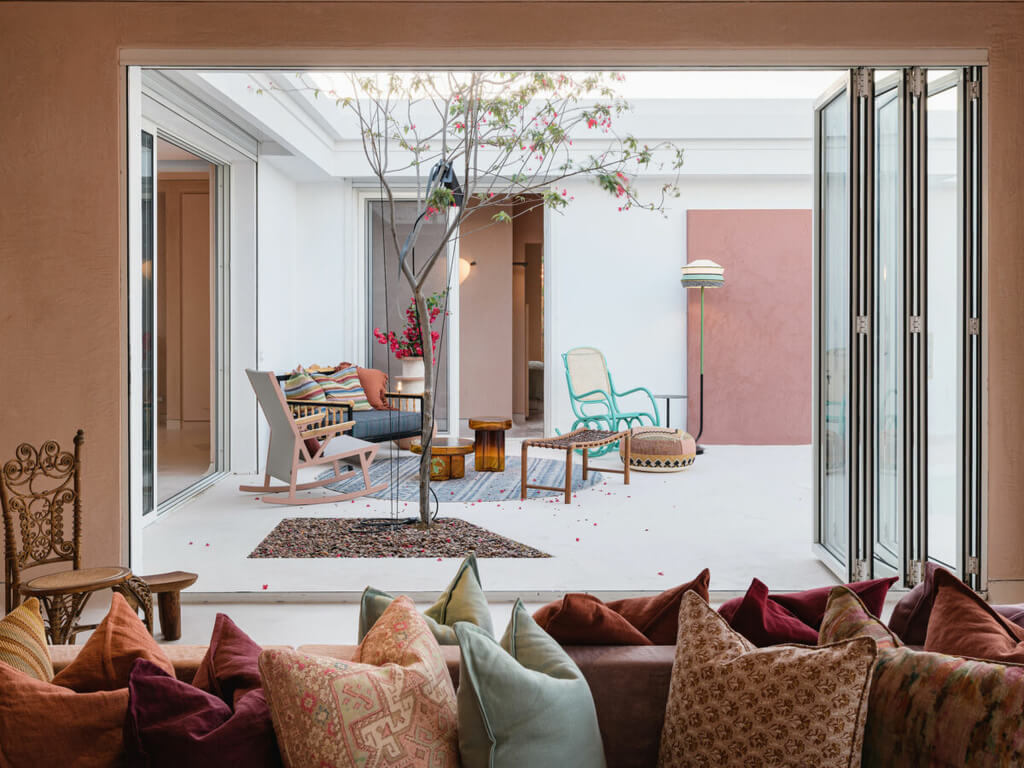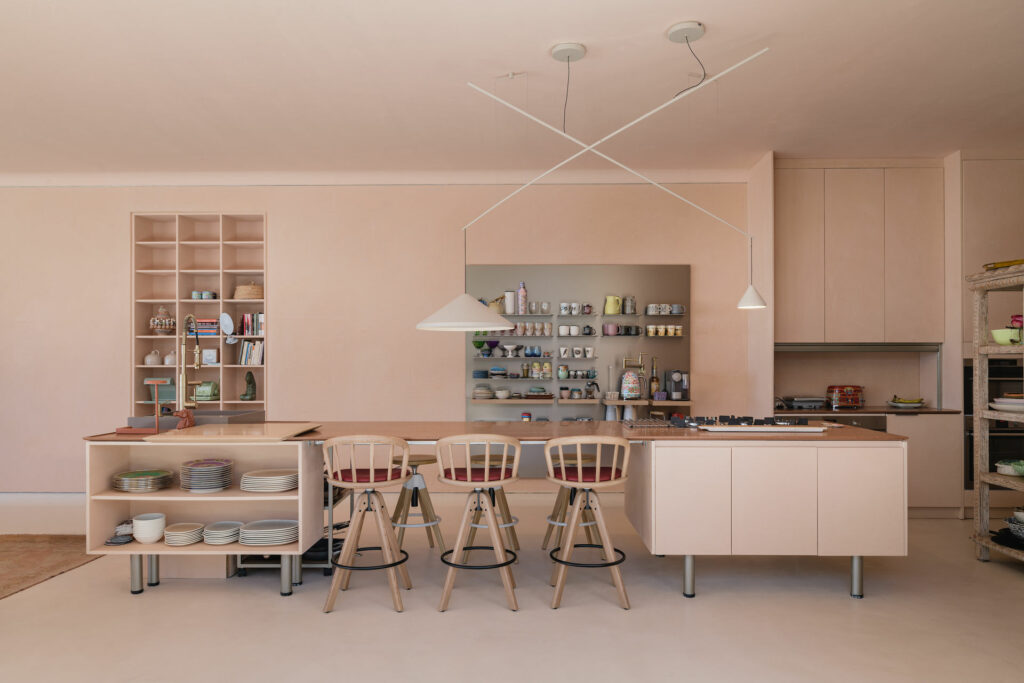 DISSOLVING THE BOUNDARIES
Hala Saleh, the founder of the design studio and the lead designer says – "The built envelope was geared to meet the transparency of the crystal waters of the bay, the ceiling to meet the sky and the ground to meet the sand."
The retractable glass doors lead onto the pool deck overlooking the bay. It undoubtedly gives the feeling of blurring the lines between the inside and the outdoors. At the same time, a contemporary interpretation of the traditional Arabic courtyard lends both scale and space.
The focal point of the Moorish Beachside House is a meandering pool making its way to the court. That place visually connects the public and private section of the home. Meanwhile, it also offers a moment of rest under the sun.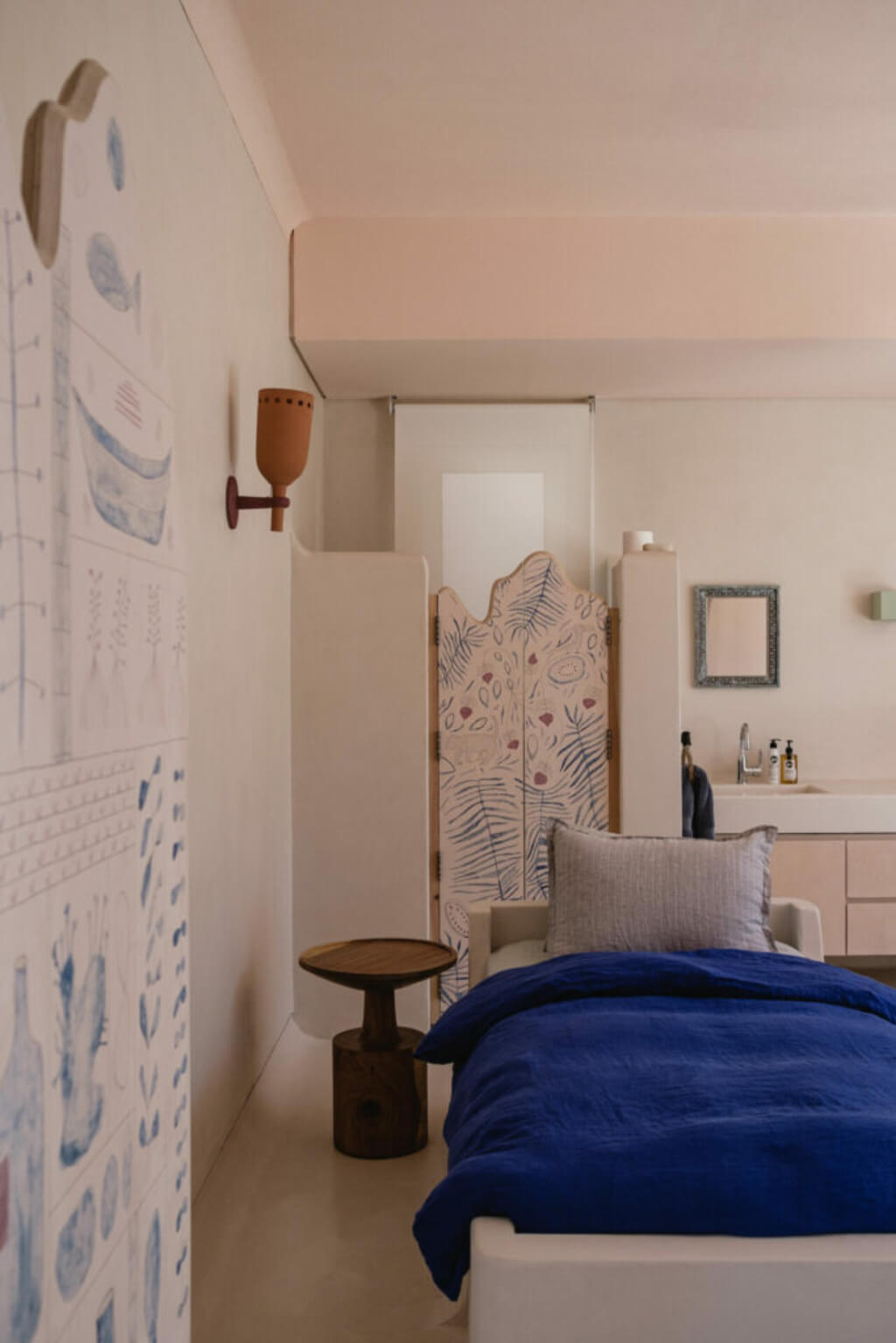 IMPERFECT MATERIALS
The open kitchen is elegant but stylishly. Its multi-functional island connects the lounge with the outdoor dining court and the bedrooms on the other side.
"The natural and unavoidable imperfections of the materials call for one walking barefoot in the around the house" explains the designer.
The right choice of materials allowed to interact the spaces. What is more, the Moorish Beachside House is full of handcrafted finishes. They celebrate inherent imperfections and bring authenticity to the space. Neo-cement covers the walls, floors, ceilings, sinks and showers in a soft curvy manner and extends to the puddle shaped sandy pool.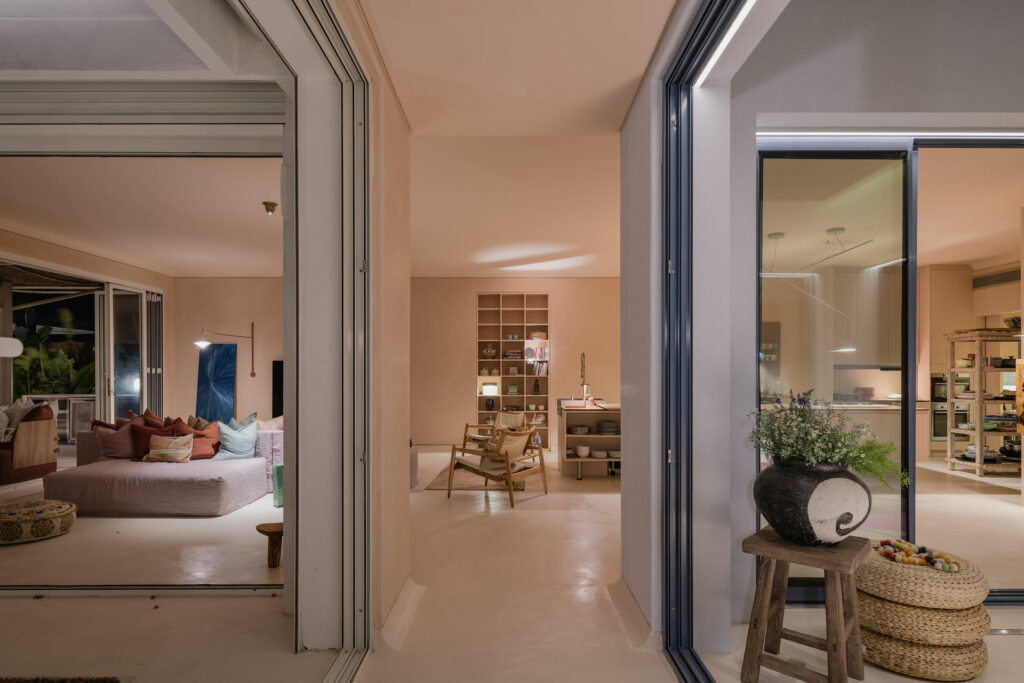 A pastel color palette reminds of Mediterranean architecture and Tulum homes. It creates a soothing canvas for the carefully curated design pieces. These pieces are artworks and customized bespoke furniture that lighten up the interiors.
The wealth of custom features are visibly highlighted in this coastal house. "Each door speaks the entering and exiting story of its room owner, each engraved quote embodies the character of its wall," says the designer. "From the resin infused screen in the bathroom to the pockets of hand-picked blossoming floral trees that extend the life to the space, this home is the realisation of a dream."
Check out our journal to discover more inspiration and find daily dose of modern and spectacular architecture designs. Do not forget to follow Hommés Studio on Pinterest to stay on top of our architectural moodboard.

Photos by Nour El Refai