Design lovers, this is your call! In a world generated by events of all kinds, it is crucial to make the call to Milan, specifically to Milan Design Week 2022.
Milan is full of fashion, refinement, and elegance, so there is no better place to present what our brand is all about – After three years of anticipation, with all the deserving drama, Hommés Studio will introduce the metaversion of a traditional home with a futuristic shape.
With CHROMATIK HOUSE, Hommés Studio will pierce the heart of Milan with a golden arrow that unleashes an otherworldly passion for provocative, improbable design.
But before knowing more about the chromatik house event, get to know us:
HOMMÉS STUDIO is born from a skilled merge of visionary identities with distinctive design, art, fashion, and pop culture perspectives.
The studio conveys its inspiration into design pieces that are refreshing and relevant, paying particular attention to how they can fit contemporary spaces with bold and unique identities.
Hommés Studio aims to set trends instead of following them. The designs become artistic bodies blended with artisan knowledge and industrial innovation, crafted under ethical and sustainable practices. Believing that a house must express the owner's soul, Hommés Studio products are tailored to comprehensive lifestyles.
The exhibition is a theatrical affirmation of Hommés Studio's chameleonic genetic code at the chromatik house event. In addition to showcasing some of Hommés Studio's iconic and most-beloved products, such as the moon-shaped Lunarys Centre Table or 'Ajui,' the seating collection with the anatomy of a cactus, the design studio from Porto will fill the chambers of Palazzo delle Meraviglie with designer furniture.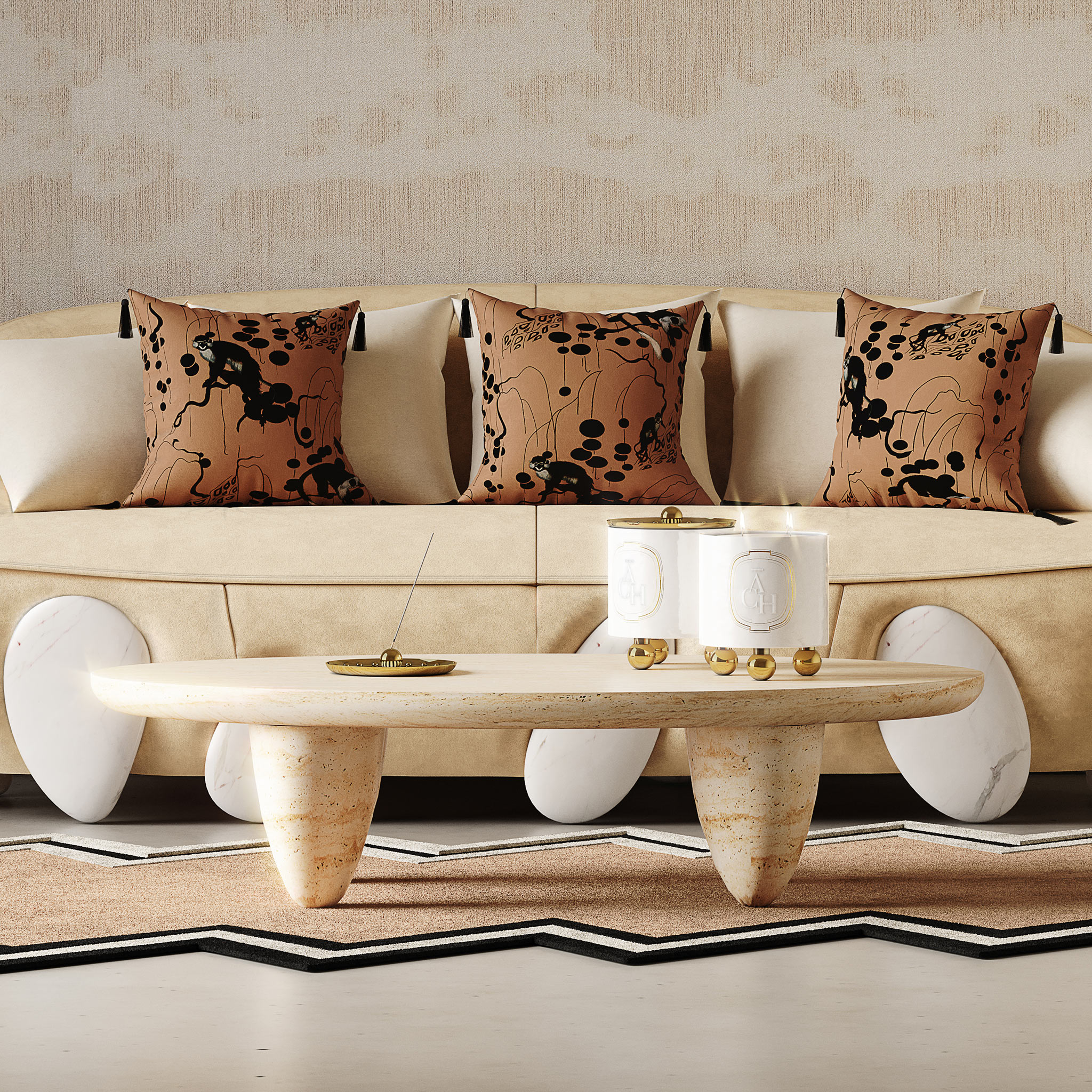 "ACH Collection is a luxury signature brand by HOMMÉS Studio. Collections of spontaneous and extraordinary objects, from decor to homeware, and scented fragrances, continually seek new design experiences with the philosophy of turning your home lifestyle into your unique experience of living."
A home reflects what we love and who we are, and this is our most important story.
The reflection of love and detail that you can find in our home are conveyed by some products such as Bold God Figurine prominent personality, vital energy, reflected by refined gold shades and a statement black and white stripe pattern;
Achi scented candles release a hypnotic perfume adding extra value to the home thanks to its eye-catching container design and natural scents composition. Nina, a decorative ceramic sculpture, is a unique decor item for modern home decoration. Three of the many products can bring peace, refinement, and boldness to your home.
ACH4Pets is about elevating our home friends' daily life and comfort. A signature of ACH, 4pets offers luscious pet beds, bowls, rugs, and more, to reflect his owner's lifestyle and décor taste, blending seemingly with the home furniture and decoration. A brand motto that unifies a pet as a family member. A design signature that purpose is not only to provide a stylish pet accessory but to merge a luxury lifestyle with our furry friends' comfort.
Man's best friend will be an important highlight in the chromatik house event for our brand. We reserve a special place for pieces like Biscuit, Lexus Spring Lake, and Roxey – dog beds that offer comfort and style, just what your best friend needs.
Tapis Studio was born from the desire to create a multi-personality tapestry brand. A vanguardist brand that is curious about the world. About creativity, art, and nature.
Tapis Studio presents multifaceted collections, offering a rug for every moment, every style, every room and everyone. Wanting to contribute to the comfort and wellbeing of all the people, animals and planet, all the rugs are carefully created with a high selection of materials and delicate textures. Tapis products are handmade, combining artisan techniques with modern technologies. The result is an eye-catching piece that will pleasure all of the senses.
As far as rugs are concerned, beauty and boldness are watchwords; we have selected 3 of the many rugs that you can find in our brand. Ray rug, An avant-garde rug is highly aesthetic and matches a contemporary style. Zaid rug it's a round rug with an oval shape, ideal for adding movement and liveness to a rectangular room. And Codix rug, the round rug with the power to transform the perception of an entire room.
As an immersive showroom experience, CHROMATIK HOUSE allows visitors to discover through sight, touch, hearing, and smell the materials, finishes, and samples of the meticulously crafted designs and provokes them to design their very own improbable interior.
At Quadrilatero della Moda, or Quad d'Oro, the city's most fashionable district, Hommés Studio details the plethora of artistic manifestations of the design studio led by Micael Carvalho. On an unprecedented occasion, design professionals and art enthusiasts will get to discover home as a tool, a canvas, and a concept. A tool to create the very own world we want to live in. A canvas to lay our daily hopes and dreams on. An idea that rejects the notion of time but believes in a restless, maniac, ever-evolving world.
But now that you know us better let's get to what matters most, the next chromatik house event that will take place in Milan.
Events like the 60th edition of Salone del Mobile 2022 are back, and this year doesn't miss the sensation theme, sustainability.
Salone Internazionale del Mobile, International Furnishing Accessories Exhibition, Workplace3.0, International Bathroom Exhibition, and many others are events that we can find in this 60th edition.
What can you expect this week? Glamour, elegance, luxury, and talent. Several brands elevate the status of what design is.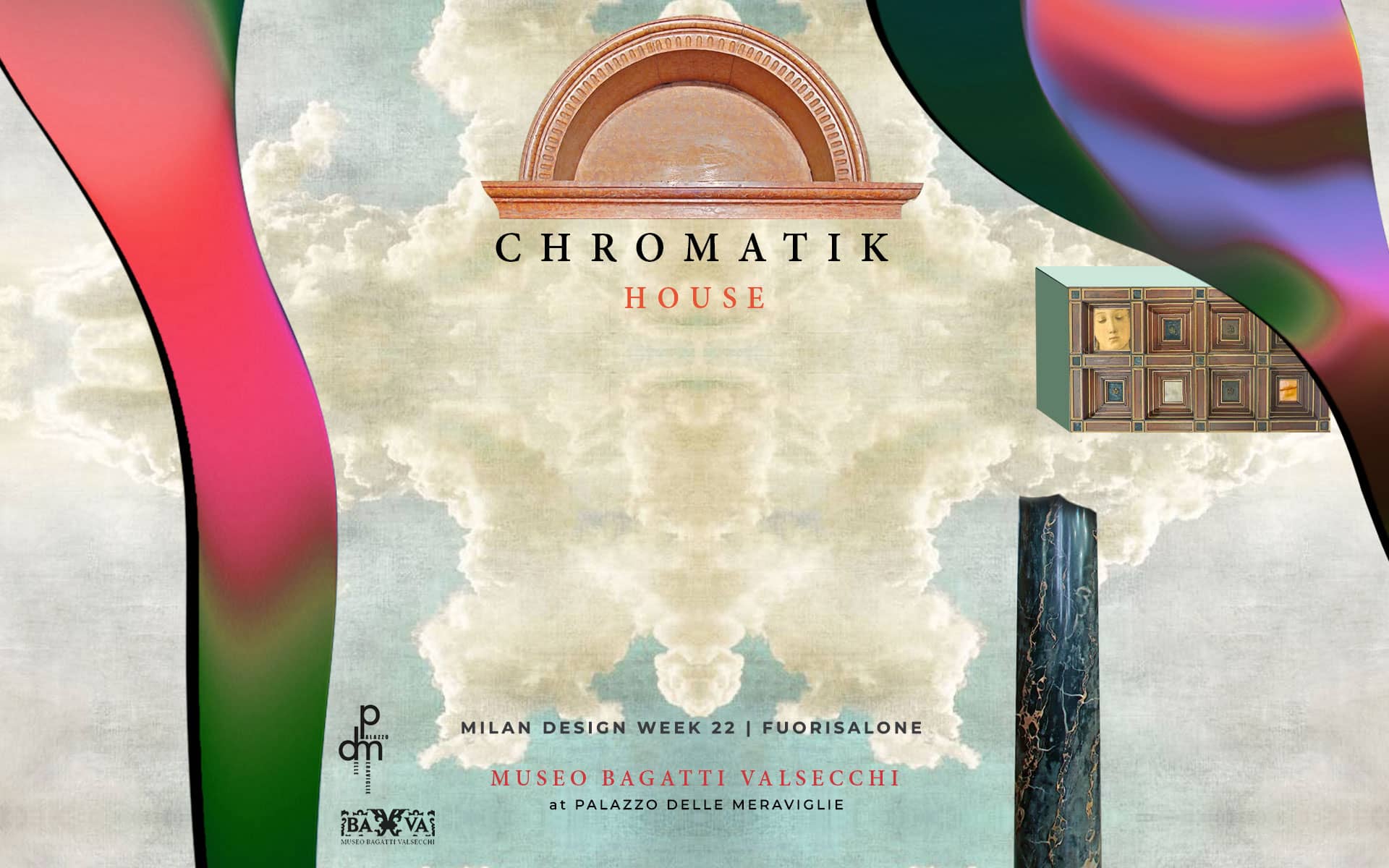 Milan Design Week 2022 is the most exciting week of the year. On 6-12 June, Salone del Mobile and Fuorisalone run the world's capital of design. Milan Design Week is the name given to define the time of the year in which Salone del Mobile and Fuorisalone take over the Italian city of Milan. This chromatik house event is the yearly pilgrimage of design professionals and design lovers, who have the chance to discover new products, disruptive artistic expressions, as well as design trends.
After a one-year hiatus due to the pandemic that restrained our personal and professional lives, Salone del Mobile 2021 showed up in the industry's scenario with a concept completely different from what Salone del Mobile Milano was known for. The rebranded Supersalone 2021 took place in September, as usual, alongside Milan Design Week. This celebration is a compilation of talks, events, and exhibitions marking Milan as an art and design incubator city for a week.
What can you expect from our brands at this memorable chromatik house event? Elegance for sure, but you can also expect fun and joy.
A HOME IN (E)MOTION. A HOME WHERE WE NEVER GET BORED.
DESIGN LOVERS, THIS IS YOUR CALL!
Discover modern furniture and lighting designed by design lovers for design lovers. All you need is to download the Hommés Studio catalog. To complete your interior design project, choose the high-end homeware by ACH Collection.