What's the best source of inspiration for closet design if not at celebrity closets'? They have the most exclusive mansions in the most exclusive neighborhoods – and the most exclusive interior designers. They also have a lot of clothing pieces (that go from casual to white tie dressing code), shoes, and accessories that demand organization but are showcasing worthy.

LIV TAYLOR'S MIDCENTURY CLOSET DESIGN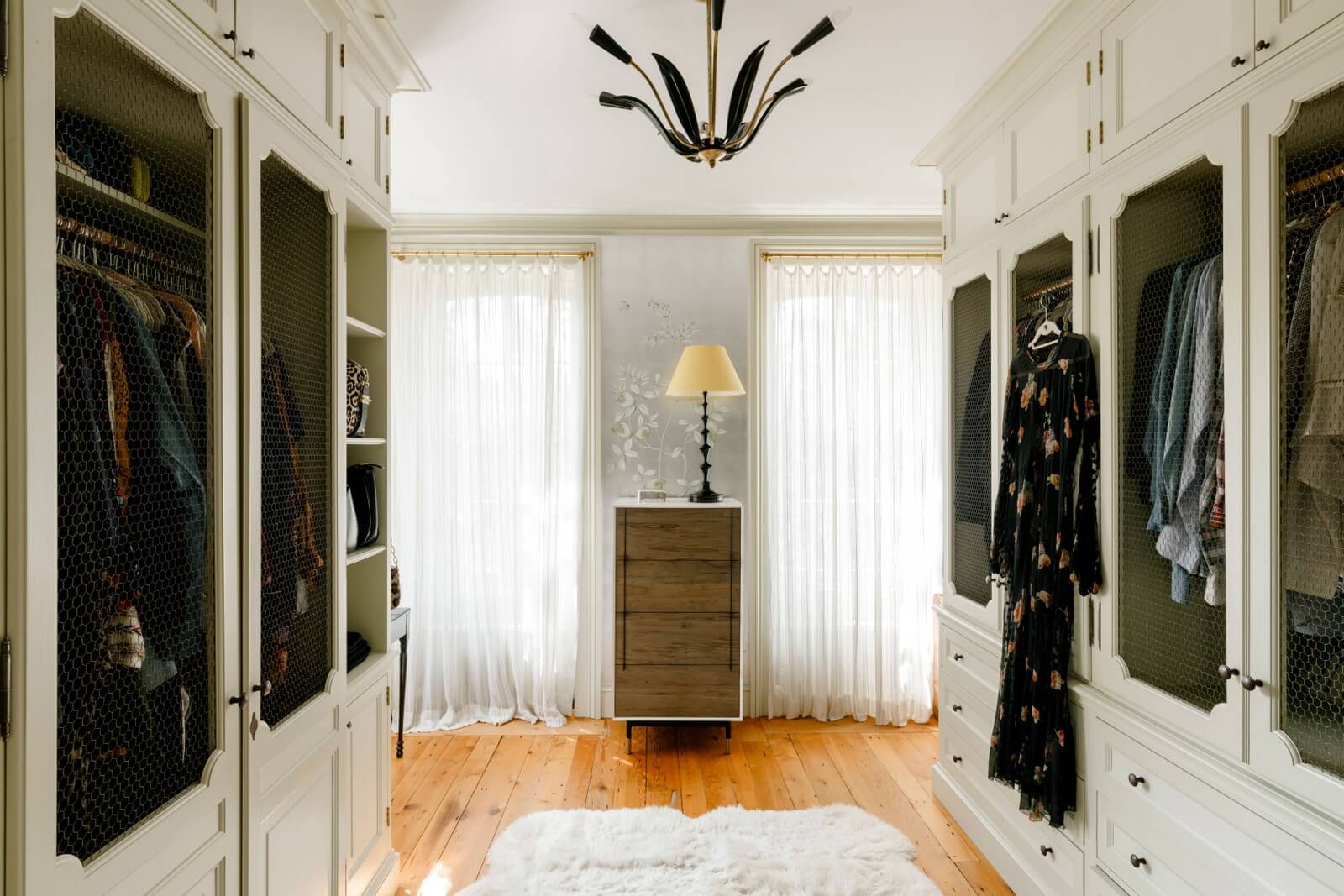 In her home in West Village, Manhattan, Liv Taylor keeps the original charm of the townhouse. The entire top floor of her home serves as a master suite in this light-filled and expansive walk-in closet.
A classic wardrobe in white painted wood is highlighted by the floor-to-ceiling windows. Chicken-wire panels allow closet doors to remain transparent. A silver leaf de Gournay vintage wallpaper covers the walls. On the ceiling, there's a vintage midcentury Italian suspension lamp. Similar lighting fixtures are found around the house – this unifies the interior design of Liv Taylor's home in West Village.
TAN FRANCE'S CUSTOMIZED CLOSET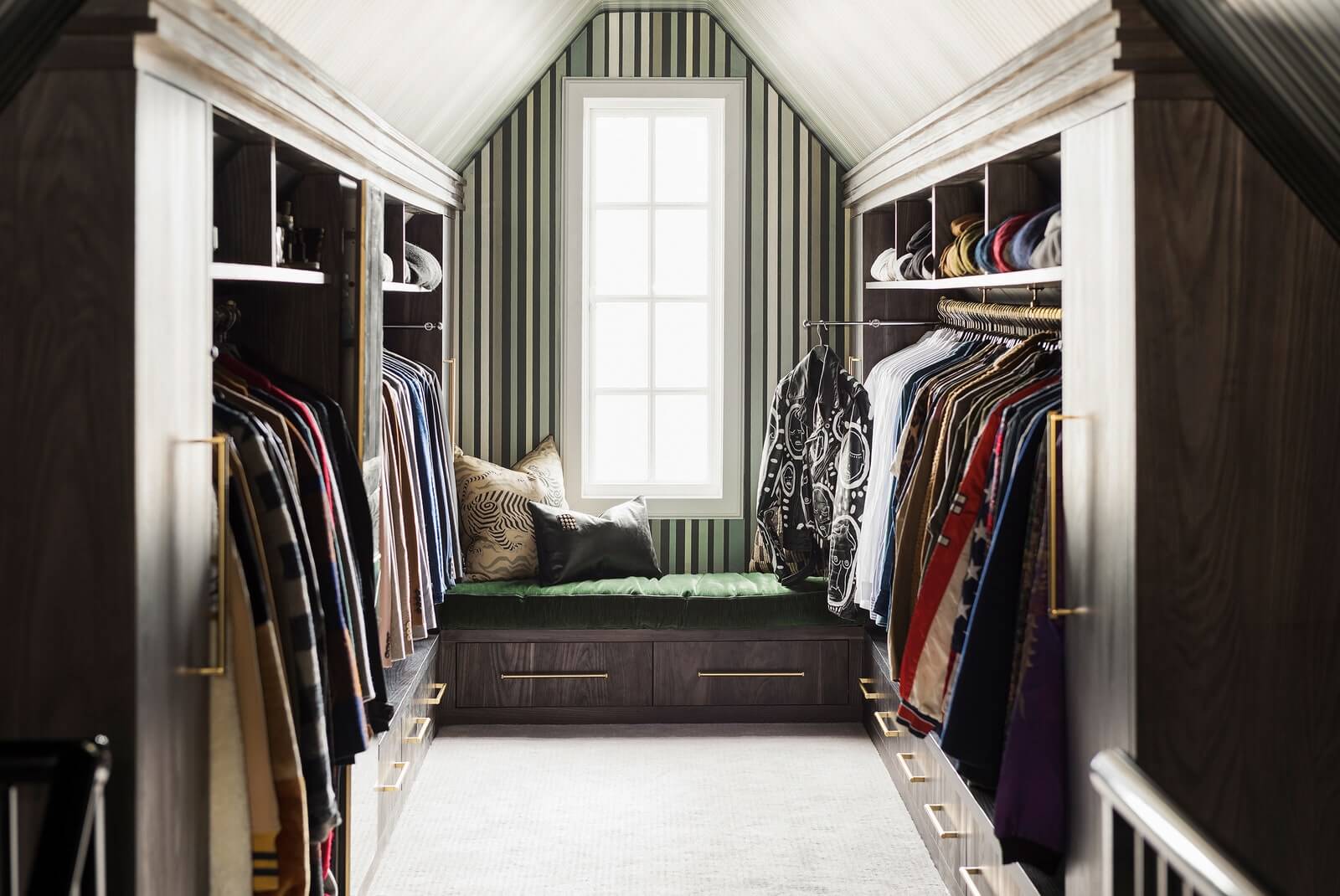 Queer Eye's fashion specialist Tan France moved into a new home in Salt Lake City and hired closet design expert Alice Lane to pull off a stunning closet on the attic of his home. Tan France's customized closet is chic and funny – like France himself.
DAKOTA JOHNSON'S MIDCENTURY MODERN CLOSET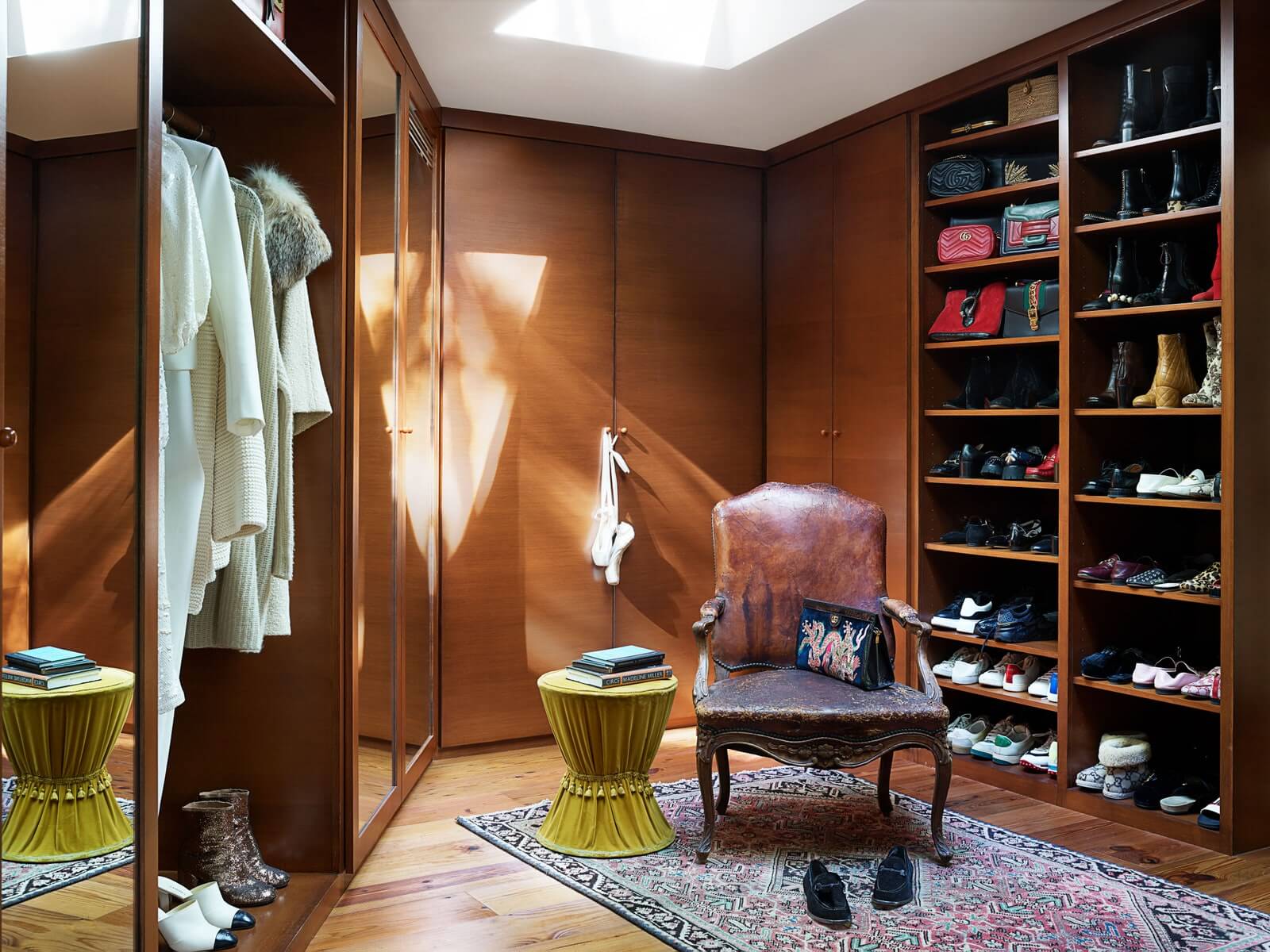 Dakota Johnson lives in Carl Maston's modernist house in Los Angeles. With love for a detached and gypsy lifestyle, Dakota Johnson's home is the expression of her bohemian aesthetics. Her wood walk-in closet and dressing room combines an eclectic rug with a vintage armchair and a velvet mustard stool that serves as a side table.
ELTON JOHN'S SHOE CLOSET DESIGN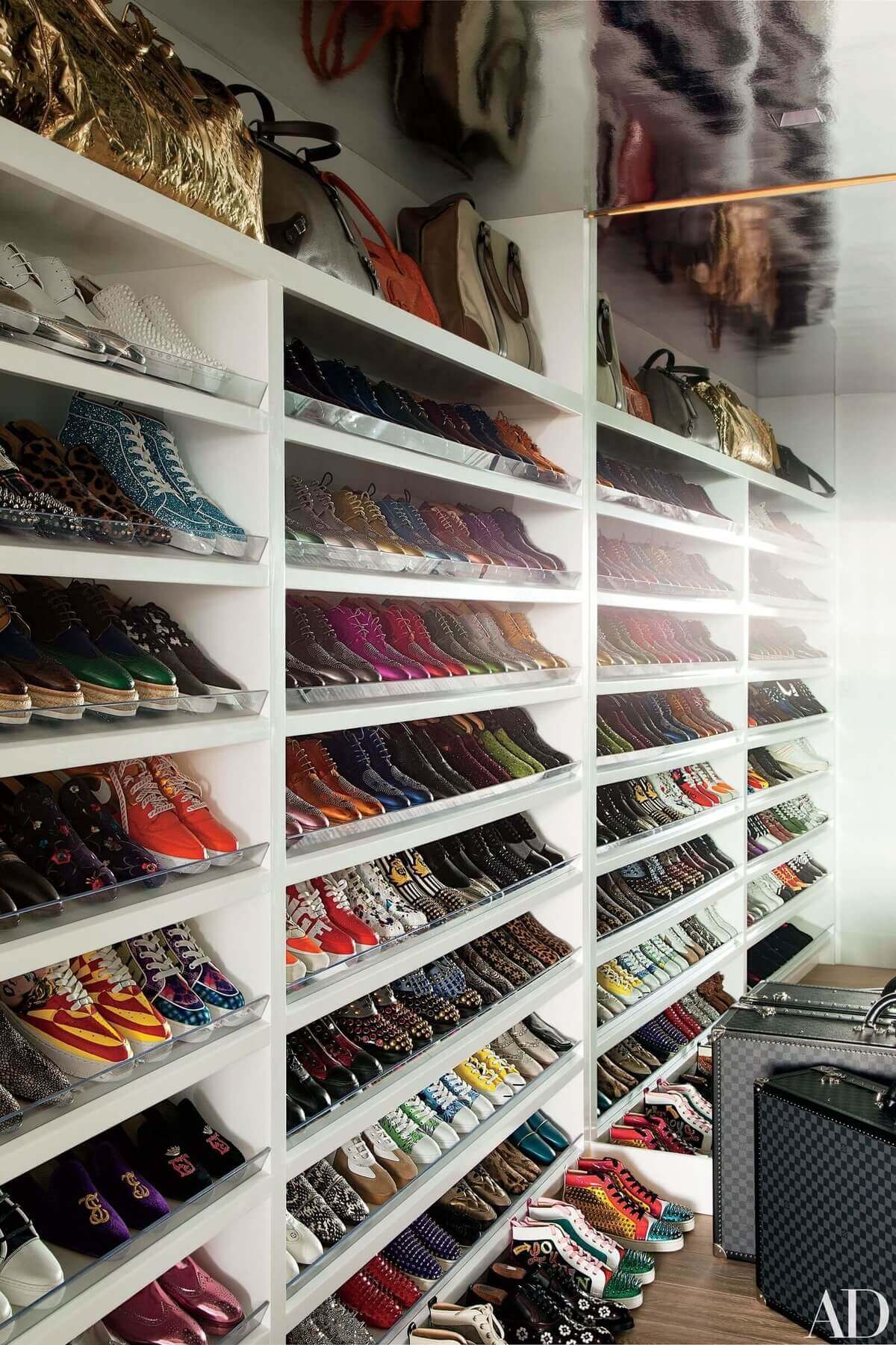 John Elton's shoe collection is so extraordinary that the Rocket Man doesn't need much – his minimalist shoe closet is primarily functional. The mirror ceiling reflects the varied colors of Elton John's unique shoes.
CHELSEA HANDLER'S CONTEMPORARY CLOSET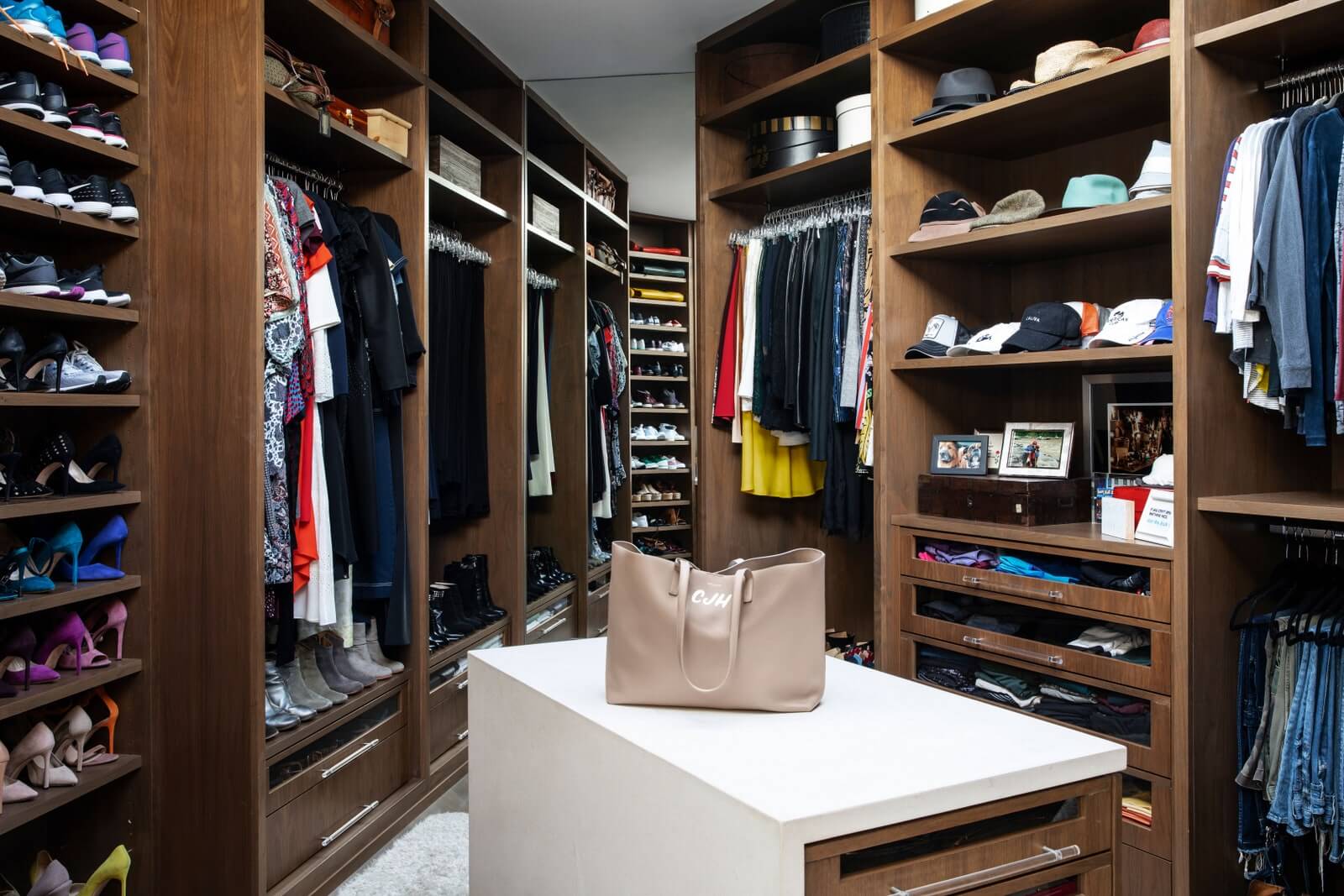 Chelsea Handler's closet is contemporary – so does she and her entire home. The closet design has mirrors on either end which enlarges the room and makes it look like a never-ending corridor.
JASON STATHAM'S SMALL CLOSET DESIGN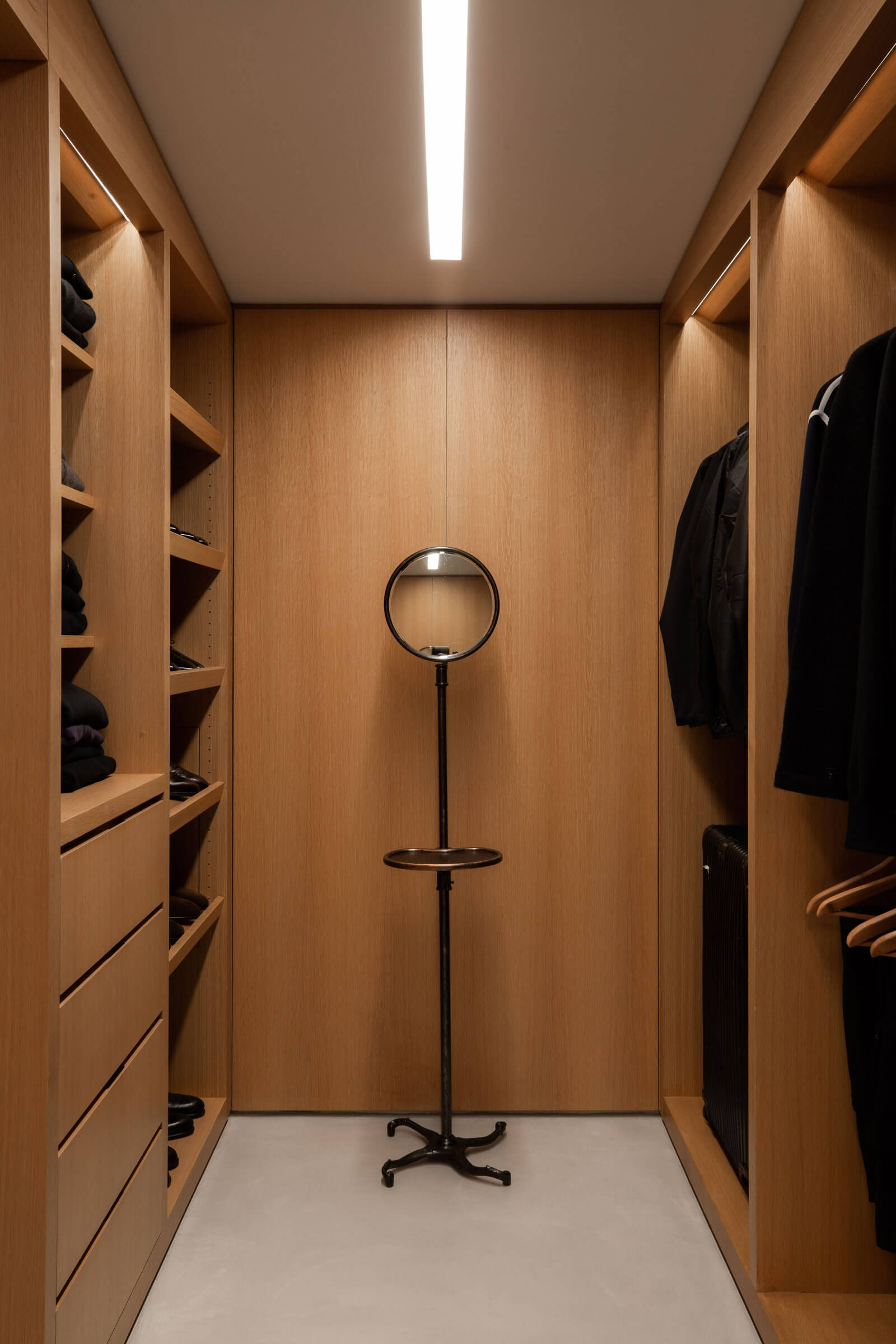 Jason Statham closets ain't small – they are compact since you find everything you need in small available space. Like the rest of Jason Statham's minimal home, the closets have crisp lines. A 1900s shaving mirror adds both function and style to the sleek closet design.
DITA VON TEESE'S MAXIMALIST CLOSET DESIGN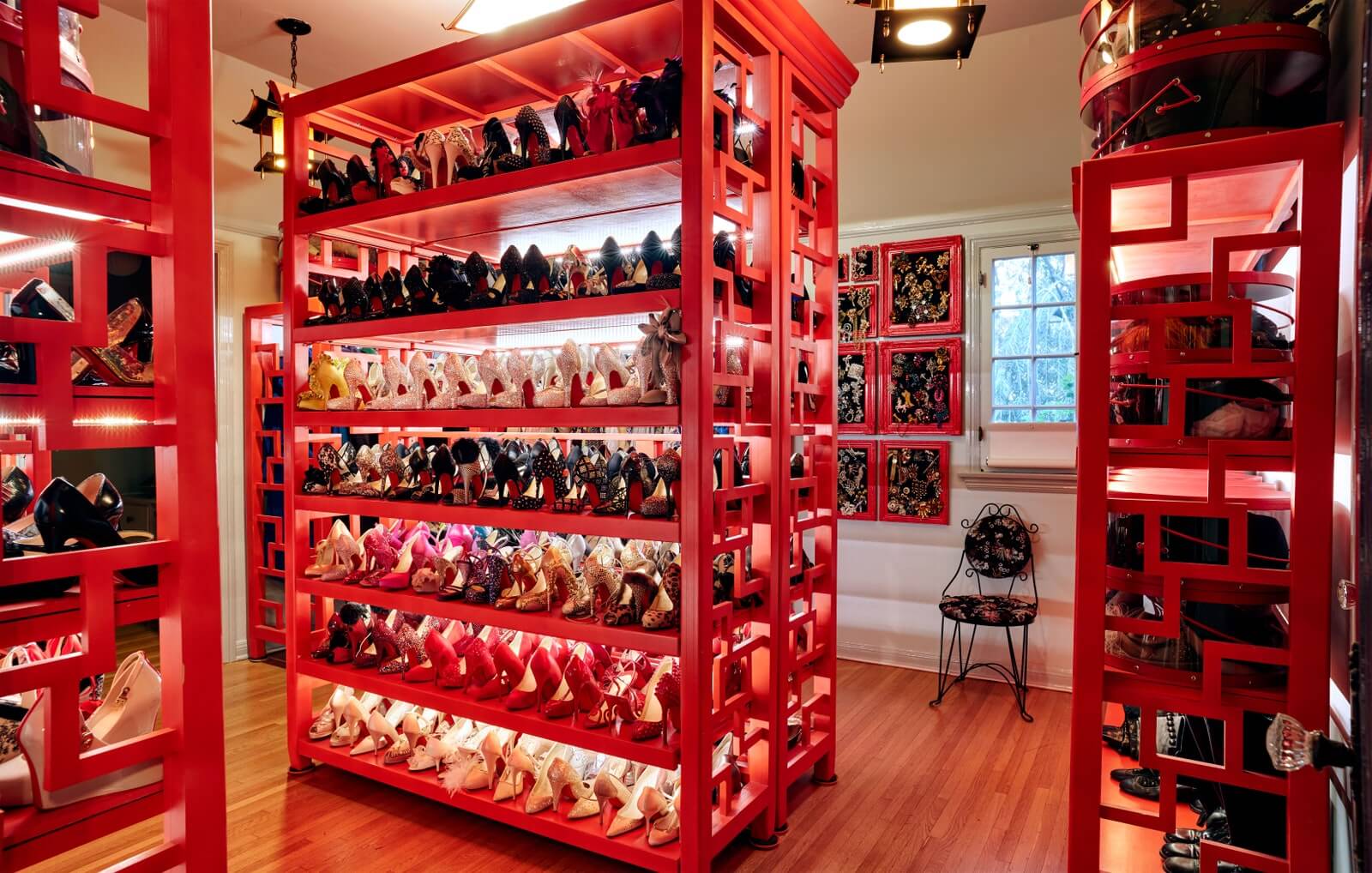 Vintage, maximal, and eccentric – three words to define Dita Von Teese's LA home. Her maximalist accessories closet showcases hundreds of pairs of heels on custom-made red shelves.
TOM JOYNER'S HOME OFFICE AND SHOE CLOSET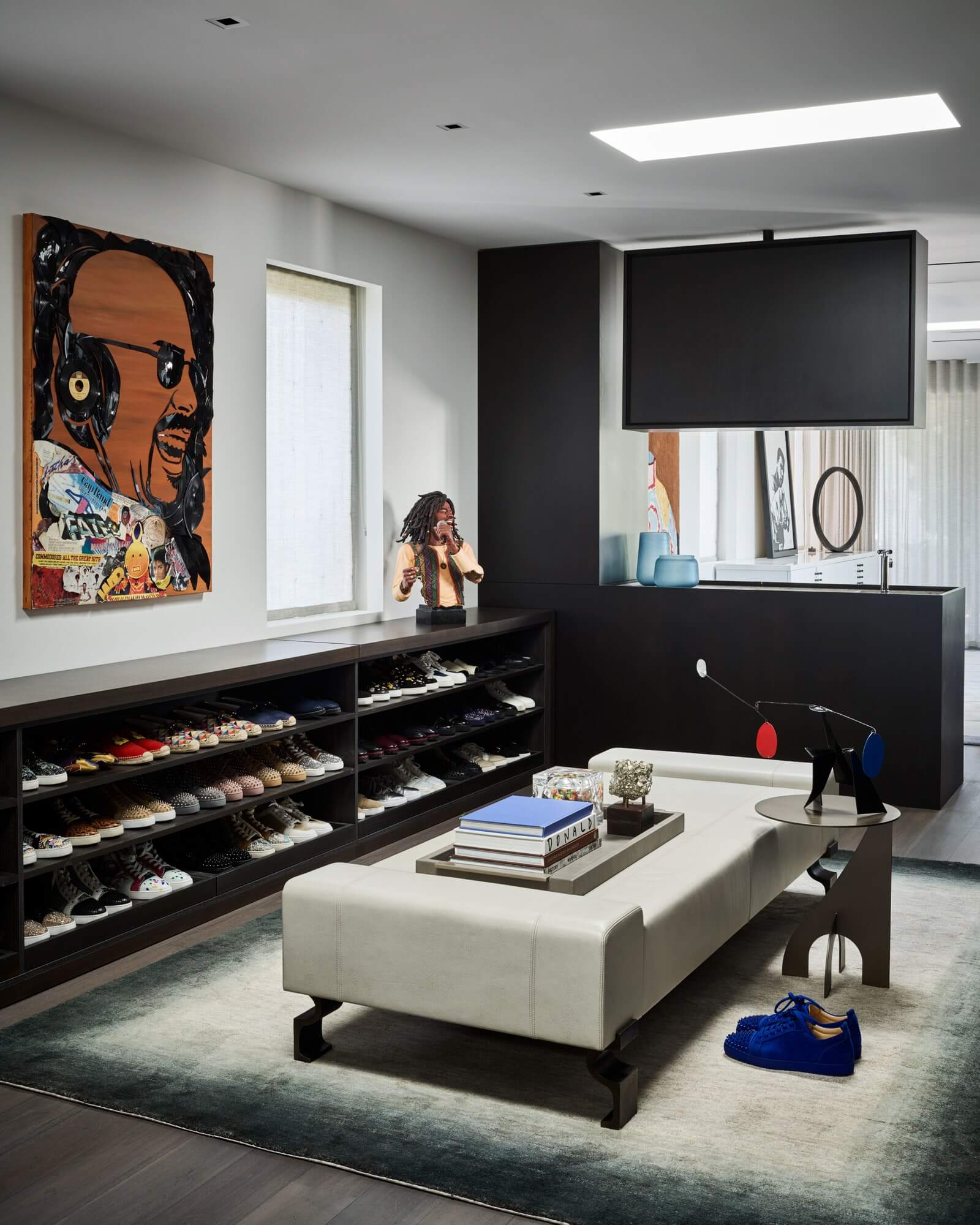 Tom Joyner's shoe closet design is unusual. The radio host displays his shoe collection at his home office in Golden Beach, Florida.
ADAM LEVINE AND BEHATI PRINSLOO'S CLOSET ORGANIZATION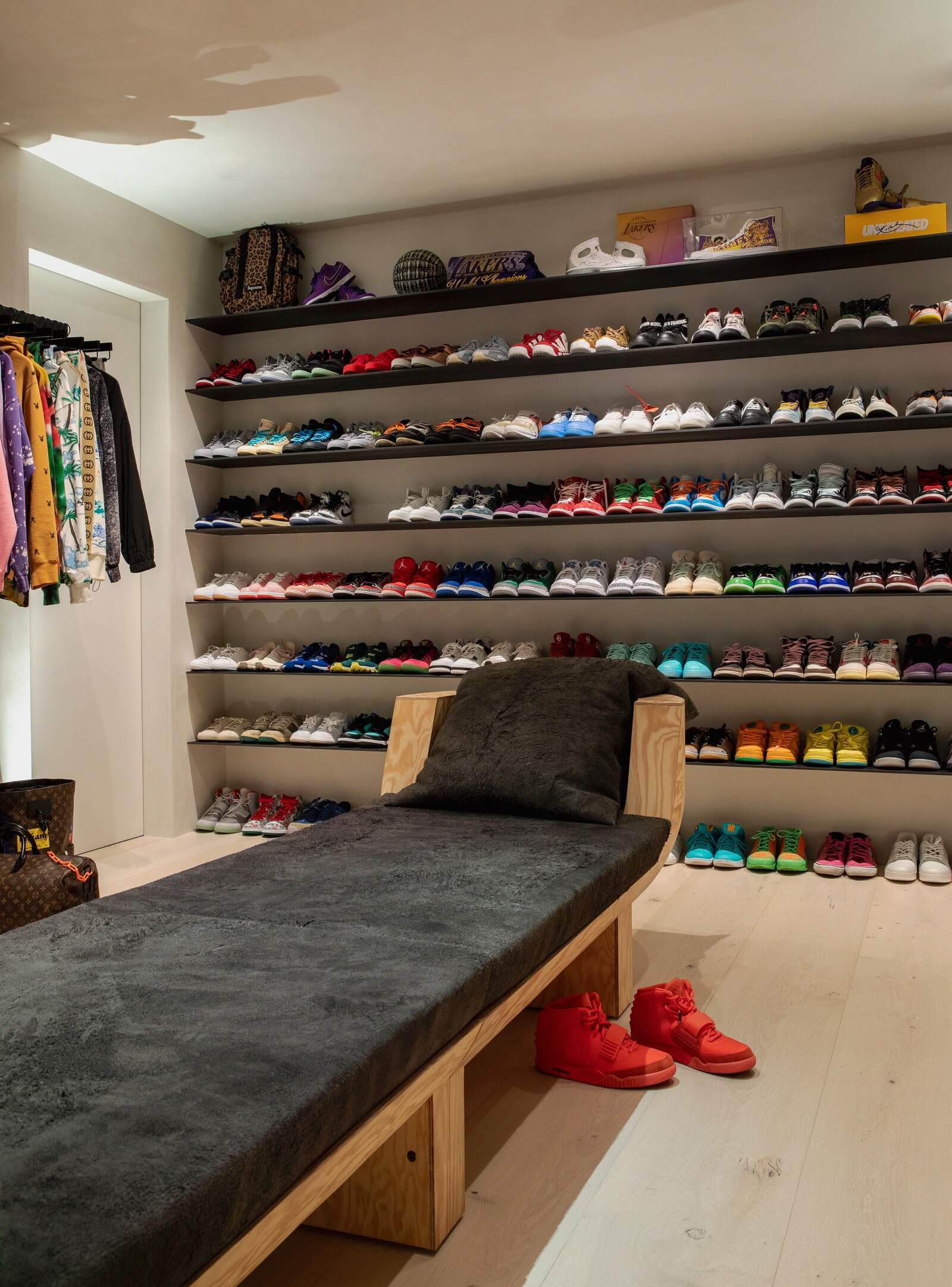 In the mansion that Adam Levine shares with his wife, Behati Prinsloo, the singer had his closet organized by experts, A Detailed Life. The studio approached the closet with a contemporary voice.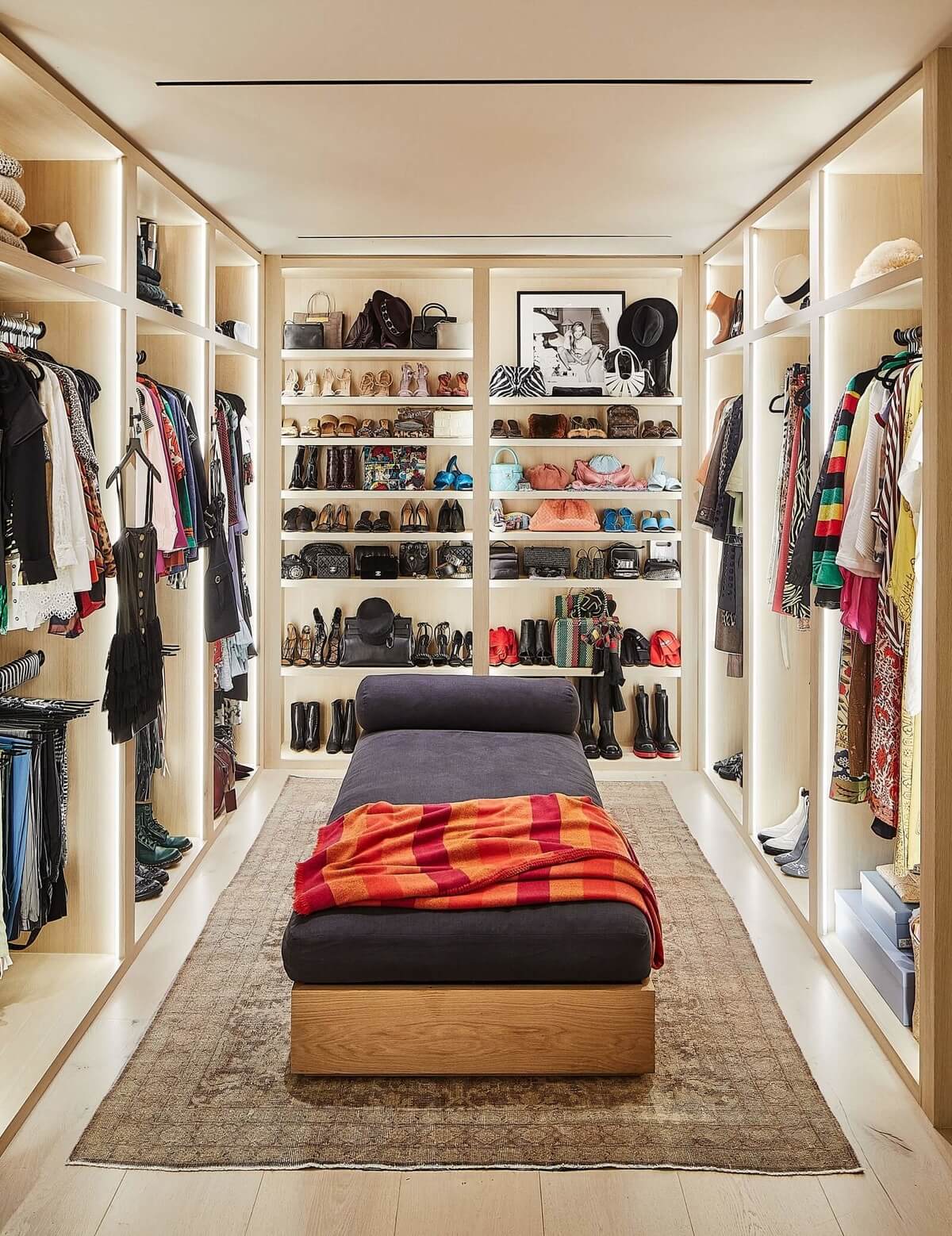 Behati Prinsloo has her won closet and dressign room. With a contemporary flair, Prinsloo's closet design resembles an exclusive boutique. Instead, it is located at Adam Levine and Behati Prinsloo's home stunning home.
MELISSA RIVERS' GLAMOROUS CLOSET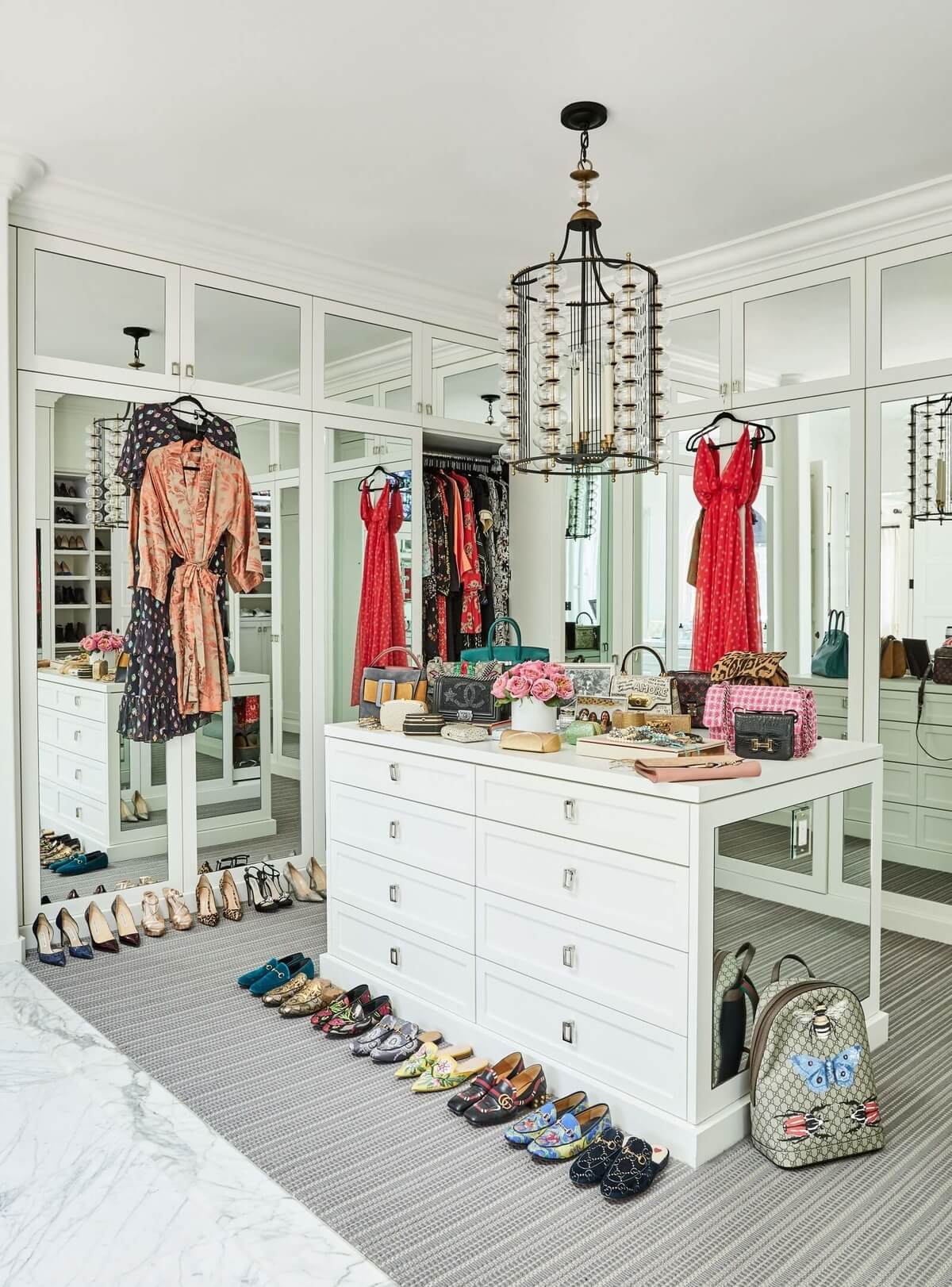 Martyn Lawrence Bullard designed the Mediterranean-style home of Melissa Rivers. When it comes to closet design the space was in the hands of Lisa Adams from L.A. Closet Design.
HILARY DUFF'S MINIMAL CLOSET DESIGN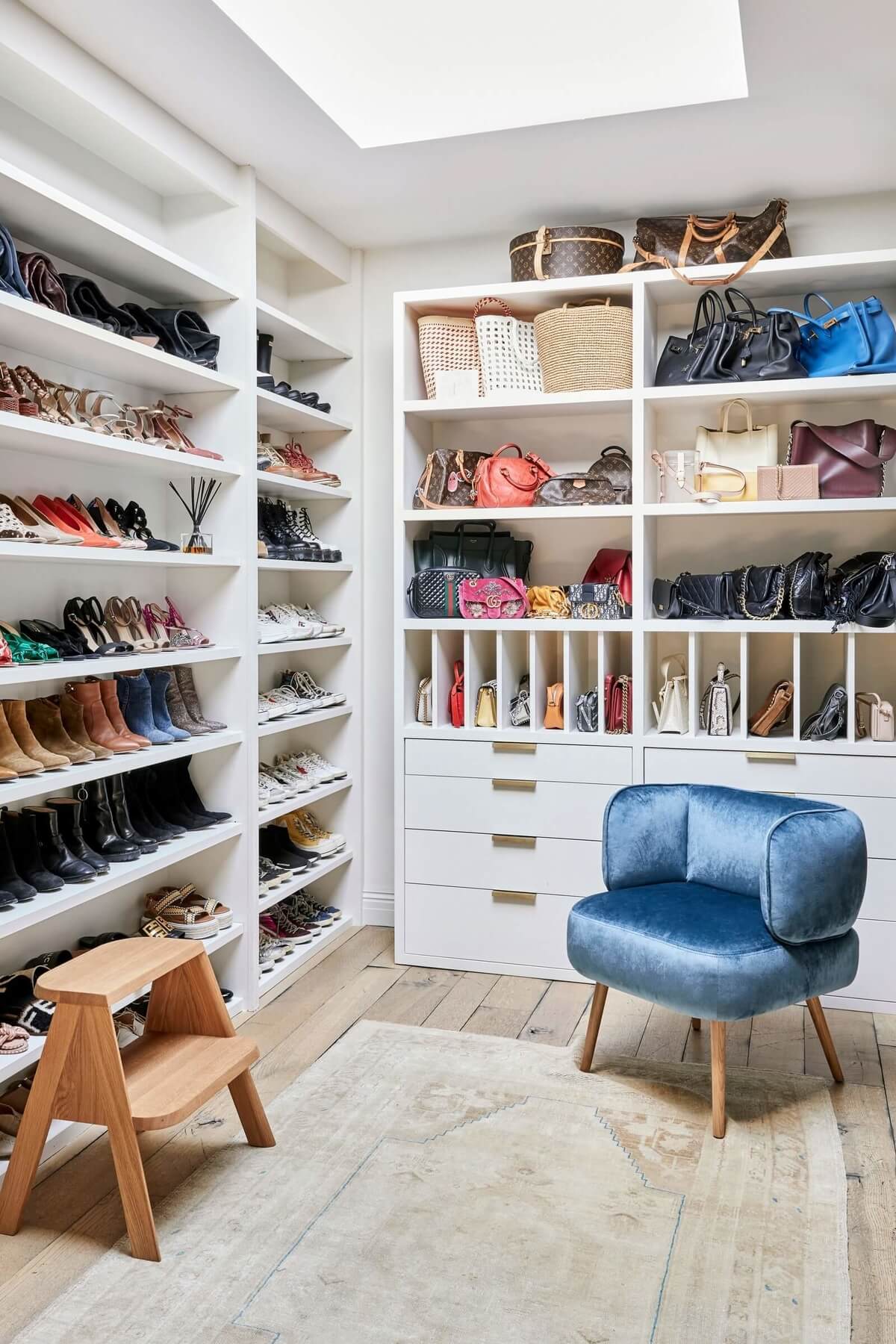 Organization is key to actor and singer Hilary Duff. Her minimalist closet design is all about function – neutral hues, clean design and every piece of clothing physically separated by category.
KYLIE JENNER'S CLOSET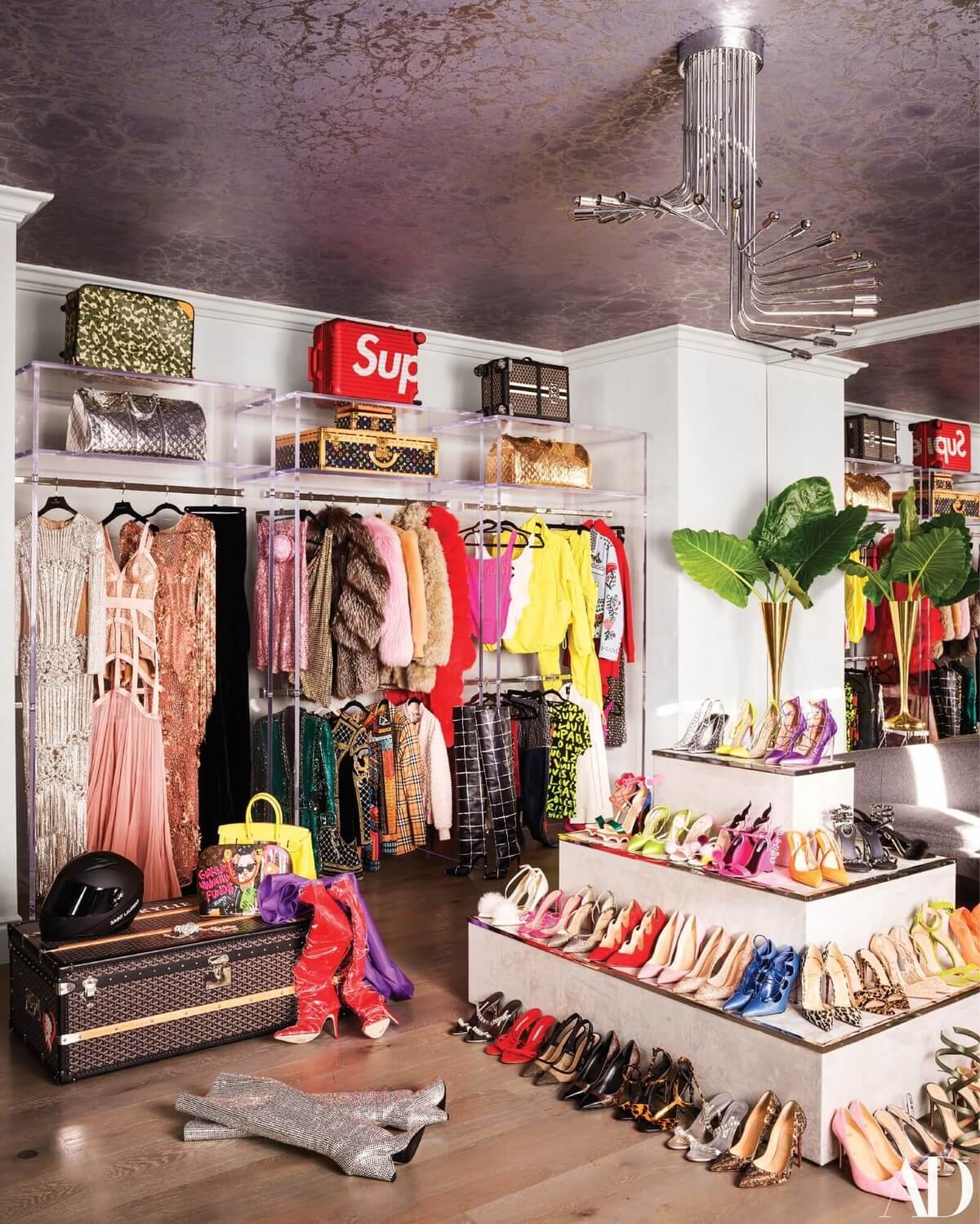 Kylie Jenner's closet in her LA home has custom-made furniture designed by Martyn Lawrence Bullard. The interior designer also brought together the rest home Kylie Jenner's home.
Do you feel inspiration kicking in?

Then download the Hommés Studio catalog and discover furniture, lighting, and home accessories that are essential to an elegant and glamorous closet design.
If not, be up to date with the latest interior design trends on Pinterest with curated moodboards for your daily inspiration.