We gather nine modern outdoor seating areas that incorporate fashionable fireplaces and fire pits to warm yourself in your evenings. An outdoor fireplace or a fire pit can provide much enjoyment. They can add light, heat, and an interactive experience that enhances your time spent outdoors. A fire feature can also add much atmosphere to your space. After all, there is nothing quite like sitting by the fire.
Both outdoor fireplaces and fire pit add the appeal of fire to your outdoor space. They are different structures that provide quite different experiences.
Guadalajara House, Mexico, by Alejandro Sticotti
Alejandro Sticotti created a covered outdoor lounge and dining area alongside this house in the Mexican city of Guadalajara. Connected to the home's indoor, the sheltered area contains a seating area with a timber-framed sofa and a dining table alongside an outdoor chiminea set against a wall.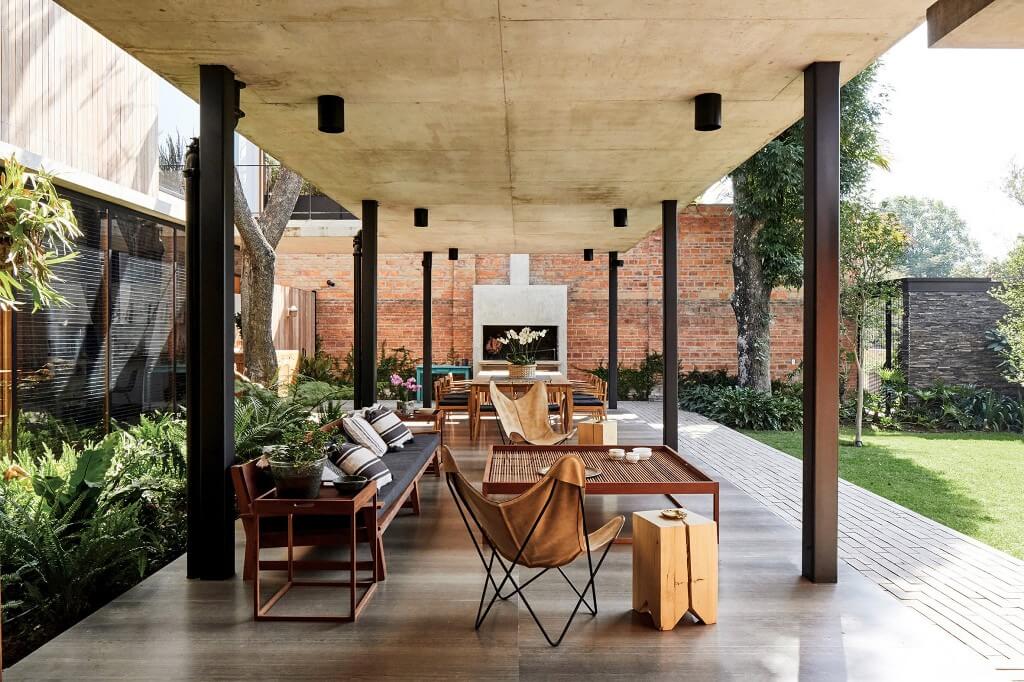 AutoCamp, USA, by Anacapa Architecture
It was created to be the social hub of a luxury campground in California. This open-air clubhouse is used for guest check-in and socializing. Within the clubhouse, chairs are gathered around a square floor-level hearth similar to a Japanese irori beneath a suspended conical steel flue.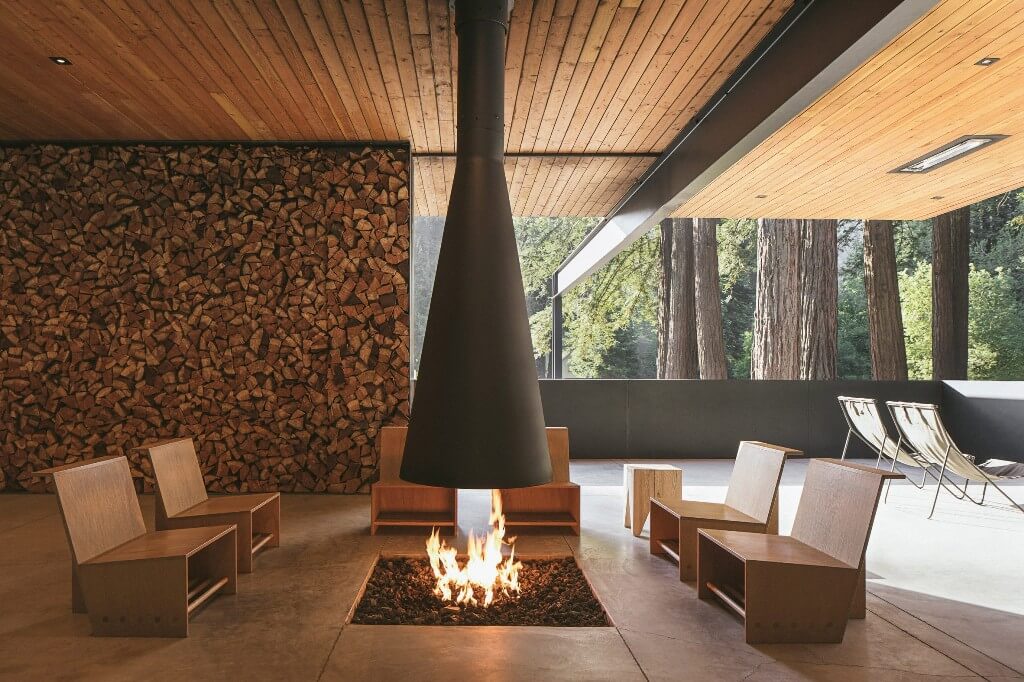 Butterfly House, USA, by Surface Design
This modern outdoor space is quite different. Landscape architecture studio Surface Design created a series of planted terraces at this house in San Francisco to be a peaceful relief from the city. A raised concrete fireplace anchors the ground floor courtyard, complete with benches, ferns and anemones, and pots containing agaves and euphorbias.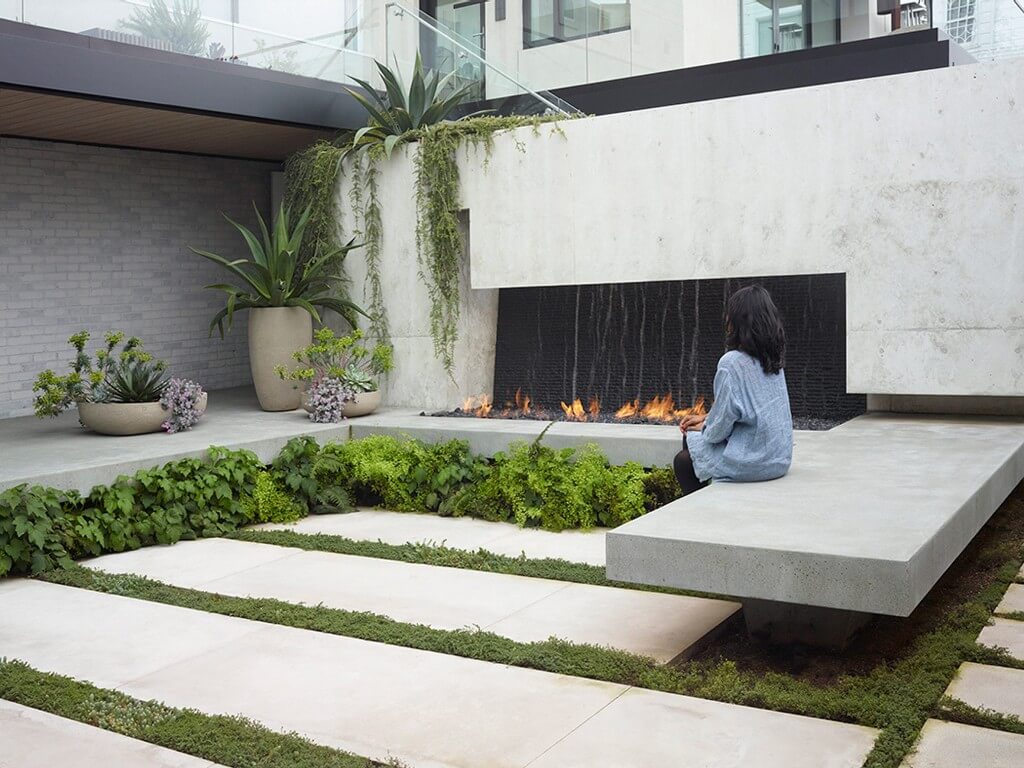 Equinox Hotel, USA, by David Rockwell and Joyce Wang
The Equinox Hotel occupies 14 floors of a skyscraper designed by architecture firm SOM in Hudson Yards. The hotel has two large terraces – one with a pool and one containing seating arranged around a water feature and a decorative ethanol fire.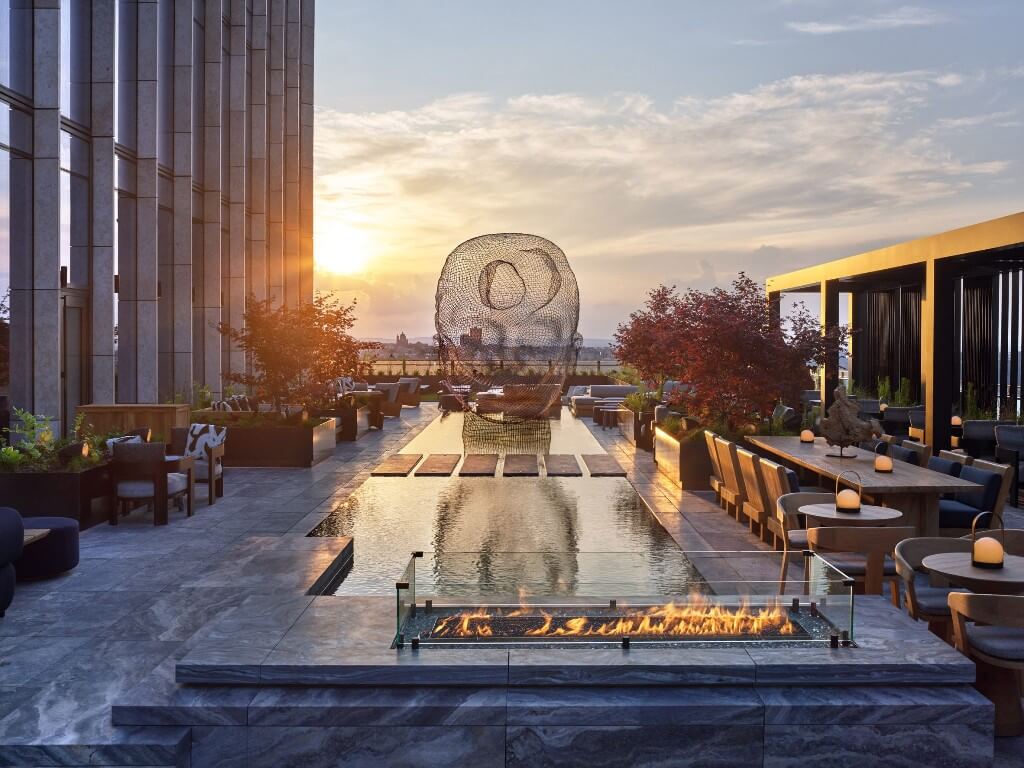 Minimalist Urban Residence, USA, by Anacapa Architecture
The open-plan living space and main bedroom in the L-shaped house both open onto a backyard with a modern outdoor fireplace set in a wall and a seating area arranged around a raised rectangular concrete fire pit.
Kalam, Outdoor Fire Pit, by Hommés Studio
Kalam Fire Pit is a freestanding fire pit that will fit perfectly in a modern outdoor design project. It brings identity to any space in a bold attempt to stand out from standardized outdoor models.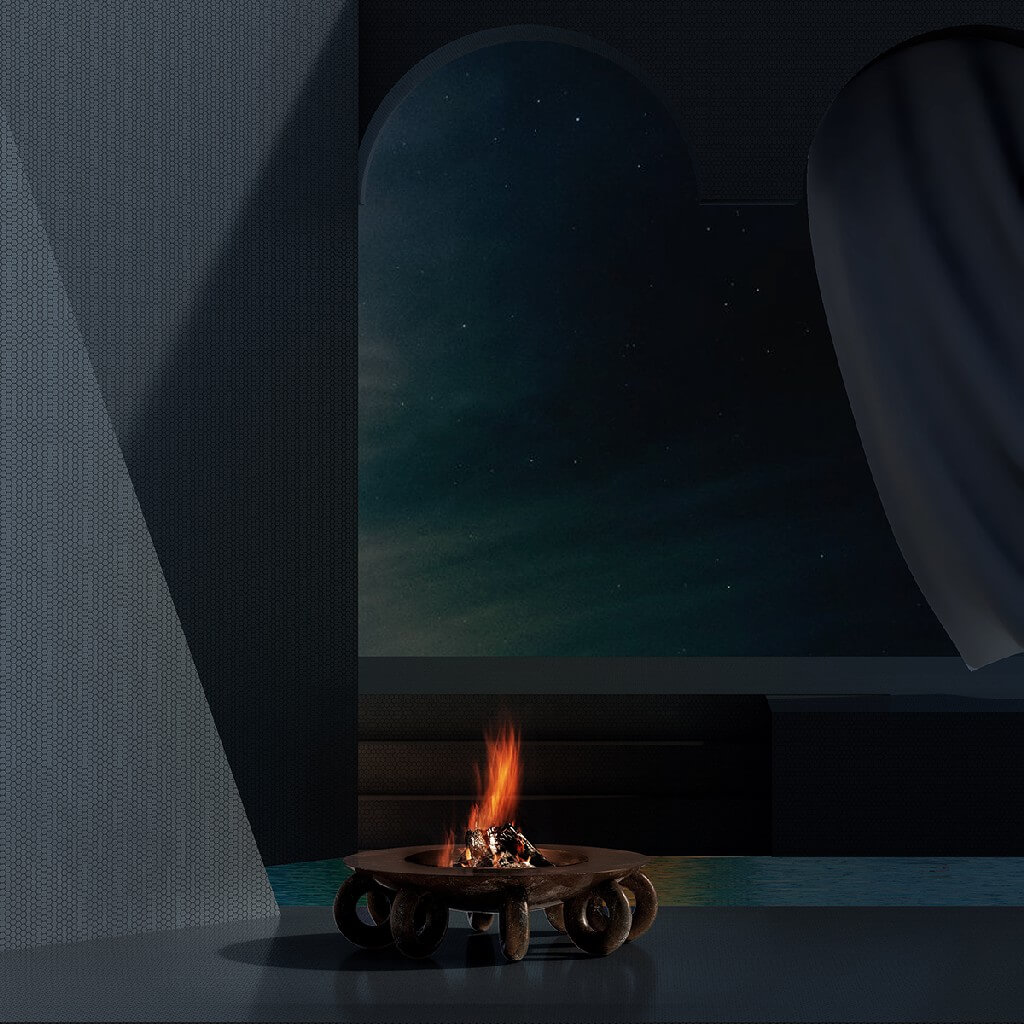 Midden Garden Pavilion, South Africa, by Metropolis
Metropolis designed this concrete modern outdoor dining pavilion as part of a house renovation in Cape Town. Designed to take advantage of views over Table Mountain, the open-sided pavilion includes a square concrete hearth topped with a suspended funnel-shaped flue surrounded by concrete seating.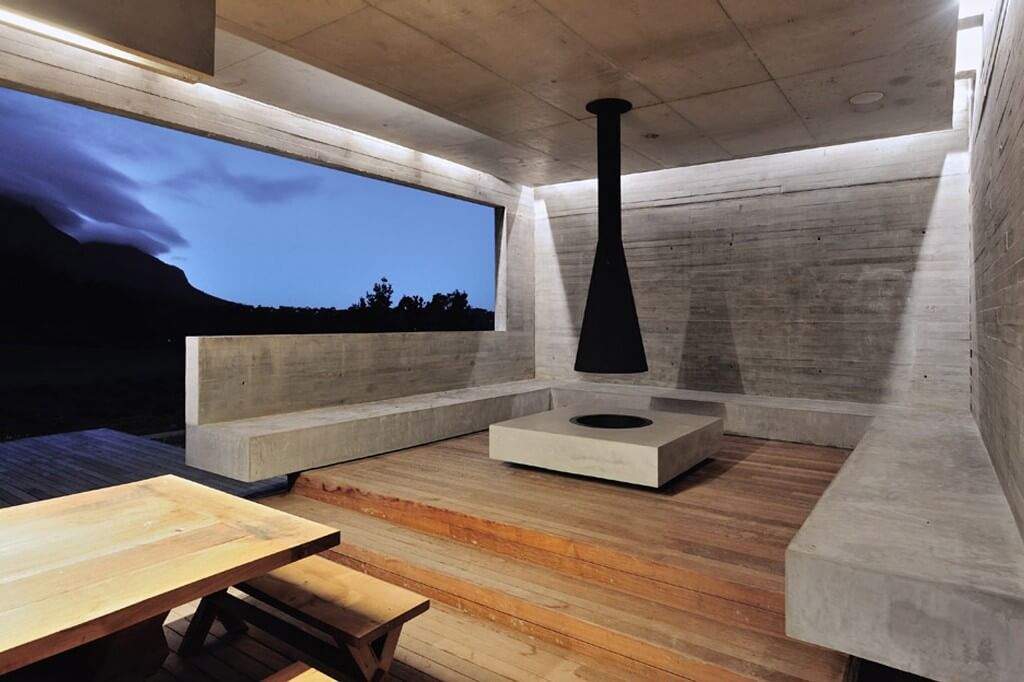 Yō no Ie, Japan, by Muji
This single-storey prefabricated home designed by Japanese retail company Muji is fronted by three full-height doors that open onto a large wooden deck. The outdoor terrace contains a sunken seating area with a fire pit.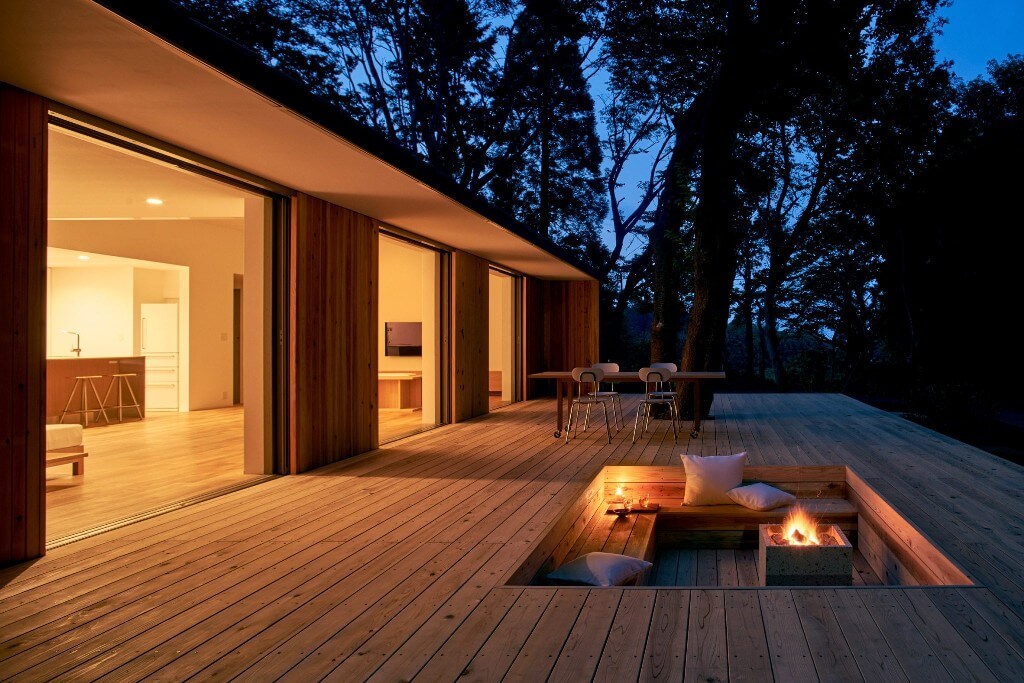 Casa SS, Chile, by Pablo Saric and Cristian Winckler
Casa SS is a blackened pine house perched above the Pacific Ocean in Chile. The main living area has large glass windows facing the ocean and opens out onto an enclosed sandy courtyard with deck chairs arranged around a circular steel fire pit at the rear of the home.
Get more ideas for your projects and find functional, stylish, and sizable lighting and furniture choices: