Home is not only a dwelling on the earth, but also a place where the soul is tied. Xuanhuang Design founder's home is full of whimsical ideas. However, the reverberation of creative passion fills the space as well. This sophisticated Asian interior is a masterpiece of minimalist design.
Sophisticated Asian Interior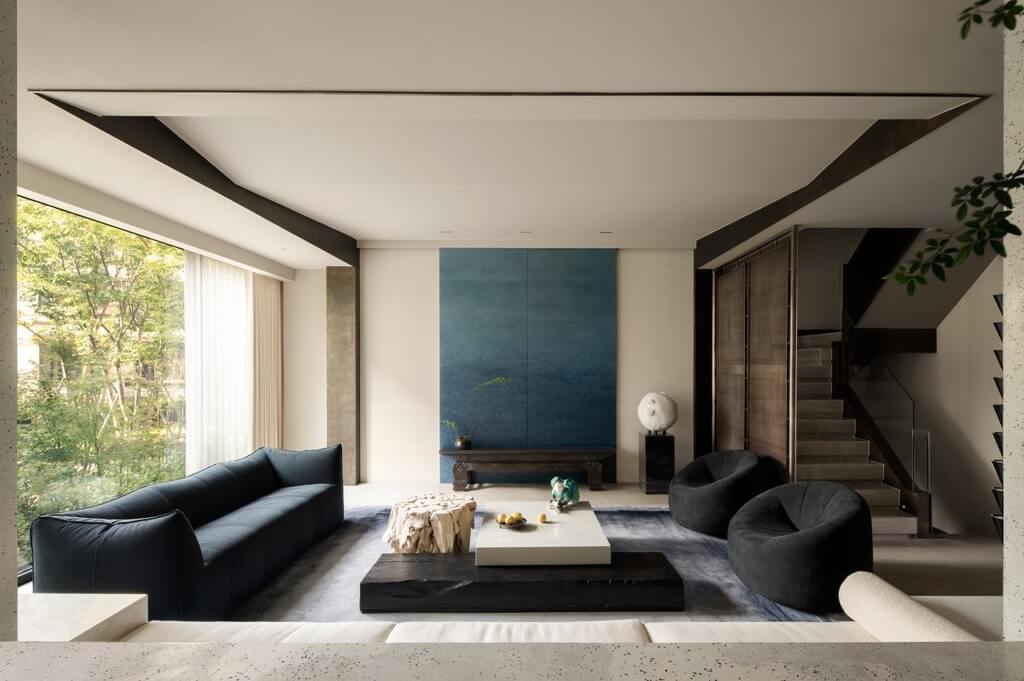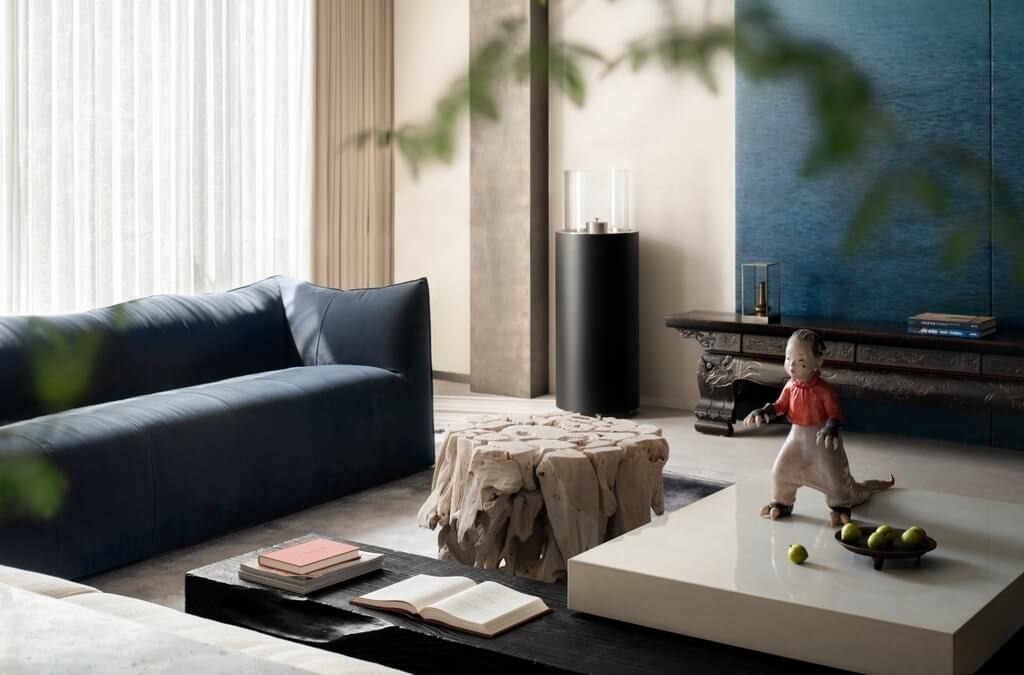 The empty walls with large LCD screens with no doubts create the hollow feeling in the space. In order to avoid that, the designer hand-painted the artwork oil painting on the smart sliding door of the TV wall. These way, the living room keep minimalist luxury design and a balance for functionality and aesthetics.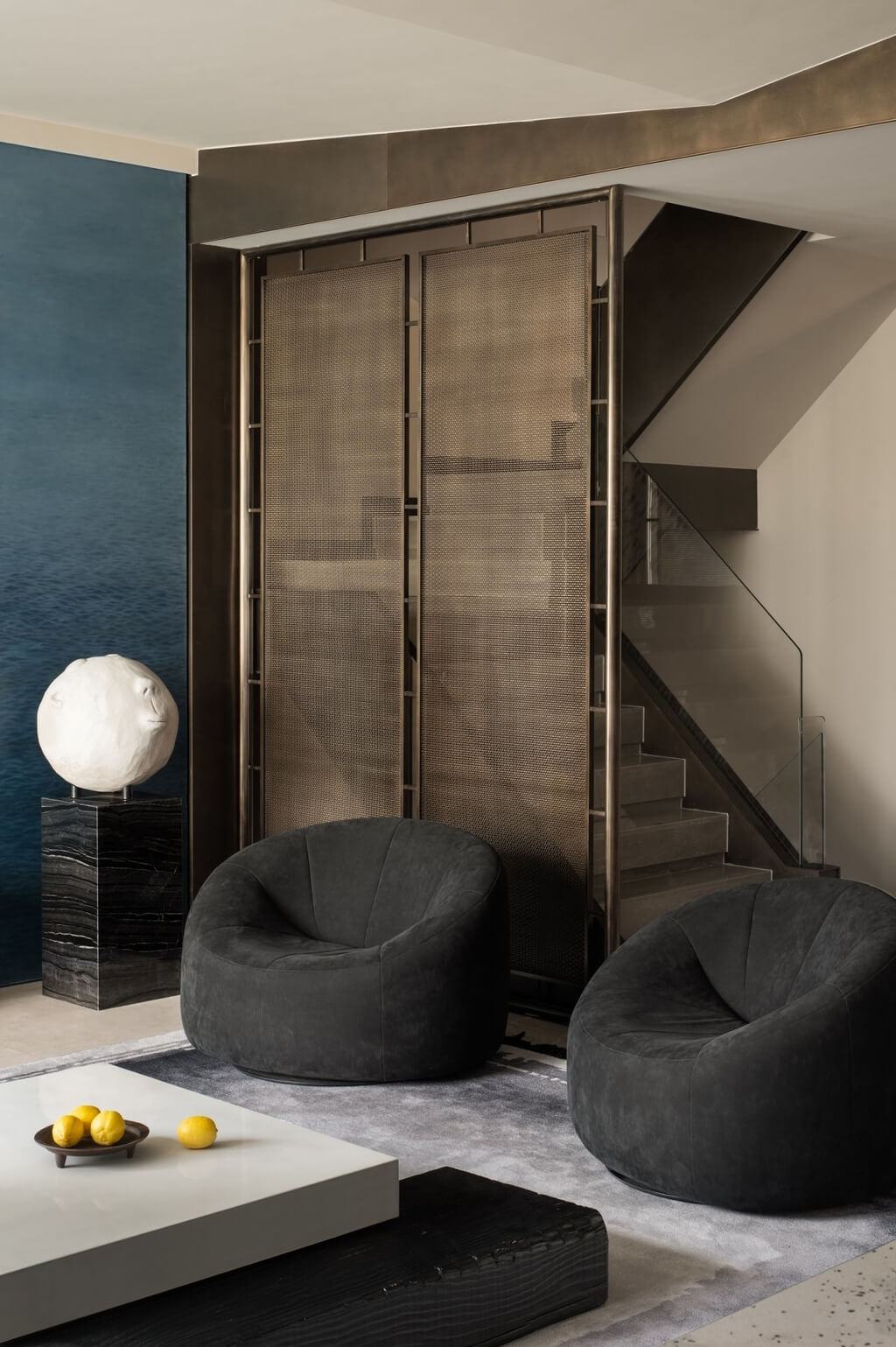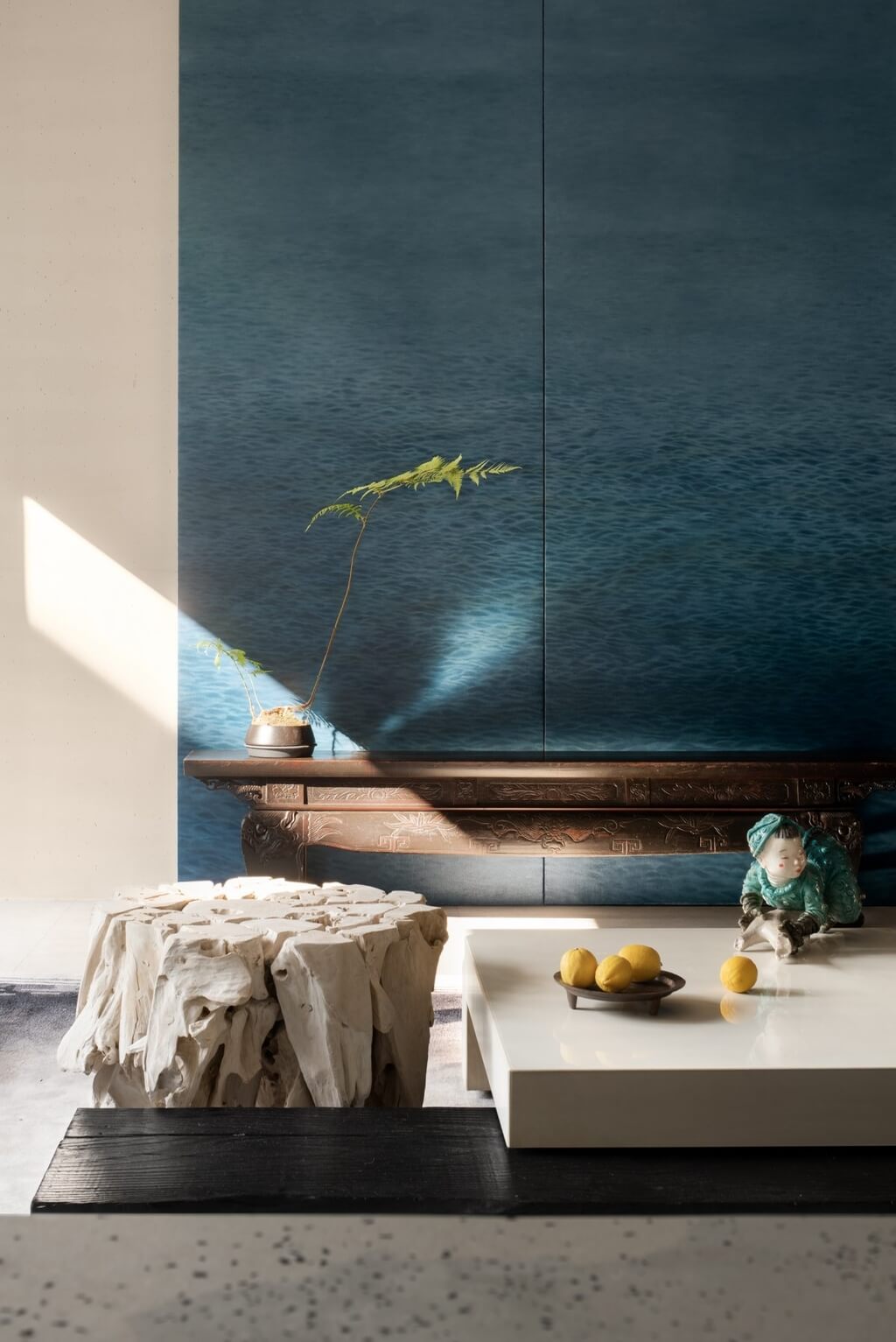 In the early morning a shimmering light pierced through the corner of the eaves. Then it and spilled from the morning sun onto the canvas. A dramatic scene was brought to this space: the lake and breeze, intertwined with the light and shadow of the space. As if crossing the boundaries of time and space, we witnessed the glitter and silence of a passage of time.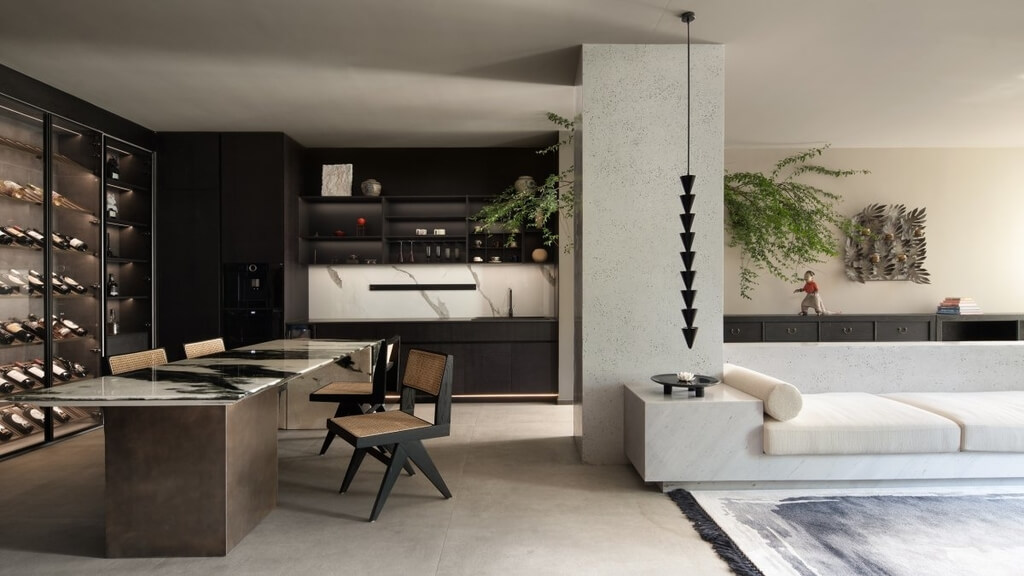 In this sophisticated Asian interior, the design language revolves around one theme: naturalness. The texture of the material with the soft furnishings gives this residence the soul of a home. The load-bearing column became a design to the main sofa in the living room. Subsequently, terrazzo is moistened with skin-like luster. The dried wooden coffee table is like telling the story of the years. Finally, the texture of the fabric sofa and the drape of the curtain are in harmony.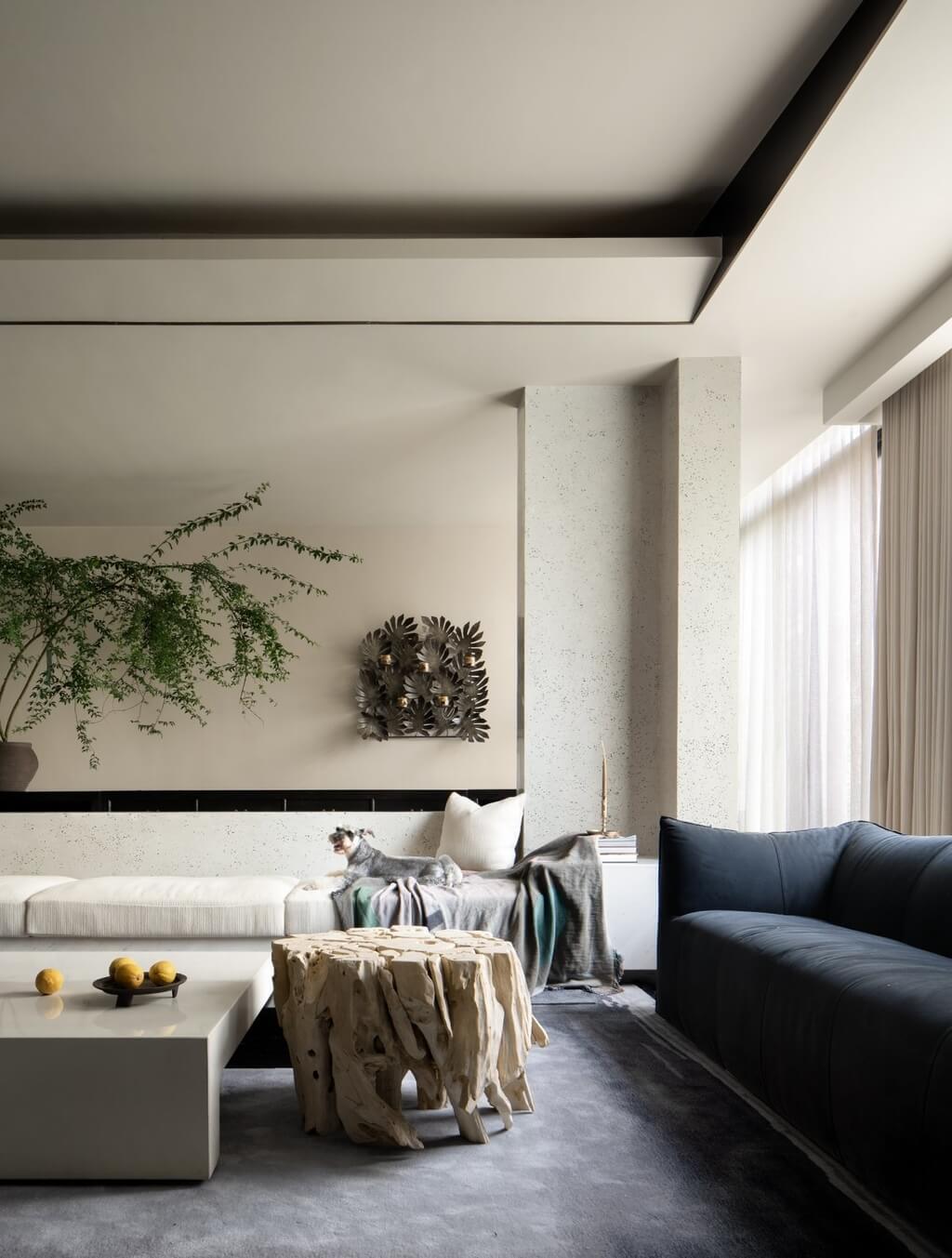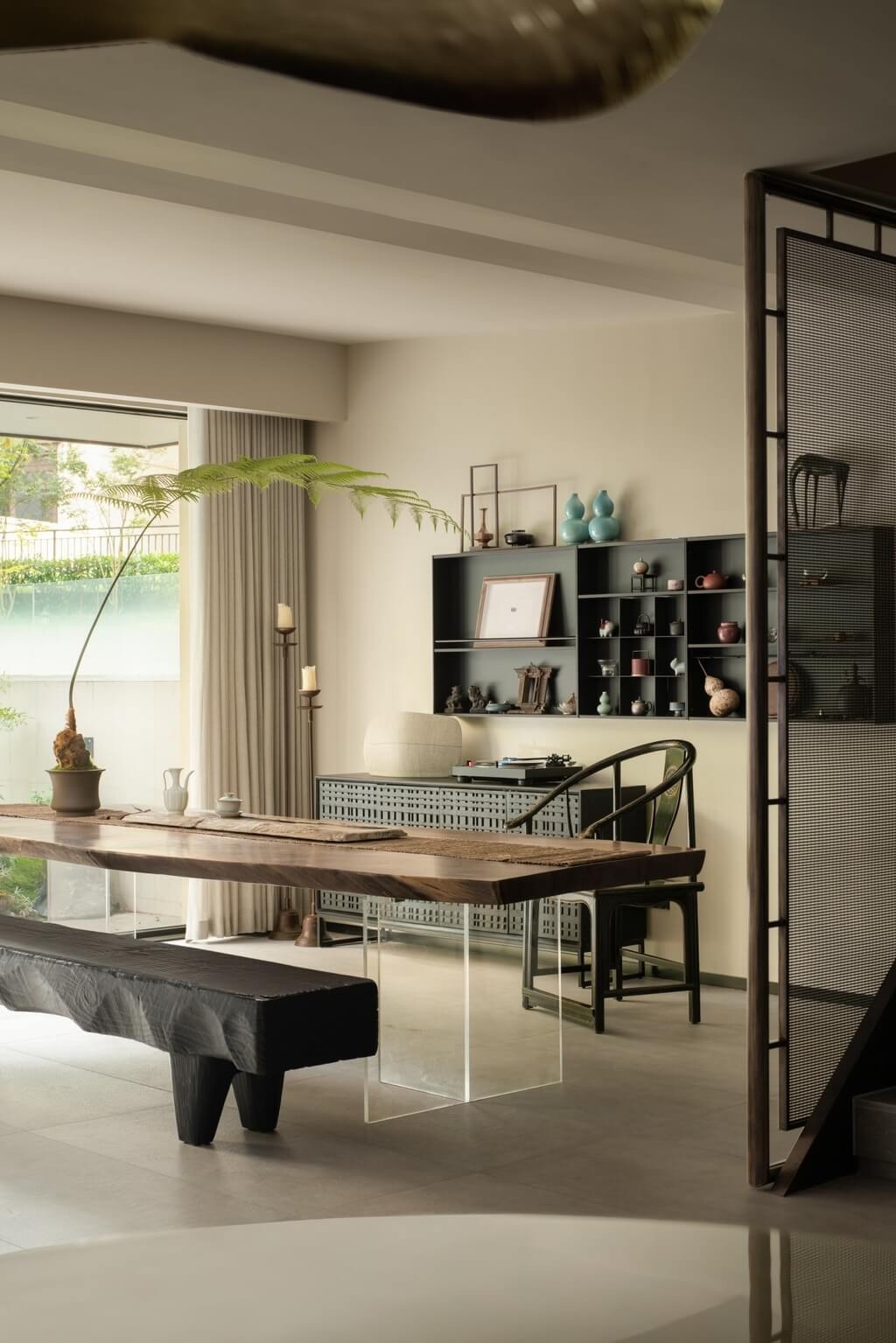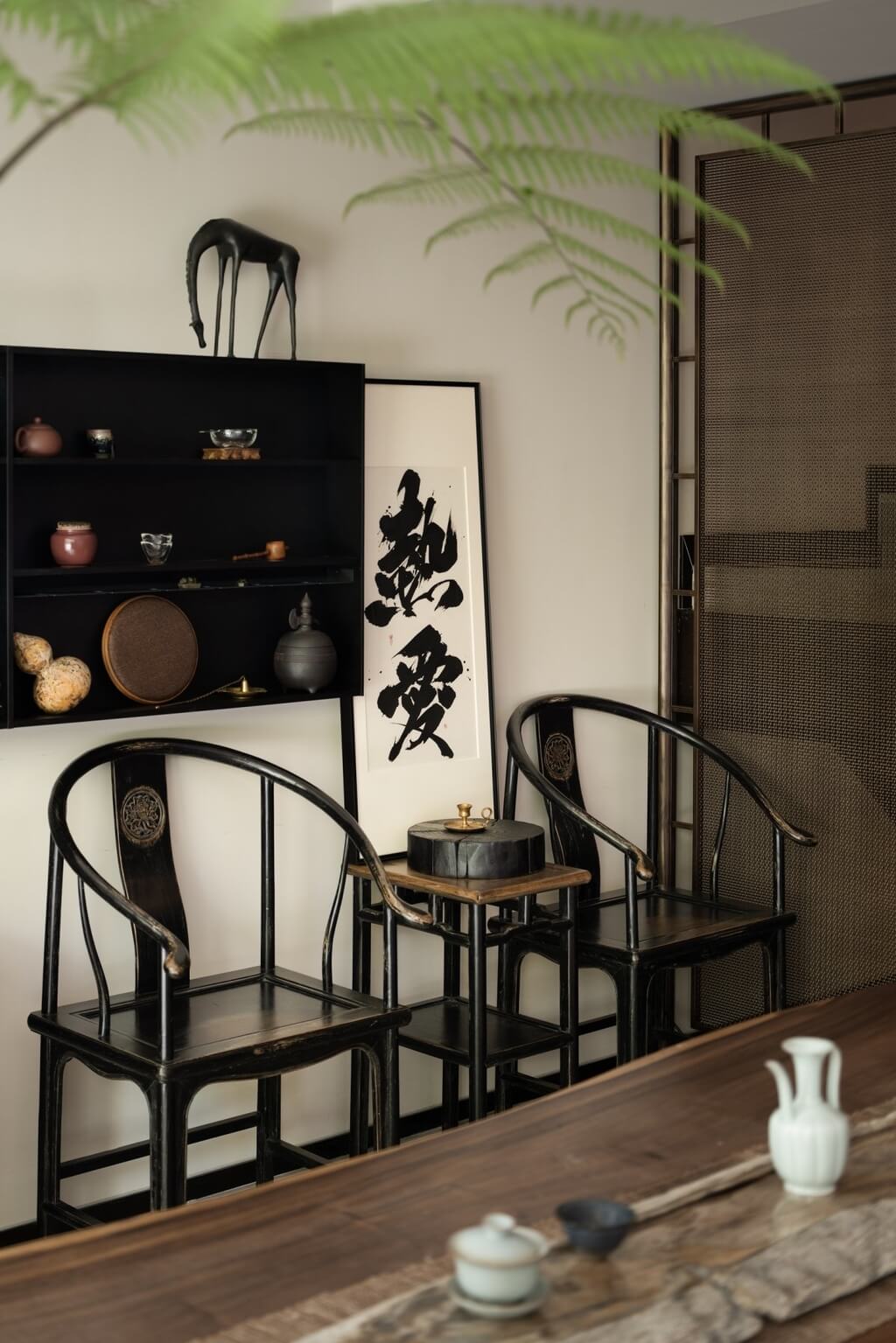 The scent of coffee comes with the morning light. The tea-room space is not only a place to drink tea, but also an important place to receive guests. The natural form of the private courtyard extends between movement and stillness.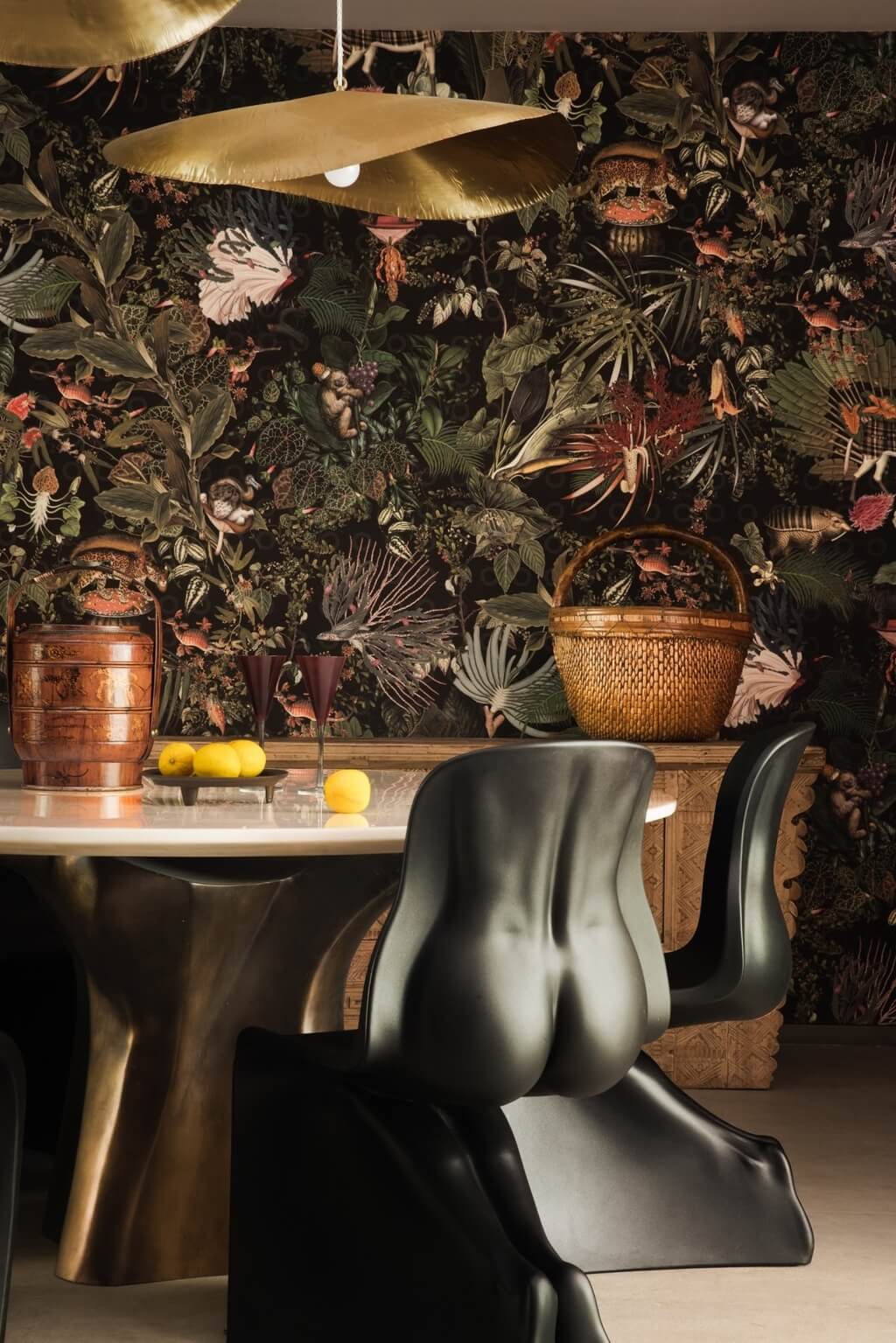 The jungle style wallpaper on the dining room wall is a real artwork. It is a combination of an extinct animal pattern and plants. The branch-like base of the dining table with the human male and female hip-shaped seats seems to illustrate the relationship between man and nature.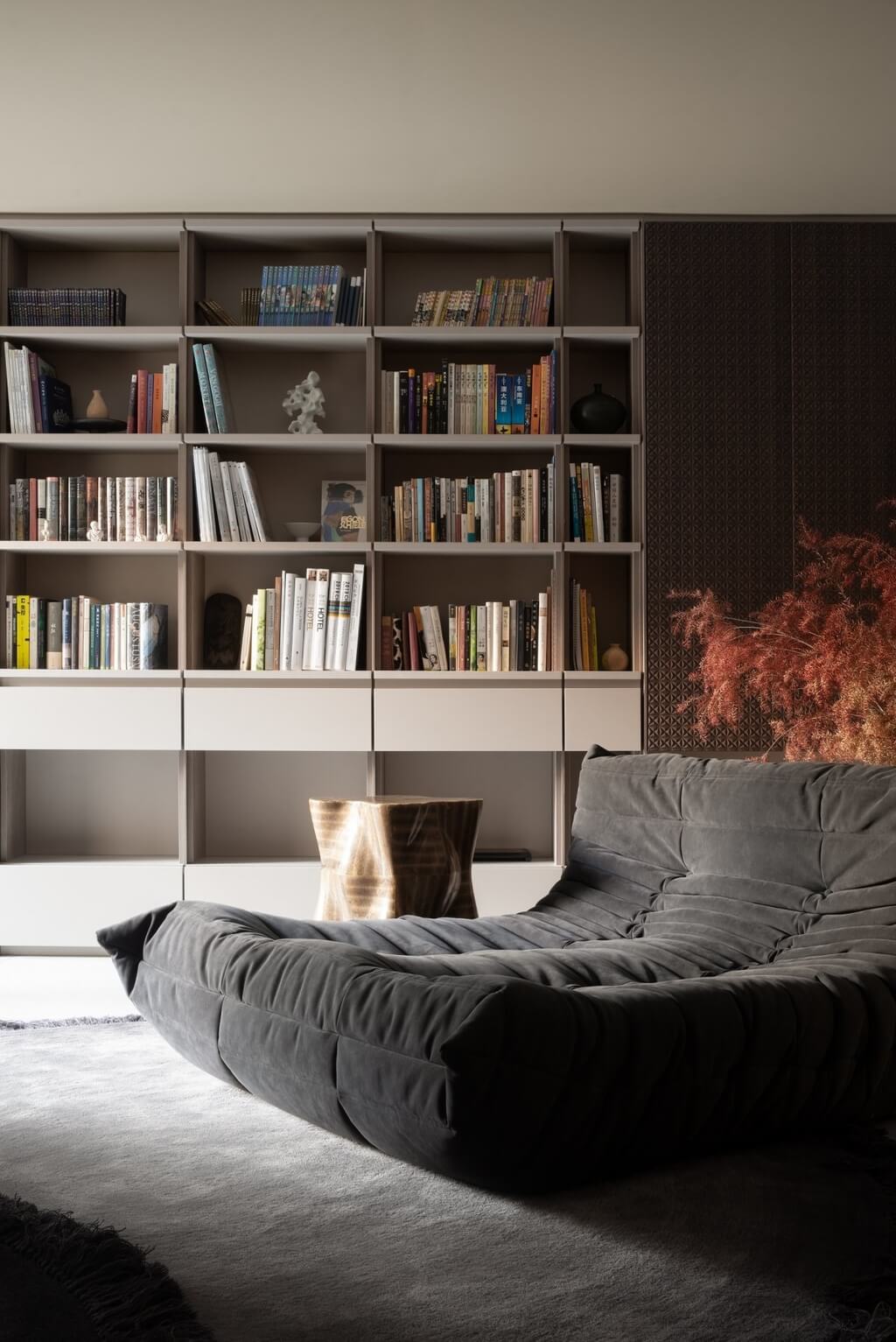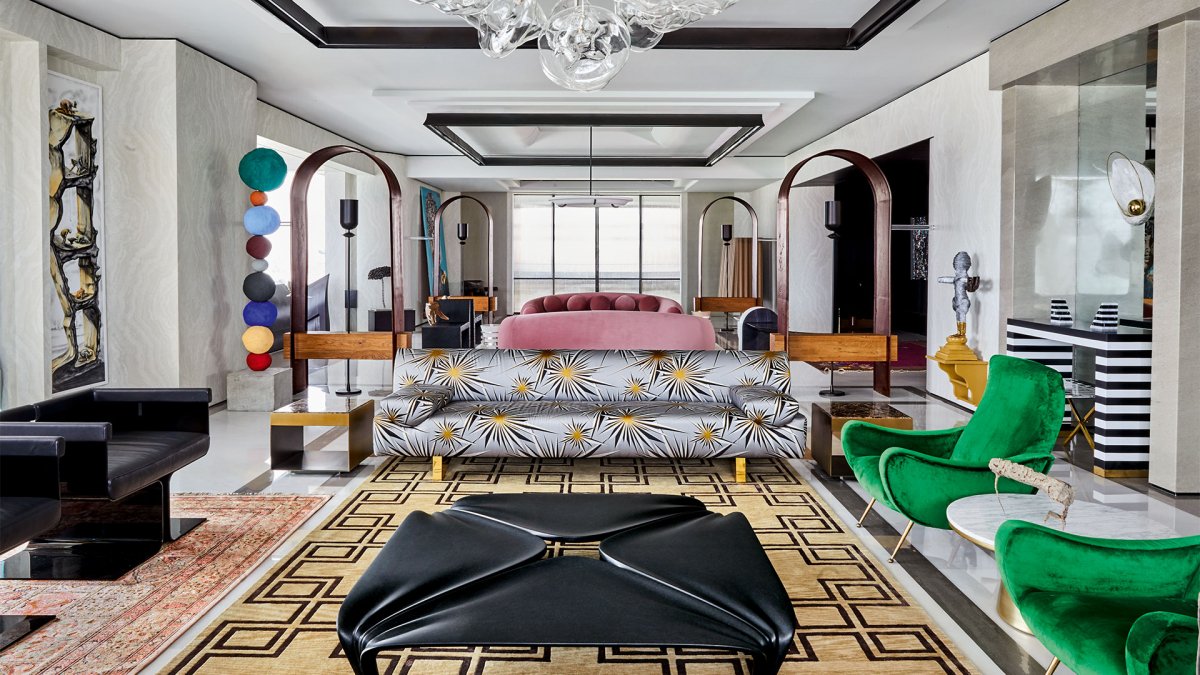 The public area on the second floor of the building is a reading space. Here everything hibernate on the shelves in anticipation of the sweet scent of ink that fills the air as the paper turns.
Simple and Poetic Sleeping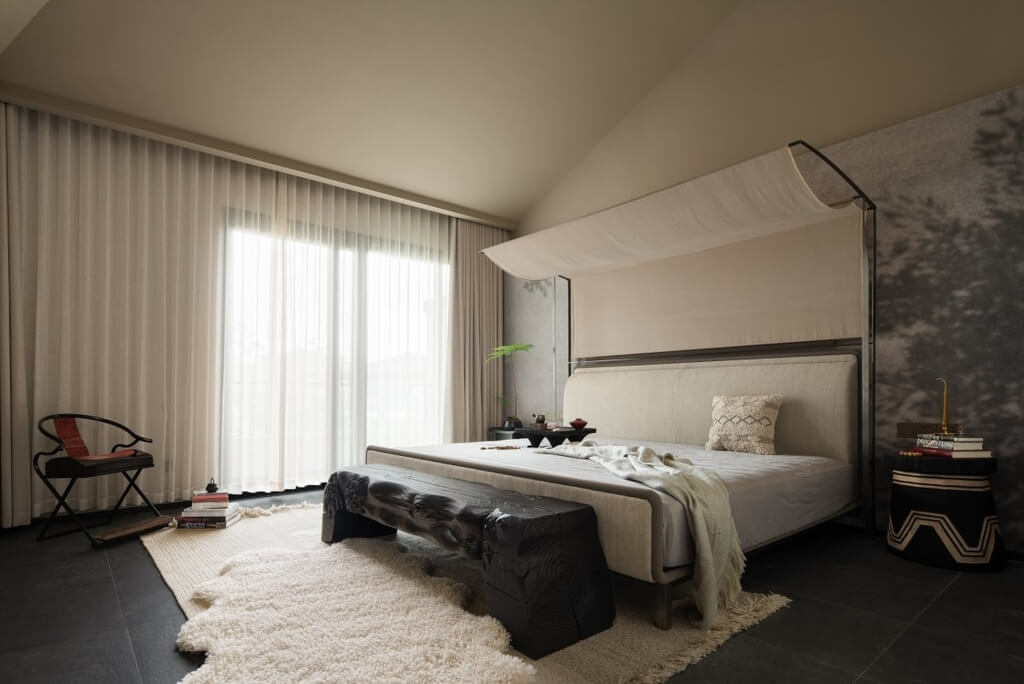 The master bedroom on the third floor is the most elevated space in the building. The background image depicts the shadows of trees, bringing a sense of Oriental Zen atmosphere. In a corner of the second bedroom, the color block and material counterpoint brings simple and poetic feelings on mind. The guest bedroom keeps the rustic color palette to to provide a relaxed and casual atmosphere.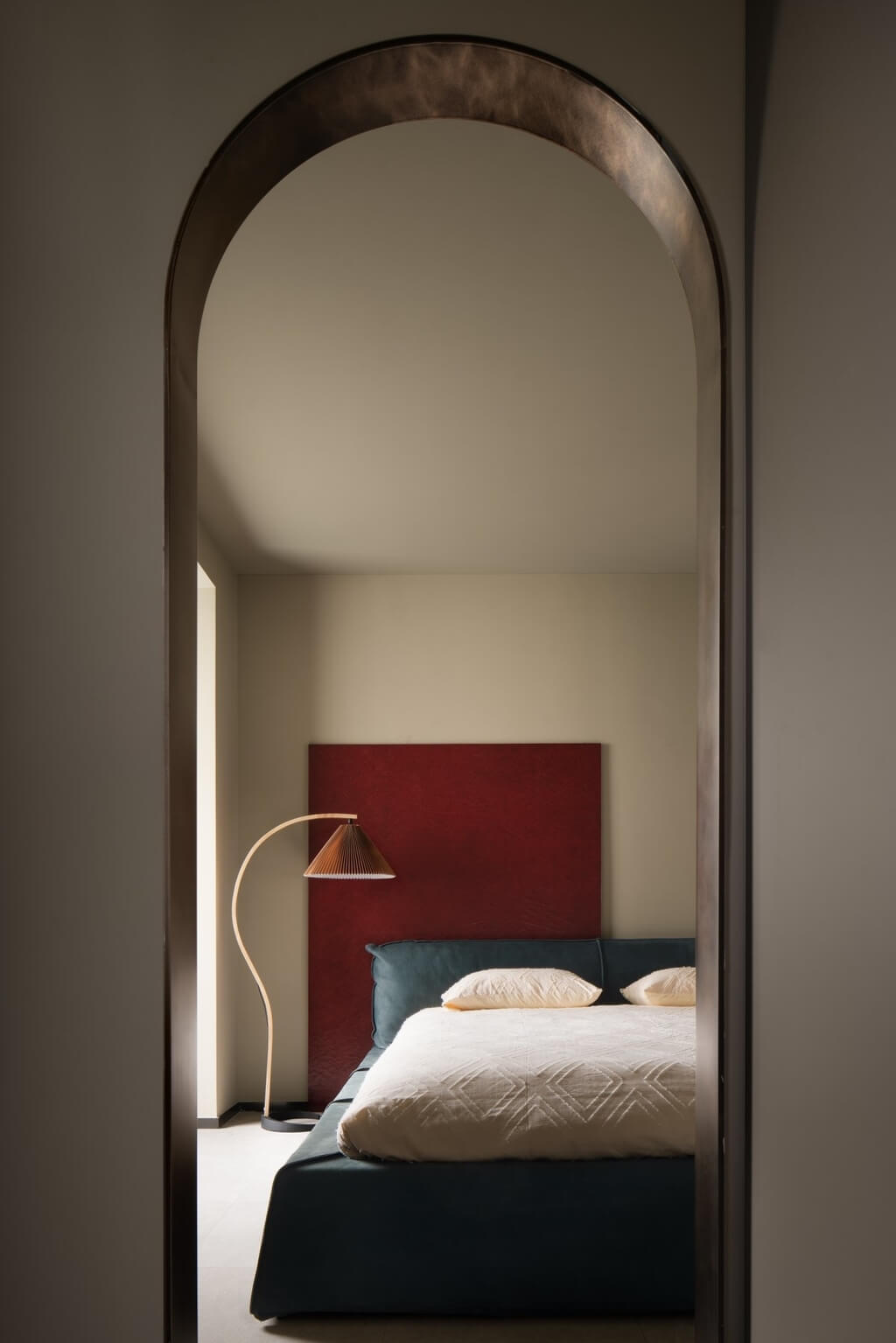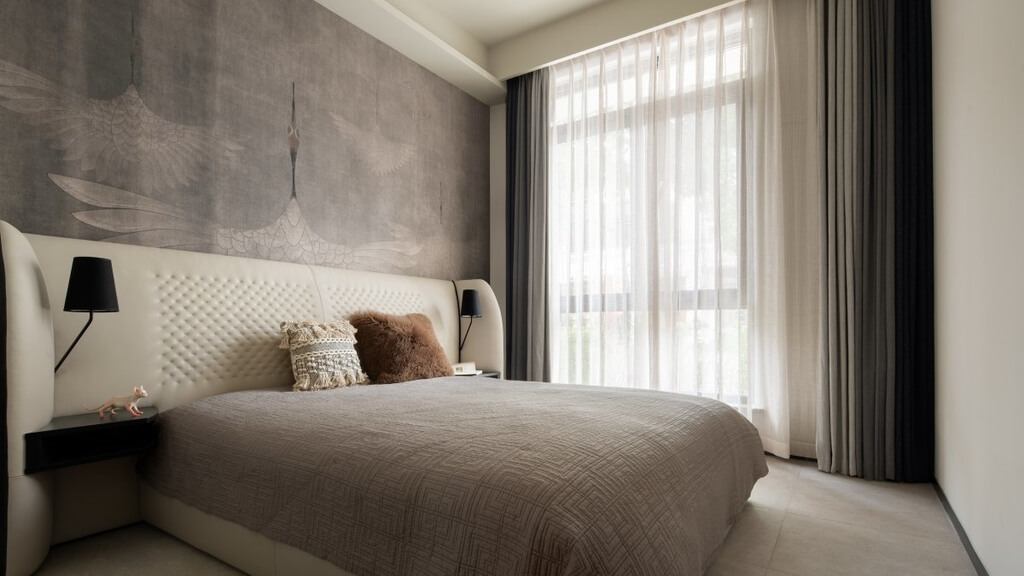 Check out our journal to discover more inspiration and find daily dose of modern and spectacular interior design trends. Do not forget to follow Hommés Studio on Pinterest to stay on top of our architectural moodboard.

Photos: Lengfeng