Explore the timeless elegance and modern allure of this exquisite Parisian home. Step into the enchanting world of Uchronia, where classic charm seamlessly intertwines with modern design.
Nestled in the heart of Paris, Uchronia stands as a testament to the harmonious marriage of classic and contemporary design. This Parisian home is a sanctuary where the whispers of history blend seamlessly with the innovations of today, creating an atmosphere that is as timeless as it is modern.
As you step through the doors of the exquisite Parisian home, you are immediately envolped in an atmosphere of classic elegance. High ceilings adorned with intricate moldings, herringbone parquet floors, and colorful modern furnishings transport you to a bygone era. The essence of Parisian charm also permeates every corner, inviting you to savor the beauty of modernity and tradition.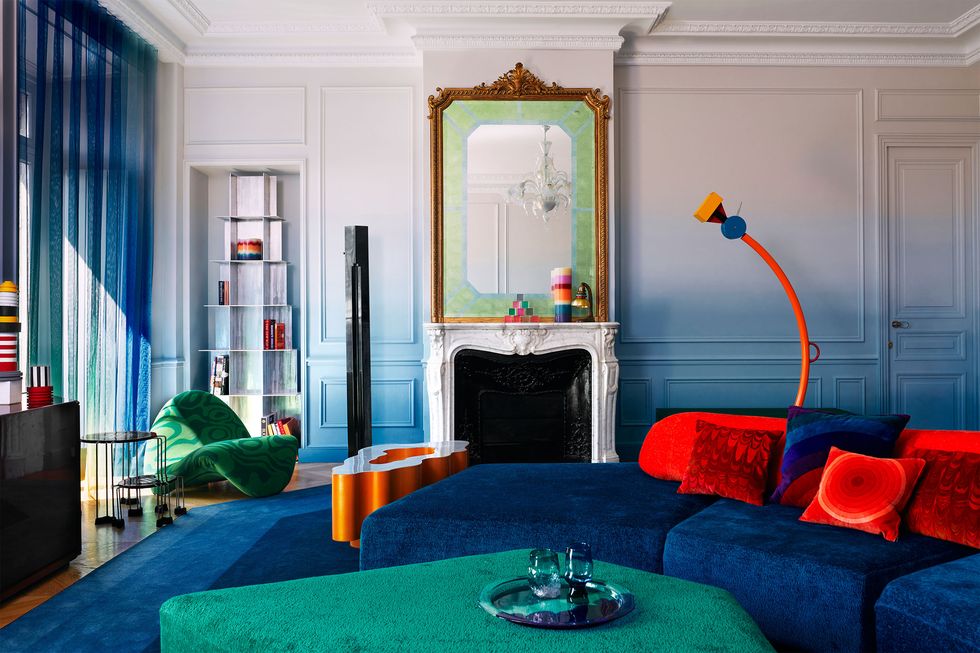 Yet, this Parisian home is not confined by the pages of history. Venture further, and and you'll discover a bold juxtaposition of modernity. Sleek lines and innovative design elements create a striking contrast, offering a fresh perspective on Parisian living. The careful curation of contemporary and modern furniture enhances the comfort and functionality of this sophisticated space.
What makes this Parisian home truly remarkable is the seamless blending of these seemingly disparate elements. Classic and modern design coexist in perfect harmony, each enchanting the other. A classic French chandelier hangs majestically above a sleek modern dining room. A velvet green sofa featuring the dinning room near the windows for a Parisian view. It's a delicate dance between the past and the present, resulting in a space that feels both familiar and cutting-edge.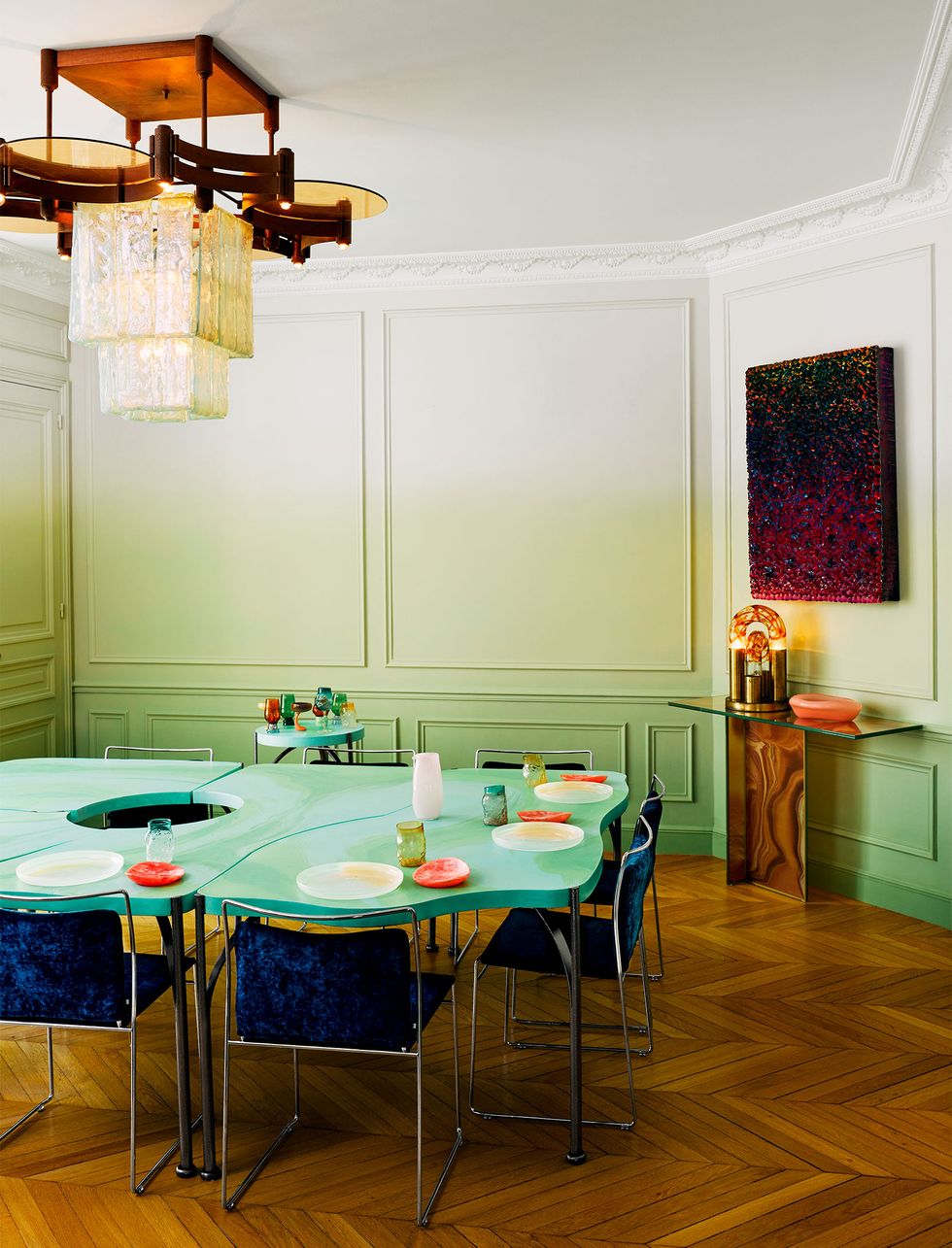 The Parisian home living room is a harmonious blend of colors and textures, carefully selected to evoke a sense of warmth and sophistication. Rich, deep hues inspired by the Parisian landscape are paired with subtle neutrals, creating a palette that is both inviting and chic. The juxtaposition of textures, from sumptuous velvet upholstery to smooth marble surfaces, adds depth and visual interest, inviting you to explore the room's tactile delights. The choice of plush, luxurious fabrics on the furniture and draperies adds a touch of opulence, inviting you to sink into comfort and indulge in the beauty of tradition.
The living room of this Parisian home is not just a visual feast; it's a versatile space that effortlessly accommodates various activities. From intimate gatherings by the fireplace to lively conversations in the seating areas, the layout is thoughtfully designed to cater to different moods and occasions. Smart furniture arrangements and strategic lighting, like the chair made entirely of stained glass, contributes to the room's adaptability, ensuring that it serves as a comfortable haven for both relaxation and socialization.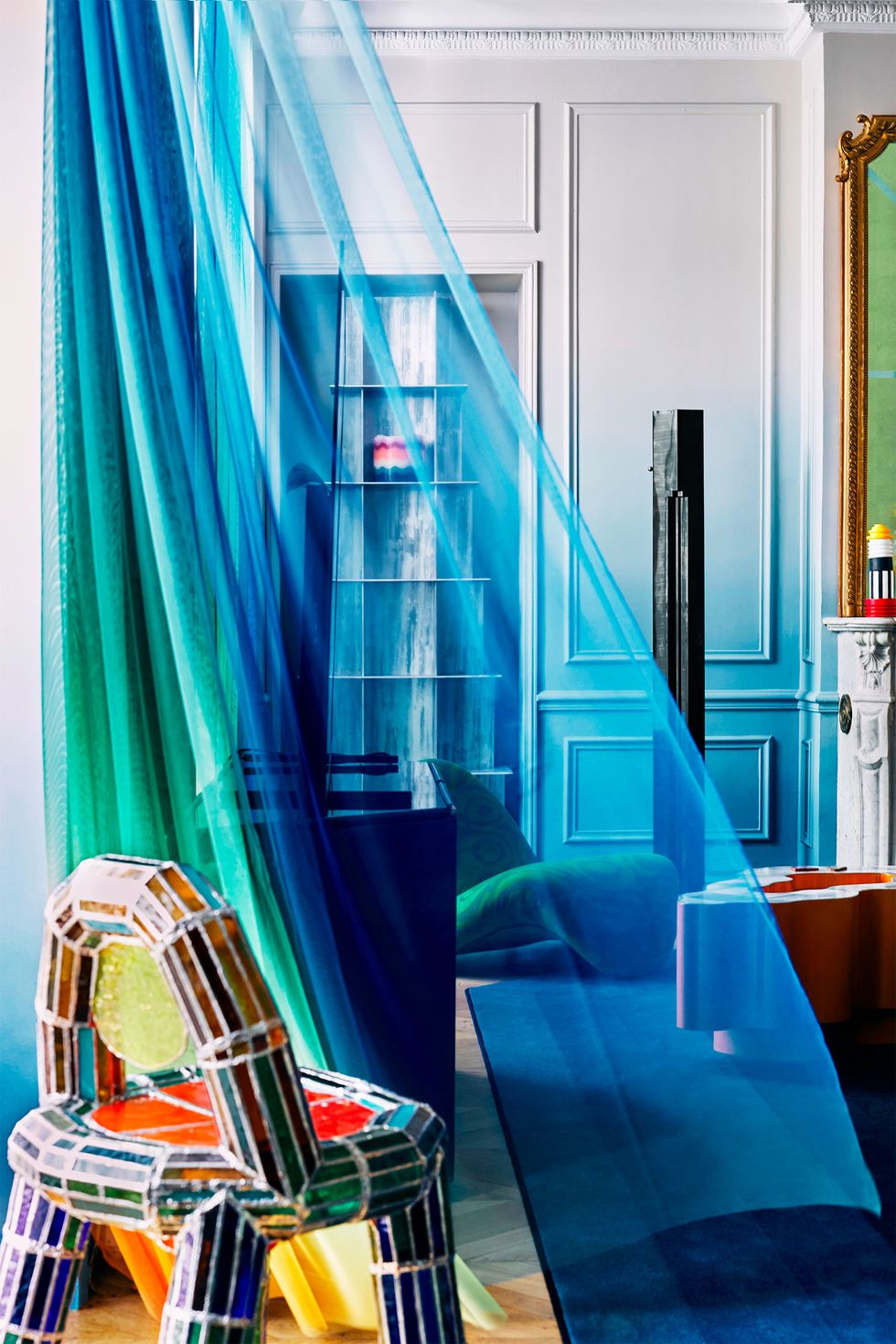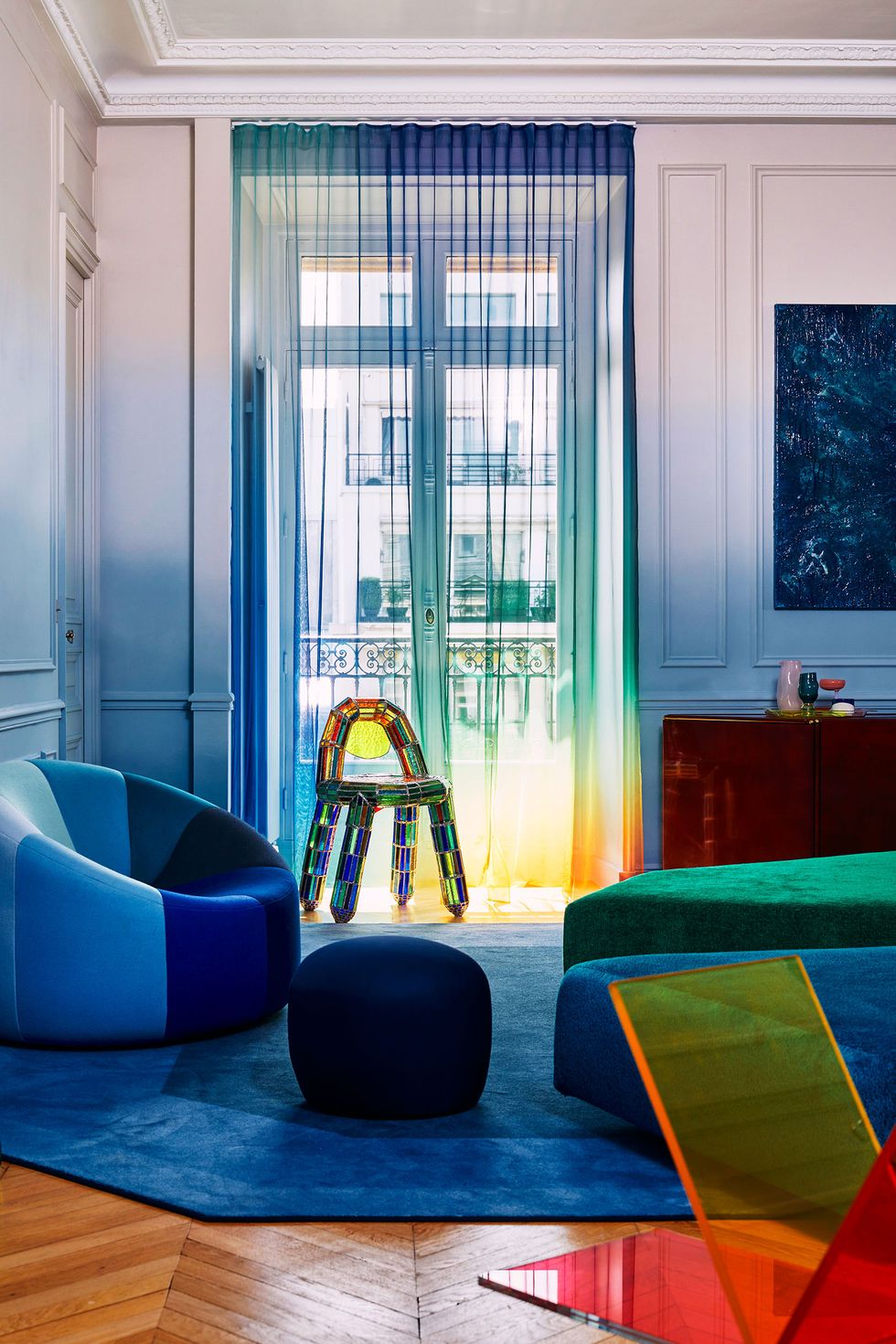 As you explore Uchronia's Parisian home, you'll find yourself captivated by the attention to detail. From the carefully chosen color palette to the innovative use of space that maximizes functionality, every elements has been tough fully curated to create a living masterpiece.
The kitchen of this Parisian home is a culinary oasis, blending vintage charm with state of art appliances. Starting with its unique yellow vintage table and chairs, to the colorful stained glass windows that is the focal point in this room division.
The bedroom of this Parisian home are havens of comfort, where classic French linens meet contemporary ergonomic design. High ceilings, adorned with ornate moldings, frame the space, evoking a sense of grandeur. Delicate touches such as vintage-inspired furnishings, and soft, muted color palettes contribute to an atmosphere of understated luxury. The interplay of textures, from plush area rugs to silk drapery, adds depth to the classic aesthetic, creating an inviting cocoon that pays homage to the timeless beauty of Parisian design.
While rooted in tradition, Uchronia's Parisian home bedroom seamlessly incorporate modern comforts. Contemporary furniture pieces, carefully curated for both style and functionality, coexist harmoniously with their classic counterparts. Modern lighting fixtures provide ambient illumination, casting a warm glow that enhances the welcoming ambiance of each bedroom. The State-of-the-art discreetly integrates into the design, offering a seamless and luxurious experience with a unique king sized bed smartly placed.
In this Parisian home bedroom we also find a exquisite dressing room, featuring unique furniture, the exquisite red armchair and it Zebra pattern chair contrasting with the make-up tigress pattern table.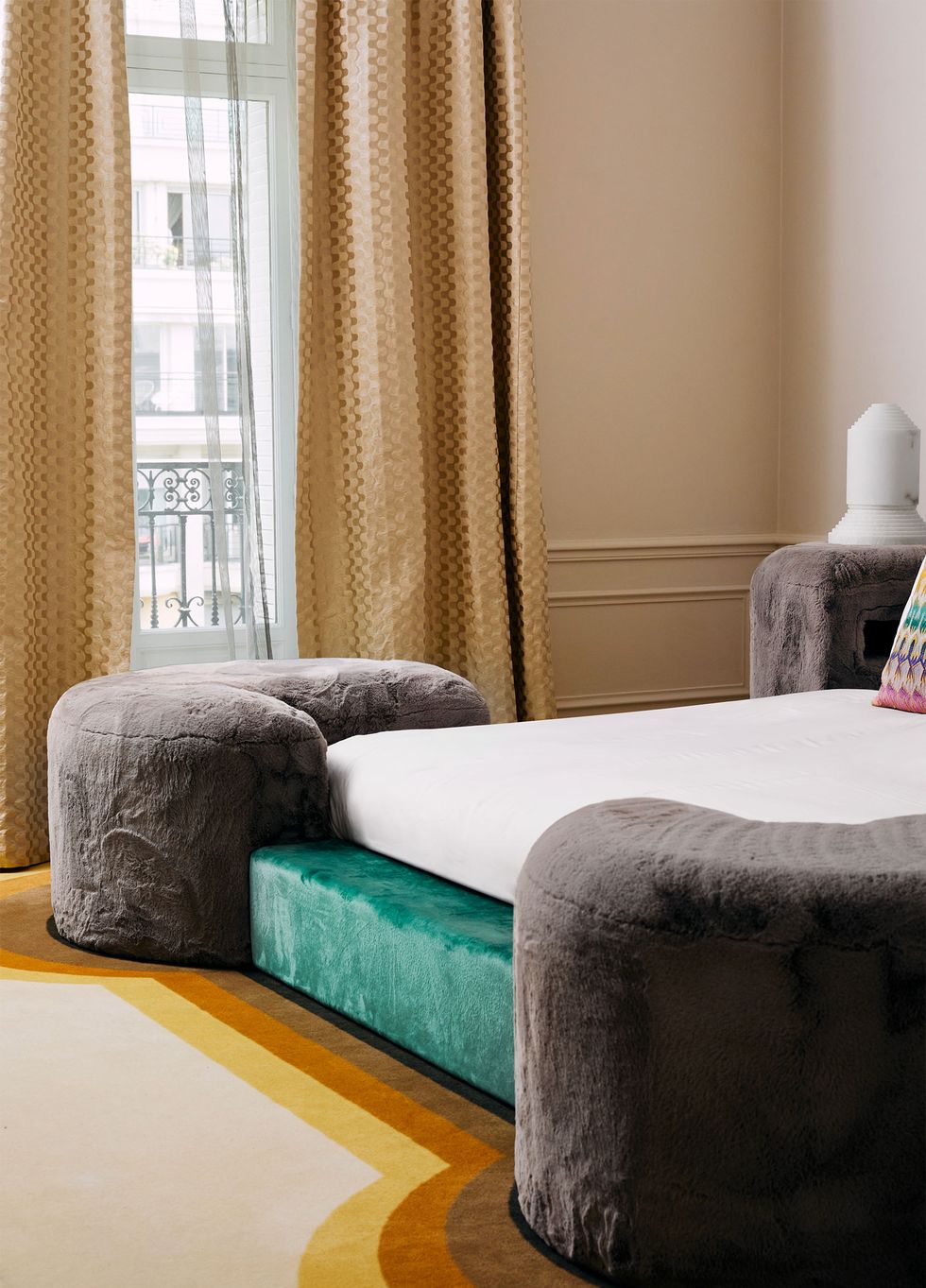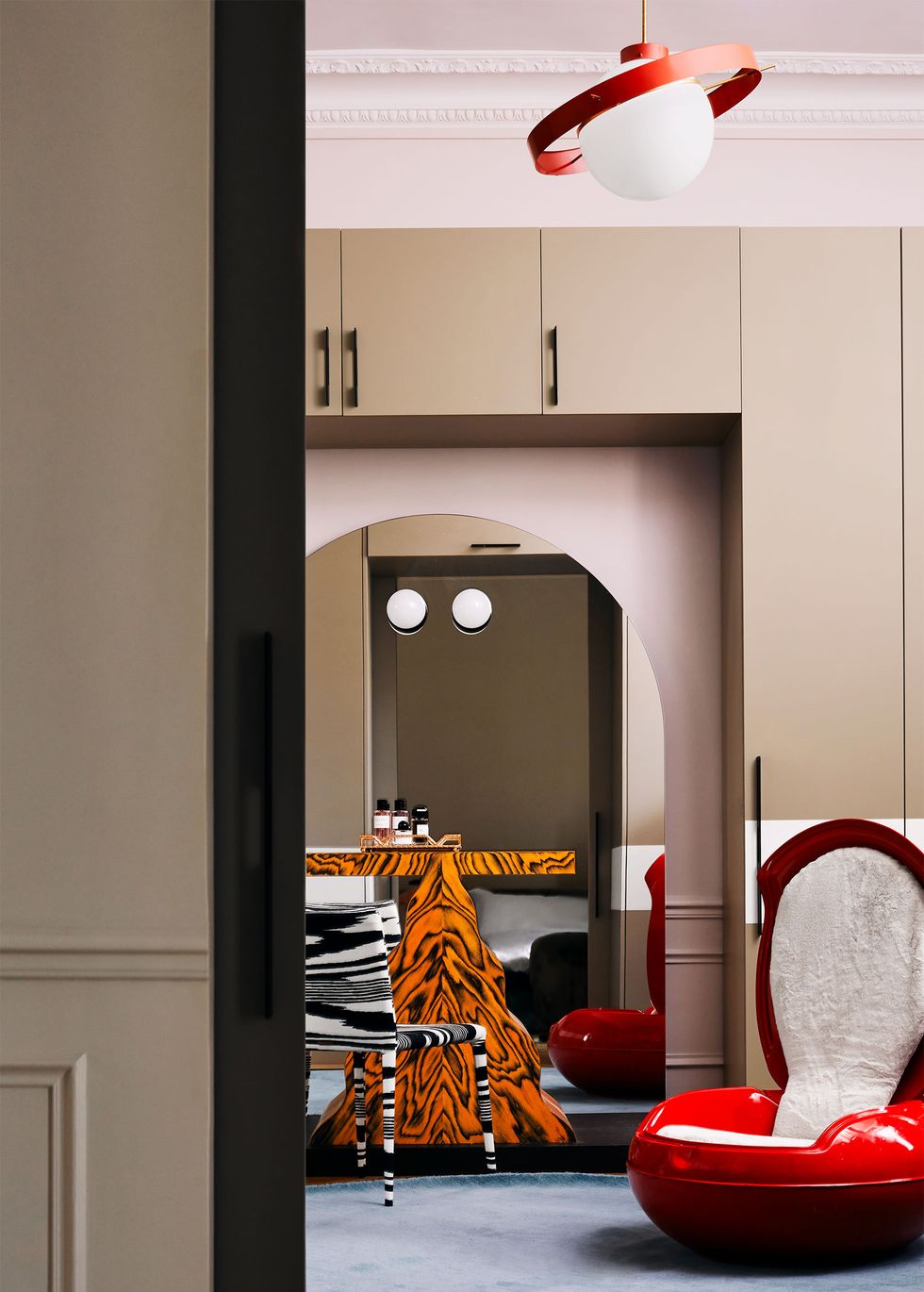 As we conclude our exploration into the heart of this exquisite project , the resounding theme emerges: this Parisian home is more than a dwelling; it is a timeless symphony of design, where classic meets modernity in a harmonious dance.
From the grandeur of the living spaces to the intimate retreats of the bedrooms, Uchronia Parisian home encapsulates the essence of Parisian living. The delicate balance between classic elegance and contemporary innovation creates an atmosphere that transcends the confines of time. It's a place where the past whispers tales of bygone eras, and the present speaks a language of cutting-edge design.
Uchronia Parisian home invites residents and visitors alike to experience a curated journey through the rich tapestry of Parisian aesthetics. The seamless integration of antique charm and modern comforts speaks to the homeowner's discerning taste and appreciation for the evolving language of design.
Step into this enchanting world where the beauty of a Parisian home is redefined, and every moment is an ode to the rich tapestry of design history. Uchronia beckons you to experience the magic where classic charm seamlessly intertwines with modern design in you projects. For more inspiration visit HOMMÉS Studio modern collection in our website.