Discover this remarkable penthouse in Shanghai, where masculine and feminine energy melt together and create romantic shapes with classical stoicism.
Located in the most populous city in China, Shanghai, this unique penthouse evokes a luxurious fusion of feminine and masculine energy with its rich fabrics and sharp contemporary outlines. Chris Shao, responsible for this penthouse design, is a China-born Master of Fine Arts designer who created, in 2016, Chris Shao Studio LLC in New York. Two years later, the designer formed another studio in Shanghai. Nowadays, both of these studios have expanded and made their design features known through hospitality, high-end residential, and commercial services internationally.
Shao's signature design tenets are based on the studio's pacific aesthetic and esteem for materials. Yet, he consistently displays the innovatory reinterpretations of typical contemporaneity through his design. This romantic penthouse is the perfect example of that.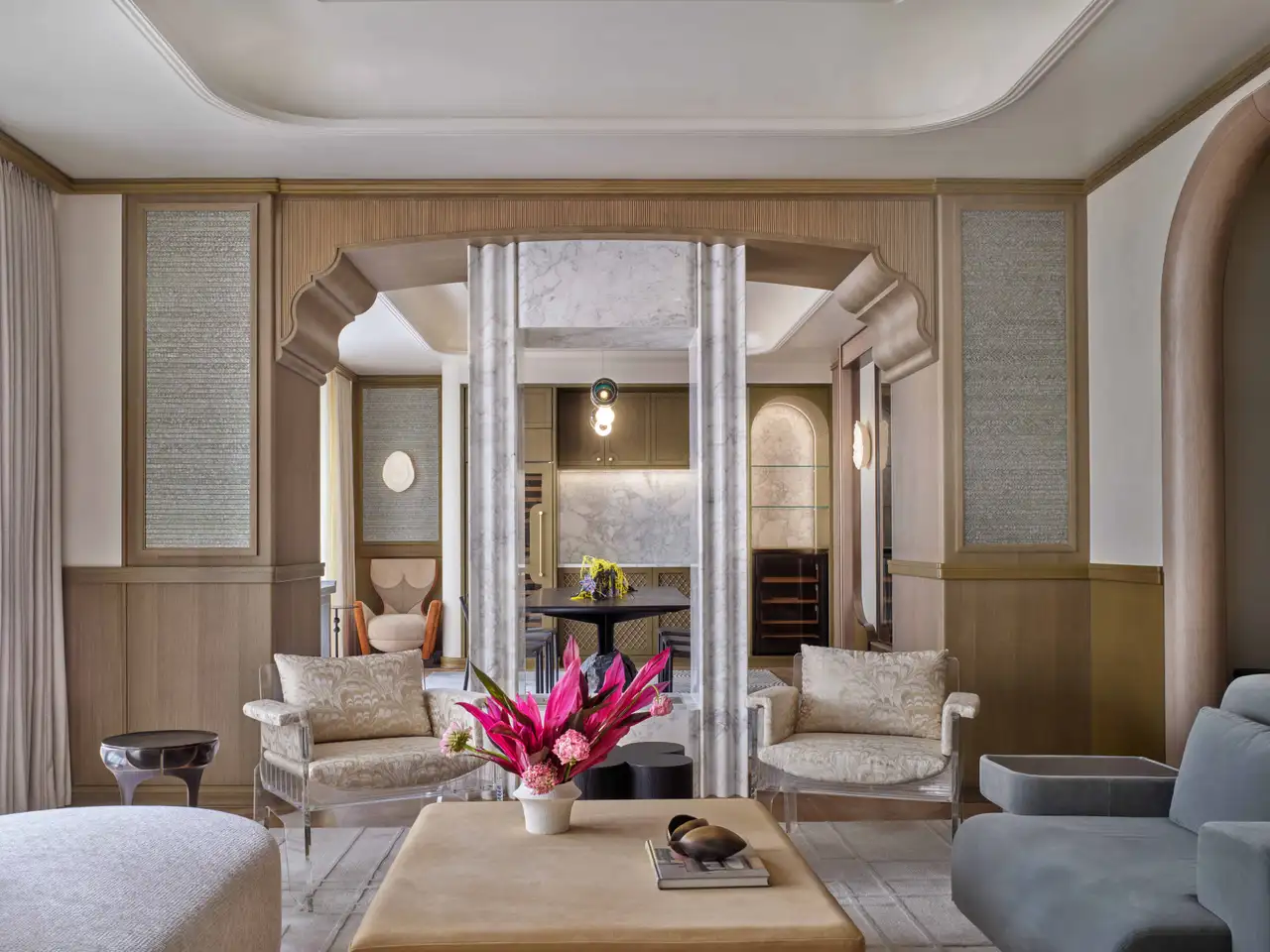 This design, having a pared-back aesthetic, lakes bold and bright colors. The style is actually about having a relaxing ambient, with a calm color palette and rustic elements. Beyond that, the accentuated pieces are studied more and crafted from natural materials with appealing textures. These characteristics are perfectly represented in the living and dining rooms, for example. Natural elements such as marble and wood are present on the walls, floor, cabinets, and even around the spaces that transition each housing area.
Apart from these, and all the other existing materials being rich and exhaling a peaceful aura, what really boosts this feeling is the details and forms put into the materials, as well as the subtle patterns and textures used in other fabrics. These details, materials, and, principally, the shapes, make this place evoke seductive energy. This happens because the interior designer opted to mix different rough natural elements, which induces a masculine spark; however, as these materials are perfectly curvilinious into diverse detailed forms, they provoke a coquettish and airy atmosphere, embodying a feminine spirit.
Other than the textures, shapes, and materials, the last element that balances and connects these two energies is color. The color scheme definitely equalizes the distinct vibes and soothes the whole penthouse design, providing a quiet yet elegant ambiance.
Even the most elementary rooms of the penthouse are highly luxurious but overly peaceful. Although the color arrangement is mostly creamy beige tones, the luxury in the finishings of the walls and ceiling, the soft and fluid furnishings, the discrete gold details, the large windows that make the area brighter, and the use of light wood and stone, bring a sense of richness to the design.
As a way of transforming this penthouse into a contemporary house, the designer found inspiration in styles from previous generations, like classical stoicism, for instance. This antique style can be seen through diverse trademarks around the property. It's an example of this the columns, the marble, the light colors, the worked ceiling and walls, the Roman arch, and more. All of this decor is intended to remind us of the ancient Greek and Roman eras. Elegance and harmony are evident in every element, lending a lavish feel to the place.
Most of these features are classified as romantic because of their vintage energy. Vintage traits tend to have that soft elegance effect which can be presumed as passionate and classical, considering that this style has been around for many years.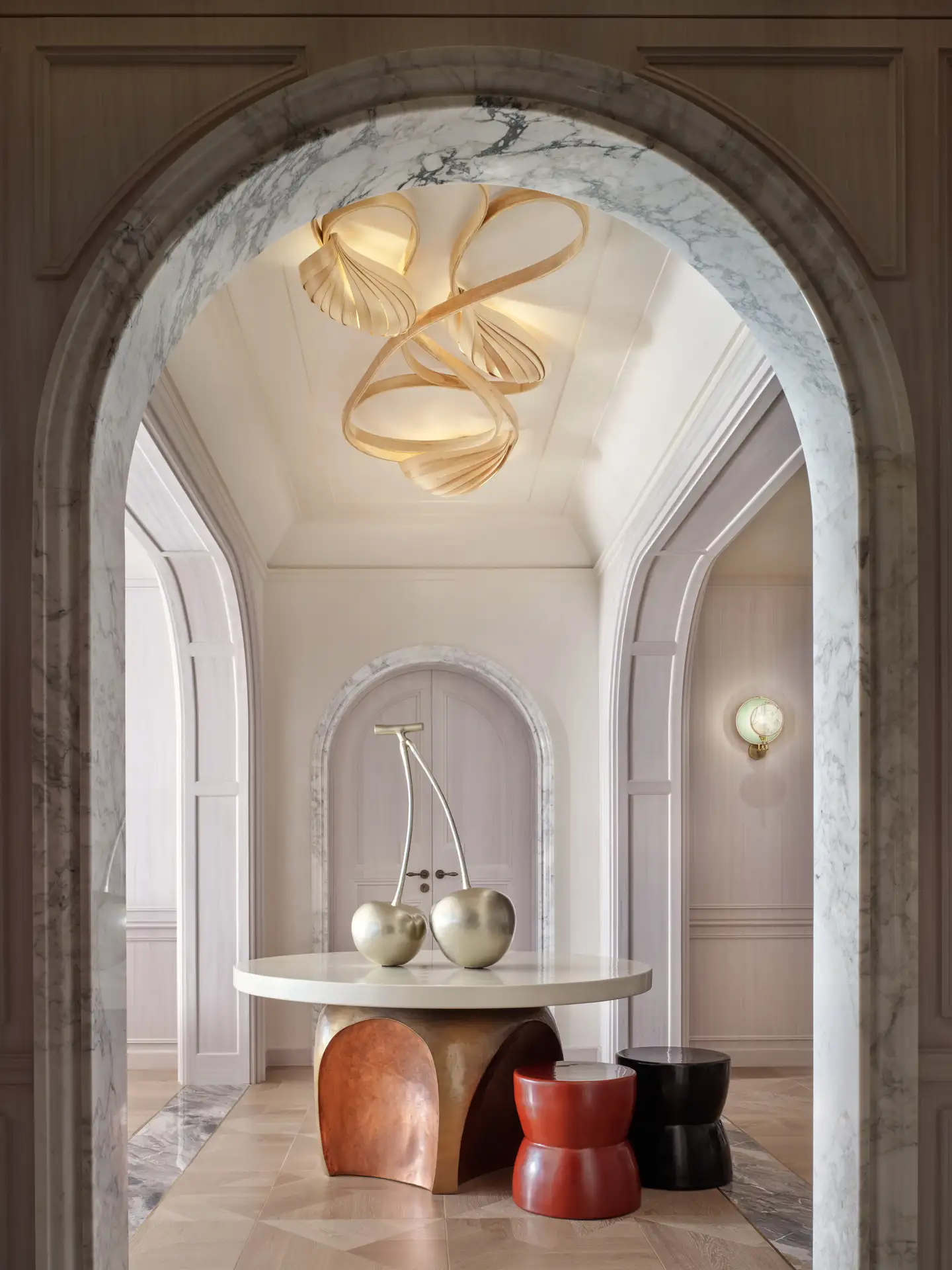 The use of original fluid pieces is everywhere. Unique abstract shapes are always possible to see throughout the penthouse. These items enliven the space they're in, and to make it even better, connect all the areas together since they share a similar silhouette style. This aspect serves as a kind of personal signature, twisting the type of style or styles this design project has in it.
Shao gives an important role when it comes to the natural elements in this penthouse. He utilizes them all over the house, but each room has it in its own way. He can use them more commonly, like in cabinets, for instance, or in a more innovative approach, such as using a rock as a table stand or applying marble to all the walls, floor, and sink of a bathroom.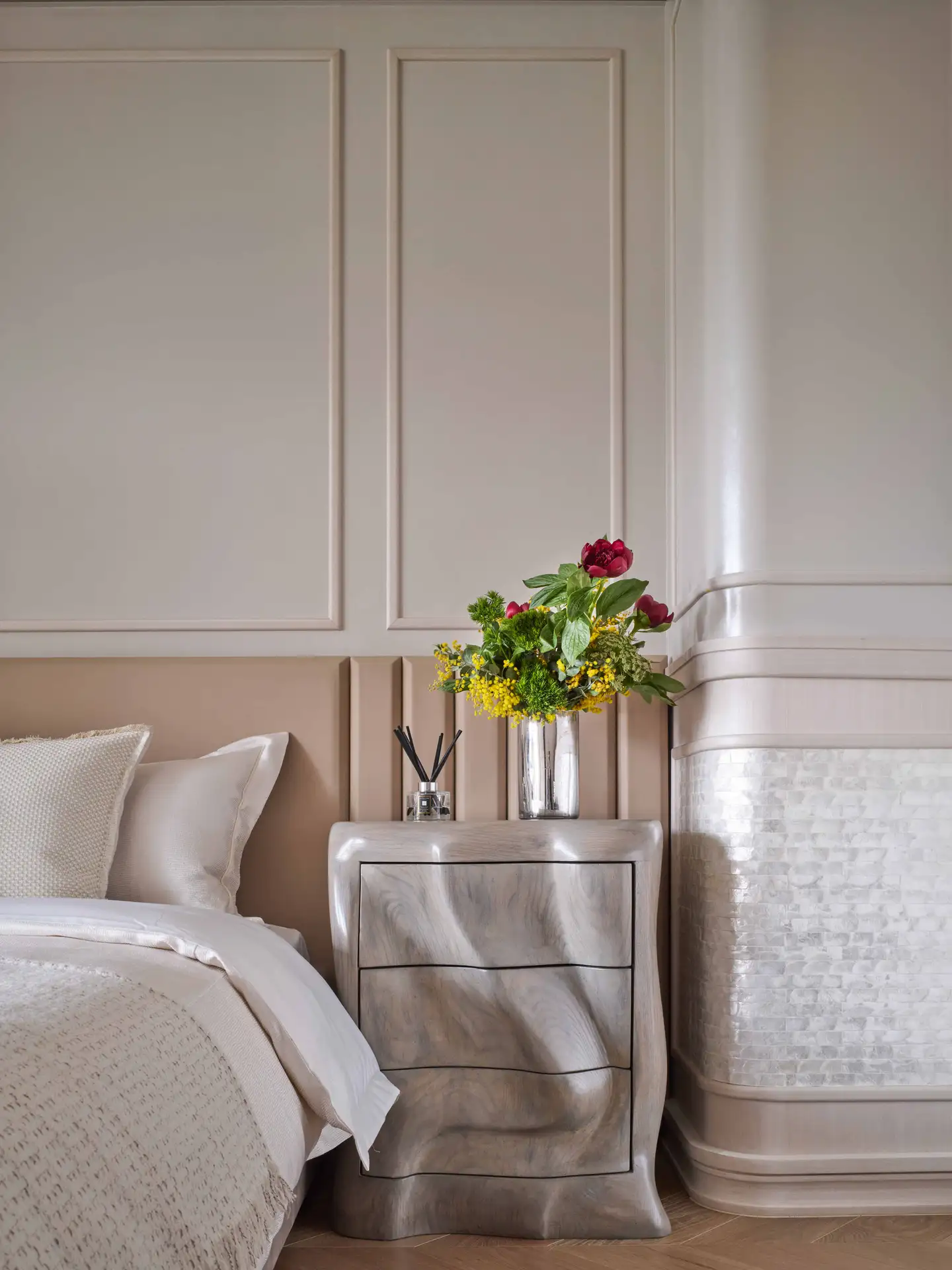 Now that you have seen this contemporary penthouse, the flawless model for an equilibrated, full-of-movement, romantic design, it's evident that robust materials and soft lines are a sensational match. To get even more inspired for your design project, we selected the 5 best ways to have a romantic home.