Choosing console tables for entryway is a task that requires special care, considering that the hall is one of the first things you notice in a house (and the choice of furniture can influence the atmosphere of the room).
This style of narrow table, which emerged in France during the reign of Louis XV and became known for the characteristics of that period, is now an indispensable item for home decor. Practical and comfortable, whether to store keys, gloves, or simply to add elegance to the room, console tables for entryway are the perfect furniture to complete your interior design project!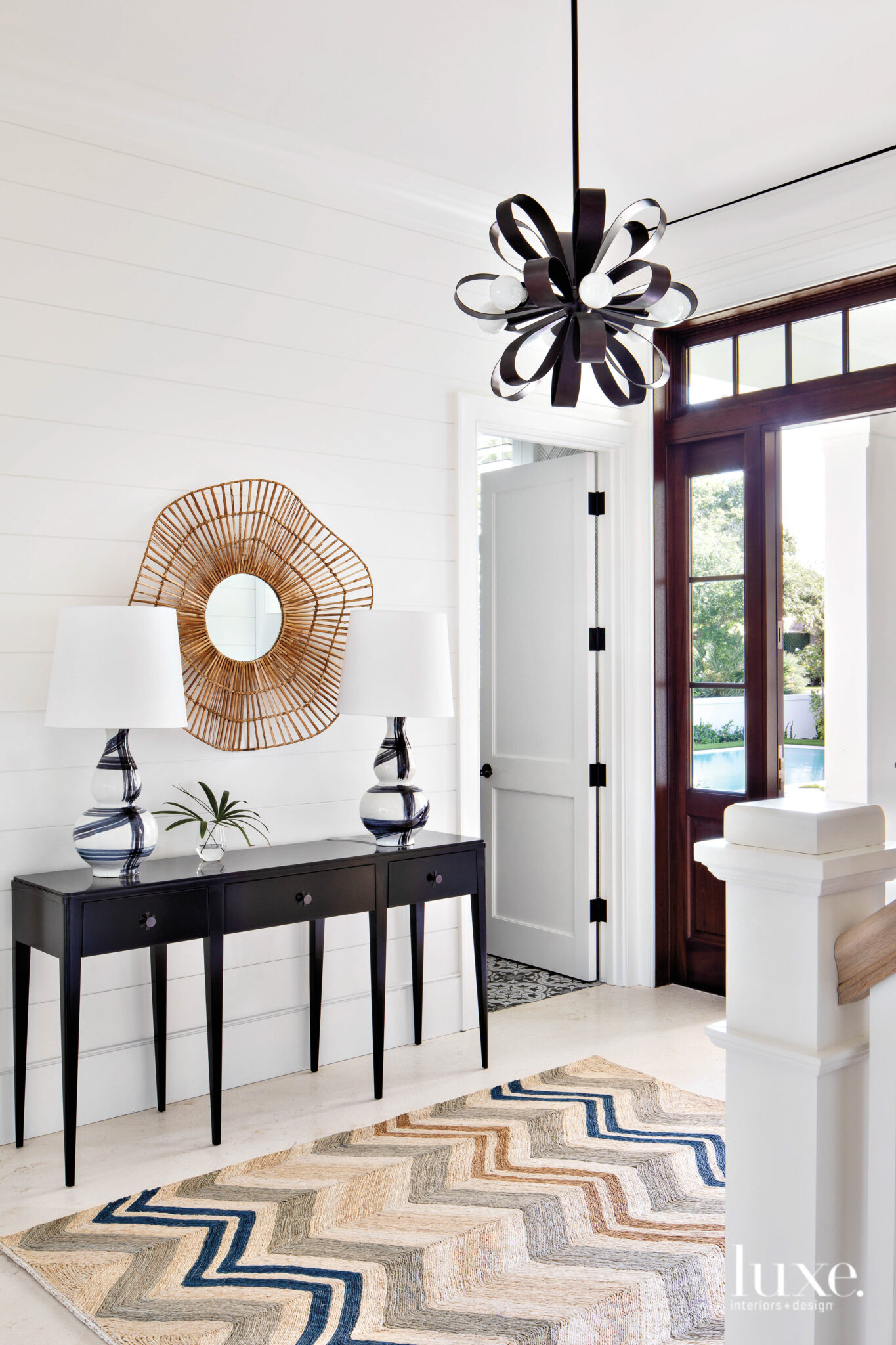 How To Choose a Console Table?
Console tables come in many sizes, types, and colors, but also in many design styles. To find the ideal model among all the console tables for entryway available, it's essential that you choose one that is going to work in your space.
In the past, corridors were considerably larger than they are now. And because of this, architects today treat the hallway primarily as a narrow passage from room to room, leaving little space for designers to explore all the decorating and welcoming possibilities the room allows.
Fortunately, the ideas of the past are making a comeback, and home entrances are once again being valued by professionals. So, if you are not sure about the first steps in selecting this piece of furniture, also check out HOMMÉS Studio's exclusive content on how to choose a console table for hallway projects.
If you are feeling more comfortable, then check out a summary below with the main tips to choose a console table and find the best models of console tables for entryway decor.
Tips To Choose a Console Table:
CHOOSE A DESIGN STYLE: Choosing one, among the different styles for the decoration of your room gives continuity and fluidity to your home, and is a direct reflection of your personal tastes and lifestyle. The most common styles of console tables for entryway decor are Modern, Art Deco, and Mid-Century Modern.
CHOOSE A MATERIAL: When choosing what your console table will be made of, don't forget, in addition to the utilities of the piece of furniture, the quality of the material in question. To make a bold statement in a hallway, choose console tables for entryway in marble. To elevate the room, a wood console table is a piece of furniture you will treasure for a long time to come, besides the fact that marquetry is a very sophisticated technique for spaces.
CHOOSE A TYPE: A storage console table is the ideal furniture because besides providing an extra space to store things out of sight, are perfect to maximize the floor area. There are also console tables for entryway with the sole purpose of decorating the space, being the "catch eye" piece of furniture in the space.
8 Best Console Tables For Entryway
1 – BILLIE CONSOLE TABLE TRAVERTINE
One of the console tables for entryway examples is Billie, an essential piece of furniture in all high-end interior design projects. The simplicity of lines, the production material (the porous Travertine stone), and the modern design make the piece timeless yet elegant. A modern console table with a striking attitude and a sculptural shape.
This travertine console table has an elegant tabletop with subtle round corners and three chunky legs. The body, made of travertine and lacquered wood, creates an inviting and irresistible texture. The natural color of travertine adds a soft sophistication to any modern console table for an entryway.
2 – RAPPLE CONSOLE TABLE
A classic exemple of marquetry, Rapple Console Table is an Art Deco-inspired modern console table. Besides being inspired by this 20s design style, the unique entryway furniture piece also has another inspiration source: the Raplee Ridge in Utah, which mixes a luxury variety of woods and colors, perfect for a modern home design.
3 – PLUME CONSOLE TABLE
Plume Console Table is an Art Deco design piece with a modern twist. Thanks to its finishes and shape combo, this wood console table with a marble top adds timeless value to any interior design projectoffering sophistication while providing a unique style to your entryway.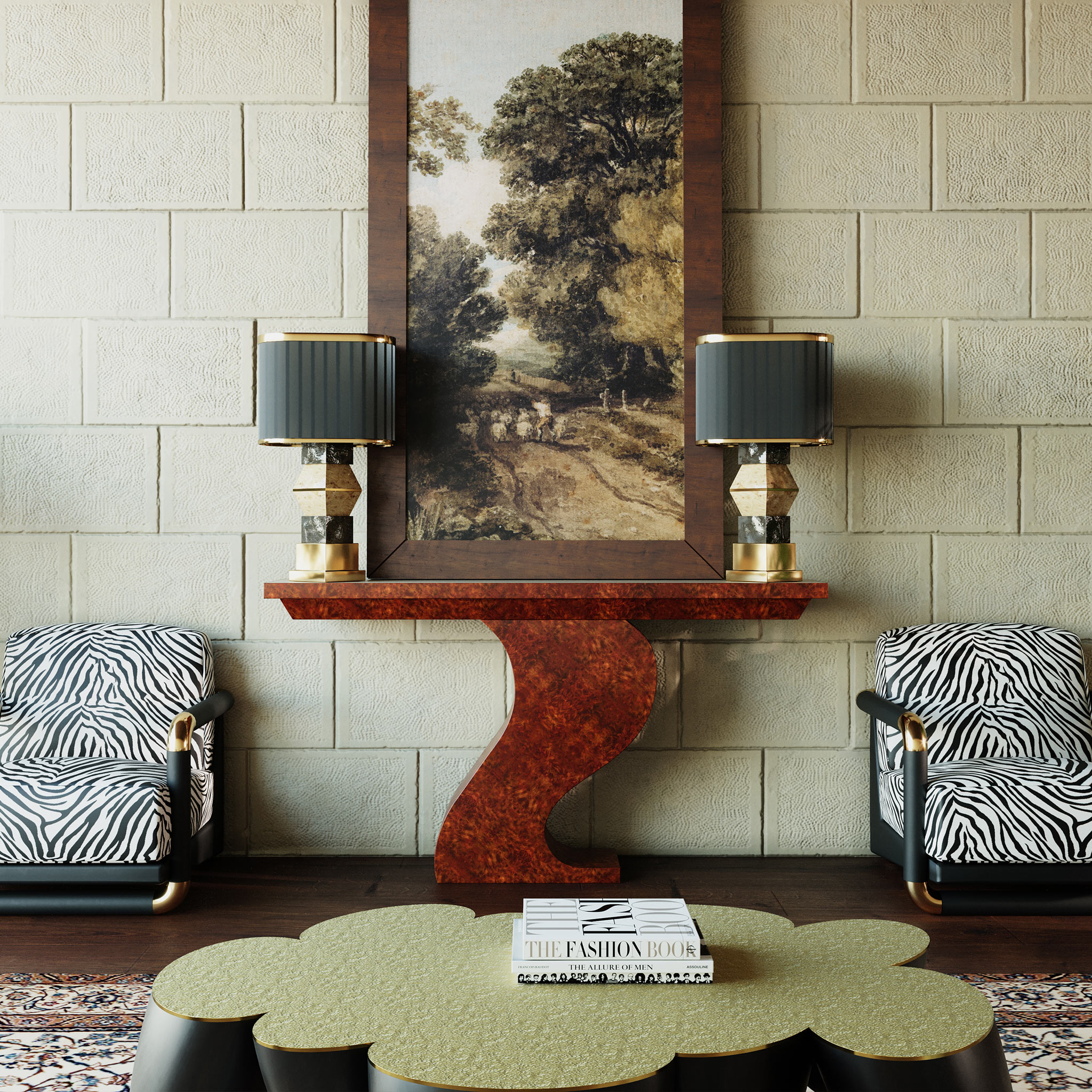 No products were found matching your selection.
4 – RUMBA CONSOLE TABLE
Remember when we mentioned that console tables for entryway could be the catching eye of the environments? Rumba Console Table is the dance between art and design and perfect to include in any interior design project. With a classy and timeless color composition, this console is highly aesthetic yet very functional, being the right kind of energy you expect from an entryway.
5 – ANNALI CONSOLE TABLE
As one of the examples of console tables for entryway with the function of storing objects, Annali is the perfect drawers console for an Art Deco entrance. It presents a graphic silhouette, reminding us of the New York skyscrapers. An amazing luxury console lacquered in terra brown and light ivory that suits residential and hospitality projects.
6 – CHARLOT CONSOLE TABLE
What if you could bring all the glamour of the 20s to a 21st-century directly to the entrance of your home? With geometric and angular forms, exotic materials, and linear decoration that characterizes Art Deco design, this is the perfect console table to complete your interior design project. There is no fussiness anywhere in sight in this strong, bold look. To complete the decoration, how about investing in a beautiful wall mirror model?
7 – MAGNUS CONSOLE TABLE CONCRETE
Magnus Console Table Concrete is a eye-catching modern table with a geometrical shape. This outdoor table is the golden ticket to an exciting journey into interior design. The first stop is a modern outdoor project. Thanks to its finishes and shape, this piece adds a timeless value to any design project.
8 – QUANTIC ESTREMOZ CONSOLE TABLE
Modern console tables for entryway are perfect to create a relaxed and elegant atmosphere at the same time. To represent this style, HOMMÉS Studio presents the Quantic Estremoz Console Table, an enigmatic and futuristic piece that suits perfectly a luxury entry hall interior design project.
There are many options of console tables for entryway to complete your interior design decor. And the best thing is that you are just one click away from having products exclusive by HOMMÉS Studio. Check out our complete list of console tables available and create your own space like a pro!