Are you looking for living room design ideas? Here you'll find an example of a round-shaped living area designed with luxurious and modern furniture pieces.
Hommés Studio combined round shapes and stunning silhouettes to elevate your comfort and offer Home the desirable unique style.
Curved sofas and rounded furniture make an invitation to present your living room with a new attitude and charismatic style.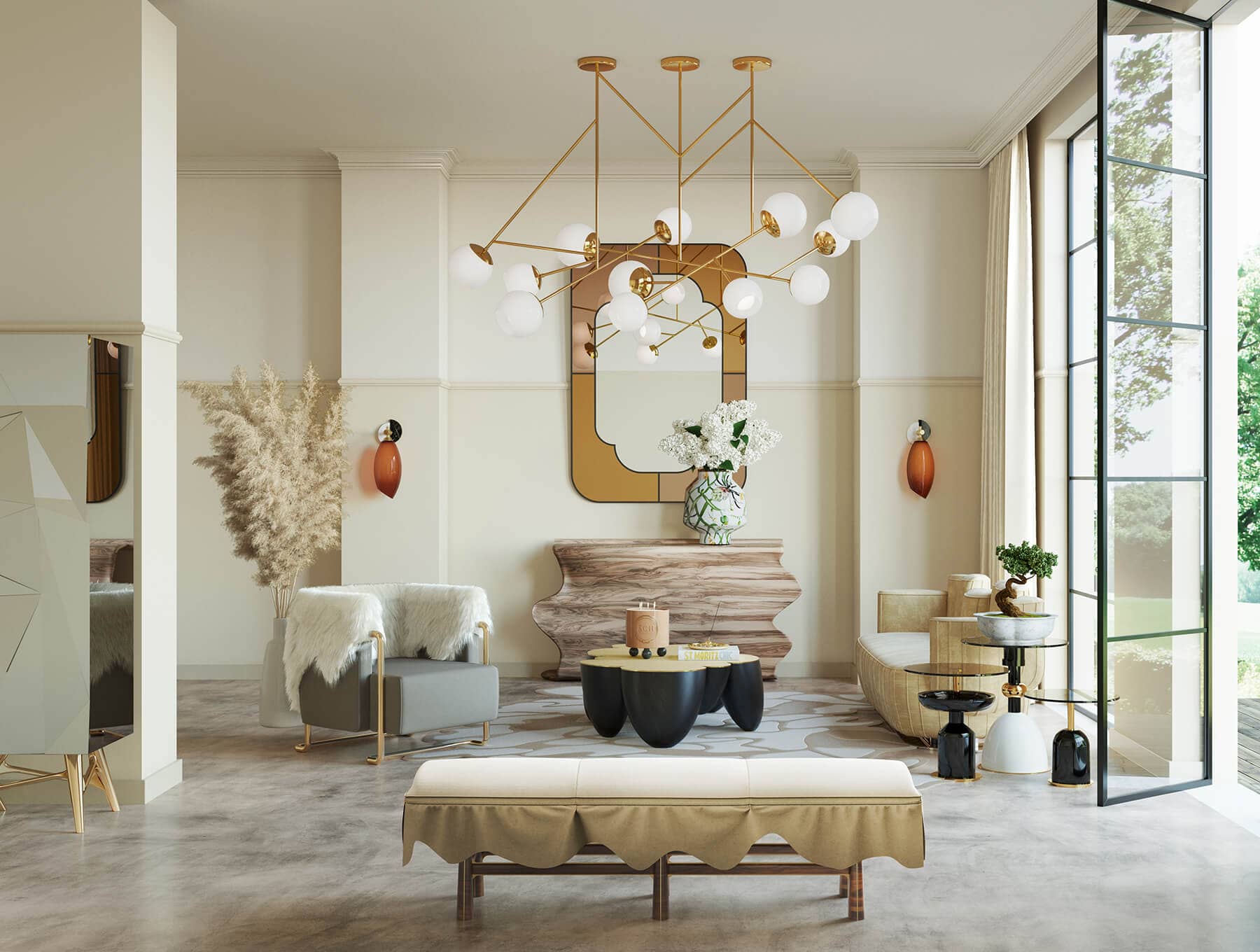 Most importantly it's a modern living room with softening sharp edges and curved lines to make Home more comfortable than ever.
The furniture pieces used in this look:
Ajui Sofa is a modern rounded sofa that combines an artsy interpretation of a cactus shape with the comfort expected from a luxury sofa. The perfect choice for a modern living room design or for a special retail project.
Materials: Upholstered in Velvet; Footer in Gold Polished Stainless Steel.
Bossa Center Table is a hymn to the simplicity of 70s furniture items. The decade where lines were rigorous and where sophisticated finishes used to take the center stage in interior design projects. Hommés Studio brings it back with a modern and sophisticated style.
Materials: Top in Brushed Brass; Base Lacquered in Black in Gloss Finishing; Top in Resin;
Max Armchair is a mid-century style armchair. This armchair brings details from the old days to contemporary design. Its shape and exquisite materials make it an outstanding accent armchair.
Materials: Seating Upholstered in Velvet, Back Upholstered in Fur;
Legs in Polished Gold Stainless Steel.
Nilo wall mirror features a stylish shape, a functional and decorative mirror that can help to brighten up a dark hallway or corner.
A modern mirror with a vintage look, inspired by an art deco vibe, is ideal for elevating any room decoration.
Materials: Clear Mirror; Gold and Bronze Aluminium Details;
Structure in Black Nickel.
Cocoon Wall Lamp was inspired by the shapes of Art Deco jewels. It was designed to bring elegance and character to any living area. A luxury wall lamp for a high-end interior design project.
Materials: Structure in Gold Polished Stainless Steel; Amber Colored Glass; Polished Carrara Marble and Polished Negro Marquina Marble Details.

Luminous Suspension Lamp is a classic reinterpretation turned into a modern unique chandelier. This piece's design revives the timeless shapes of the 30s. An accent suspension lamp with bold and elegant forms for your next high-end interior design project.
Materials: Structure in Gold Polished Stainless Steel; Details in Black Stainless Steel; White Glass.

Rosalia Cabinet is an outstanding modern style design. This bar cabinet combines harmonious shapes and materials. An elegant theatrical shape to store your favorite drinks and be part of your high-end design project.
Materials: Wood Structure; Chromium Lacquered; Legs in Polished Brass;
Interior in White Bird Eye Wood Leaf in Gloss; Shelf in Clear Glass.
3 Marias Side Tables Set reflects the meaning of discreet luxury. This coffee tables set plays with a rigorously calculated heights difference that will help you to achieve a simple yet elegant living area design concept.
Materials:
Large side table: Top in Clear Glass; Base in Black Lacquer in Gloss, White Lacquer in Gloss and Gold Polished Stainless Steel.
Medium side table: Top in Bronze Glass; Base in Black Lacquer in Gloss and Gold Polished Stainless Steel.
Small side table: Top in Green Glass; Base in Black Lacquer in Gloss and Gold Polished Stainless Steel.
The accessories used in this look from ACH Collection:
ACHI candle releases a hypnotic perfume adding extra value to a space thanks to its eye-catching container design. The natural composition of scents promises to excite sensorial experiences through your Home.
ACH advisors recommend you to continue the experience by using the container as a vase plant.
See also: Forest Shelter entryway by HOMMÉS Studio.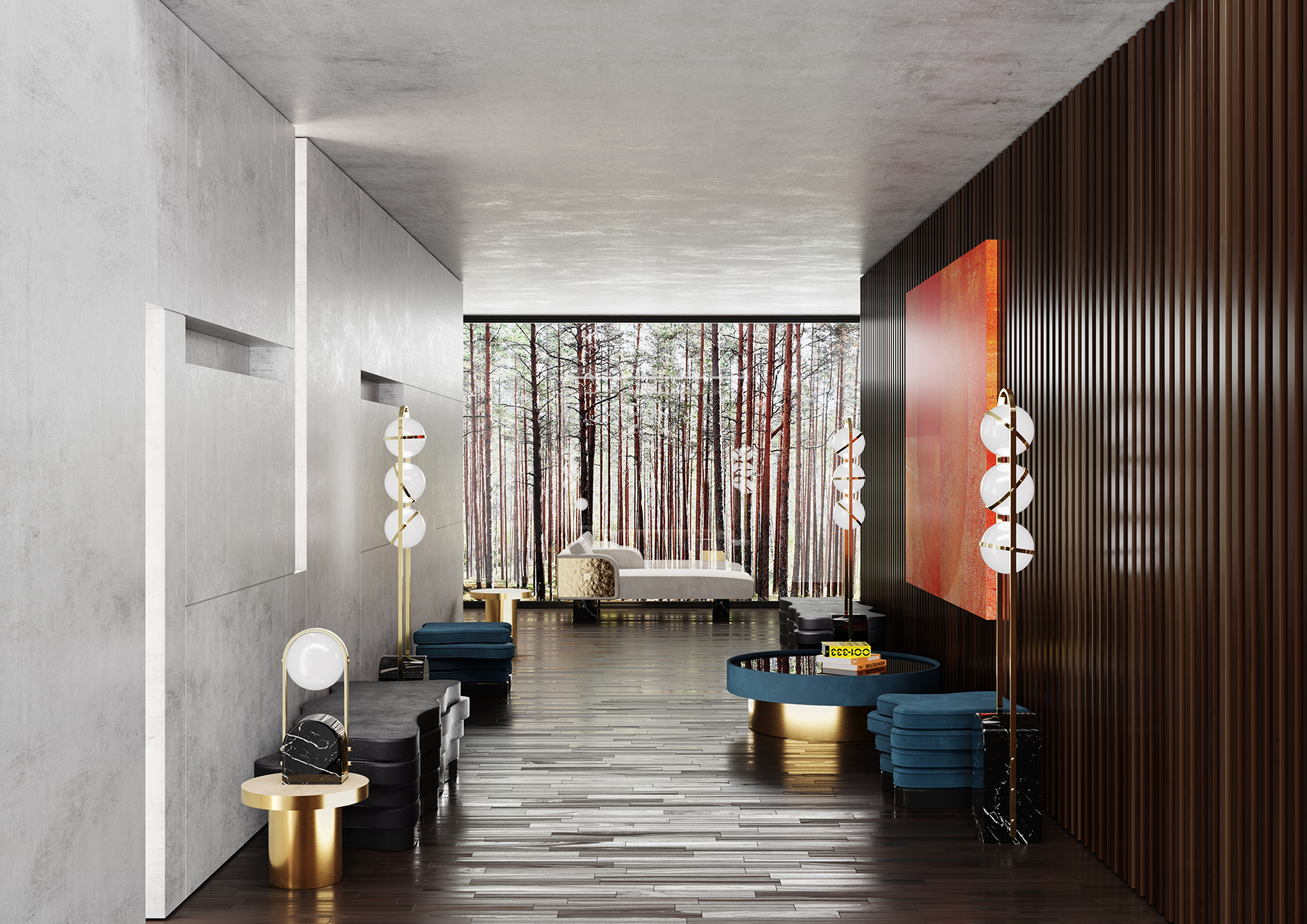 We really hope you liked our article. Feel free to pin all the images to your favorite Pinterest board or to print it and use it on your projects' mood boards. In addition, you can also visit our Pinterest boards in order to get more inspirations.
Get more ideas for your projects and find functional, stylish, and sizable lighting and furniture choices: