NeoModernism METAMORFIK house tour was created thinking of the distinctive premise of projects that are developed from the perspective of design, art, fashion, and culture.
Along with the midcentury modern interior, this space features furniture that has clean lines, a unique curvy appeal, and a wise combination of natural and manufactured materials.
More than an experience, the METAMORFIK virtual journey is a sensory way of life. Forget what has been done so far for the metaverse, at Decorex 2022 HOMMÉS Studio designs the home of tomorrow!
Check now, first hand, everything that can be found in HOMMÉS Studio's NeoModernism METAMORFIK House virtual tour: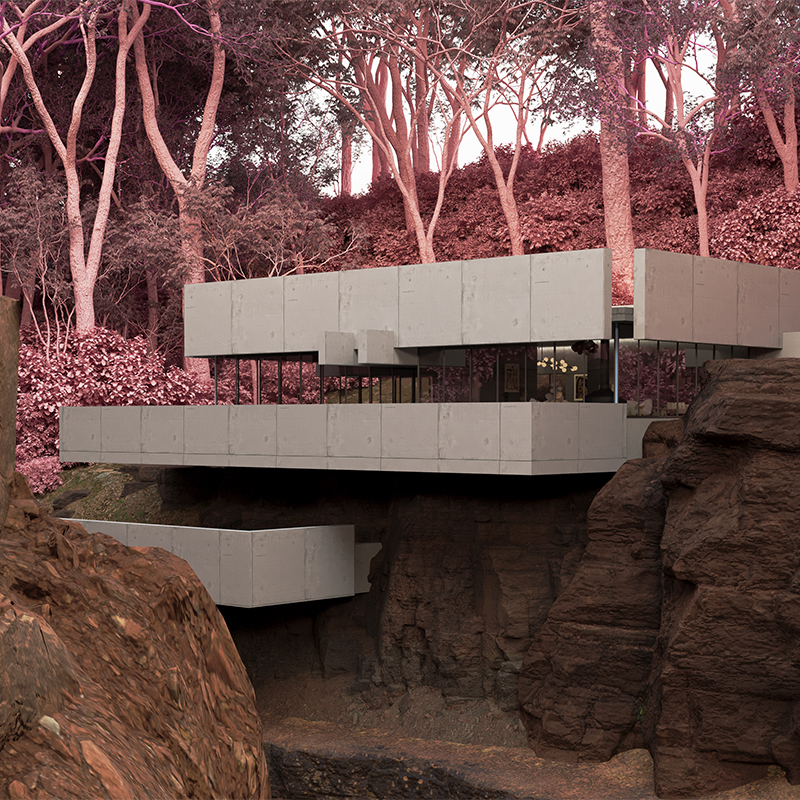 HOMMÉS Studio at Decorex 2022
As you may know, Decorex is a high-profile interior design exhibition that, for 43 consecutive years, has brought together the best in the industry each year. The 2022 edition of the HOMMÉS Studio exhibition demonstrates the studio's versatility, by the impressive furniture gathered at booth G144. Among the iconic pieces, we can highlight the dining table with Memphis Design influences; Art Deco style chairs with a variety of fabrics; Maximalist armchairs; wall mirrors and light fixtures.
The HOMMÉS Studio exhibition also has a section dedicated to TAPIS Studio, a brand that offers elegant and sophisticated floor covering options and ACH, specializing in decorative objects aligned with the idea of transforming your home into a unique experience.
Visitors to Decorex London 2022 can find coverings, materials and finishes in the TAPIS Studio nook, as well as immerse themselves in a metaverse experience through the virtual tour in the METAMORFIK House.
The NeoModernism METAMORFIK House
NeoModernism is a design movement in which comfort and function are axioms – as are mid-century modern living spaces. Instigated by Frank Lloyd Wright's Fallingwater, the style redefines the relationship between man, architecture, interiors, and nature.
Thus, in the project presented here, you can find high-end furniture and objects with mid-century modern features, whose function goes beyond decorative effect and provides a sophisticated look to any home. Check out the other spaces available for visitation in the virtual tour METAMORFIK House, NeoCraft and NeoGothic,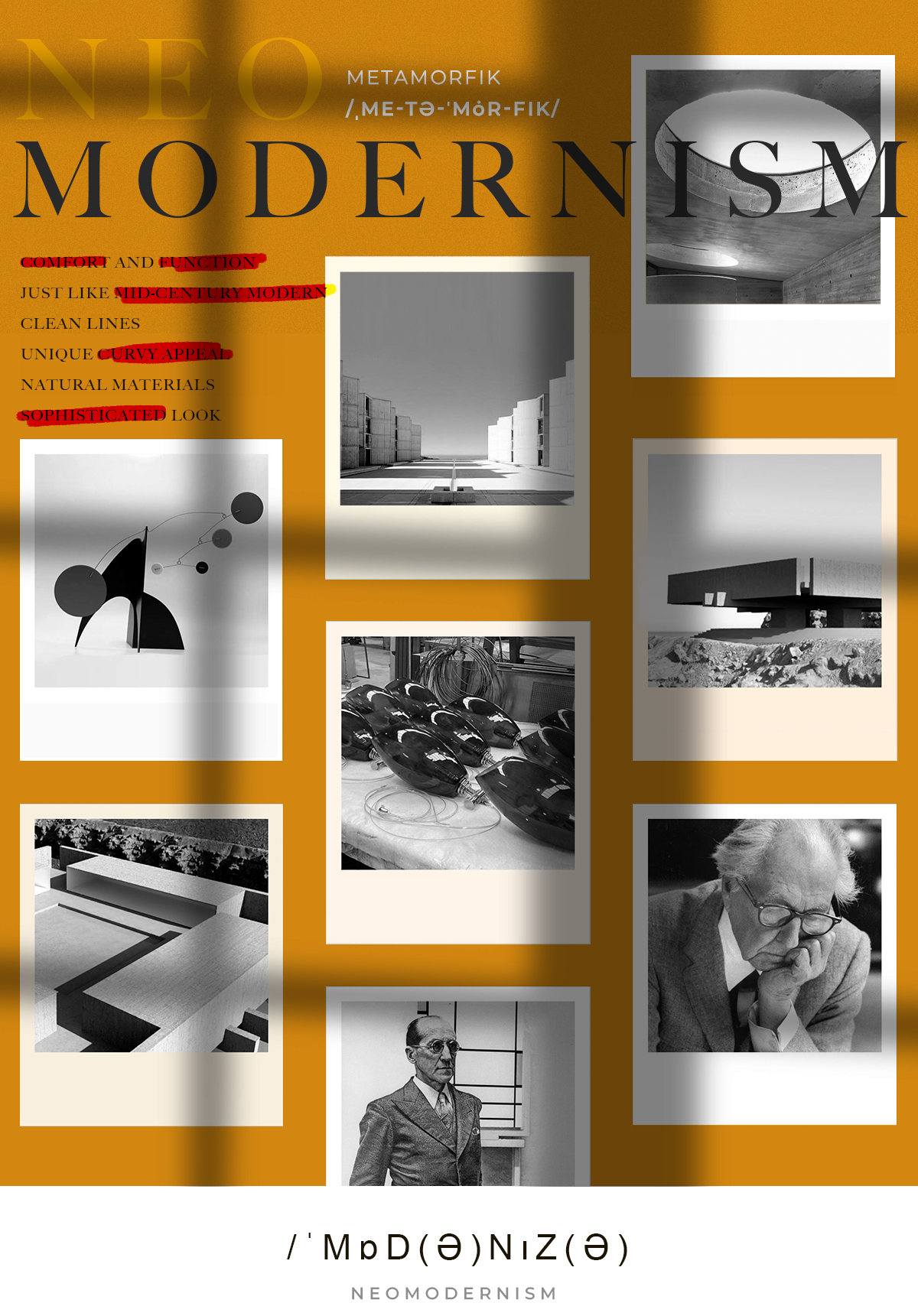 The NeoModernism METAMORFIK inspiration
Author, educator, designer, and architect. Frank Lloyd Wright was instrumental in creating houses that blend in with their surroundings. He is known as the father of organic architecture, and his designs are famous for using a lot of natural materials and an unconventional approach to geometry.
On the Future Vision Of Interiors, unique furniture pieces complement a home that is one with its surroundings. Wood, polished metals, leather, natural fibers, and warm earthy tones balance the raw grey concrete.
The METAMORFIK virtual tour
At METAMORFIK House, interior designers can feel and manipulate iconic designs with high-end finishes. On the other hand, design professionals attending the trade show can also explore other design styles with a virtual reality experience in the metaverse.
The high-end furniture and items on display at the METAMORFIK house exhibition have midcentury modern elements, but their primary purpose is functional rather than aesthetic, giving any home a stylish appearance. In this sense, the purpose of NeoModernism METAMORFIK House is to exhibit a design style where comfort and utility are emphasized. See below the main rooms that were part of the exhibition:
The Mid-Century Modern Entryway
Elegance sparkles in this mid-century modern entryway. The art deco-inspired Quantic Console Table in stone and metal is styled with the sculptural Titan Wall Mirror against a concrete wall that exudes stylish functionality.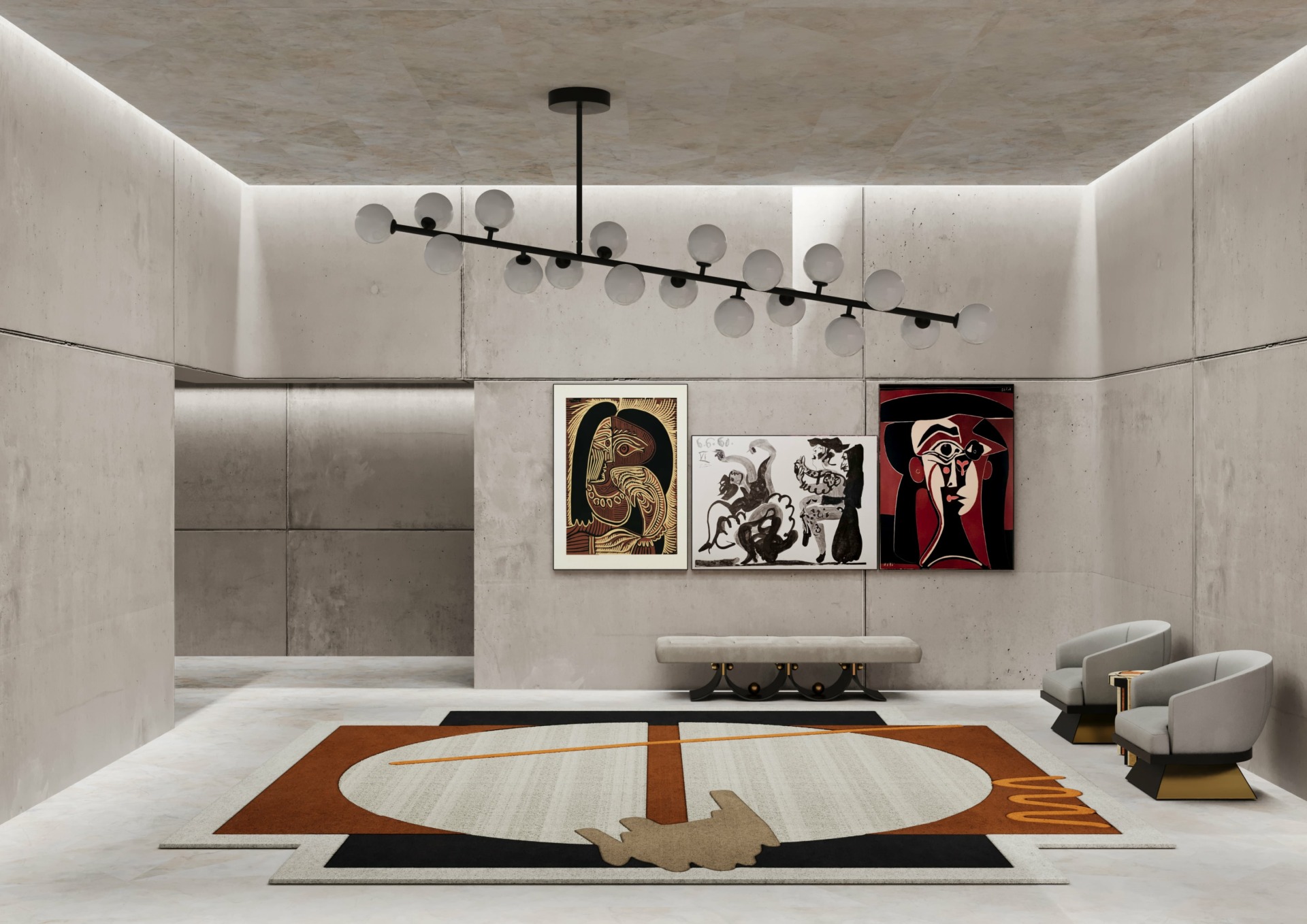 The Mid-Century Modern Living Room
In this mid-century modern living room, the curvy furniture is an elegant counterpoint to the striking linear architecture, resulting in a refreshing interior design. We have selected some pieces that are worth a deeper look into their origins and compositions:
MOA CABINET: One of the main highlights of this room is the Moa Cabinet, a mid-century modern storage furniture piece distinguished by a complex construction using simple materials. With the marquetry technique, artisans create a visually intriguing wooden pattern with a compelling visual effect.
CAMOU SIDEBOARD: Versatile and easily customizable, Camou Sideboard combines sleek and organic lines blending in every corner. This trendy furniture piece offers a sophisticated style to any modern interior design project, especially at NeoModernism METAMORFIK House!
CADIZ SOFA: Cadiz Sofa is a Memphis Design style sofa with curvilinear shapes that makes a statement without renouncing comfort. The sofa sculpture has a wavy backrest that is a perfect abstraction of feminine beauty. The seat has an organic shape, designed for nesting moments of socialization and laid-back conversation.
PICASSO CENTER TABLE: One of the greatest artists of the 20th century, Pablo Picasso expressed his majesty in many styles. Sometimes monochromatic, sometimes classical, and often beautiful chaos of colors, creatures, and lines. Inspired by the artist, Picasso Center Table celebrates the 20th century art movement, with a piece made in marquetry with a Cubist pattern on top, perfect to join a contemporary interior design project.
JAGGER DAYBED: Jagger Chaise Longue is a luxury chaise longue that aims to relax the body and mind and break routines, ideal for contemporary interiors. At METAMORFIK virtual tour presented by HOMMÉS Studio for Decorex 2022, the Jagger Daybed can be found side by the Lunarys Side Table Medium and Lunarys Side Table Large on the right.
After the NeoModernism METAMORFIK House tour, we can assure you that you will find beautiful inspirations for your upcoming projects. Explore this room and all its details at our METAMORFIK House virtual tour. Also, check out our complete content about METAMORFIK New Products from HOMMÉS Studio at Decorex 2022 to see the main products that were part of the exhibition.