Outside the Yellowstone Natural Park lays a stunning home that reveals the beauty of the Modern Rustic Interior Design and recalls a true peaceful retreat—Peek inside this winter wonderland.
With a charming scenario where breathtaking landscapes and natural beauty reign – the imagination can flow and welcome extraordinary ideas. Outside Yellowstone Natural Park, we have the perfect example – a charming home that shines, showing the best Modern Rustic Interior Design and perfectly integrating with its surroundings. The project is a result of a talented combined work between the architect Greg Matthews and the interior designer Olivia Williams, and it is a magical home vacation for a family with solid well-being values.
In this article, we will look at this beautiful house and explore how Modern Rustic Interior Design is reflected in its interior choices. From eye-catching scenarios, raw materials, and stunning details, we will explore what makes this project an authentic interior design gem. Welcome to this charming journey filled with winter feelings, rustic aesthetics, and magical touches.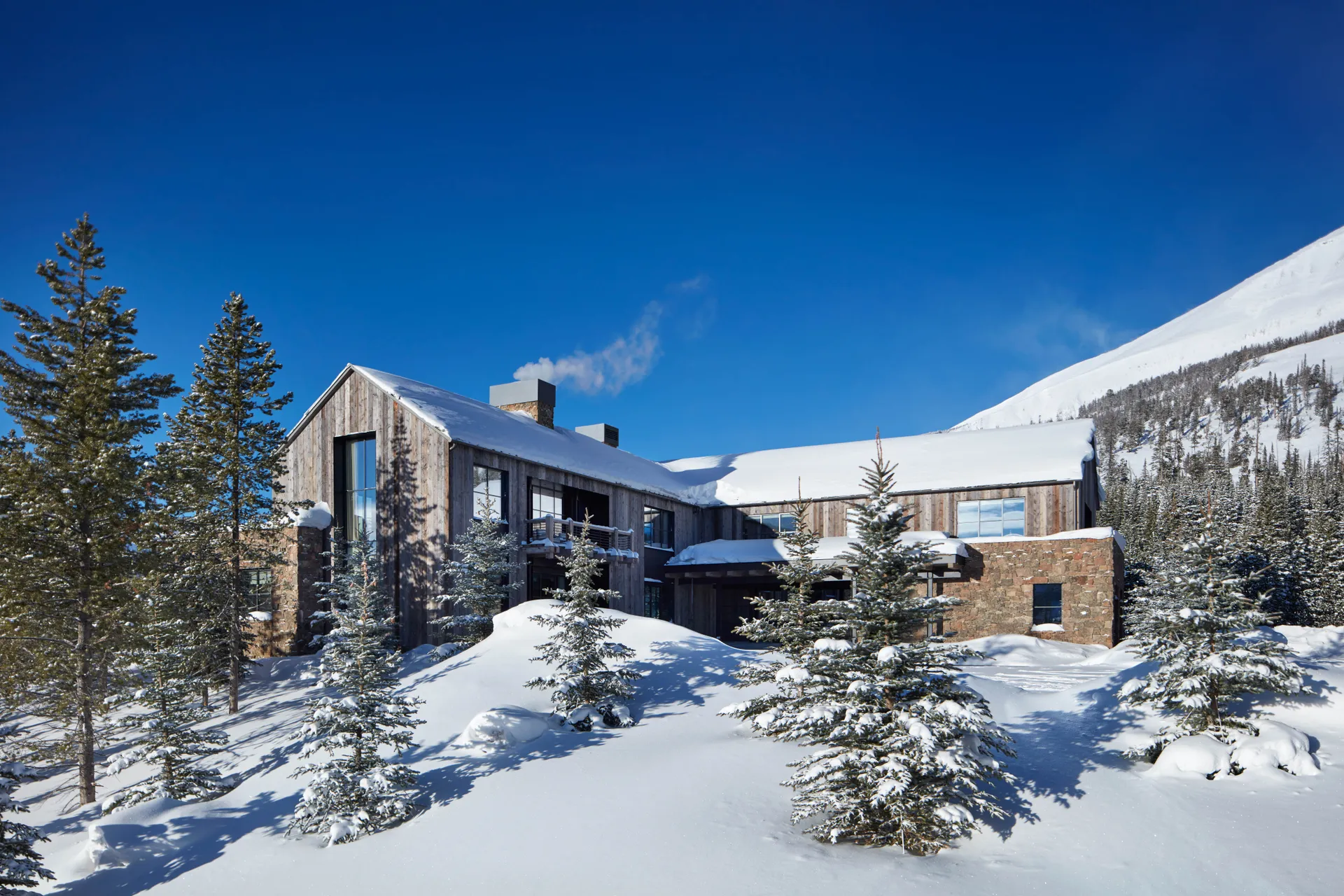 DISCOVER THE MAGIC: MODERN RUSTIC INTERIOR DESIGN
Crafting interiors is like magic – in the blink of an eye, the blank canvas gives space to a dream spot. In this charming home, what makes the magic sparkle through its interior and exterior is the beautiful connection between the surroundings – and most of that is thanks to the Modern Rustic Interior Design, which gave this home the perfect combination to be the perfect magical winter destination. So, before diving into this charming winter home, we will briefly review the Modern Rustic Interior Design Style.
This design style seamlessly blends contemporary aesthetics with the warmth and charm of rustic elements, creating inviting and stylish spaces. The highlight of modern rustic interior design is its ability to harmoniously combine sleek, clean lines and contemporary materials with the cozy, natural textures and earthy color palettes of traditional rustic design.
The Modern Rustic Interior Design creates a visually appealing ambiance. It exudes comfort and tranquility, as we will explore in this home tour, where this approach has transformed this homeinto the perfect magical winter destination.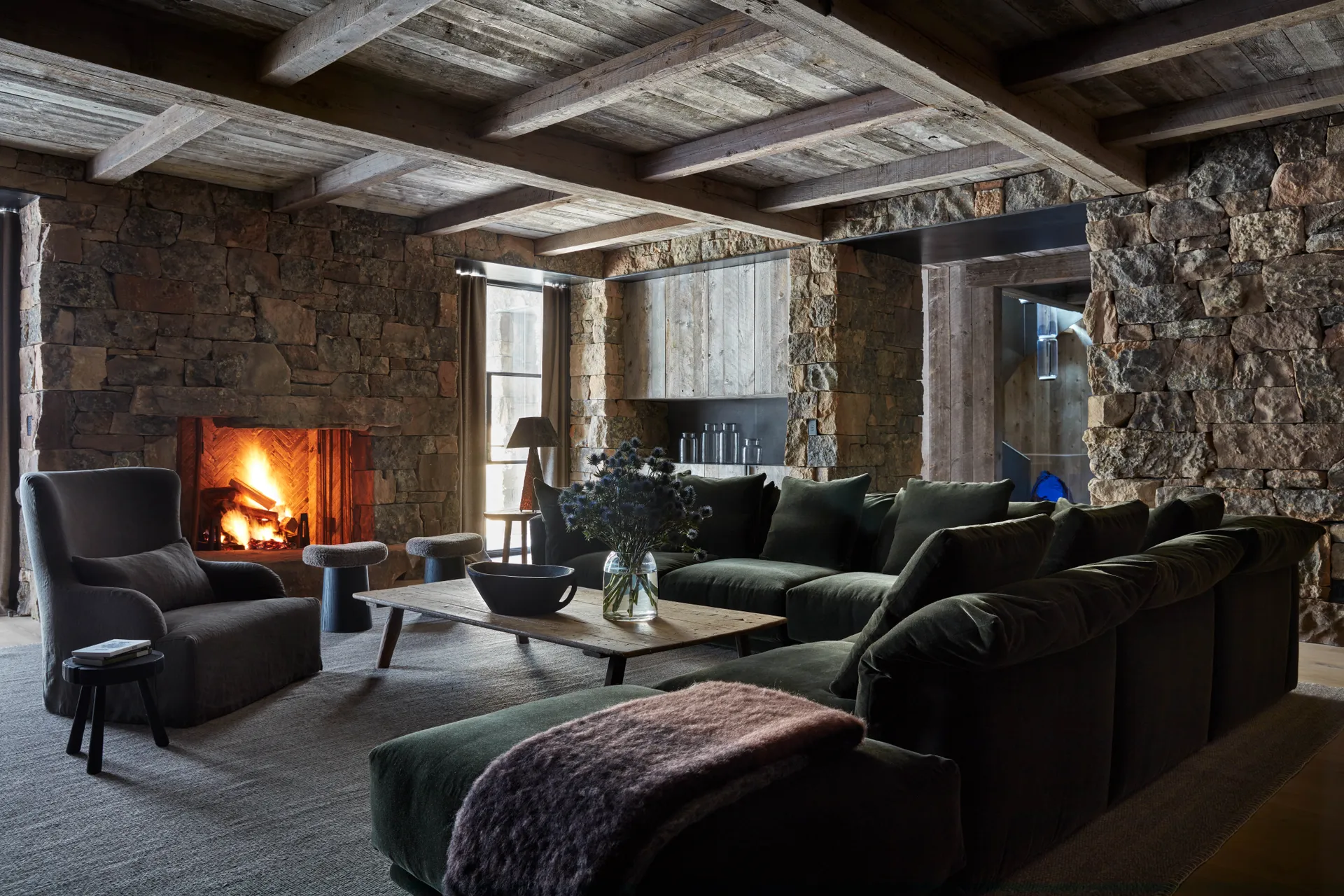 THE WINTER WONDERLAND HOME
Laying in simplicity and charming details – this winter wonderland home is a true masterpiece. Between beautiful landscapes, enchanting cliffs, and pine trees, the home's exterior almost merges with the surroundings, creating a feeling of belonging and a strong connection with nature.
This winder wonderland beauty is the home of a family that genuinely believes in well-being. Chantal Spanicciati is a former interior designer who changed her career path to the well-being industry; together with her husband, they share the love of family and comfortable spaces.
As expected, their winter vacation home is just as outstanding as comfortable. With six bedrooms, six bathrooms, and many entertainment spaces, this modern rustic interior design home is the perfect winter destination for Spanicciati and her husband, their four kids, family, and friends.
To make this winter wonderland come to life – the family counts on a talented team: the architect Greg Matthews and the interior designer Olivia Williams. While Matthews prof his skill by creating a home that beautifully integrates with the surroundings, Williams brought life to interiors with an impeccable array of modern furniture, cozy textures, and earthy hues – evoking a simple yet fantastic way of seeing interiors.

MAGICAL TOUR – INSIDE THE MAIN ROOMS
Dressed in sober tones and evoking the best of Modern Rustic Interior Design – this winter wonderland home entryway is a testament to the style and beauty of nature. Inspired by agricultural architecture, the entrance mimics the materials and colors used around the home decor. It's a beautiful reception that gives the perfect clue about this magical home interior.
Leaving the sober tones and welcoming a lighter and warm palette – in the main living room, the view from outside steals the scene. At the same time, the cozy textiles, sumptuous sofas, and organic materials provide a cocooning feel. The carefully selected furniture, decor items, and cozy rugs contrast the Modern Rustic Interior, inviting for relaxing moments and embracing conversations.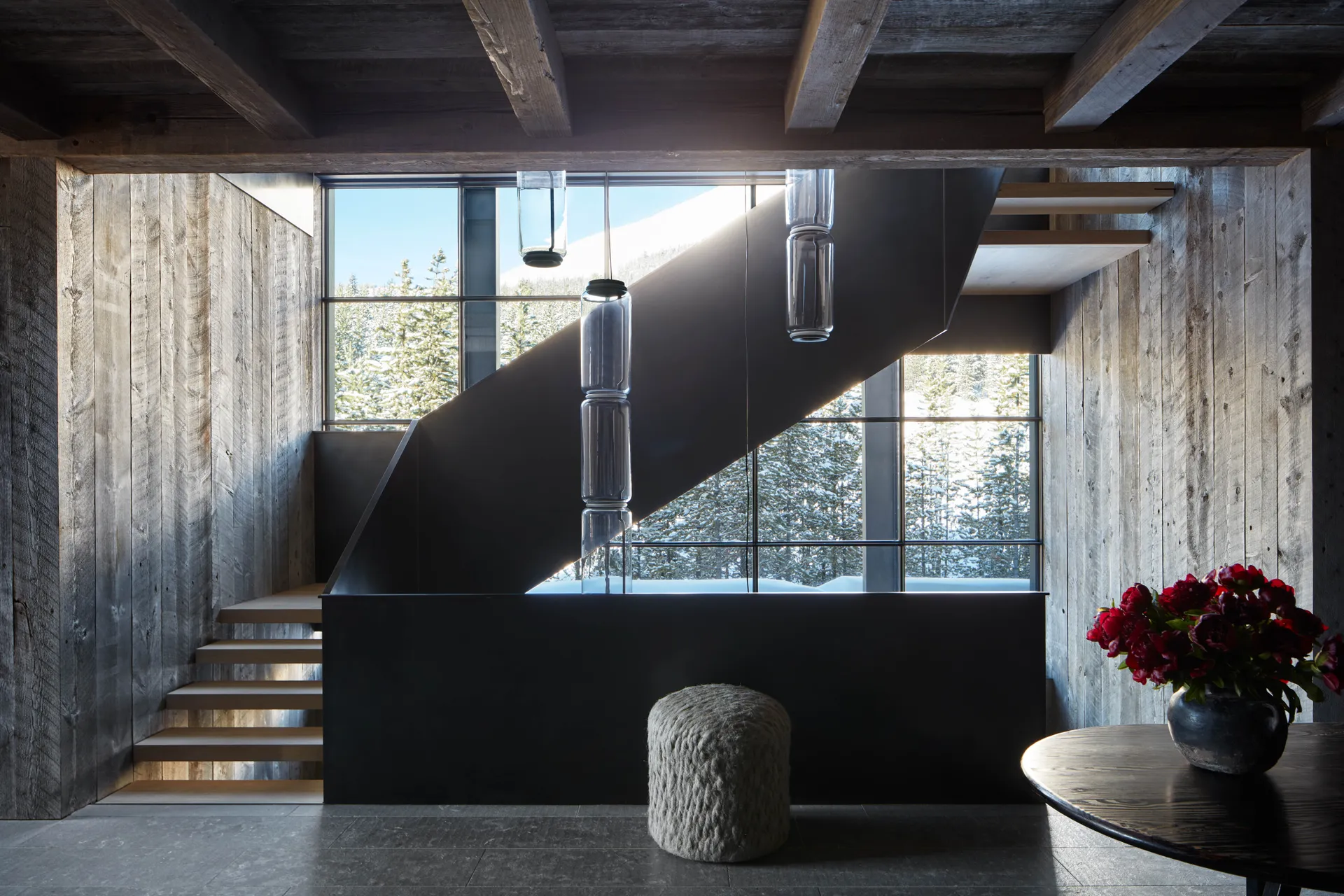 The contrast between rustic and comfortable materials is striking in the formal dining room. Against the stone wall, a beautiful wood spot emerges, highlighting a wooden dining table and chairs. Each chair is adorned with a cozy addition as a sheepskin rug. Adjacent to the kitchen and separated by a glass wall, the different textures and materials add an extra layer of interest and warmth.
Contrasting with the rustic formal dining room – a modern kitchen in sober tones appears. Still highlighting the natural materials with an island of granite but with a different aesthetic approach – the sleek lines and simple composition celebrate the modern beauty and create a beautiful contrast to the rustic interior.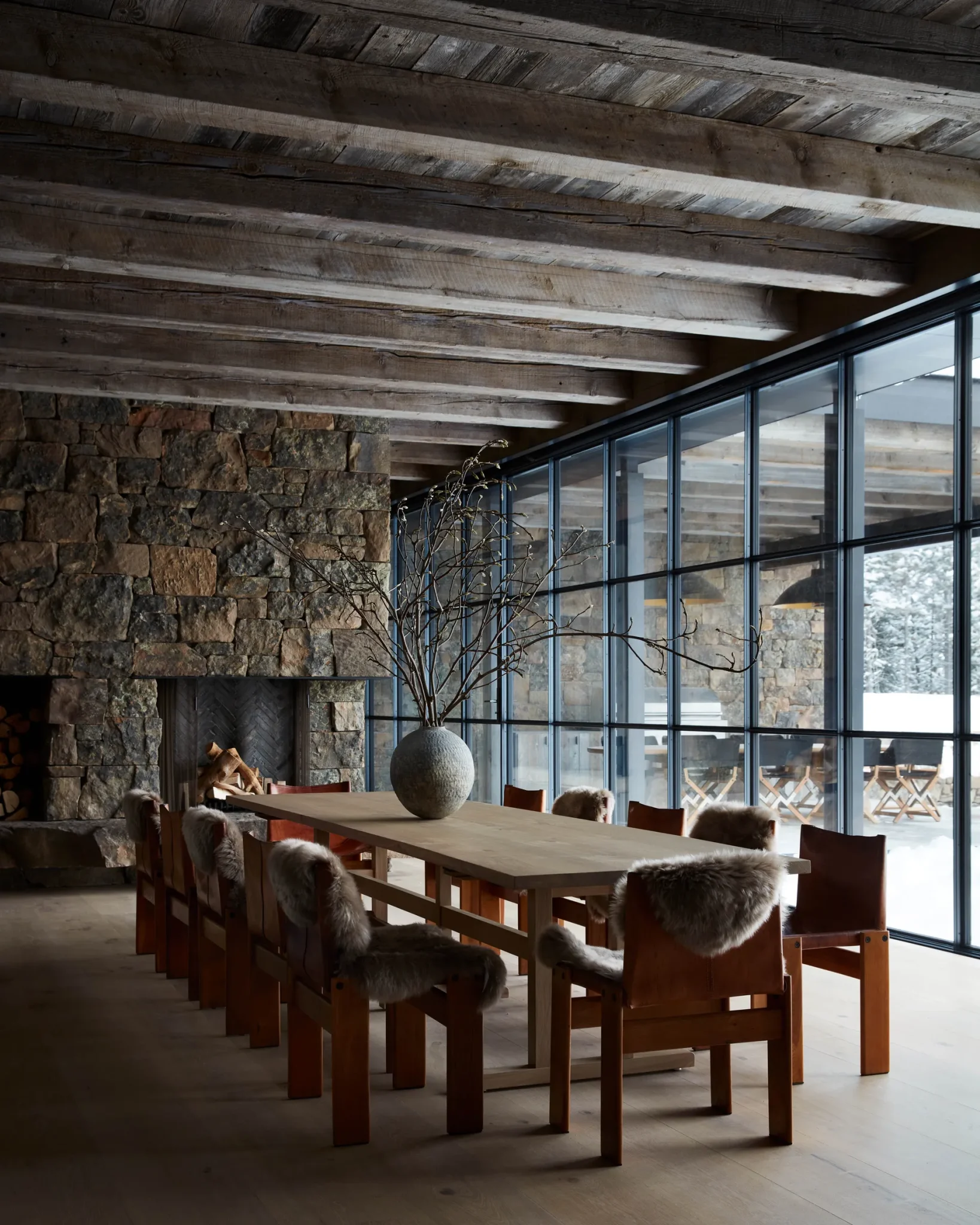 While the entertainment spaces have a deeper earthy-tone color scheme – in the bedrooms, a white and light color palette creates a refugee for relaxing moments. The furniture choices highlight the mix between sleek and organic pieces, with natural materials like wood and stone combined with concrete and metal. All options create a beautiful balance between modern and rustic feelings, creating a unique and magical aesthetic.
Most of the bedrooms have a minimalist design, but a whimsical atmosphere is revealed in the kids' bedroom. Earthy tones combine beautiful textures and a dream wallpaper to create a unique look. The interior designer, Olivia Williams, paid special attention to the walls to inspire the kids' imagination to go beyond their limits. It is a magical spot that offers endless possibilities for the kids to explore their creativity.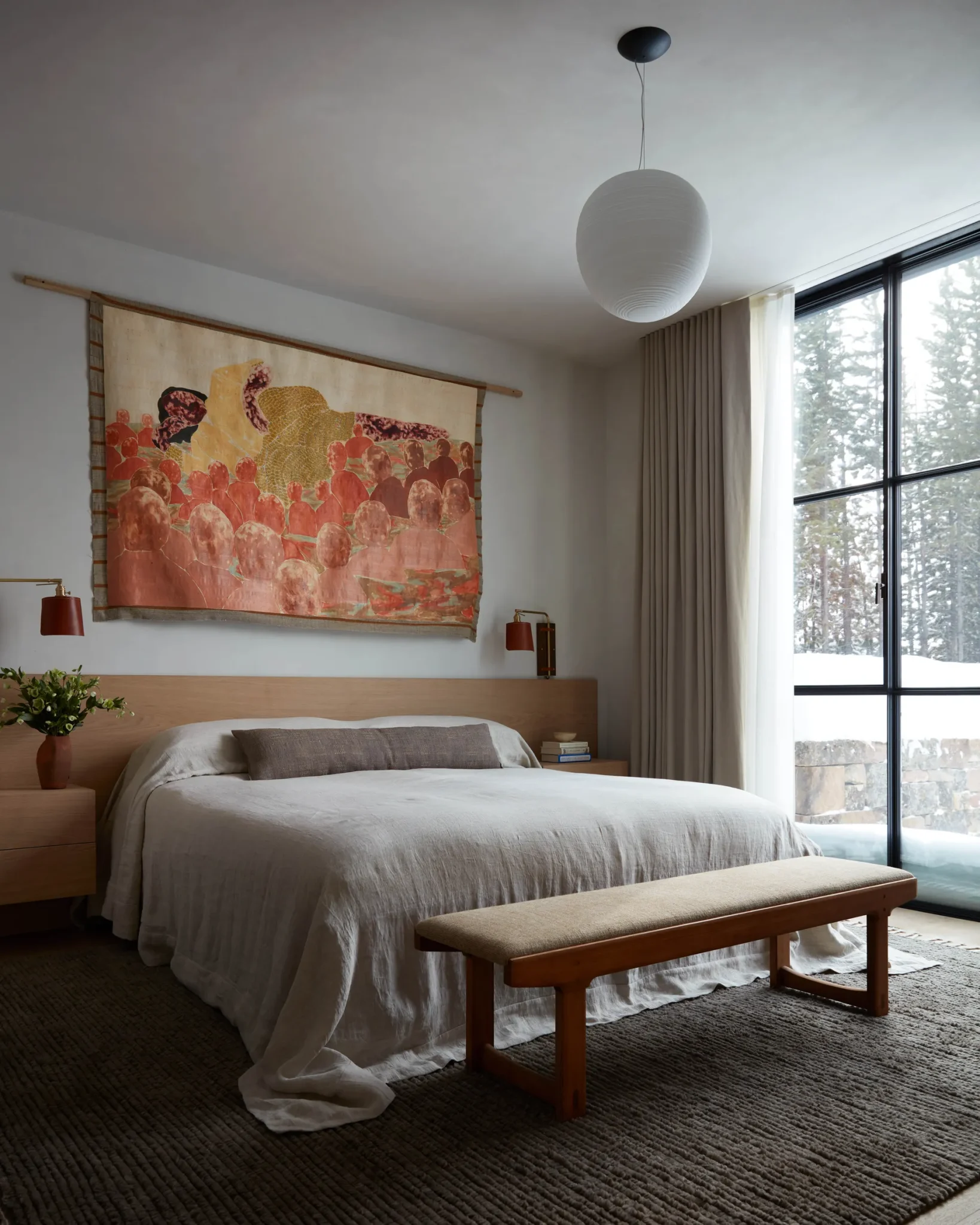 With a deep connection with the natural surroundings and a careful selection of furniture and decor accessories, this magical winter home is a beautiful approach to Modern Rustic Interior Design – connecting raw materials, rich and cozy textures, and sleek and organic furniture to create an interior that speaks a language of comfort and beauty.
Magical Furniture Inspirations
This inspiring home tour shows the beauty of combining modern and rustic elements to create an interior that exudes comfort and warmth. Inspired by this magical home, we have selected stunning furniture from the HOMMÉS Studio collection that perfectly fits this aesthetic; check it out:
In this magical winter home tour, we explored the beauty of modern rustic interior design and its stunning compositions that create a unique interior full of personality and coziness. From mixing and matching styles, textiles, and materials, this approach also emphasizes the connection with nature, creating interiors that stand out – like this one.
We hope this home tour has inspired you to try new approaches and discover the beauty in each detail. For more interior design inspirations, check out our Project Page and find stunning interiors by top interior designers.
Source: AD | Photos Stephen Kent Johnson