Downtown Affair: Shop The Look is a bohemian form of living that nods to historical archetypes with a modern, elegant, unpretentious, and, relevant demeanor.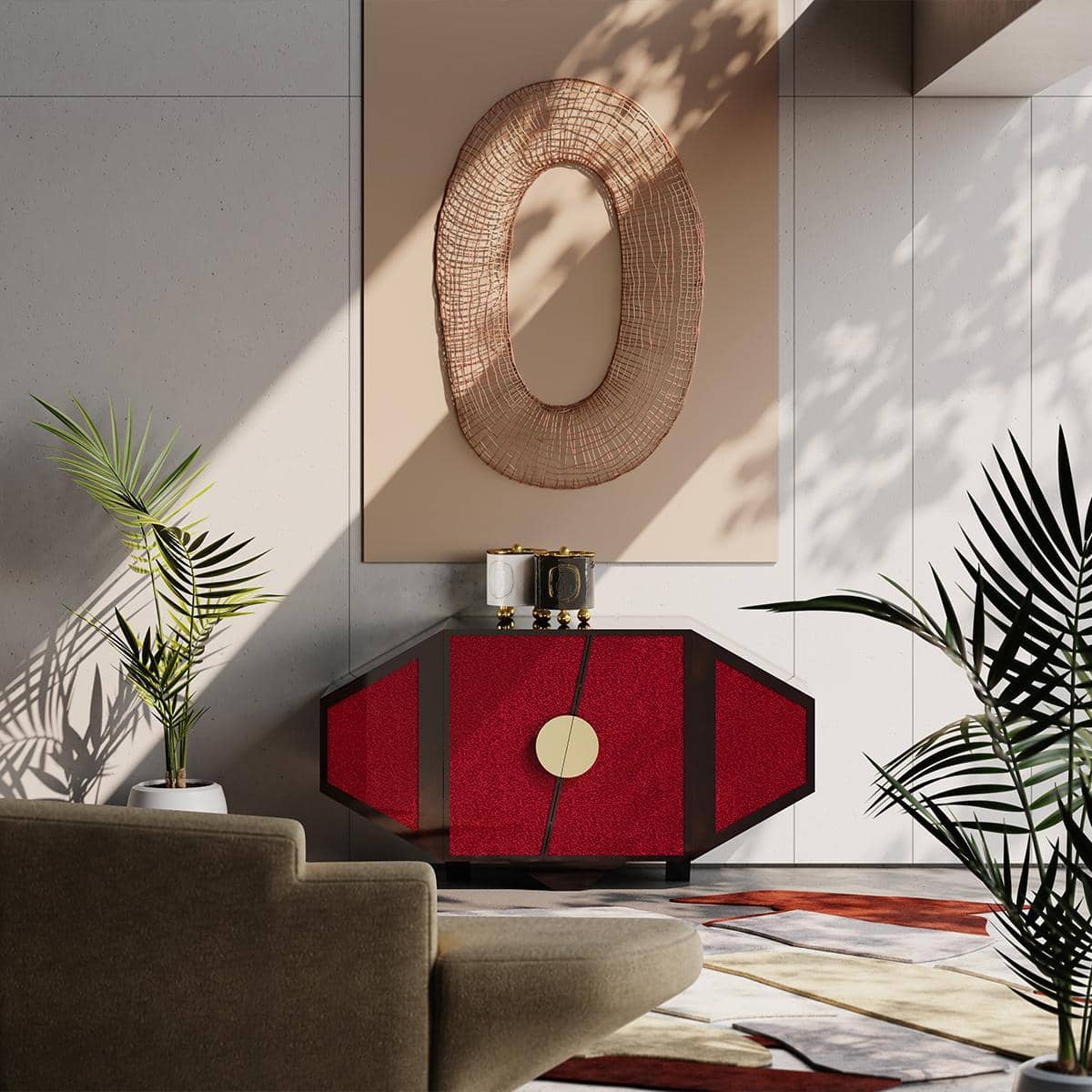 This modern language of luxury is a downtown affair, a bohemian living that nods to historical archetypes with a modern, elegant, unpretentious, and, relevant demeanor.
Downtown Affair is a parlor that equals ambition and quality. Line after line, this modern living room becomes beautiful, meaningful, and timeless with its astonishments and shapes.
Discover Downtown Affair below.

DOWNTOWN AFFAIR: SHOP THE LOOK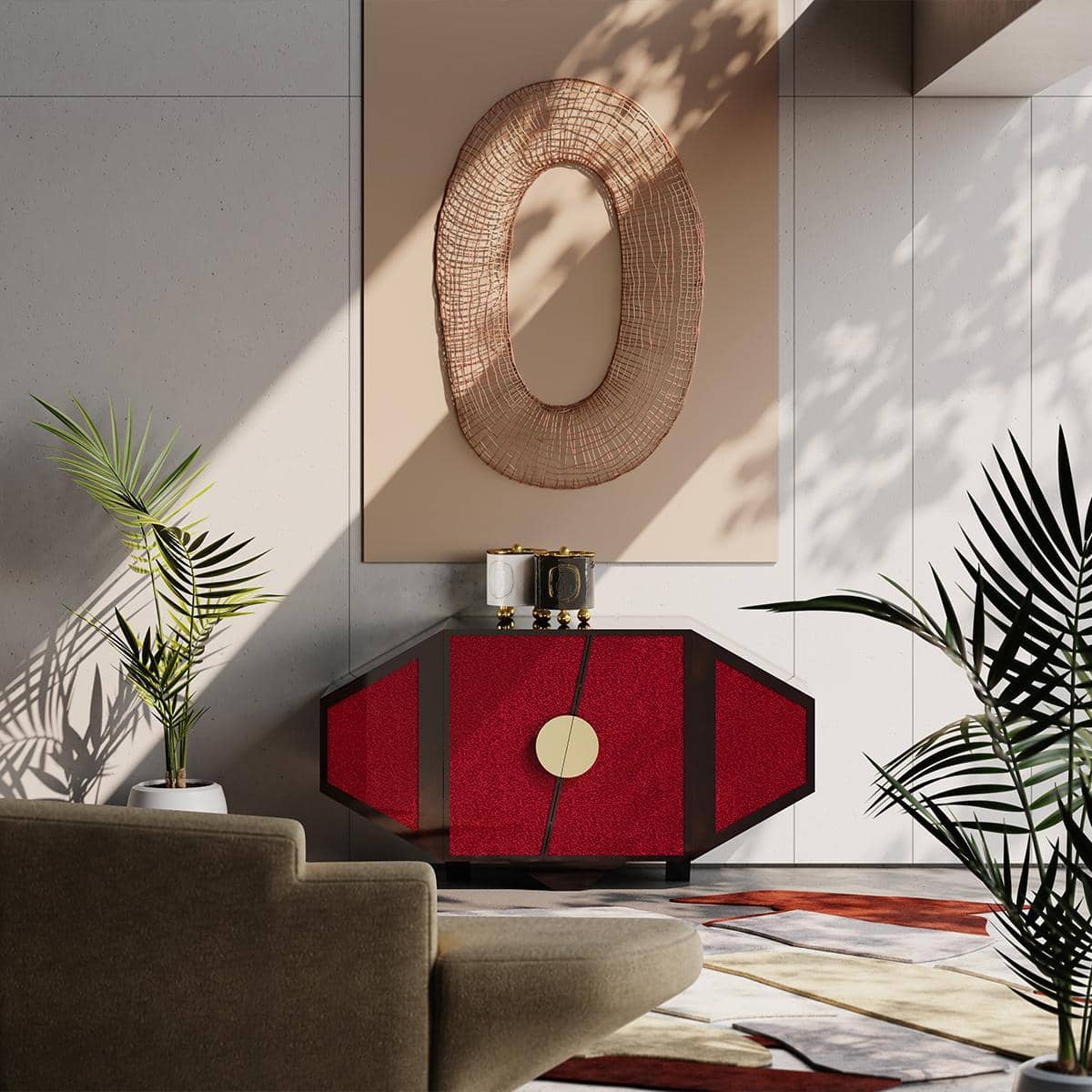 ROY SIDEBOARD
Roy Sideboard is an elegant modern design piece yet provocateur. At first glance, it seems to be a mid-century sideboard, but then we perceive its distinct lines and may take it as an Art Deco furniture piece. With a rich tones palette and timeless design, Roy buffet is all you want it to be. Roy Sideboard is the wild card for your interior design project.
CRINA RUG
Crina Rug has a unique design puzzle shape. This floor-art piece is a powerful combination of nude tones and organic shapes, an extraordinary modern rug perfect for contemporary interiors. Other luxury finishes and materials are available to customize your piece.
LUSH MIRROR
Lush Wall Mirror is an Art Deco mirror, perfect for a luxury entrance hall design. It carries us to another dimension through its exuberant shapes. The primary function of a mirror is to prolong identity by its reflection, whether our own or from the surrounding space.
KARA RUG
Kara Sofa is an art deco-style sofa. This statement sofa promises to be the absolute protagonist of a living room project. Its art deco inspirations are reflected in its shapes, revealing an eclectic, luxurious style.
MARINO SIDEBOARD
Marino Sideboard is an exclusive furniture piece that combines exquisite materials and details of colors, making it unique. This sophisticated sideboard promises to add glam to any contemporary interior design project. Marino Sideboard will make you feel that home will always be your haven. Its nautical aesthetic pleases sea lovers who find comfort in the water and venturesome souls.
BABAR SIDEBOARD
Babar Sideboard was inspired by the Memphis Style. A trendy sideboard promises to add sophistication to any modern interior design project.
NILO MIRROR
Nilo Wall Mirror features a stylish shape, a functional and decorative mirror that can help to brighten up a dark hallway or corner. A modern mirror with a vintage look, inspired by an art deco vibe, is ideal for elevating any room decoration.
REBUS SIDEBOARD
Rebus Sideboard is a fusion of two historical design styles: Mid Century and Art Deco. This living room sideboard was inspired by the glamour of the 20s and the unique vibes of the 50s.
CAMUS SIDEBOARD
Camou Sideboard is a trendy furniture piece that offers a sophisticated style to any modern interior design project. A bold combination of colors and shapes makes. Still, it will blend in with any modern interior design project. Due to its disruptive coloration and finest materials, the luxury buffet disguises itself as a contemporary art piece.
DOWNTOWN AFFAIR: SHOP THE LOOK
Visit Shop The Look and discover a selection of products to style Downtown Affair.
Download the Hommés Studio e-book 2022 The Future Of Trends and get ready for an endlessly creative new year.
Pay a visit to ACH Collection website as well and discover high-end homeware and pet accessories for a wholesome modern lifestyle.