A mid-century modern apartment in Manhattan features vintage and contemporary. At first glance, the apartment looks like the 1970s home – curvy lines, wood, and warm /neutral) colors. However, soon we realize the contemporary flair of the furnishings and finishes.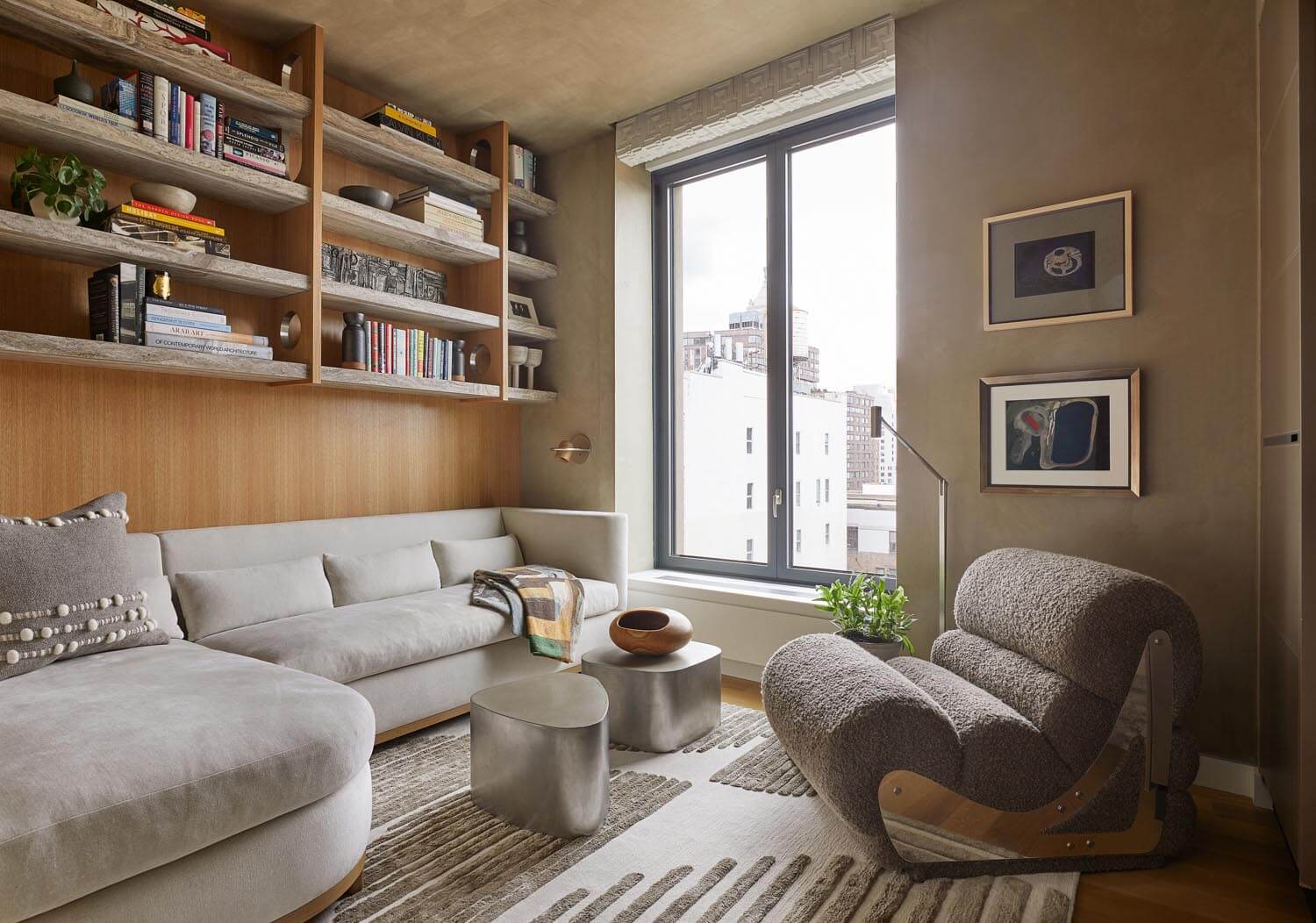 This mid-century modern apartment is a work from Timothy Godbold. Raised in Australia, the talented designer currently works mainly in New York, after living for a short time in London. The interiors of Timothy Godbold are special. Even though he started his design career as a fashion designer (designing for Ralph Lauren, for instance), he soon dedicated his talent to residential living, pulling off exquisite residences on top and exclusive locations.
His fashion background gives Timothy Godbold a deep comprehension of textures, patterns, and visual perception. As a kid in the 1970s, Godbold would watch Space: 1999, a British sci-fi series that shaped his aesthetic comprehension of the world. In Manhattan, the designer shows off his talent to mix styles and textures and the influence of the powerful collision of past, present, and future.
HOW DOES TIMOTHY GODBOLD CREATE A MID-CENTURY MODERN APARTMENT IN MANHATTAN?
WOOD PANELING
In this mid-century modern apartment, Timothy Godbold panels the curvy walls with wood. It is a warm hue, convincing enough to make anyone travel back in time, directly to the 1970s. This is actually one of the biggest fixtures of this mid-century modern apartment in Manhattan since the ribbed paneling creates a unique visual texture that involves the entire house.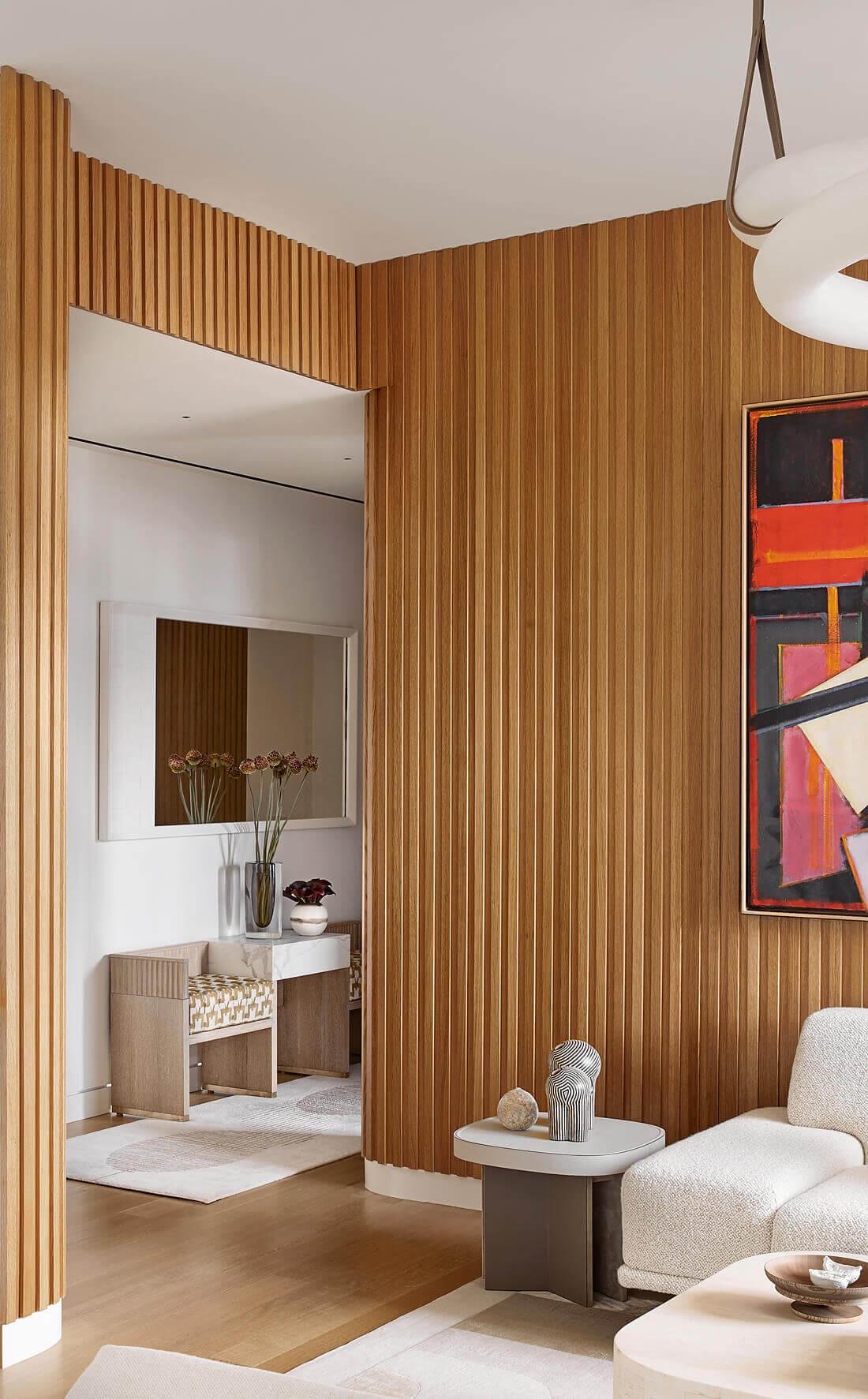 MIXED MATERIALS
Since Timothy Godbold uses a neutral color palette for this modern house in Manhattan, the fashion and interior designer combines different physical textures to enrich the rooms of this luxury apartment. For instance, in the dining room, Godbold combines a contemporary stainless steel suspension lamp with a stunning travertine dining table and wood armchairs upholstered with fabric. Besides having the same color palette, each element brings a different texture to the room, stimulating the eyes of the beholder by giving a sense of depth, volume, and contrast.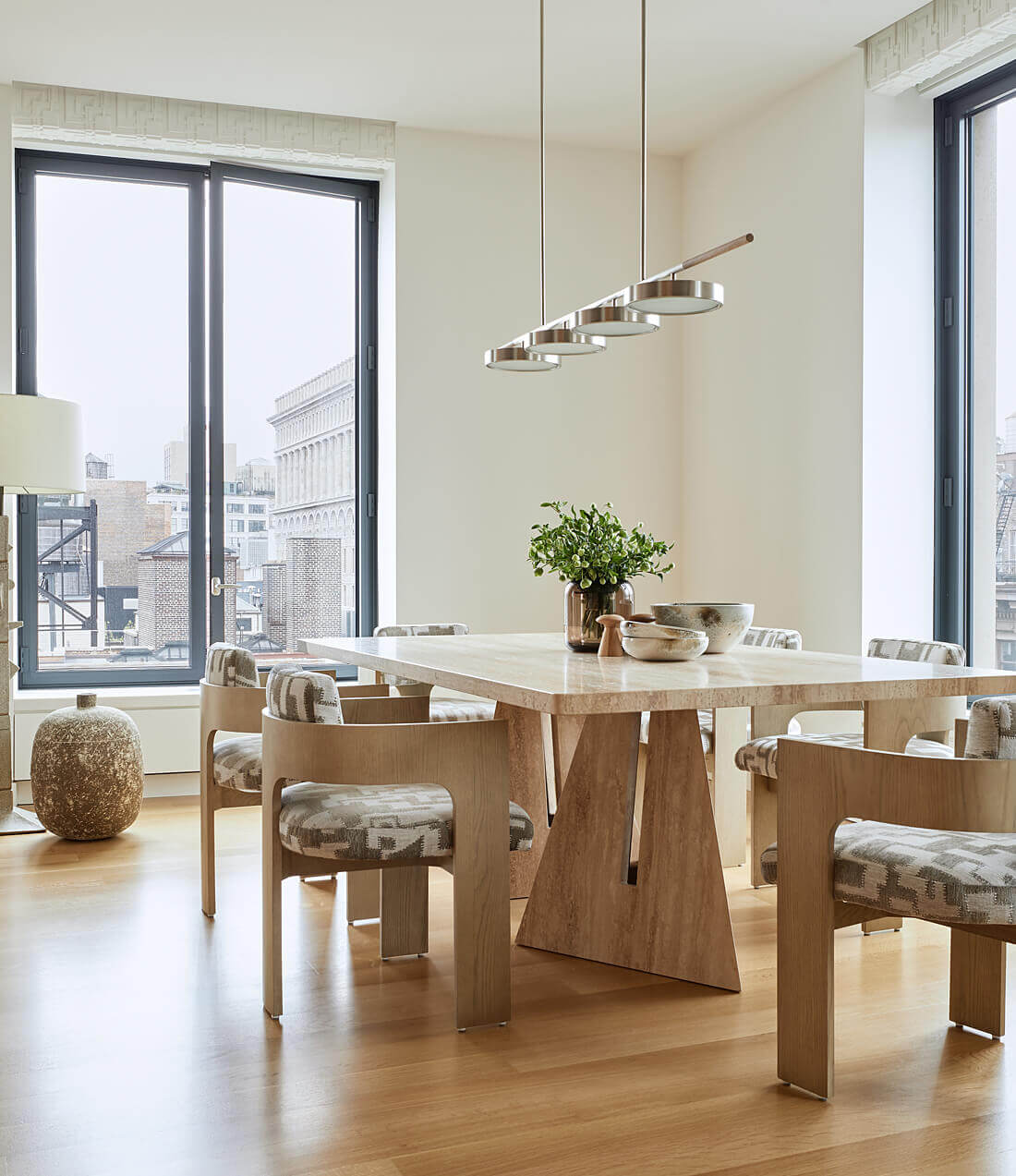 DIFFERENT FABRICS
Timothy Godbold adorns the living room with modern and vintage furniture. But, again, the wood on the floor and the walls remind us that this luxury apartment in Manhattan is a contemporary reading of the 70s interior design style.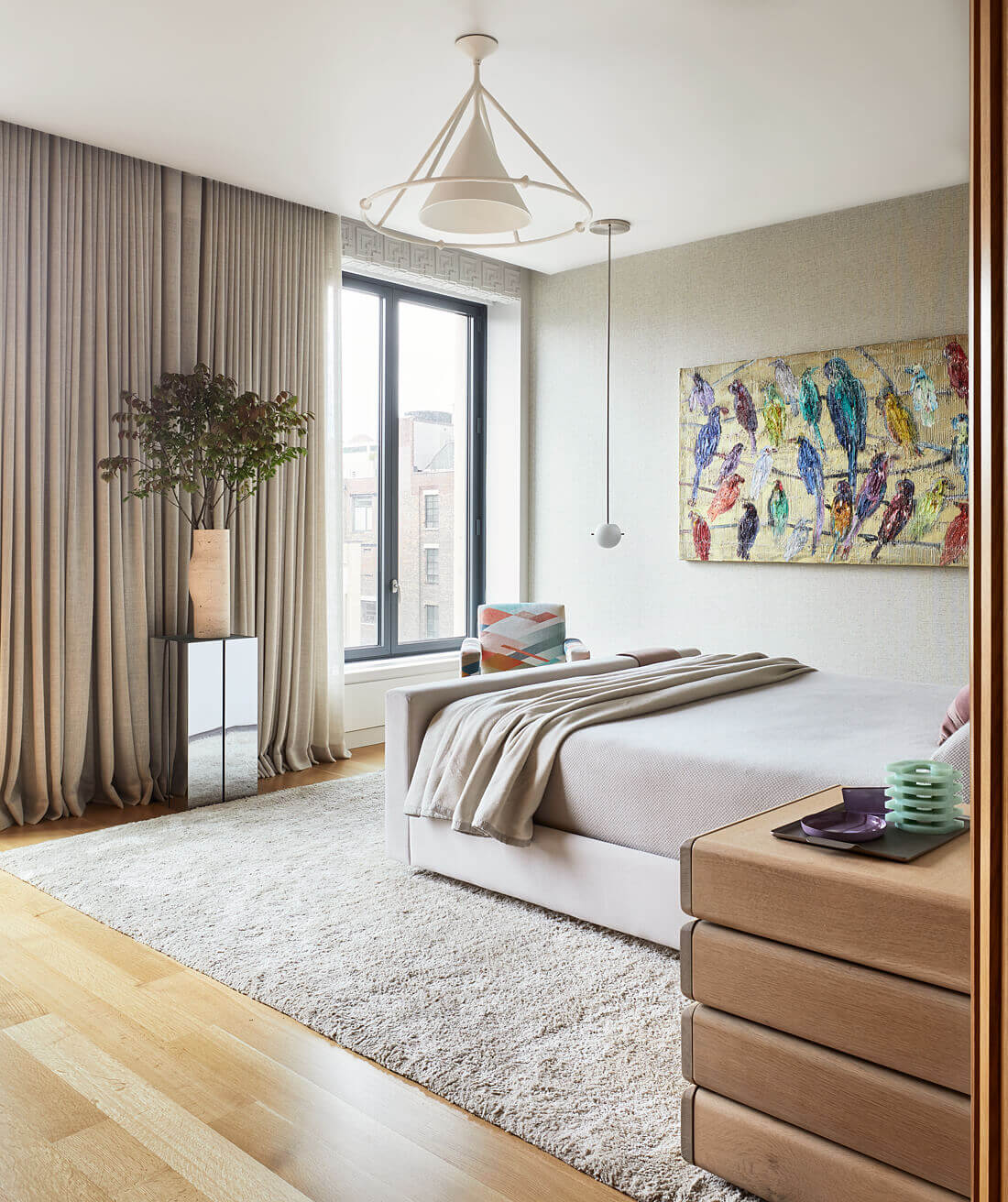 CONTEMPORARY ART
Nothing stimulates more the human mind than art, right? For that reason, Timothy Godbold decorates this apartment in Manhattan with large – and colorful – art pieces. While the wood paneling takes us to the 1970s, the contemporary art pieces remind us that the future is now – and it has neutral colors, modern luxury furniture, and seductive visual textures.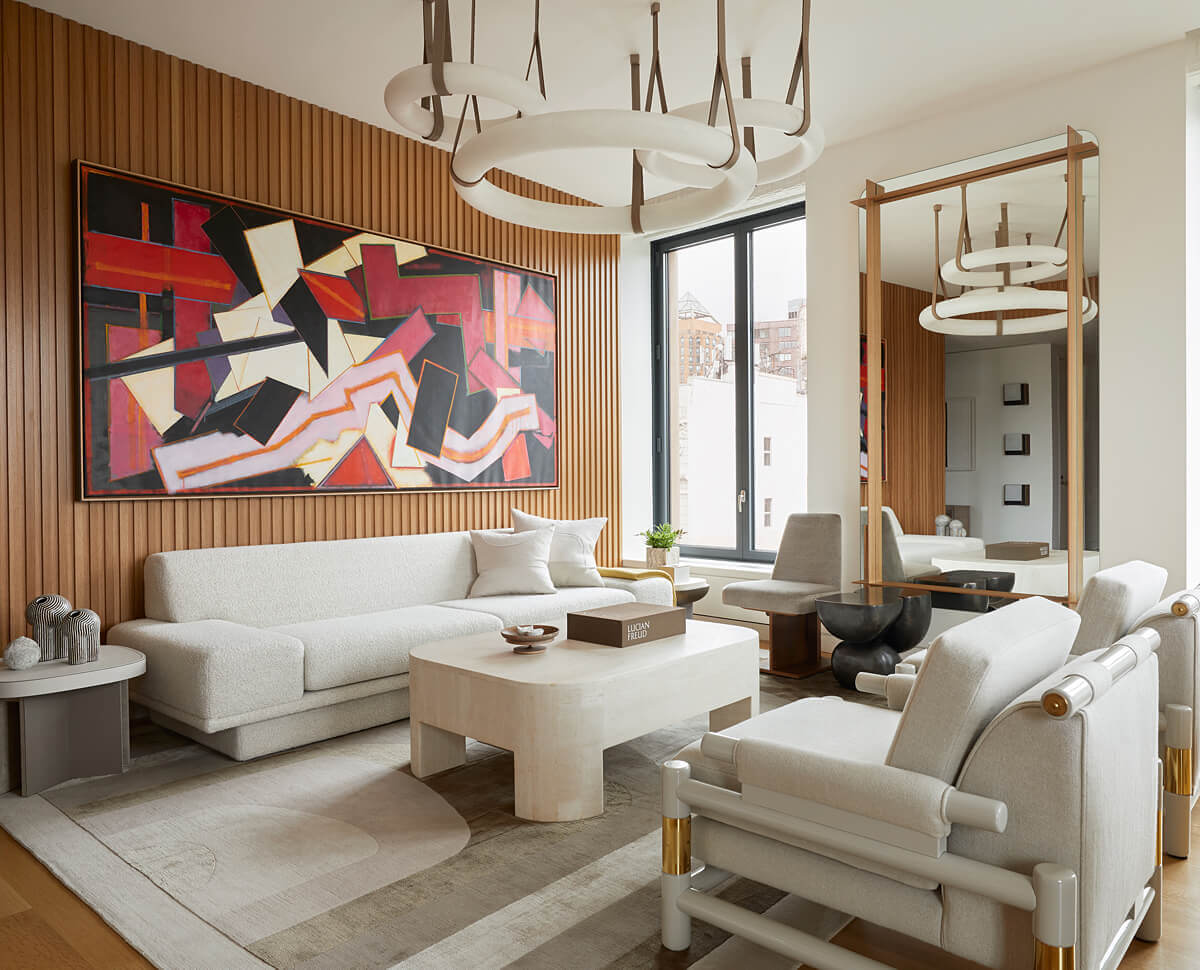 Take inspiration from Timothy Godbold's Mid-Century Modern Apartment in Manhattan and from other Modern Architecture Projects on Hommés Studio Pinterest moldboard.

Source: DPages
Photography: Francesco Lagnese