Let's tour the Malibu Home of the CEO of Paramount Streaming. Lala Reimagined designed this stunning Mediterranean Style Home.
The CEO of Paramount Streaming, Tom Ryan, and his wife, clinical psychologist Anjannette Padilla-Ryan, desired a peaceful getaway for their family. They found the perfect paradise in Malibu, with its stunning seashore views and pleasant atmosphere. This spacious Malibu home, surrounded by five acres of lush greenery and ocean views, provided the ideal oasis for their family.
The team of Lala Reimagined aims to design a space reminiscent of the rustic IL Pelicano resort on the Argentario coast of Tuscany while also incorporating inspiration from the beautiful surroundings of the Malibu home—their vision results in a stunning Mediterranean Style Home that exudes glamour and sophistication for their clients.
Explore the Mediterranean Style Home
The interior designers wanted the Malibu home to feel like the Mediterranean boutiques and used a lot of vintage furniture and high-end pieces. This Mediterranean Style Home is the perfect summer getaway and feels worlds away from the bustle of Los Angeles.
The summer vibes start more robust in the entryway foyer, with two incredible straw armchairs with bright yellow cushions next to the colorful ceramic plates mounted on the wall. The designers added a yellow-and-black wool rug to complete the look of this summer entryway foyer.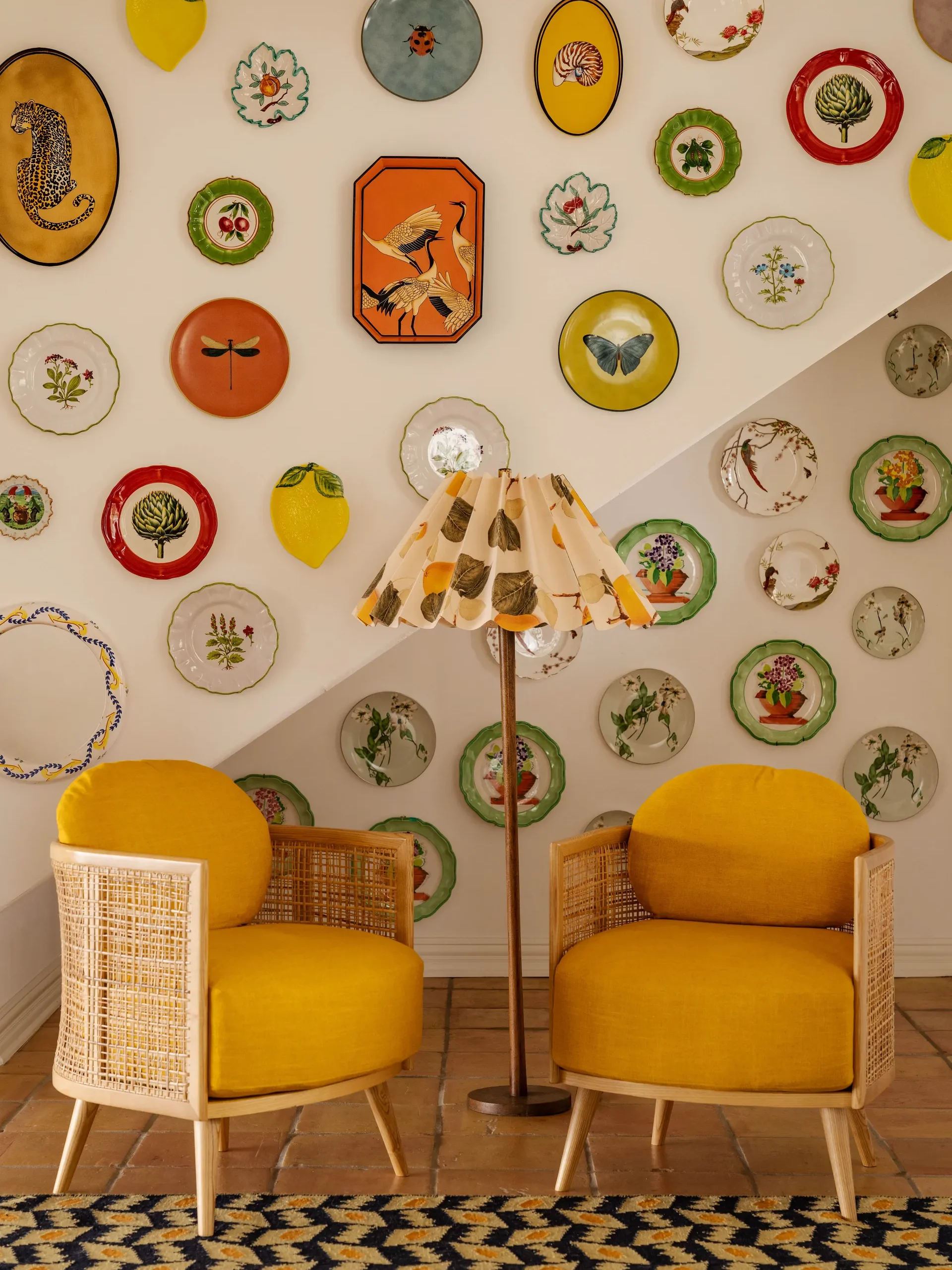 In the main living area, the summer look continues with wooden beams on the ceiling and terra-cotta tiles on the floor. They are decorated with an eclectic furniture collection, like pistachio cushions perched atop wicker armchairs. The designer added a round coffee table with sculptural legs and a mushroom-shaped ceramic stool from Urban Outfitters.
The living room is a refreshing summer haven, illuminated by the abundant natural light that floods through its French doors. The designer preserved the home's original floors and the built-in recessed mantle while retiling the fireplace with earth-toned porcelain tiles. The seating area features armless slip-covered sofas and green Arcade side tables, creating a perfect summer rest.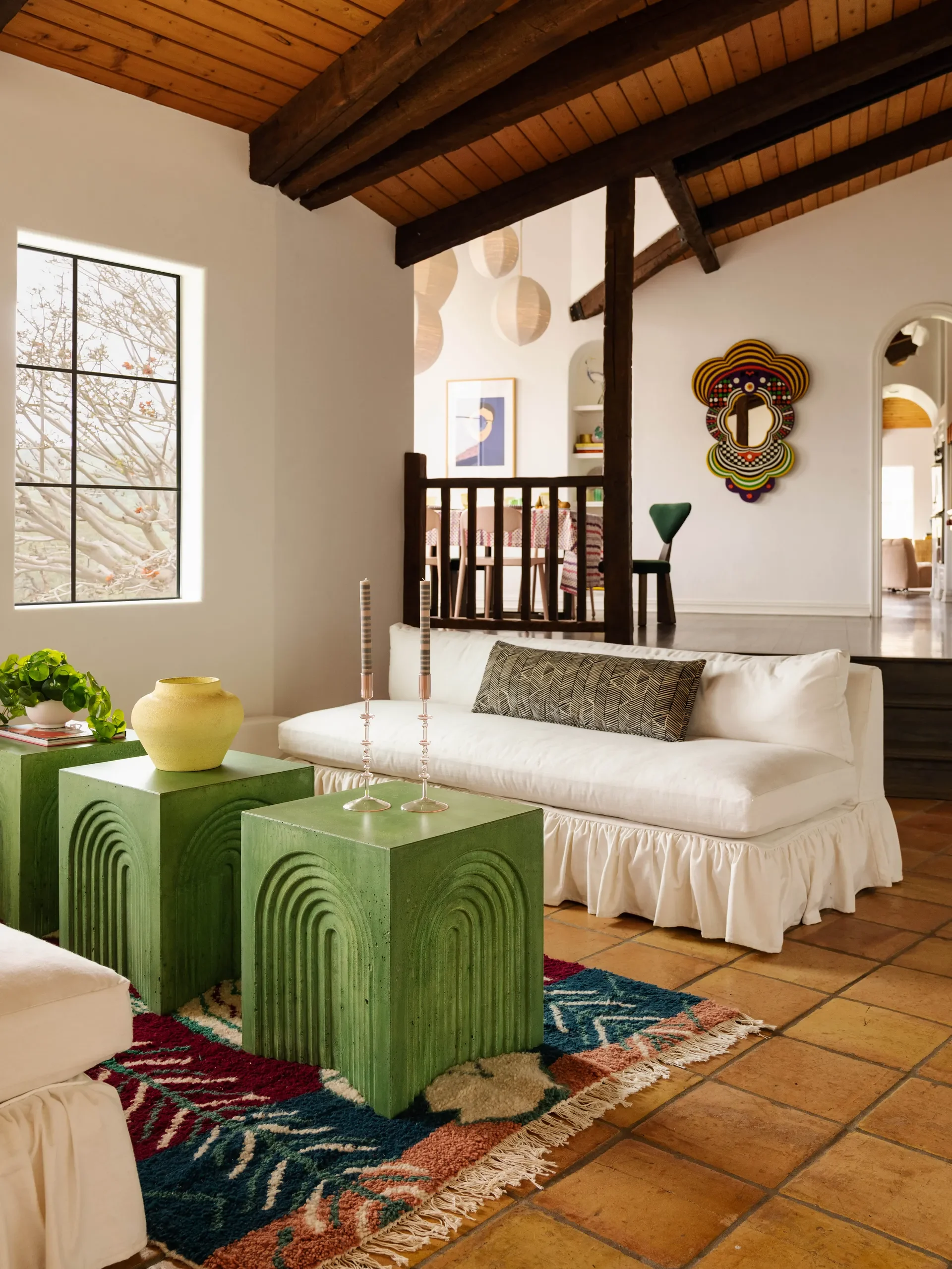 Lisola Armchair White

Armchair 4.800,00

€

Moritz Mirror

Mirror 2.950,00

€

Duna Center Table

Center Table 8.900,00

€
To continue the color story of the Malibu home, a wet bar area was designed to provide residents with the best summer nights and drinks. Another room in the house with a Mediterranean flair is the bathroom with a custom vanity with portentous round legs topped with handmade green terra-cotta titles.
The Mediterranean Style Home has an incredible dining room with beautiful colors and elements. The dining area has custom lighting made of rope-wrapped globes, green giraffe chairs, and pink beechwood Frisée chairs, helping to complete the causal, playful look.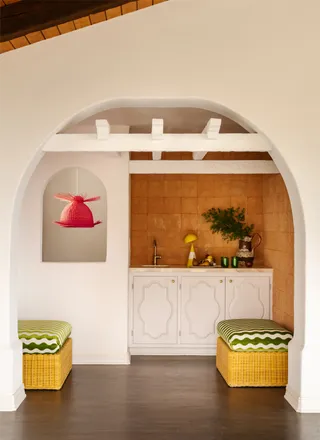 This lovely Mediterranean Style Home offers a delightful summer retreat with a gorgeous modern main kitchen. The central kitchen boasts matte tiles in dark beige, dusty rose, and forest green, creating the perfect ambiance for making cherished memories while preparing a delicious summer lunch.
The kitchen is connected to the family room through an arched passageway. This living space exudes a summery vibe with its backsplash palette. The designers have included a vintage reupholstered pink sofa and a stunning tall rattan floor lamp to complete the Mediterranean style.
Lunarys Center Table Natural

Center Table 5.900,00

€

Prymo Dining Table Natural

Dining Table 14.200,00

€

Foil Sofa Sand

Sofa 7.800,00

€
The designers have fashioned a beautiful Mediterranean Style Home, and the primary bedroom perfectly embodies this theme. A unique electric blue wooden bed sits against a plum-colored arch, creating a serene summer retreat. Additionally, the bedroom has a cozy corner furnished with a curvy cane armchair covered in mustard velvet, a vintage powder-coated green chair, and a charming French ceramic lamp. The fireplace and the colorful rug add to the overall elegance and comfort of the bedroom.
The main bathroom is stunning, with glazed ceramic tiles and a vibrant hot pink woven pendant hanging above a white bathtub. The breathtaking mountain views outside perfectly complement this idyllic space for residents.
The Mediterranean Style Home has a resort-like feel. The Lala Team has created a secondary kitchen downstairs, which opens to the beautiful pool view, complete with pastel cabinets painted in an excellent stone blue hue, perfect for summertime.
Downstairs, an open living area has been thoughtfully designed for family relaxation. It features a Lumin modular sofa and a plaster Baron table. Nearby, a dining area has been furnished with bentwood and natural fiber elements, including a blonde ash wood dining table complemented by Martino Gamper chairs and a beautiful neutral rug and artwork.
Downstairs, the Malibu residence has a guest room that exudes a lively summer vibe. The bed in the guest bedroom is crafted from wood and has a unique design. Alongside it are vintage sconces from a flea market and a painted elm lamp, all contributing to a calm and peaceful atmosphere. A colorful bathroom complements the guest room with a hexagon-shaped mirror created by Merve Kahraman.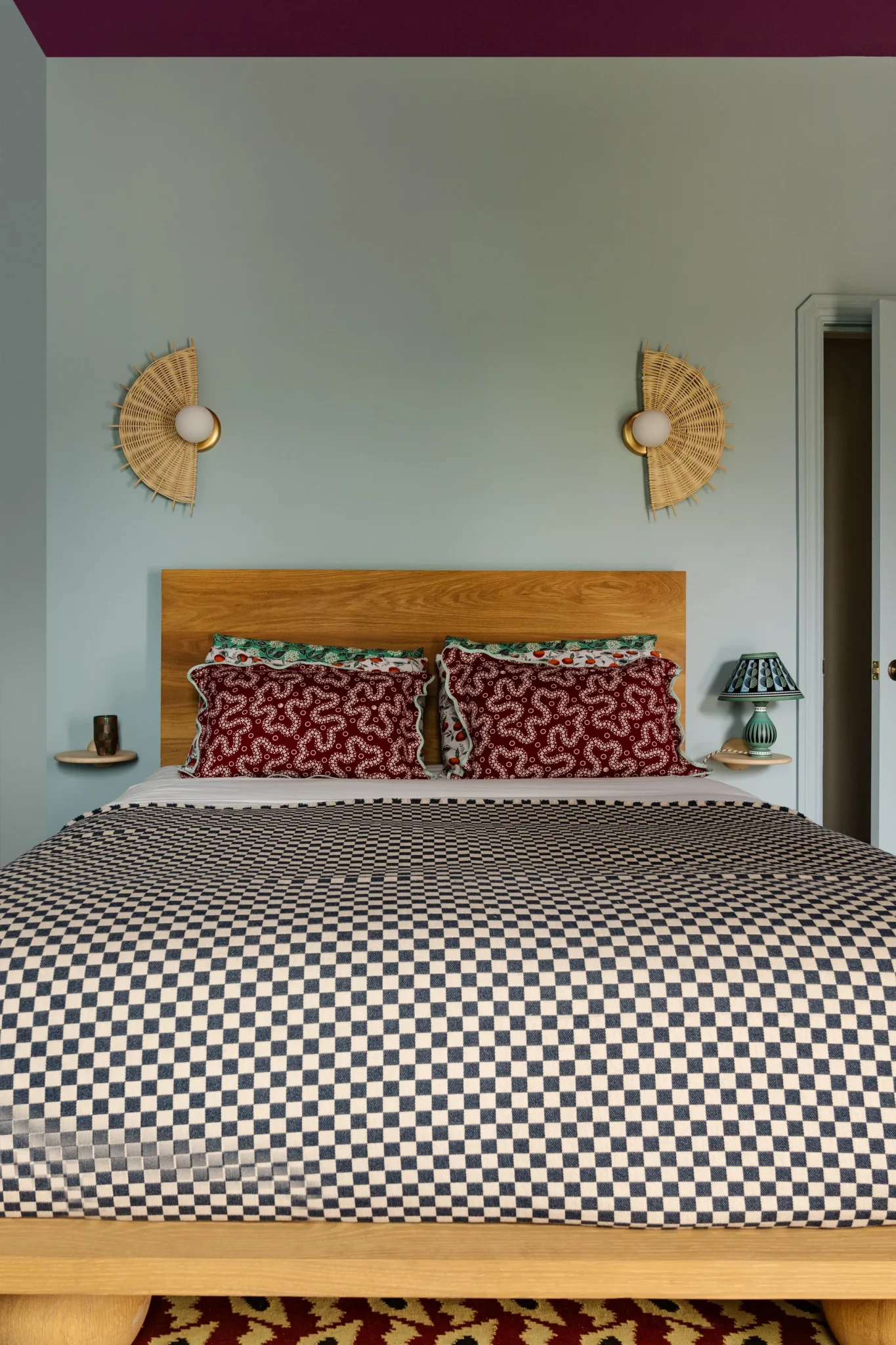 Ibiza Mirror

Mirror 2.600,00

€

Matrioska Bedside Table

Bedside Table 3.900,00

€

Duna Side Table

Side Table 3.900,00

€
Embrace the Summer Feeling
Experience the perfect summer getaway in this stunning Mediterranean Style Home. The colors, elements, and breathtaking views of the seashore and mountains create an ambiance of growth and relaxation. The interior design team has seamlessly blended vintage and modern pieces to create an idyllic summer retreat.
We hope this stunning Mediterranean Style Home has inspired you as much as it has inspired us to incorporate a summer vibe into our interior design projects. If you're excited to create the most incredible summer haven, we invite you to check out our Amazing Summer Decor Ideas to create the ideal summer paradise.

Photos: Ori Harpaz